This Soba Noodle Steak Salad is done in under 30 minutes and is PACKED with flavor. Make it for a light dinner for the family, or for lunches to take throughout the week! I'm so excited to be partnering with the Wisconsin Beef Council to bring you this amazing and healthy beef recipe!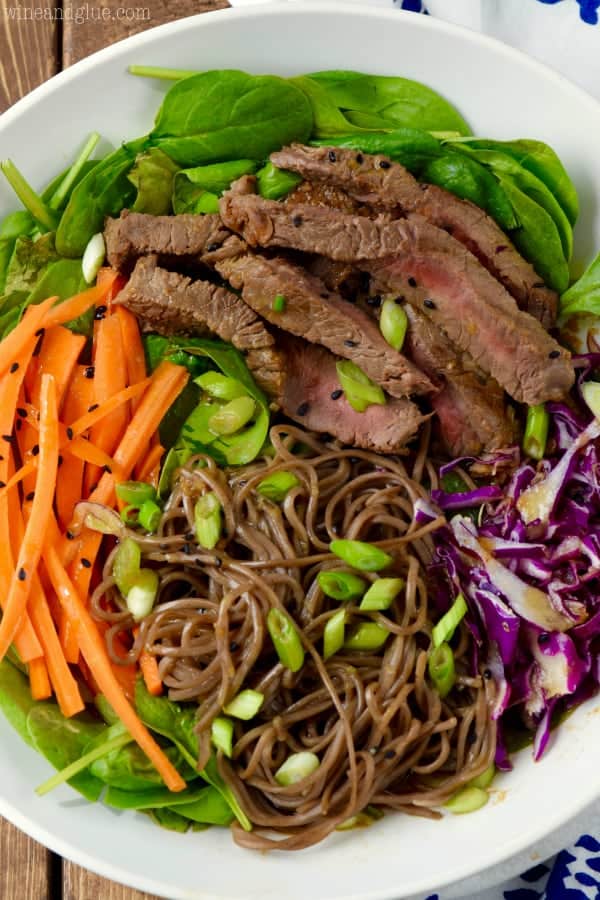 You guys! I'm so excited to be announcing today that I'm starting a new partnership with the Wisconsin Beef Council to bring you amazing beef recipes!
As many of you know, I grew up vegetarian, and when my family did start eating meat, it wasn't until I was in middle school/high school and it wasn't beef. I actually didn't have my first steak until I was in college and dating Nathan!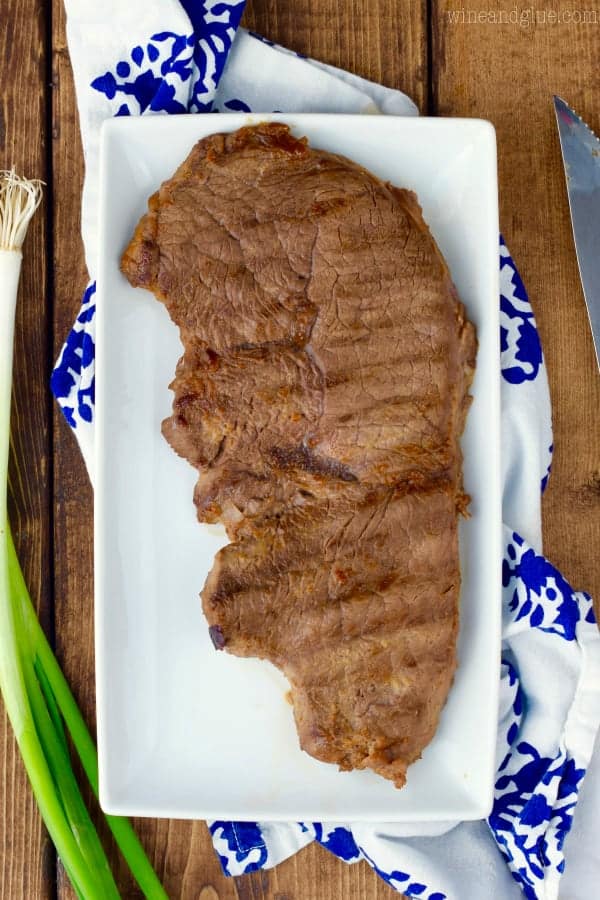 I tell you all this, because I'm sure that a lot of you are like me, you find cooking beef, especially in steak form, totally intimidating. So we are in this together, friends, we are going to learn all about cooking with steak together!
Here's the first thing you need to know. There is a lot of nutritional myths out there about beef. Eating lean beef throughout the course of your monthly meal plan is a great source of iron and protein. A 3 ounce serving of Top Sirloin, like I used here, has about 150 calories, 5 grams of fat, and 26 grams of protein(!!!). So cooking up a one pound steak to be made into four meals is perfect, like in this salad!
I was fortunate to go on a trip with the beef councils from Wisconsin, Kentucky, Ohio, and Michigan last month and I learned a TON! So even though I am a novice when it comes to cooking with beef, I'm gaining speed fast. Here are a couple other things I want you to know:
Can't find the cut of meat that a recipe calls for? Go HERE. It gives all the different names for different cuts, so you can find the name your store goes by.
When you are cutting the meat after grilling it, look at how the lines in the steak go. In the cut above you can see how they pretty much run top to bottom in the photo. So that means you want to cut the opposite way, against the grain, so that the meat just falls apart as you are eating it.
When you are grilling your meat, flip it using tongs, not by piercing it. Piercing it will let a lot of the juices out of the meat, and you don't want that.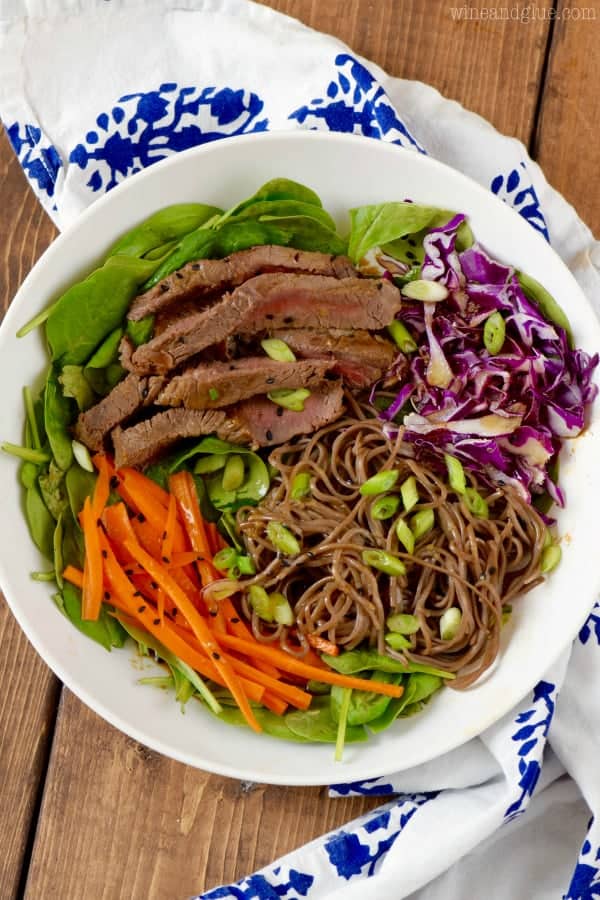 I'm going to have lots more tips for you with each post I give you, plus a super delicious recipe using steak. Are you pumped? I'm pumped.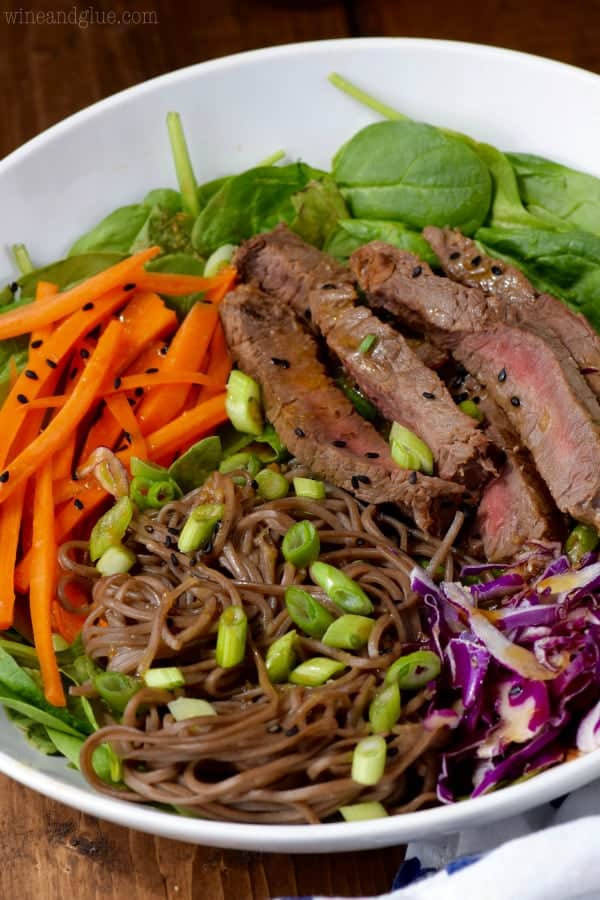 Now this salad. You guys. It is AMAZING. This is a really tender cut of meat to begin with, so you are just marinating for flavor, not to tenderize it. When you take it out of the marinade, you dry it off before grilling it, but the flavor is all in there.
The steak, with it's delicious marinade, the veggies, and the soba noodles all get topped with a really simple really light vinaigrette with Asian tones to it. It's a super light dish that is perfect for a weeknight BBQ or to make ahead four lunches for the week! I've already eaten twice :)
Be sure to follow the Wisconsin Beef Council on Facebook, Twitter, Instagram, and Pinterest for more recipe inspiration. And click here for more great grilling recipes and here for more amazing steak salads!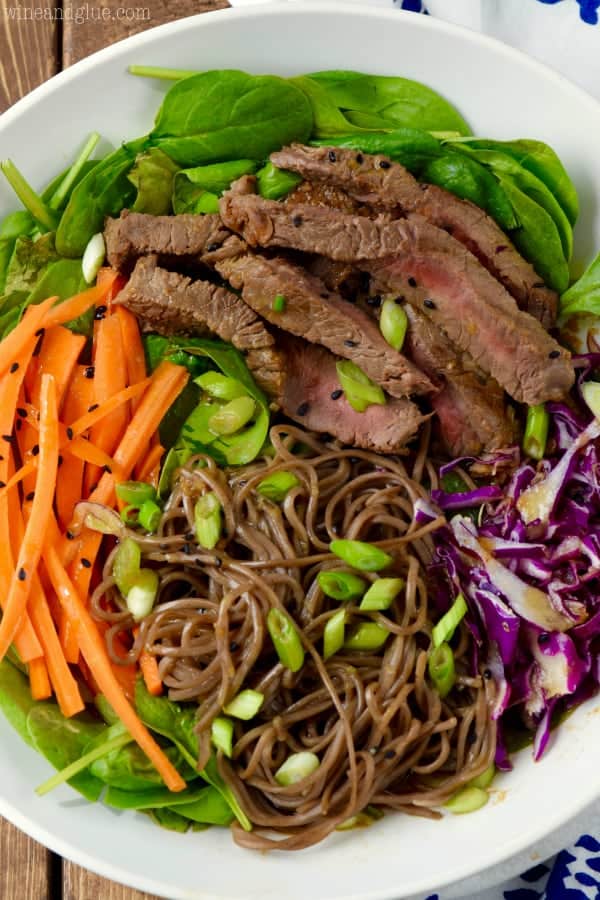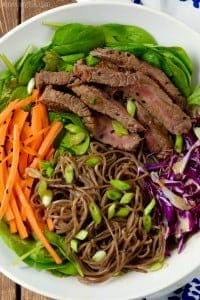 Soba Noodle Steak Salad
Ingredients
For Marinade

1/2

cup

creamy peanut butter

softened

1/3

cup

soy sauce

1/3

cup

rice vinegar

1

TBSP

sesame oil

1

pound

Top Sirloin steak

For Salad

8

cups

baby spinach

washed

2

medium carrots

peeled and sliced thin

4

scallions sliced at an angle

2

cups

red cabbage

1

TBSP

black sesame seeds

optional

2

ounces

soba noodles

dry, cooked to package instructions and rinsed with cold water

For Salad Dressing

1/2

cup

extra virgin olive oil

3

TBSPs

rice vinegar

2

TBSPs

soy sauce

1/2

tsp

sesame oil

2

garlic cloves

minced small
Instructions
Combine the peanut butter, soy sauce (1/3 cup), rice vinegar (1/3 cup) and sesame oil (1 TBSP). Pour in a ziplock bag and add the steak. Refrigerate for 15 minutes to 2 hours.

Remove the steak from the marinade (and discard marinade) and pat dry, removing excess marinade. Grill over medium heat flipping half way through until the internal temperature is 145 degrees. Let the meat rest for 10 minutes.

While the meat is grilling, mix together the extra virgin olive oil (1/2 cup), rice vinegar (3 TBSPs), soy sauce (2 TBSPs), sesame oil (1/2 tsp), garlic cloves. Shake in a mason jar to fully combine.

Slice the steak against the grain in thin pieces. Divide it and the other ingredients amongst four salad bowls and add just a small amount of the vinaigrette to coat.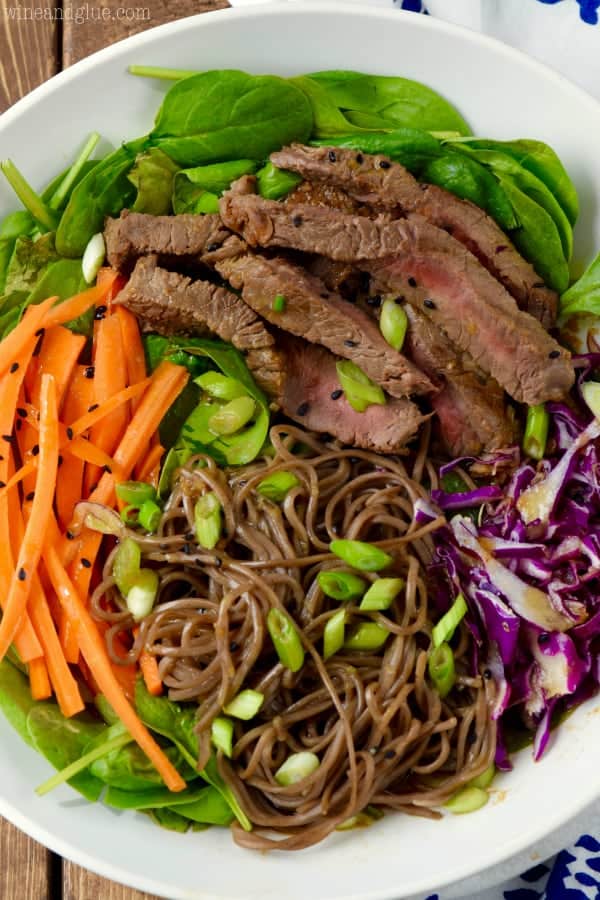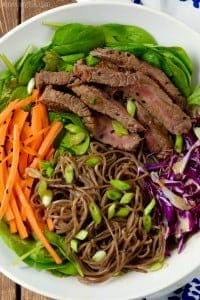 did you make this
Soba Noodle Steak Salad