These simple tips for working from home will help make your days easier and more productive!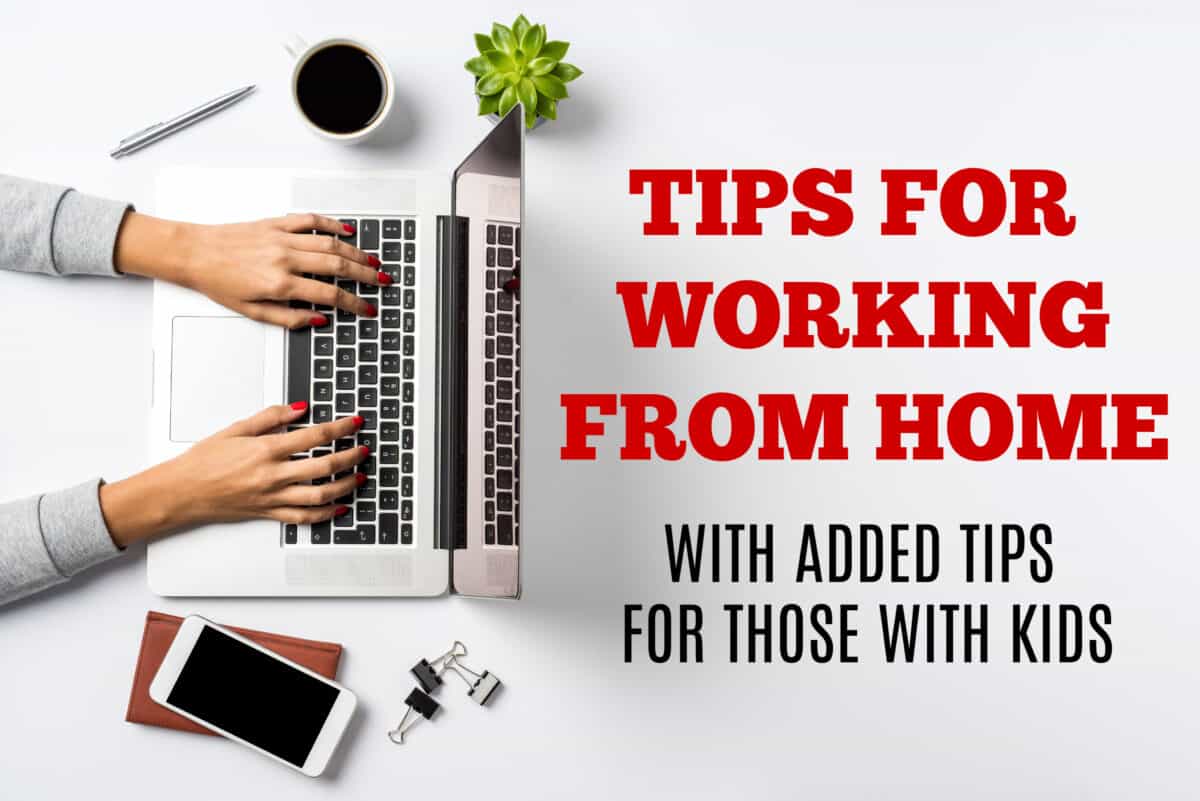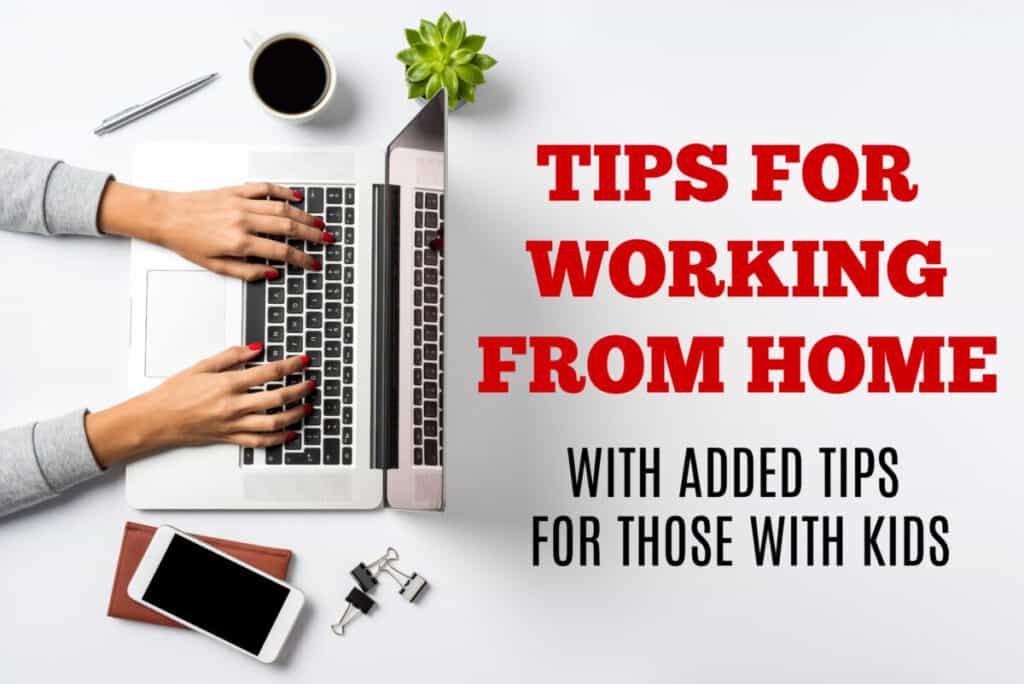 With everyone suddenly forced to work from home, I thought one way I could help was providing a couple tips of things I have learned through the years.
I have been working from home for over 8 years, most of that time with small kids. I feel incredibly lucky I've been able to do this, and I'm so happy to share these tips with you!
If you are working from home WITH KIDS click HERE to get tips specifically for that (though these other tips will help as well).
Disclaimer: Everyone is different, some of you won't need any of this. Carry on in your p.j.'s.
HOW TO WORK FROM HOME AND STAY PRODUCTIVE
START YOUR DAY AS IF YOU WERE GOING TO THE OFFICE
My biggest piece of advice is this first one: Start the day like you are going out of the house.
This means set an alarm, take a shower, and get dressed. I am about 10x more productive when I put on jeans, do my hair, and put on make up.
AVOID TURNING ON THE TV
For years I tried to work infront of the TV during the kids' naps. As my business grew, I learned that this was a huge time suck. I am way more productive with just music on.
Save the TV for at night when you need to unwind.
MAKE A DEDICATED WORK SPACE
Even if your work space is the kitchen counter, having a consistent space that you sit and work at will trick your brain into getting into work mode.
WORK AT A DESK
I am a huge hypocrite because I'm standing at my kitchen counter typing this.
But! My body is messed up from all the years I worked on a laptop from my couch. It really is. I have had to go to physical therapy to undo the things I've done.
Even if this is a short term arrangement for you, sit at a desk. If you can't do that, your kitchen table is a good second option. What is best for your body is to work in a way that you are looking straight ahead at your screen, rather than down.
You can learn more about this from Mayo Clinic.
TAKE BREAKS
My friend Sara also works from home and she said this:
"Take breaks – it's easy to get trapped in the 'I can finish one more thing – it'll take 5 minutes' trap and then never actually take a break."
CLOSE ALL TABS THAT AREN'T WORK
Social media is the biggest time suck there ever was. Leave it for during your breaks or you can easily burn through your whole day.
END OF THE DAY RITUAL
Again, huge hypocrite here. The biggest way I grew my business with toddlers was by working after they went to bed. See above about my messed up body though.
My friend Erin made the great point that you should mark the end of the day with something. It will teach your mind to stop work, be done, and relax. Rituals are so helpful like that.
Here are a few ideas:
A walk around the neighborhood.
Calling a friend – doesn't have to be the same friend every day.
Doing your daily workout.
Having a glass of wine.
Spending 20 minutes on a hobby: Like reading, knitting, photography, etc.
WORKING FROM HOME WITH KIDS
First and foremost, take a breath. Given the current state of affairs, working from home with kids isn't going to be a forever situation. Just keep that in the back of your mind.
LOWER YOUR EXPECTATIONS
You are going to get less work done. It's just reality. Recognize that, cut yourself some slack. And take another deep breath.
I pray that you have an understanding boss.
KIDS DO GREAT WITH INDEPENDENCE
I used to feel SUPER guilty for letting my littles play independently while I worked.
They are now all school aged, and they are fiercely independent in the most beautiful ways. They can spend an hour gleefully playing by themselves. It's incredible.
The fact of life is that your child, at different points in life, will have to spend time alone. This is an opportunity for them to learn that skill.
It's great for you all to embrace it.
TAKE BREAKS WITH THEM
Your five minute breaks above are a great time to do something little with your kids.
Here are some ideas:
5 minute game of hide and go seek
Step outside and look for shapes in the clouds
Let them lead you in a stand and stretch session
Have a 5 minute dance party
Color together for a few minutes.
TURN ON MUSIC YOUR KIDS LIKE
It's so small, but giving my kids the choice of what we listen to during the day makes a huge difference.
SCREEN TIME
In our house, we are pretty strict with screen time. We stick to less than 2 hours a day, and honestly during the week it is far less.
I think it has lead to kids that love to read, and kids who don't beg for TV. Two things I'm grateful for.
I say this all so you know where I'm coming from. If the TV is on all day long in your house, I honestly have zero judgement.
During this time, if you are like me and limit screen time a lot . . . maybe loosen up a little. This won't be forever. And letting them watch something on the iPad can be a huge life saver.
ADDITIONAL RESOURCES
Here are some other things I'm falling back on right now:
Scholastic has some great ideas for kids!
We have loved Kahn Academy for years
Disney+ has great National Geographic Shows and a show we loved called Brain Games.
Every day at 2 pm ET Jarrett Krosoczka, author and illustrator (he is the one who made the Star Wars comics!), will be holding live lessons on his YouTube Channel. PUMPED for this!
Lots of tourist sites are setting up virtual field trips. This is a great list of them.
This is just a quick list that I was able to compile based on conversations with friends. If you know more resources please please leave them in the comments below.