This easy Bacon Wrapped Asparagus recipe is made in the oven in just 15 minutes. The flavors of brown sugar and bacon this is the most amazing side dish. It is simple enough to make for a weeknight meal, but impressive enough to serve at a holiday dinner.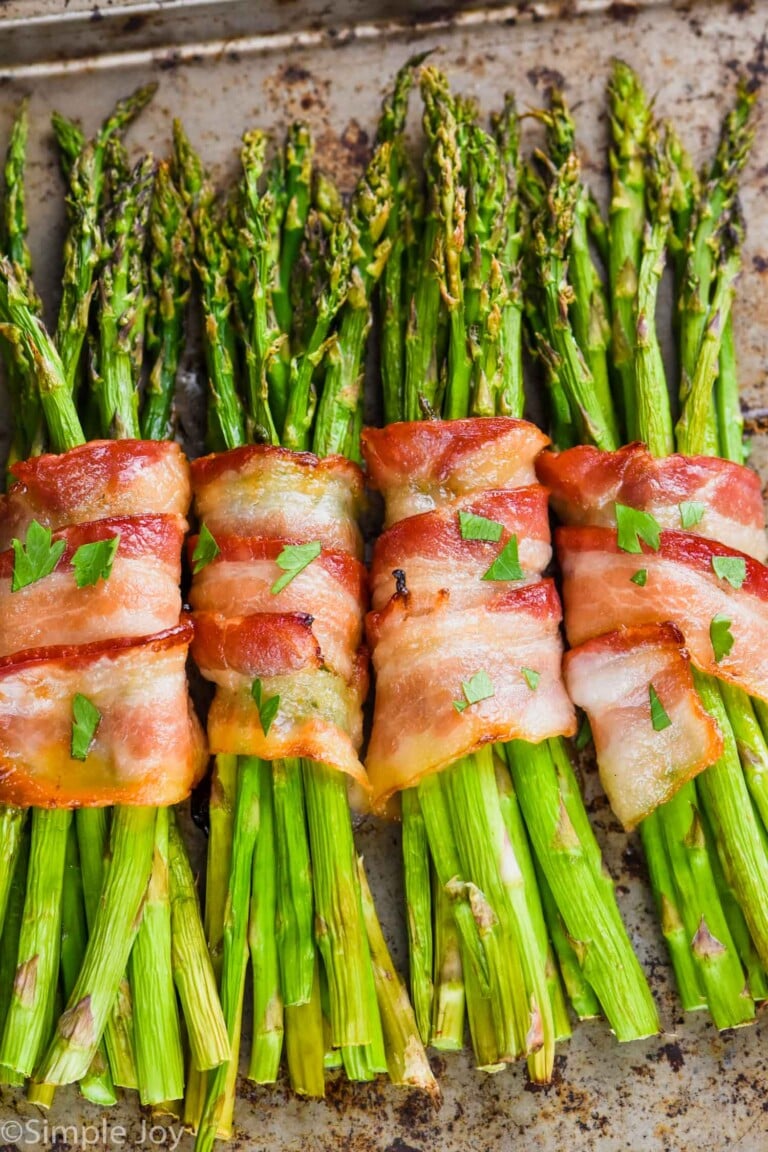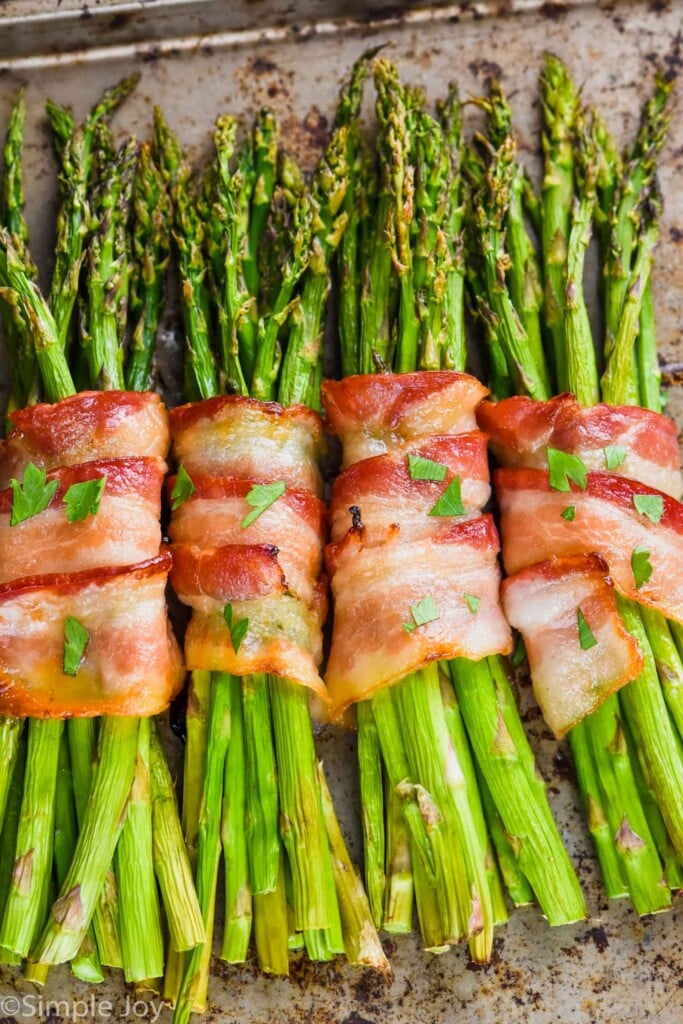 These asparagus wrapped in bacon bake in 15 minutes after being doused in brown sugar and butter. With only 10 minutes of prep time they are perfect to throw in at the very end of a holiday meal prep. This recipe is four servings, but is very simple to double or triple if you are hosting.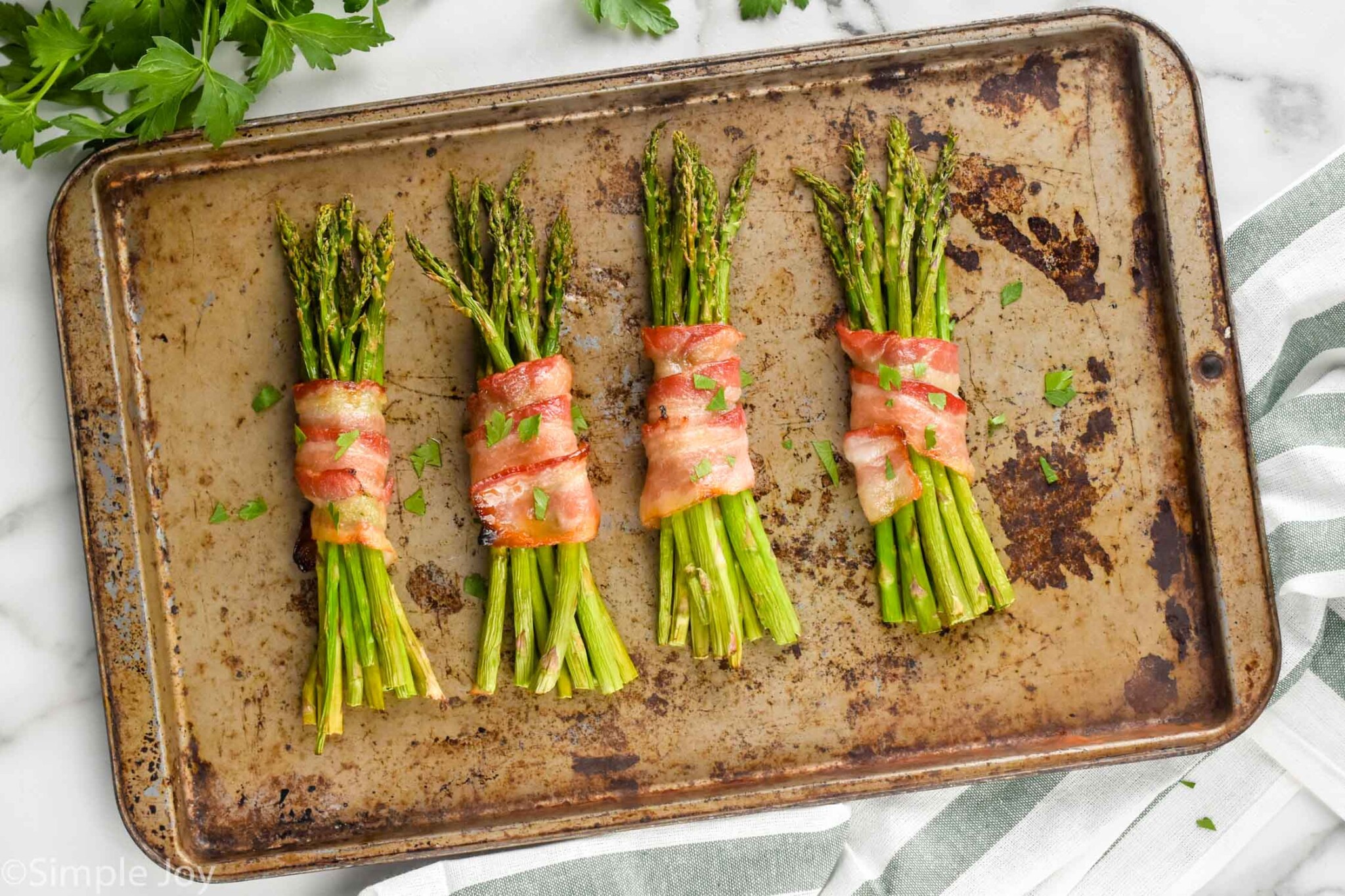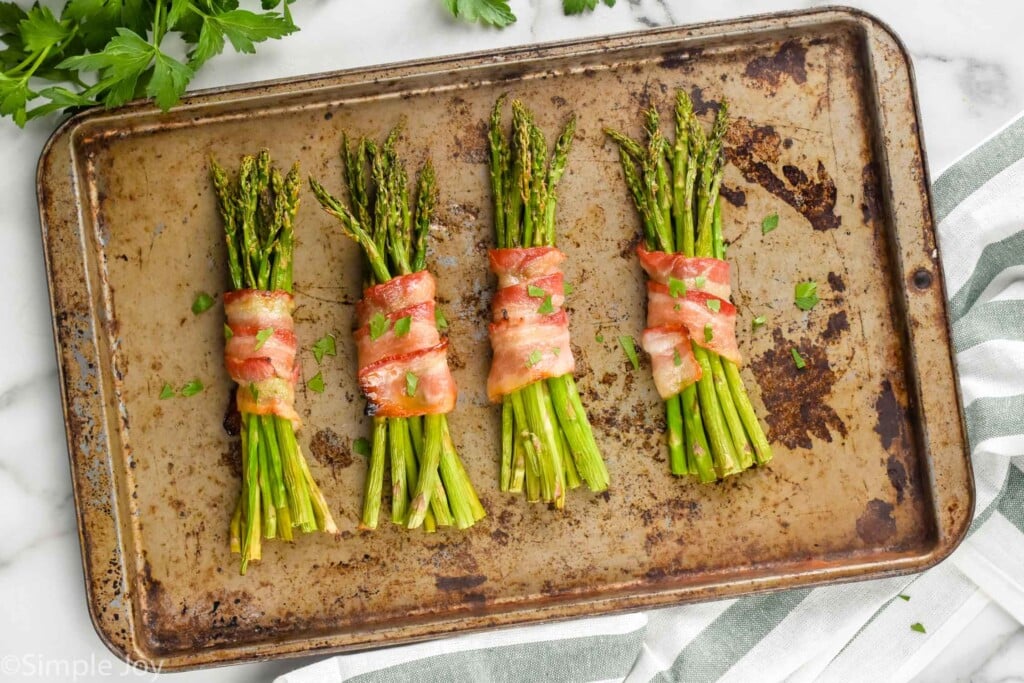 How to Cook Bacon Wrapped Asparagus
This is just a brief overview of how easy this recipe is. For the full recipe with all of the measurements, be sure to see the recipe card at the bottom of the post.
Prepare the asparagus. See my photos below for how to trim and cut asparagus.
Prepare the pan. Line a rimmed baking sheet with aluminum foil. Place a wire cooling wrack on it and spray that with cooking spray.
Divide the asparagus. Working with one pound of asparagus, divide it into four equal groups. If you have more than a pound, you will want to make more than four bundles. Bundles that are bigger than what you see here will take longer to cook.
Wrap the asparagus. Wrap each bundle of asparagus with a slice of bacon. The bacon should be able to go around the bundle about two and a half times.
Top the bacon with melted butter and brown sugar.
Bake for 15 minutes.
How to Prepare Asparagus
I love that asparagus tells you exactly where to trim the bottom. The very bottom of the stem is really woody and unappetizing, so that part needs to be removed. If you snap the bottom of the asparagus, it will snap right where it needs to be trimmed. You can then line the snapped piece up with the rest of the asparagus to trim the bunch at once.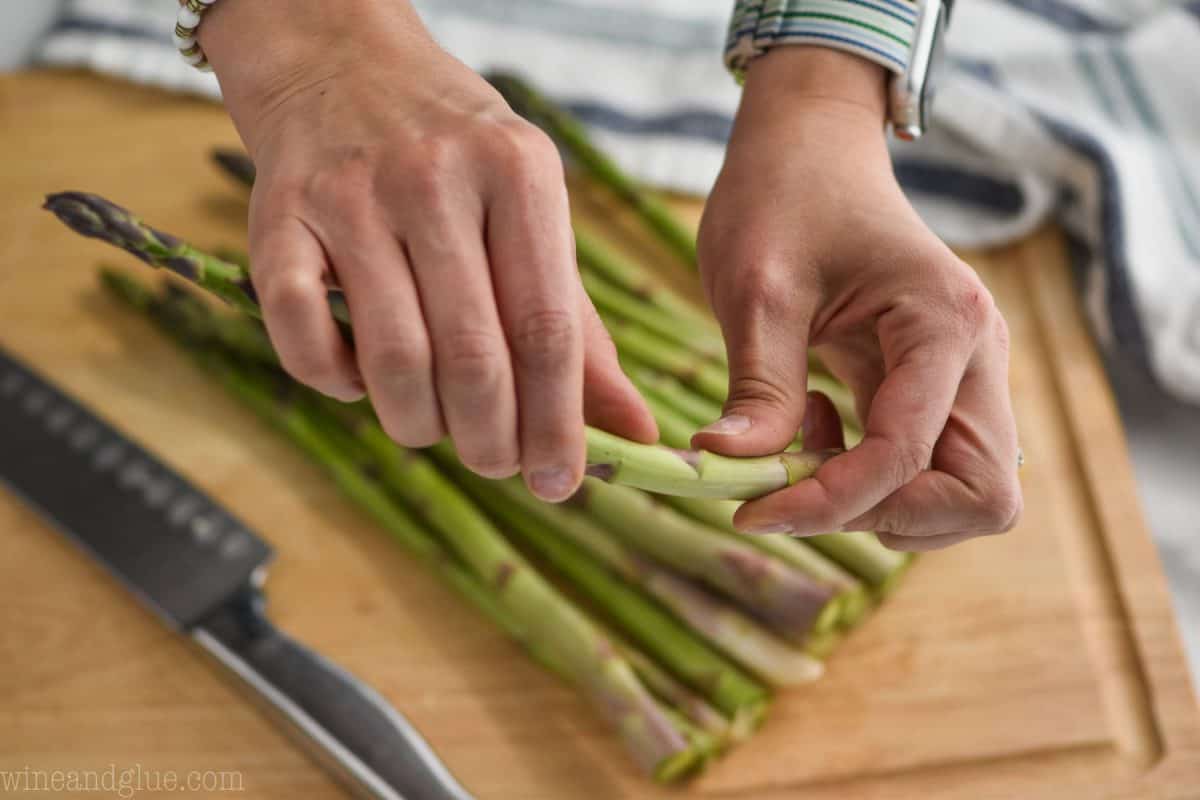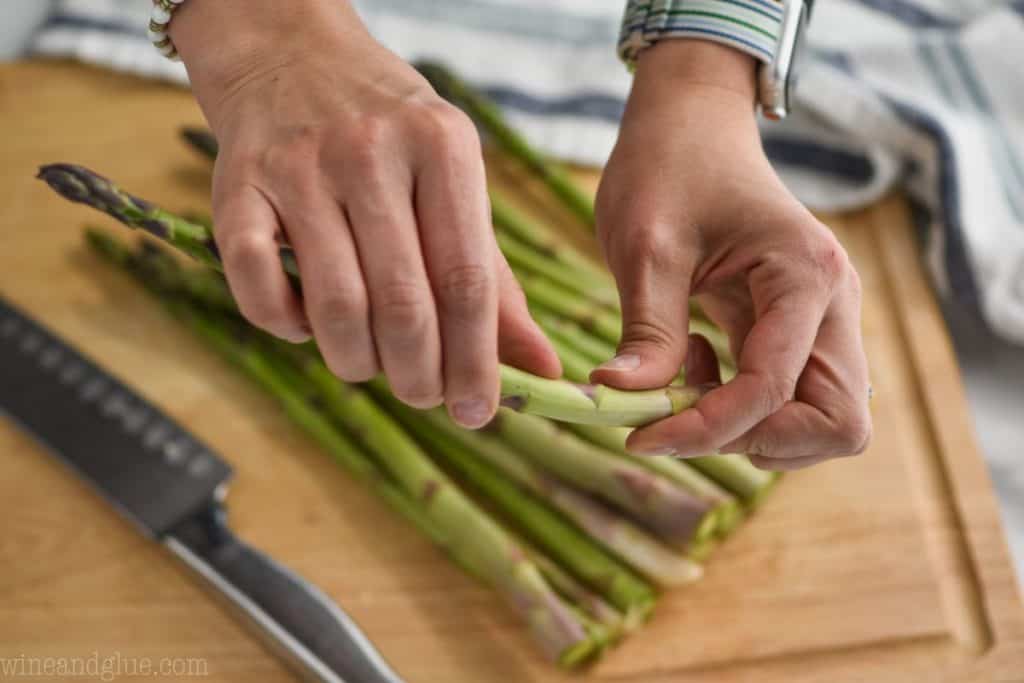 Picking out Asparagus
When you are grocery shopping, there are a few things that you should look for in your asparagus.
The tips, the bit at the very top, should look beautiful. Pass by ones with wilted tips or tips that aren't closed tight.
The stalks of the asparagus should appear plump, not like a plant that needs to be watered.
Asparagus comes in many different colors (green, white, and purple), but whatever variety you are buying, make sure the color is vibrant.
How to Store Asparagus
If you are buying asparagus several days before you are making oven baked bacon wrapped asparagus, you should store them in a jar with water. Trim the bottoms as described above. Then place them in a jar with about an inch of water and place the jar in the refrigerator.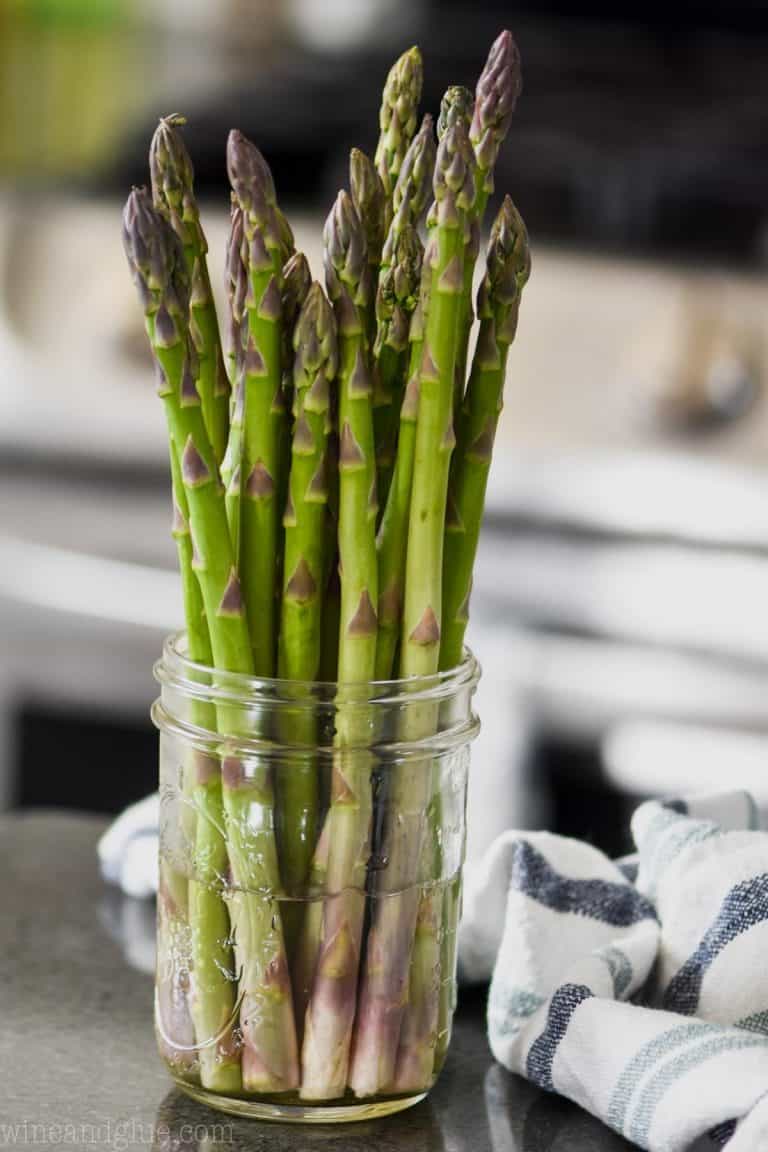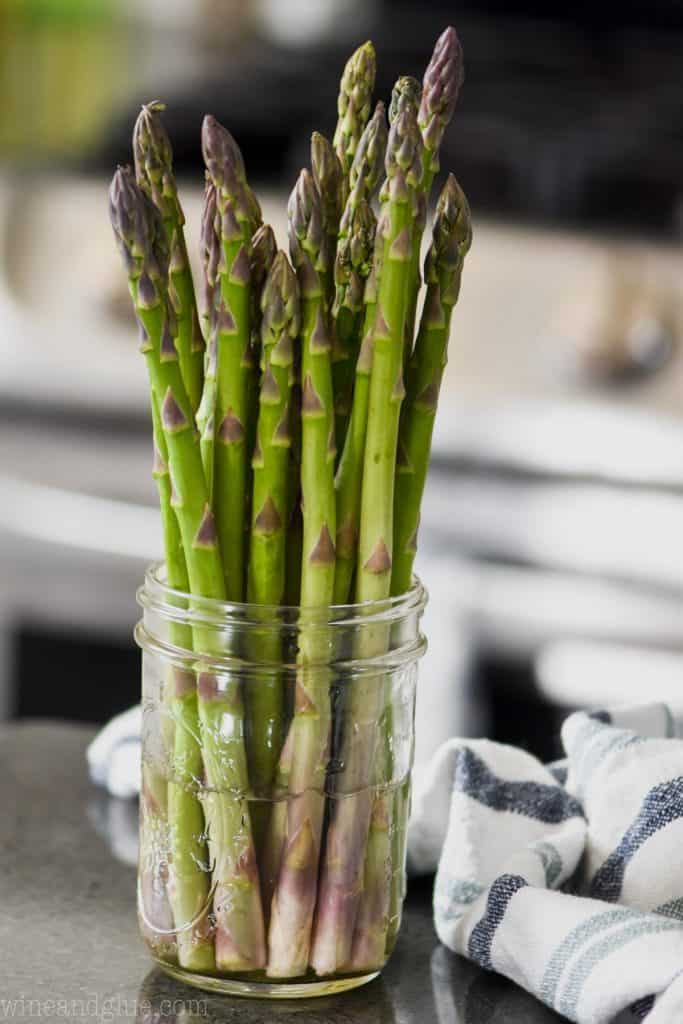 The Key to Perfect Bacon Wrapped Asparagus
The key to this recipe is getting the bacon cooked and crispy without burning the asparagus. I found that using regular cut bacon (not thick cut), bundling the asparagus together (rather than wrapping it individually), and cooking for just 15 minutes at the higher temperature of 400 degrees made this recipe turn out perfect.
Making This Without Bacon
If you love the idea of this recipe but you just aren't so sure about the bacon, then you should definitely try my Oven Roasted Asparagus. It is so easy to make and one of my favorite side dishes. It also makes for a pretty healthy side dish!
Oven Roasted Asparagus
This Oven Roasted Asparagus recipe is only a few ingredients, comes together easily, and roasts up perfectly while you are making your main dish.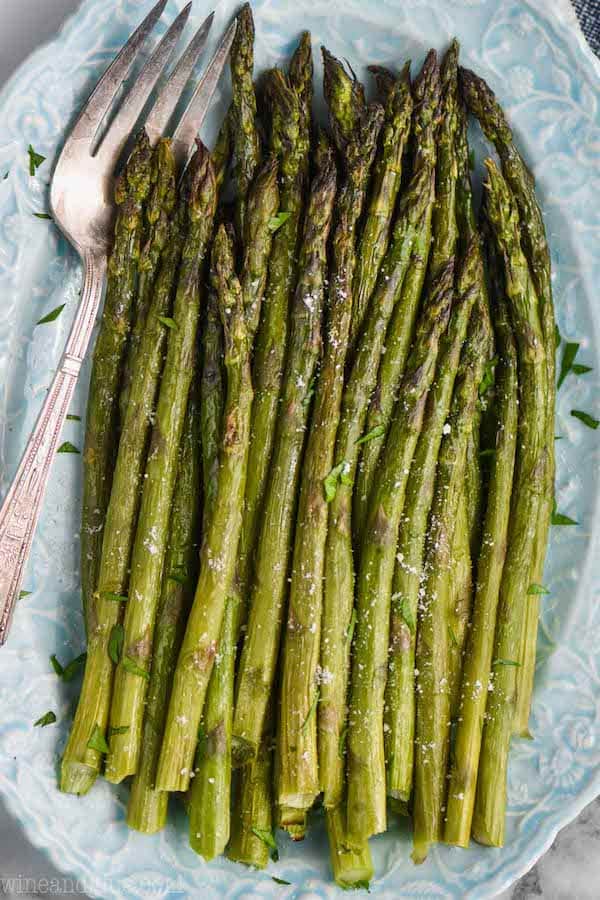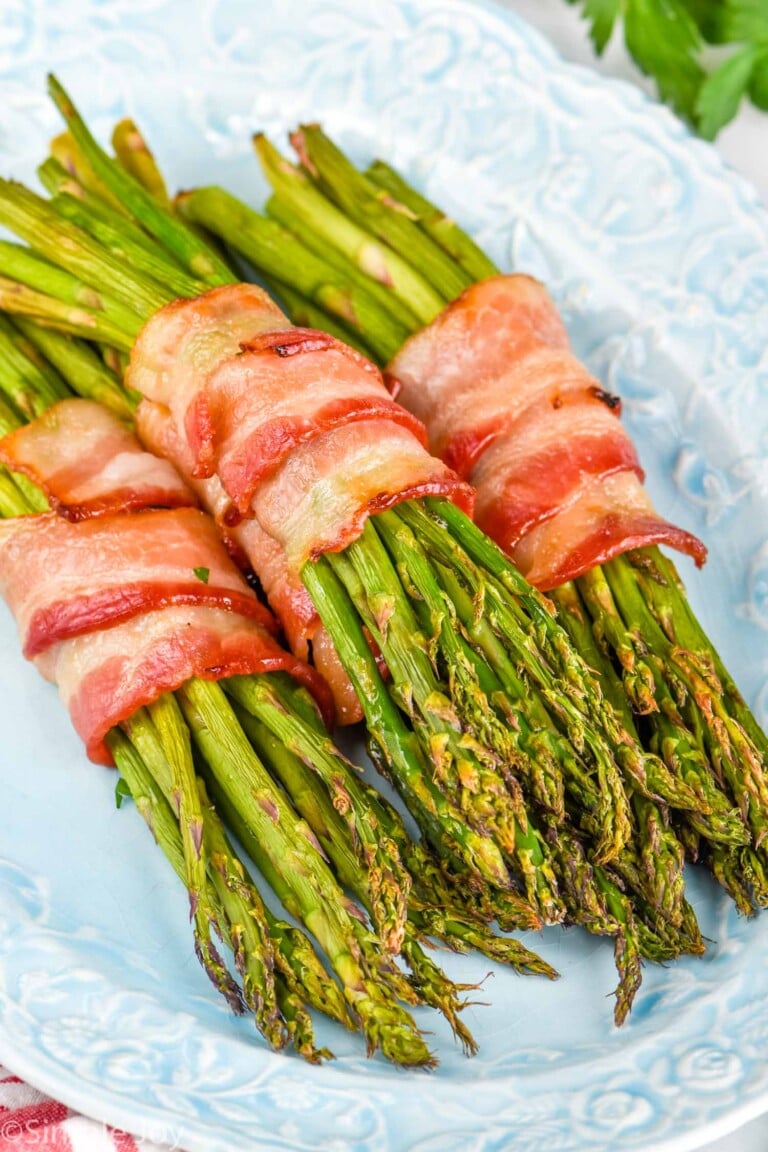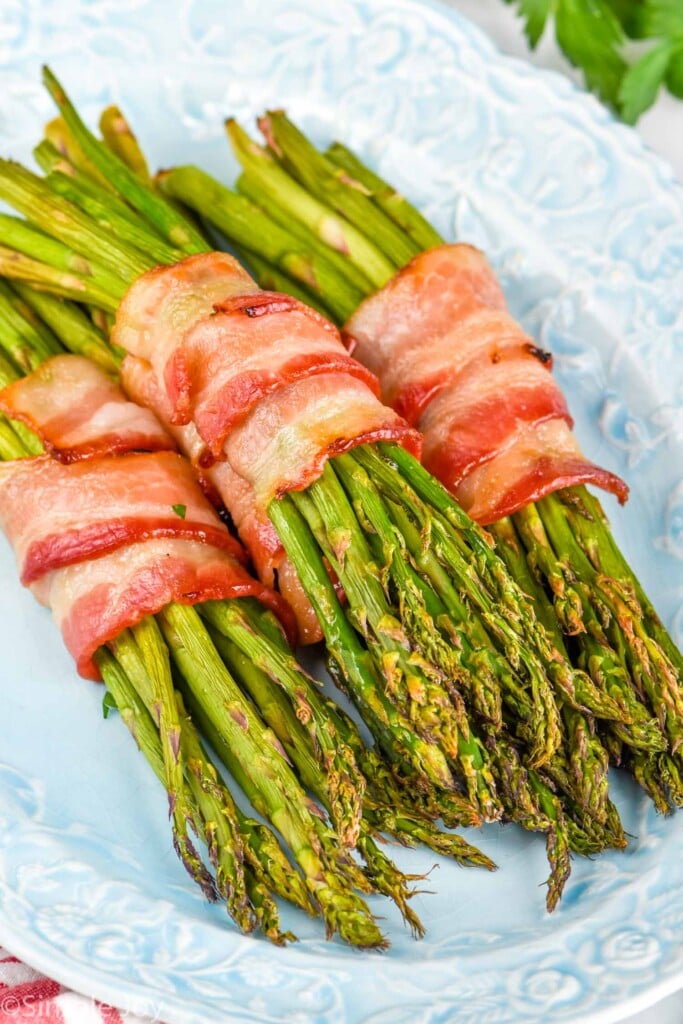 FAQ
Can this recipe be doubled?
Yes! This is a really easy recipe to double or triple. Additionally, it is a good idea to increase it if you are hosting, as each person should get their own bundle. If you are doubling, you can stick with one baking sheet. If you are tripling, I would spread them out onto two baking sheets.
Should asparagus be peeled?
Asparagus does not need to be peeled. This recipe will make the outside plenty tender and peeling it will take away some of the nutrients asparagus has to offer.
Can I leave out the brown sugar?
I think that the brown sugar provides a really great flavor to this recipe. If you are eating low carb or keto, I would recommend grabbing one of the brown sugar substitutes on the market.
Is asparagus keto?
Yes! It has only 2 grams of carbs for 1 cup of chopped asparagus.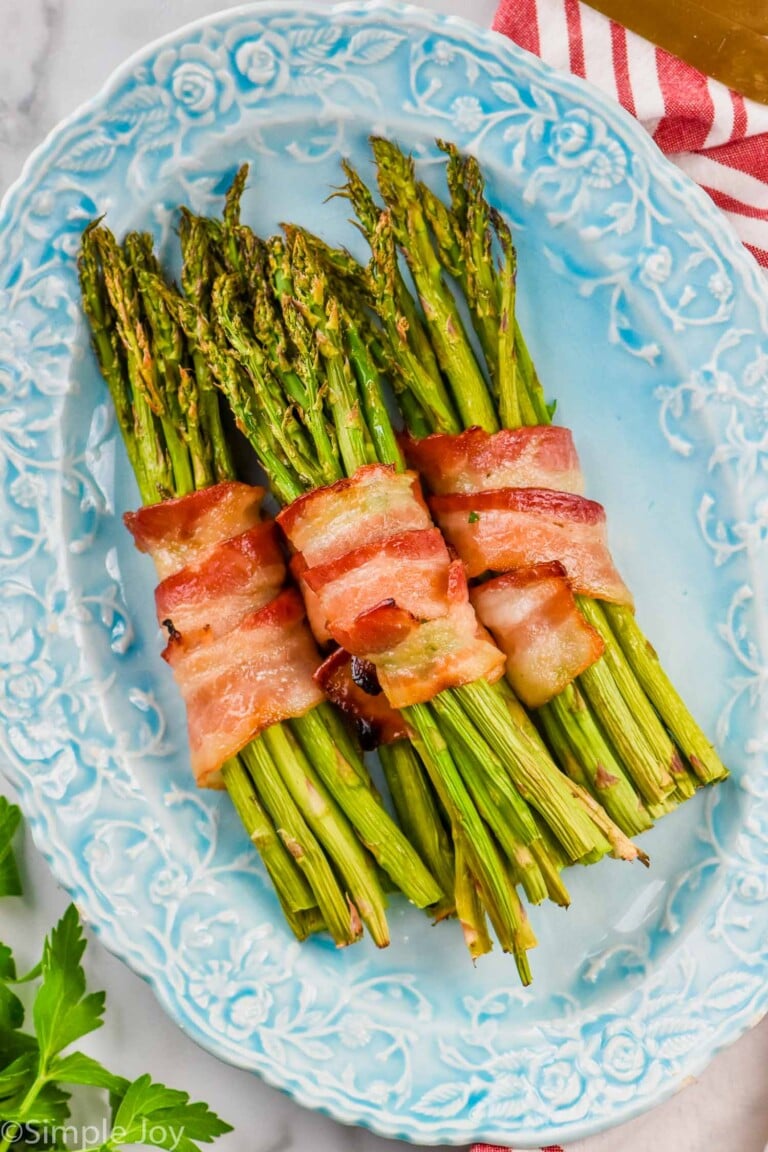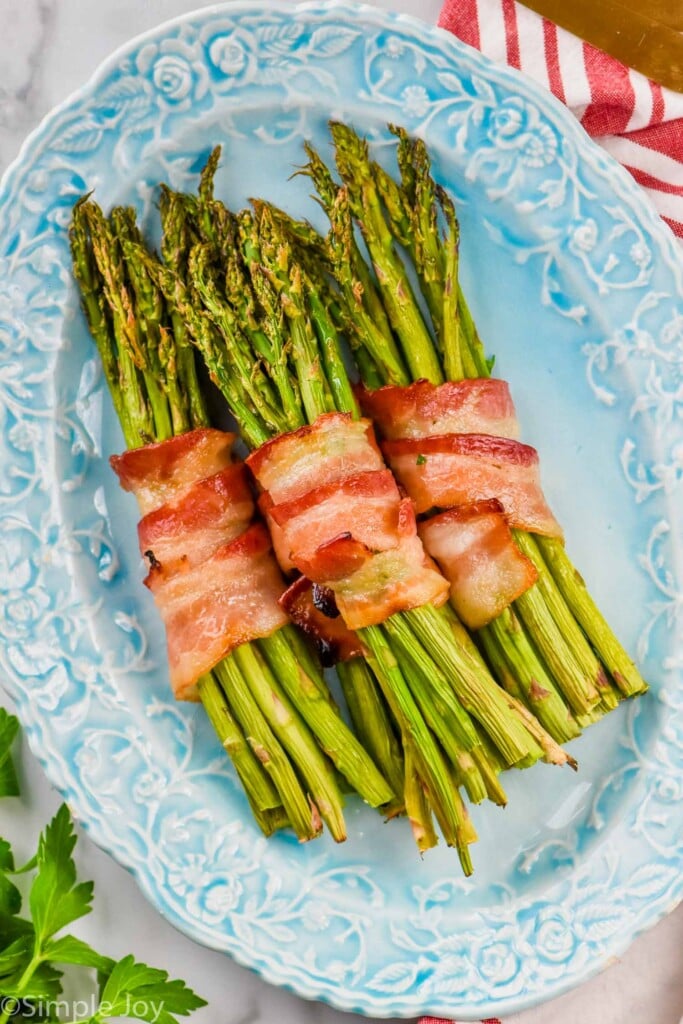 Other Great Side Dishes
If you make this great Bacon Wrapped Asparagus recipe, or any of my other recipes, leave me a comment and let me know what you think!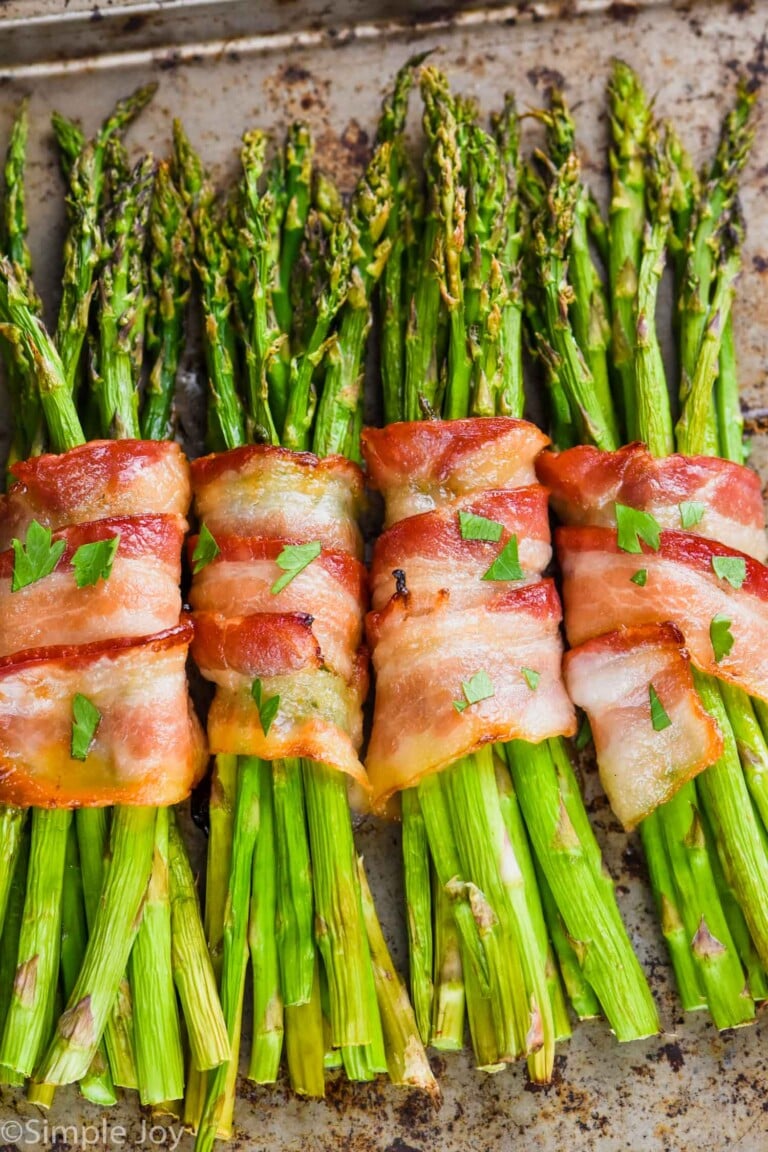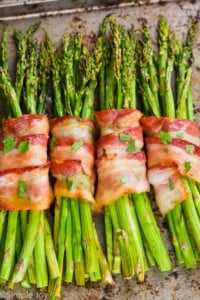 Bacon Wrapped Asparagus in the Oven
This Bacon Wrapped Asparagus recipe is made so perfectly easy in the oven. While it bakes up, the delicious flavors of brown sugar and butter come together and make this the most amazing side dish. This is simple enough to make for a weeknight meal, but impressive enough to serve at a holiday dinner.
Ingredients
1

pound

asparagus

washed and trimmed

4

slices

bacon

not thick cut

2

tablespoons

unsalted butter

melted

3

tablespoons

brown sugar
Instructions
Preheat the oven to 400 degrees.

Like a baking sheet with aluminum foil. Spray a cooling wrack with cooking spray and place on baking sheet.

Divide the pound of asparagus into four groups. Wrap each group with one slice of bacon. Place the bundles on a the cooling wrack.

Whisk together the melted butter and brown sugar until fully combined. Spoon the mixture over each slice of bacon.

Bake for 15 minutes and enjoy warm!
Calories:
153
kcal
(8%)
Carbohydrates:
15
g
(5%)
Protein:
5
g
(10%)
Fat:
9
g
(14%)
Saturated Fat:
5
g
(31%)
Polyunsaturated Fat:
1
g
Monounsaturated Fat:
3
g
Cholesterol:
23
mg
(8%)
Sodium:
166
mg
(7%)
Potassium:
284
mg
(8%)
Fiber:
2
g
(8%)
Sugar:
13
g
(14%)
Vitamin A:
1050
IU
(21%)
Vitamin C:
9.1
mg
(11%)
Calcium:
40
mg
(4%)
Iron:
2.7
mg
(15%)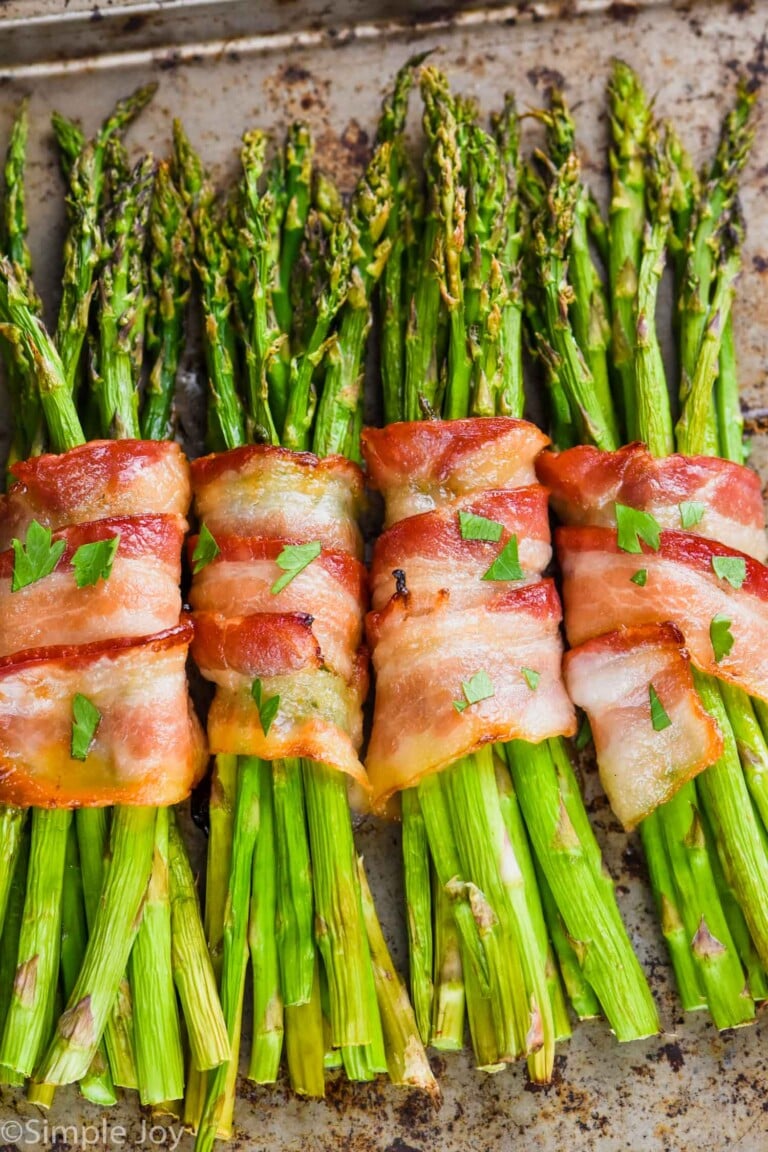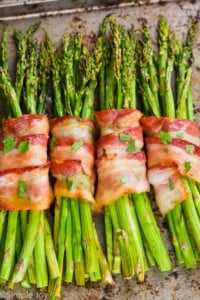 did you make this
Bacon Wrapped Asparagus in the Oven
you might also like . . .