Simple Roasted Green Beans are the perfect side dish for a weeknight dinner or a holiday meal. This green bean recipe is a keeper!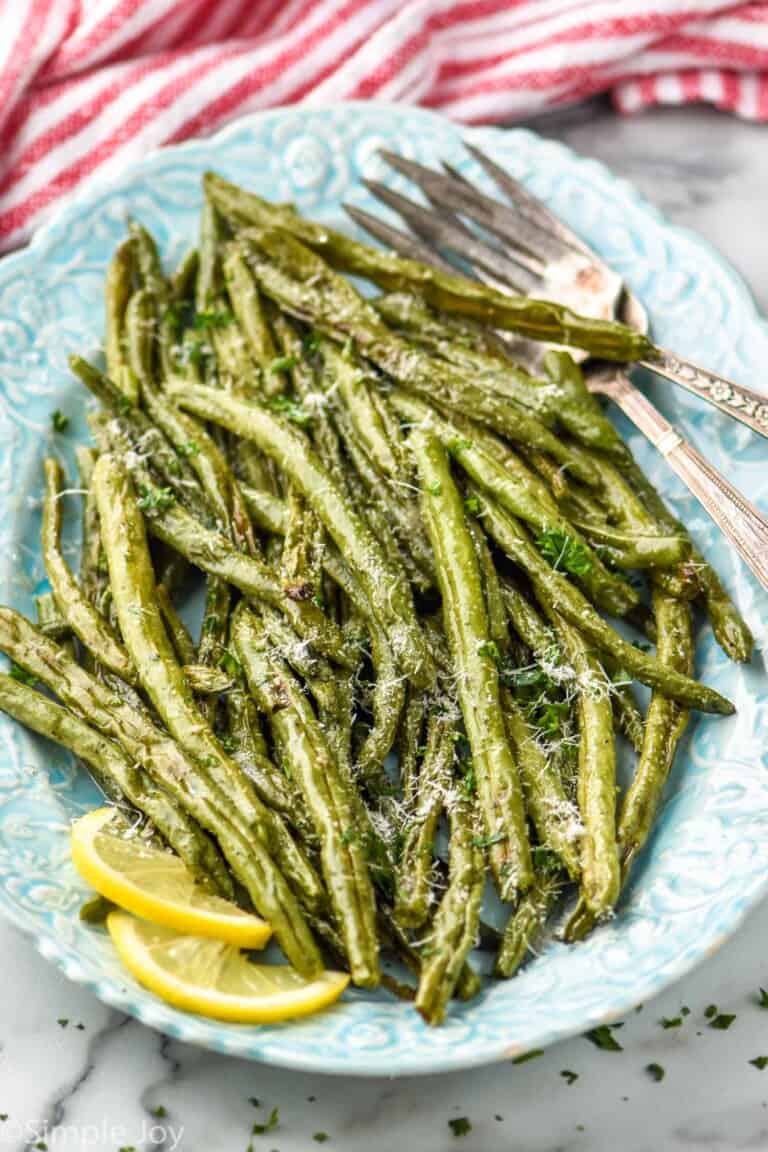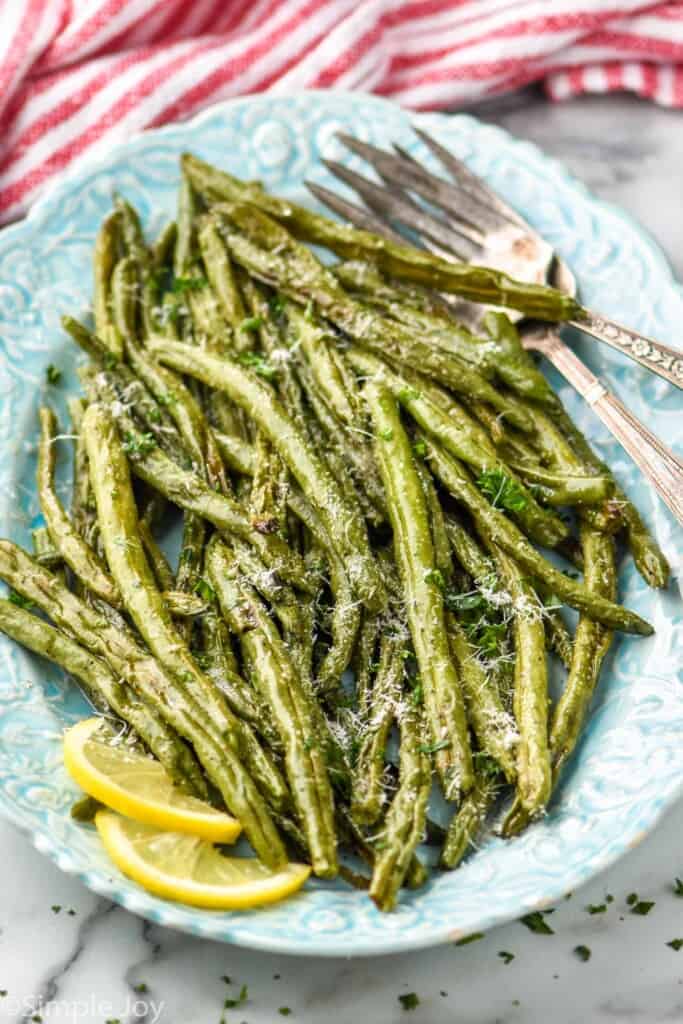 Family dinner time is such a high priority for me. It's where some of our most fun moments happen and where we all get to know each other better.
But our family's schedule can often make it hard (or impossible) to make well rounded dinners. That makes easy side dishes a must in my house. I love roasted vegetable side dishes that are simple but delicious.
This amazing roasted green beans recipe checks all the boxes. It is easy to make, delicious, and my kids love it.
How to Roast Green Beans
Prepare the green beans. Rinse your green beans and snap off the ends with the stems.
Toss the green beans with olive oil. I like to do this right on the parchment paper lined baking sheet. Then season with salt and pepper.
Roast the green beans. The beans don't take long in a 425 degree oven.
Add in the lemon juice. Toss the roasted beans with lemon juice. Then add in some freshly grated Parmesan cheese and parsley if you like.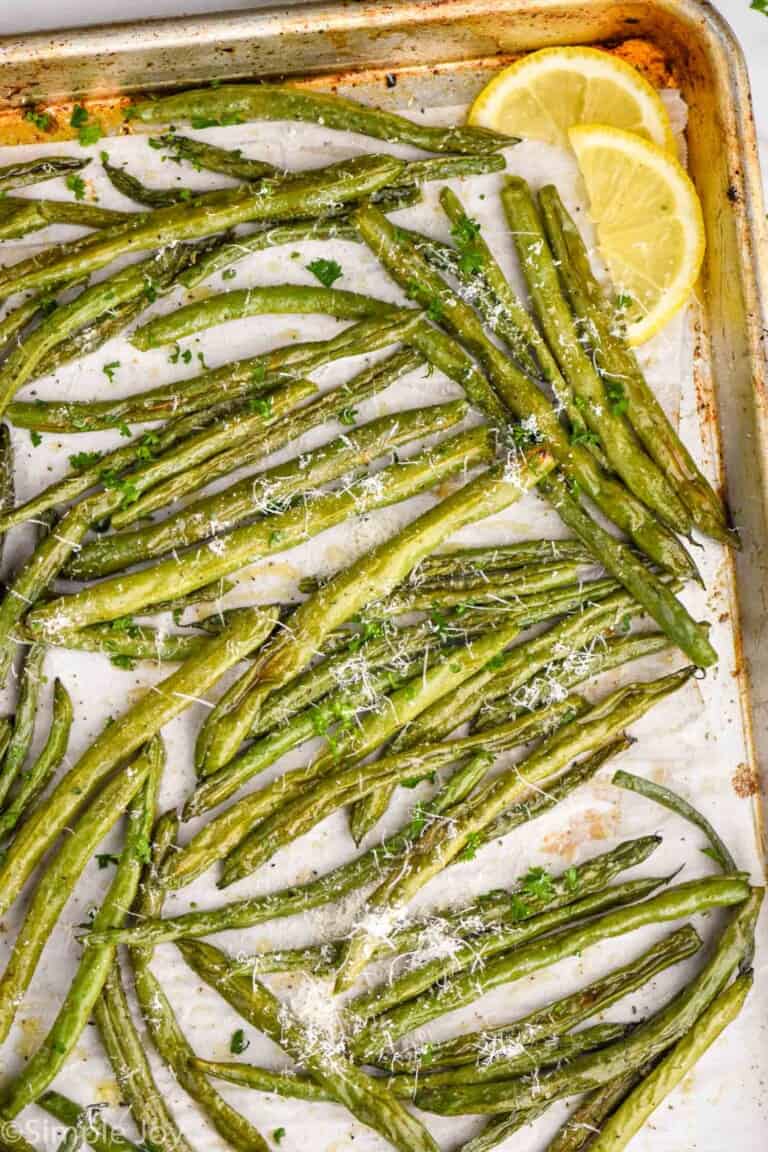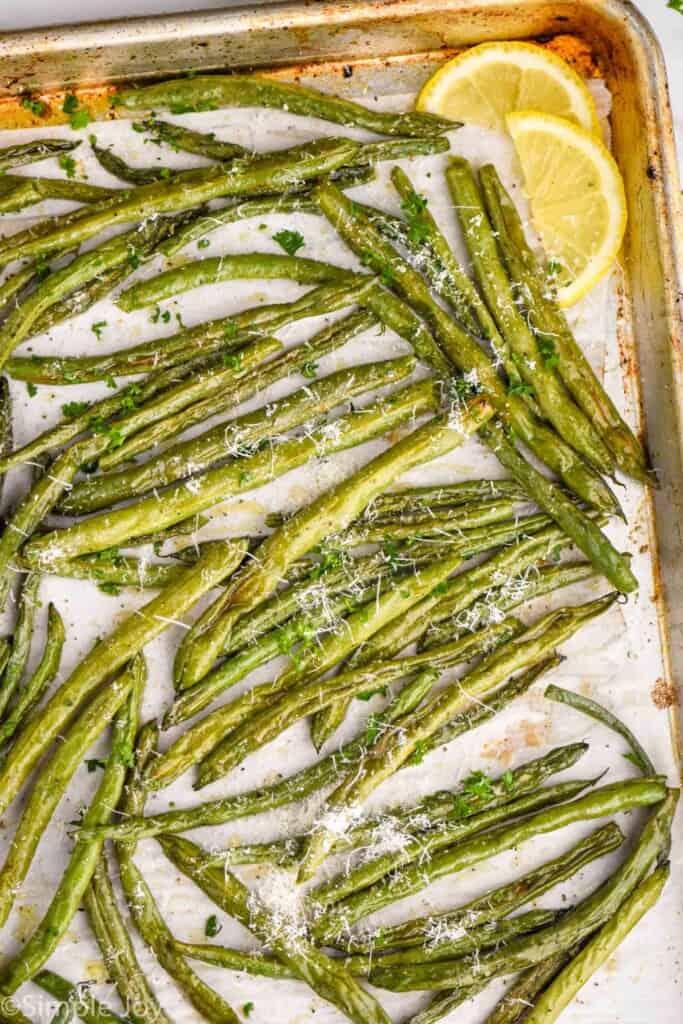 A Note on Salt and Pepper
You'll notice that I suggest adding only half the total salt and pepper I have listed.
Tastes vary so much, and I want you to love this recipe. After you make it a few times you will know, probably just from sight, how much salt and pepper you like and you can add it all at the beginning.
Picking out Green Beans
The key to the best roasted green beans is starting with really fresh delicious beans. When you are shopping, look for beans that are:
bright green
are firm to the touch
don't bend when you hold them out straight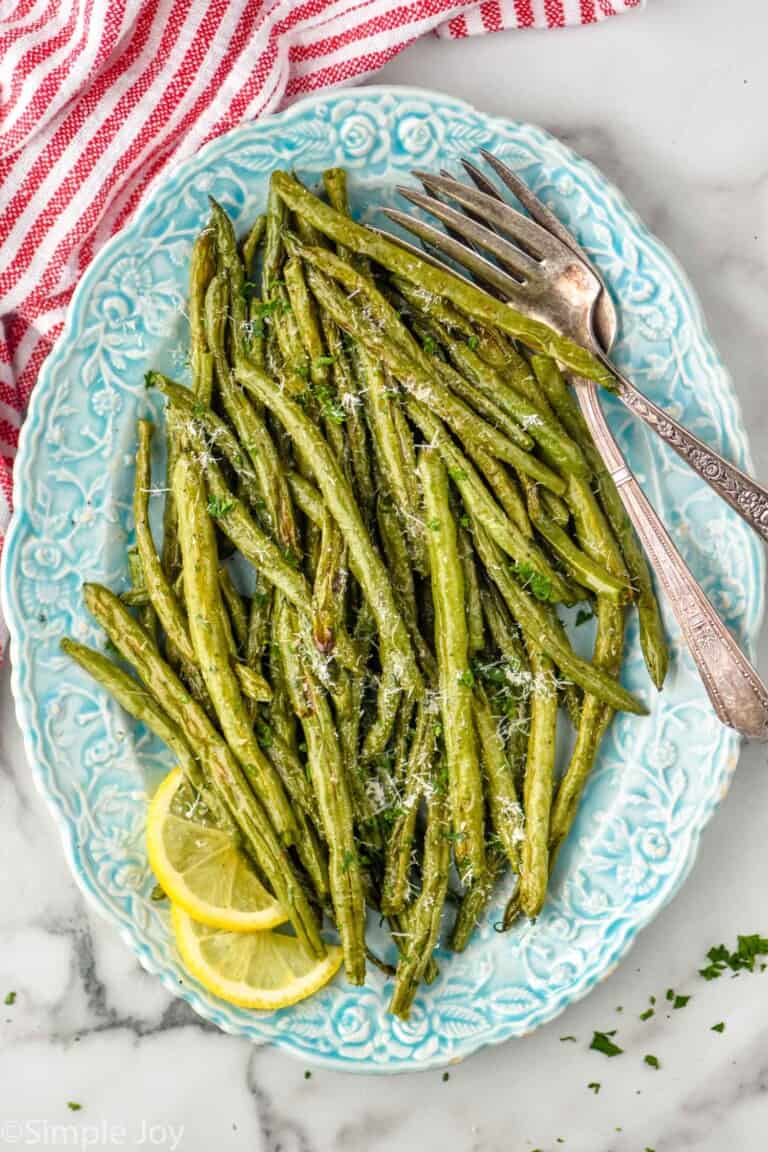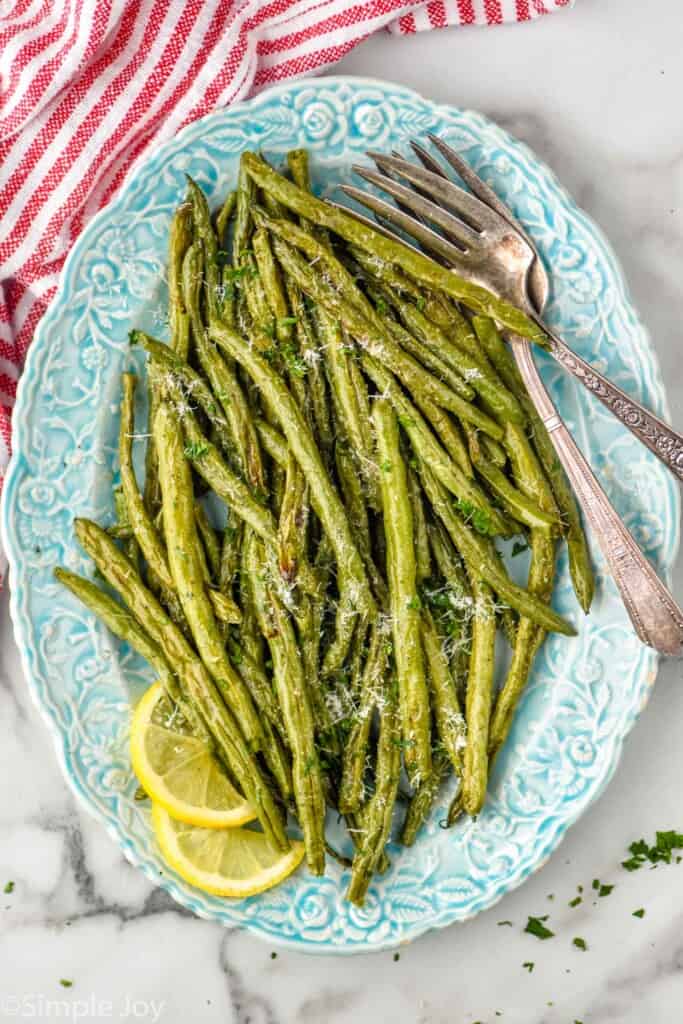 Adding Parmesan
Parmesan cheese is listed as optional for this recipe, but don't make it optional guys. Parmesan cheese just makes everything better in this world. I recommend keeping a block of Parmesan in the refrigerator so that you can use freshly grated cheese in this recipe and my other recipes that call for it. It makes a world of difference.
What to Serve with Roasted Green Beans
Roasted Green Beans make a great side for so many dishes, but we love them the most with the following main dishes: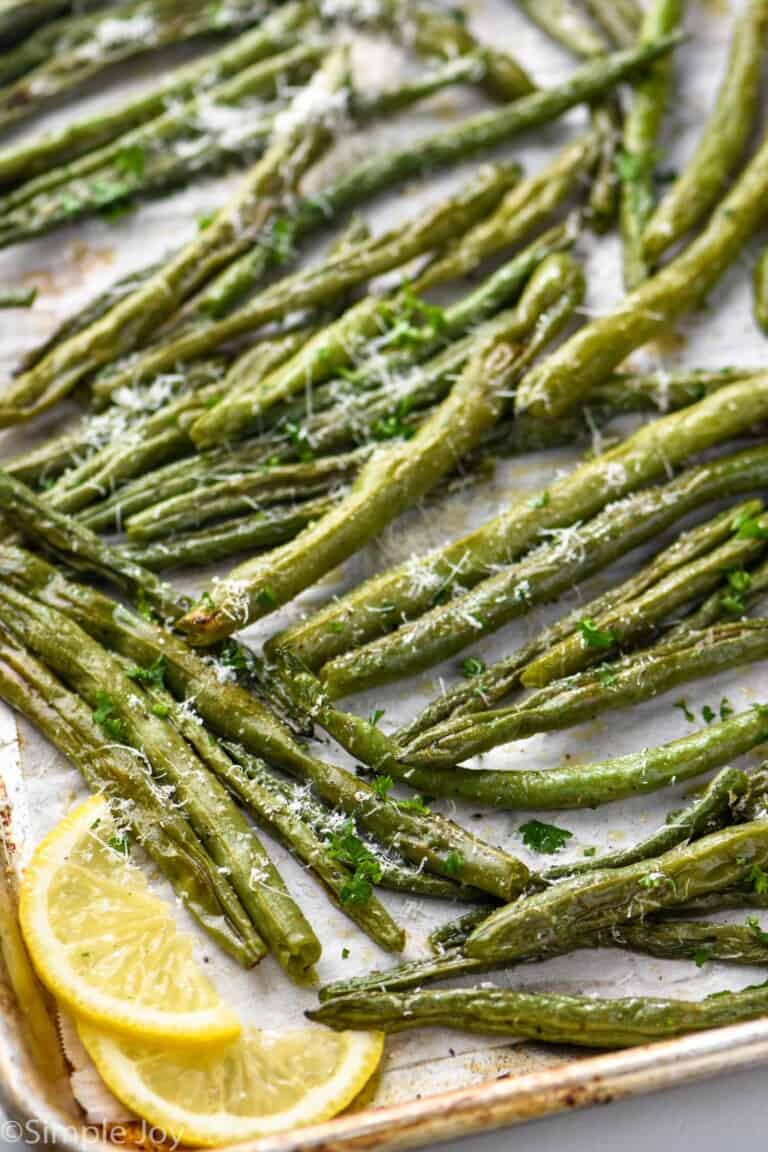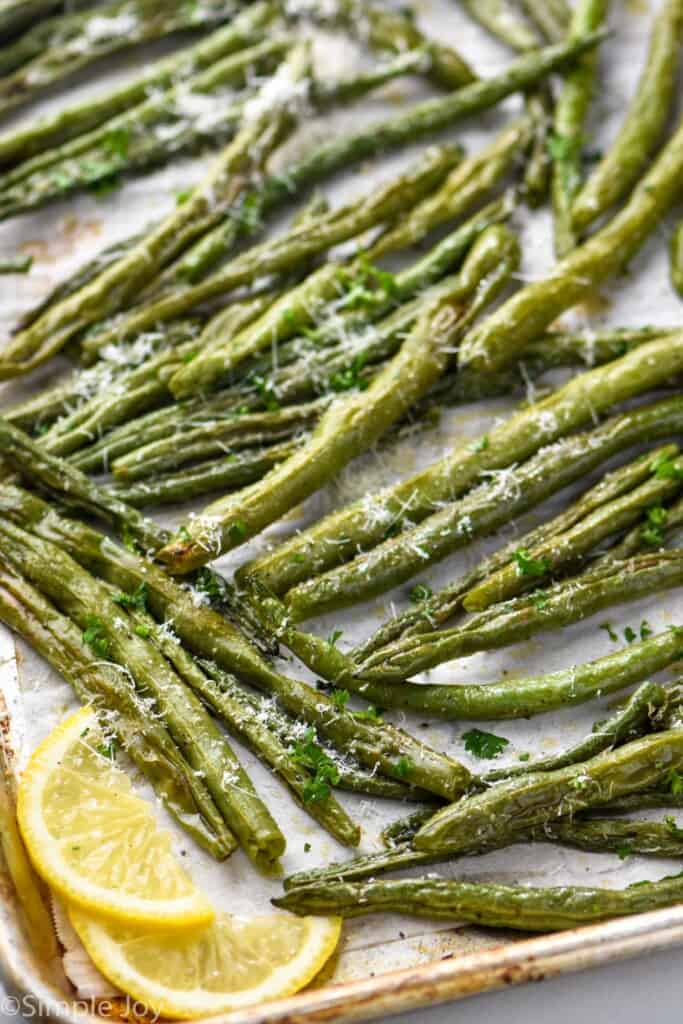 Roasted Vegetable Side Dishes
If you make this roasted green bean recipe or any of my other recipes, leave me a comment and let me know what you think!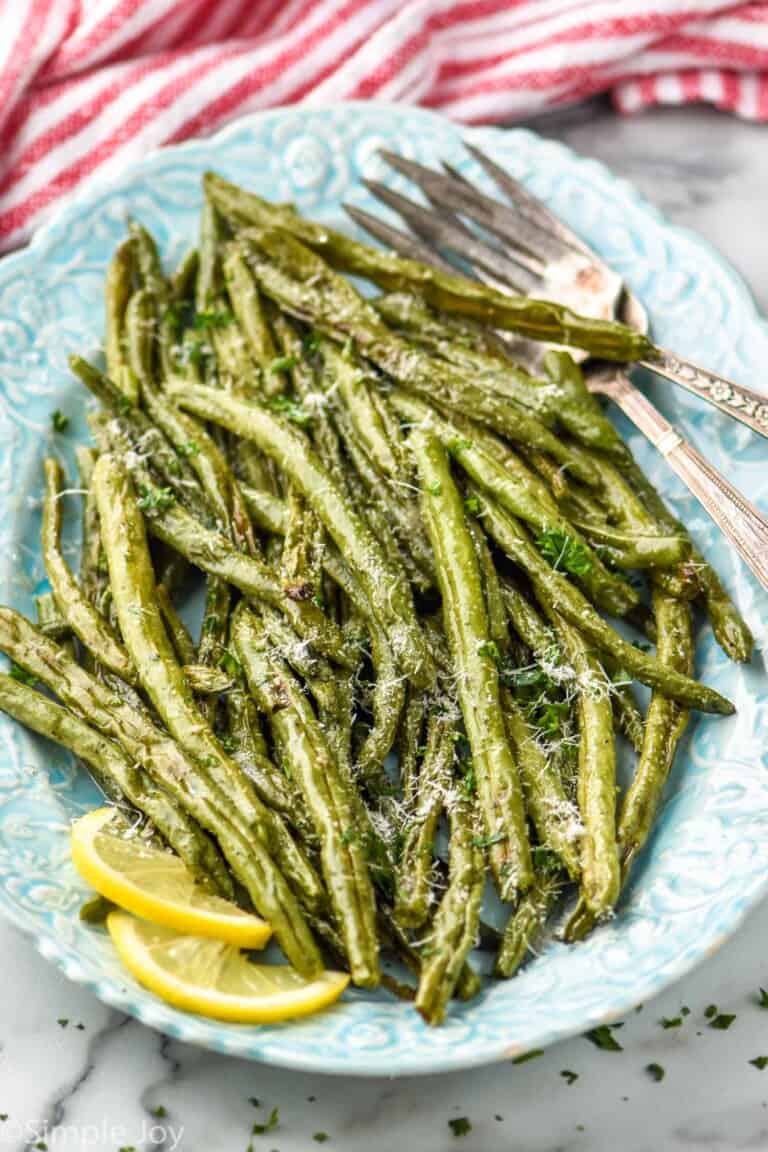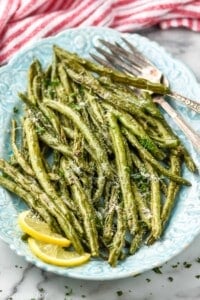 Roasted Green Beans
Simple Roasted Green Beans are the perfect side dish for a weeknight dinner or a holiday meal. This green bean recipe is a keeper!
Ingredients
1

pound

green beans

rinsed and hard stems removed

2

tablespoons

olive oil

2

teaspoons

kosher salt

1/4

teaspoon

black pepper

1

tablespoon

lemon juice

2

tablespoons

Parmesan cheese

optional

fresh parsley

optional
Instructions
Preheat your oven to 425 degrees.

Toss the green beans with the olive oil on a rimmed baking sheet.

Season with half the salt and pepper listed.

Roast for 20 to 25 minutes or until the beans are tender. Half way through roasting toss the green beans and and rotating your pan to account for any hot spots in your oven.

Toss the beans with lemon juice and add some Parmesan cheese and fresly minced parlsey if you want.

Taste the beans and add more salt and pepper as desired.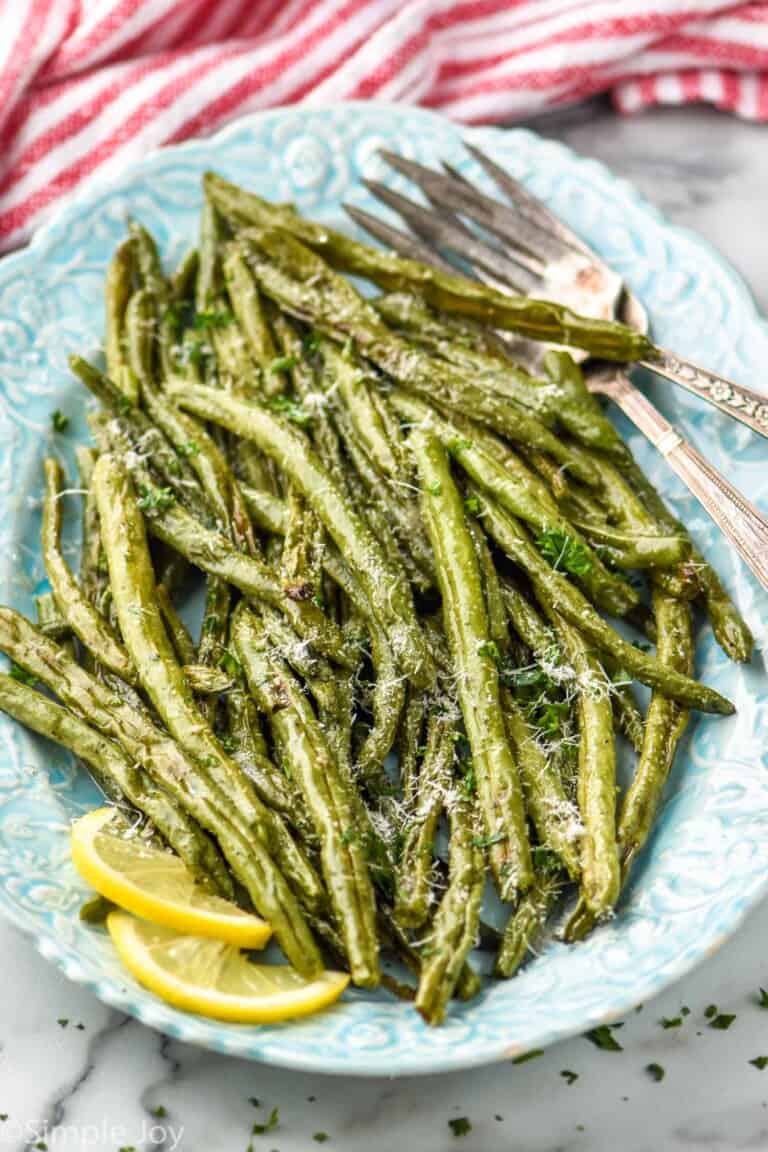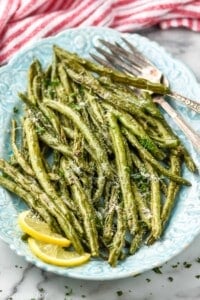 did you make this
Roasted Green Beans
you might also like . . .