Simple Roasted Green Beans are the perfect side dish for a weeknight dinner or a holiday meal. This green bean recipe is a keeper!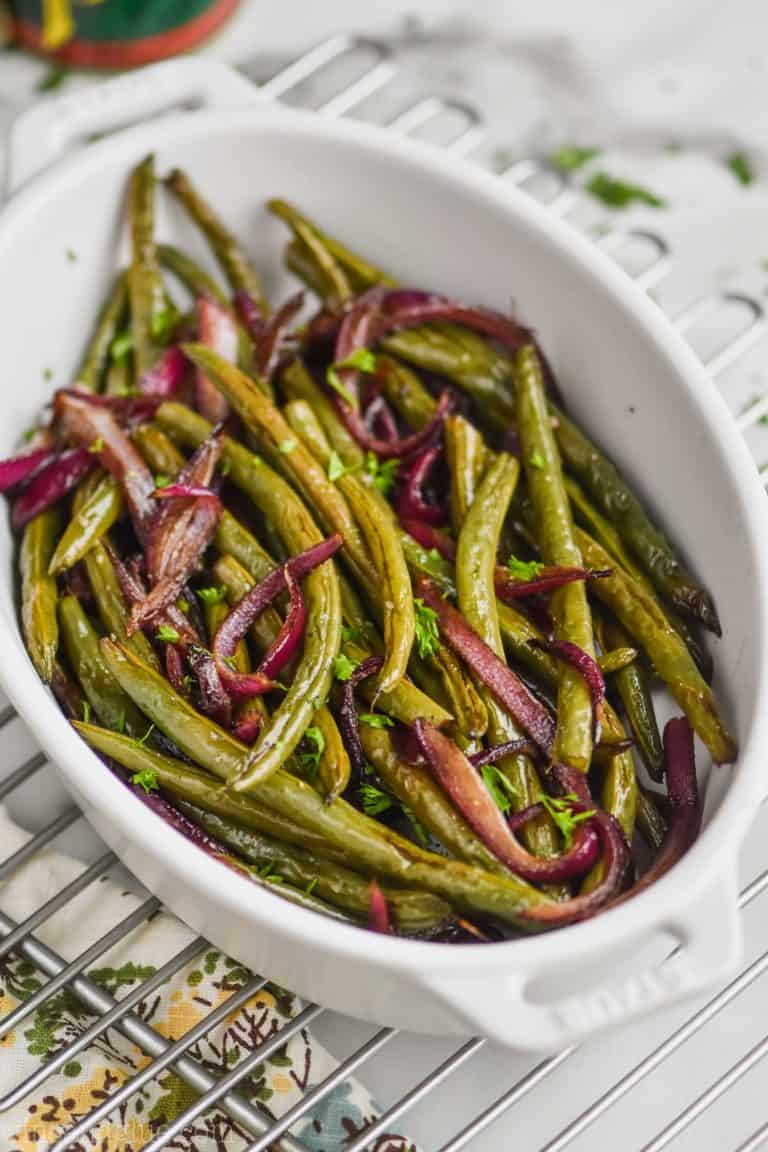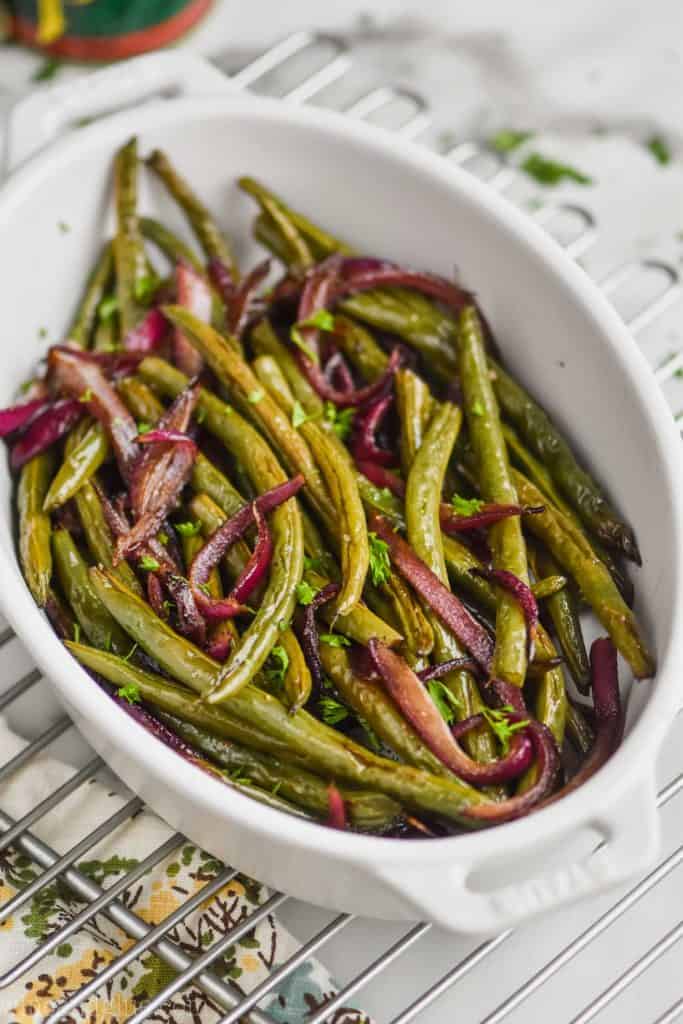 Family dinner time is such a high priority for me. It's where some of our most fun moments happen and where we all get to know each other better.
But since Nathan and I both work full time (some weeks a lot more than full time) it's so hard to pull together a dinner with side dishes. It makes me a huge fan of one pot meals like my One Pot Creamy Shrimp Pasta.
That said, sometimes we just pan fry sausages, and serve them with noodles. Those nights we need an easy side dish so our kids get their veggies in. Enter this amazing roasted green beans recipe.
HOW TO COOK GREEN BEANS
It is possible to make your green beans on the stove top by boiling them, shocking them in ice water, and then lightly pan roasting them.
But! I think that oven roasted green beans a whole lot easier to make.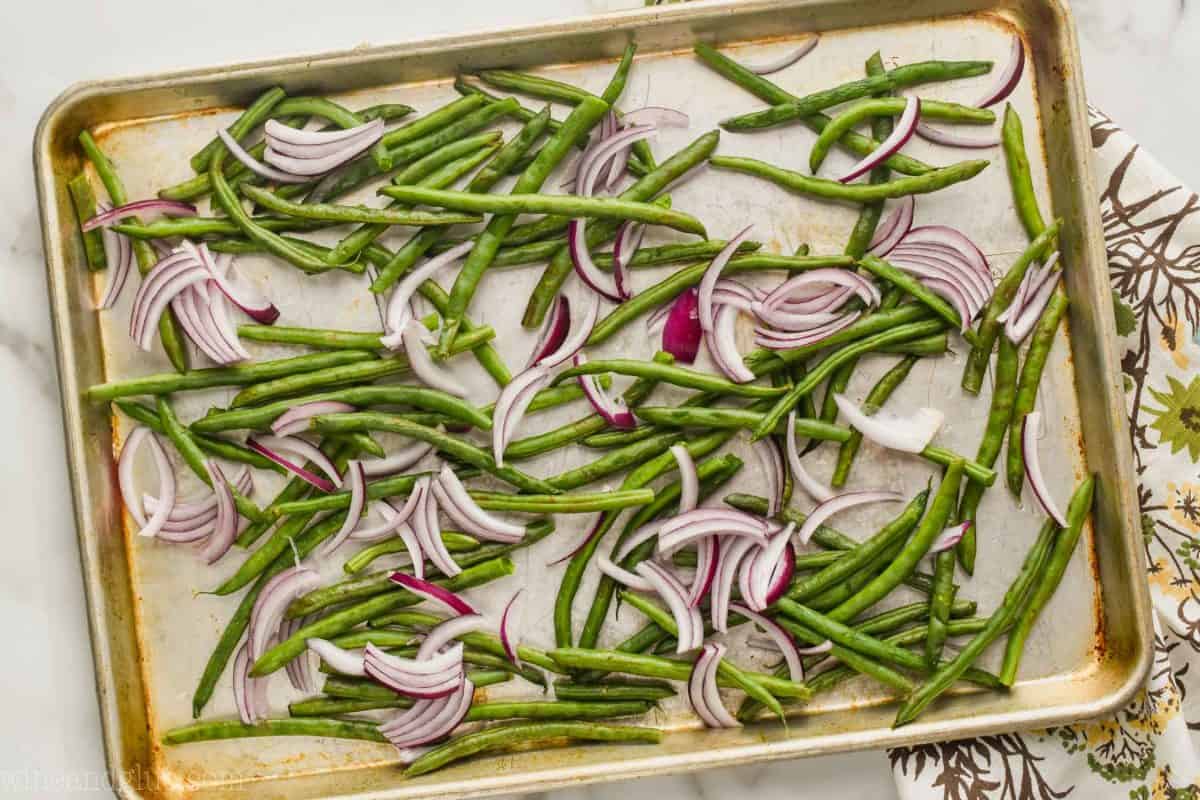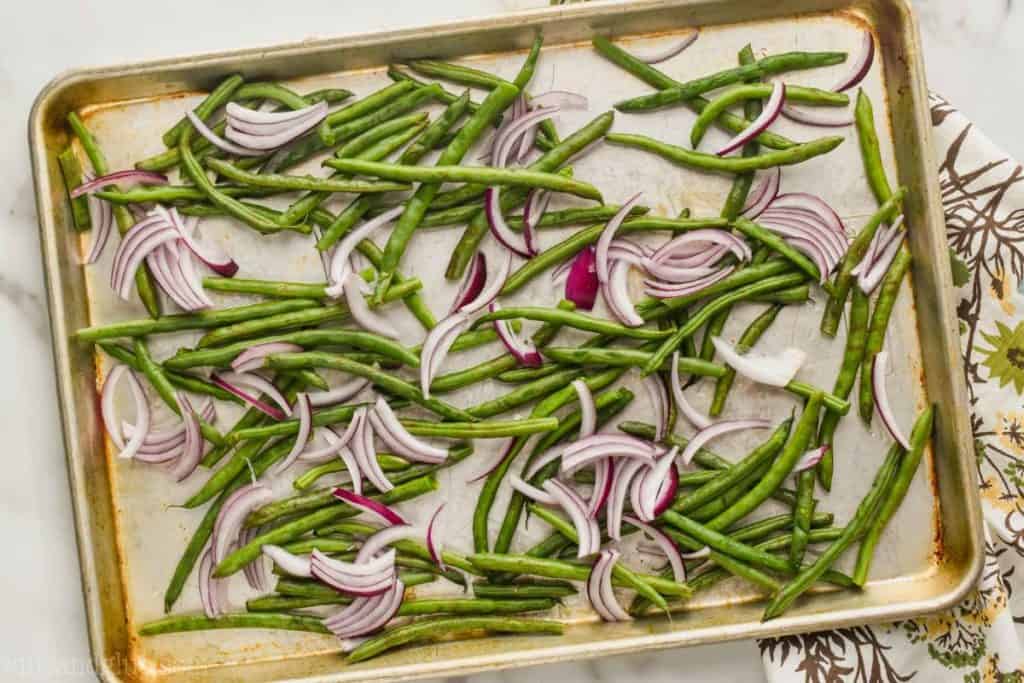 HOW TO ROAST GREEN BEANS
In this recipe we just lightly toss the green beans with olive oil and balsamic vinegar. Then we season them with a little salt and pepper.
All of this can happen right on the sheet pan that you are roasting them on, making clean up easy.
WHAT MAKES THIS THE BEST ROASTED GREEN BEANS RECIPE
This roasted green beans recipe is set apart by two things:
We are roasting them with balsamic vinegar. I love balsamic vinegar, and I think it is even better once roasted.
I added some red onions to this recipe. They become so tender and sweet in the oven with the balsamic vinegar. It adds something really special to this side dish recipe.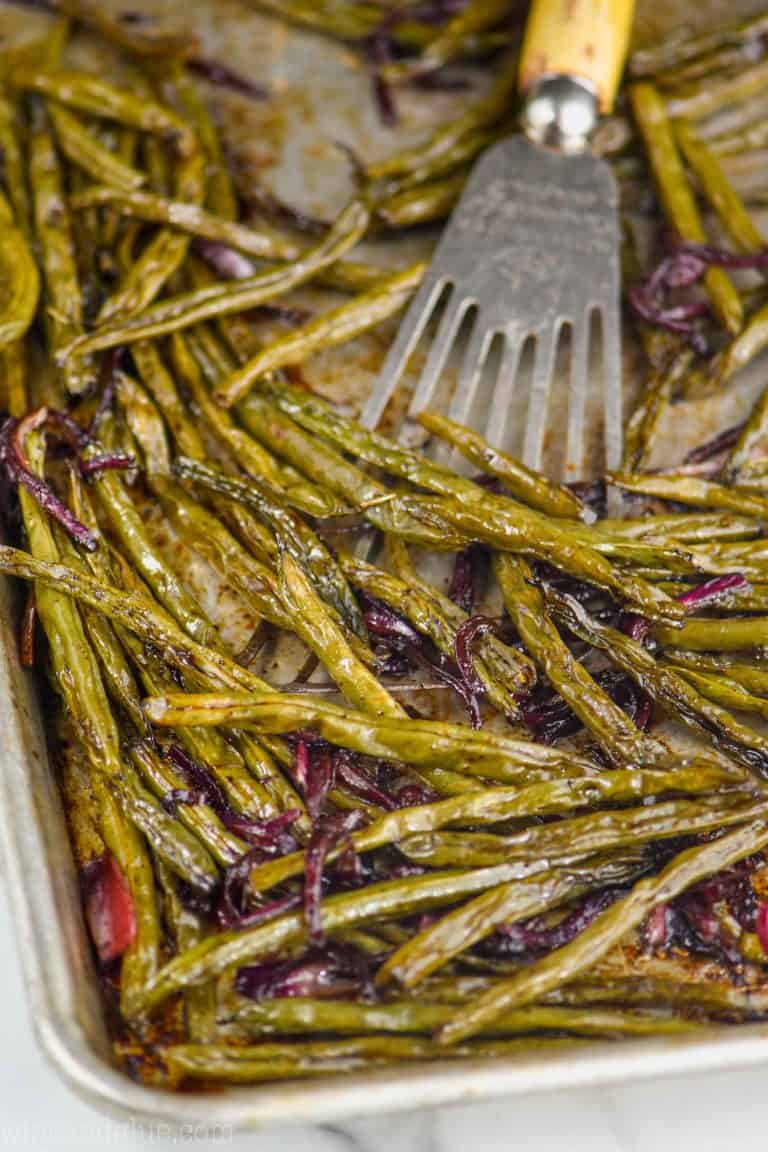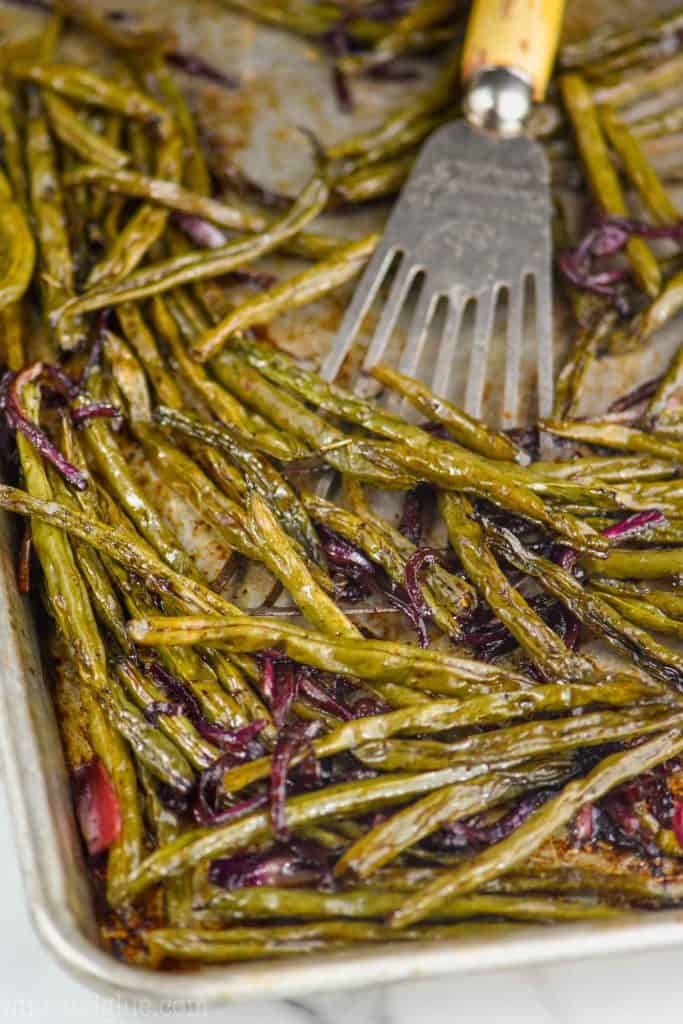 A NOTE ON SALT AND PEPPER
You'll notice that I suggest adding only half the total salt and pepper I have listed.
Tastes vary so much, and I want you to love this recipe. After you make it a few times you will know, probably just from sight, how much salt and pepper you like and you can add it all at the beginning.
MORE GREAT SIDE DISHES
If you are regularly making things like chicken tenders and easy roasts that need veggies on the side, here are some other great ideas: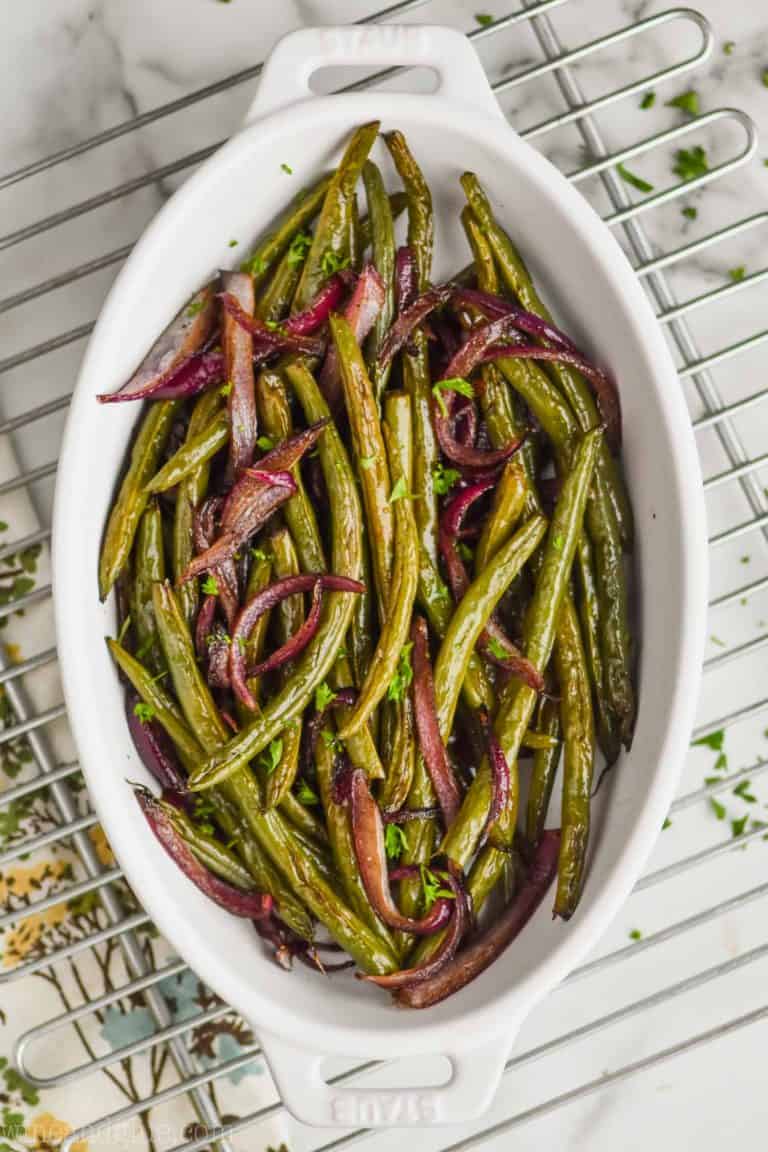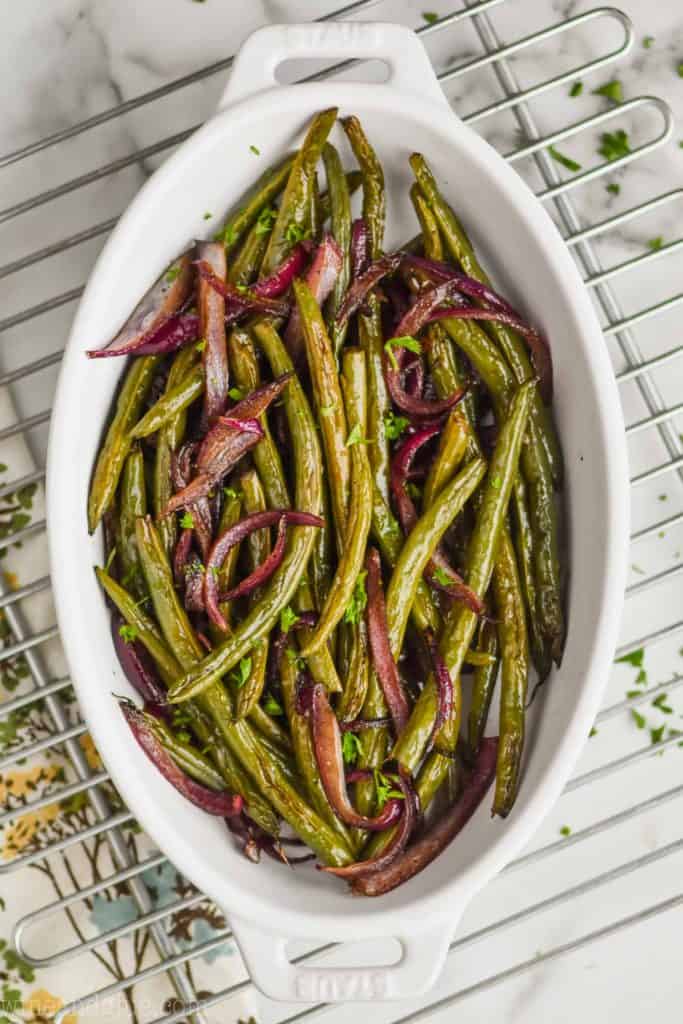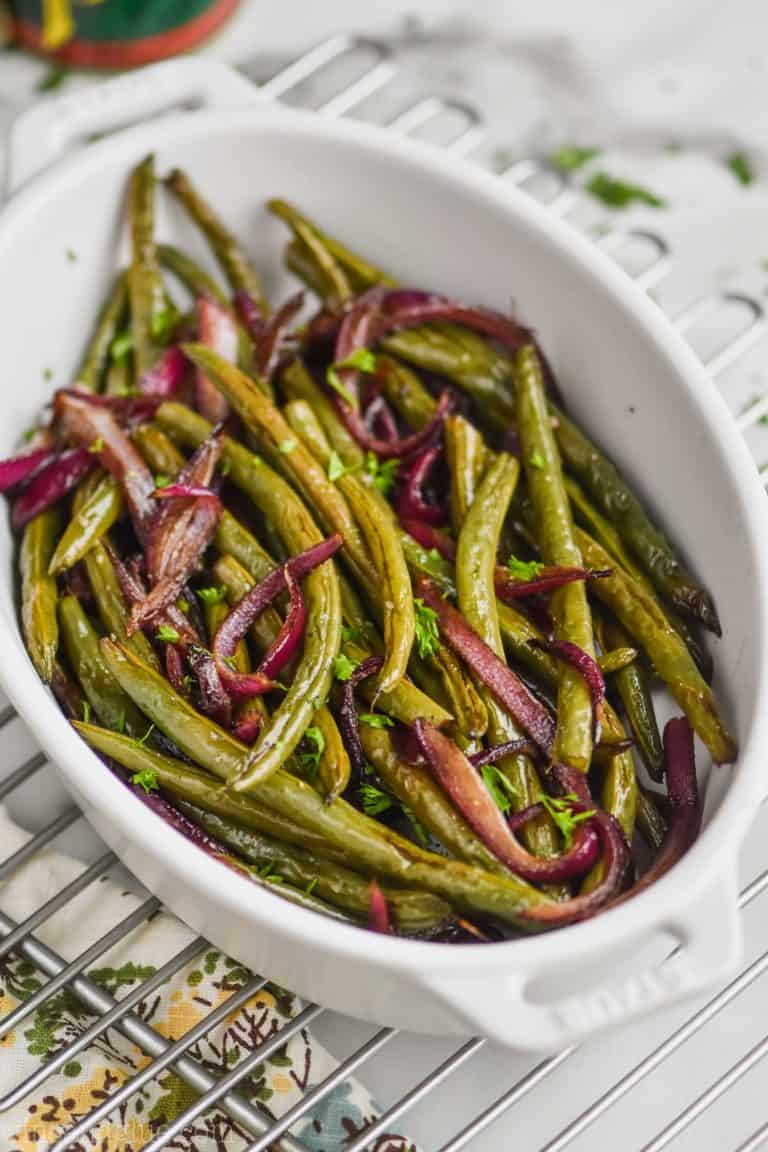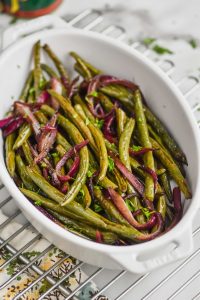 Roasted Green Beans
Simple Roasted Green Beans are the perfect side dish for a weeknight dinner or a holiday meal. This green bean recipe is a keeper!
Ingredients
1

pound

green beans

rinsed and hard stems removed

2

tablespoons

olive oils

2 1/2

tablespoos

balsamic vinegar

2

teaspoons

kosher salt

1/4

teaspoon

black pepper
Instructions
Preheat your oven to 425 degrees.

Toss the green beans with the olive oil and balsamic vinegar on a rimmed baking sheet.

Season with half the salt and pepper listed.

Roast for 20 to 25 minutes or until the beans are tender. Half way through roasting toss the green beans and and rotating your pan to account for any hot spots in your oven.

Taste the beans and add more salt and pepper as desired.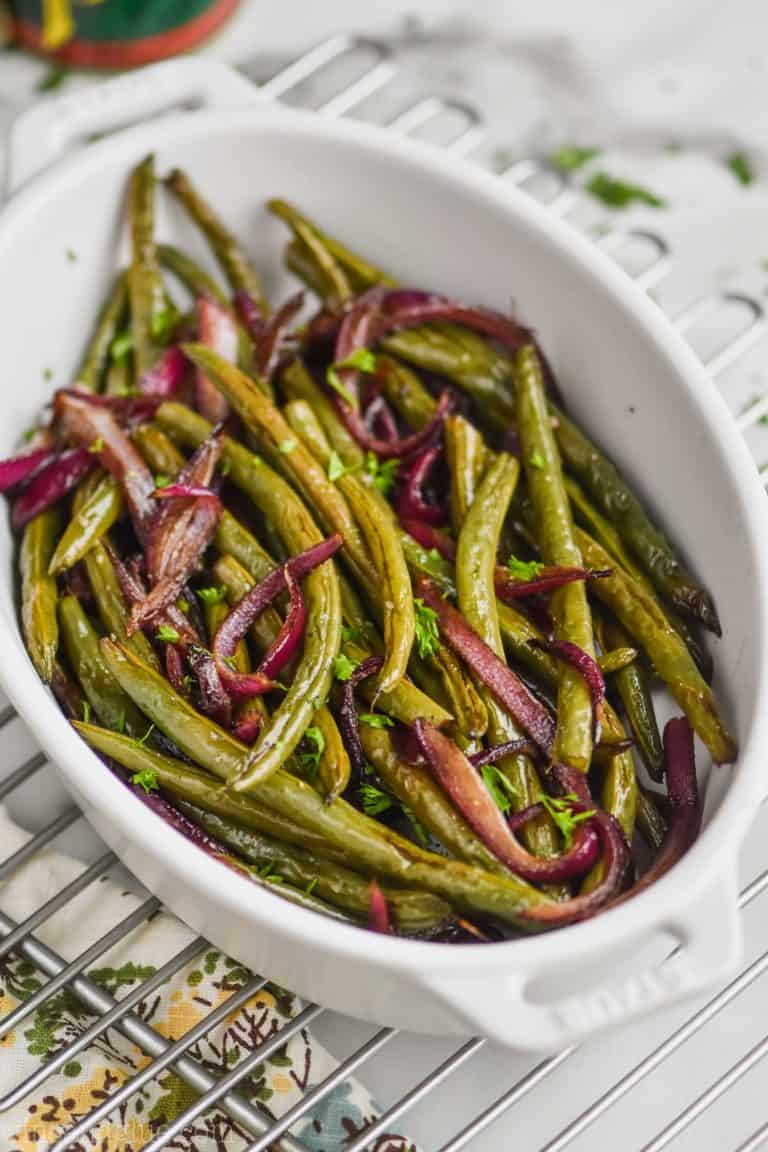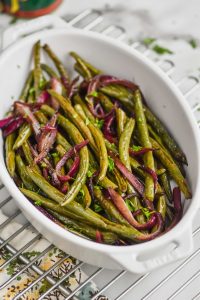 did you make this
Roasted Green Beans