These Brown Butter Chocolate Chip Cookie Bars are insanely good! Like you cut off a slice and then suddenly the whole pan is gone good! If you've never made brown butter before, watch the video in this post to see how to make brown butter. It tastes amazing and adds such a richness to this chocolate chip cookie bar recipe. If you are looking for other great cookie bar recipes make these sugar cookie cookie butter bars, these vanilla cookie cookie bars, or these amazing sugar cookie fudge bars!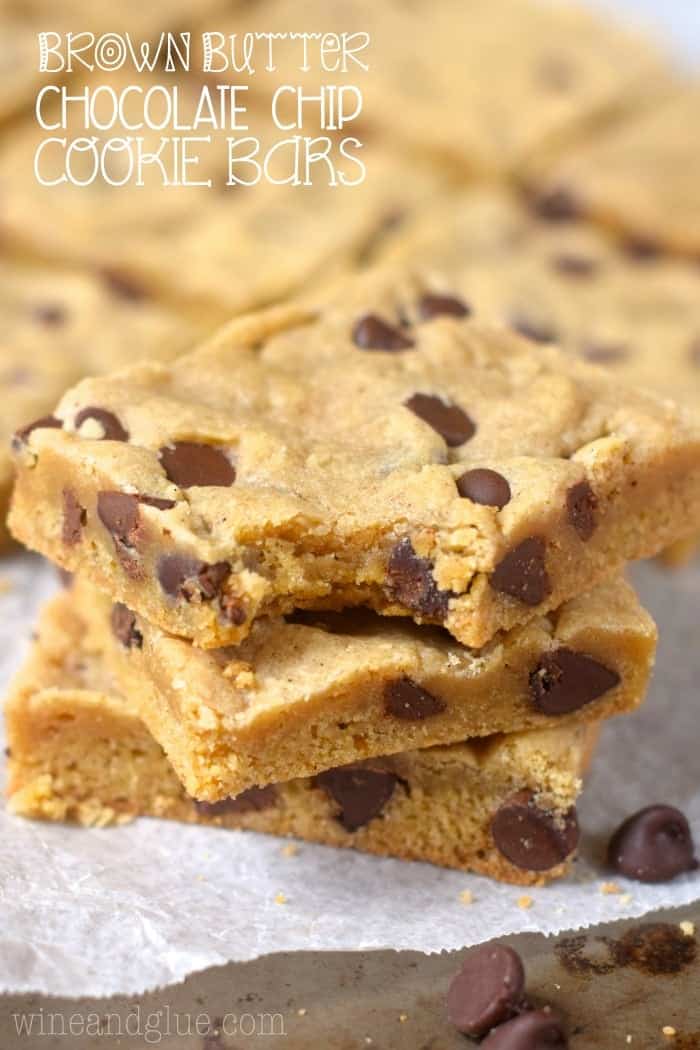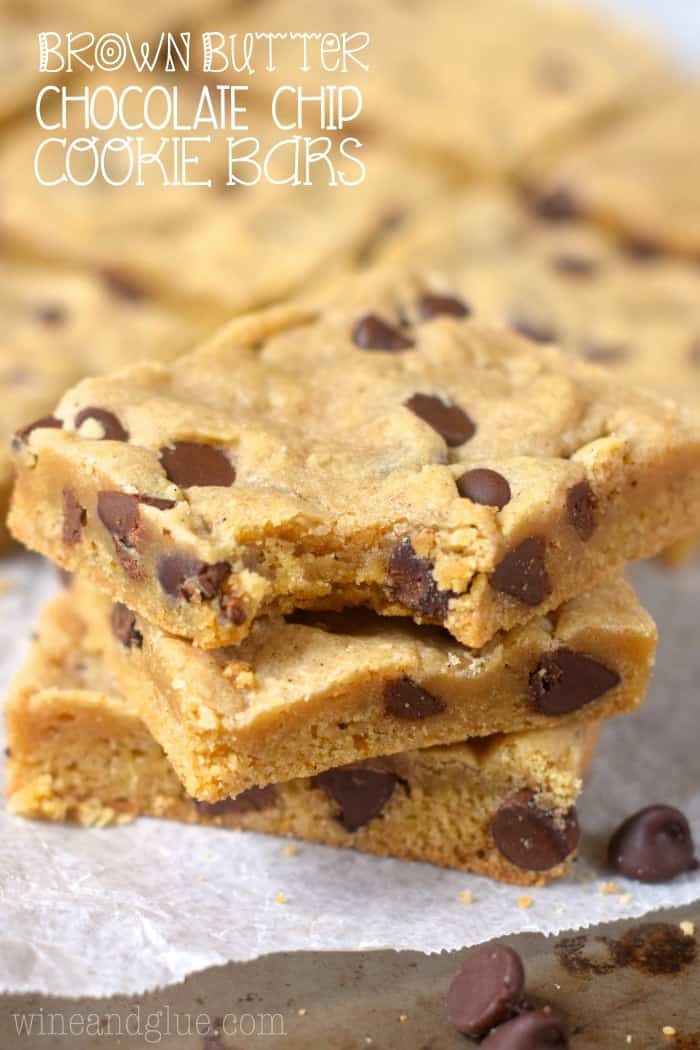 I totally just deleted what I was about to write to all of you in this post. I was trying too hard to be funny.
But here's the thing.
I have spent the last 8 years growing people. And I'm pretty sure that a good 50% of the energy it took to grow those people was expended in the last three days. You guys. My baby is eating me out of house and home.
I'm too exhausted to be funny.
Can I ask you a serious question?
Is it proven that brown butter increases milk production? Because for the first time in my world renowned nursing career, I'm like seriously under producing. If brown butter could increase production, I would be golden.
No? It doesn't?
What about cookie bars?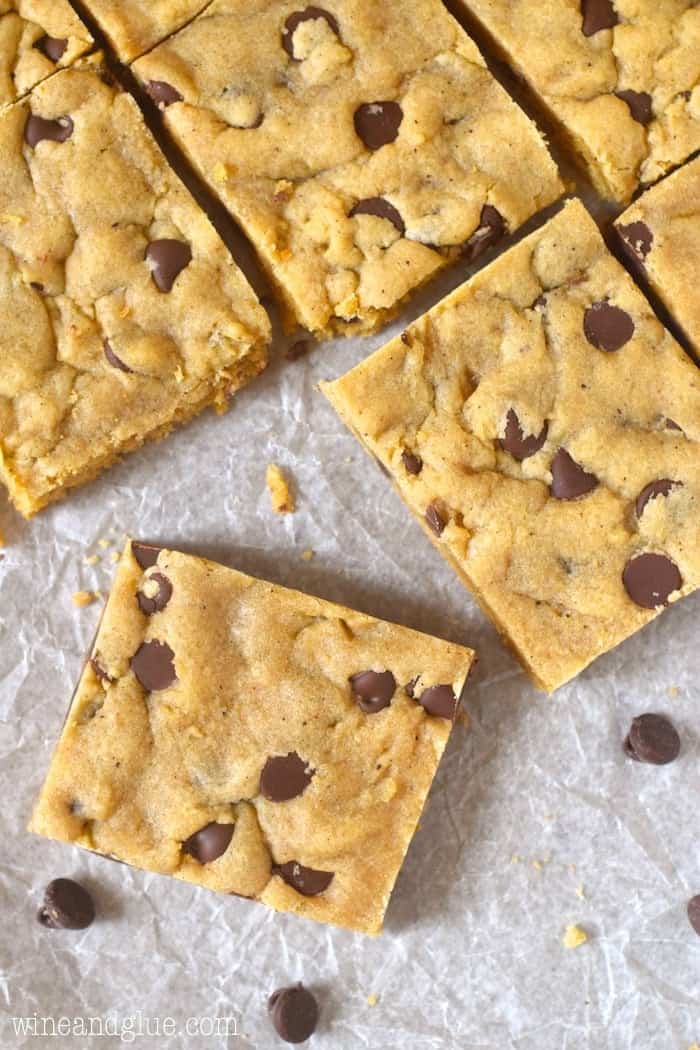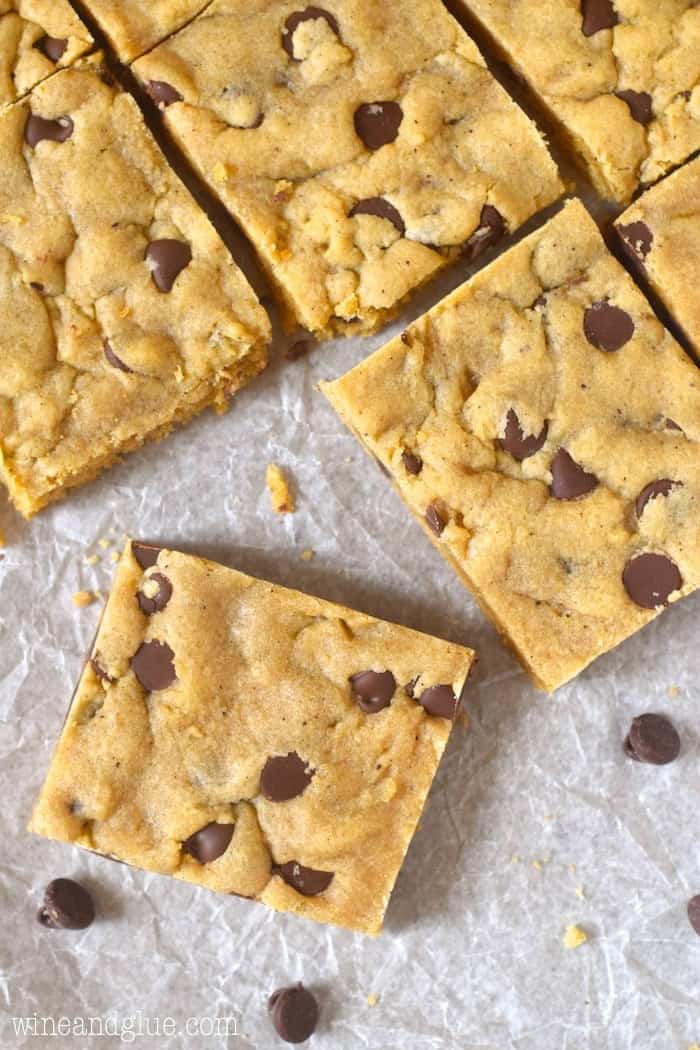 I promise you that at some point my blogging will become less about nursing toils and tribulations and more about brown butter.
You know what, that's not a promise that I can make. Because as soon as it stops being about nursing its going to be about how hard it is to stay out of 4 year old girl drama. And then it's going to be about why tween boys stop talking to you altogether. And all sorts of other nonsnese I can't even fathom yet.
But brown butter. I can say that there will be more brown butter mixed in there. This is the first recipe I've made with it, and we are now BFFs. Like, super tight. We are even talking about going ring shopping. It takes a recipe that is already really good and takes it to a place where your mouth wants to close up shop because it knows that you are never going to eat something better.
I think it's time to brown butter all the things.
HOW TO MAKE BROWN BUTTER
Place your butter in a saucepan over medium heat
Allow it to melt completely, stirring consistently.
Once it has melted, it will start bubble, foam and deepen in color. Continue stirring.
When brown bits begin to show up at the bottom, remove from heat and allow to cool a little before using in the recipe.
TIPS FOR THIS BROWN BUTTER CHOCOLATE CHIP COOKIE BAR RECIPE
Make sure you baking powder and baking soda are fresh. They need to be changed out every six months. To test them add a little baking powder to water – it should bubble immediately. To test the baking soda, add it to vinegar. It should bubble immediately.
Make sure not to over measure your flour. Do not use your measuring cup to measure the flour. Scoop it from the container into your measuring cup and then level off.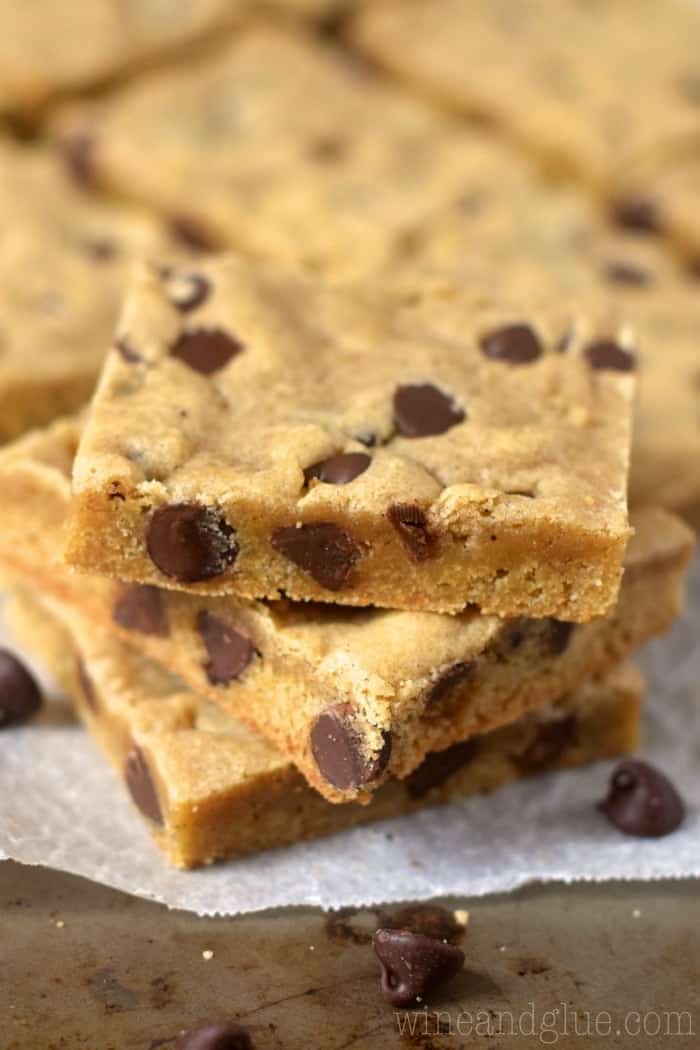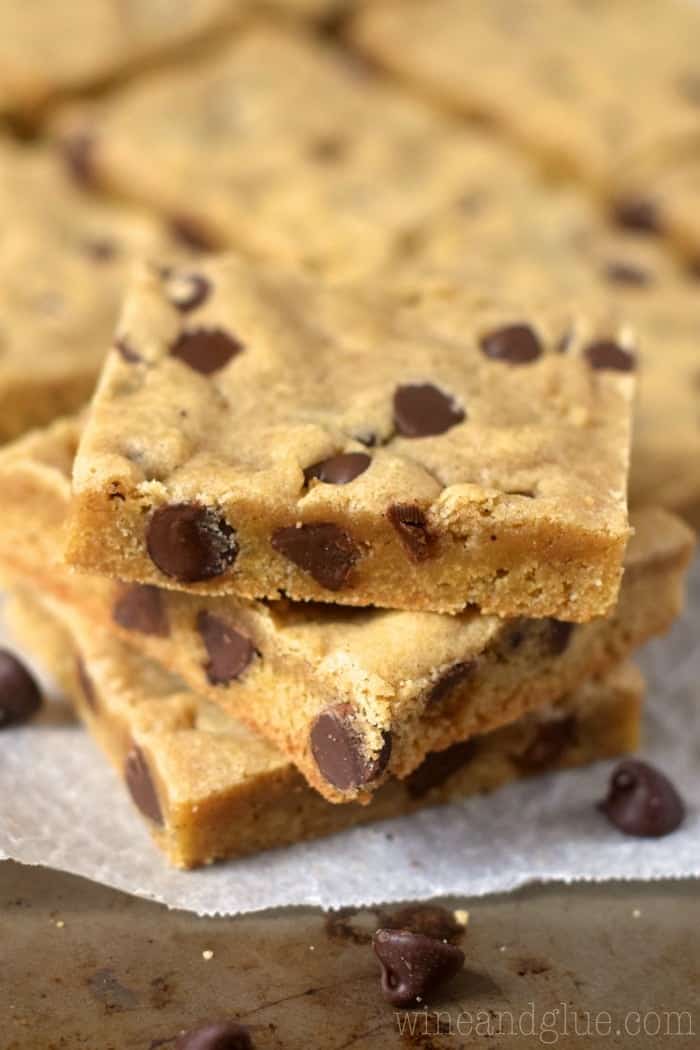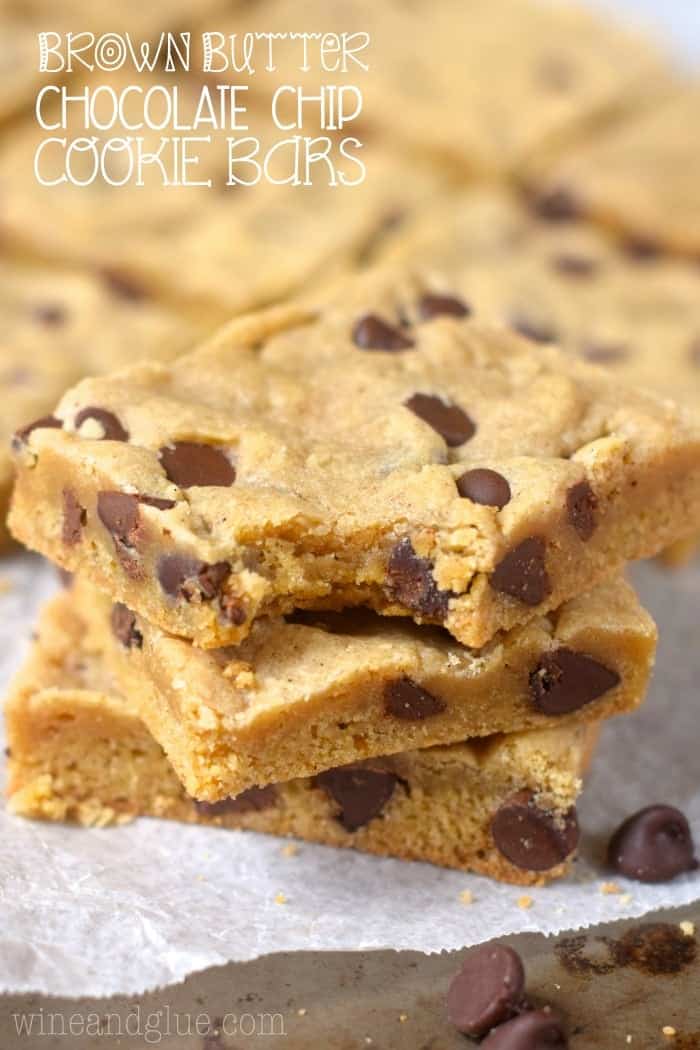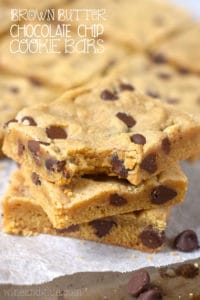 Brown Butter Chocolate Chip Cookie Bars
These Brown Butter Chocolate Chip Cookie Bars are insanely good! Like you cut off a slice and then suddenly the whole pan is gone good!
Ingredients
1/2

cup

butter

2

cups

all purpose flour

1/2

tsp

salt

1/2

tsp

baking soda

1/2

tsp

baking powder

3/4

cup

light brown sugar

packed

1/4

cup

granulated sugar

2

tsps

vanilla extract

2

large eggs

1

cup

semi sweet chocolate chips
Instructions
Preheat the oven to 350 degrees. Spray a

9 by 13

inch pan with cooking spray and set aside.

Over medium heat in a skillet melt the butter, stirring consistently. The butter will begin to foam and deepen in color and smell nutty. When small brown bits begin to show up at the bottom, remove it from the heat and allow to cool a little.

In a large bowl, mix the flour, salt, baking soda, and baking powder together.

In the bowl of a stand mixer, mix together the granulated sugar, packed brown sugar, and brown butter together until fully combined. Add in the vanilla and then each egg one at a time until just mixed.

Slowly add the flour mixture, scraping down the sides as necessary. Mix until just combined.

With a spoon stir in the chocolate chips.

Press the dough into the prepared pan and bake for 20 minutes or until the edges just begin to turn golden brown. Allow to cool completely before cutting and serving.
Calories:
155
kcal
(8%)
Carbohydrates:
21
g
(7%)
Protein:
2
g
(4%)
Fat:
7
g
(11%)
Saturated Fat:
4
g
(25%)
Monounsaturated Fat:
1
g
Cholesterol:
26
mg
(9%)
Sodium:
109
mg
(5%)
Potassium:
8
mg
Fiber:
1
g
(4%)
Sugar:
14
g
(16%)
Vitamin A:
350
IU
(7%)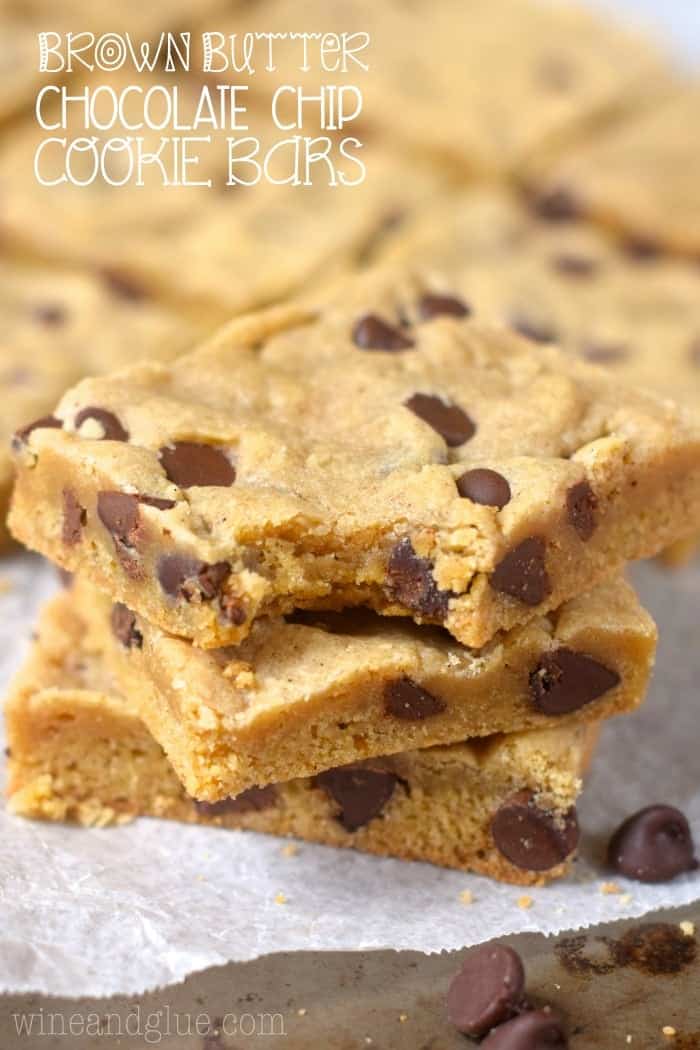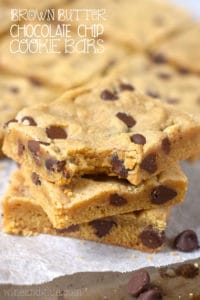 did you make this
Brown Butter Chocolate Chip Cookie Bars
If you need more easy bar recipes in your life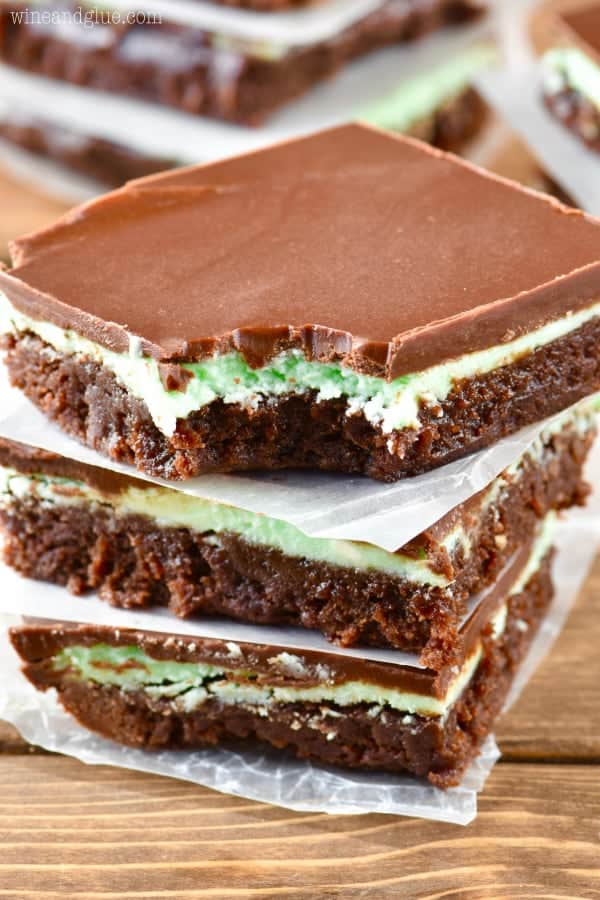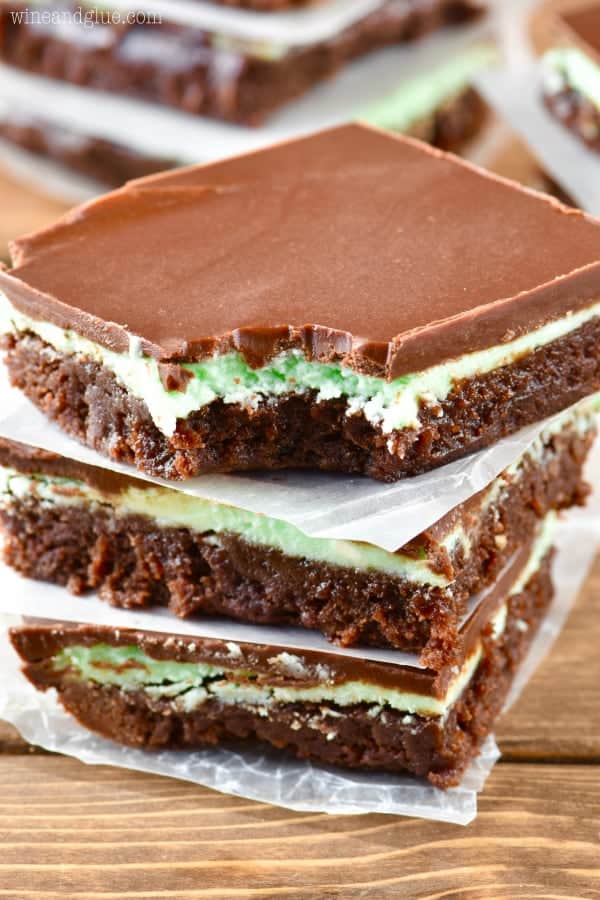 Chocolate Covered Cherry Magic Bars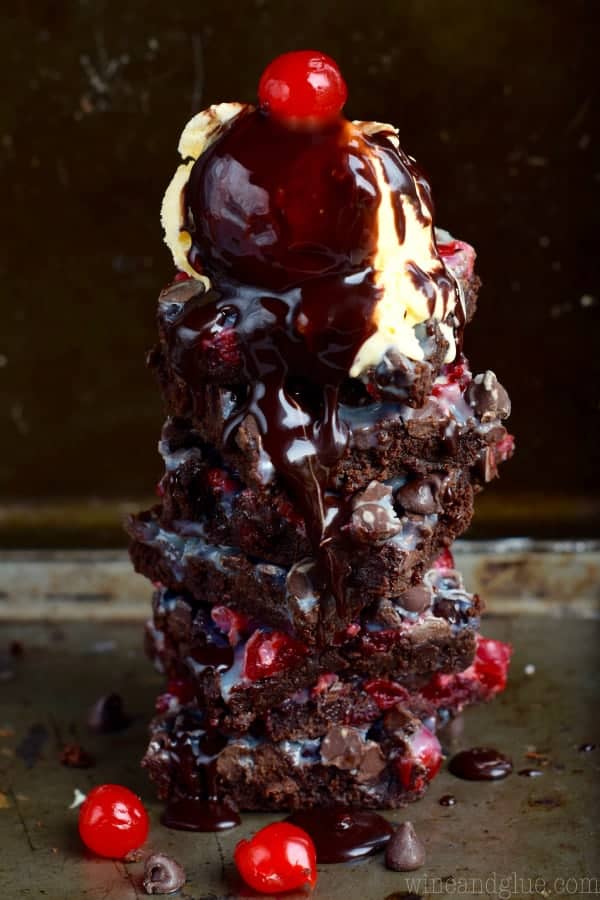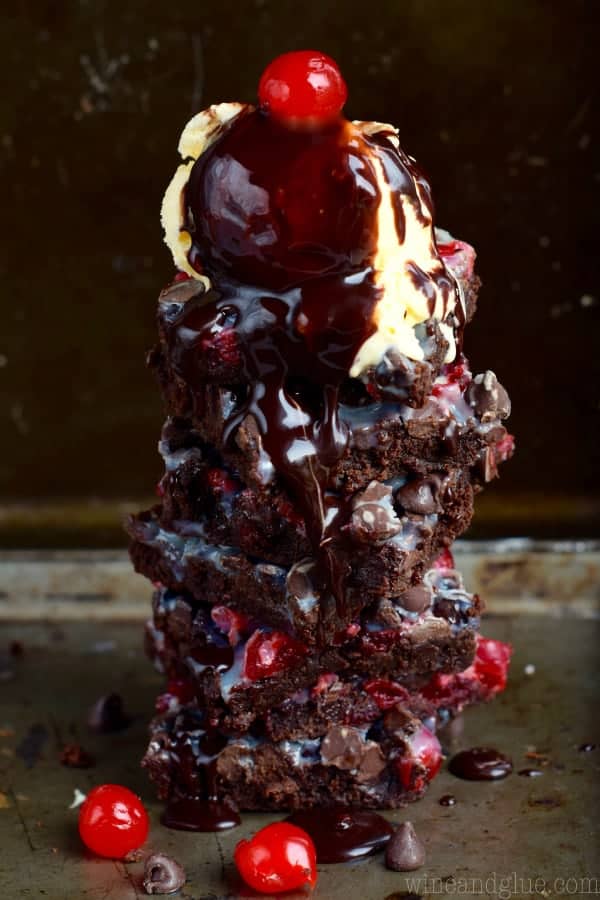 Root Beer Float No Bake Cheesecake Bar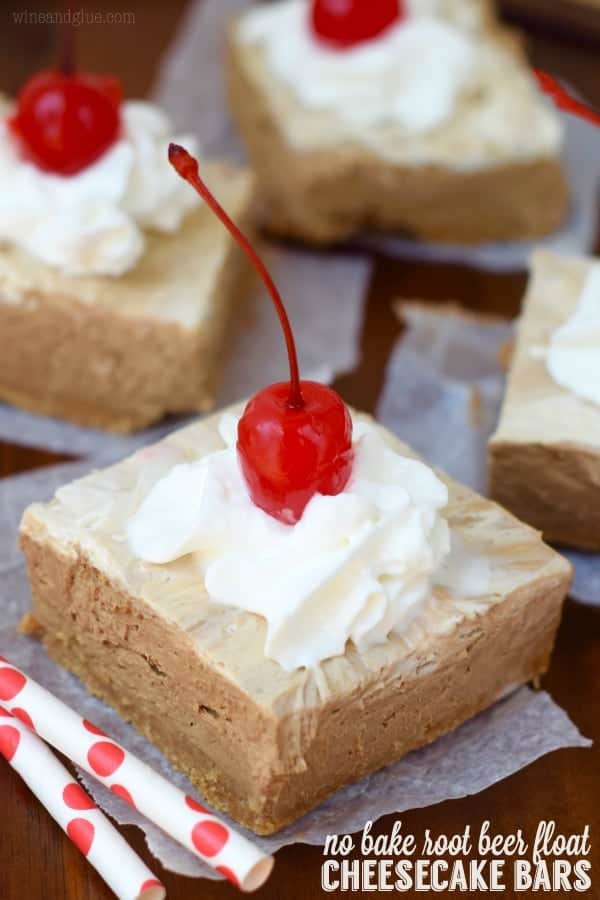 Cookies and Cream Cake Batter Krispie Treats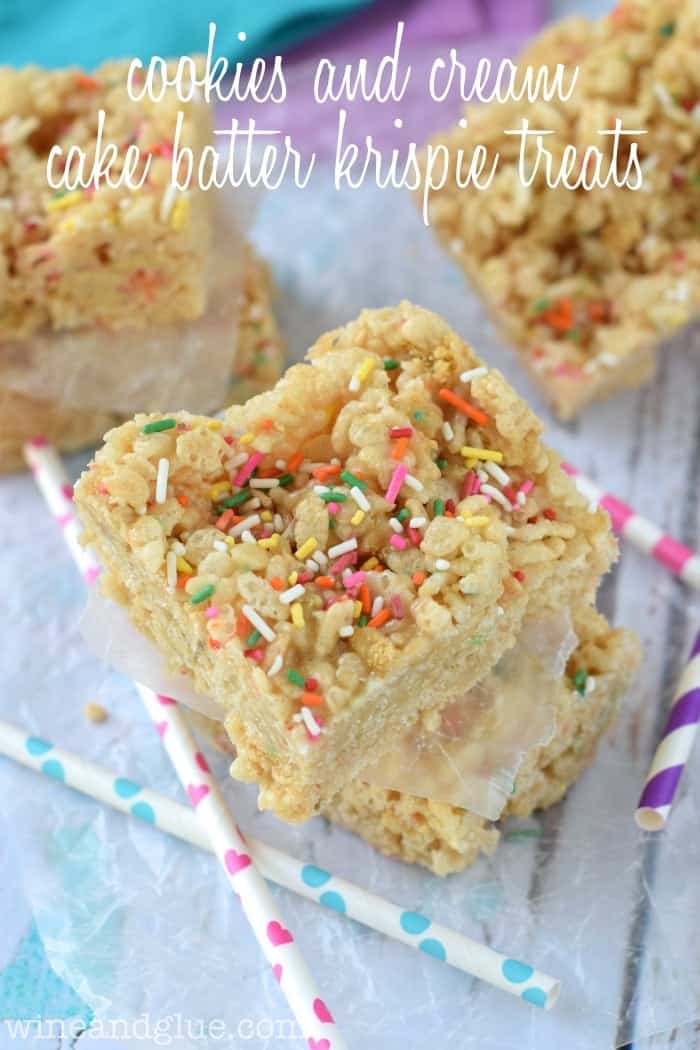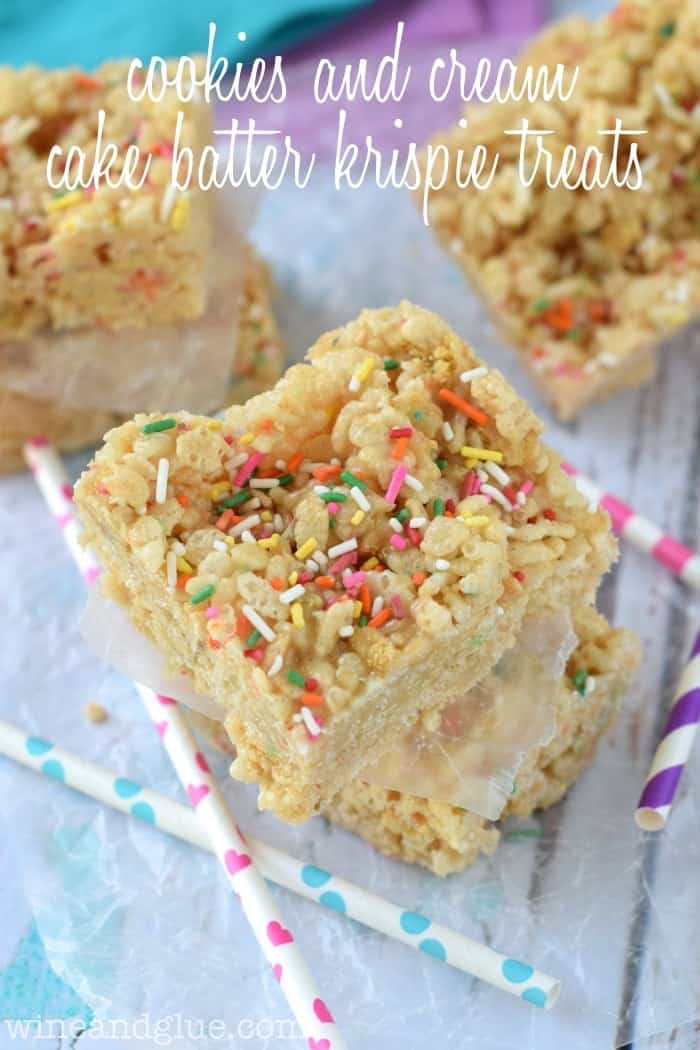 This post contains affiliate links, if you click on them and then make a purchase, I make a small amount of money at no additional cost to you. Thank you in advance for supporting Wine & Glue.