This delicious Chocolate Martini is only three ingredients and it is the perfect after dinner treat! I love dessert cocktails.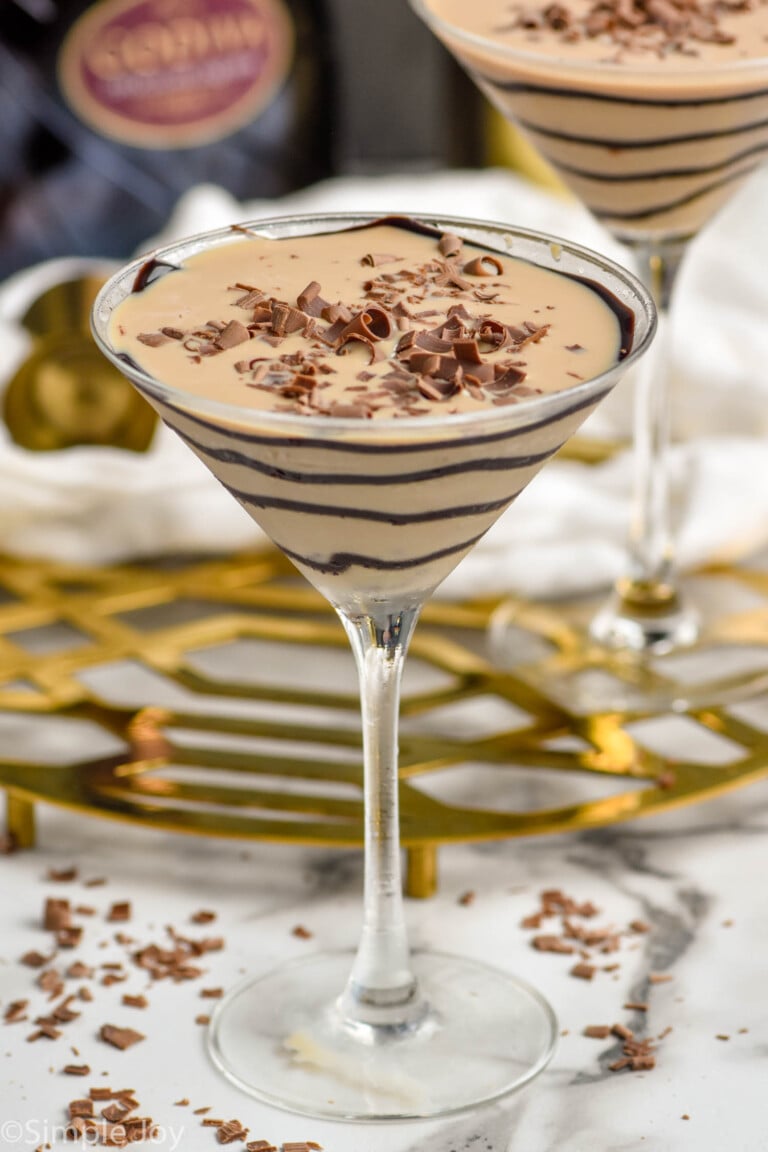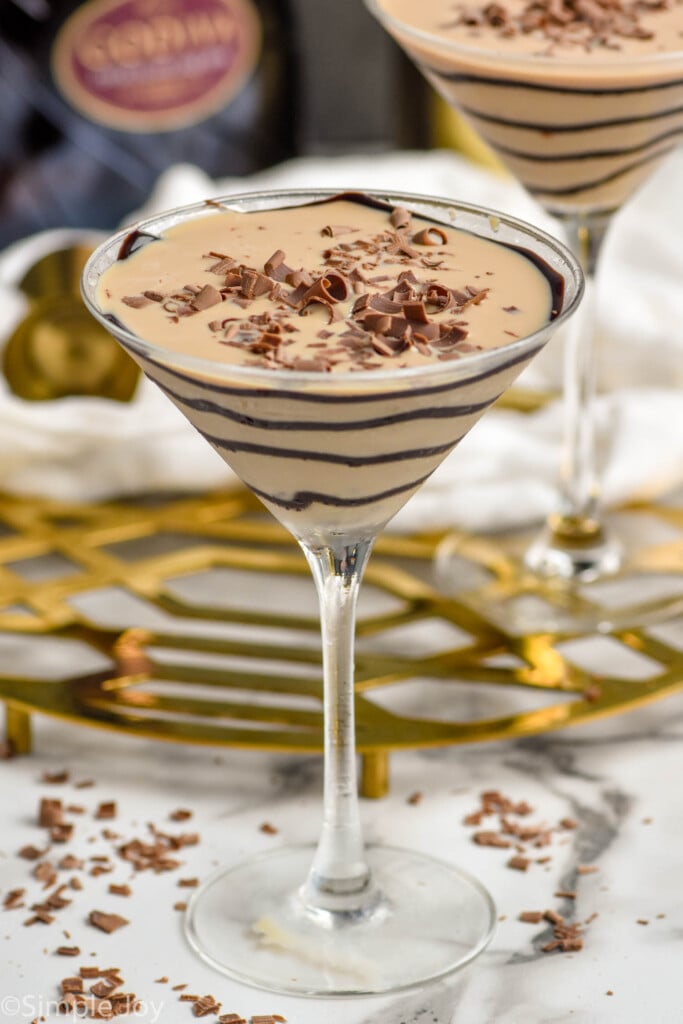 Dessert martinis are one of my favorite drinks to photograph because they are always so pretty! They are pretty delicious too. When the end of a delicious meals comes, a dessert cocktail can be the perfect way to end an evening.
These gorgeous chocolate martinis are the perfect thing to serve your guests as the evening rolls to an end. Made with just three ingredients that are easy to keep on hand, your guests will love this perfect cocktail.
Chocolate Martini Ingredients
Just three ingredients combine in this decadent chocolate cocktail. For the measurement of each ingredient, see the recipe card at the bottom of the post.
Irish cream: Bailey's Irish Cream is the most popular Irish cream and makes this cocktail creamy and sweet.
Vodka: Since this martini isn't as vodka-forward as the classic dirty martini, a top-shelf vodka isn't necessary. Read more about this below.
Chocolate liqueur: Where the martini gets its sweet chocolate flavor. Milk or dark chocolate liqueur can be used, depending on your preference.
Chocolate sauce and chocolate shavings for garnish.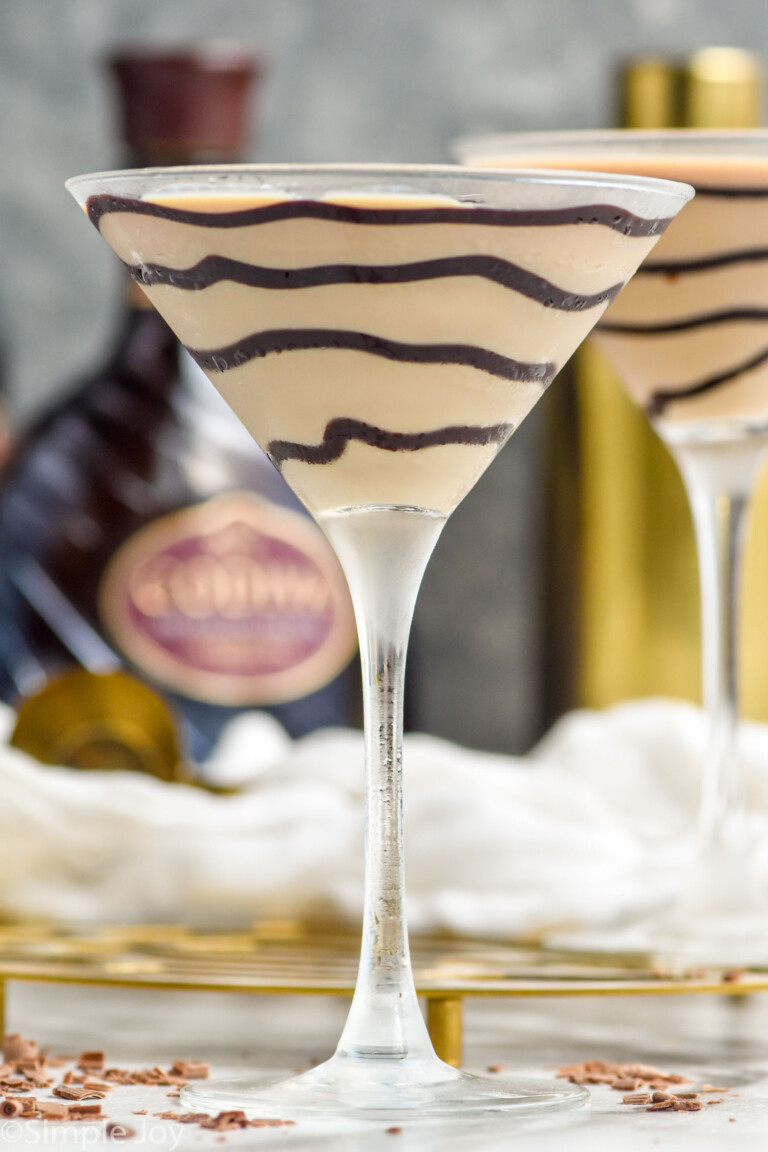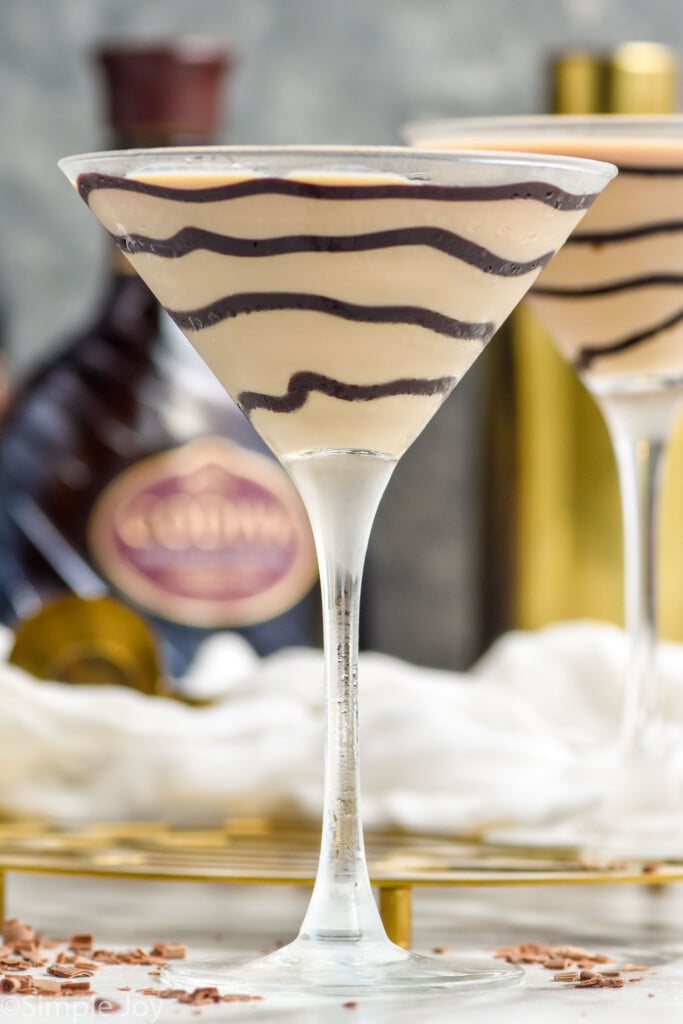 How to Make a Chocolate Martini
This dessert martini recipe couldn't be easier to make. For the full recipe including all measurements, scroll to the recipe card at the bottom of the post.
Prepare your glasses. Start by drizzling chocolate sauce inside your martini glasses. To do this, hold your glass at a 45 degree angle and slowly turn it by holding the stem while the chocolate sauce swirls around the inside of the glass. Place the glasses in the freezer for about 10 minutes.
Combine ingredients. Add your chocolate liqueur, vodka, and Irish cream to a cocktail shaker with lots of ice.
Give it a good shake. You will want to shake the mixture vigorously for at least 20 seconds or until the outside of the cocktail shaker is very cold.
Strain into your prepared glasses. Garnish with chocolate shavings and enjoy!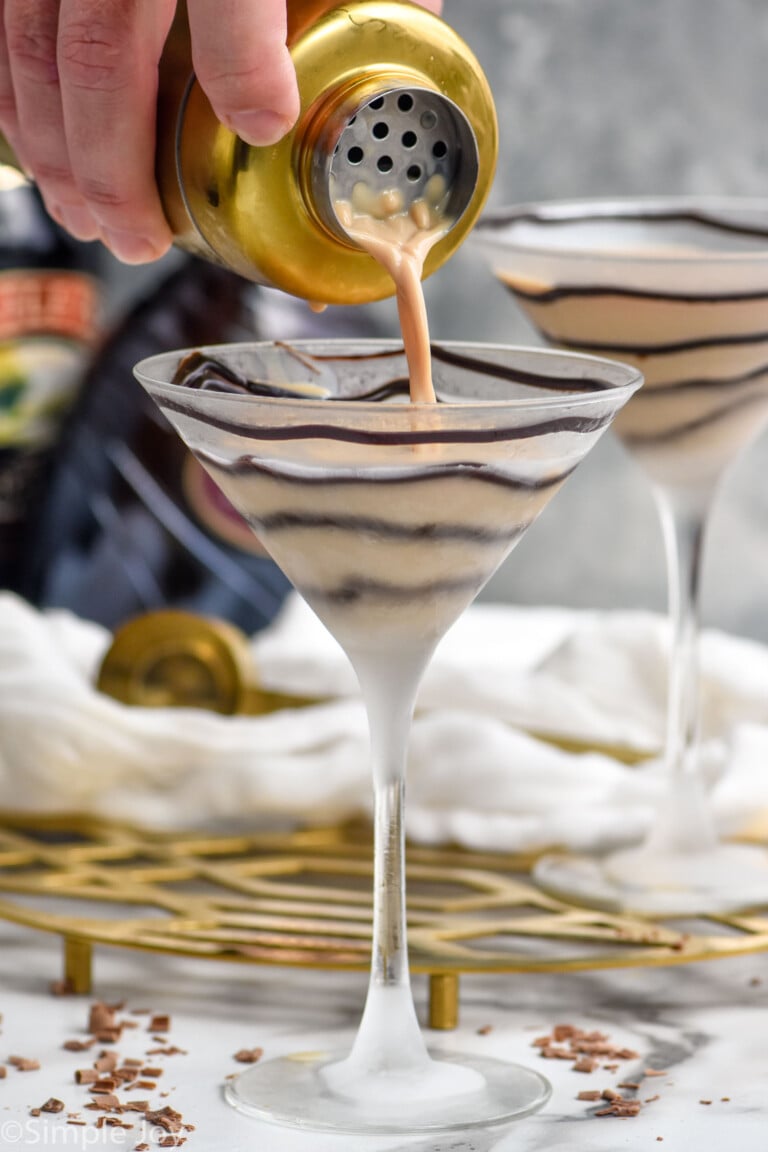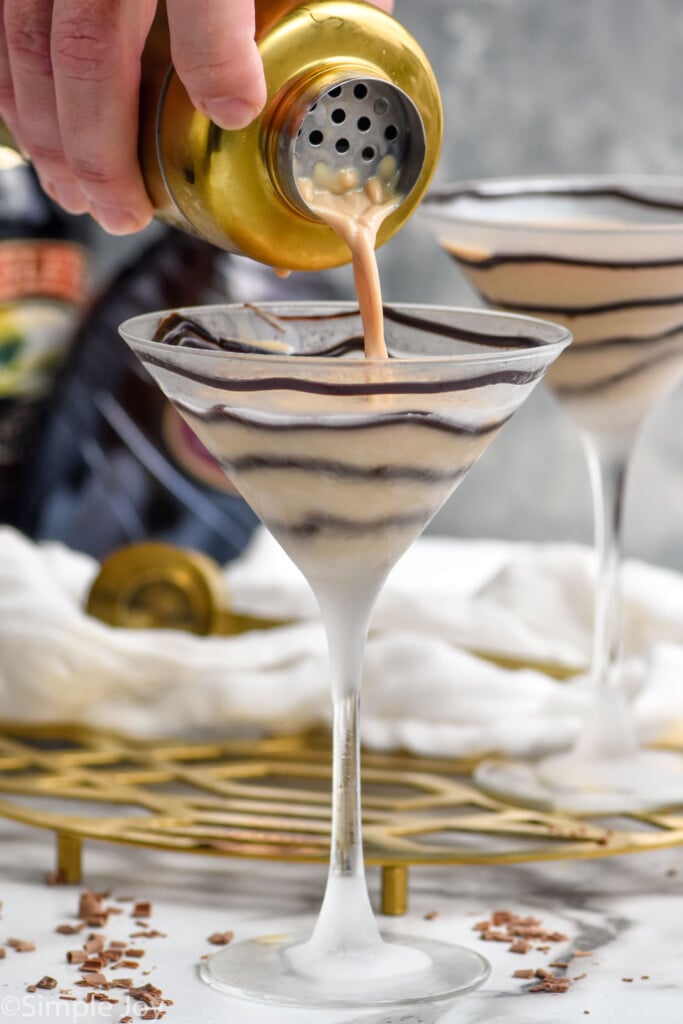 Vodka Recommendations
As mentioned above, since we are using mix ins that have a lot of flavor, a top tier vodka isn't really necessary for this recipe. That being said, I would still recommend that you go with something with a smooth flavor.
Titos would be a great vodka for this recipe. It is a budget friendly mid-tier vodka that would work great in this recipe.
Grey Goose and Belvedere are higher end vodkas that we love the taste of. While you don't need to break the bank for this recipe, if those are in your budget they are great options.
Kirkland Vodka is my favorite well known secret. It is very budget friendly but in blind taste tests often beat top shelf vodka.
Serving
Prepare your martini glasses right before shaking up your martinis, or, if you are hosting a party, prepare them in advance! Add the chocolate sauce to your martini glasses and store them in the refrigerator or freezer for up to 24 hours. Any chocolate syrup will work, but this one is a little easier to control the lines of. This chocolate garnish adds a sweet touch–both in flavor and presentation!
TOP PICK
Martini Glasses
These martini glasses are a great brand and are perfect for all of your martini recipes!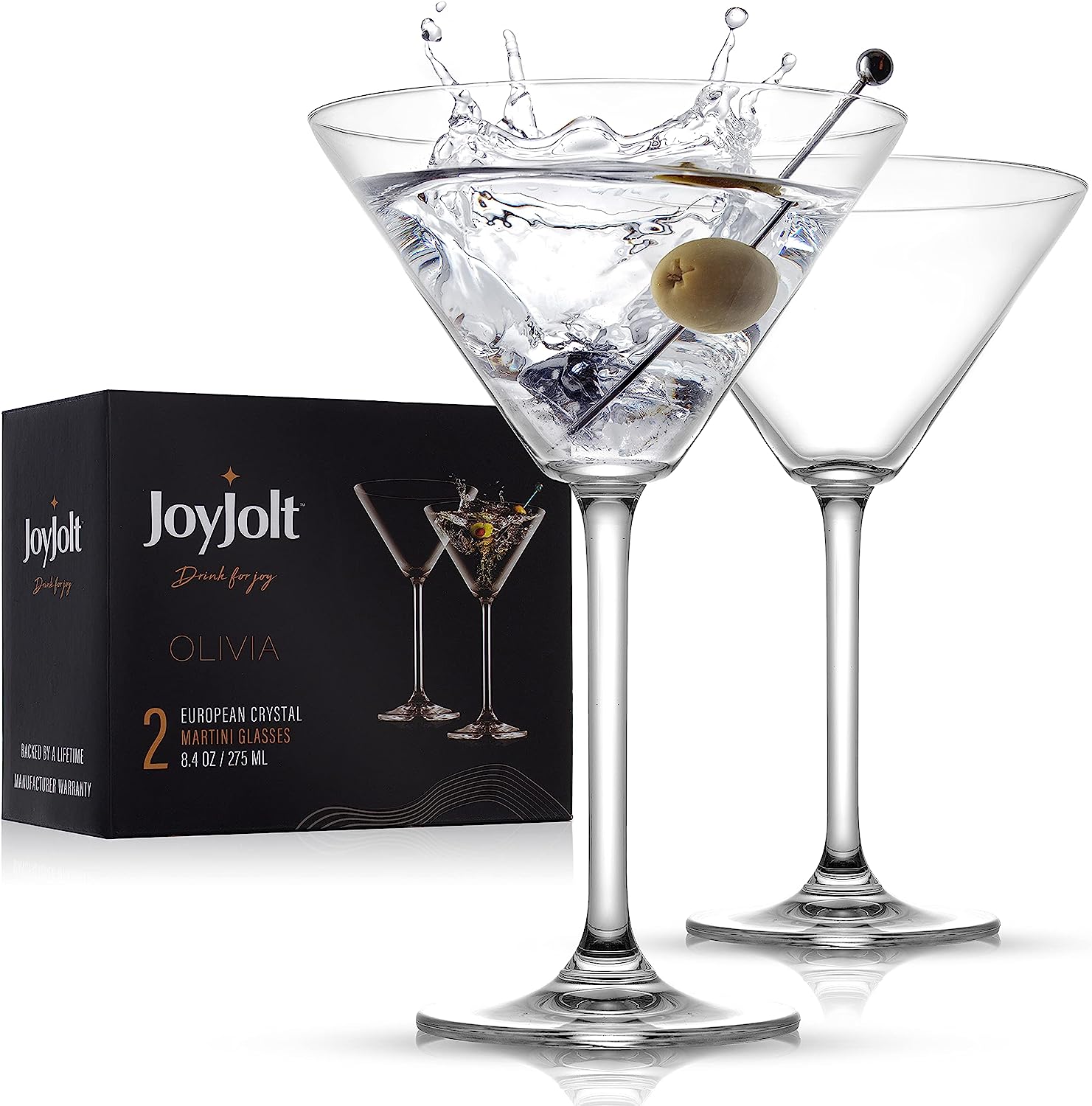 Add ice cream!
Add a small scoop of vanilla ice cream to make a chocolate martini float. If you go this route, you may want to use a different glass that can hold more.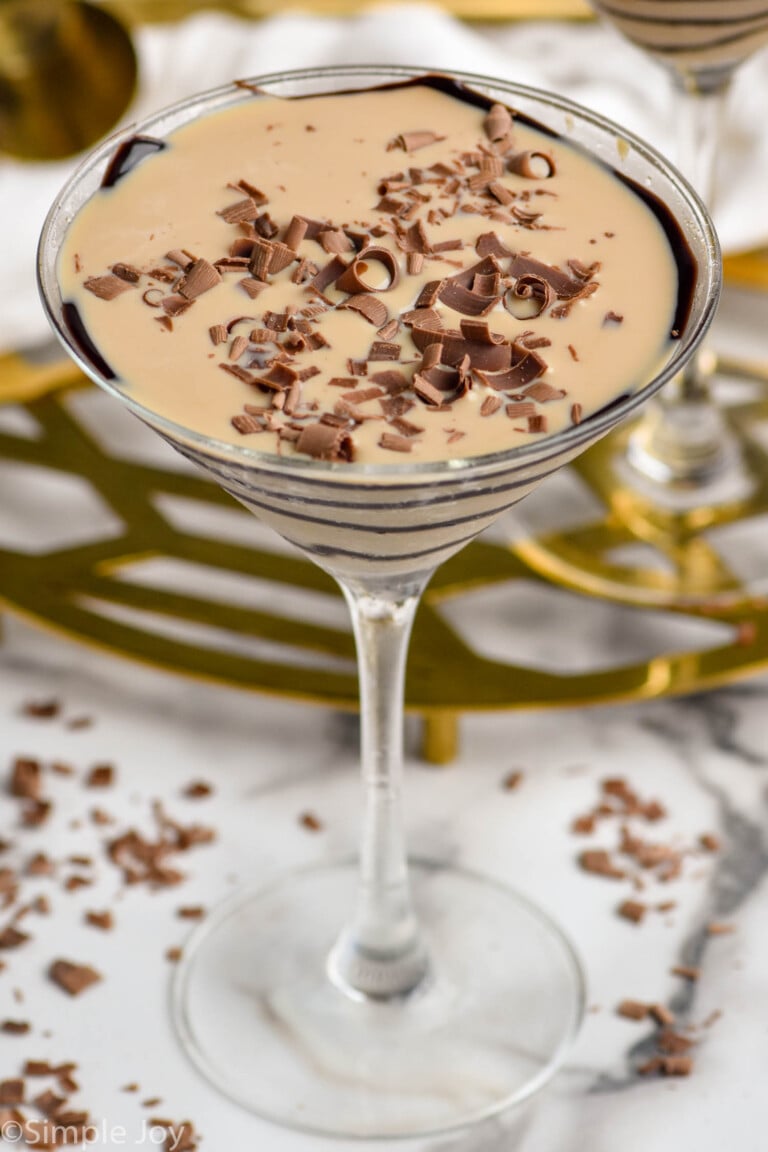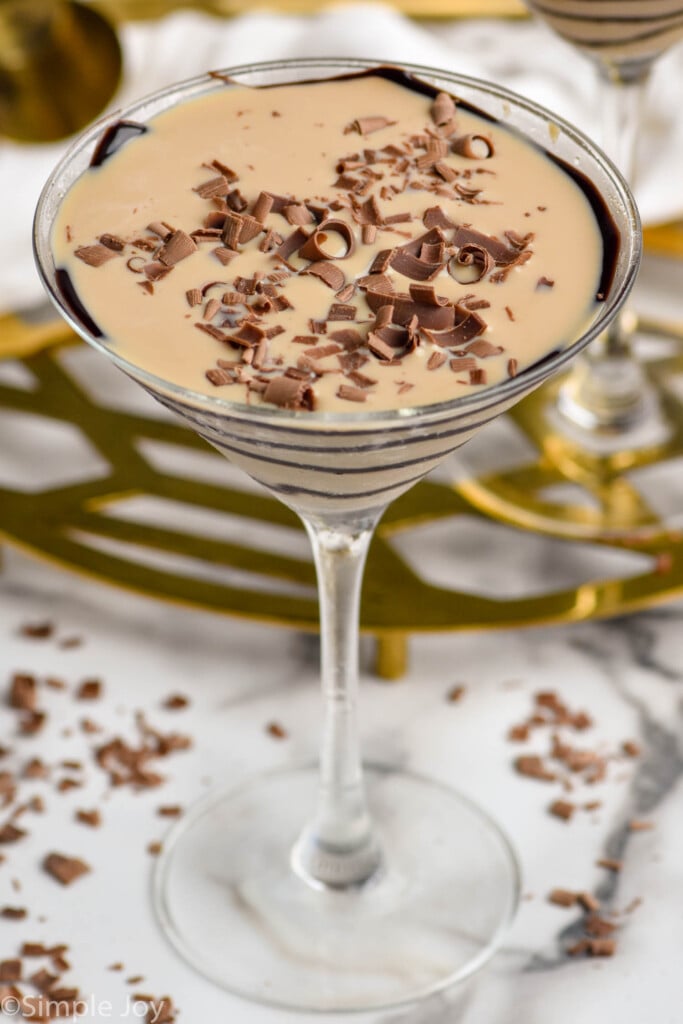 Other Dessert Cocktails
For other sweet cocktails, try one of these dessert drinks:
If you make these chocolate martinis or any of my other recipes, please leave a comment and let me know! I love hearing from you and how you enjoy my recipes.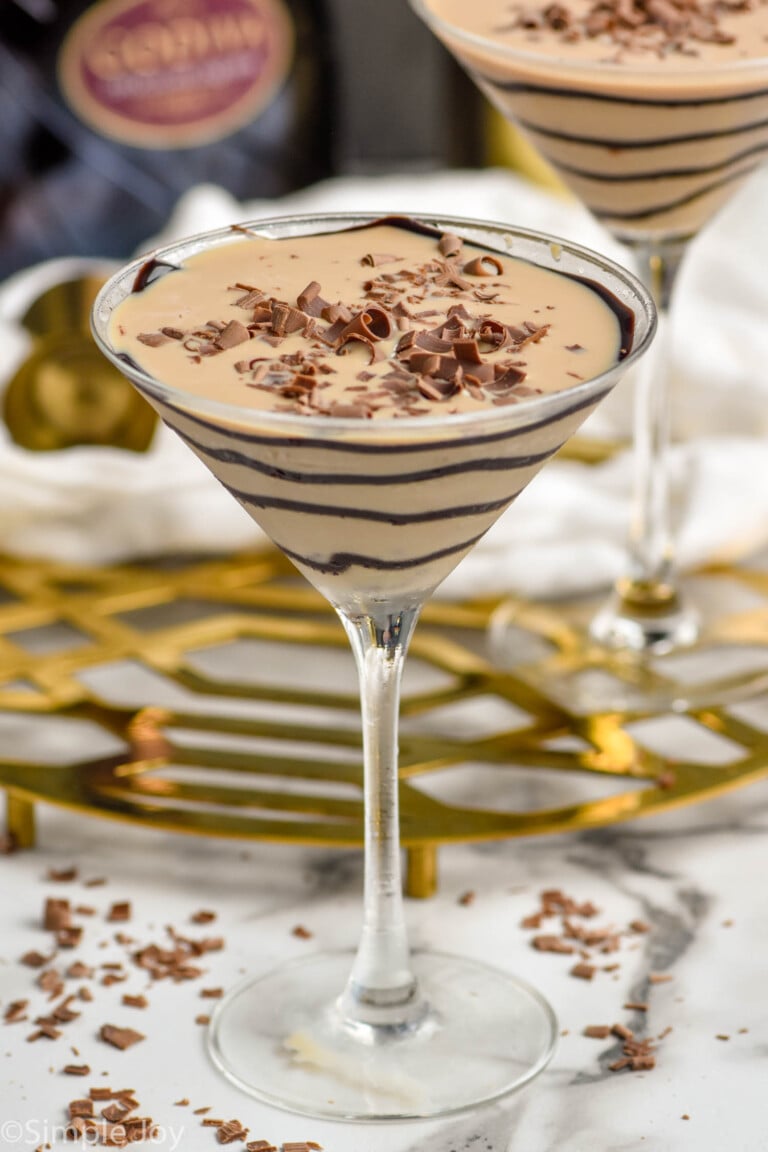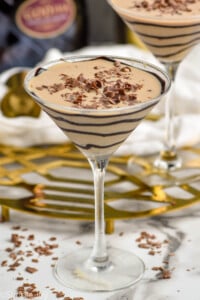 Chocolate Martini
This delicious Chocolate Martini is only three ingredients and it is the perfect after dinner treat! I love dessert cocktails.
Ingredients
2

ounces

Irish cream

2

ounces

vodka

2

ounces

chocolate liqueur

chocolate sauce

(to line glass)

chocolate shavings

(for a garnish)
Instructions
Drizzle two martini glasses with chocolate sauce. (Please note that most martini glasses are 6 ounces, so if you want full glasses, you will need to double the recipe or use this recipe as one serving.)

In a metal cocktail shaker filled with ice, combine the Irish cream, vodka, and chocolate liqueur. Shake until the shaker feels cold in your hand.

Strain the cocktail into the prepared martini glasses and top with chocolate shavings.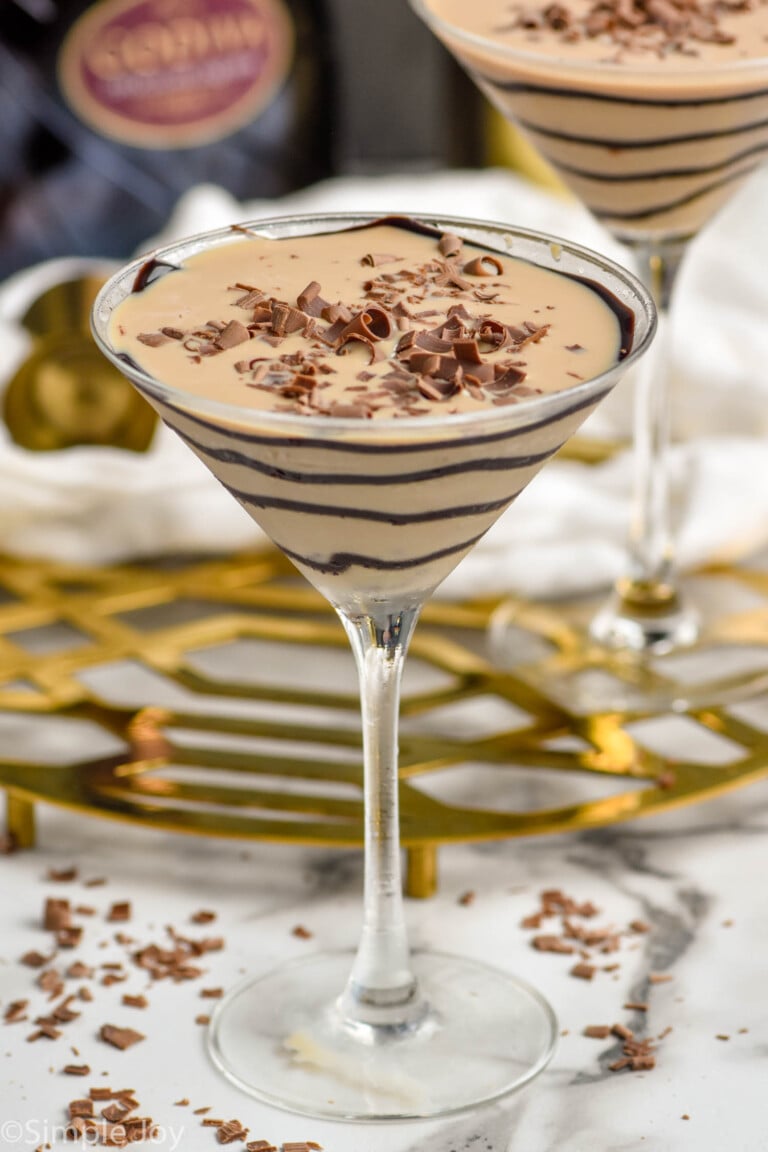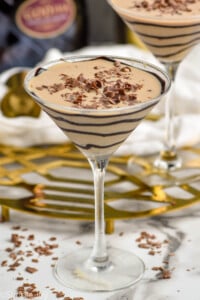 did you make this
Chocolate Martini