These Buffalo Chicken Stuffed Mushrooms are easy to throw together and an AWESOME appetizer!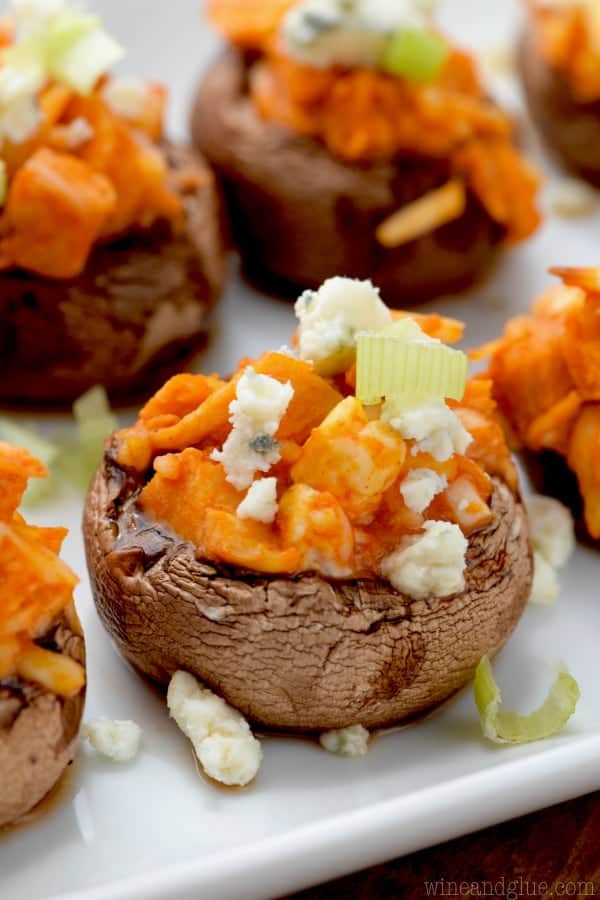 Can we talk two year olds for a minute?
A good friend of mine who is also his the thick of having a two year old said to me recently, "Two year olds are weird because they are either the sweetest, BEST person on the planet or seriously the worst person you have ever met. There is no in between."
Accurate.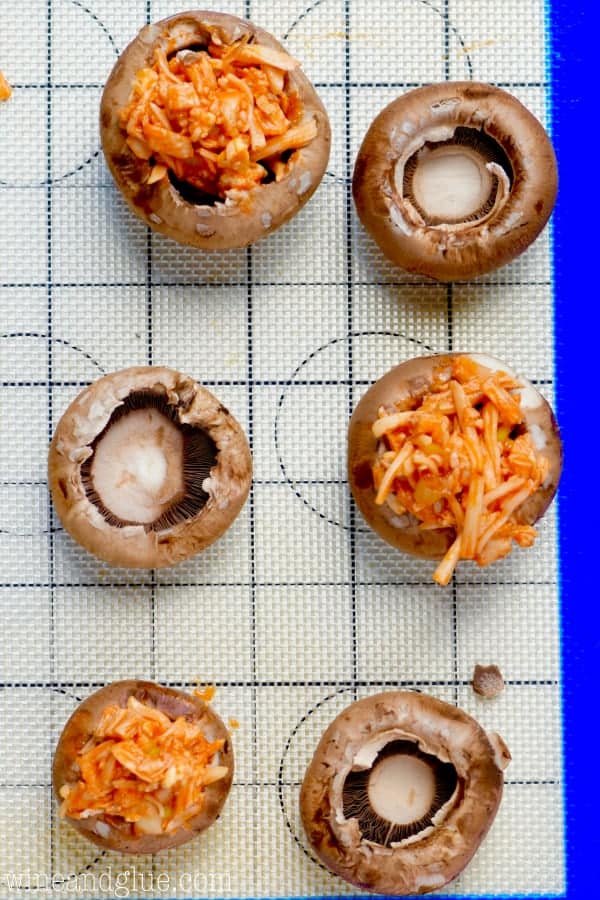 We are in this phase with Piper where she has learned to talk more with is GREAT, except that it is also the worst thing ever. When she wants a cup of milk she walks around saying, "PippycupPippycupPippycupPippycup. . . . " 800 billion times until she is actually holding her cup of milk. Doesn't even matter if she sees the milk is coming or you tell her you are on it.
"PippycupPippycupPippycupPippycupPippycupPippycupPippycupPippycup"
And yet the other day she was playing my bed with the three stuffed animals that she sleeps with and she held up this stuffed frog my dad gave her and said, "Frog Bopa gave me." First of all, how sweet is it that she has named him Bopa (pronounced Bop-A)?? Second, the fact that she remembered and was able to form a full complete comprehensive sentence about it?
So sweet.
10 minutes later?
"PippycupPippycupPippycupPippycupPippycupPippycupPippycupPippycup"
There is no in between people.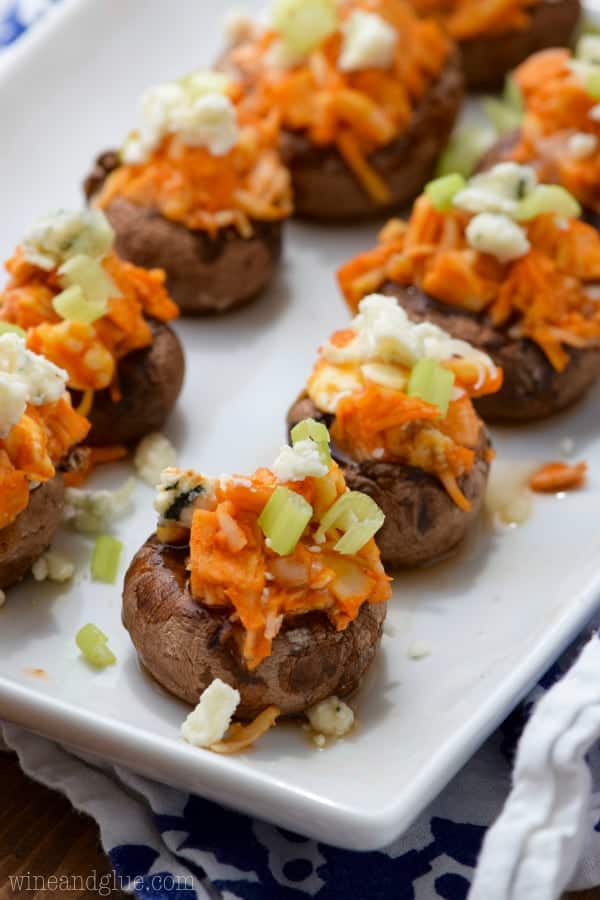 So while I occilate between wanting to snuggle her until the end of time and pray for a nap that lasts four hours, I will be making these Buffalo Chicken Stuffed Mushrooms. They are like your traditional stuffed mushrooms but WAY better for two solid reasons: 1. Buffalo #nuffsaid 2. There is like next to no prep work. You aren't sautéing anything, you are barely chopping anything, and there are just a handful of easy ingredients!
These are perfect for game day, party day, or in my case, any day when you are feeling the need to hide in a closet to eat your lunch. I legitimately ate that whole plate for lunch. Sooooo good!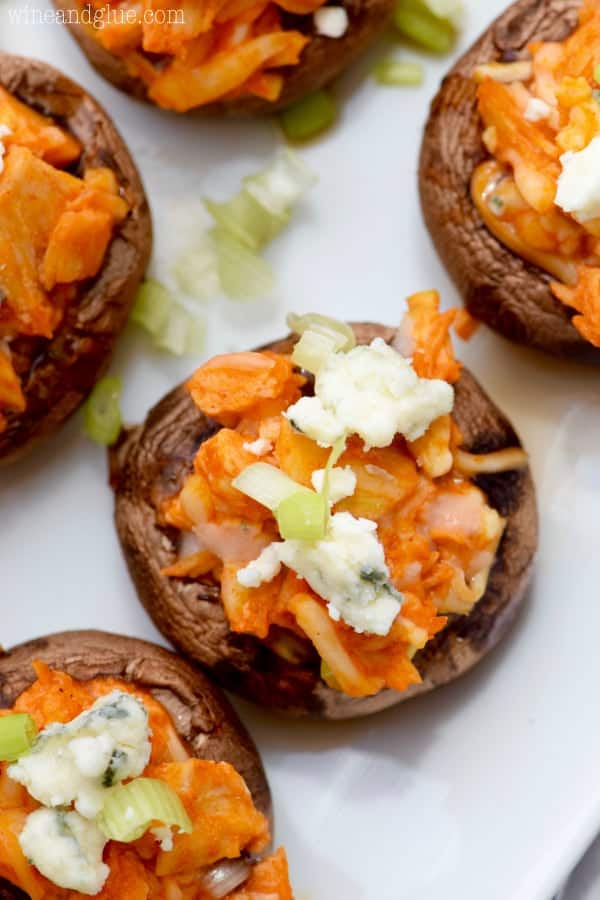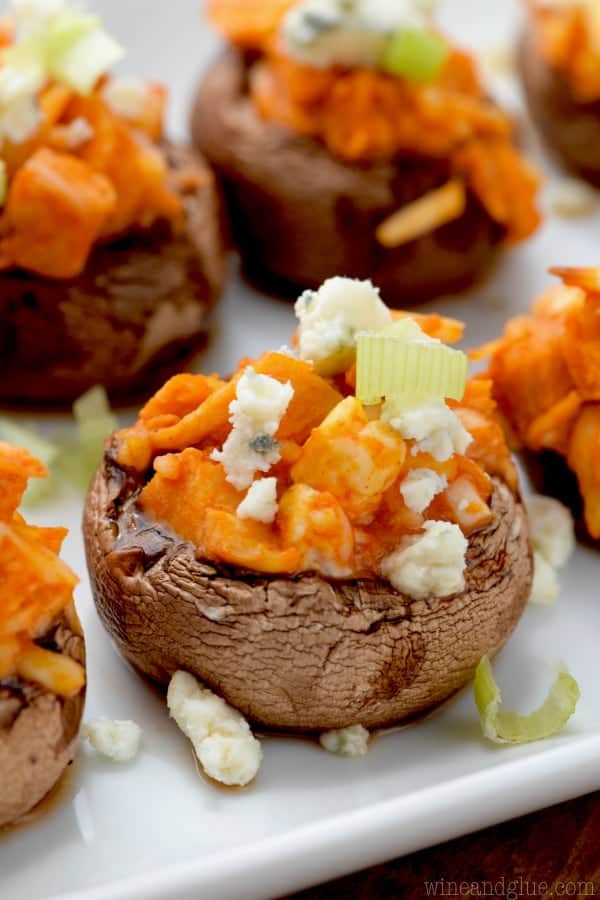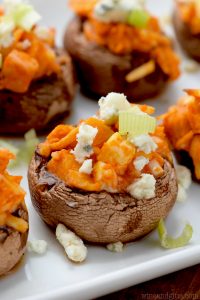 Buffalo Chicken Stuffed Mushrooms
Ingredients
1

cup

cooked chicken

diced small

1/4

cup

crumbled blue cheese

plus more for topping

1/2

cup

shredded mozzarella

2

scallions

sliced in half and then diced small, just up to the green, plus more for topping

1/4

cup

buffalo sauce

16

oz

mini bella mushrooms
Instructions
Preheat your oven to 350 degrees and a line a baking sheet with a silicon mat.

Combine the cooked chicken, blue cheese, mozzarella, and scallions in a bowl.

Remove the stems from the mushrooms and stuff the mushrooms with the mixture. Bake for 20 to 25 minutes.

Remove, top with extra blue cheese and scallions and serve.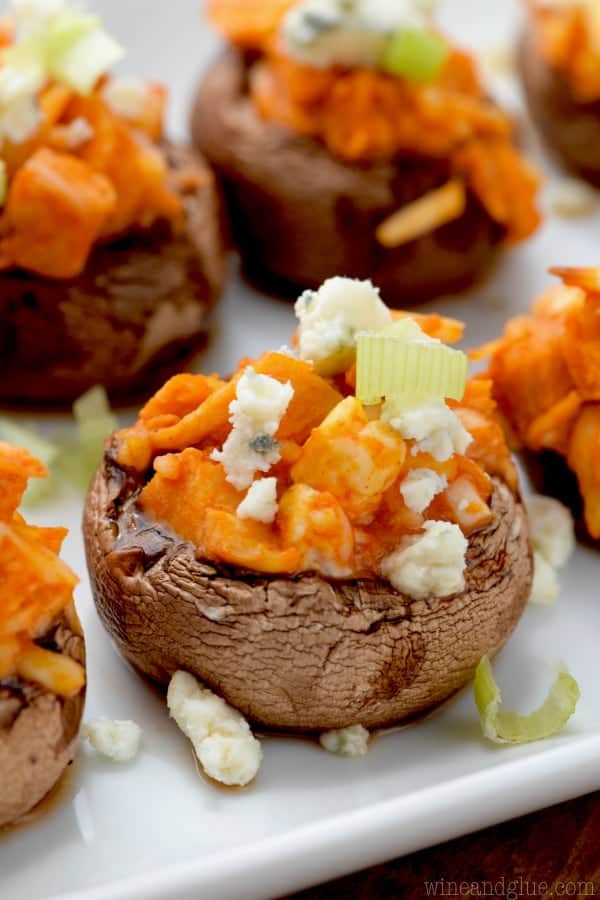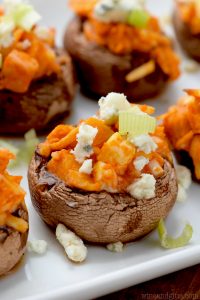 did you make this
Buffalo Chicken Stuffed Mushrooms