Chicken Noodle Soup Casserole is the perfect definition of comfort food! A perfect weeknight dinner!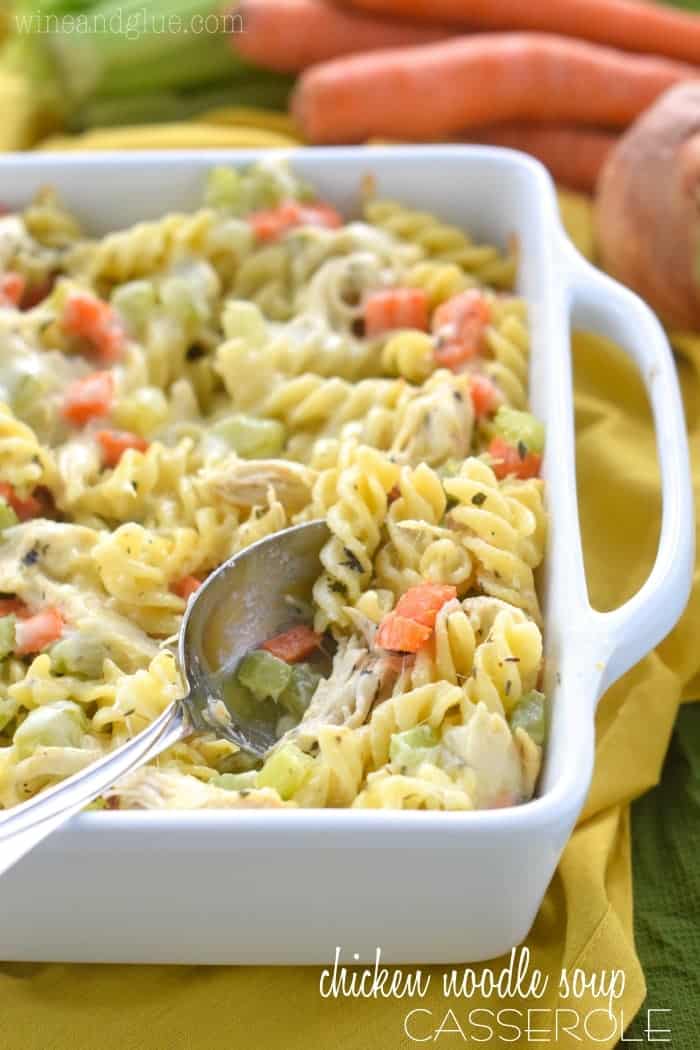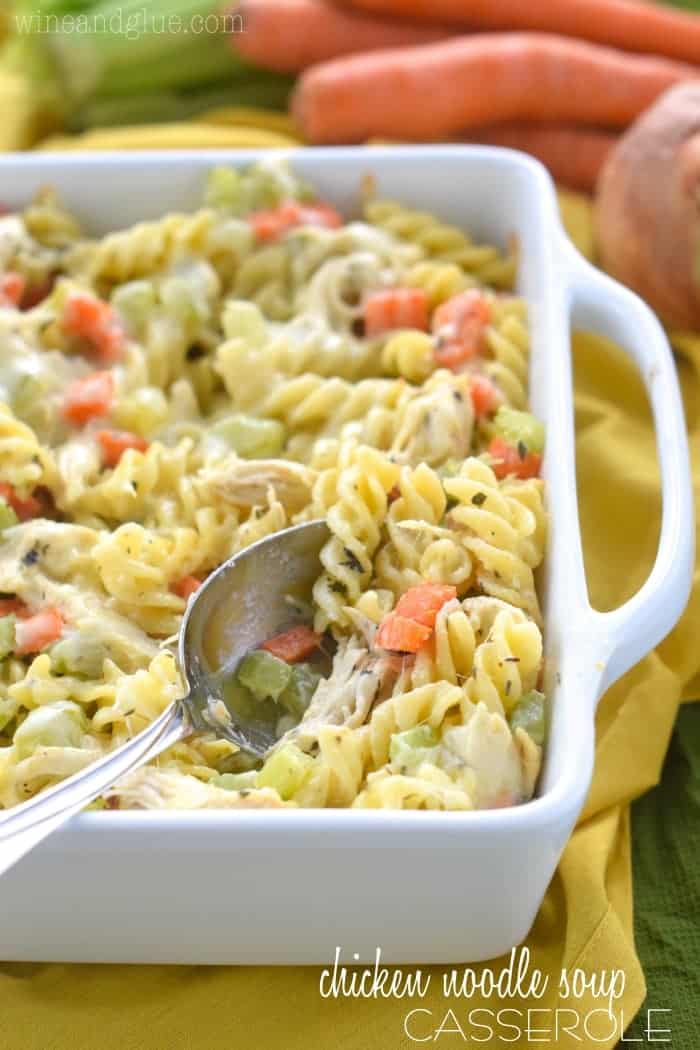 You guys, I've had a song stuck in my head for the last few days. SO ANNOYING.
Primarily annoying . . . because I DON'T KNOW WHAT SONG IT IS!
I'm guessing that this is the definition of getting old. Having a song stuck in your head, or like the idea of a song, and not being able to actually remember the damn song.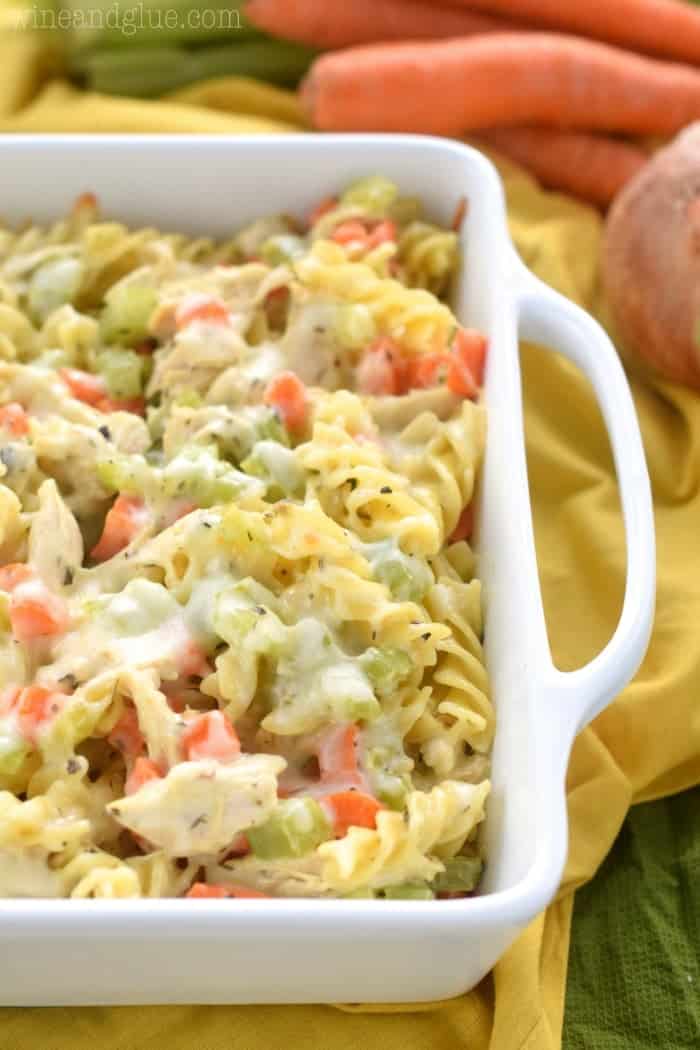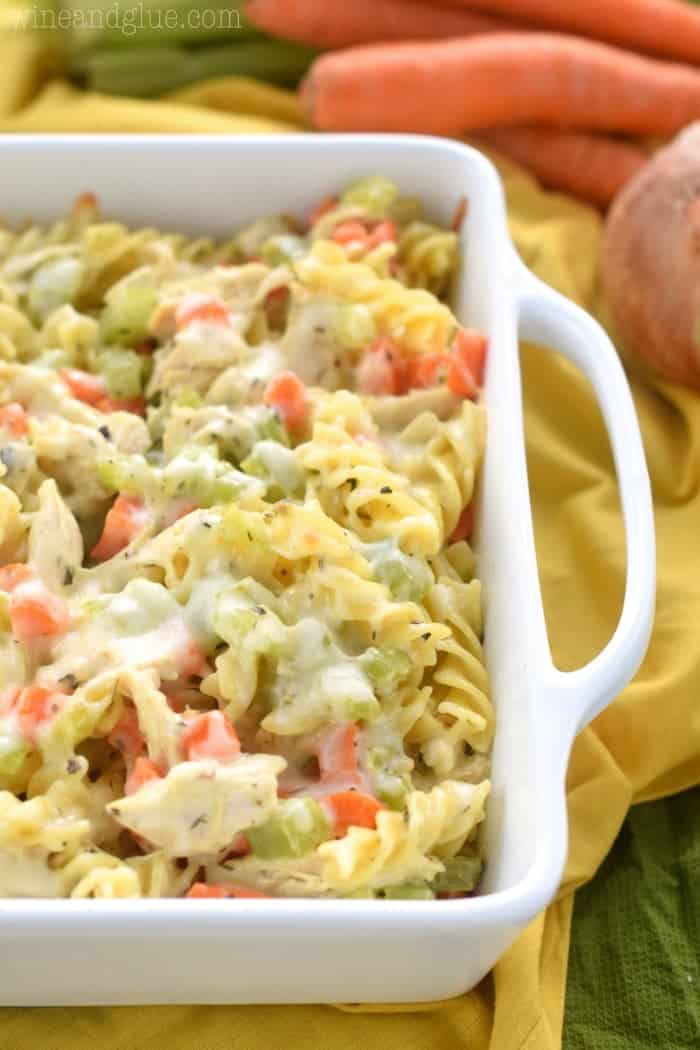 So normally when this happens, and yes, I'm that old, it's happened before. Normally when this happens, I have at least like a sequence of four or five words that I can google and get the name of the song and play it and then the incessant itching in my brain stops. But this time? No, not so much. Just the tune, sort of and like three words . . . that weren't actually in ANY SEQUENCE!
(If it seems like I'm yelling about this it's because I AM. I'm going all Louis Black on you.)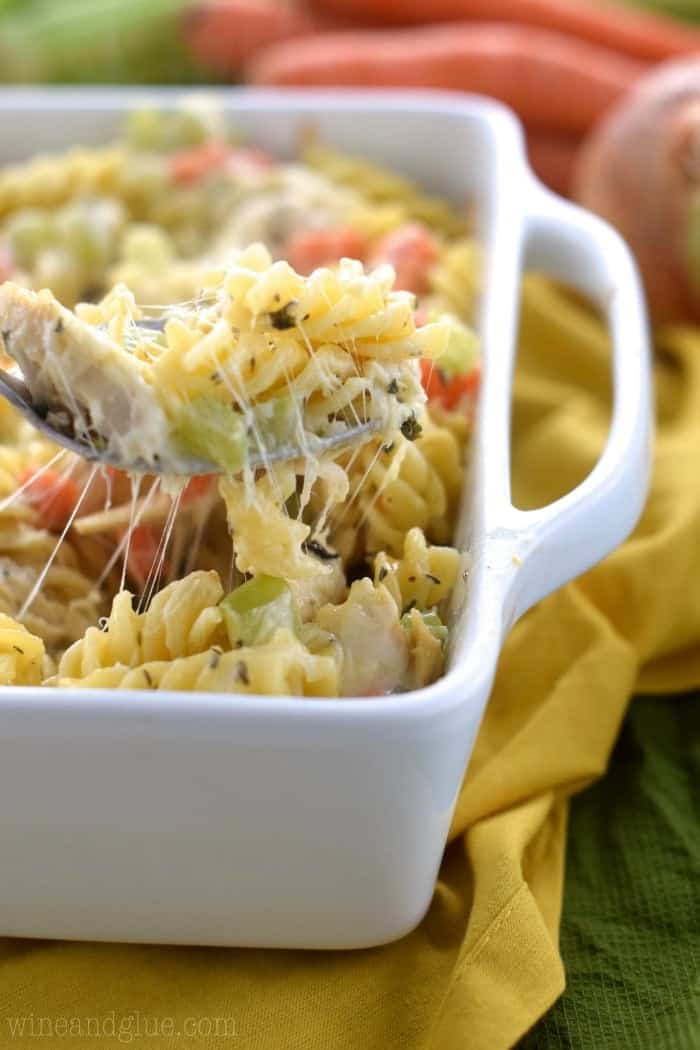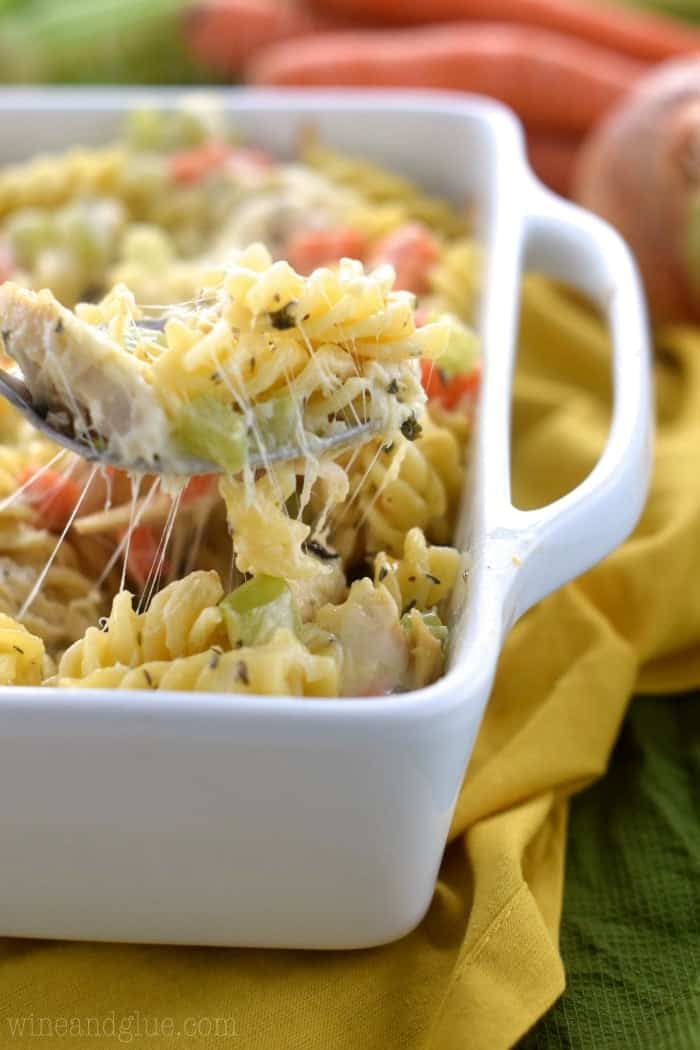 So I texted my husband in a huff, because seriously if it was going to keep me awake at night, it had to be dealt with.
Do I have more important things that I should be doing? ABSOLUTELY.
Anyway. I texted Nathan:
"I have a song stuck in my head but I can only think of the melody and not the lyrics and I want to listen to it but I don't know what to google. It's making me crazy. Google needs a feature where I can hum a tune into it and then it finds the song."
He responded:
"There's an app for that."
Seriously. There is.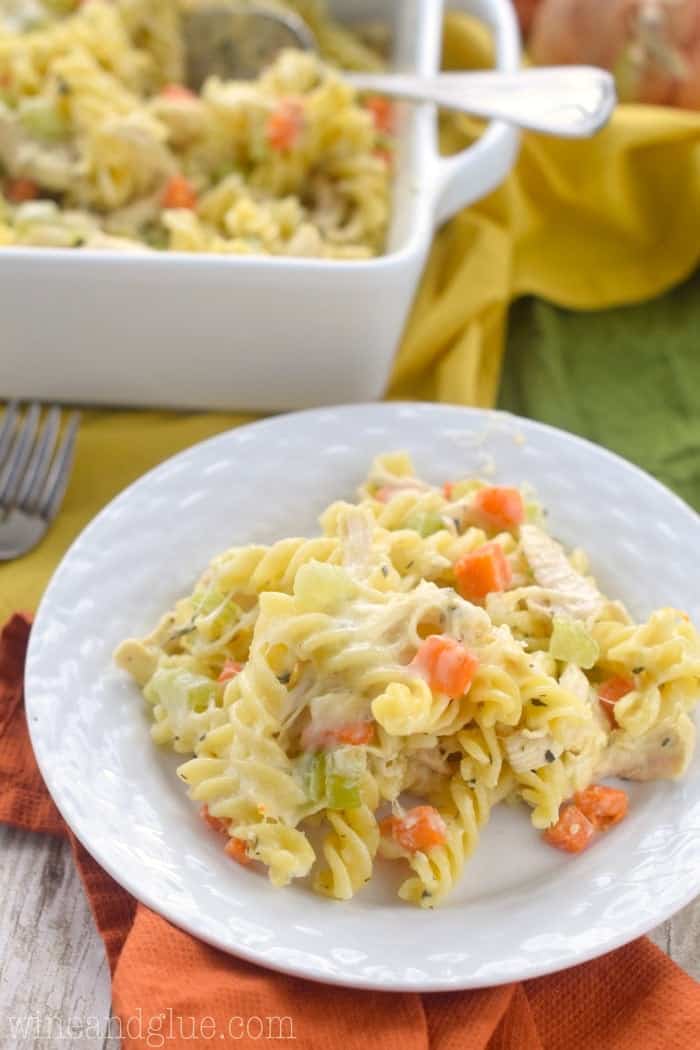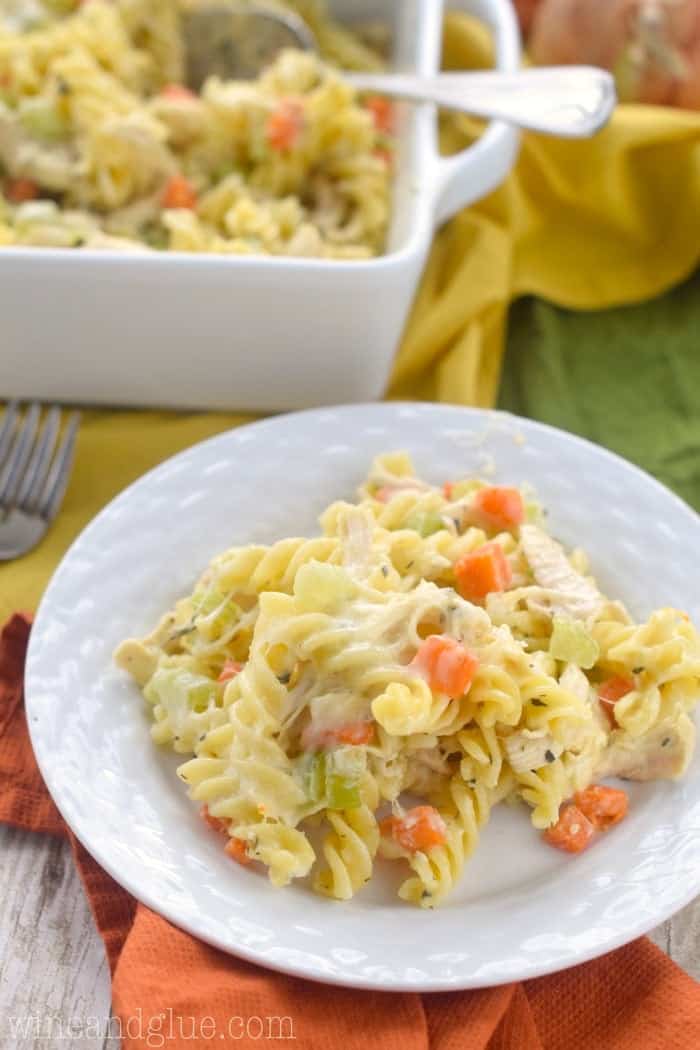 That bad news?
It turns out that if I had to save my life by humming, the results would be . . . . sad.
The good news?
If I had to save my life by baking a casserole that tastes like Chicken Noodle Soup, I would be made the Queen of England.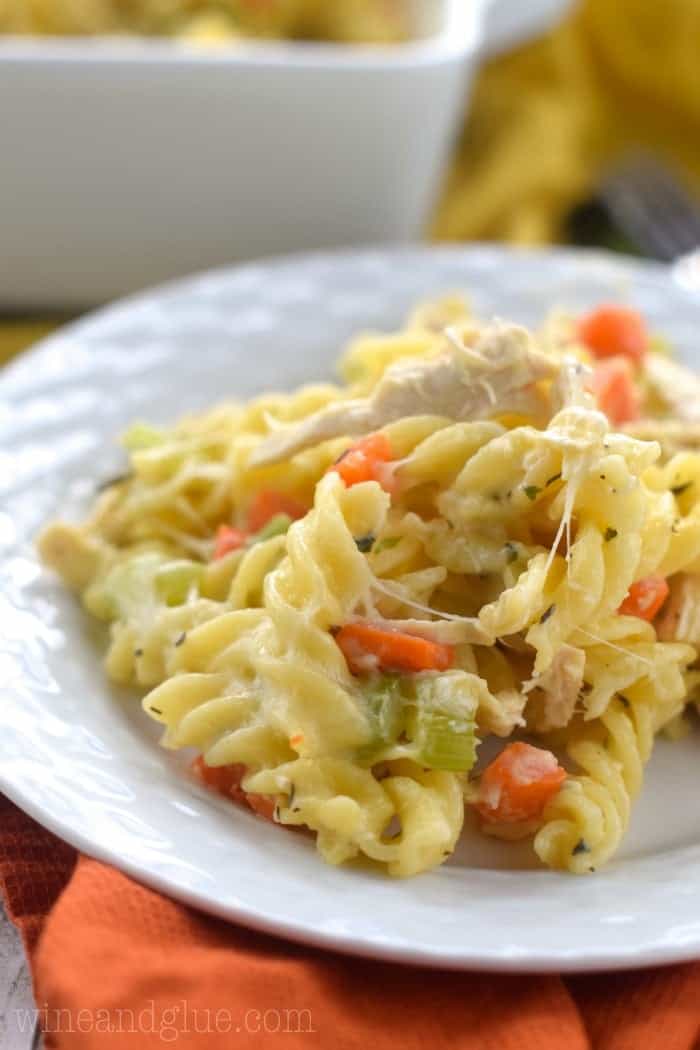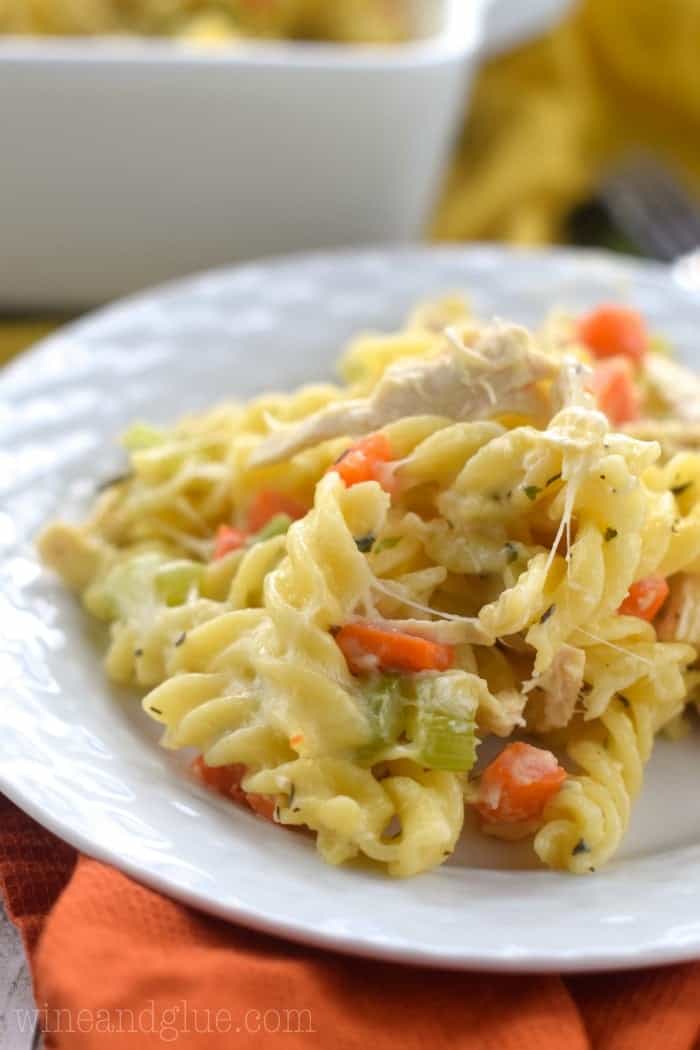 HOW TO MAKE CHICKEN NOODLE SOUP CASSEROLE
Chicken Noodle Soup Casserole! The noodles are boiled in chicken stock to really deepen the flavor of the casserole and give it that traditional chicken noodle soup taste. Then I threw in some bay leaves for good measure, celery, carrots, and chicken (#duh). I made a nice roux to get it all creamy, added some cheese and baked her up. And my picky pickerson eaters crowned me the Queen of England. The End.
CHICKEN NOODLE SOUP CASSEROLE TIPS
The noodles are cooked in chicken stock, I like just using chicken stock base, because it's cheaper, so when the water for the pasta came to a boil, I just threw in like 6 teaspoons.
When I tell you to slowly pour in the liquid after making your roux (the point in the recipe where you've mixed in the flour and are about to pour in the milk), I don't mean a slow pour, I mean approximately a tablespoon of liquid, stir it in like crazy, approximately a tablespoon more and stir some more. That's the only way to get the bad boy to thicken.
Nathan hates onions, so this casserole has no onions. It should have onions. Throw in a diced smallish one with your celery and carrots.
Make sure to taste the sauce once you add all the milk, that way you will know how much salt and pepper to add.
If you are looking for other great casseroles to make, be sure to try this Easy Shepherd's Pie recipe,

WATCH ME MAKE THIS CHICKEN NOODLE SOUP CASSEROLE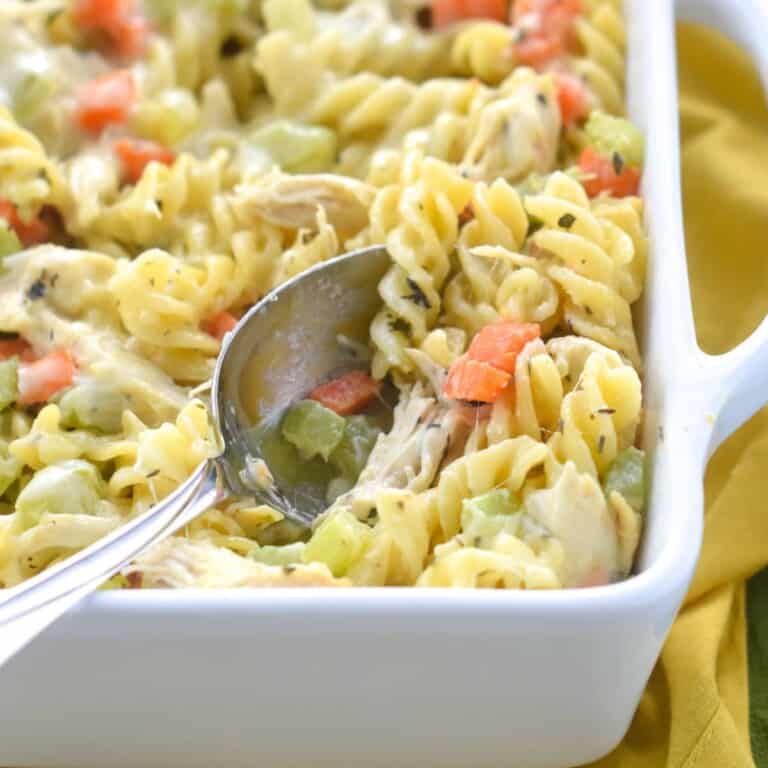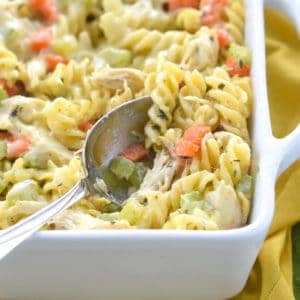 Chicken Noodle Soup Casserole
This Chicken Noodle Soup Casserole is a perfect weeknight dinner. Total comfort food.
Ingredients
8

oz

fussilli cooked in chicken broth

2

bay leaves

3

TBSPs

unsalted butter

3

celery stalks

diced

3

medium carrots

diced

3

cloves

garlic

minced

2

TBSPs

all purpose flour

1

cup

milk

I used skim

1

tsp

dried thyme

1

tsp

dried basil

salt and pepper

to taste

2

cups

cooked shredded chicken

1 1/2

cups

shredded mozzarella

divided
Instructions
Preheat your oven to 425 degrees. Spray a 9 by 9 casserole dish with cooking spray and set aside.

Cook the pasta in chicken stock with two bay leaves thrown into the water according to package directions. Drain and set aside.

Melt the butter over medium low heat in a large sauce pan. Add the celery, carrots and garlic to the pan. Cook until the veggies are soft and tender.

Add the flour to the pan, mixing it in to make a paste. Very slowly add the milk, approximately a tablespoon of milk at a time, waiting until the last bit of milk was completely combined before adding the next bit.

Once all the milk is mixed in, add the thyme and basil. Then season to taste with salt and pepper. Stir in the chicken, cooked noodles, and and one cup of the cheese. Pour the mixture into the greased casserole dish and top with the remaining 1/2 cup of cheese.

Bake for 10 minutes.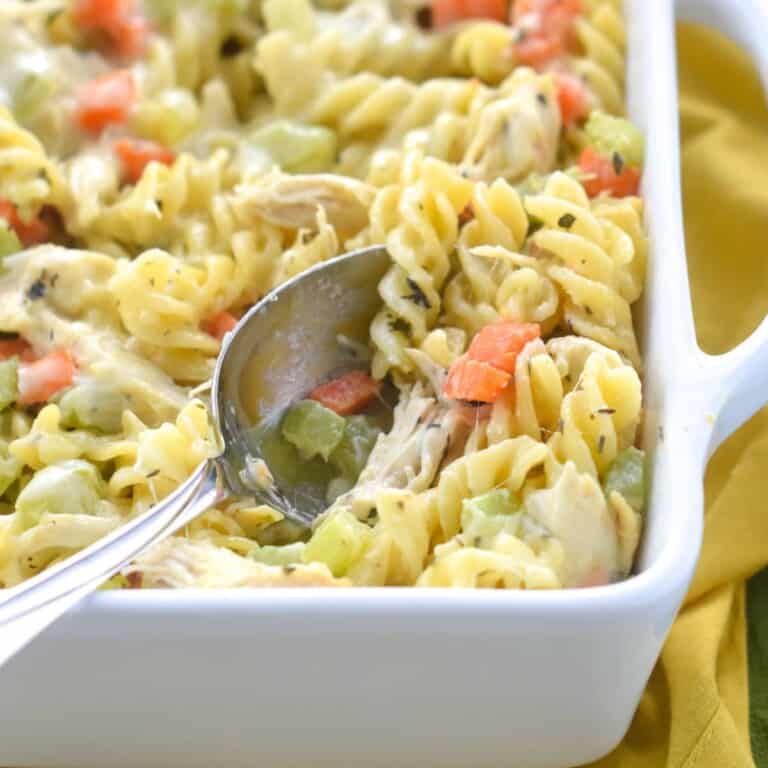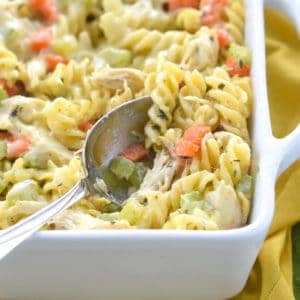 did you make this
Chicken Noodle Soup Casserole
You might also like
Chicken Pot Pie Crescent Braid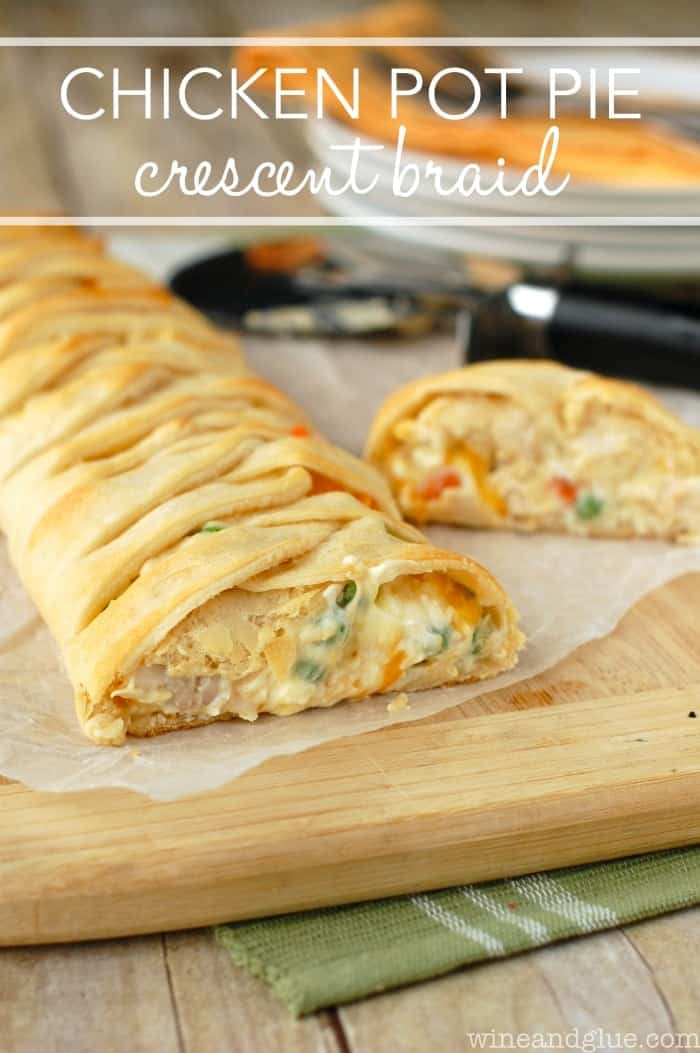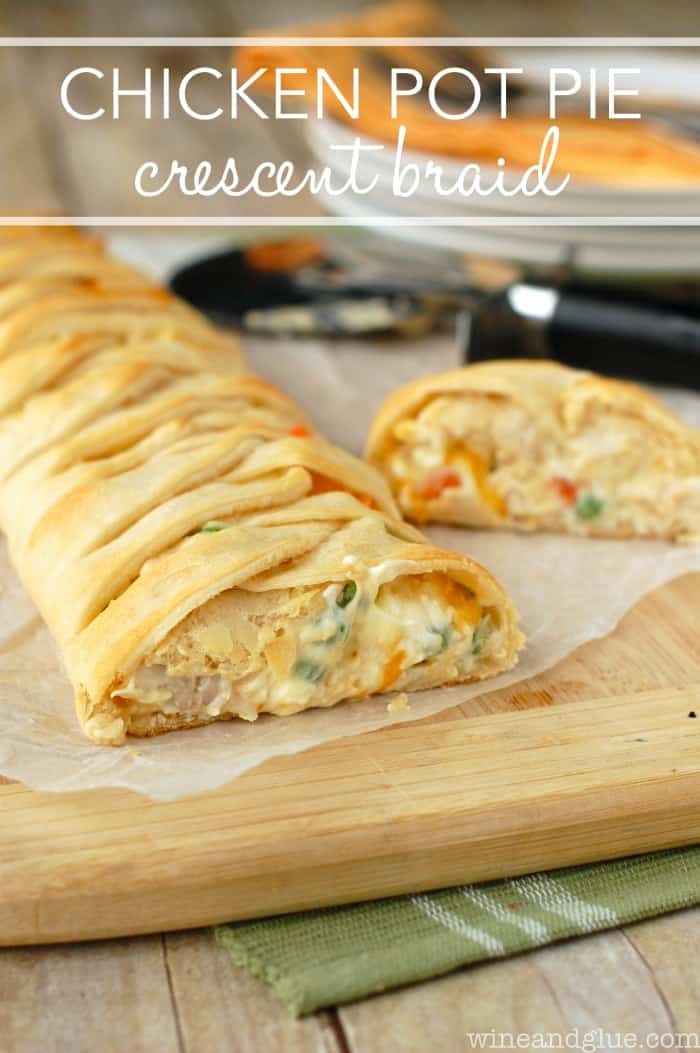 Crock Pot Chicken Tortilla Soup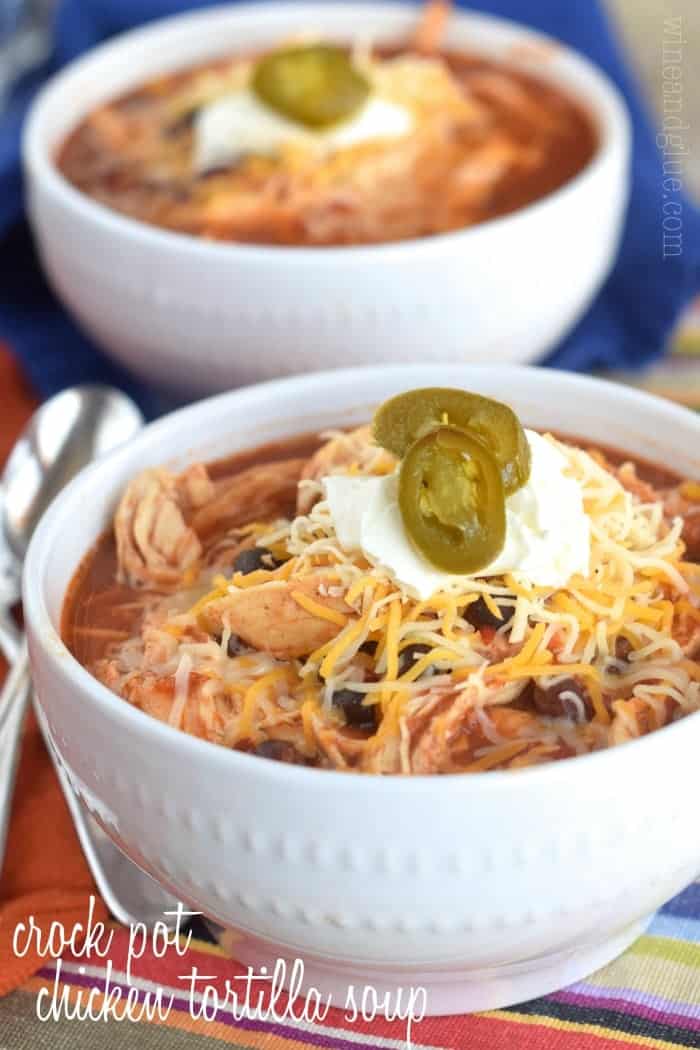 SaveSave
SaveSave