This Chicken Noodle Casserole recipe is the best – the definition of comfort food! With my tips and tricks, your whole family will fall in love with this delicious chicken and noodle casserole.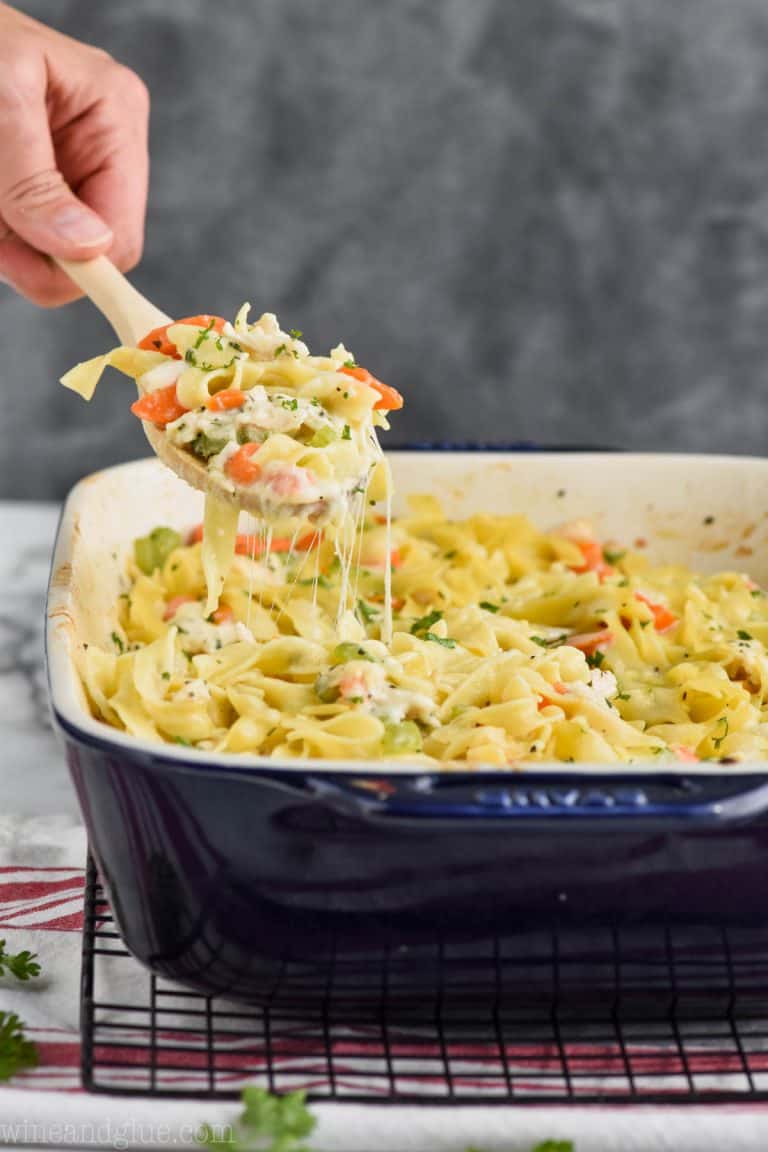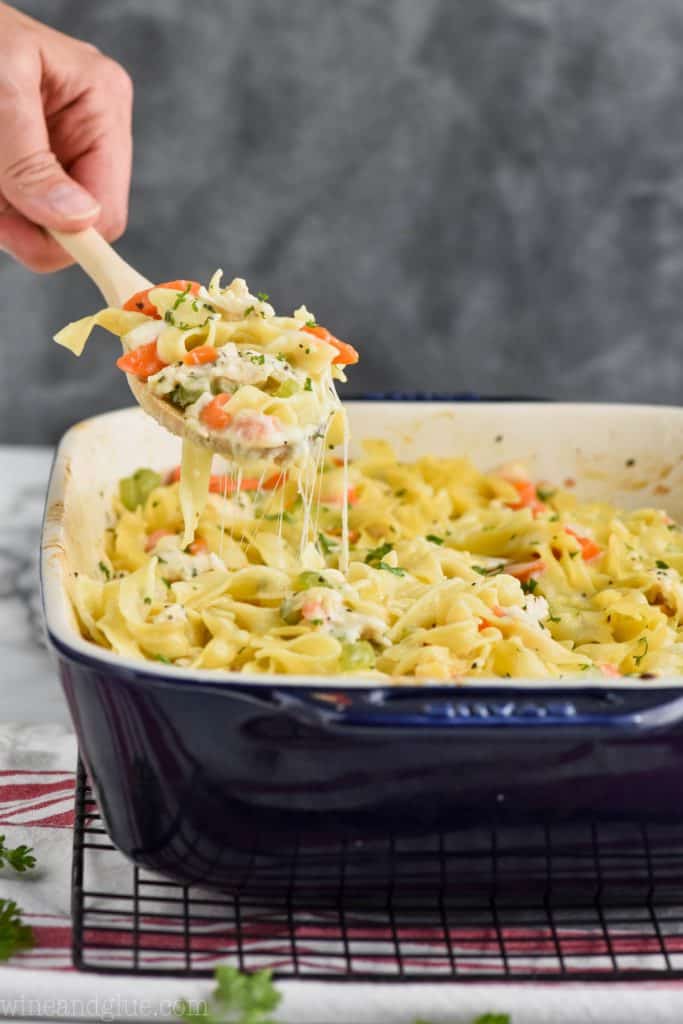 If you are looking for comfort food, it doesn't get much more comforting than this delicious cheesey chicken noodle casserole. Made from scratch with all of the flavors of homemade chicken noodle soup recipe, even the pickiest of eaters will love this recipe.
I think one of the reasons this casserole, and casseroles in general, are so popular is because something about the flavor of chicken noodle reminds us of being taken care of. Whether you are making this for your own family or making it for someone else, this is bound to make you feel warm and cared for from the inside out.
Reader Review
I've made this twice now. My husband and I really like it. It's easy if you keep prepared chicken around; then you just have to put things together. It's easy to make on a work night and then we both have enough for lunch tomorrow. That saves money too.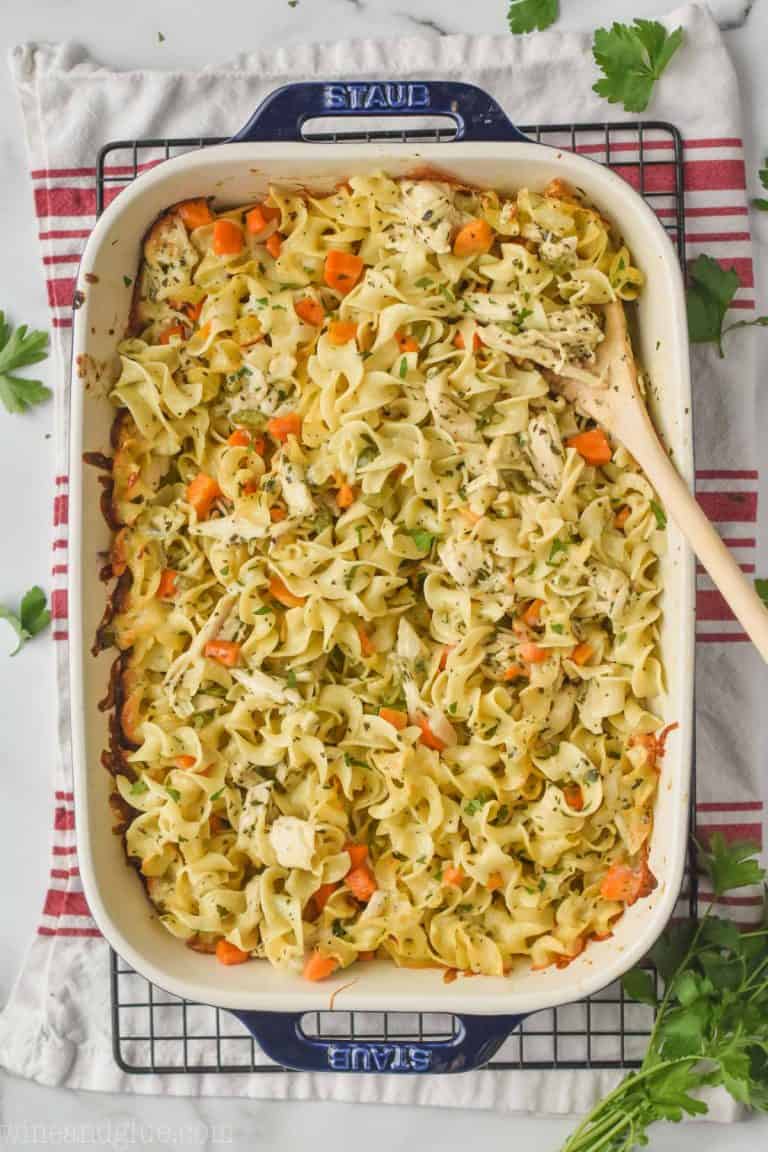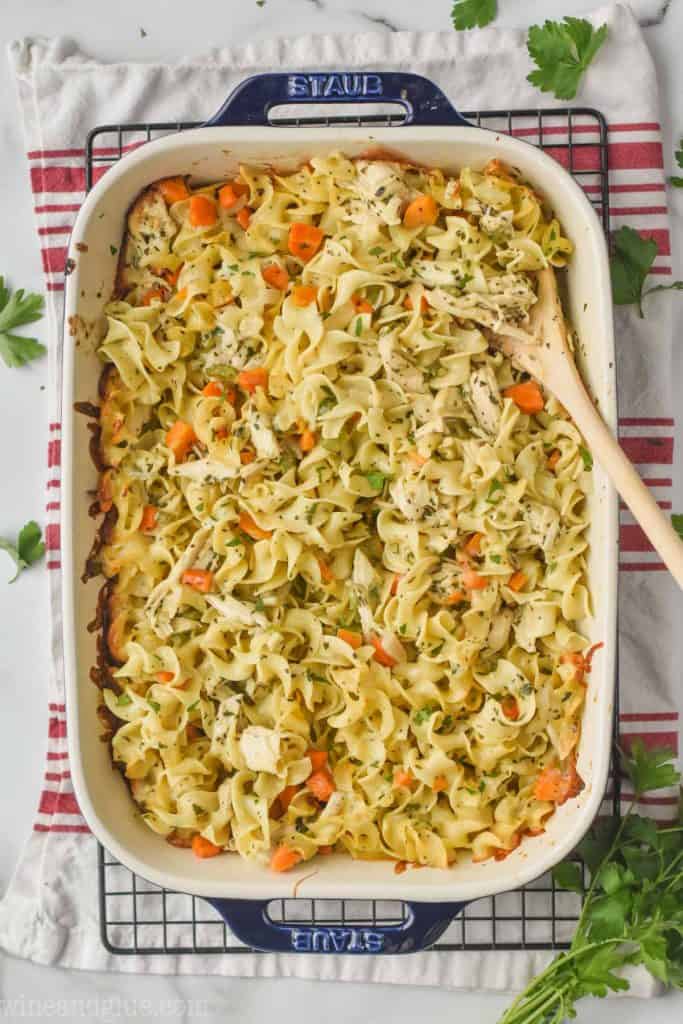 The Best Chicken and Noodle Casserole
There are a few things that set this recipe apart and make it the noodle casserole on the block.
The noodles are cooked in chicken broth, which really deepens the flavor of this casserole. I also added a bay leaf in for a great background flavor.
We reserve the starchy chicken broth the noodles cooked in to make a great base for this casserole and give in an extra creamy quality.
We use egg noodles in this recipe, which work great with the chicken broth, but also are perfect for the rest of the recipe.
There are a lot of seasonings in this recipe. Spices and herbs are the key to a great home cooked meal.
Finally, we bring a lot of cheese to this party. This recipe has a lot of cheese in it. It really brings home the comfort to this casserole.
How to Make Chicken Noodle Casserole
This is a brief overview of how to make this delicious recipes. For the full instructions and all the measurements, please see the recipe card at the bottom of the post.
Cook the egg noodles. As mentioned above, we are cooking the egg noodles in chicken stock. I recommend using 16 cups of chicken stock. A very cost affective way to do this is to use chicken stock base. You could also use half water, and half chicken stock.
Reserve cooking liquid. A key to this recipe is to pull 2 cups of the stock you cooked the noodles in before you drain them.
Sauté the vegetables. You want to make sure the onions are translucent and the celery is tender.
Make a roux. Once the vegetables are tender we are going to add some flour and then slowly whisk in some of the reserved cooking liquid from the noodles. Then add some milk.
Combine it all. Stir in the seasonings, cooked chicken, then noodles, and cheese.
Bake it. Once everything is combined, put it in a casserole dish, top it with more cheese, and bake it.
Egg Noodles vs. Wheat Pasta
If you have someone in your house who doesn't like egg noodles, I encourage you to still use them the first time you make this. I have a picky eater in my house who doesn't like them and still loved this.
That being said, you could use regular pasta in this as well and it will still turn out great. Wheat pasta can be substituted for the egg noodles, one for one.
Reserving Pasta Water
Often, the liquid that pasta, or in this case egg noodles, is cooked in is referred to as Liquid Gold. Reserving just a little bit of this starchy goodness is a great way to take your recipes up a notch. In this recipe we are using chicken stock, so it is even more precious. The water is full of both flavor and starch, and makes the best base for the sauce in this casserole recipe.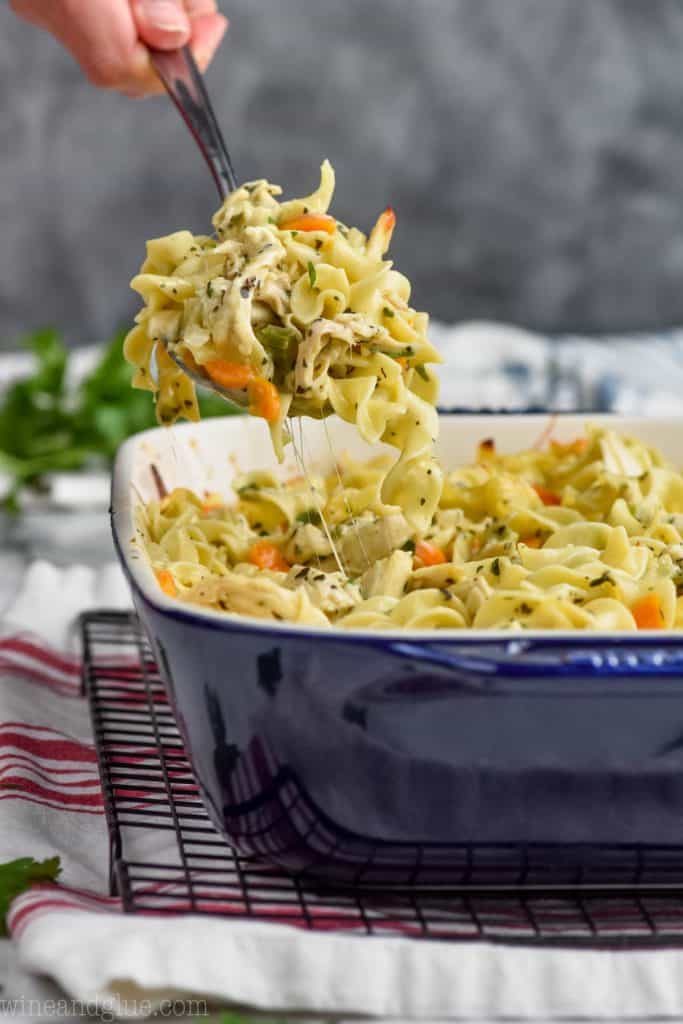 Tips and Tricks
Shred the cheese from the block. This is my biggest tip for any recipe that has cheese. Pre-shredded cheese is covered in preservatives that make it difficult to melt. Take the extra five minutes and shred the cheese yourself.
Add the liquid slowly. When you come to the step of making the roux after sautéing the vegetables, add the cooking liquid slowly. It will help the roux come together better. It should take about a minute to add all the liquid.
Taste the sauce. Before you mix in the chicken and the noodles, give the sauce a little taste. You can add a little salt and pepper or more herbs at that point.
Keep frozen chicken on hand. One way to speed up this recipe is if you always keep a little shredded chicken in your freezer. Follow the link below for detailed instructions on how to do this.
Freezing Cooked Chicken
Freezing cooked chicken to keep on hand is the perfect short cut for dinners during a busy weeknight! Learn how to freeze cooked chicken with these simple easy steps.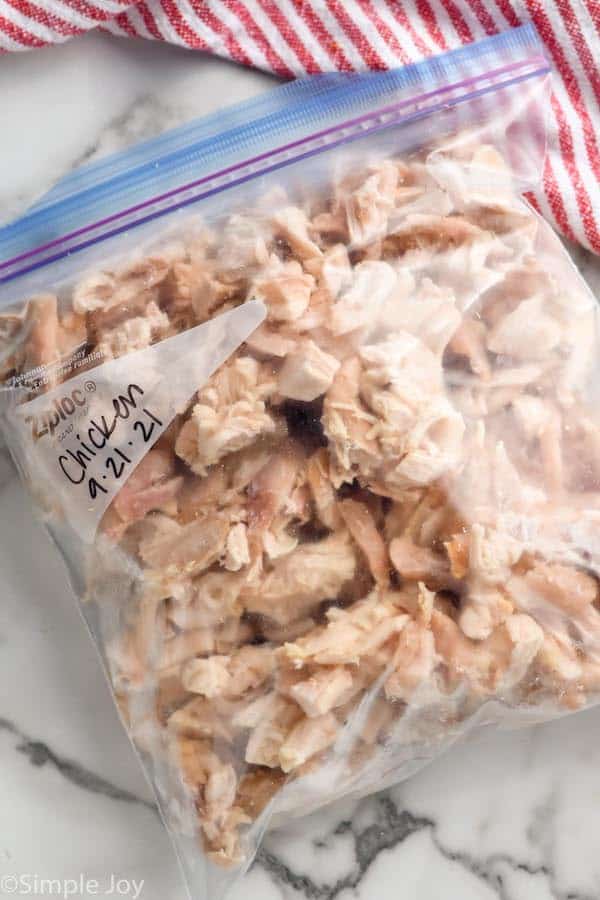 Variations
One of the things I like about cooking is making recipes my own. Here are some suggestions on changes you could make to this creamy chicken noodle casserole
Egg noodles: As mentioned above, if you don't like egg noodles, use your favorite pasta!
Vegetables: This recipe uses a pretty standard onion, carrot, celery mixture, but if that is not your jam, then sub in things like peas and mushrooms!
Cheese: My family can't deal with a thick layer of cheese on top. I know lots of families like more (just look at how popular my cheesy Philly Cheese Steak Casserole is). If your family wants more cheese, pile it on there! Just make sure to wait to add it until right before baking.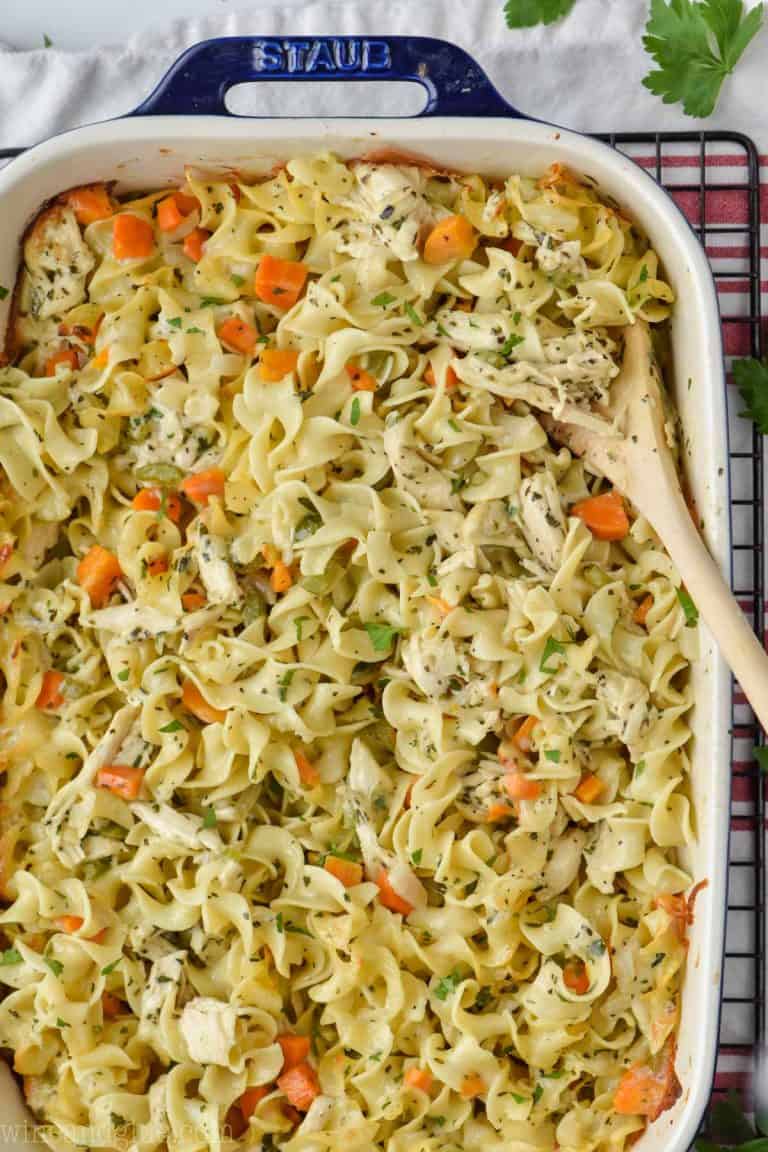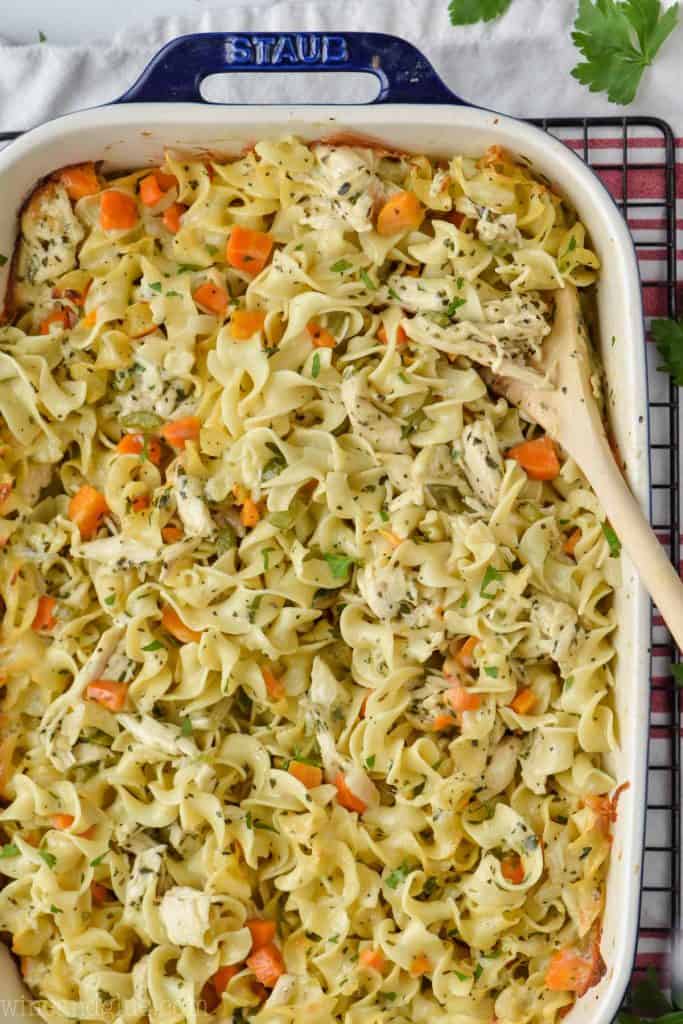 Freezing
This recipe works great for freezing! You can even make a double batch and freeze the second one. Stop at step 6, wrap the casserole dish three times in aluminum foil and freeze for up to three months.
When you are ready to bake, unwrap two layers of aluminum foil. Bake at 375 degrees for 45 minutes.
If you are going right from the freezer to the oven, add 15 minutes of baking time. I also suggest that you freeze in a disposable baking dish, as frozen baking dishes in hot ovens often crack.
Make Ahead Chicken Noodle Casserole
This chicken noodle casserole recipe is also amazing because it can be made ahead. Whether you are making it the night before for an easy weeknight meal or bringing it to a sick friend, I have you covered.
Follow the recipe up to the point of putting it in the casserole dish.
Cover and refrigerate for up to 24 hours.
When you are ready to bake, take it out of the refrigerator, preheat the oven, and top with the remaining 1 1/2 cups cheese.
Bake, covered, at 425 for 25 minutes. Uncover and continue cooking until the cheese on top is bubbly.
When you make this the night before it turns it into a 30 minute meal the next day!
FAQ
Can this recipe be made dairy free?
This recipe has only been tested as written. If I were going to test it dairy free, I would use a vegan butter, a vegan milk, and I would omit the cheese. It would be less creamy, so you might want to consider a little more vegan milk than what is called for.
Can this chicken noodle casserole be made without the vegetables?
You are going to be missing some flavor without the vegetables. You might want to consider replacing them with vegetables your family enjoys, or adding garlic and onion powder to the sauce.
Can this recipe be made gluten free?
We've only tested this casserole as written, but I think replacing the noodles with gluten free noodles and the flour with almond flour would work well.
Can this chicken noodle casserole be made ahead?
Yes! It can both be made ahead and frozen. You can find instructions for both listed above.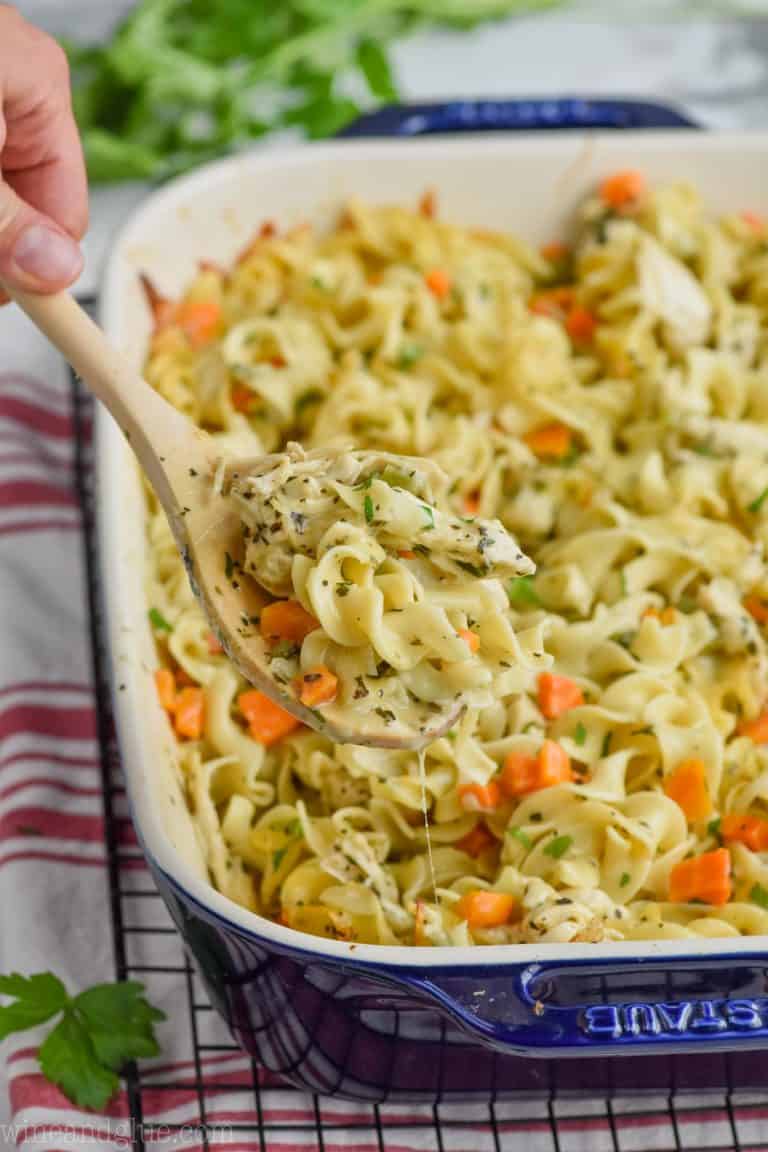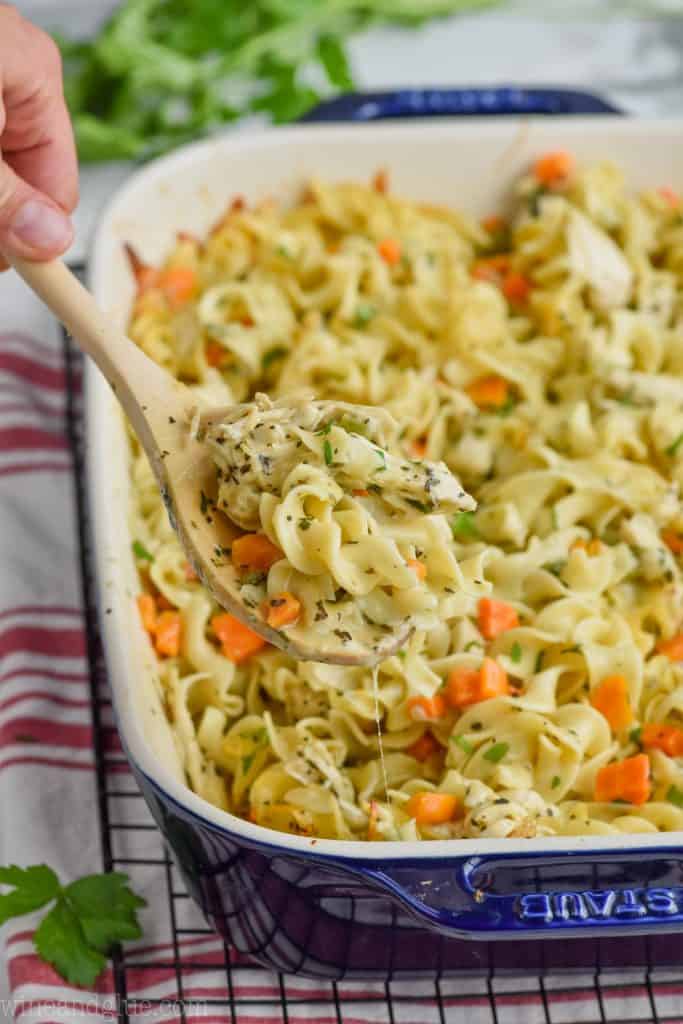 What to Serve with Chicken Noodle Casserole
This is a great meal entirely on it's own, but if you are looking to round things out further, here are a few great suggestions.
If you make this Chicken Noodle Casserole or any of my other recipes I've listed in this post please be sure to leave me a comment and let me know what you think!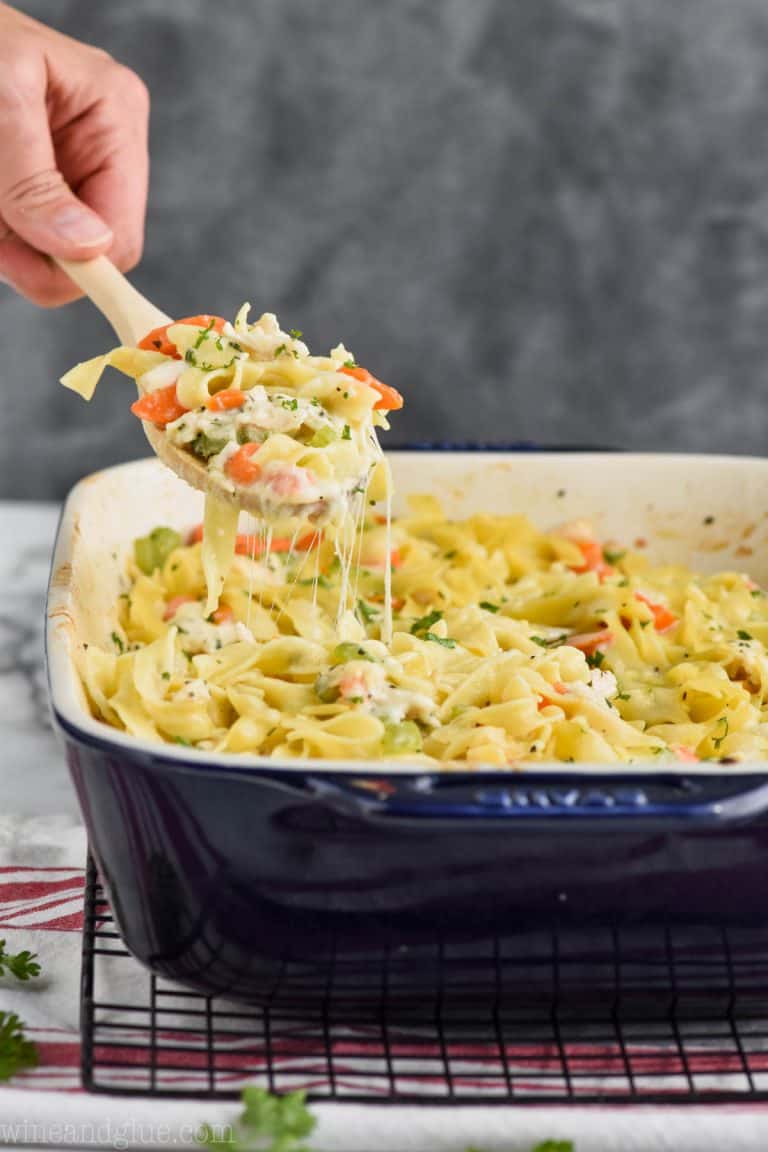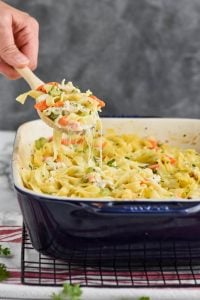 Chicken Noodle Casserole
This Chicken Noodle Casserole recipe is the best – the definition of comfort food! It comes together with all the flavors of homemade chicken noodle soup but in a delicious cheesy chicken noodle casserole.
Ingredients
16

ounces

egg noodles

cooked in chicken broth (see notes)

2

bay leaves

2

cups

chicken broth

reserved from cooking the noodles (see note 1)

3

tablespoons

unsalted butter

3

stalks celery

diced

3

medium carrots

diced

1/2

yellow onion

diced

3

cloves

garlic

minced

3

tablespoons

all purpose flour

1

cup

milk

(I used skim)

2

teaspoons

dried parsley

2

teaspoons

dried basil

1/2 – 1

teaspoon

kosher salt

(start with less if you are using table salt)

1/8

teaspoon

black pepper

3

cups

cooked shredded chicken

about 1 pound when raw (see note 2)

3

cups

shredded mozzarella

divided
Instructions
Preheat your oven to 425 degrees. Spray a 13 by 9 casserole dish with cooking spray and set aside.

Cook the pasta in chicken stock with two bay leaves thrown into the water according to package directions. Reserve 2 cups of the cooking liquid. Drain and set aside. Note the instructions on the egg noodles for using in a casserole, you will likely need to cut the boiling time by half.

16 ounces egg noodles,

2 bay leaves

Melt the butter over medium low heat in a large sauce pan. Add the celery, onion, carrots and garlic to the pan. Cook until the veggies are soft and tender.

3 tablespoons unsalted butter,

3 stalks celery,

3 medium carrots,

1/2 yellow onion,

3 cloves garlic

Add the flour to the pan, mixing it in to make a paste. Very slowly add the reserved cooking stock. Approximately a tablespoon of stock at a time, waiting until the last bit of stock was completely combined before adding the next bit. Now slowly add the milk. While this should be done slowly, it will only take about a minute to complete.

2 cups chicken broth,

3 tablespoons all purpose flour,

1 cup milk

Once all the milk is mixed in, add the parsley and basil. Then season to taste with salt and pepper. Taste the sauce and add more salt, pepper, or herbs as needed.

2 teaspoons dried parsley,

2 teaspoons dried basil,

1/2 – 1 teaspoon kosher salt,

1/8 teaspoon black pepper

Stir in the chicken, cooked noodles, and 1 1/2 cups of the cheese. Pour the mixture into the greased casserole dish and top with the remaining 1 1/2 cups of cheese.

3 cups cooked shredded chicken,

3 cups shredded mozzarella,

16 ounces egg noodles
Notes
You will need roughly 16 cups of chicken stock. If cooking egg noodles in chicken broth seems extravagant or like an added cost you don't want, you can skip it, use half water and half chicken stock, or you can buy chicken stock base. It's a much more cost effective way to use chicken broth, and you just mix it into boiling water before adding the noodles. One small jar yields a lot of chicken broth.
To save time, keep frozen cooked chicken on hand. This is my favorite cooking hack!
Serving:
1.6
cups
Calories:
480
kcal
(24%)
Carbohydrates:
30
g
(10%)
Protein:
24
g
(48%)
Fat:
23
g
(35%)
Saturated Fat:
12
g
(75%)
Polyunsaturated Fat:
1
g
Monounsaturated Fat:
2
g
Cholesterol:
81
mg
(27%)
Sodium:
393
mg
(17%)
Potassium:
369
mg
(11%)
Fiber:
2
g
(8%)
Sugar:
4
g
(4%)
Vitamin A:
5750
IU
(115%)
Vitamin C:
3.3
mg
(4%)
Calcium:
860
mg
(86%)
Iron:
1.6
mg
(9%)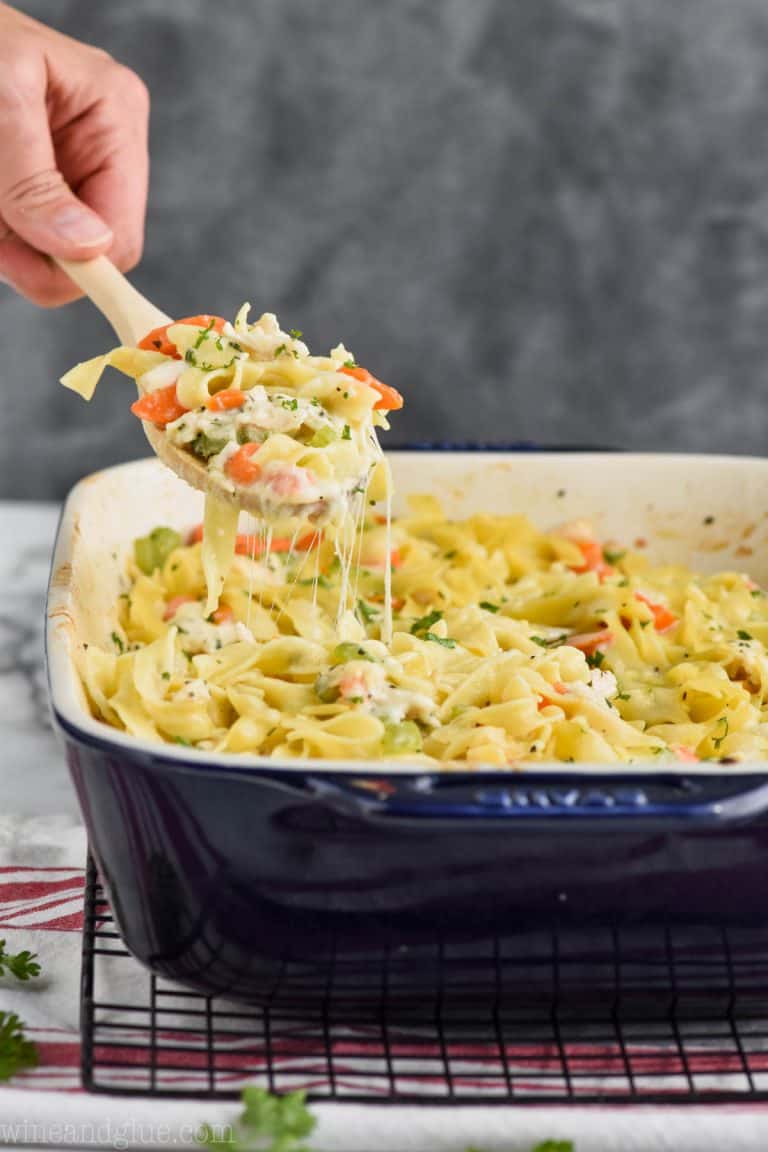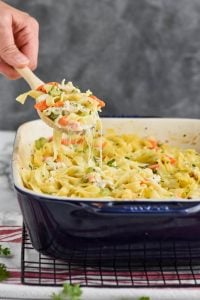 did you make this
Chicken Noodle Casserole