These Chocolate Peanut Butter Brownie Cupcakes are the perfect combination of chocolate and peanut butter. They taste like a brownie but in cupcake form.They are absolutely rich and totally decadent and topped with the most delicious peanut butter frosting. Grab a glass of milk, kids! These would also be amazing with the best chocolate buttercream frosting on top of them or even this vanilla buttercream frosting. If you are a lover of chocolate and peanut butter together, then you MUST also check out my peanut butter cup pie!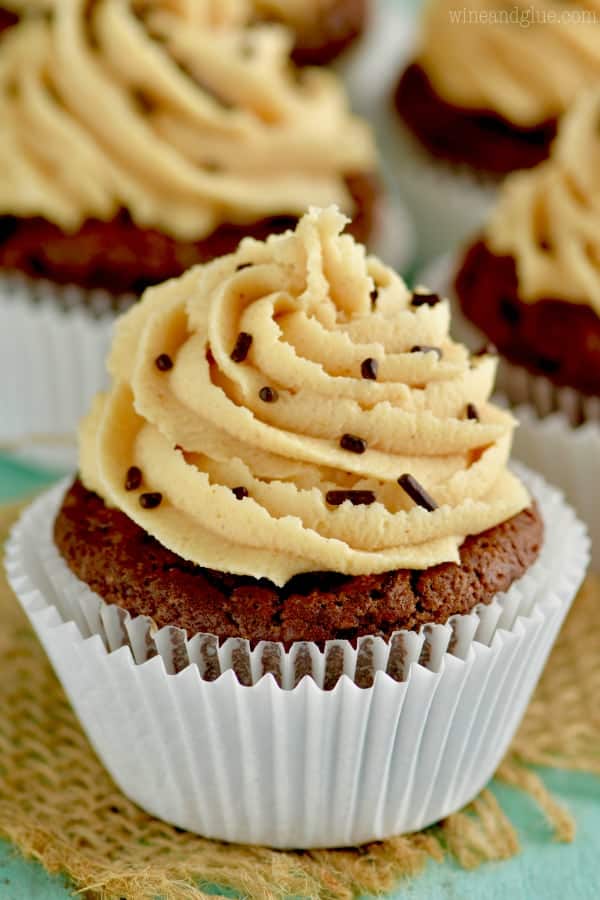 Today is a special day, friends! Because today is the day that we are celebrating such an amazing blogger and friend of mine! Jocelyn from Grandbaby Cakes is having her own little baby cake! So today, other bloggers and I have gotten together to give her a virtual baby shower!! Guys, the blogging world is so great. We may not live close to each other, but the love we feel for each other is beyond real.
Jocelyn is pregnant with a little baby girl!! There are about a million things that I love about Jocelyn, but one of them is her positive spirt. She just exudes positivity. I mean, truly, she is one of those people that I look up to because I feel like she is always looking at the positive side of things . . . . and after I learned that she had to go through IVF to become a mother, that love of that positive spirit grew even more. Having gone through intense infertility issues myself, I just can't get over her. You guys, just go read about her experience. I swear, you will fall in love with her.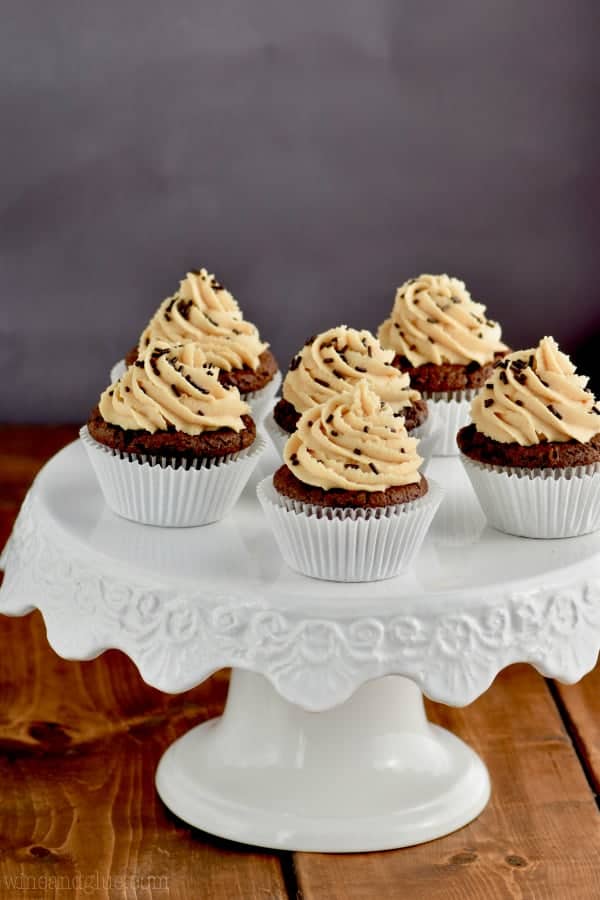 So, in honor of Jocelyn and her amazing husband coming together to create something truly special and amazing. I decided to combine some amazing things and come up with these perfect little baby cakes.
Chocolate and Peanut Butter are the BEST combo!
You guys. Is there a better dessert flavor combo than peanut butter and chocolate? I'm going to go with no. These chocolate cupcakes have a HUGE punch of peanut butter to them, which makes them crazy delicious.
Also? You want to know another magical combination happening here? Cupcakes and brownies. These cupcakes aren't exactly cakey and they aren't exactly like a brownie. They are like a cupcake and a brownie came together and had a perfect little love child.
Kind of perfect for a virtual baby shower.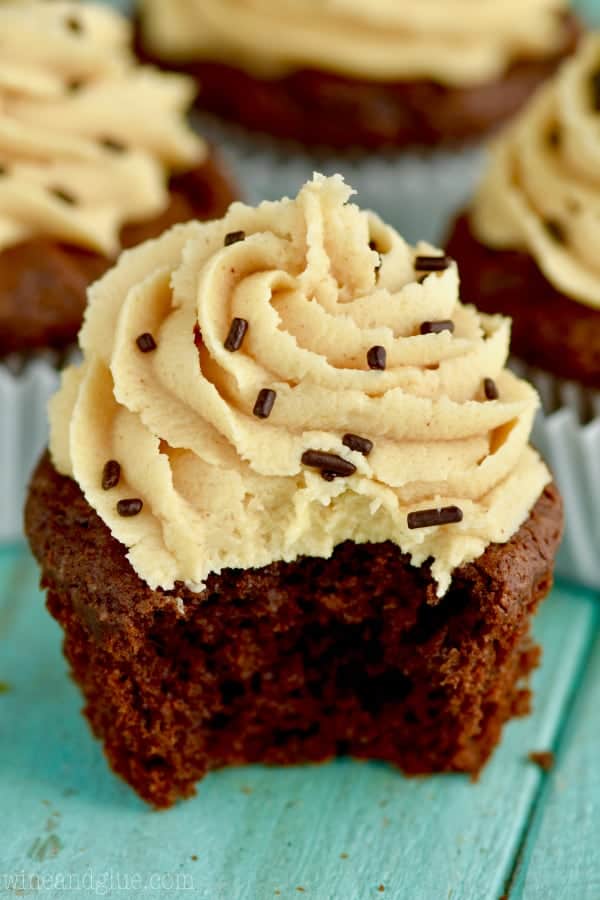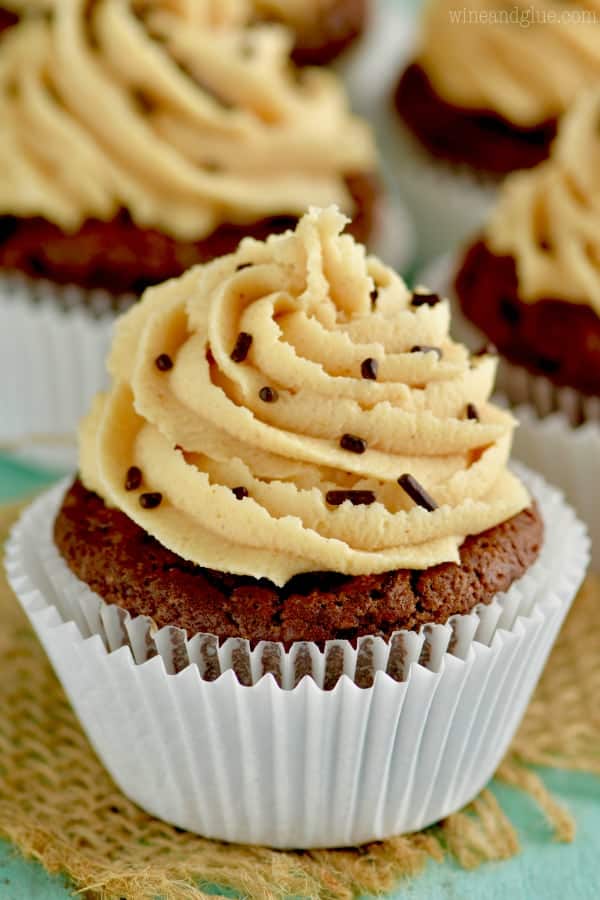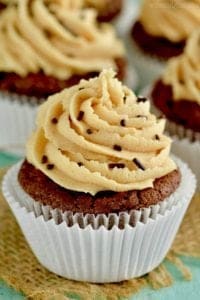 Chocolate Peanut Butter Cupcakes
Ingredients
For Cupcakes

1 1/2

cups

granulated sugar

1 3/4

cups

all-purpose flour

3/4

cup

unsweetened cocoa powder

1 1/2

teaspoons

baking powder

1 1/2

teaspoons

baking soda

1

teaspoon

salt

2

eggs

1

cup

milk

I used skim

1/3

cup

vegetable oil

1

cup

of creamy peanut butter

2

teaspoons

vanilla extract

For Frosting

1/2

cup

unsalted butter

room temperature

1

cup

peanut butter

1/2

cup

milk

8

cups

powdered sugar

2

teaspoons

vanilla extract
Instructions
Preheat your oven to 350 degrees Fahrenheit. Line two muffin tins with 24 cupcake liners.

In a large bowl, mix the the granulated sugar, flour, cocoa powder, baking powder, baking soda, and salt.

Add in the eggs, milk, vegetable oil, peanut butter, and vanilla. Stir until the batter is fully combined.

Fill each cupcake liner approximately 2/3 full.

Bake for 20 minutes (in two batches), or until a tooth pick inserted in the middle of a cupcake comes out with just a few crumbs. Allow to cool completely. Once cool, make the frosting.

To make the peanut butter frosting beat together the butter and peanut butter until combined in a stand mixer or with a hand held mixer.

Slowly add in the powdered sugar and then the milk, followed by the vanilla extract. If not smooth and creamy, add a tiny bit more milk.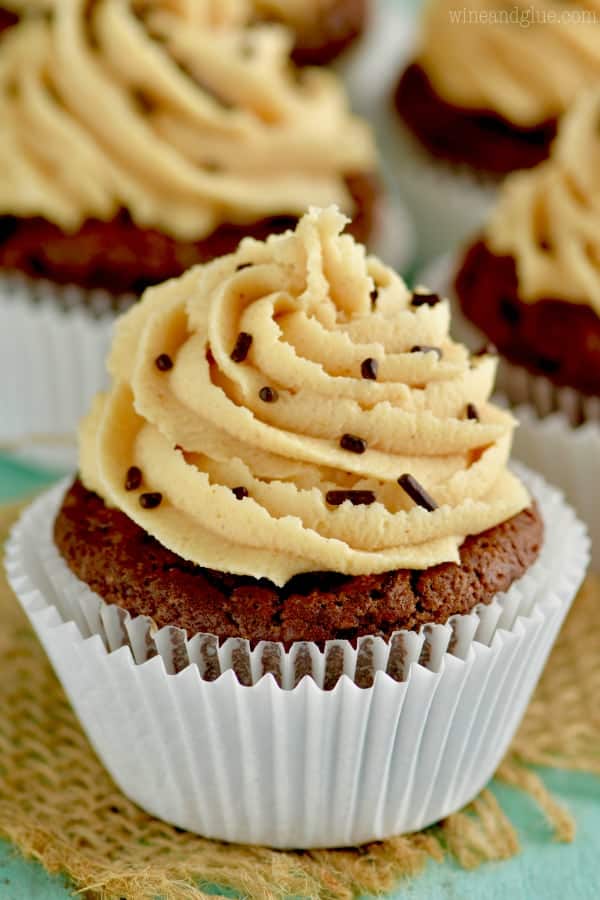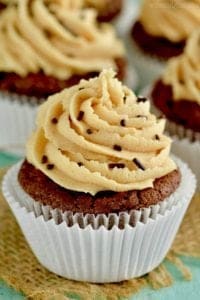 did you make this
Chocolate Peanut Butter Cupcakes
Loaded Reese's Peanut Butter Cup Bark
Fudgey Peanut Butter Hand Pies
Peanut Butter Nutella Swirled Fudge
Peanut Butter Chocolate Chip Snowball Cookies
Peanut Butter Chocolate Chip Cookies
Peanut Butter Chocolate Pretzel Bark