This Cranberry Brie Braid could not be easier, but it is gorgeous and makes for a great fancy appetizer!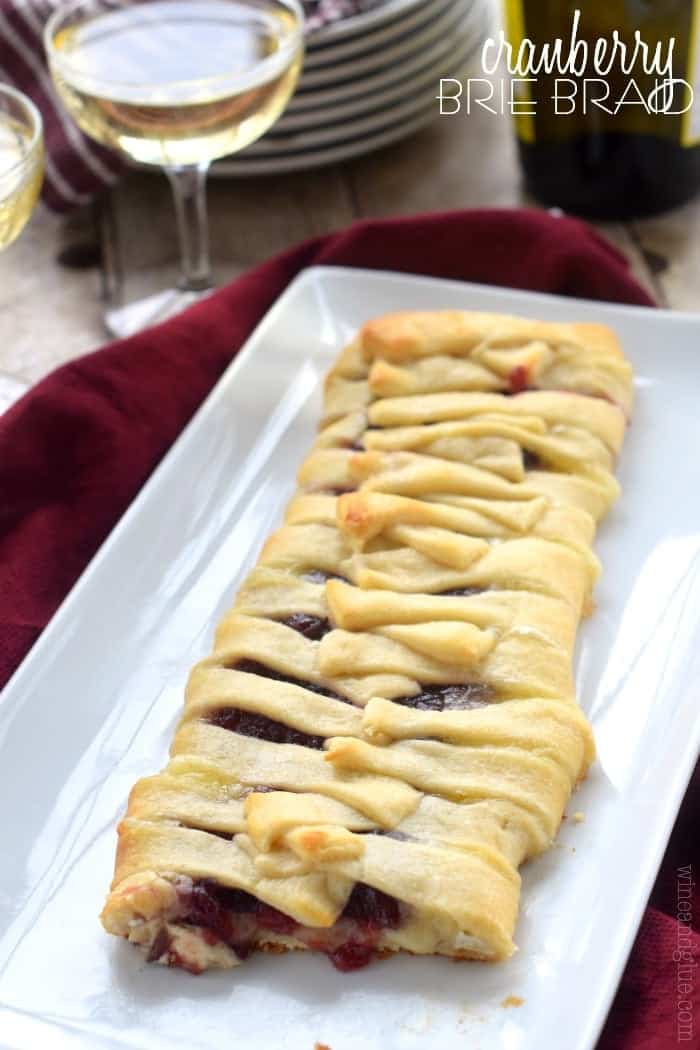 This Cranberry Brie Crescent Braid is the perfect holiday and Christmas baked appetizer! Cranberry and brie go together perfectly in this crescent-wrapped recipe. It is like a beautiful twist on baked brie! You could also make this easy baked brie appetizer with puff pastry! If you are looking for more holiday recipes to serve your guests, make this Cranberry Christmas Cake, these Slow Cooker Cocktail Meatballs, this Easy Bacon-Wrapped Shrimp Appetizer, and this Cranberry Orange Mulled Wine.
In a few days, I'm going to be rounding up the most popular posts on Wine & Glue in 2014. (You know the posts that got the most page views by readers this year.) I'm kind of excited to see what makes the cut. There are a few recipes that I just know are going to be in there, and the Chicken Pot Pie Crescent Braid is for sure one of them. It's funny, because it's a delicious and very fun recipe, but Nathan is always saying, "Really . . . ???" about it's popularity.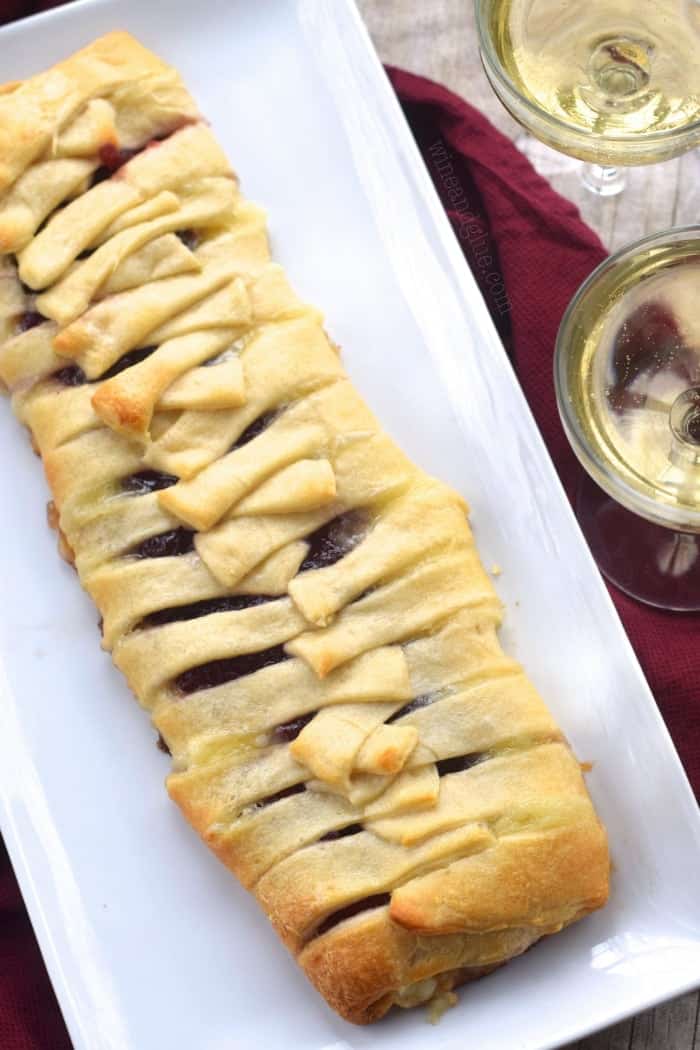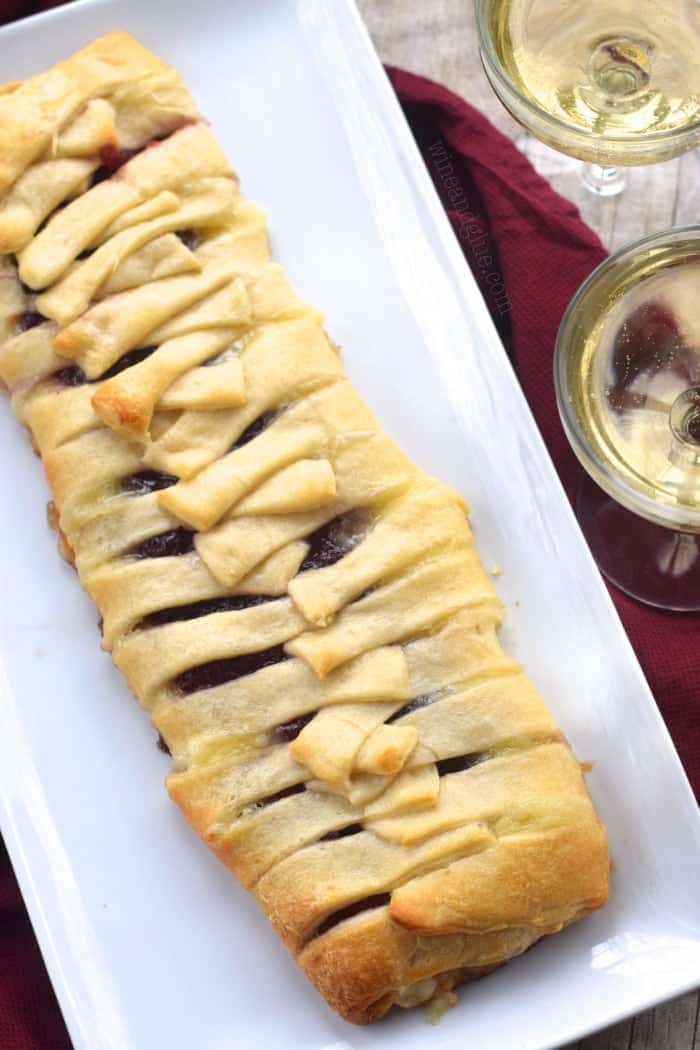 So in honor of the recipe that was the most popular on Wine & Glue this year and in honor of the end of 2014, I decided to make you a really fun appetizer based on the Chicken Pot Pie Crescent Braid sensation! Cranberry Brie Crescent Braid!!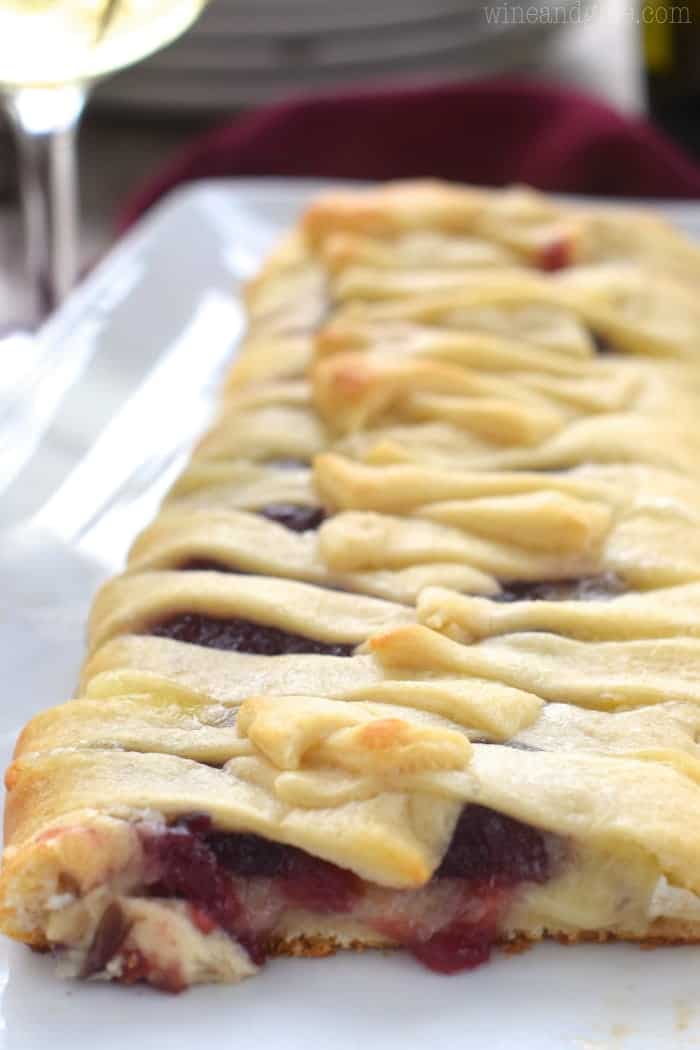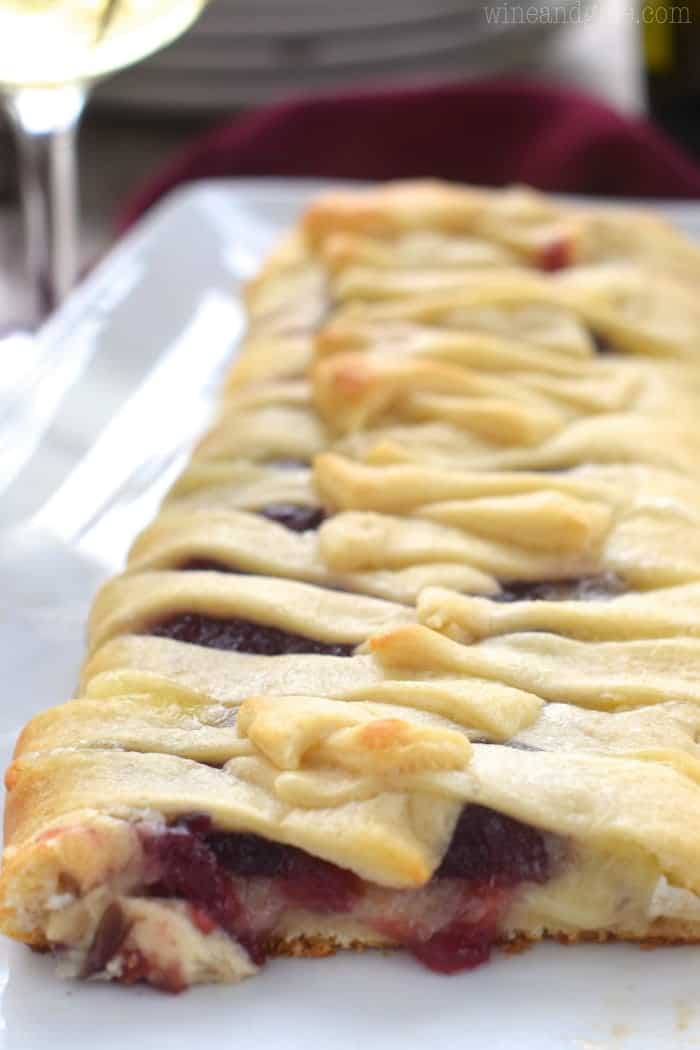 This is so super simple, but look how pretty! And absolutely delicious! If you have party guests with more adventurous taste buds, you could change it up and replace the cranberry sauce with Nutella, or dark chocolate, or . . . honey!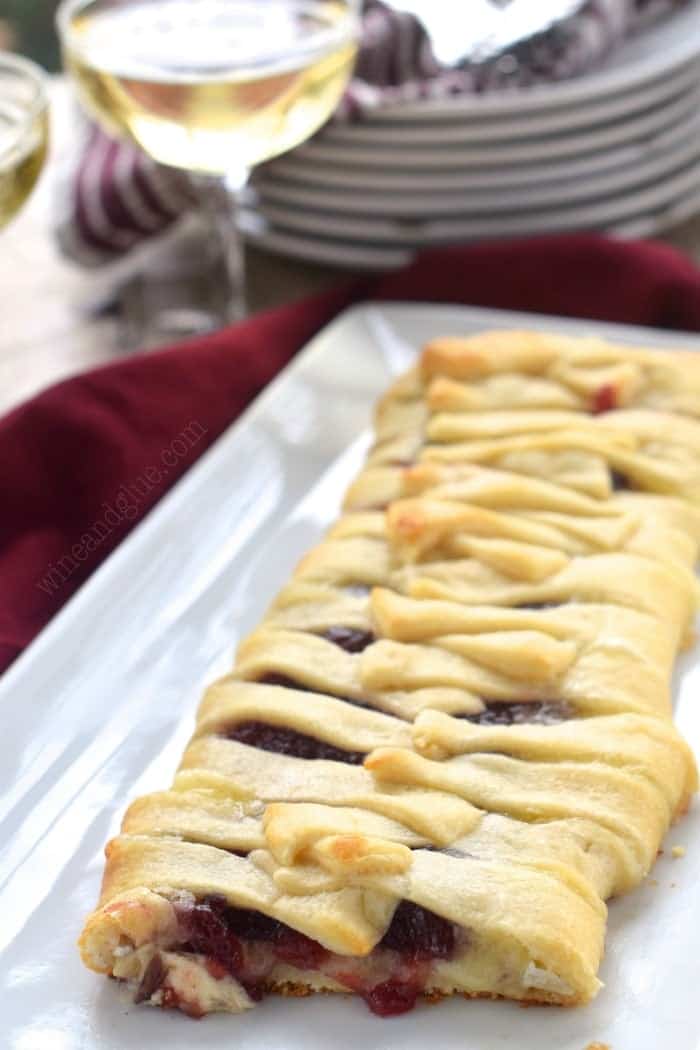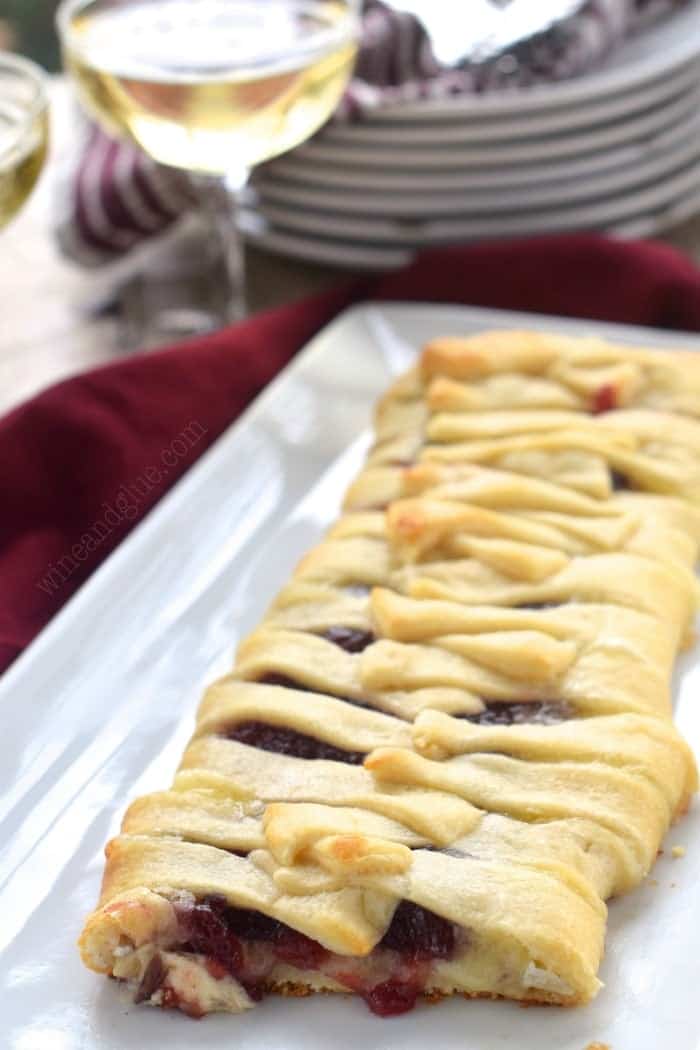 Or you could just keep it as is, because it is absolutely delicious like this!
And even though it looks super fancy, it's really easy to put together! So easy, that I was able to photograph the putting together of it while taking care of a three year old and 7 month old! :)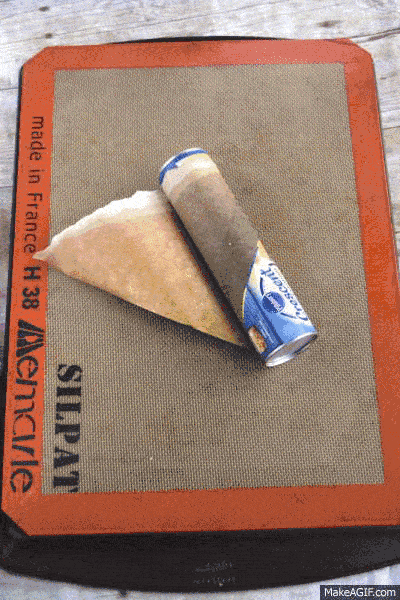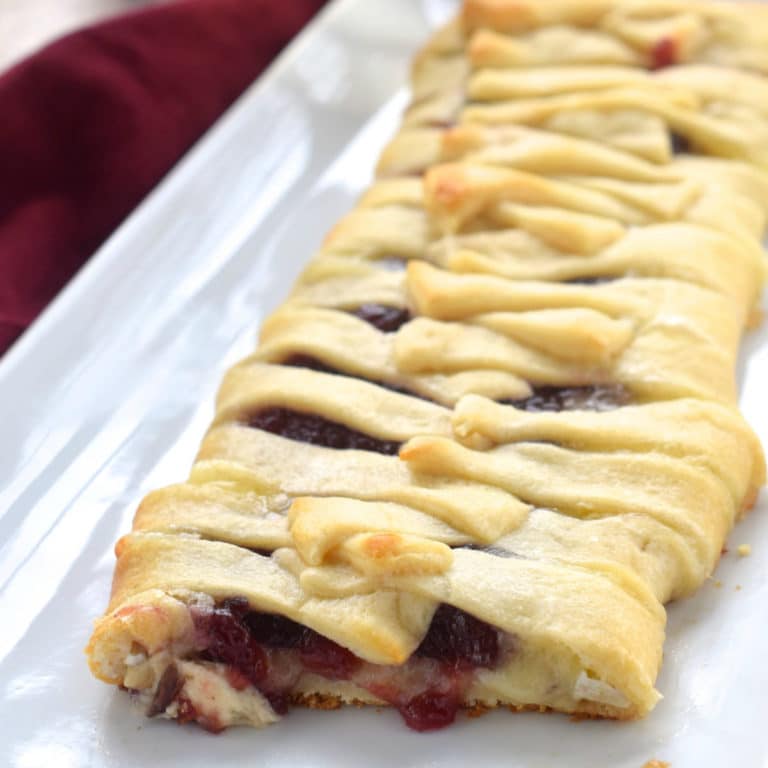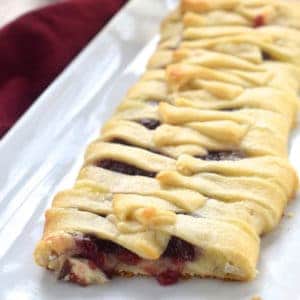 Cranberry Brie Crescent Braid
Instructions
Preheat your oven to 350 degrees.

Spread the crescent roll dough out on a

silicon mat

or parchment paper and place that on a baking pan. Leaving three inches in the middle, make cuts down the side of the dough an inch apart on both sides.

Cut the brie into thin (approximately 1/4 inch) slices and line it up down the middle of the dough.

Spoon the cranberry sauce over the brie.

Take a strip of dough from one side and fold it over the middle mixture. Then take a strip from the other side and fold it over the middle. Continue down the dough, alternating sides until it is completely folded over.

Pinch the ends of the dough to keep the filling inside while it bakes.

Bake for 16 to 18 minutes so that the top is golden brown.

Let stand about 10 minutes before cutting in to it. (See notes)
Notes
There will be a decent amount of leaking out from the brie and the cranberry sauce during baking, that is normal. You want to make sure that the dough is baked, but the bottom is not burnt. You can test this by lifting up folds in the middle top of the braid and by peaking at the bottom.
After removing from the oven and letting the braid stand, move to the serving tray very very carefully. I used two spatulas and a lot of prayer, and I still had a flop, but I was able to reposition things and still make the braid look beautiful.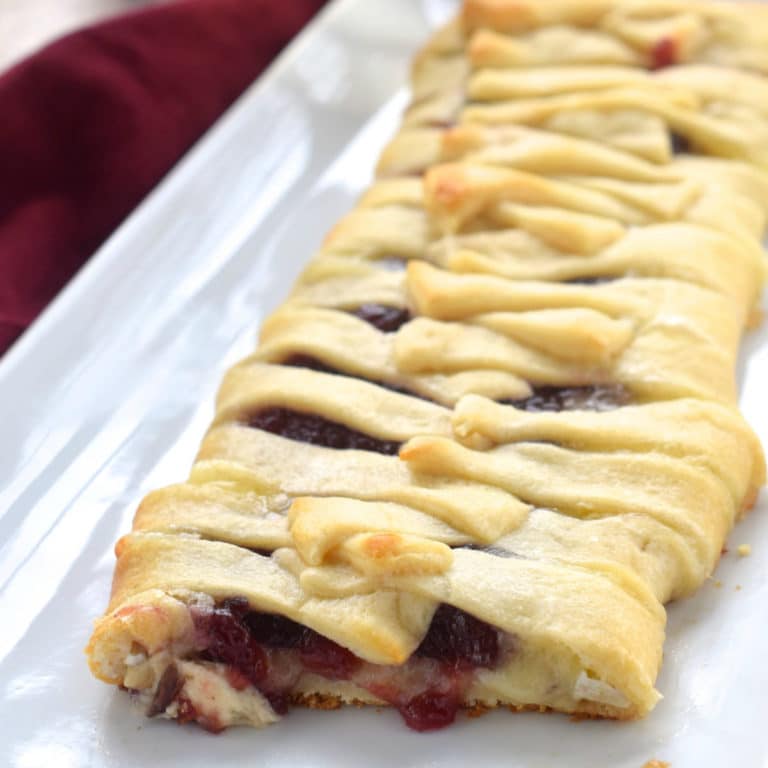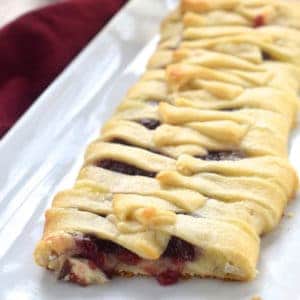 did you make this
Cranberry Brie Crescent Braid
Other great holiday appetizers: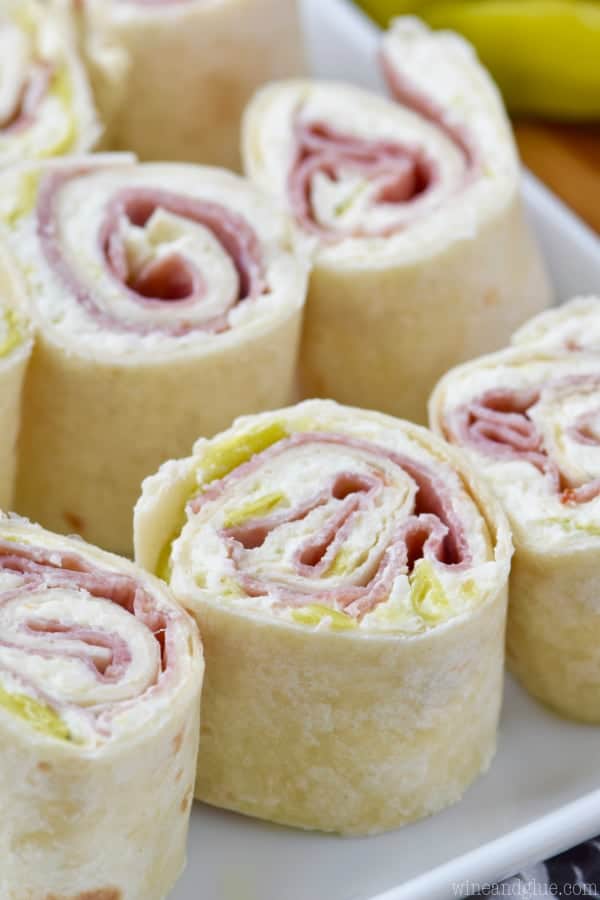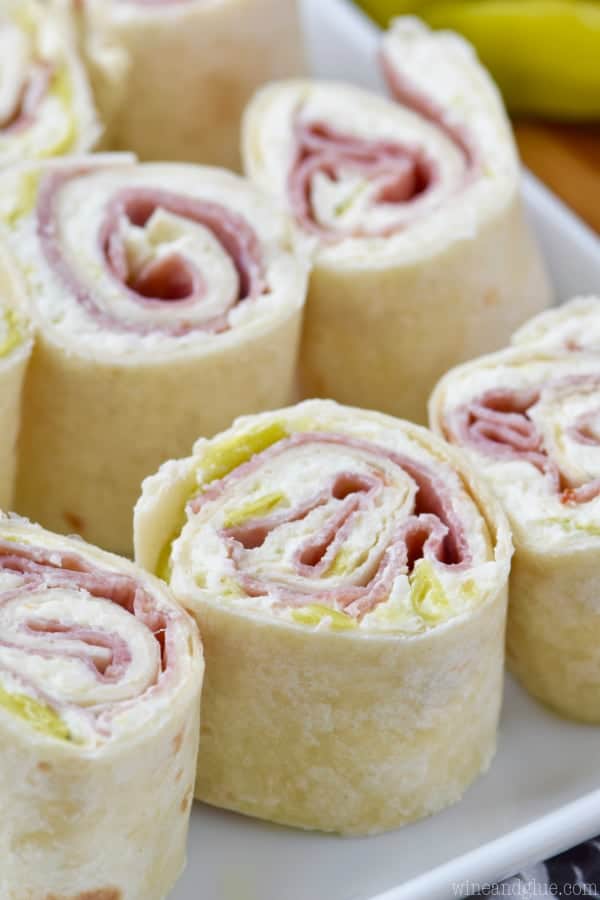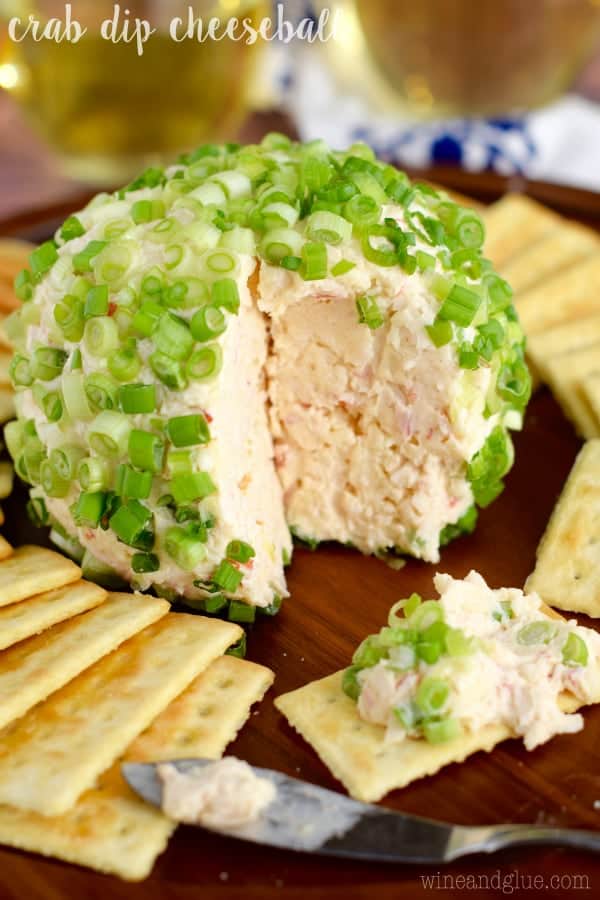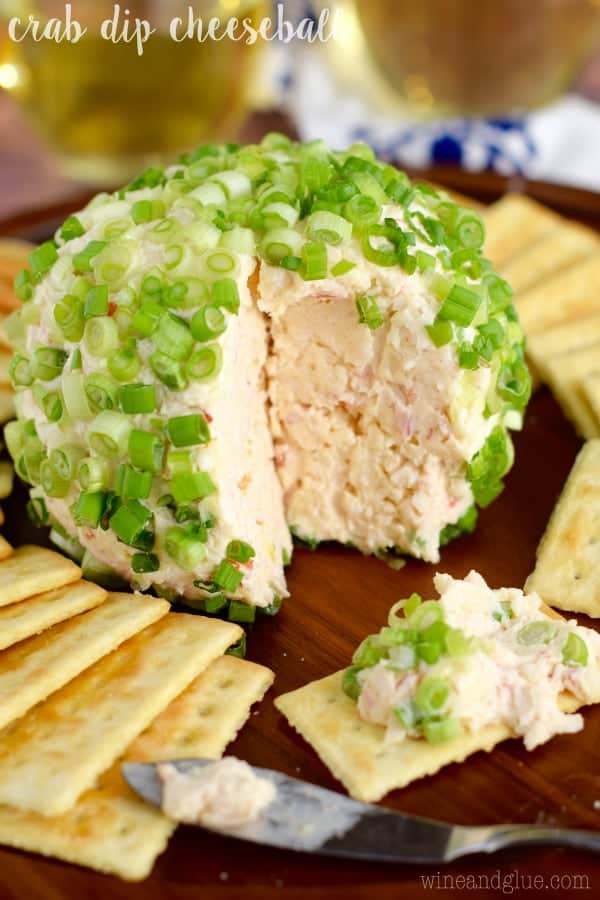 Honey Strawberry and Brie Bruschetta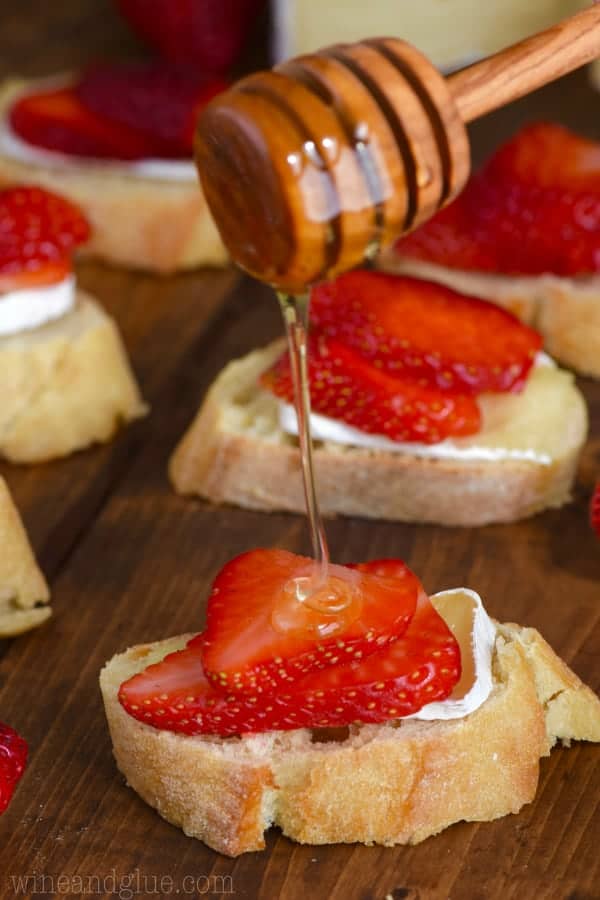 Brie recipes from friends
Puff Pastry Wrapped Cranberry Brie
Dark Chocolate, Raspberry, and Brie Grilled Cheese
This post contains affiliate links, thank you in advance for supporting Wine & Glue.
SaveSave