Take those cute pictures of your baby's first birthday and them eating their cake right at home with this DIY Cake Smash Photo Shoot!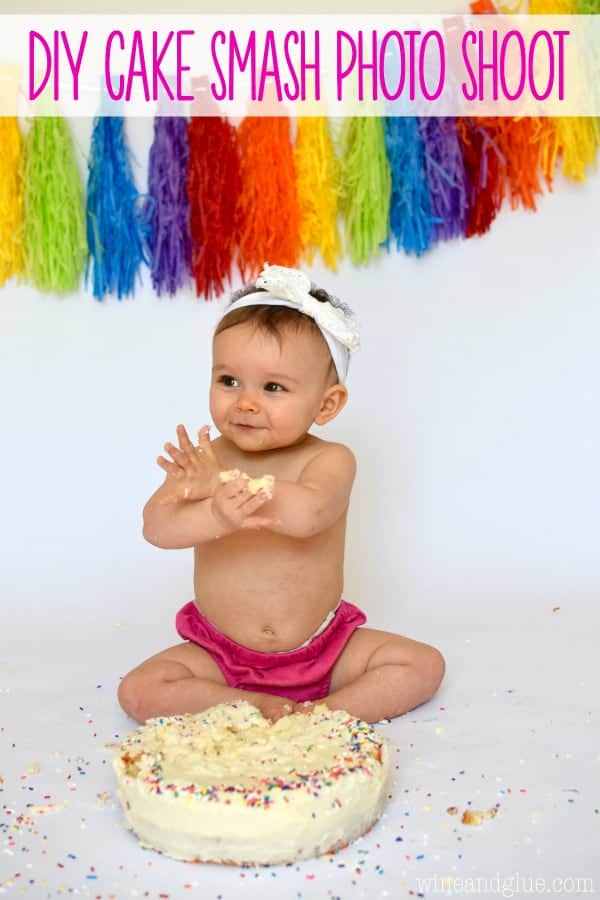 I'm not going to lie.
One of the main reasons for this post is to show off my baby.
Isn't she adorable??
Okay, moving on.
So I love all those cute cake smash photos I see popping up on Pinterest and Facebook . . . but I didn't want to pay for one. So I did my own! Here's the caveat:  I have some experience behind a camera. I don't want you to think the average Joe who picks up a point and shoot camera and the supplies I have listed is going to capture similar pictures. But! It is totally possible to do this at home.
Here's my set up: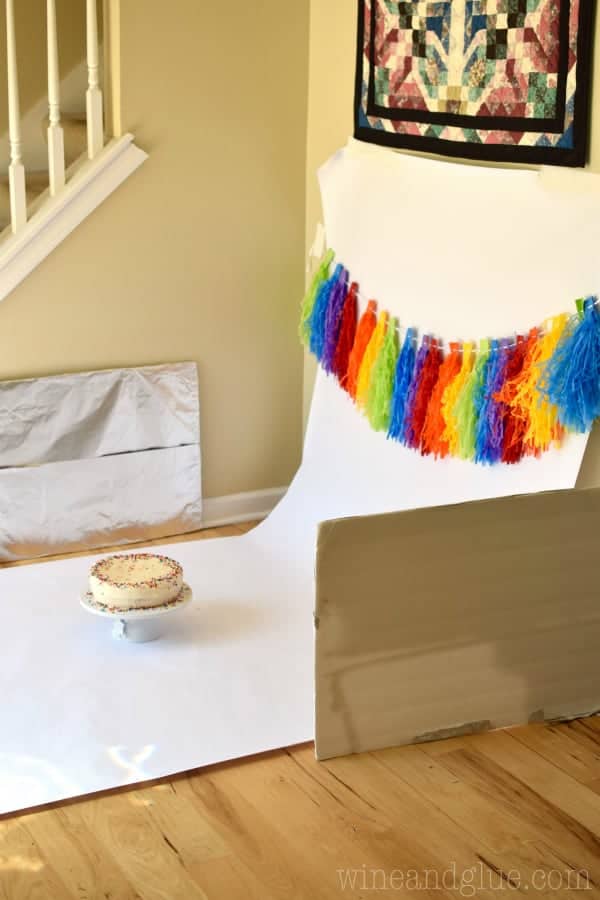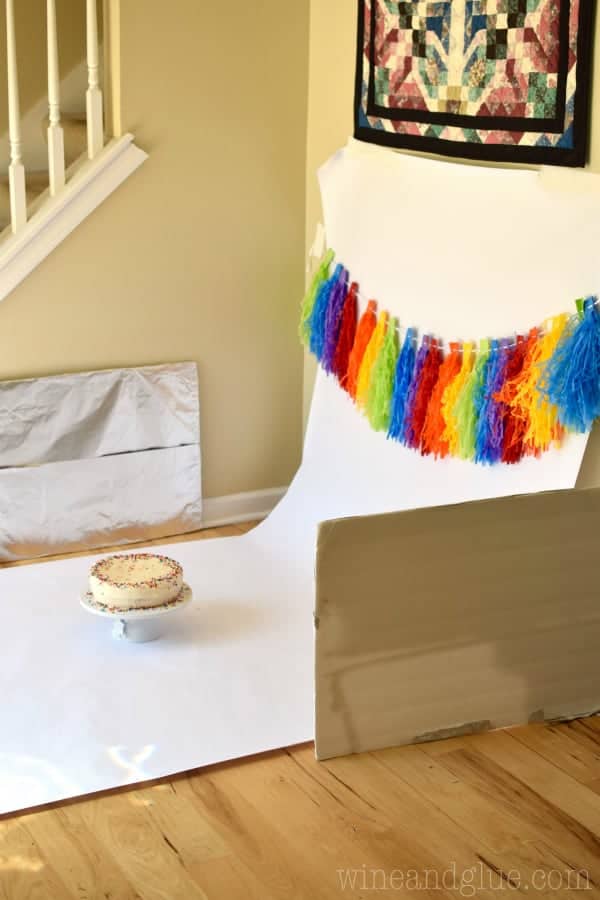 The supplies:
White Bulletin Board Paper – I got mine at JoAnn's with a 40% off coupon for about $5.
Duct Tape – It's what I used to hold the paper up to the wall. I only had it on my wall for about two hours and it came off perfectly without taking off paint, but if you are worried, you could use painter's tape.
Two DIY Reflector Boards – Get some foam core boards at the dollar store and while you are there pick up some aluminum foil. Then tape the foil to the foam core boards. Place them on either side of the paper.
Decorative Banner – Go to a party store and grab a decorative banner of some kind. It adds great color to the picture. (If you buy the one linked, keep in mind that I pushed the tassels much closer together.)
Cake
Baby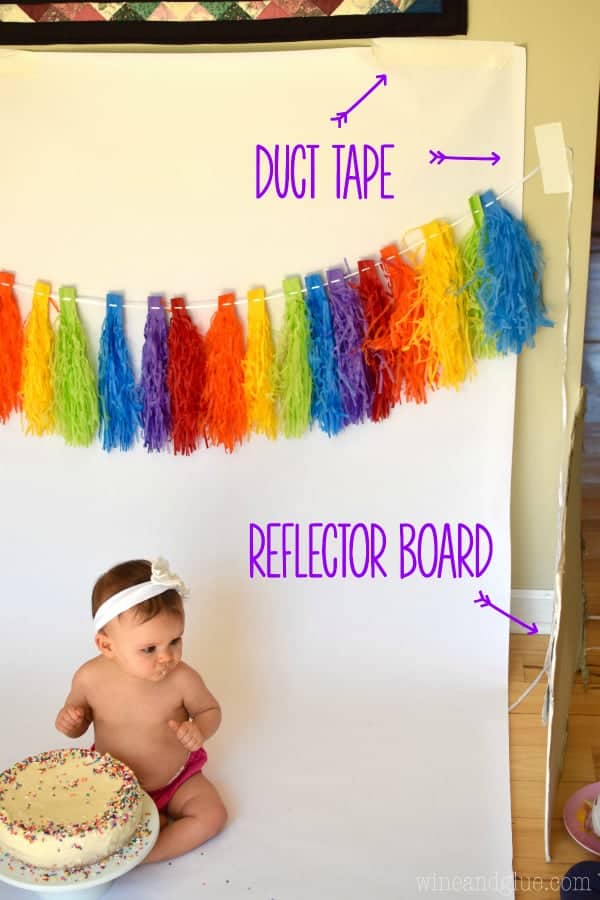 Like I mentioned, I have some experience using my camera. If you are just starting out with a DSLR, I would recommend this book, Plate to Pixel. Even if you aren't shooting food, it is so helpful with the basics. I have a Nikon D5300, which I love. And for this photo shoot I used a 35 mm lens on manual/automatic focus. It gave me a lot more room to work with than my fixed 50 mm which I typically use when shooting food.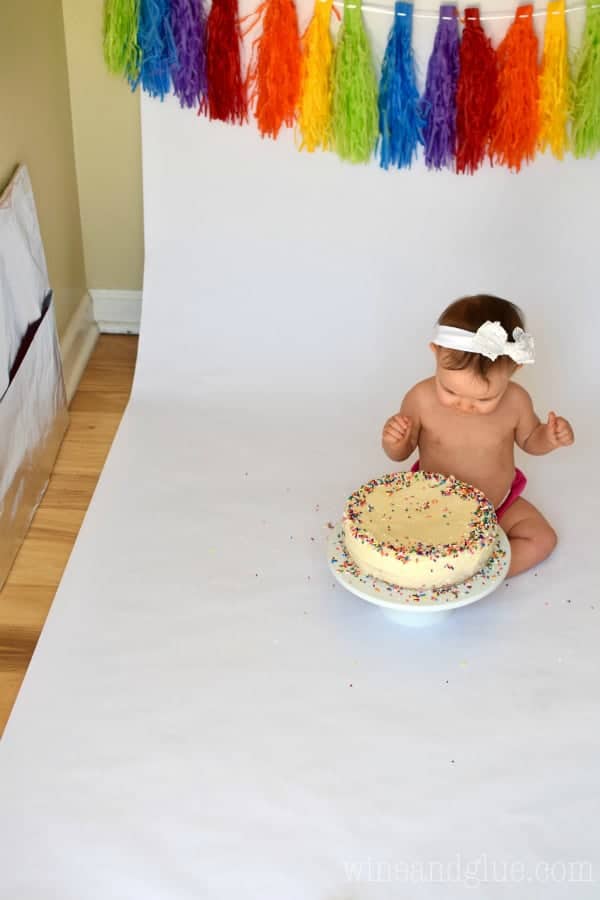 Other tips:
It's important to put your set up in a well lit area, but not in direct sunlight. Keep an eye on different areas of your house leading up to the photo shoot and get a sense of what area has the best light and what time of day.
Before you put your baby in front of the cake, check out the lighting and take a couple test shots to see if you have the settings on your camera right.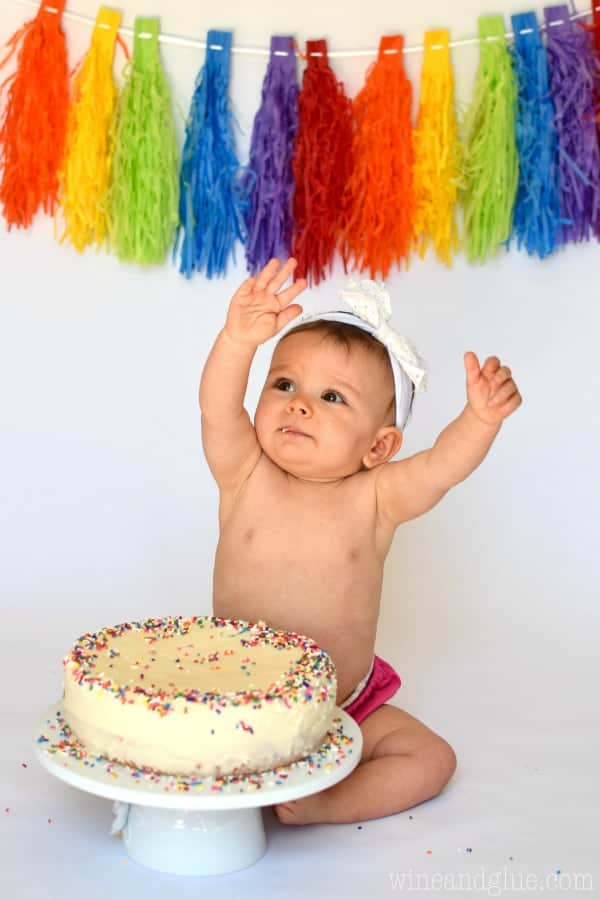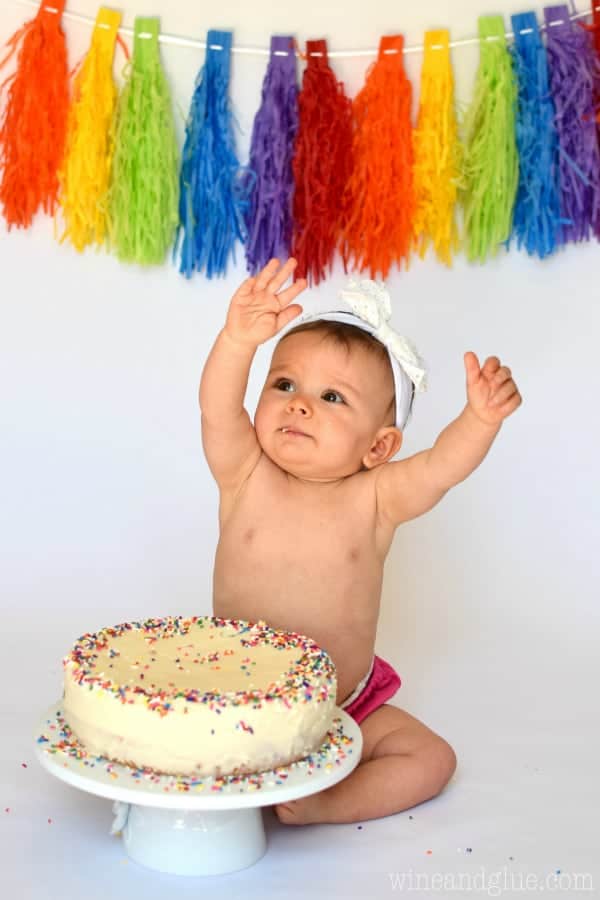 We started out with the cake on a cake stand I got at Target . . . . and Piper had zero interest in it.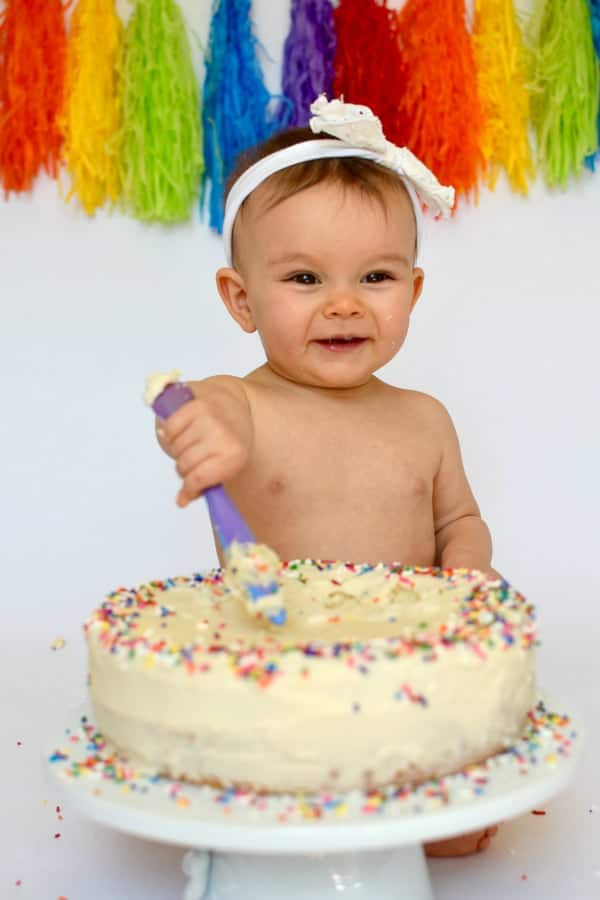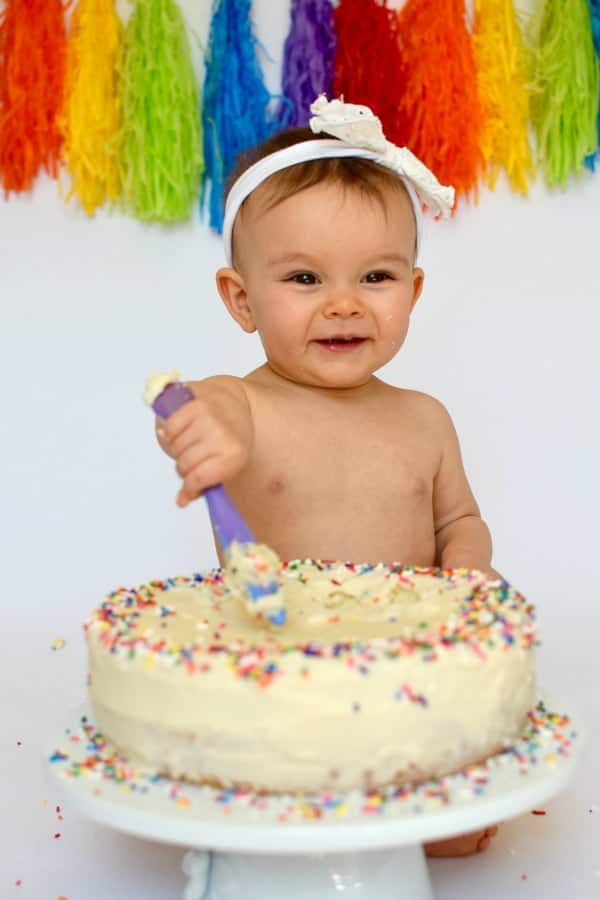 We gave her one of her spoons, and then she just wanted to stab it. Still no interest in eating it.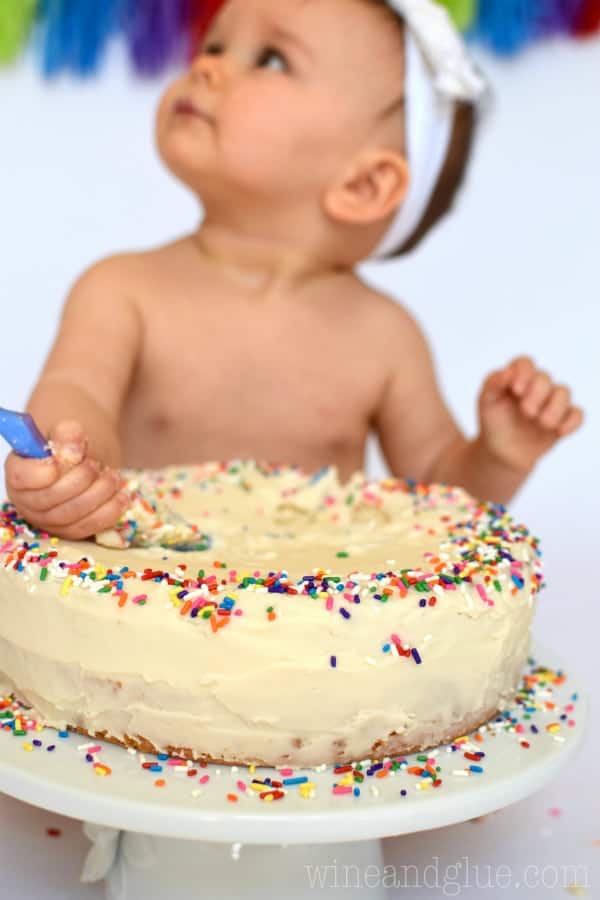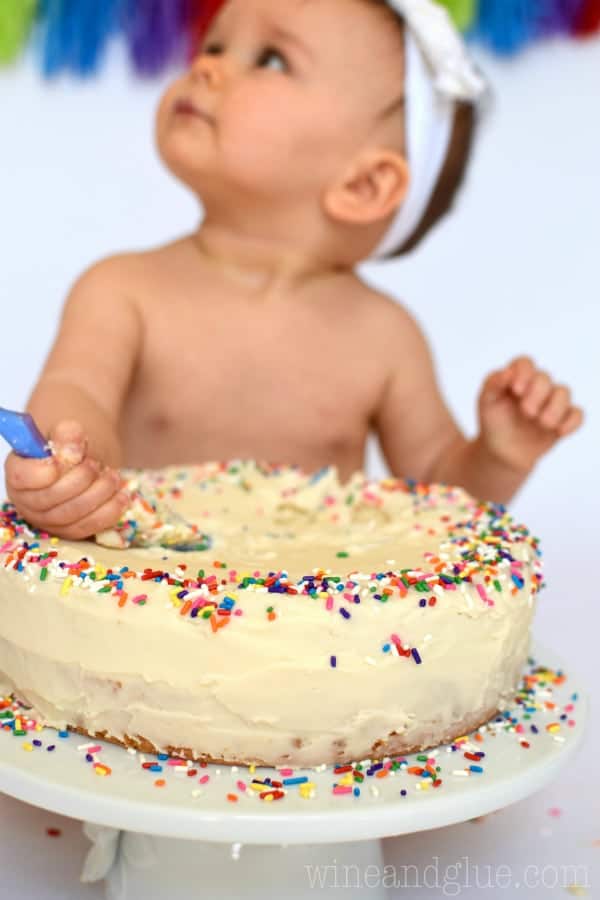 We finally took it off of the cake stand and started ripping chunks off for her.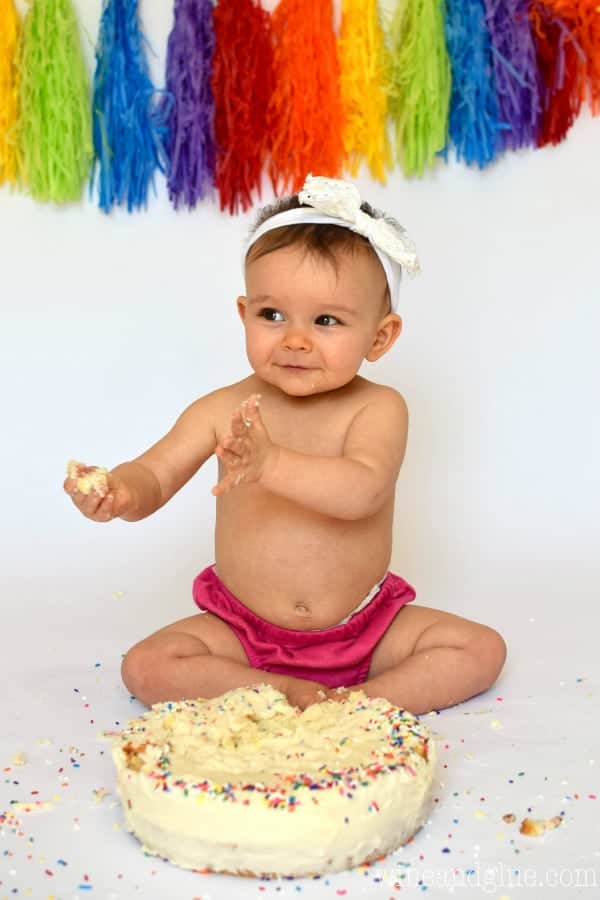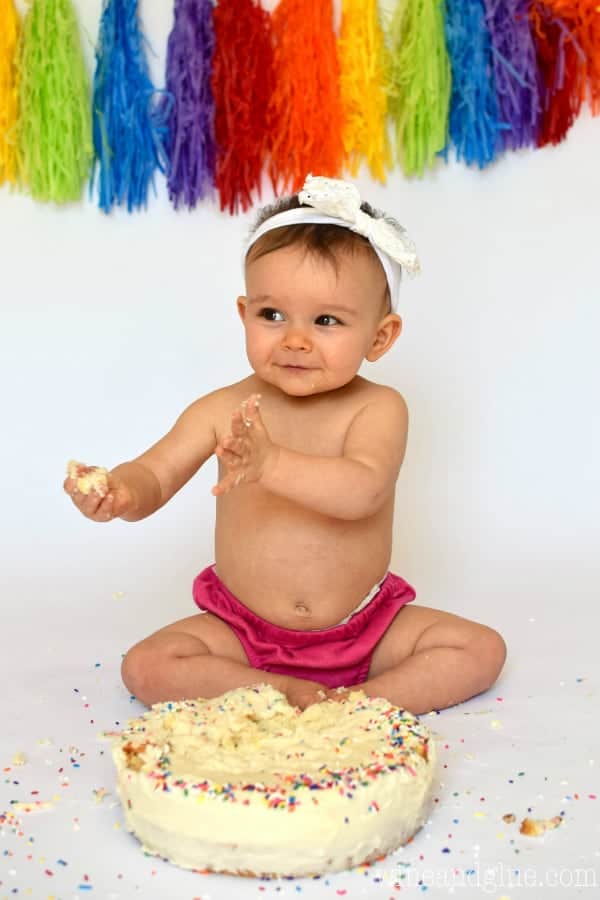 She still wasn't really sure  . . . . but she did love feeding us.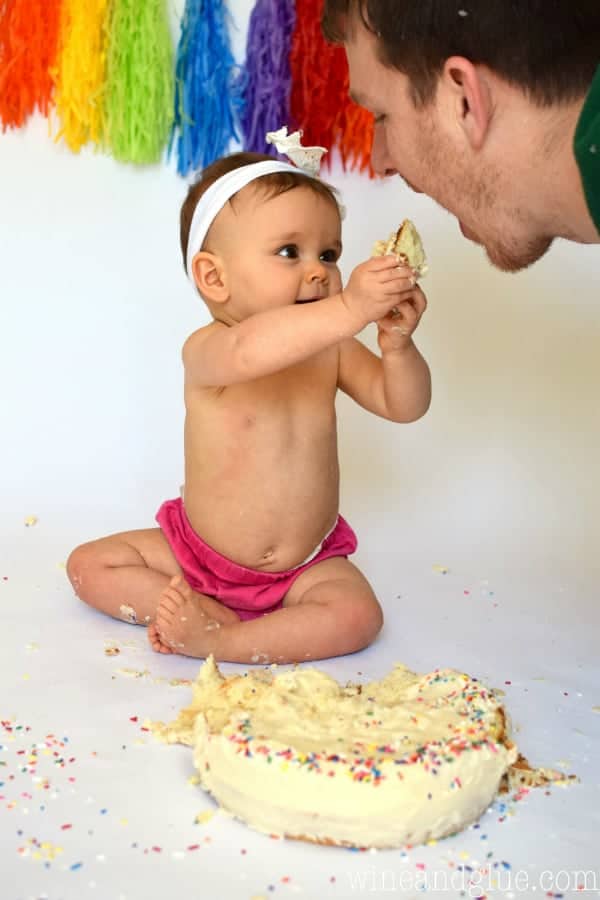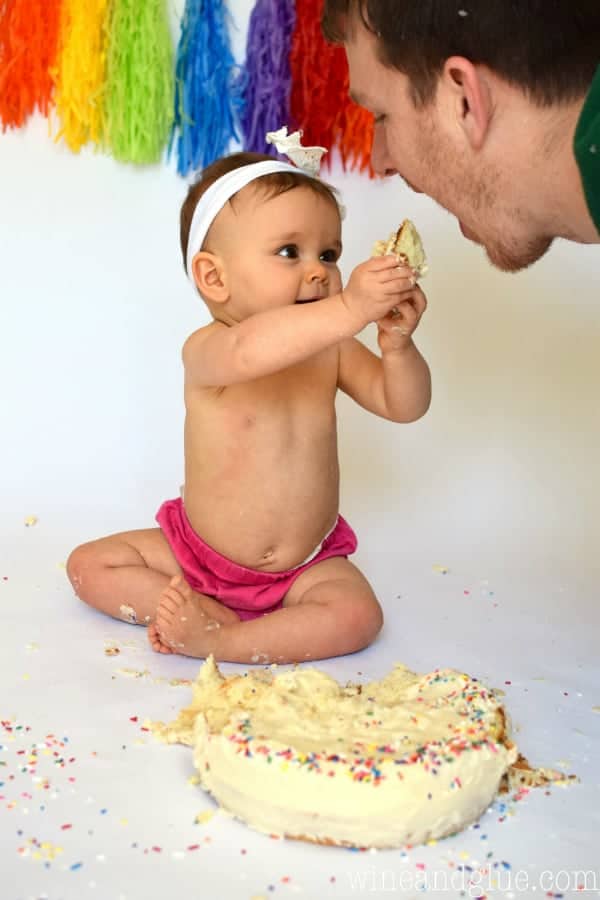 She finally had a little taste.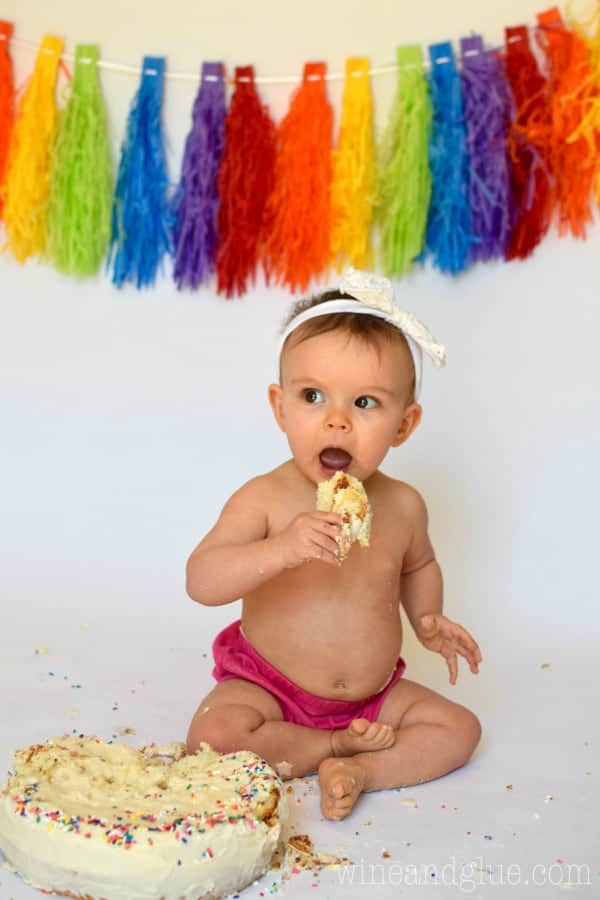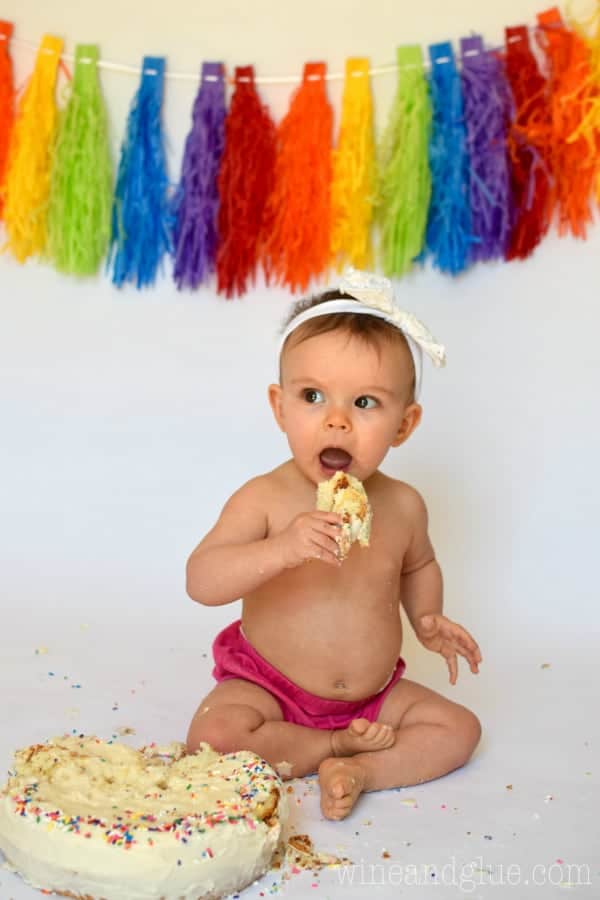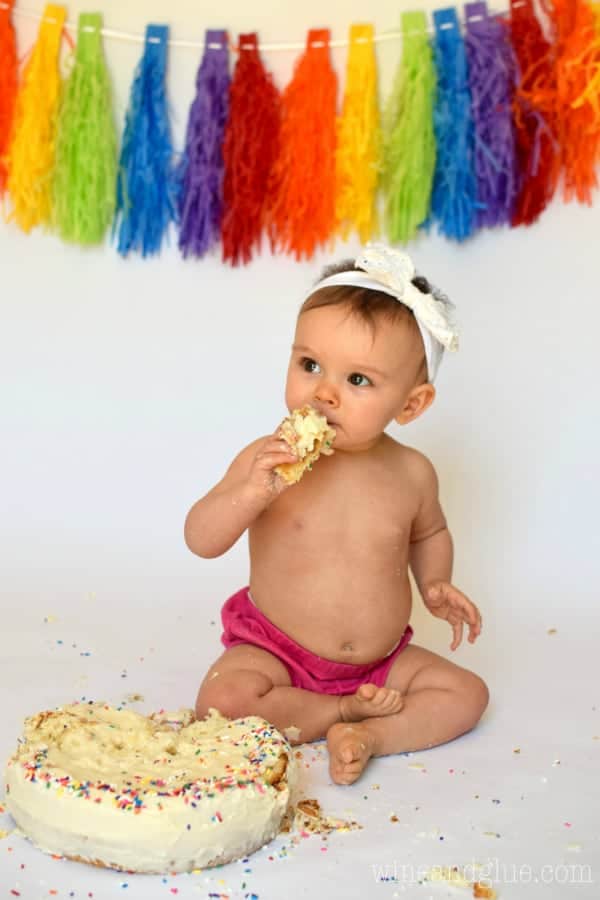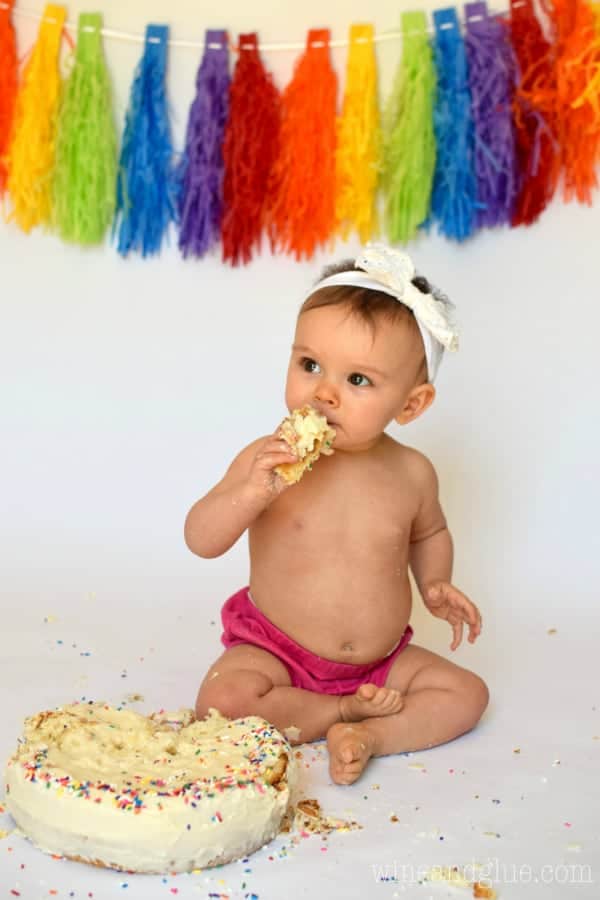 And then she was spent.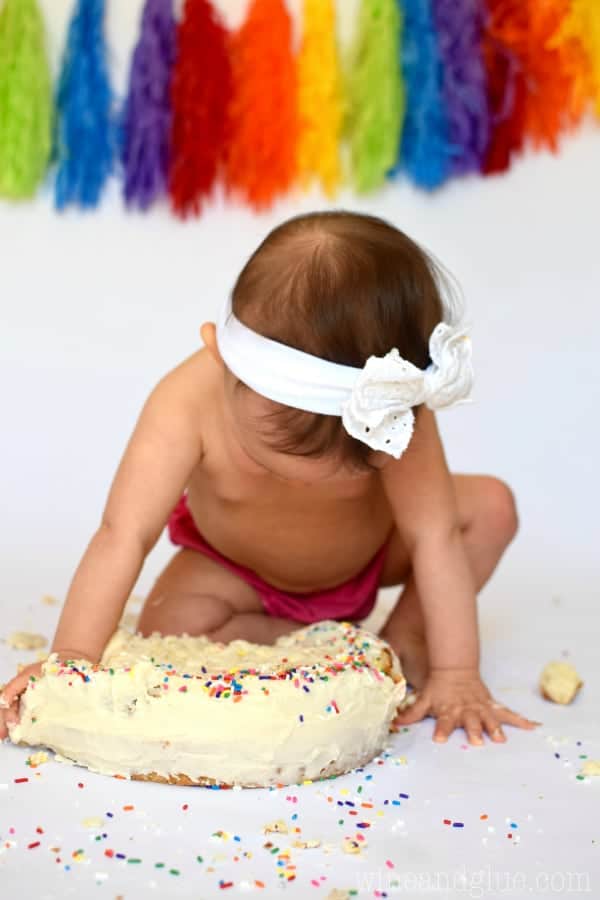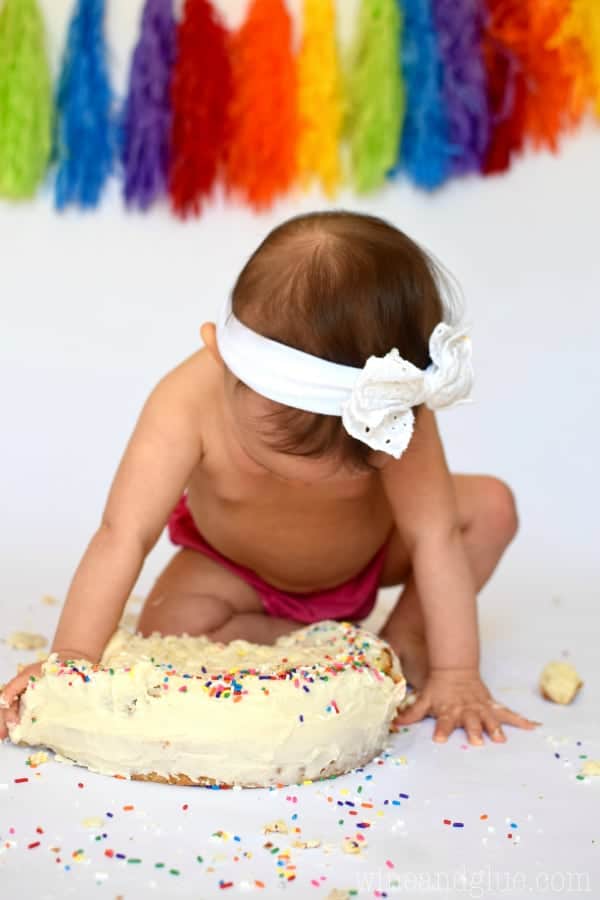 And I could not have been happier that we did the Cake Smash. :)
This post contains affiliate links, if you click on them and then make a purchase, I make a small amount of money at no additional cost to you. Thank you in advance for supporting Wine & Glue.
GENERAL QUESTIONS
What do people mean when they say cake smash?
A cake smash is a when you take photos of your baby around their one year old birthday with an entire cake. It is fun to let them loose with a cake as you take pictures.
What is best for a cake smash backdrop?
You can make a cake smash backdrop out of so many different things. A bedsheet would work, but I love this white bulletin board paper best.
Why do a cake smash?
A cake smash is such a cute way to commemorate your baby's first birthday. Getting through the first year of parenting is a milestone you should celebrate!
Can you only do a cake smash for first birthdays?
The sky is the limit with cake smashes. I think this would be cute for second birthdays and very funny for 32nd birthdays.