Gender Reveal Piñata Cookies | A super cute way to tell your friends and family the gender of your baby!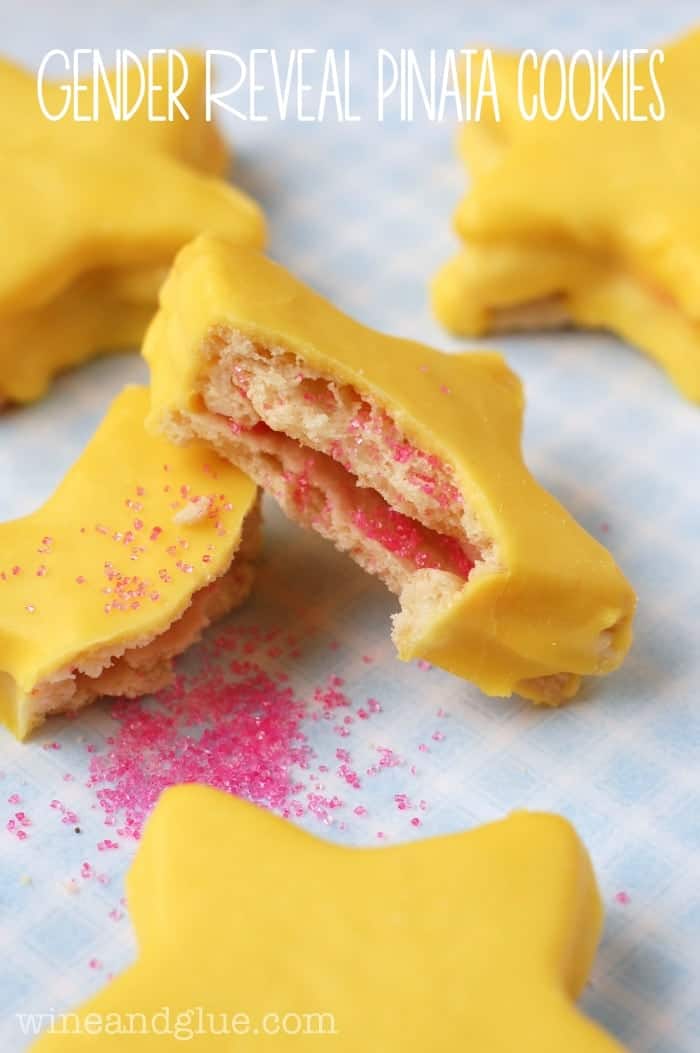 So the jig is up, you can tell by the picture what we are having . . . another GIRL!
About three weeks ago, Nathan and I had our anatomy scan ultrasound. Most importantly, everything about Little Bean looks really healthy. They are going to do another ultrasound at around 32 weeks to double check. (Everything at Elliot's 20 week anatomy scan looked perfect too . . . ).
Before I tell you about these fun cookies and how Nathan and I, the kids, and our friends and family found out the fun news, I want to say this:  Baby gender is really complicated for us. And I don't know that this is true for all parents who have lost a child, but it is for us.
We have a LOT of feelings wrapped up in the gender of our baby. And it's not because I want another girl to dress up or because I think boys are easier (those are just examples, not actually how I feel). It's because in my messed up head, being pregnant with another boy is terrifying, my last baby boy died in my arms. It's because we feel like Gavin got cheated out of a baby brother. It's because of so many millions of things.
So we really wanted to find out the gender of our baby privately. We didn't tell anyone (outside of a couple close friends) when our ultrasound was, because we wanted time to have our own reaction without people calling to ask what we were having. After the ultrasound we took a tiny slip of paper to a bakery and asked them to fill two cupcakes with either pink or blue frosting. Nathan picked up the cupcakes on his way home from work, and after tucking the kids into bed, we had a nice dinner in front of a fire and bit into our cupcakes.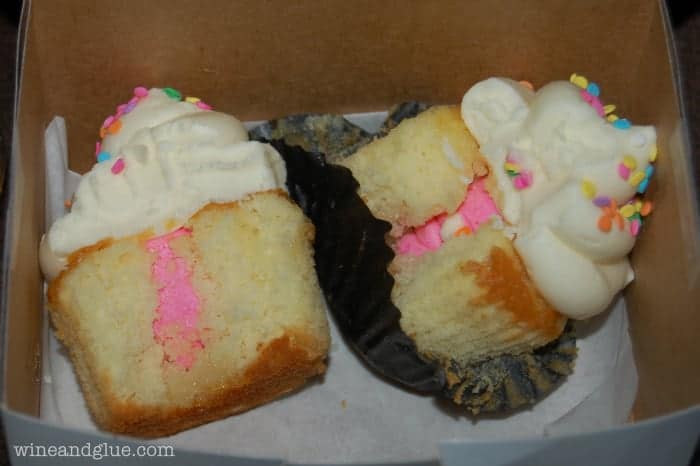 For a good solid minute after biting into our cupcakes, we sat there in stunned silence. Seriously. We couldn't believe it. We were both SO CONVINCED we were having a boy. And as for our reaction, I will just say that we feel so blessed that we are having a baby girl and that we were able to process it all privately.
The next night we gave the kids scratch offs, per Gavin's request, so that they could be in on the little secret. Despite his big grin, Gavin's words almost immediately after finding out were, "Well . . .you get what you get and you don't get upset."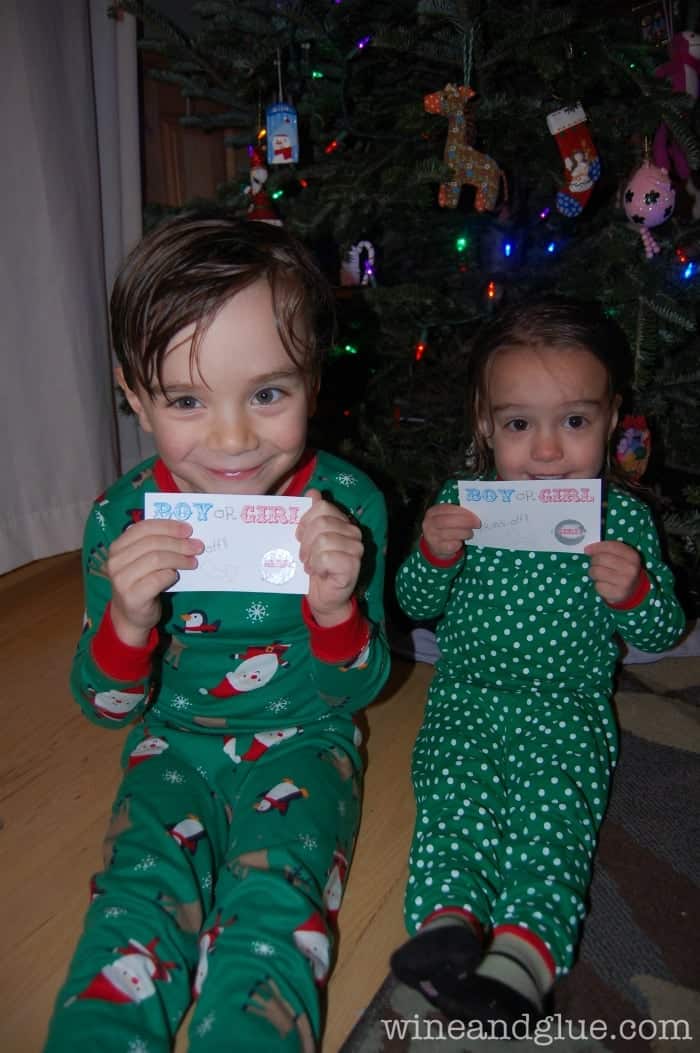 On a serious note, Gavin has said multiple times since we found out the baby is a girl . . . well, even before we found out, that he had a little brother, but he died. I have overheard him telling Quinn that if Elliot had lived there would have been four of them. Breaks my heart. So finding out he is having another little sister, though I know he will adore her, is hard on our kiddo.
We told Nathan's family at the family Christmas with the Gender Reveal Party Scratch Offs, where all but one person finds a green question mark and one person gets to yell the baby's gender. Of the nine living grandchildren on that side of the family, there is only one other girl besides Quinn, my niece, Kenzie. I rigged it so she got the "winning" card. So fun!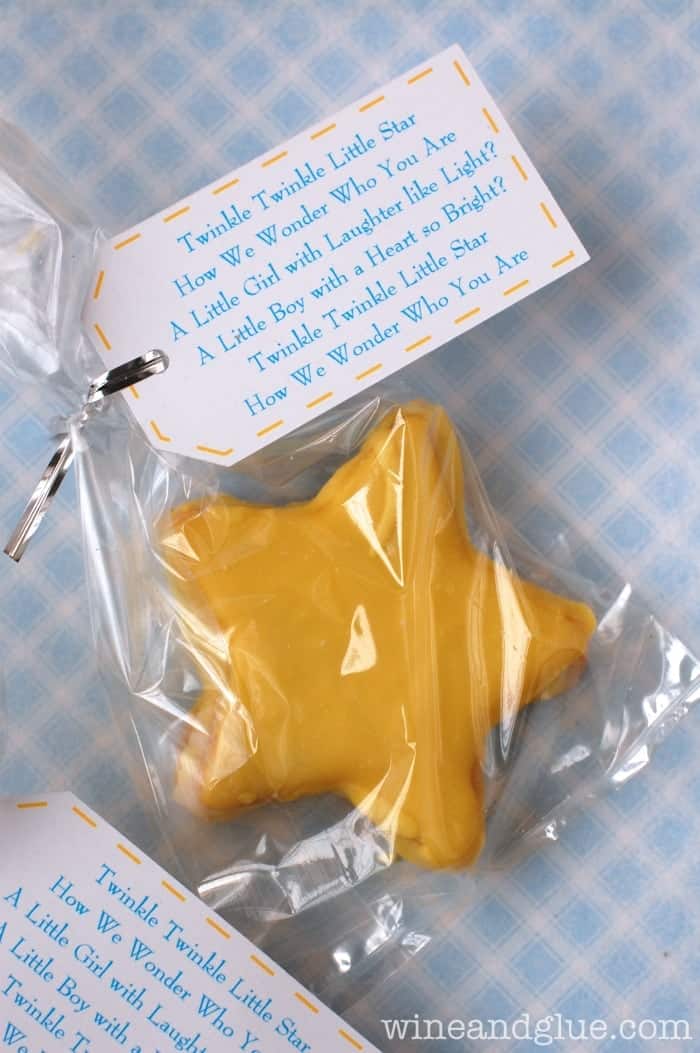 My family and a couple of our friends got these Gender Reveal Piñata Cookies with this cute little Twinkle Twinkle poem attached. I will be honest, these cookies were almost the death of me. The cookies themselves were not hard to make, but the sanding sugar in the middle was a TOTAL mistake. It kept coming through the cracks! If you make these use BIG SPRINKLES.  That way you won't be cursing the cookies when you frost them (I frosted with royal icing).
These cookies are three layers, and the middle layers have the center cut out. I used this sugar cookie recipe, and held the layers together with royal icing. (Though obviously not enough giving the curse words I threw at the pink sugar leaking through!)
As annoying as they were to make, it was priceless to see people bite into them. And they were pretty delicious :)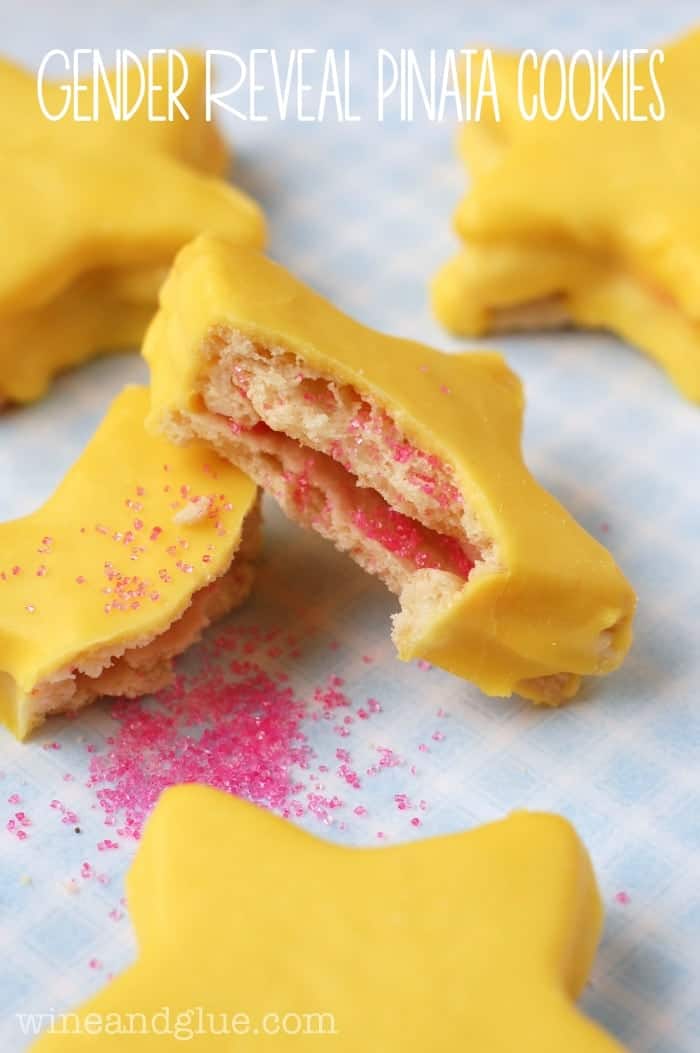 Want more gender reveal ideas?