These Healthy Turkey Meatballs are a family favorite and ready in under 30 minutes! Great authentic taste without all the work.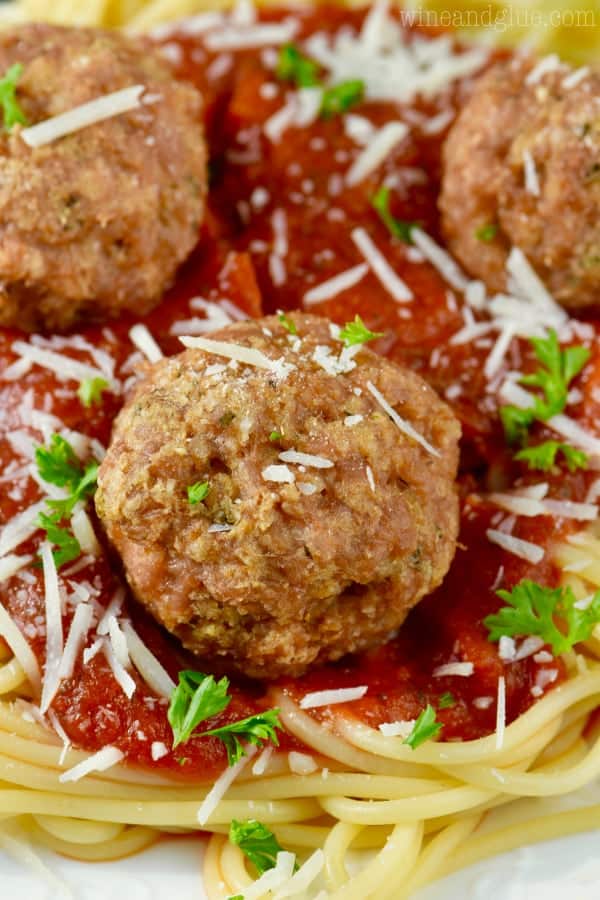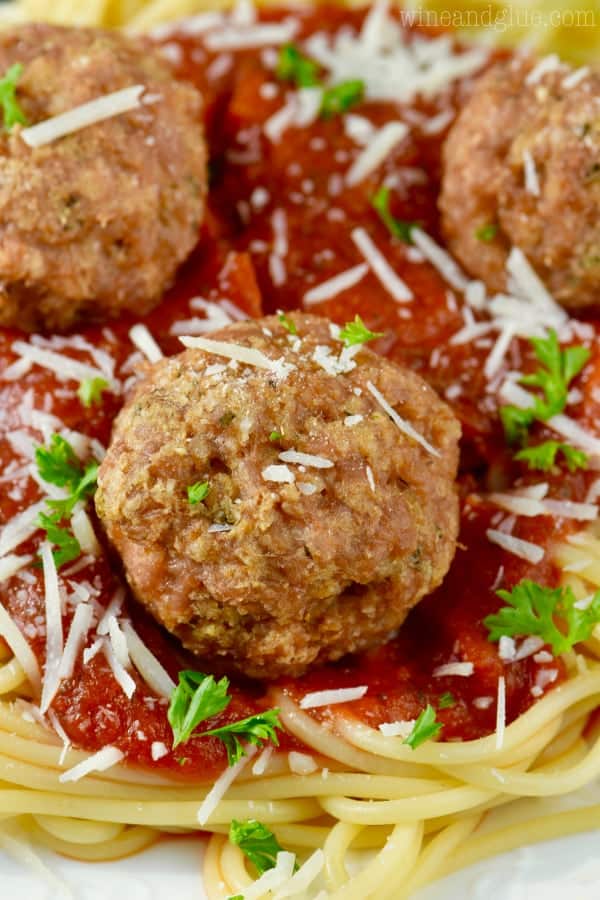 POST FROM FEBRUARY 2014, PHOTOS UPDATED MARCH 2017
THE BEST HEALTHY TURKEY MEATBALLS RECIPE
Today I'm going to share with you the BEST healthy meatballs! They are a family favorite, we could eat them once a week every week, and best yet, they make for a dinner that's ready in 30 minutes.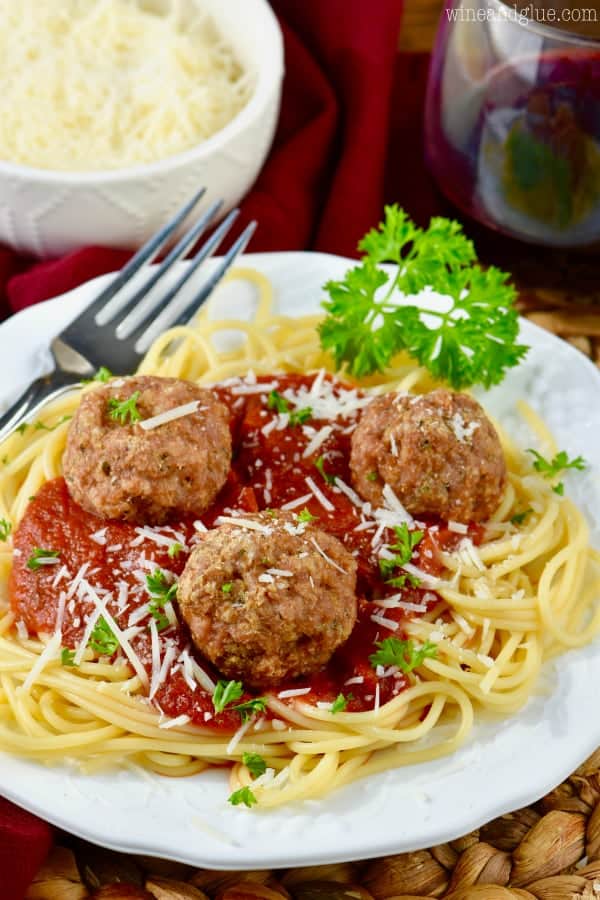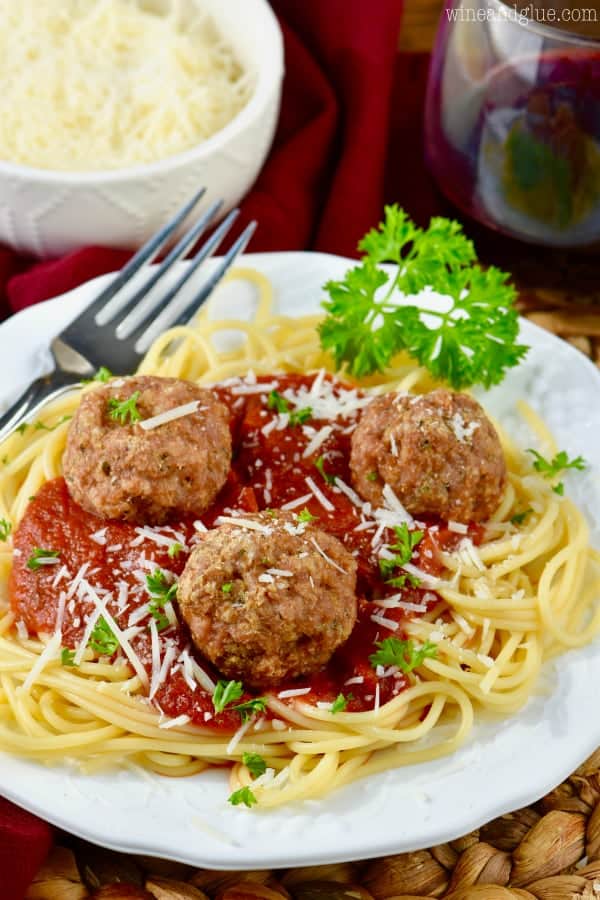 DELICIOUS WITHOUT SO MUCH WORK
If you ever run into the soul of my deceased and beloved Italian Grandmother, please do not tell her about this recipe. It flies in the face of everything she was about. If you want her great meatball recipe, go here for The Best Italian Meatballs.
ITALIAN OR AMERICAN?
Actually, my grandmother might have less to say on the subject if she knew that the traditional spaghetti and meatballs dinner is more American than Italian. Yes, Italy does make a great meatball, but traditionally they're not served with pasta. That's an American tradition.
YOU'LL LOVE THEM EITHER WAY
Regardless of their country of origin, these meatballs, these healthy meatballs, are the meatballs we make all the time! They are made with nice lean ground turkey, and they are baked on a cooling rack, so that all the fat drips off, and they aren't fried in oil. They cook up so nicely, and they are done in the oven! So that means that once you pop them in the oven, and you put a pot of water on the stove for the pasta, you are nearly home free. Nice right? Last week I went from nothing ready to this full meal on the table in under a half hour. I've even started this dinner and then gone for a work out while Nathan finishes it off!
Win. Win. Win.
IS TURKEY HEALTHIER THAN BEEF?
Well, that all depends on which cut of meat you get. If the ratio of fatty meat to lean meat is high, then turkey isn't necessarily any healthier than beef. But comparing apples to apples — or lean cut to lean cut in this case — turkey is healthier.
The real key is in the way these healthy turkey meatballs are cooked. Baking them on a wire rack means the grease can drip down. So you're not soaking the grease back into each meatball as it cooks. It's a much leaner way to prepare the food.
It's nice to know you can enjoy great tasting food without all the guilt. And you know you're serving your family a comfort food they're going to love.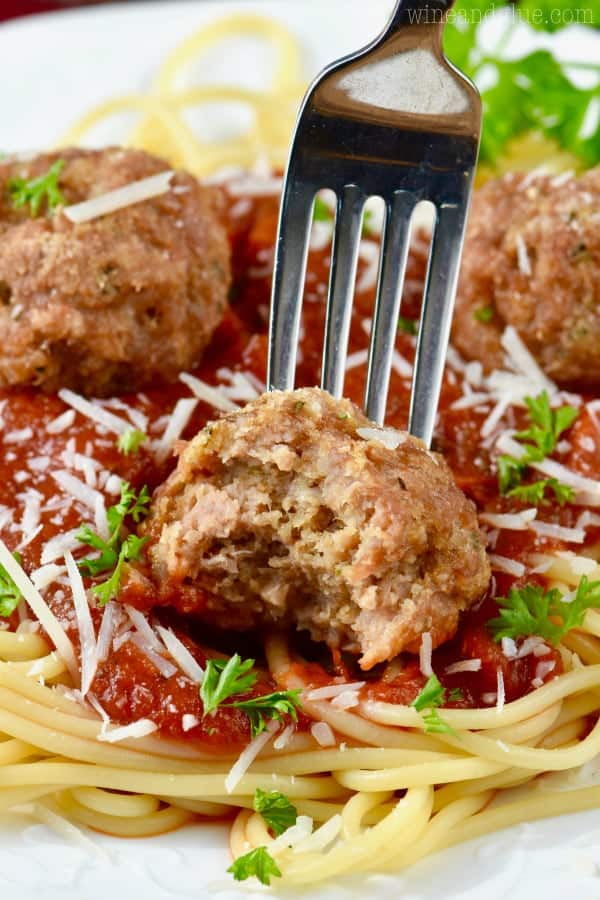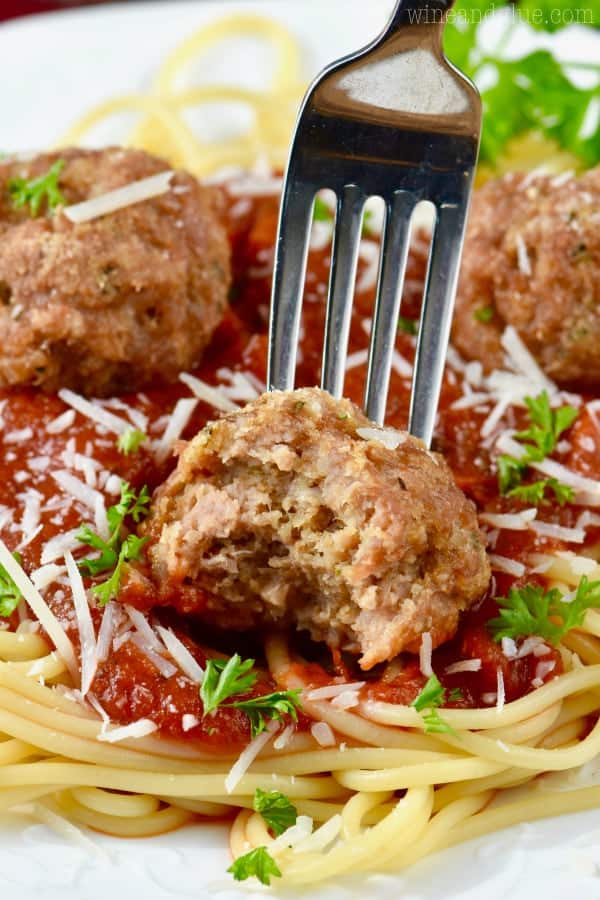 MORE GREAT PASTA DISHES
In my world, you can never have too much pasta on your plate. Leave me a shout out below in the comments if you love pasta. I want to hear about your favorite!
Here are a few of my favorites:
If you try these or any of my other amazing recipes, please leave me a comment and let me know.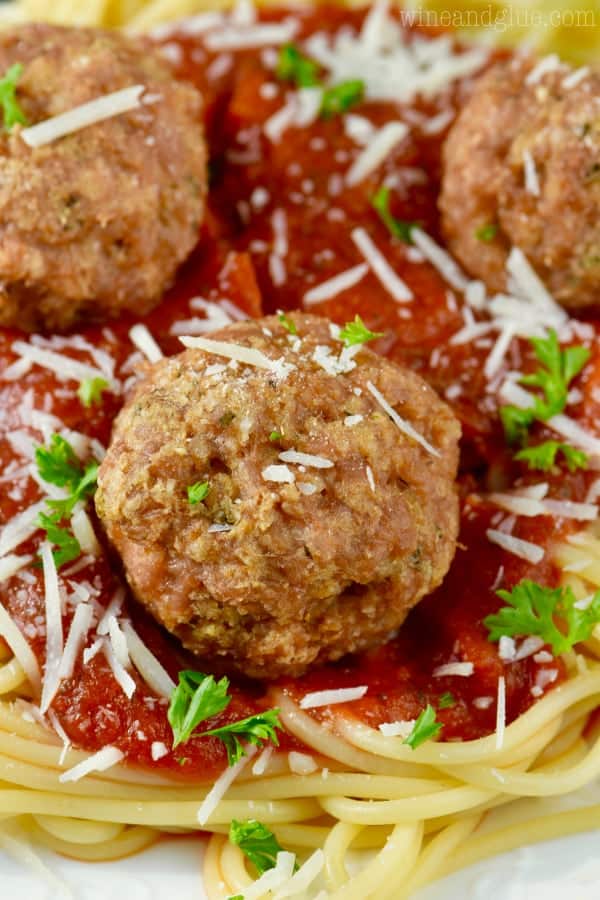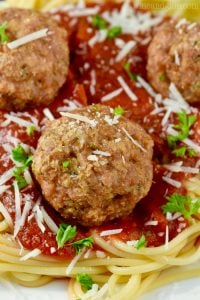 Healthy Turkey Meatballs
These Healthy Turkey Meatballs are a family favorite and ready in under 30 minutes! Great authentic taste without all the work. 
Ingredients
1

egg

beaten

1/2

cup

Italian seasoned bread crumbs

1/2

tsp

garlic powder

not garlic salt

1/2

TBSP

dried oregano

1/2

TBSP

dried basil

1/4

cup

grated parmesan cheese

1 1/4

pounds

ground Italian seasoned turkey

I used Jennie-O Sweet Italian Sausages
Instructions
Preheat your oven to 375. Line a jelly pan with tin foil and set a cooling rack on top of it.

In the bottom of a large bowl, combine the egg, bread crumbs, garlic powder, oregano, basil, and cheese.

Add the ground turkey (casings removed). Mix together until throughly combined.

Roll into into 1 to 1 1/2 inch balls and set on the cooling rack (I got about 24 meatballs out of it).

Bake for 15 minutes. Pick one of the meatballs in the middle of the batch and cut it in half to make sure that it is no longer pink inside.
Fat:
8
g
(12%)
Saturated Fat:
3
g
(19%)
Monounsaturated Fat:
1
g
Cholesterol:
87
mg
(29%)
Sodium:
634
mg
(28%)
Potassium:
199
mg
(6%)
Sugar:
2
g
(2%)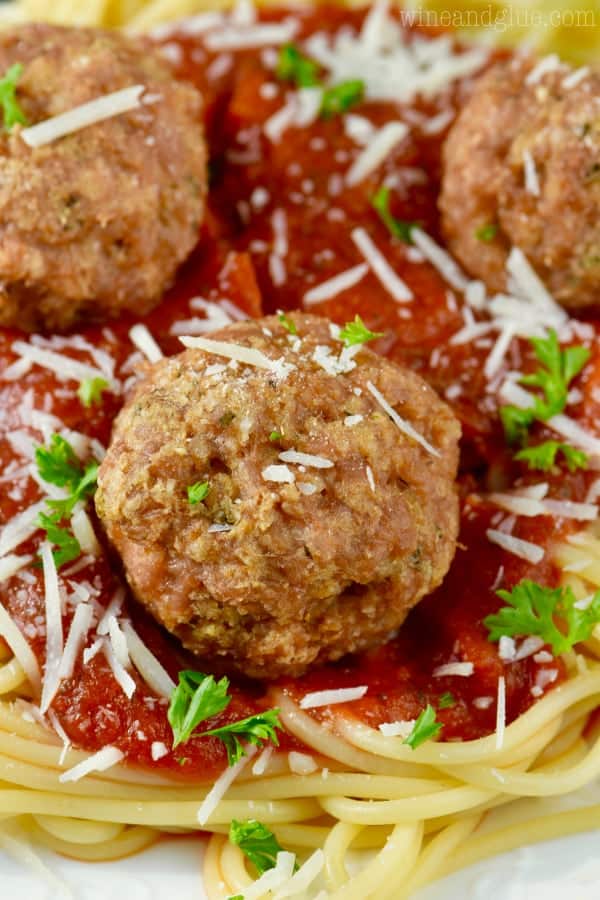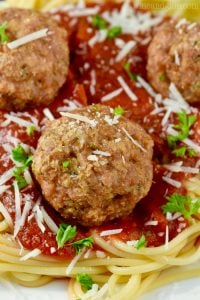 did you make this
Healthy Turkey Meatballs
SaveSave