A Charcuterie Board is the perfect appetizer for a party. It also makes a fun and delicious family dinner recipe!
Making a charcuterie board doesn't have to feel hard or complicated, I have tons of tips and tricks to make this easy!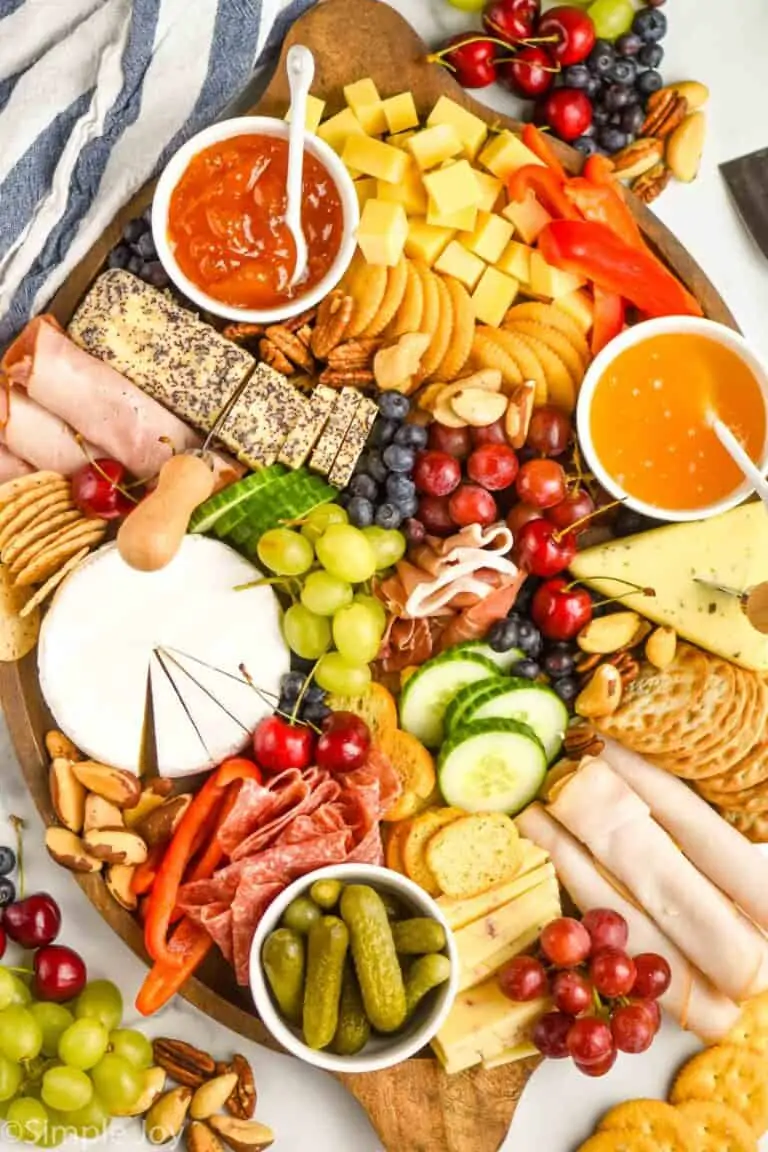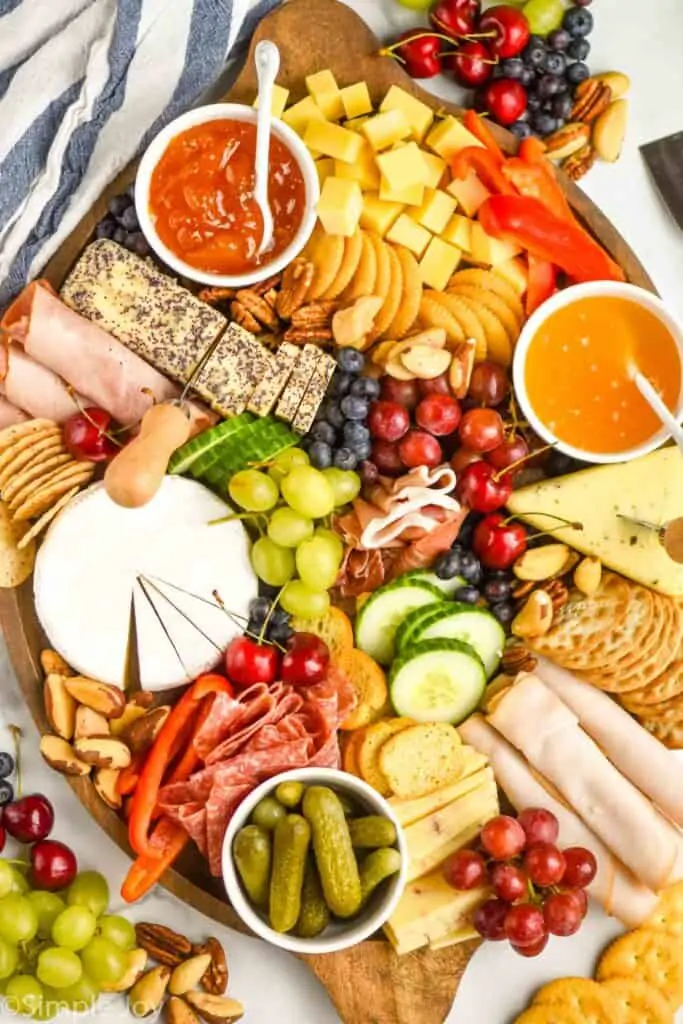 Have I mentioned to you guys how much I love making charcuterie boards for my family for fun movie nights? I think my kids believe that it's part of a fun treat for them, but what they don't realize is that it is the ultimate mom treat.
I mean, fancy meats and cheeses that I get to snack on and call a meal? Yes please.
Building a charcuterie board is super simple. You can make something that looks fancy and impressive with minimal work. I'm going to walk you through it with all my tips and tricks.
Buying a Wood Charcuterie Board
When you are picking what to put your charcuterie board on, there are a few things to consider.
Pick a tray that has a lip. That way you can fill it to the brim with goodies and not worry about them falling off.
Pick something that you don't mind cutting on. The last thing you want is to spend money on a fancy tray and then have it all cut up. You can precut your cheese or use something more . . . weathered.
Consider that cheese can leave marks. Cheese – and meat for that matter – can leave grease marks. You want to be aware of that too when you pick a board.
How to Build a Charcuterie Board
I always build my charcuterie boards in the same order. This order not only makes sure you get the most important parts on, but it makes it the most visually appealing.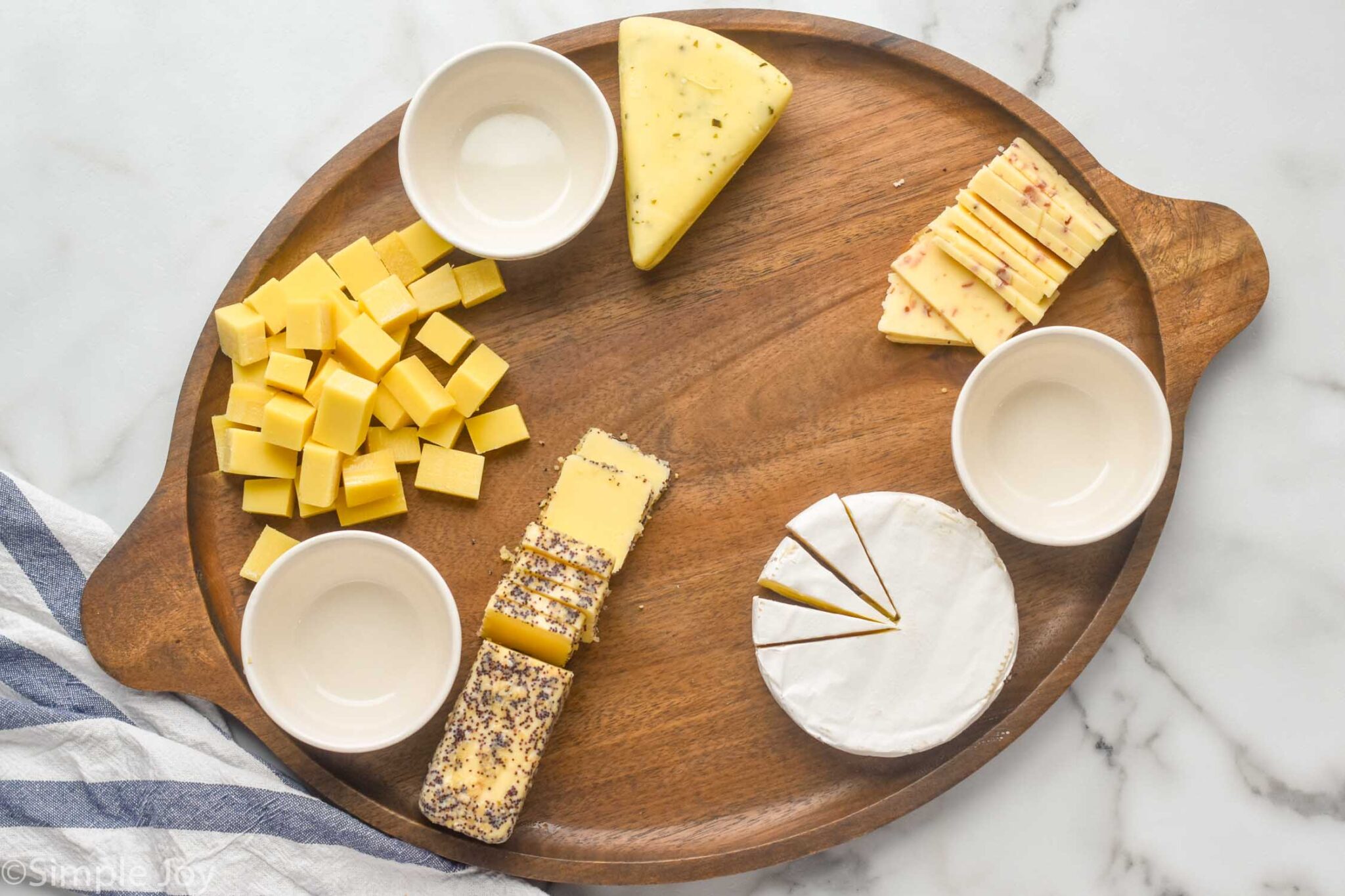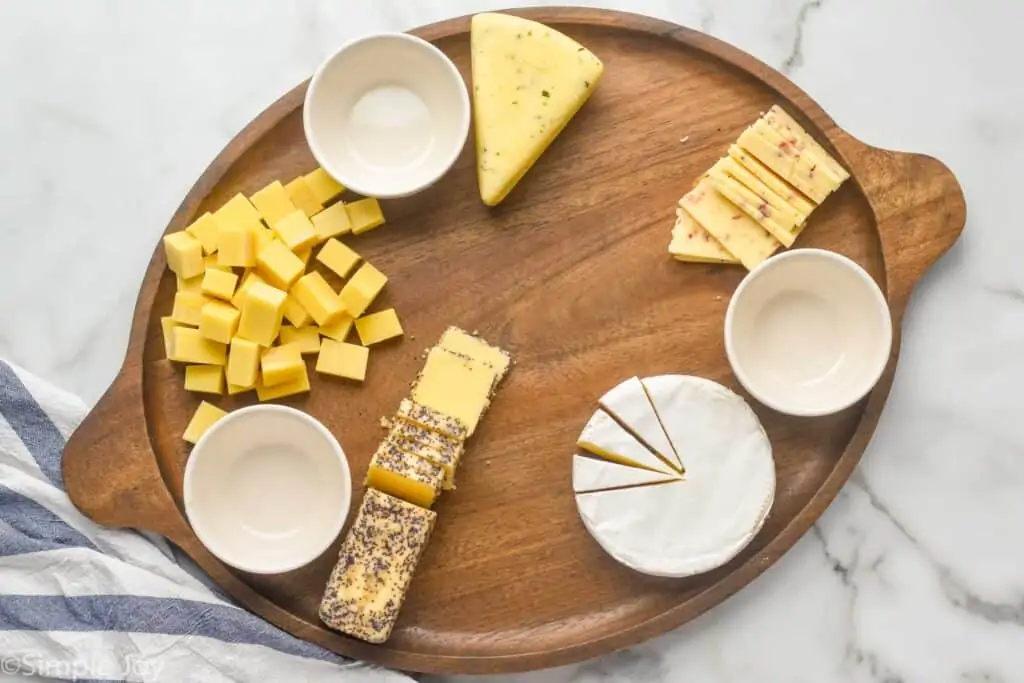 Start with the Cheese
I tend to over buy when building a charcuterie board, but you really only need four different types of cheeses at the most.
Buy a mixture of hard to soft cheeses. Cheeses come in a range when it comes to texture. Brie is my favorite soft cheese and a brick of high quality Parmesan is my favorite hard cheese.
Get both traditional cheeses and interesting flavors. Lots of people know what gouda is and if they like it. Not everyone knows if they like Everything Bagel Cheese. Pick flavors you can count on before experimenting.
I like to leave some cheeses as bricks and then cut up others. It makes the board look so pretty in the end.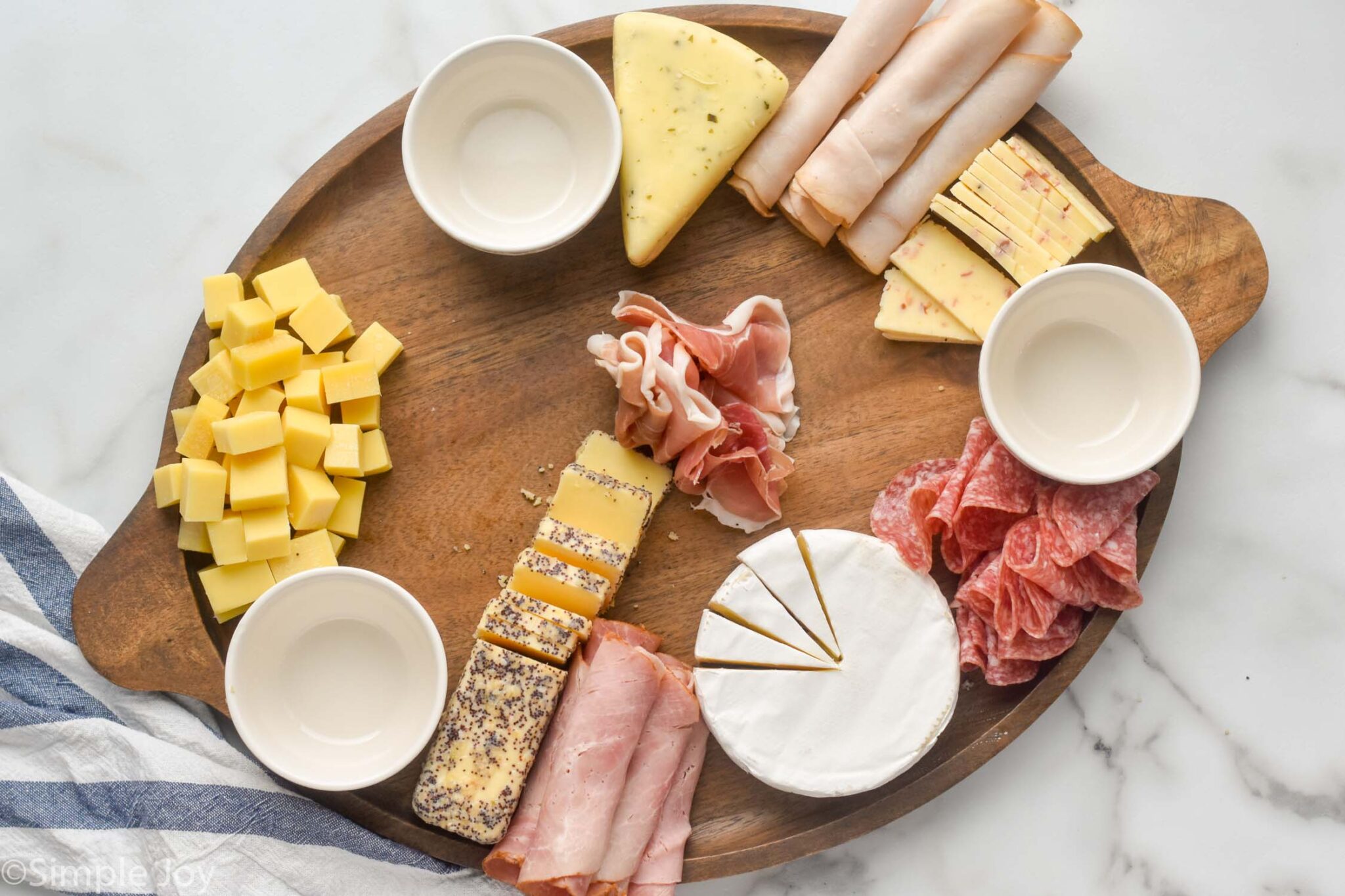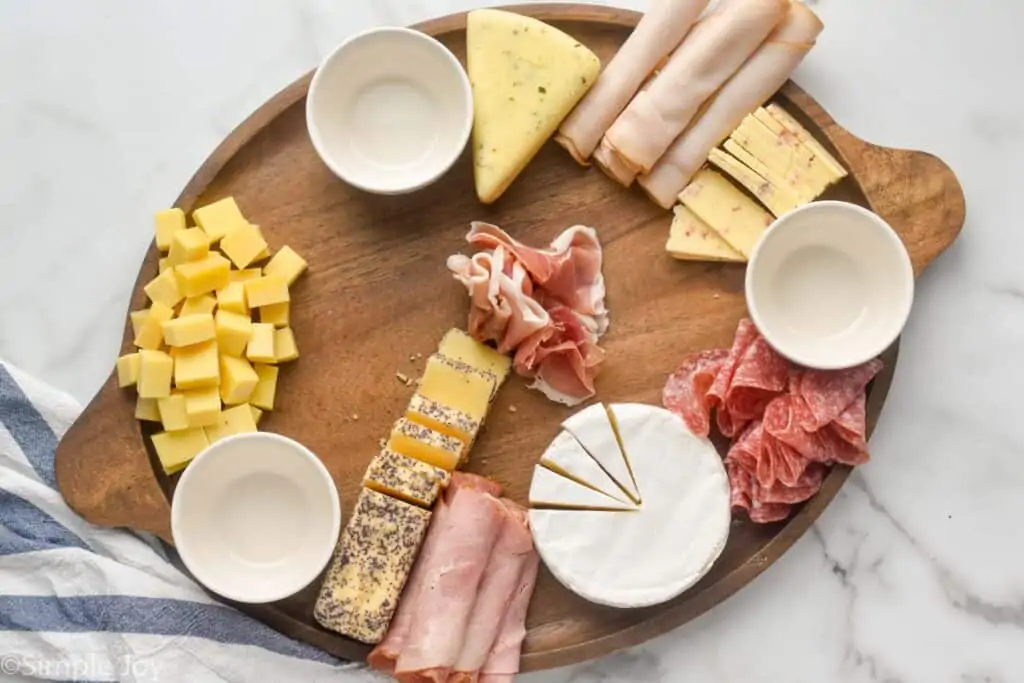 Next Add Deli Meat
Adding in some meat to my charcuterie boards really helps turn it from a snack into a meal. I like folding the meat, or rolling it to add a different texture to the board. Meats we like to use are:
prosciutto
salami
turkey
ham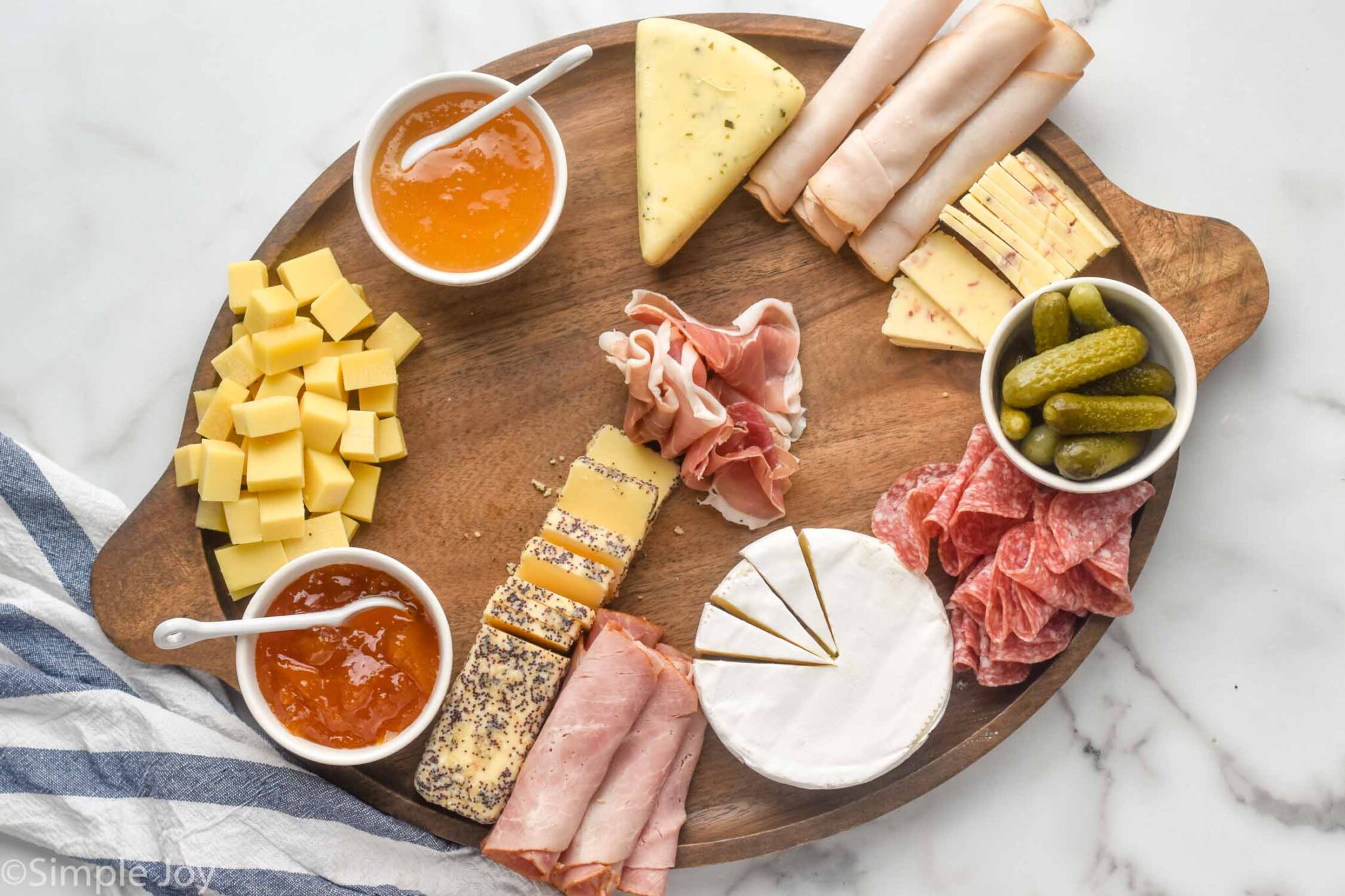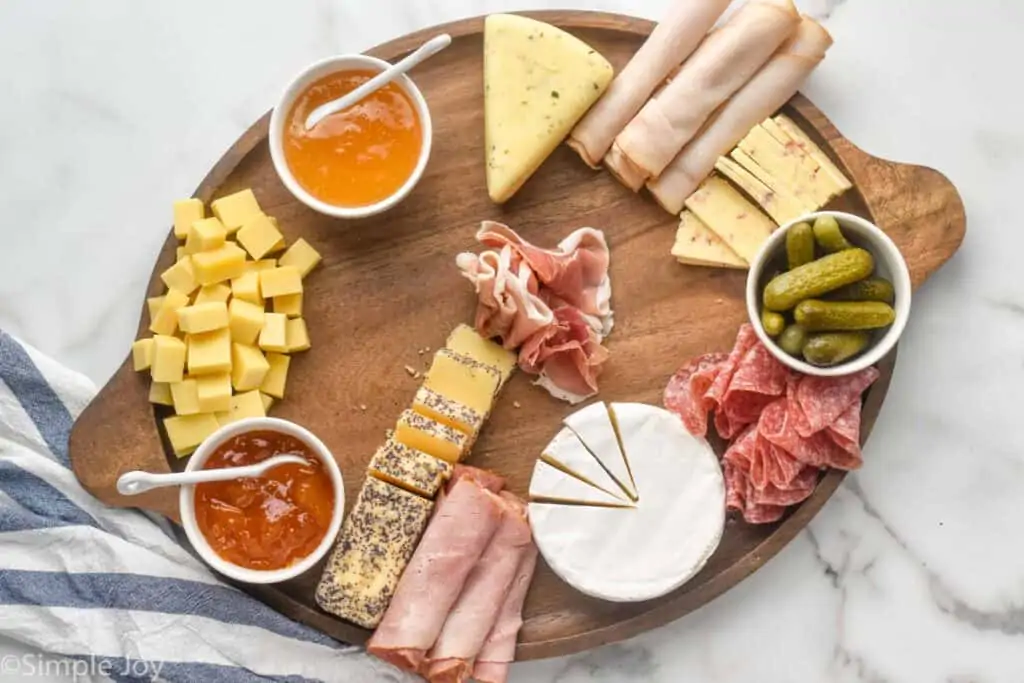 Add Small Bowls
This is optional, for sure. But I love adding in some small ceramic bowls. They look pretty and they are perfect for adding things like:
You can definitely just buy a little jar of apricot spread and put that on too. It goes great with brie. Here you will see we used them for apricot spread, honey, and pickles.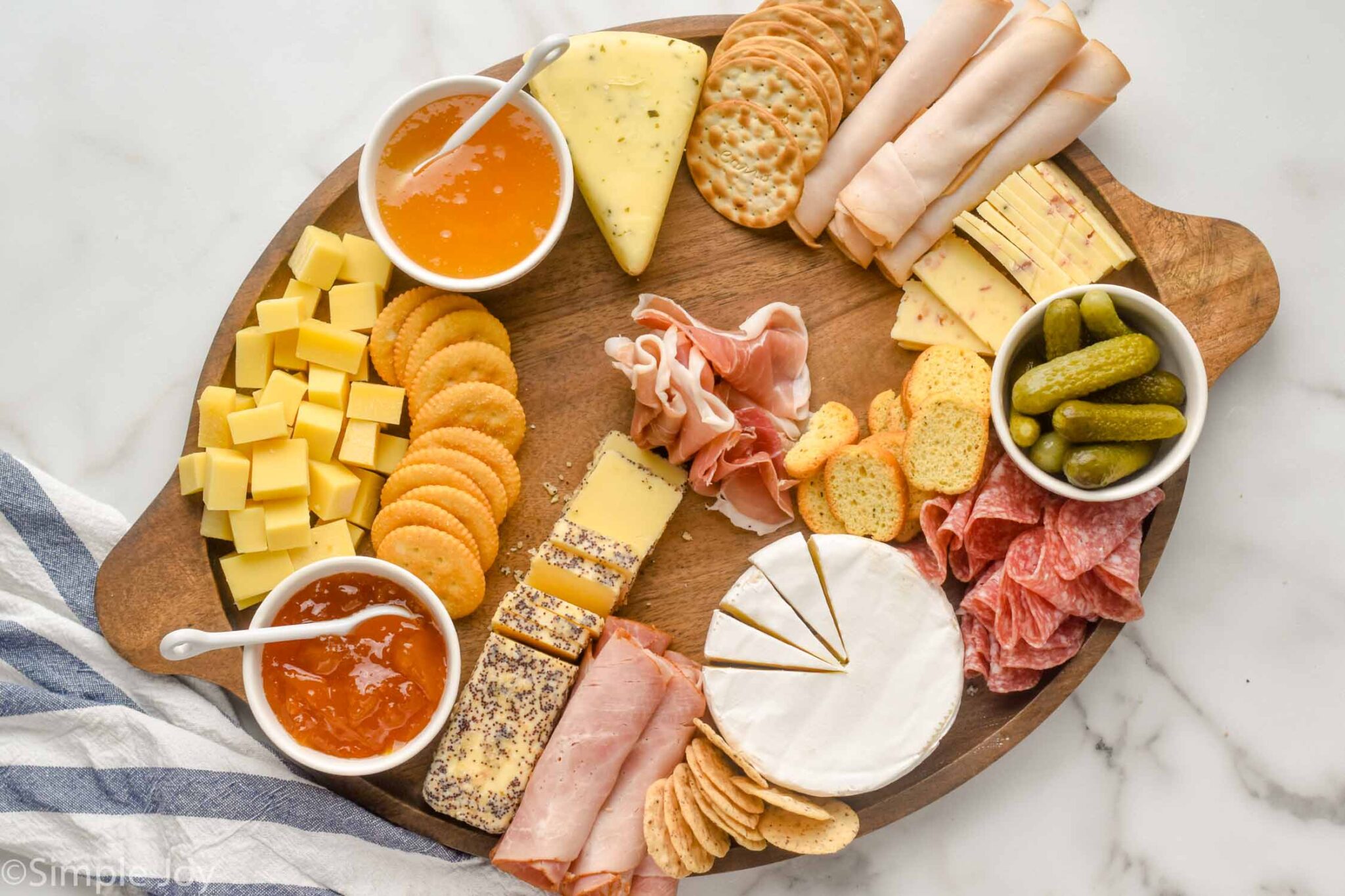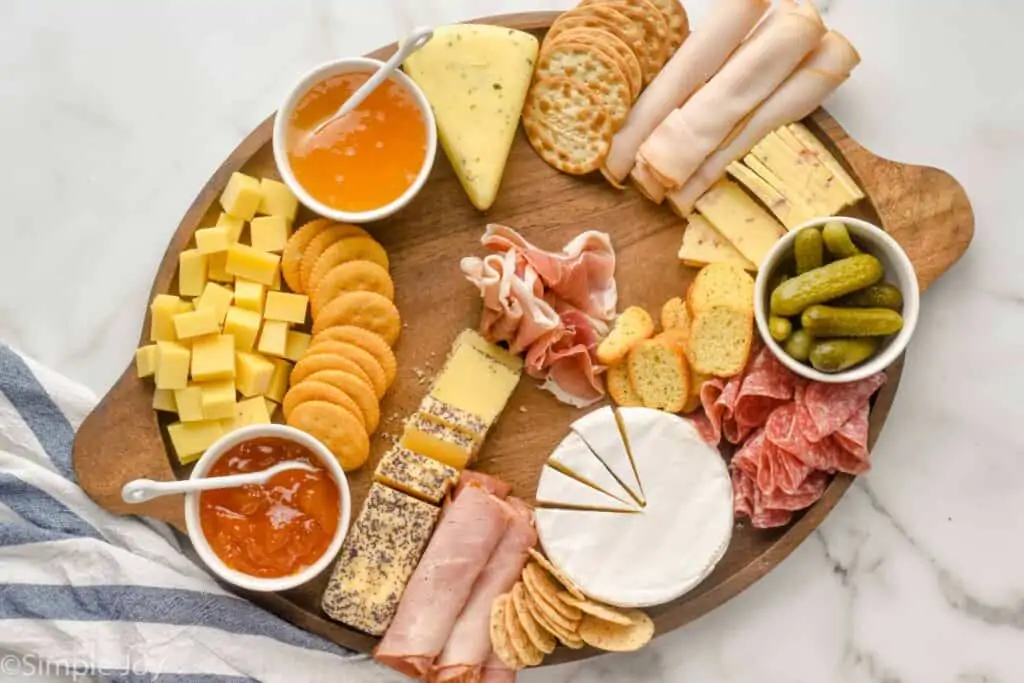 Now Put On Crackers
At this point, I fill in with different cracker types. I usually pick three to four different kinds. It's nice to consider picking different textures. Additionally, I like getting one type of cracker that is naturally gluten free for guests.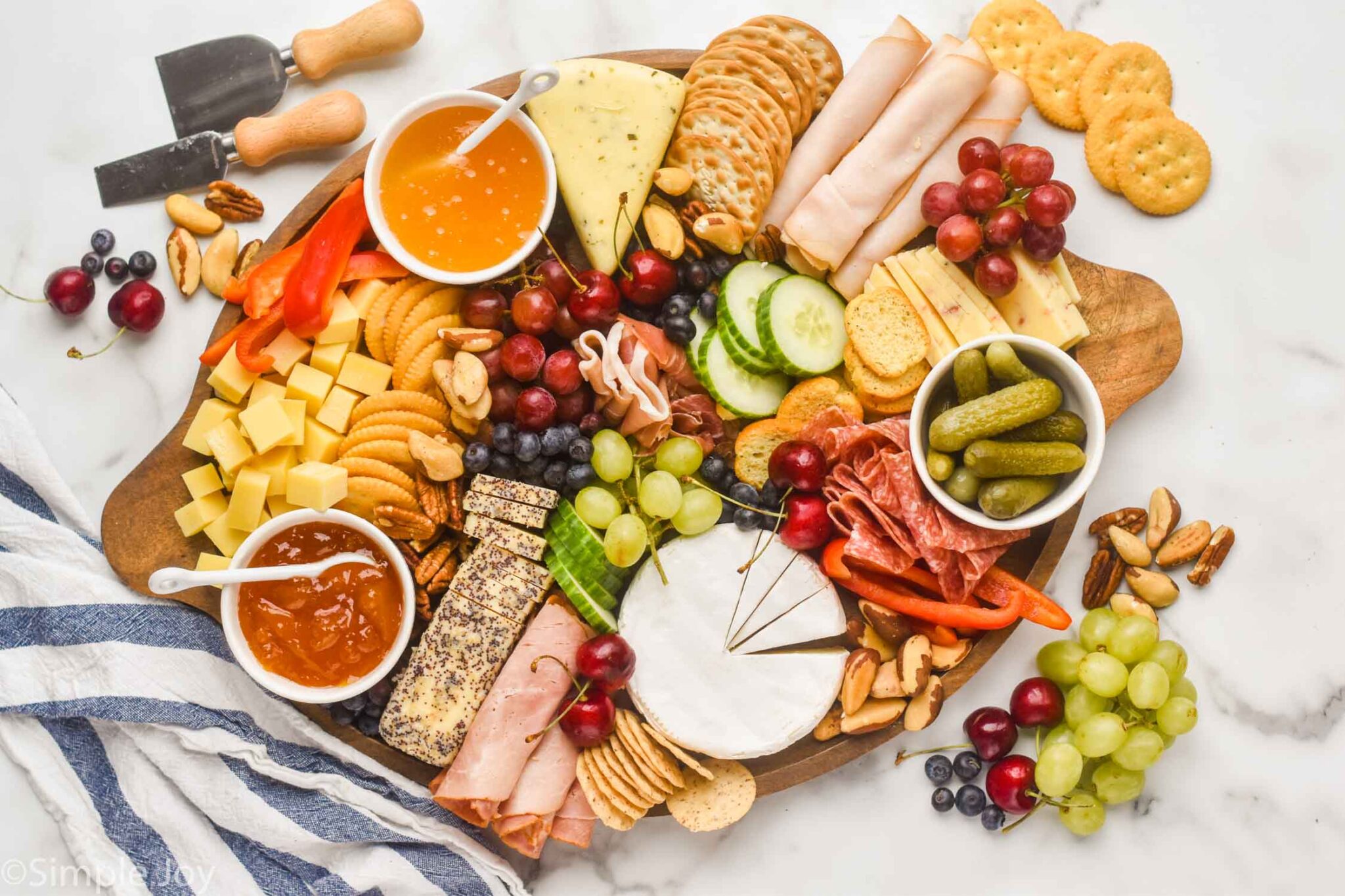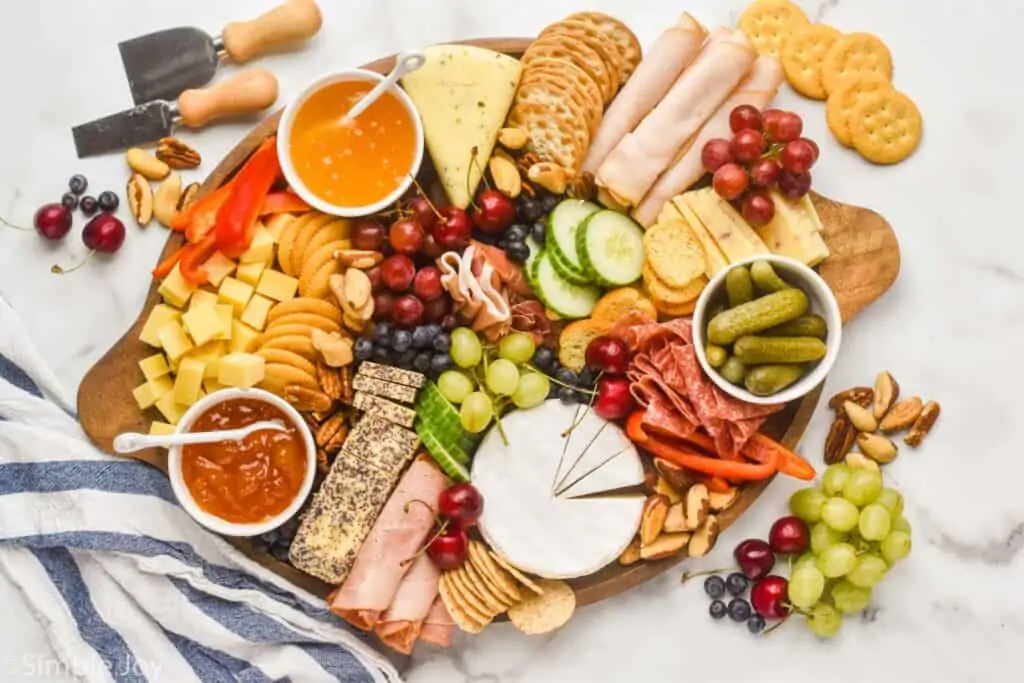 Finally Fill in with Fruit, Vegetables, and Nuts
The last step is to add in produce and nuts. I like to get berries, pears, apples, grapes, and cherries. When it comes to vegetables, I think that sliced cucumbers and peppers make a really great addition.
Be really mindful about whether any of your guests have a nut allergy before you add them to your board. Because of the nature of charcuterie boards, they shouldn't be added at all if there is someone with a nut allergy.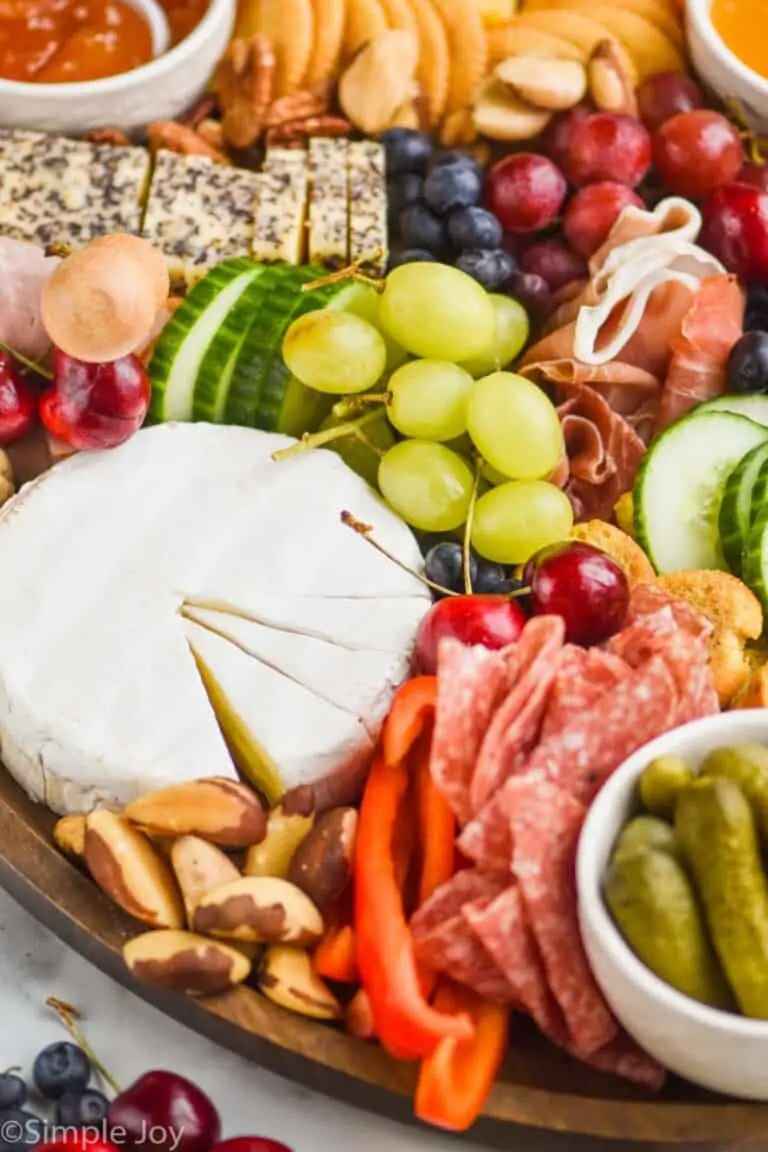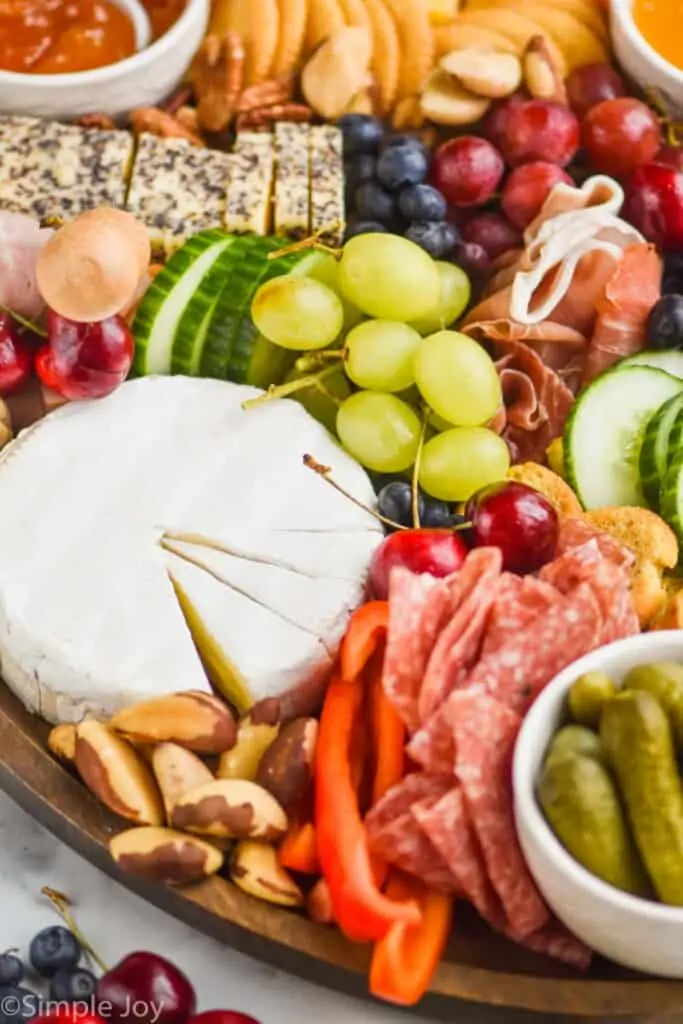 Refilling Ingredients
I typically will keep more meat, crackers, and produce on stand by when I set out a tray like this. Since there is only so much you can fit on a board, I like to refill things here and there.
That being said, this isn't something to stress about. If it takes away from you enjoying your party, let your guests enjoy what you've already set out.
How Many Does This Serve
The number of adults that this will serve is greatly dependent on what else is being served. If this is the main meal, it will easily serve four adults. If you are hosting a party and this is one of many different appetizers and dishes, it will serve 10 adults, perhaps more.
Other Charcuterie Board Ideas
There are a million different things you can do with charcuterie boards once you start building them.
I really love this Hummus Charcuterie Board. It has great hummus toppings, plus lots to go with it. It is a great idea if you are hosting vegetarians or vegans.
This Holiday Charcuterie Board is so pretty and perfect for Christmas and Thanksgiving parities.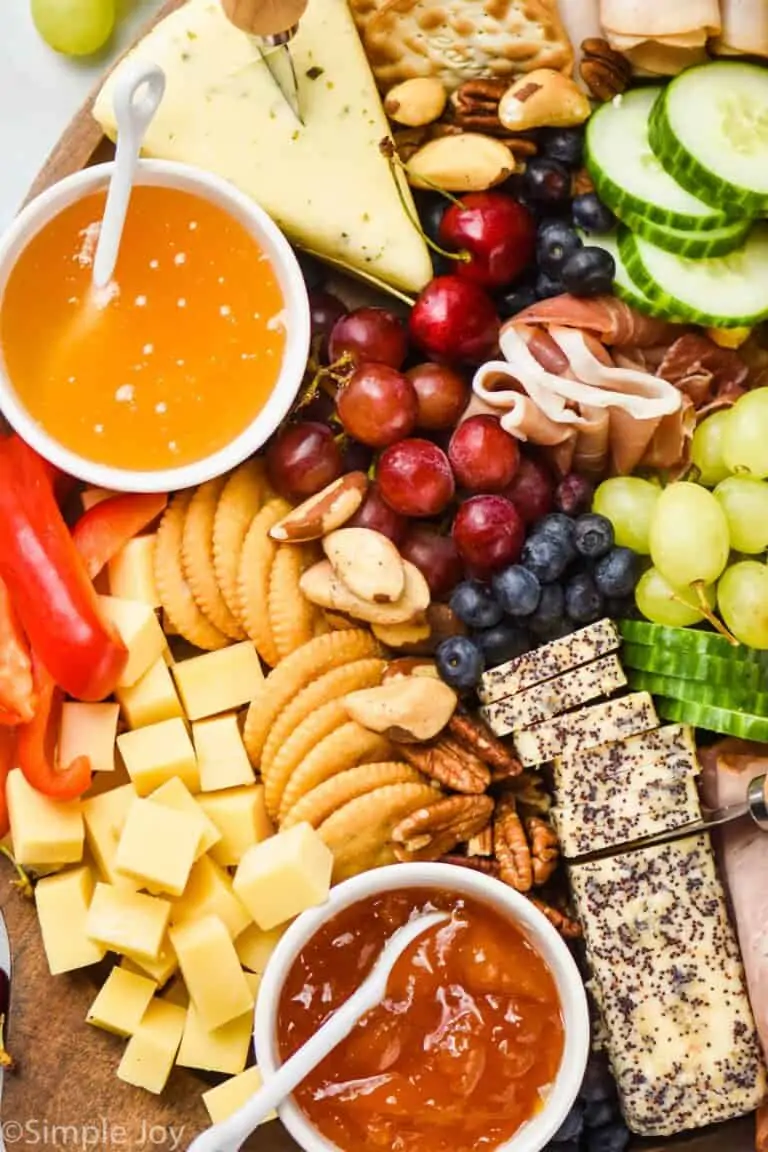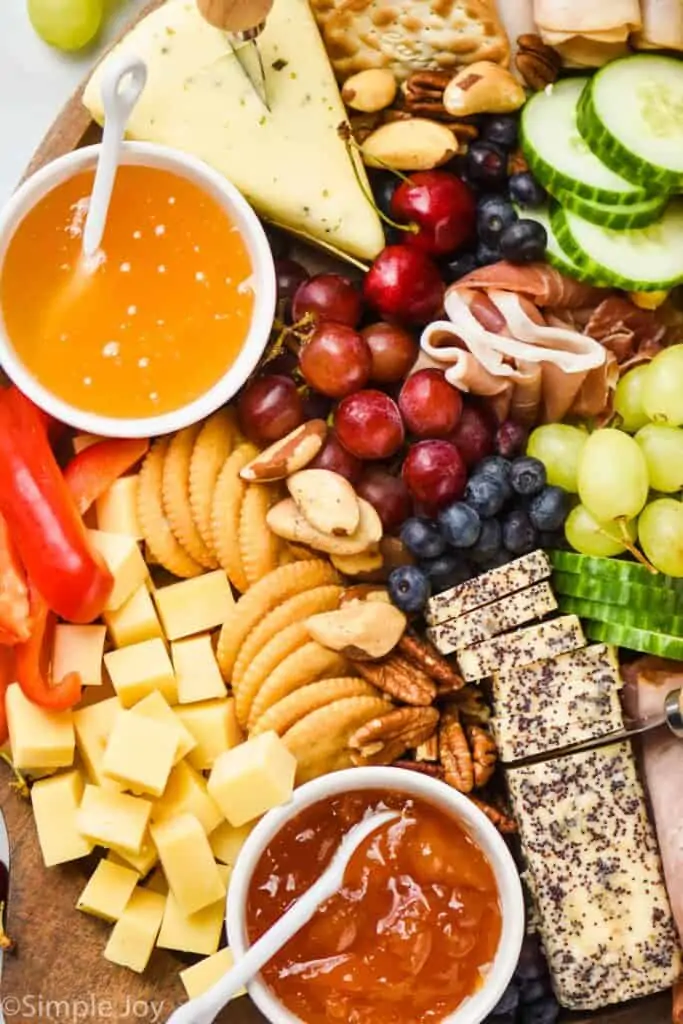 If you make a charcuterie board after reading this post, leave me a comment and let me know how it went! And then of course take a picture and tag me on Instagram at @lisasimplejoy! They are so so pretty.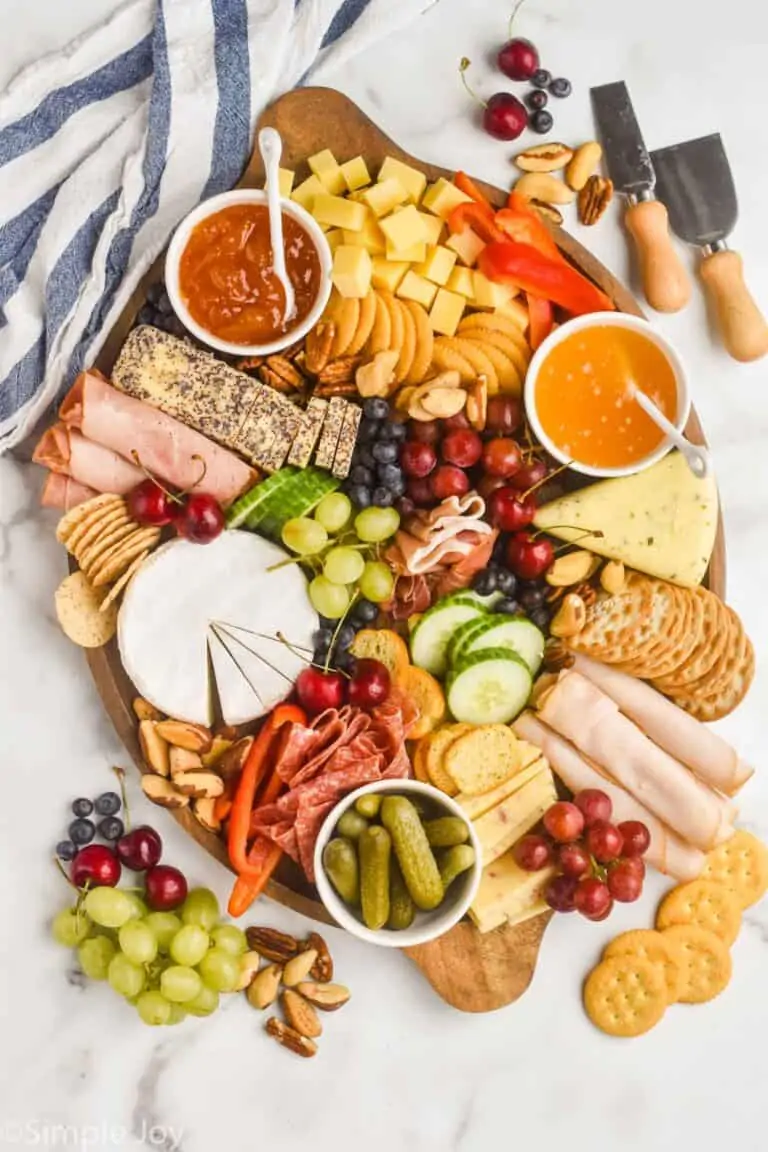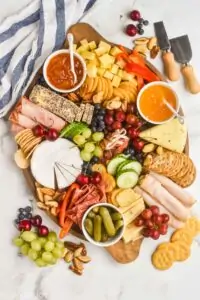 How to Make a Charcuterie Board
A Charcuterie Board is the perfect appetizer for a party. It also makes a fun and delicious family dinner recipe! Making a charcuterie board doesn't have to feel hard or complicated, I have tons of tips and tricks to make this easy!
Ingredients
3 to 4

blocks of cheese

(approximately 8 ounces each)

1

pound deli meat

see post for meat ideas

3 to 4

different kinds of crackers

2

red or orange peppers

sliced

1

English Cucumber

sliced

3

cups

fruit

see post for fruit ideas

1

cup

nuts

cocktail pickles or olives

apricot spread and honey

optional
Instructions
Start by setting out the different cheeses. Slice some, cut others in cubes, and leave others whole for guests to cut. (See the post for step by step photos of the tray coming together.)

Next add three bowls for things like apricot spread, honey, or pickles.

Add in the meats. Fold or roll them to make them fit and be visually appealing.

Fill in the gaps with fruit, sliced vegetables, and nuts.

Replenish the things you run out of as the party goes on.
Notes
Please note that the number of people this will serve (4 to 10) depends on what else is being served. It serves less if it is acting as a meal, and it serves a great deal more  if it is being served in conjunction with other food and appetizers.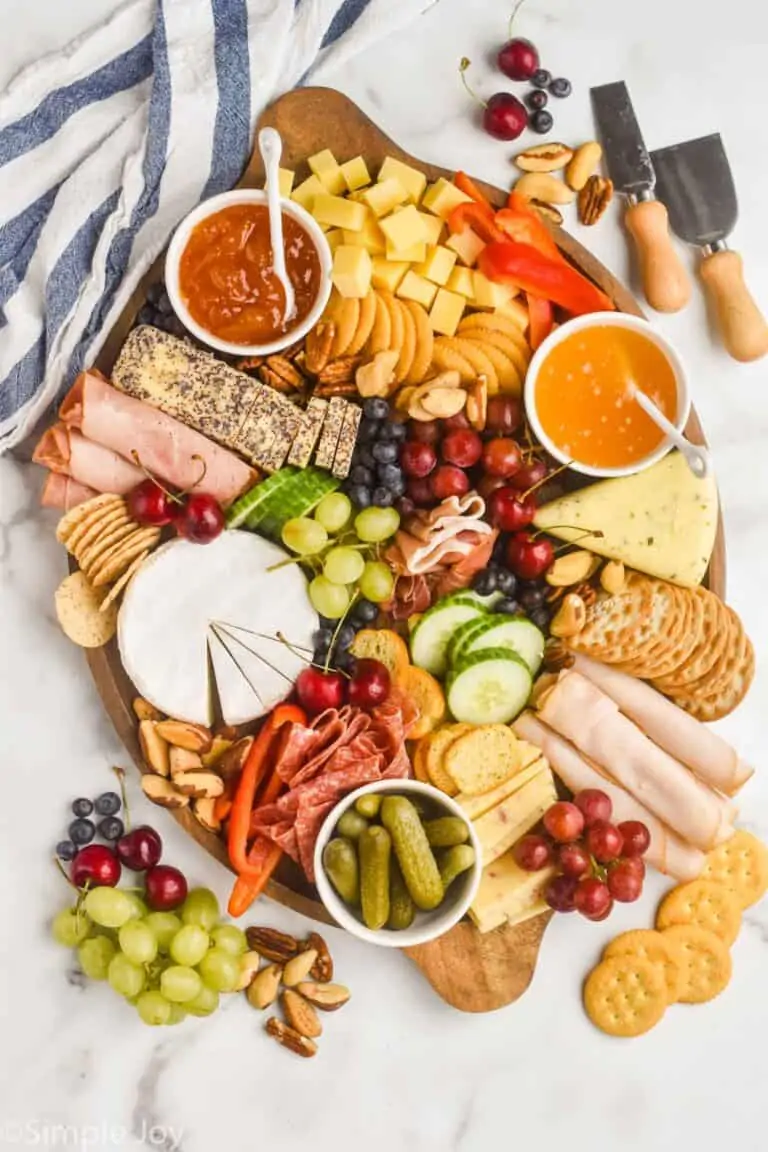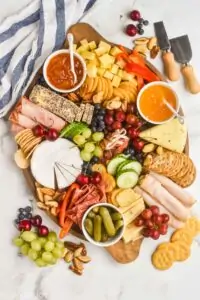 did you make this
How to Make a Charcuterie Board