Entertaining is easy with this Holiday Cheese Board! This meat and cheese board comes together easily with great items to make it festive enough for a holiday party!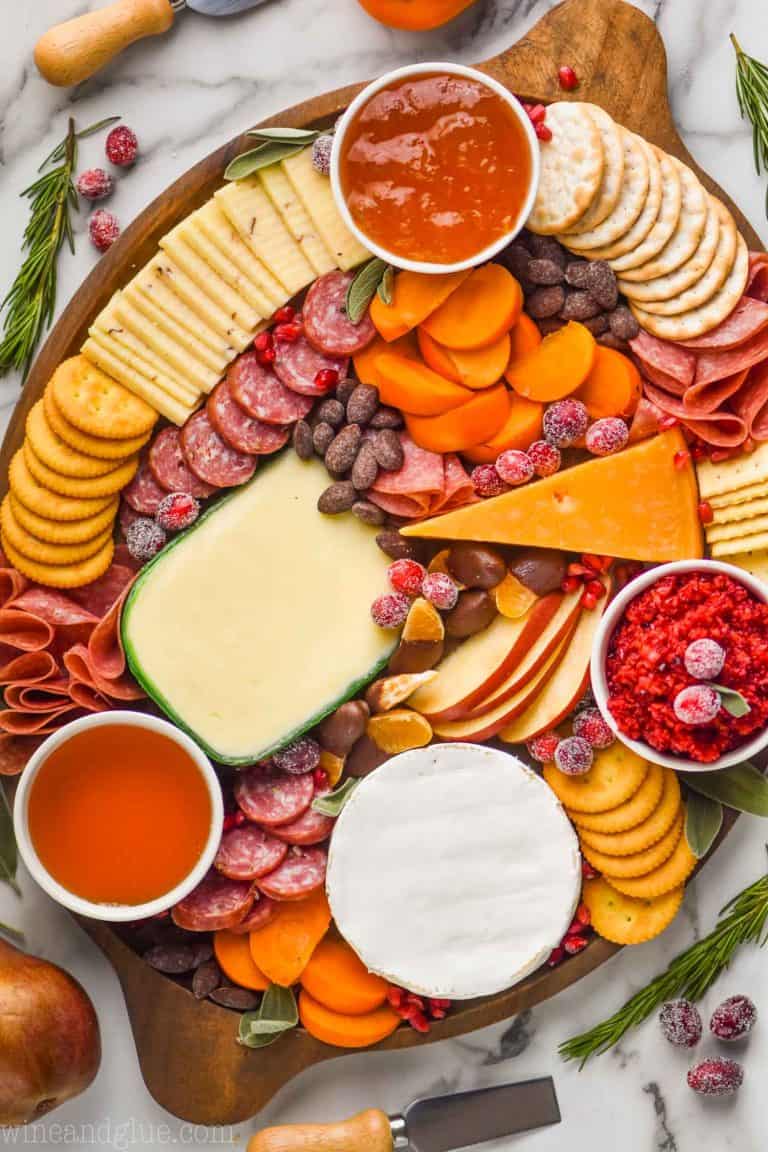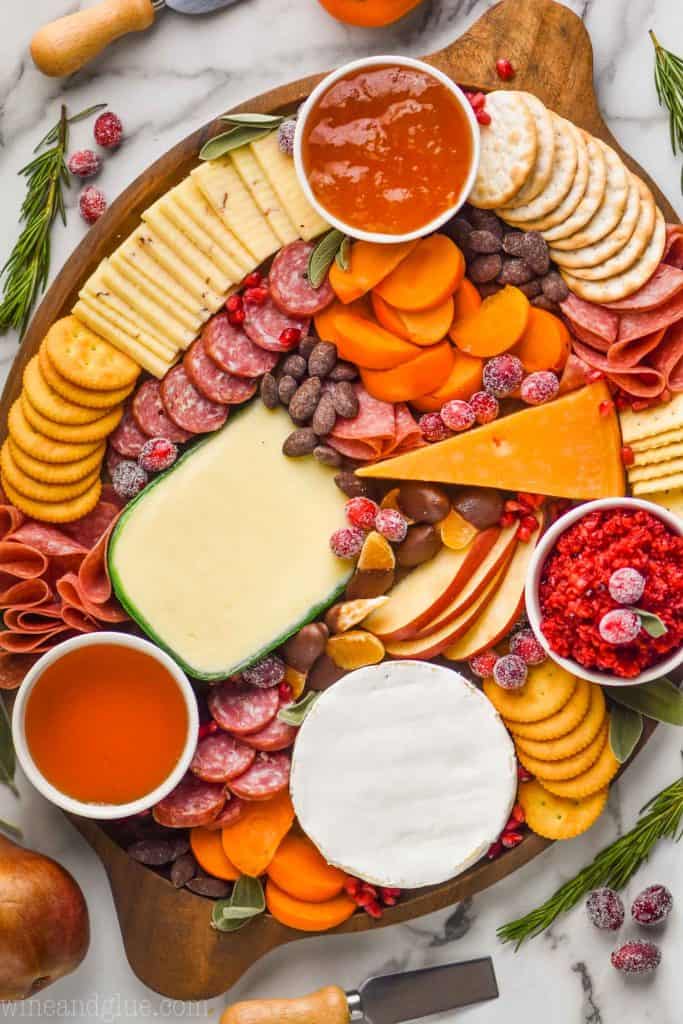 This post is sponsored by Mirum, but opinions expressed are my own.
I am totally in the holiday spirit and obsessively combing through recipes and trying to decide which ones I want to make sure you see before we are fully into holiday party time.
Because is there anything more fun than getting together with good friends around the holidays to celebrate with good food?
The only glitch in that plan is dealing with foods that don't agree with me. Having  Omeprazole Orally Disintegrating Tablets (ODT) on hand is the perfect solution.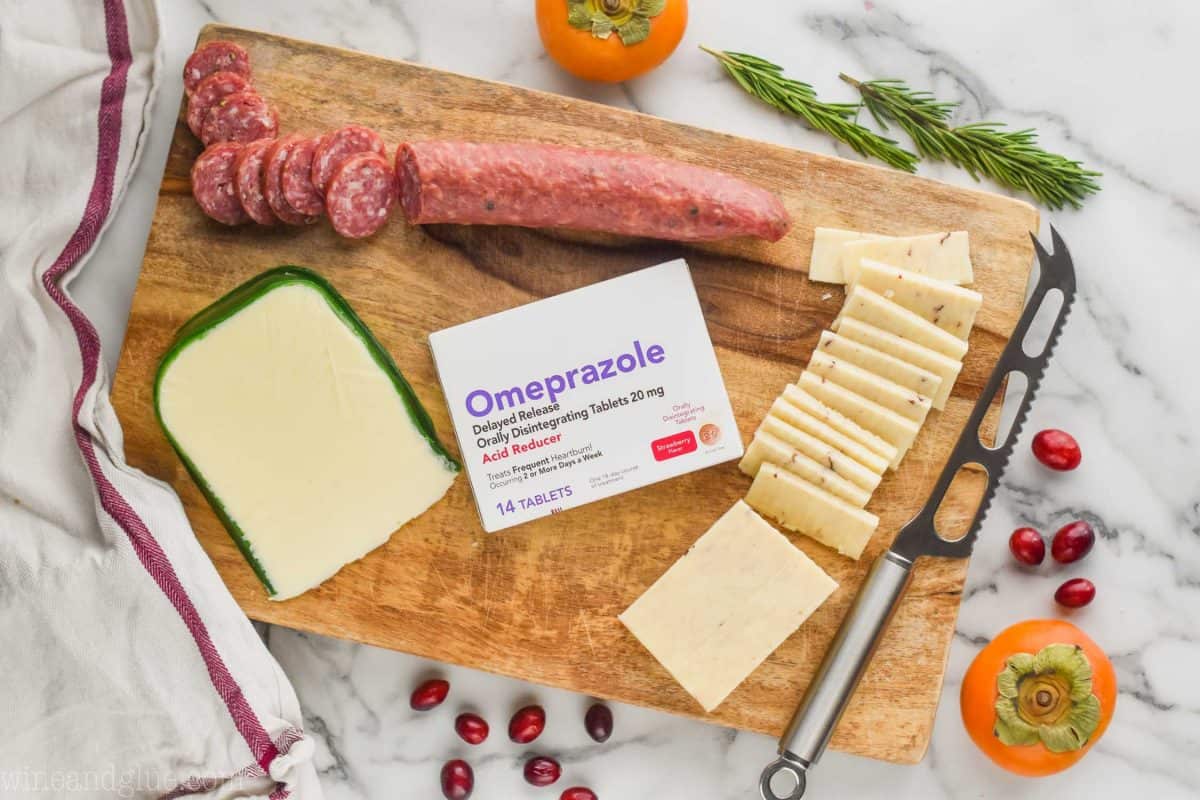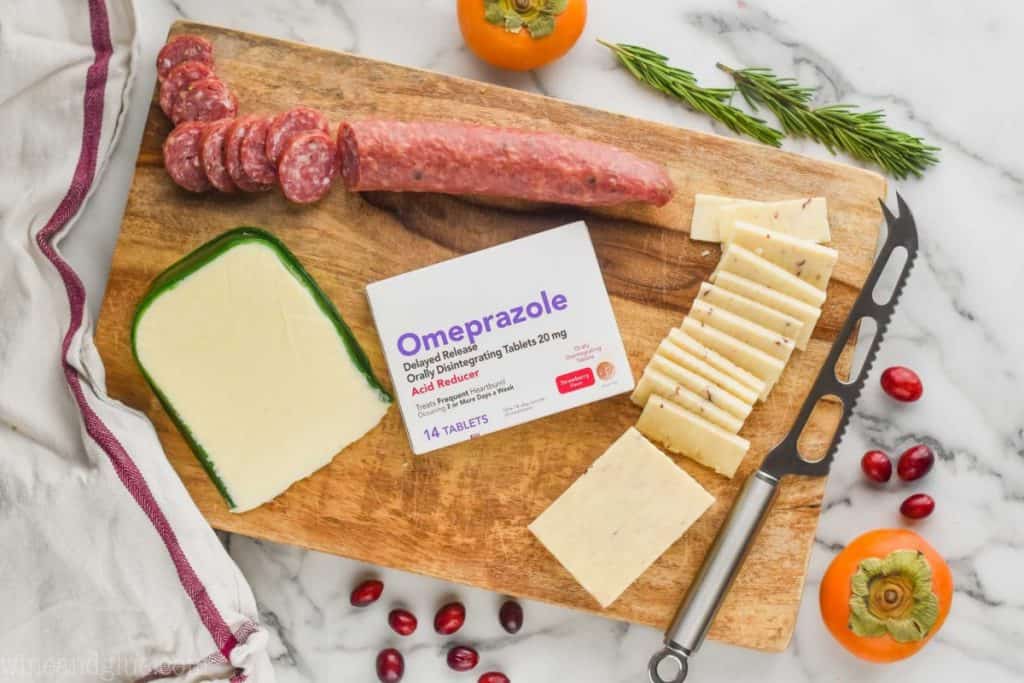 How to Make a Cheese Board
Buy three to four bricks of cheese. I did a variety of hard and soft cheeses, focusing on fun holiday flavors like a cranberry infused cheese and a champagne flavored one. I also got a classic brie because it is the way to my heart.
Find two to three garnishes. For this board I went with honey, marmalade, and cranberry relish. I think they are perfect for the winter flavors I was going for.
Get two to three varieties of hard meats. I went with a small sausage and some hard salami. Pancetta would have been great on this as well.
Buy a variety of two or three crackers. Bruschetta toast pieces or pretzel flats are great to mix things up too!
Bring in two or three fruits. Because I was going for a winter theme, I wanted to focus on winter fruits. I added persimmon pieces, pear slices, chocolate covered mandarin pieces, and sugared cranberries.
Nuts are a great filler. Since this is a platter that is fit for a fancy party, I added chocolate dusted almonds. Another great option would be Candied Pecans.
Finally, add garnishments. I used fresh sage leaves, fresh rosemary sprigs, and pomegranate seeds. All three were great pops of color.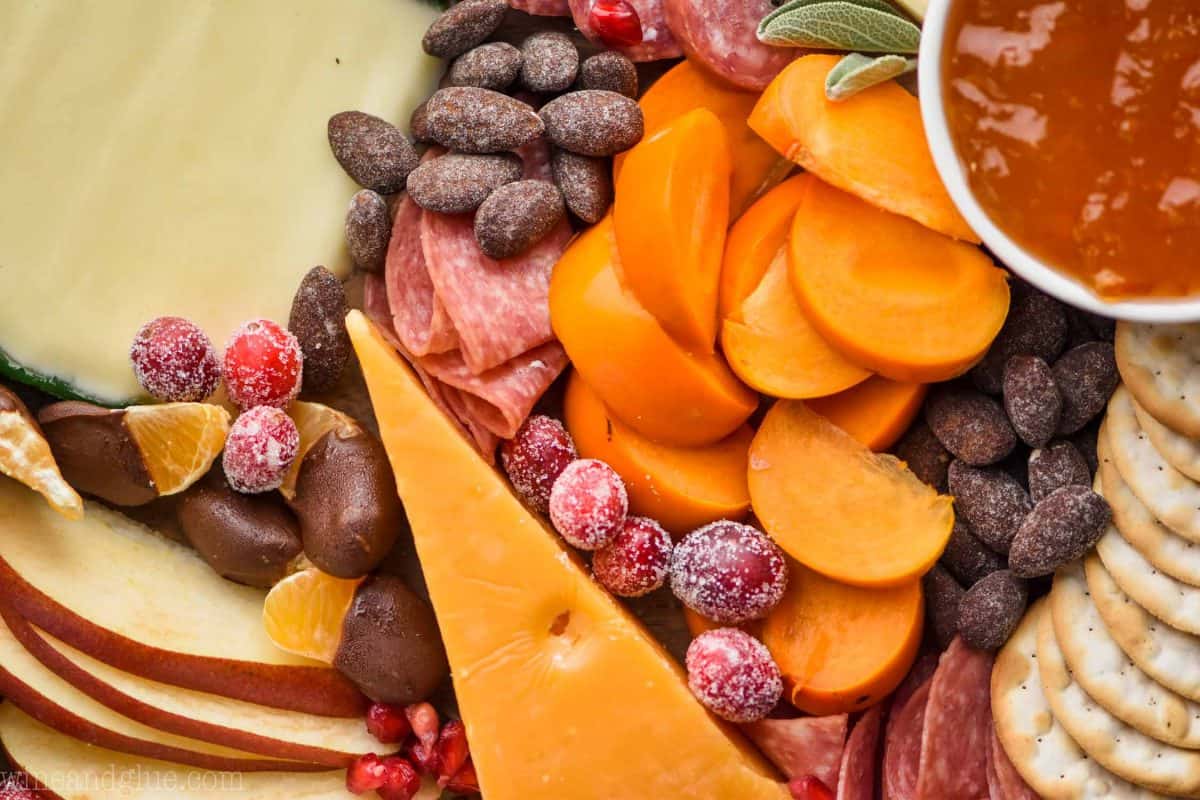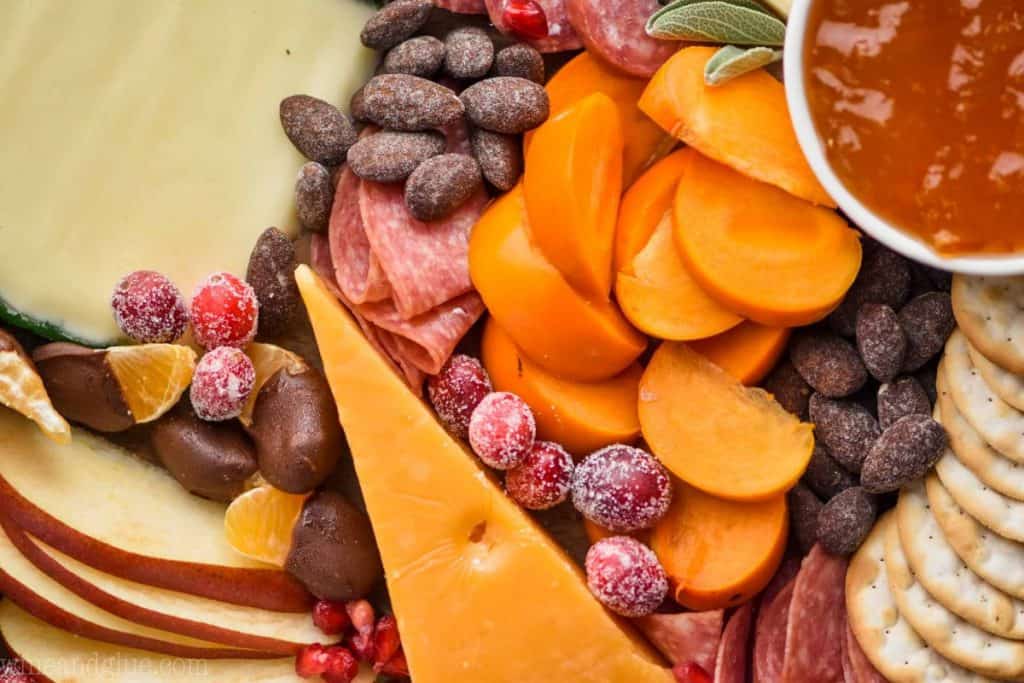 Building Your Cheese Board
The order of what you need is exactly how to build a cheese board or charcuterie board. You can replicate this board by adding the pieces in this order.
The cheese board you see pictured here is about 16″ by 13″. So look for a tray roughly this size when you are making your cheeseboard.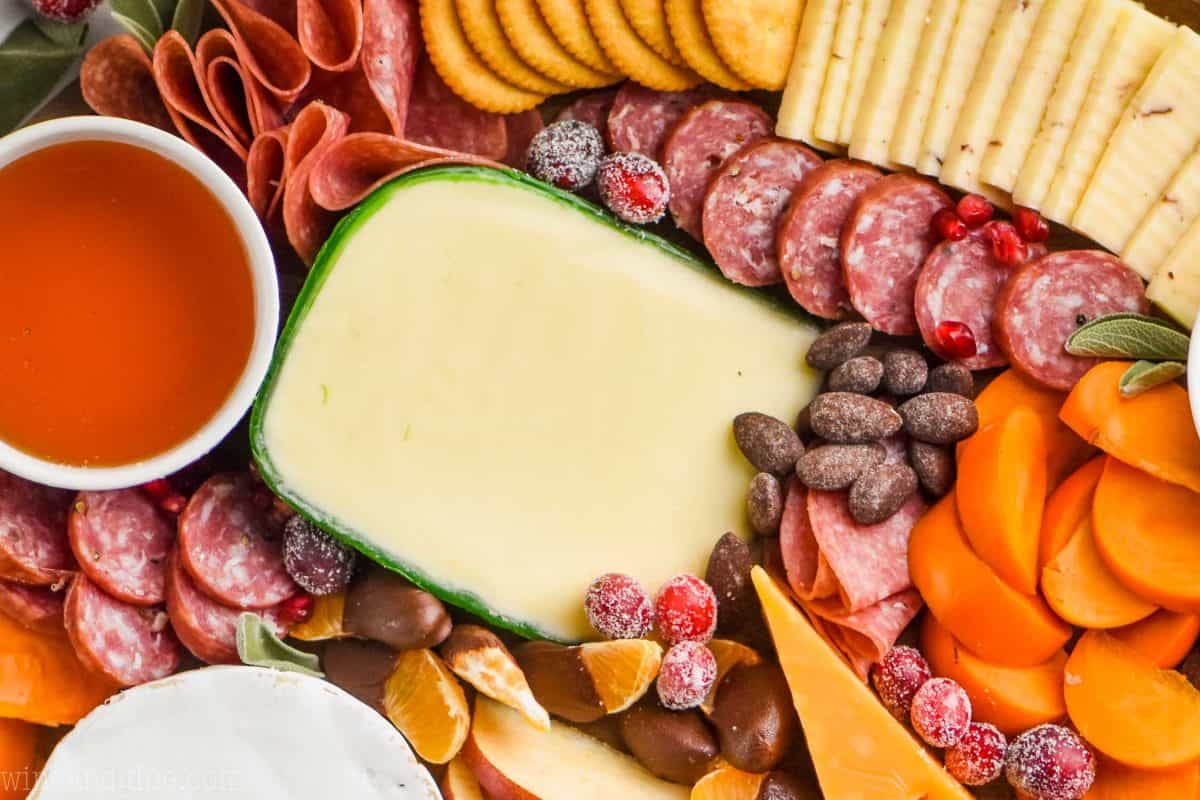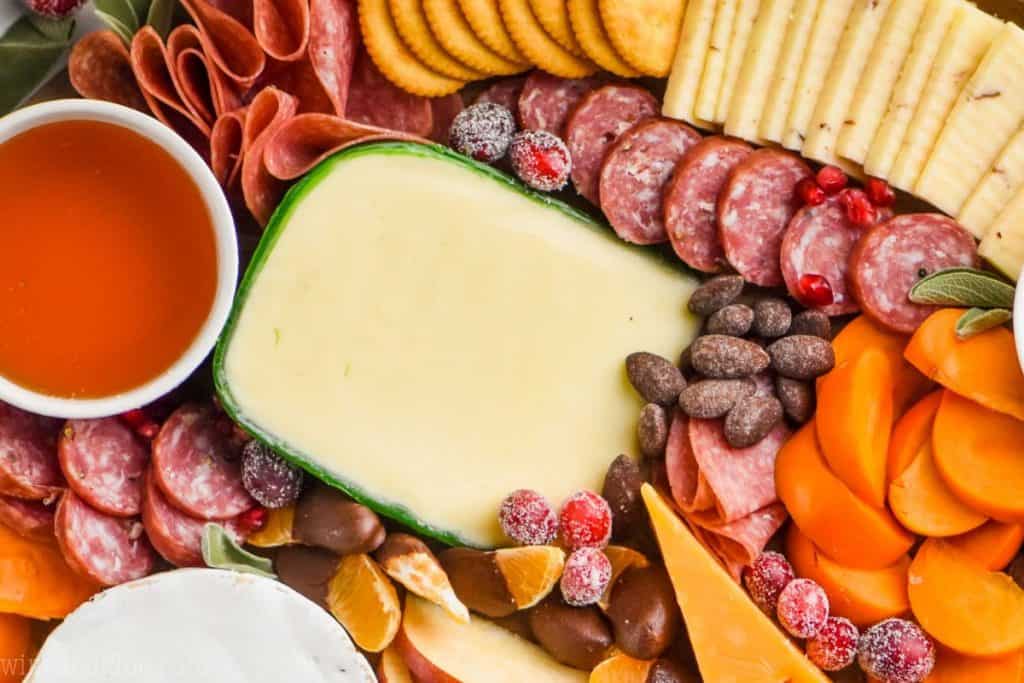 What Cheese to Buy for a Cheese Board
As I mentioned above, you want to buy a variety of soft and hard. Cheeses range from soft, like brie, to semi-hard like cheddar, to hard like fontina.
I like to buy one in each category. The board pictured here has four cheeses on it, but I bought more bricks so that I could replace the cheese as it gets eaten or add more variety.
If you aren't sure what to get, ask someone in your grocery store for help. Often stores have employees who are well versed in their cheeses. Or you can just pick different fun flavors that look interesting to you.
The fun cheese pictured above with the green rind is a champagne flavored cheddar! Perfect for a charcuterie tray being put out at a holiday party.
What do Persimmons Taste Like
One of the very fun elements of this cheeseboard is the persimmons. I love them because they only pop out for a short time each year, and they are so unique.
My love language is unique and new foods.
But I wanted to take a short moment to tell you about them in case you have never had one.
They are like a cross between an apple and a nectarine. They are great cooked in cranberry sauce or baked into a sweet treat. But they are also delicious raw, like I have them served on this cheese board.
And seriously. That color. So gorgeous.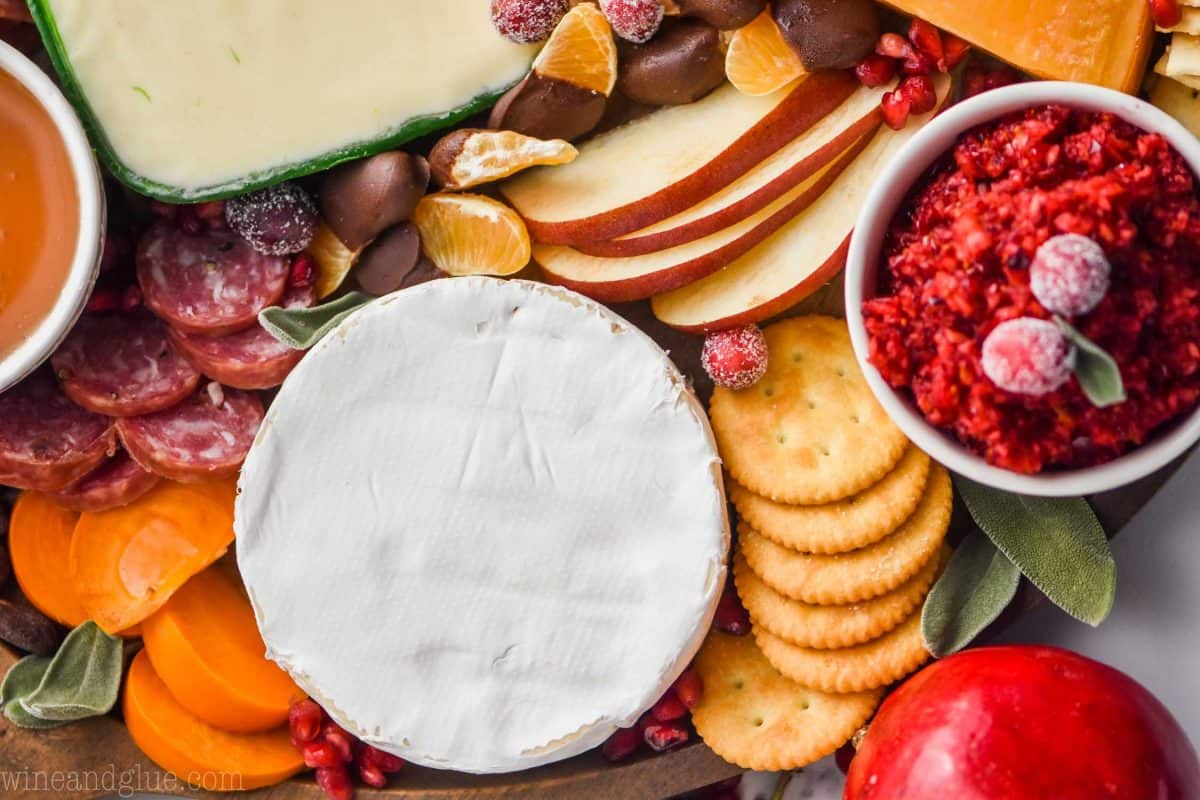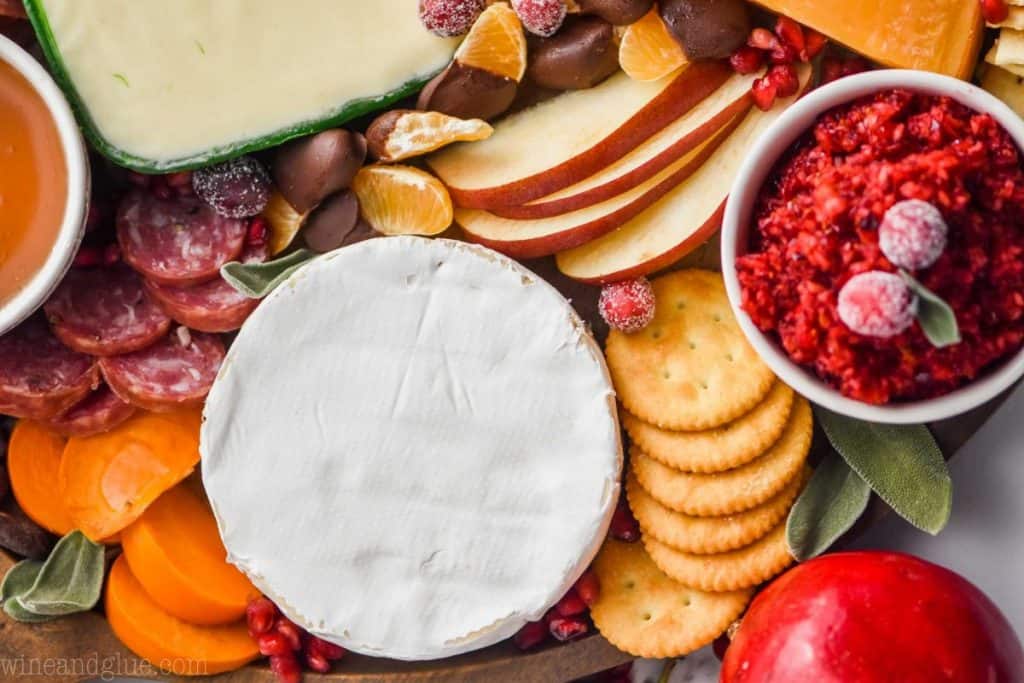 How to Prepare a Charcuterie Board
I think one of the best parts of a cheese board or charcuterie tray is how casual you can make it.
I like to cut up the meats, for easy serving. I also slice one or two of the bricks of cheese. But the rest of the cheeses you can leave whole and leave cheese knives so your guests can cut their own.
In addition to being a great party food, cheese boards make a great dinner for a small group of friends just sitting around talking.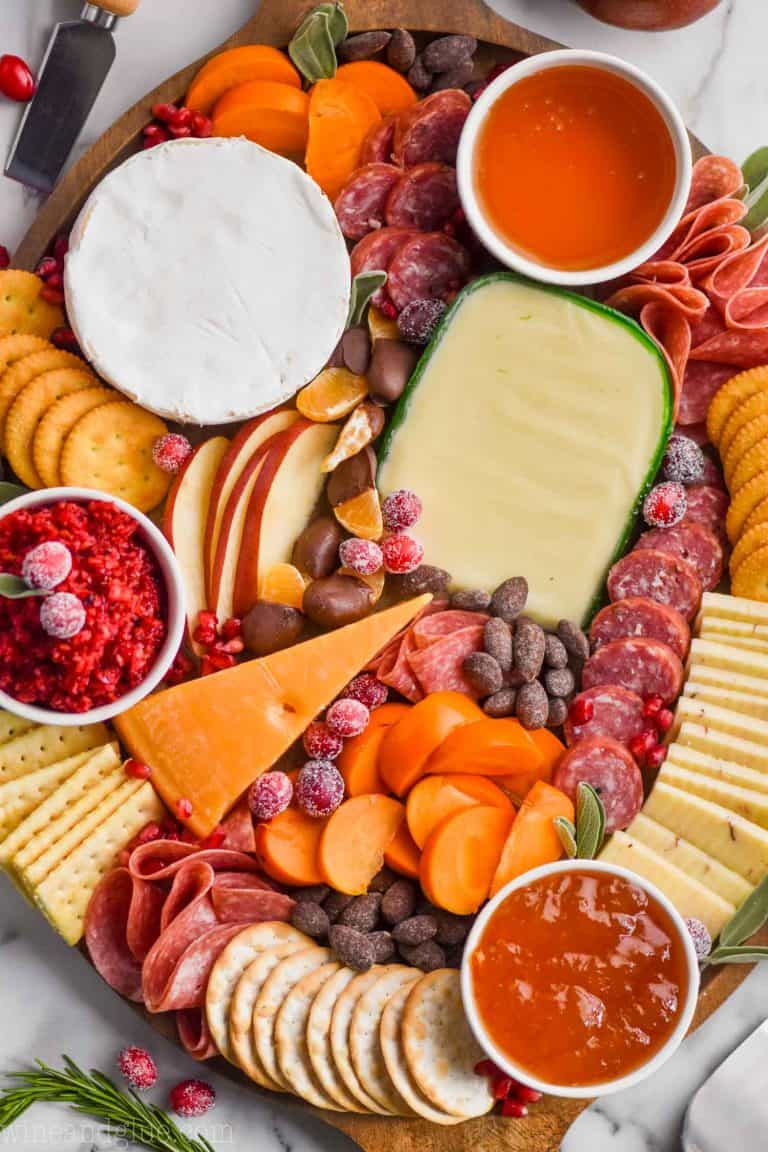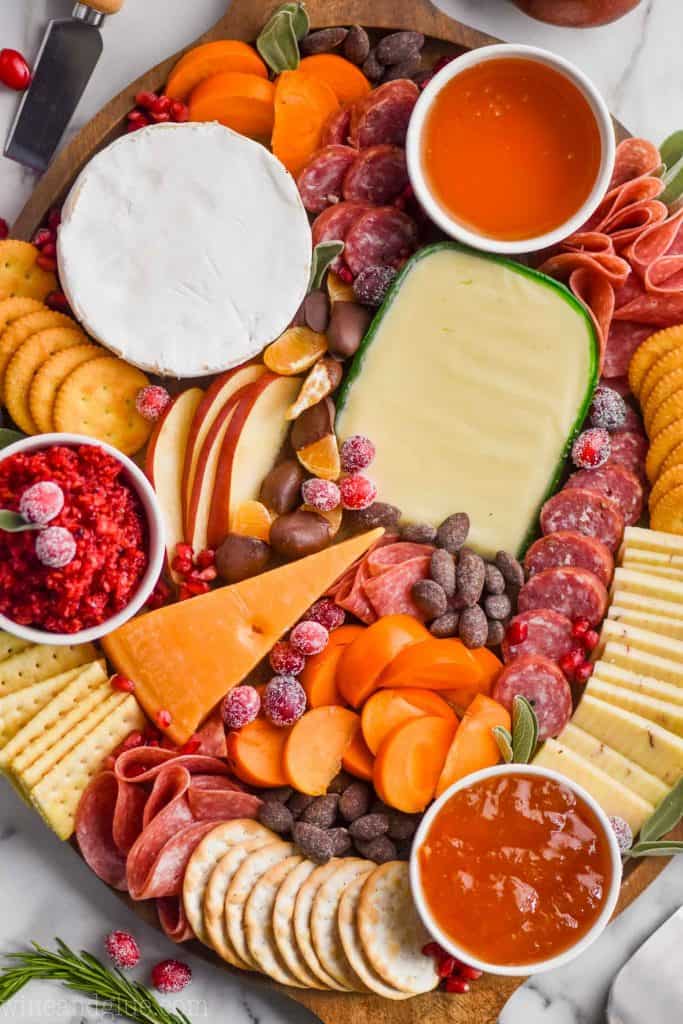 Other Great Holiday Recipes
If you make this Holiday Cheese Board or any of my other recipes, please leave me a comment and let me know what you think!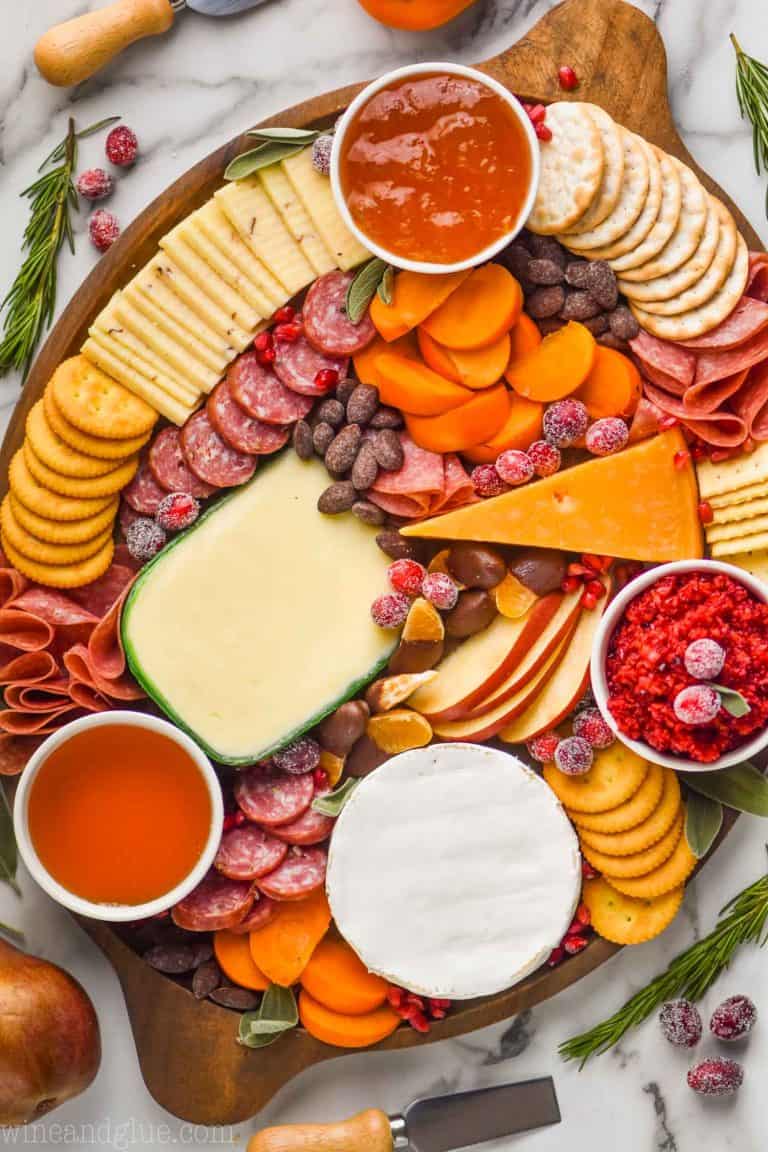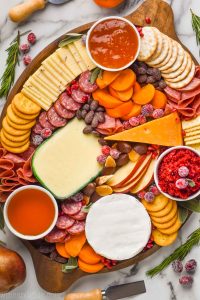 Holiday Cheese Board
Ingredients
3 – 4

bricks of cheese

(pick a variety of soft to hard cheeses)

3

garnishments in small bowls or jars

(I used honey, cranberry relish, and marmalade)

2 – 3

types of crackers

2 – 3

types of meat

(I used two variets of salami)

2- 3

types of fruit

(I used sliced red pear, persimmons, and chocolate dipped mandarin orange slices)

1 – 2

types of nuts

(I used chocolate dusted almonds)

2 – 3

garnishments

(optional but pretty – I used sage leaves, rosemary sprigs, pomegranate seeds, and sugared cranberries)
Instructions
Set the cheese on the tray at different spaces, far enough apart from each other. Cut up some and leave others whole with a cheese knife.

Set the bowls of garnishments at three different points, separate from each other. Add spoons for easy serving.

Add in the meat and rows of crackers at different points around the cheeses and garnishments.

Fill in the holes with fruit slices.

Then add in the nuts in the remaining spots.

Finally add in the garnishments sparingly.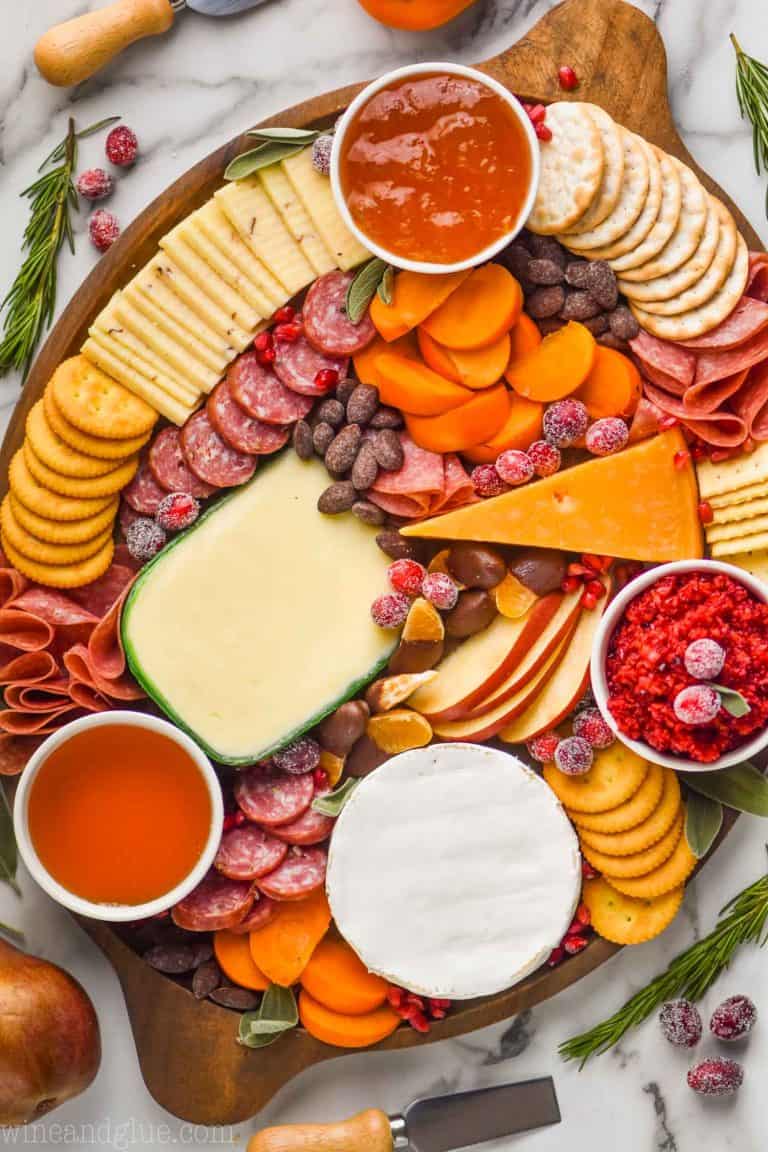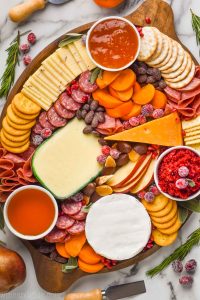 did you make this
Holiday Cheese Board