This Pumpkin Cookie Dough Bark is the love child of pumpkin desserts and your love of cookie dough!! Winning!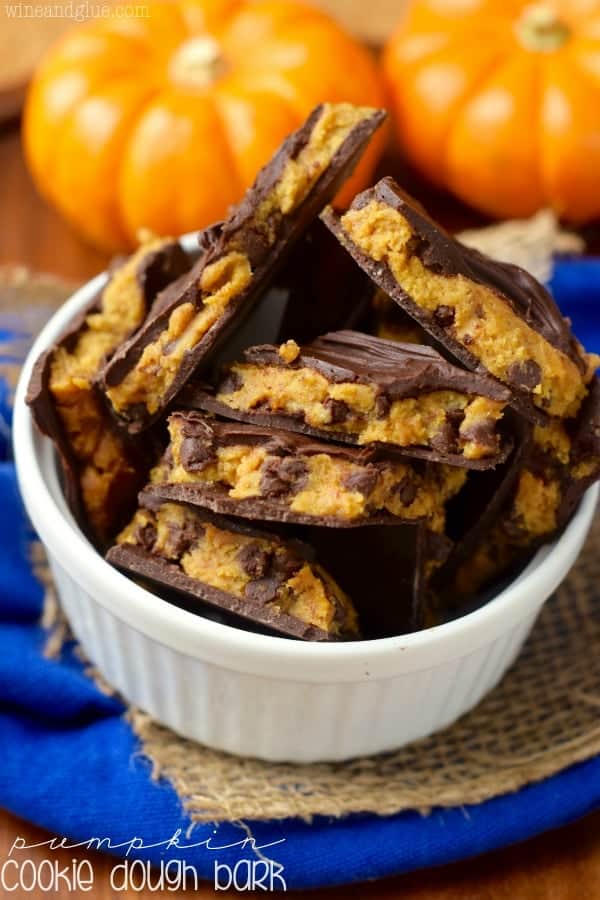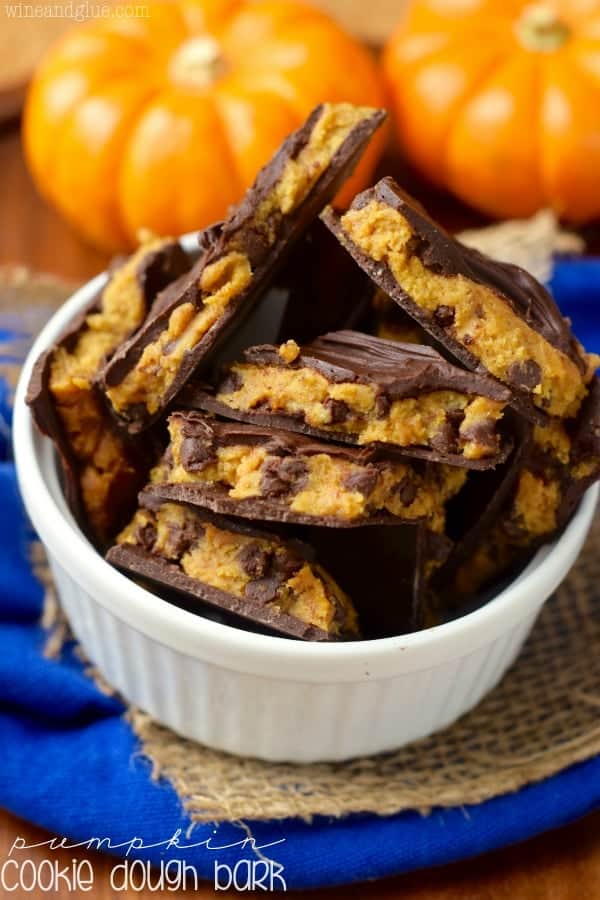 Happy Monday Peeps! How was your weekend? Mine was fantastic, but totally exhausting. A date night in (I'm convinced that sushi, red wine, and Scandal is my happy place) a date night out, lots of errands with the kids (two giant thumbs down to running errands with three kids), and apple picking!!
I love apple picking. It's one of my favorite fall traditions. The kids love climbing the trees and picking/eating their way through this amazing orchard. And I love taking pictures of them doing it. This was one of my favorites: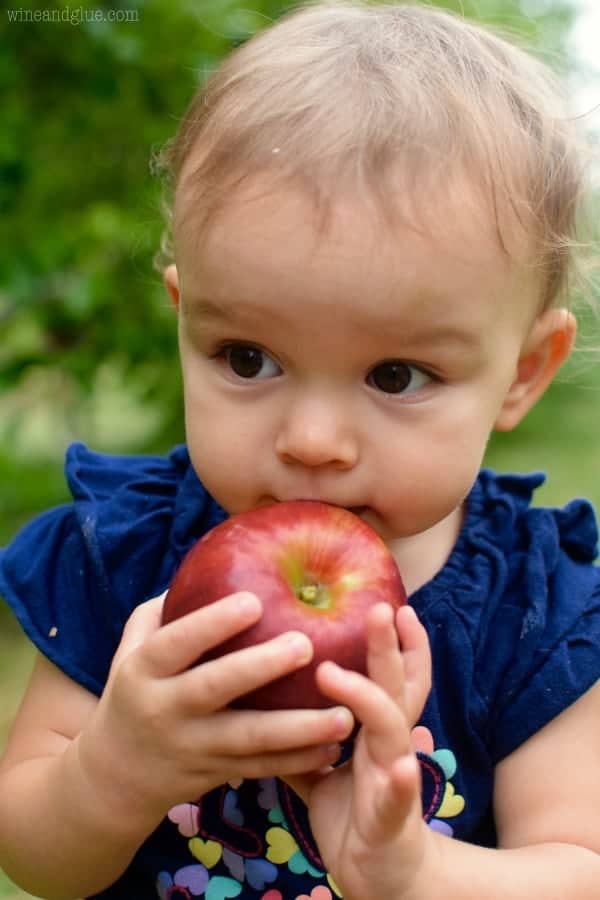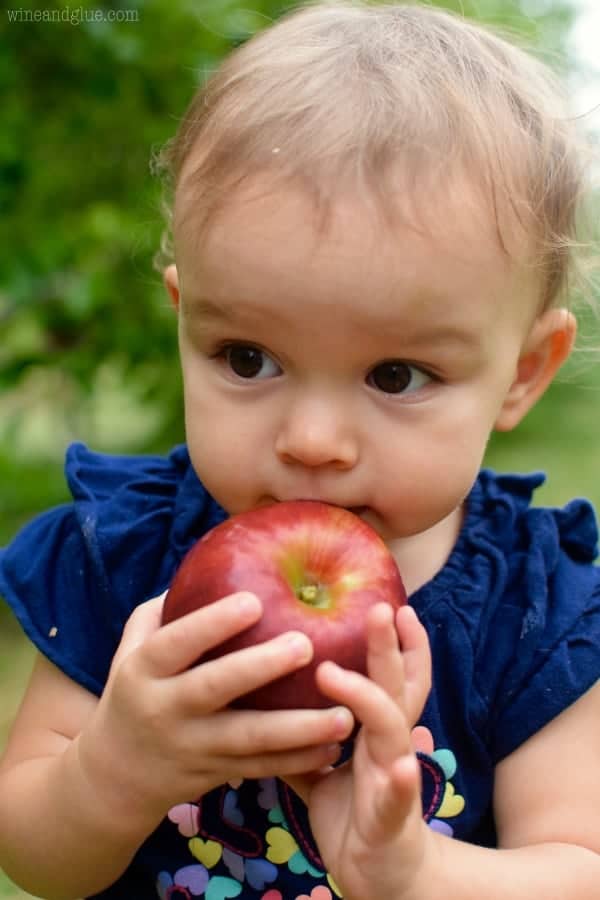 Those eyes, right? I'm totally in trouble. How do you say no to those!?!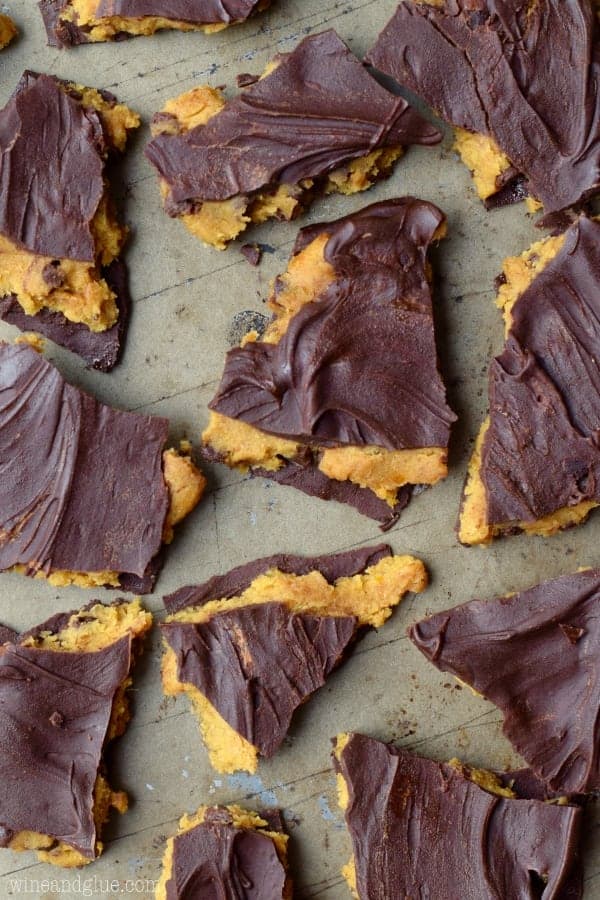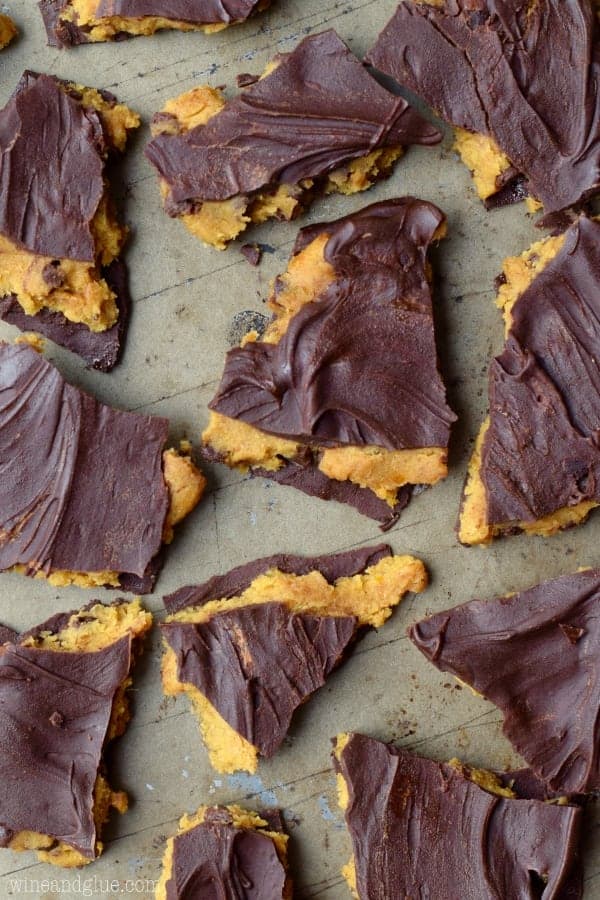 One of my other favorite fall traditions?
Making all the things PUMPKIN!!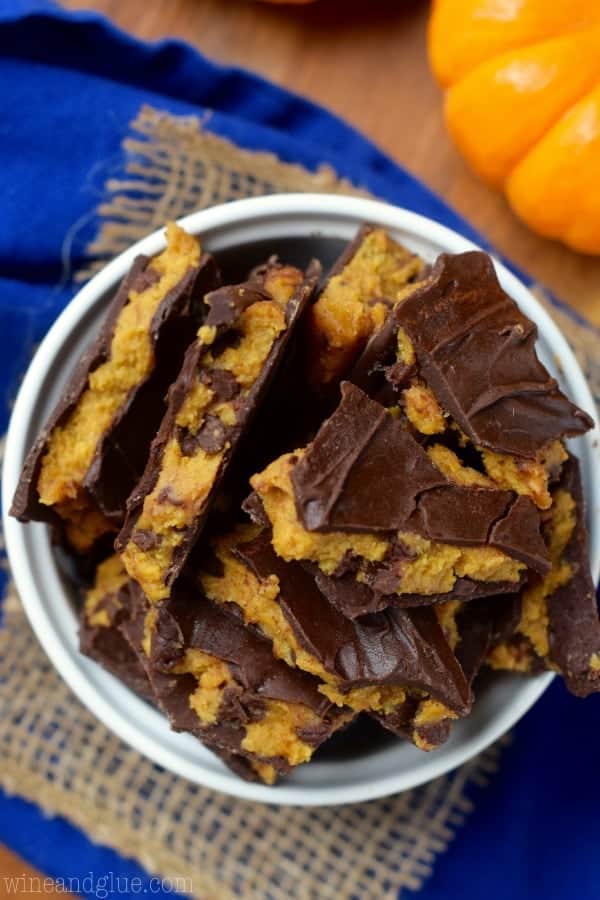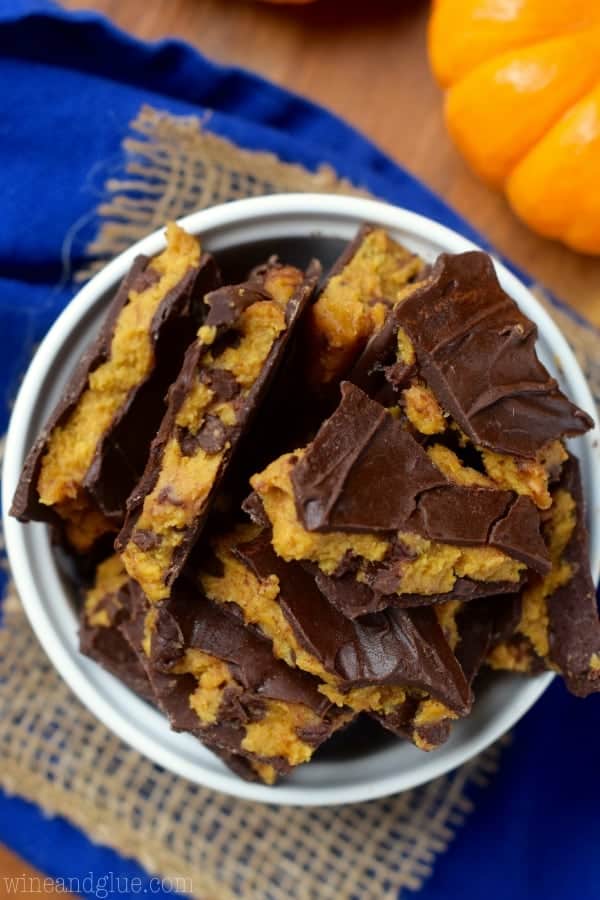 Confession? This Pumpkin Cookie Dough Bark was going to be Pumpkin Cookie Dough Truffles, but after literally four truffles I got super sick of dipping. Bark is the answer to my lazy ways. I might never make another truffle again.
This bark is seriously delicious, full of pumpkin meets cookie dough (egg free) flavor and it barely escaped the photo shoot. I'm serious. It was like take a picture take a bite until I realized I should probably make sure that the pictures turned out before I ate the whole batch.
Proceed with caution!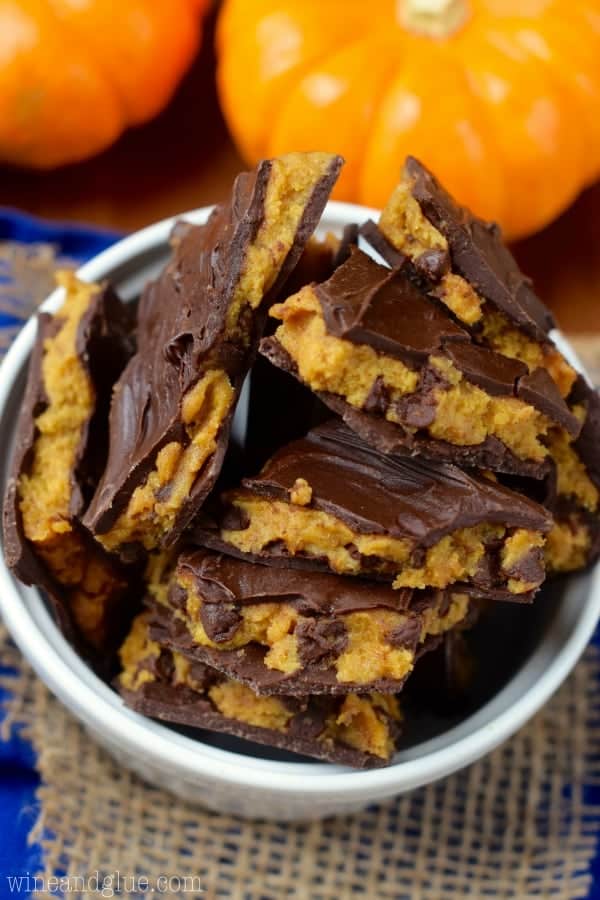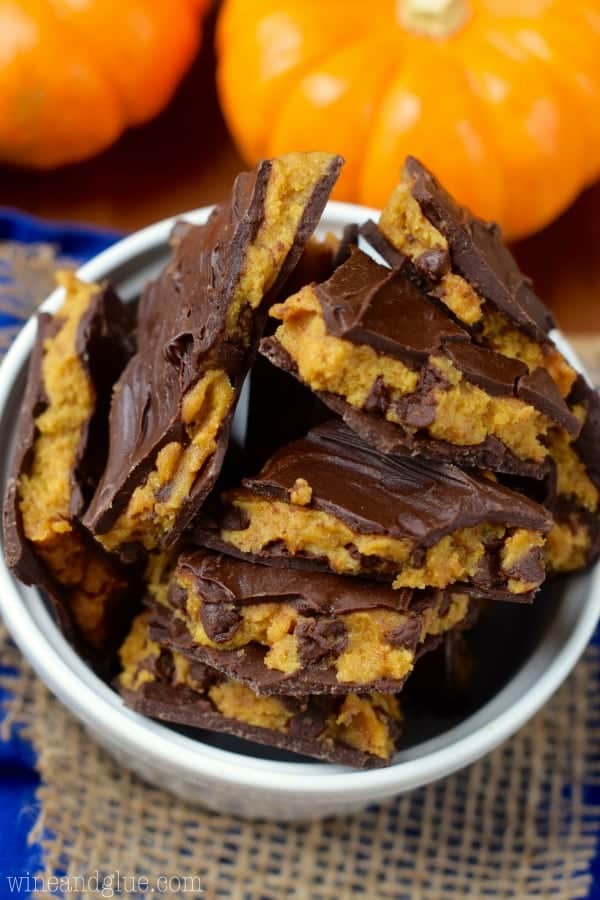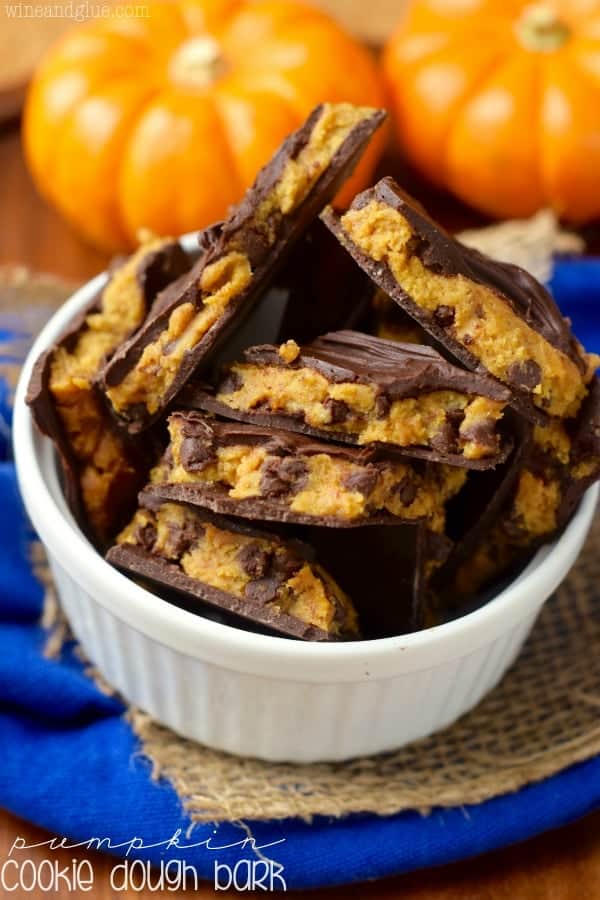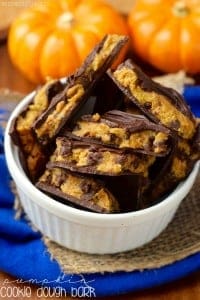 Pumpkin Cookie Dough Bark
Ingredients
1/2

cup

butter

room temperature

3/4

cup

packed light brown sugar

1

tsp

cinnamon

1/2

tsp

nutmeg

1/8

tsp

cloves

2

tsps

vanilla extract

1

cup

100% pumpkin puree

2

cups

all purpose flour

3/4

cup

mini chocolate chips

3

cups

semi sweet

regular sized chocolate chips
Instructions
Cream together the butter and the brown sugar until light and fluffy, about two minutes

Add in the cinnamon, nutmeg, cloves, and vanilla one at a time until combined.

Add in the pumpkin puree until fully combined.

Slowly add the flour a little at a time with the mixer going.

Stir in the 3/4 cups mini chocolate chips and store in the refrigerator until ready to use.

Line a 10 by 15 inch pan with wax paper. Melt 1 1/2 cups semi sweet chocolate chips until smooth. Spread over the wax paper being careful to not make it too thin, you will stay a good inch to two inches away from the edge of the pan. Let the chocolate harden completely by sticking it in the refrigerator for at least a half hour.

Press the cookie dough onto the hardened chocolate. Melt the remaining chocolate until smooth and spread over the cookie dough layer. Refrigerate until hard and then break apart. Store in the refrigerator in an air tight container when not eating.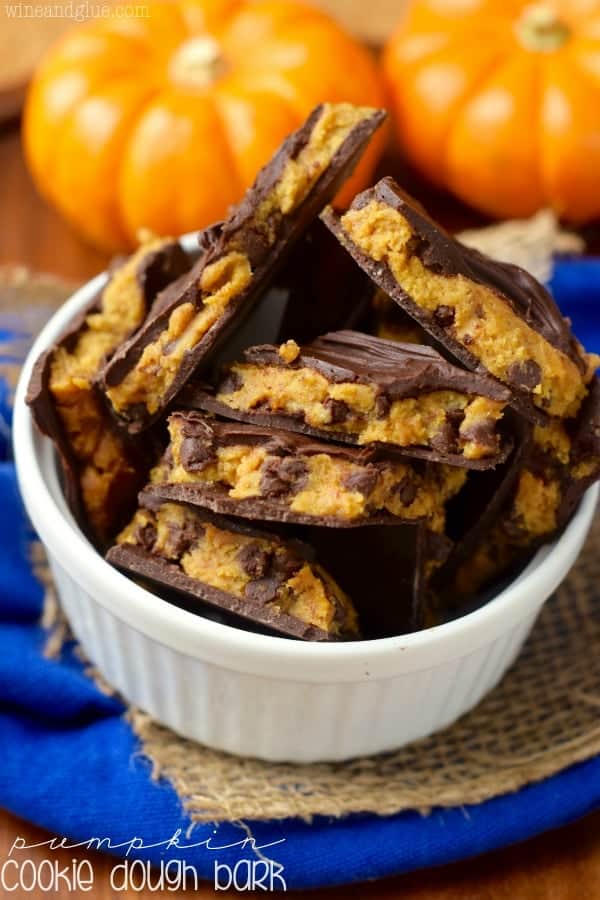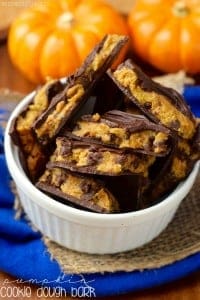 did you make this
Pumpkin Cookie Dough Bark