Crockpot Chicken Tacos are a staple in our house. This recipe is only three ingredients and makes for a perfect easy dinner. Want to do it faster? Make my Instant Pot Chicken Tacos!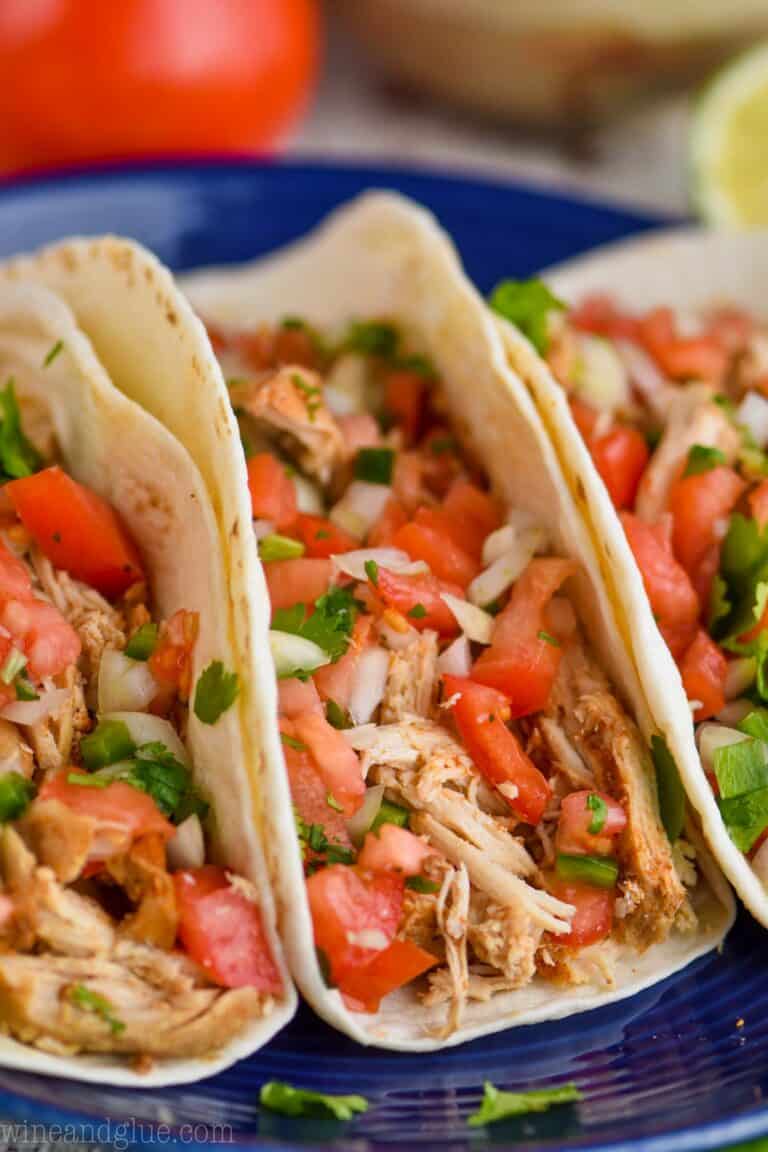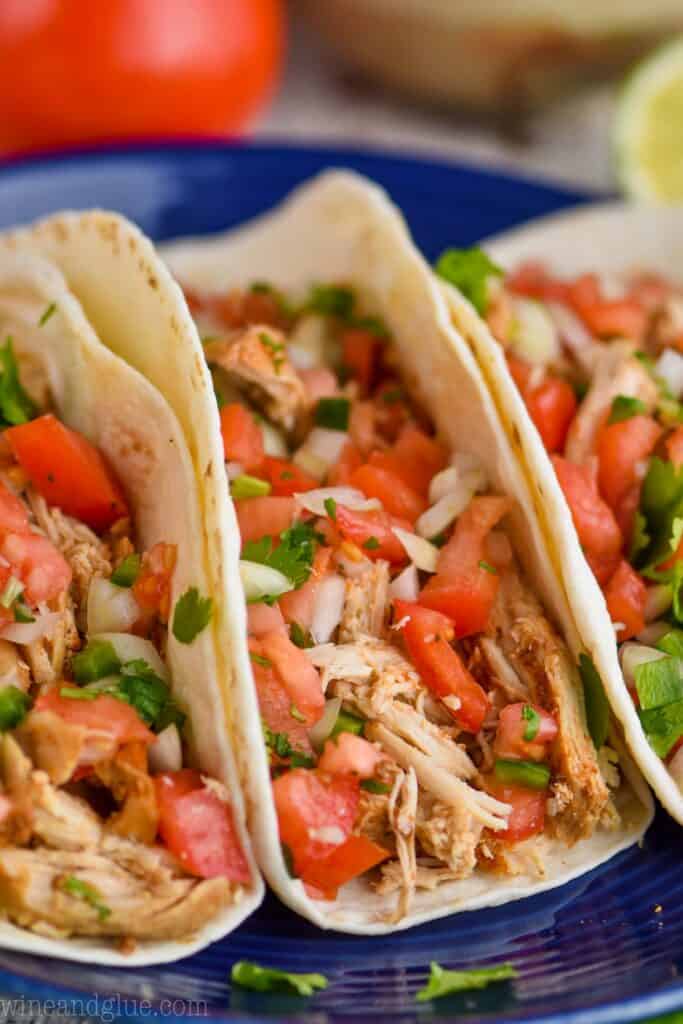 This is a recipe that has been on my site for years! I said it then and I will say it now, it barely counts as a recipe.
But I insist on sharing it with you because it is such a simple and easy way to make a great dinner for your family. Everyone in my house loves taco night so much, and this moist shredded chicken made in the slow cooker is the essential ingredient to making it perfect.
Reader Review
Absolutely delicious!!! My husband has always been against chicken in tacos! He thinks only ground beef can be in tacos. This recipe made him a believer!!! Now he prefers this over any other taco hands down!!! Thank you for the easy delicious recipe!
Make Crockpot Chicken Tacos in a Few Easy Steps
Start by putting raw chicken breasts in the crockpot. See below for how much you can cook at one time.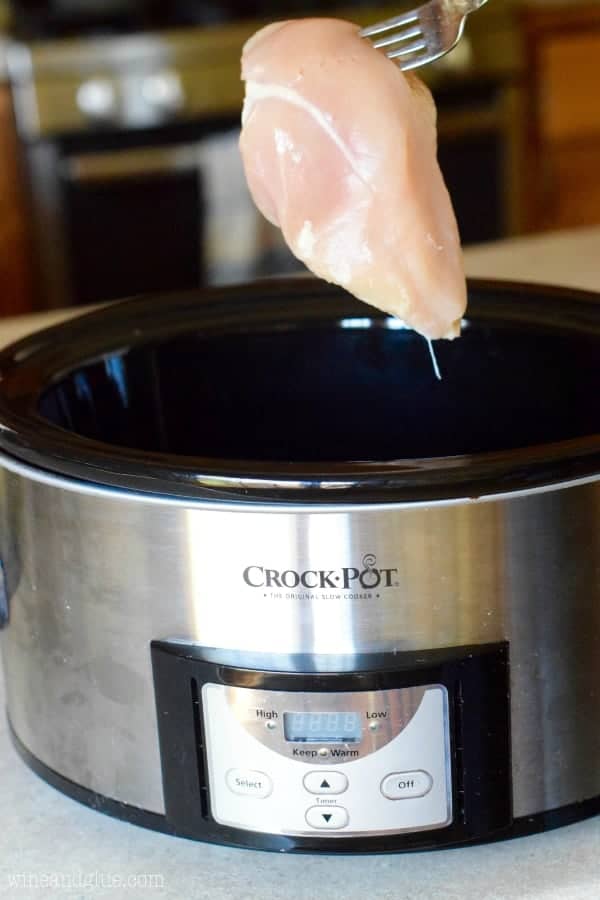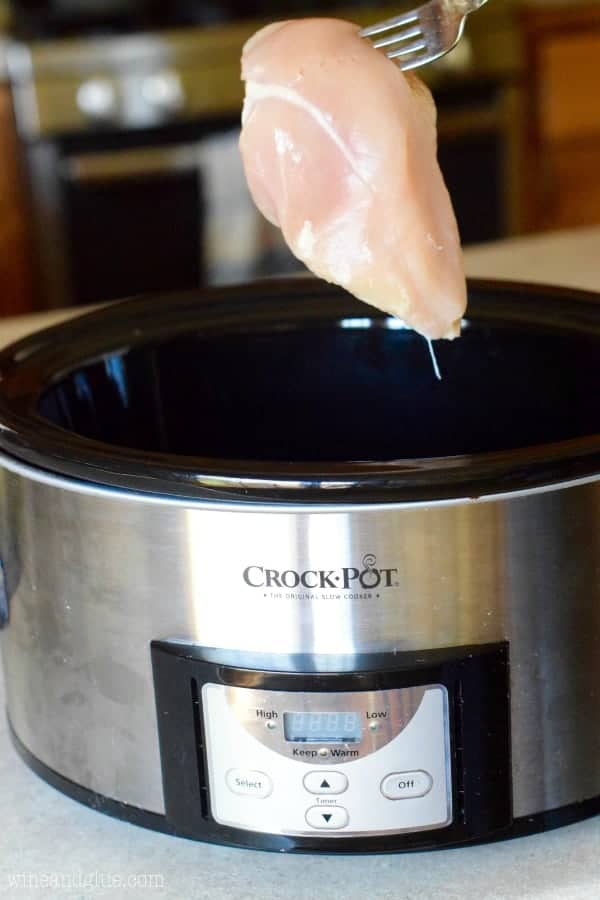 Add taco seasoning. You can see here, I'm using a store bought packet. That works perfect!
If you would like to make it from scratch you can use my Homemade Taco Seasoning which gives you measurements to replace the packet (3 tablespoons) or enough to make a big batch to always have on hand.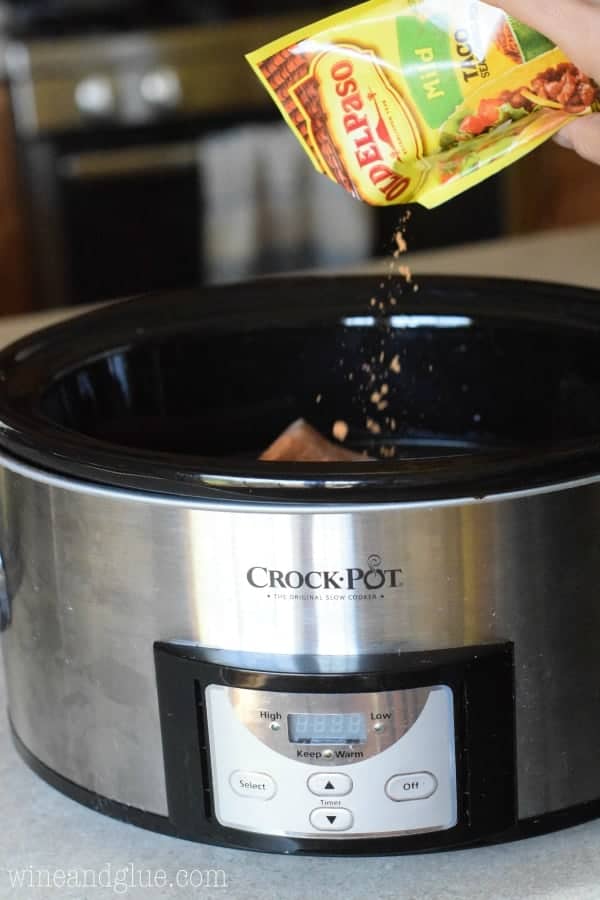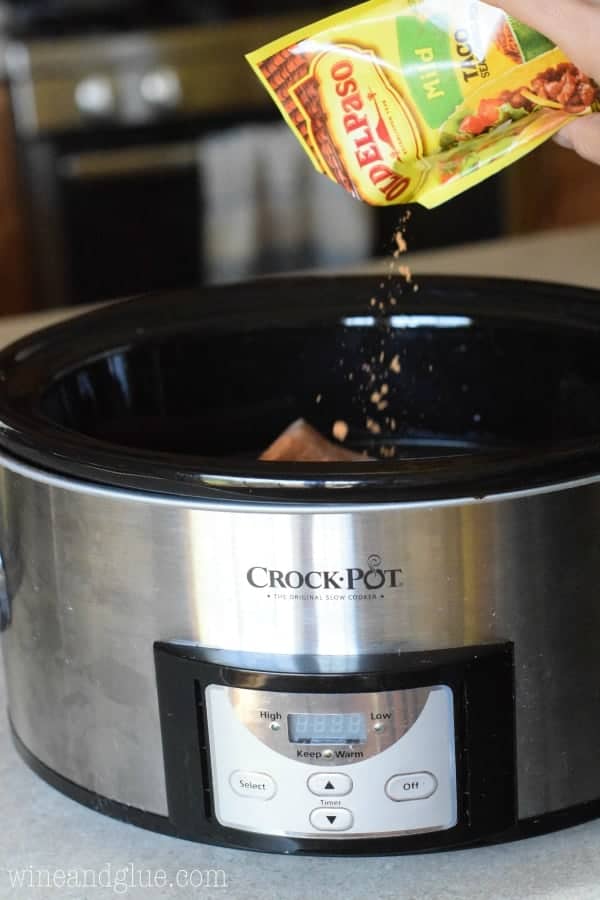 Add enough chicken stock to cover the chicken (about four cups).
You can buy a carton of chicken stock, or keep chicken stock base in your pantry and make four cups before making these tacos.
If you are worried about the salt content of this recipe, I suggest making my taco seasoning and lessening the salt. Then use low sodium chicken broth.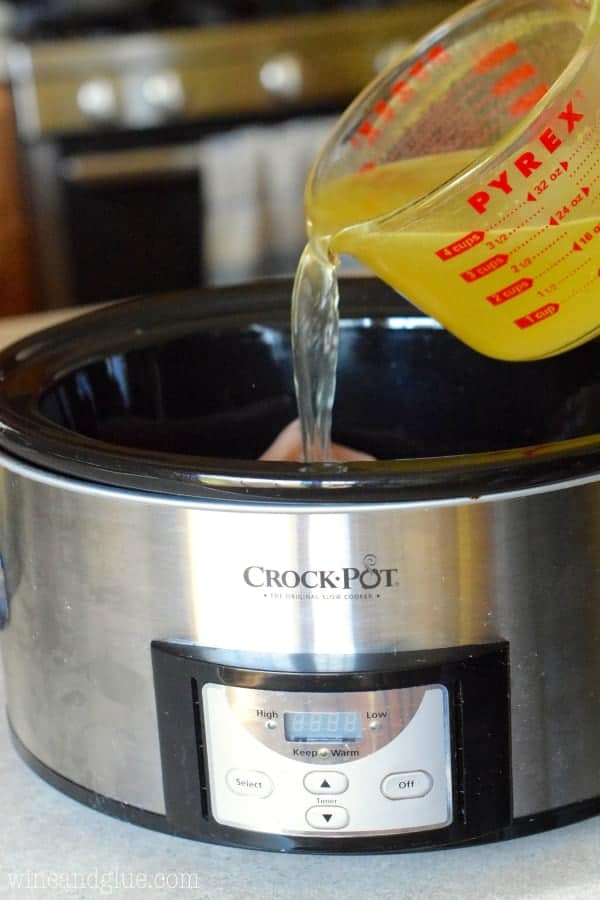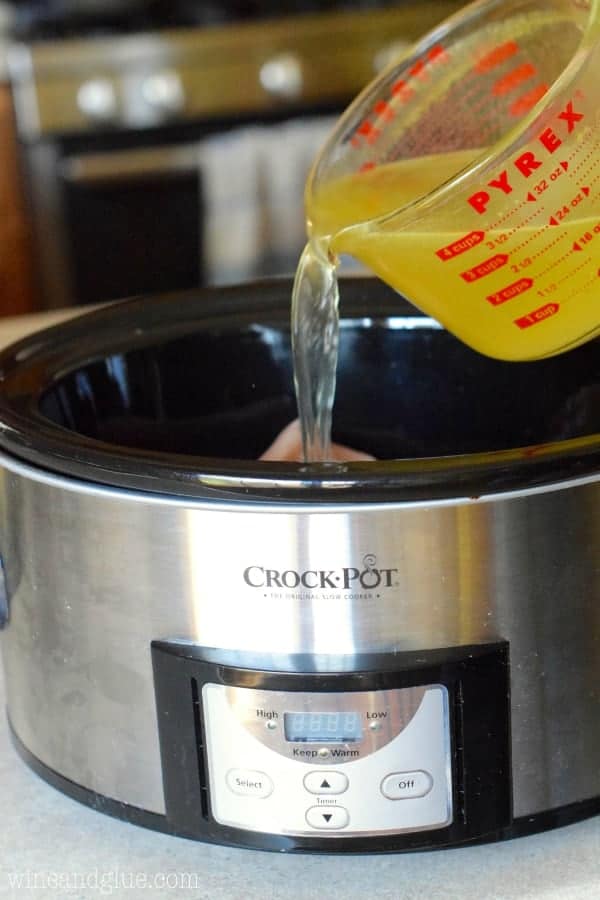 Cook on low for four hours.
This may not seem like enough time, but the way modern slow cookers cook, I've never had a problem with this length of time.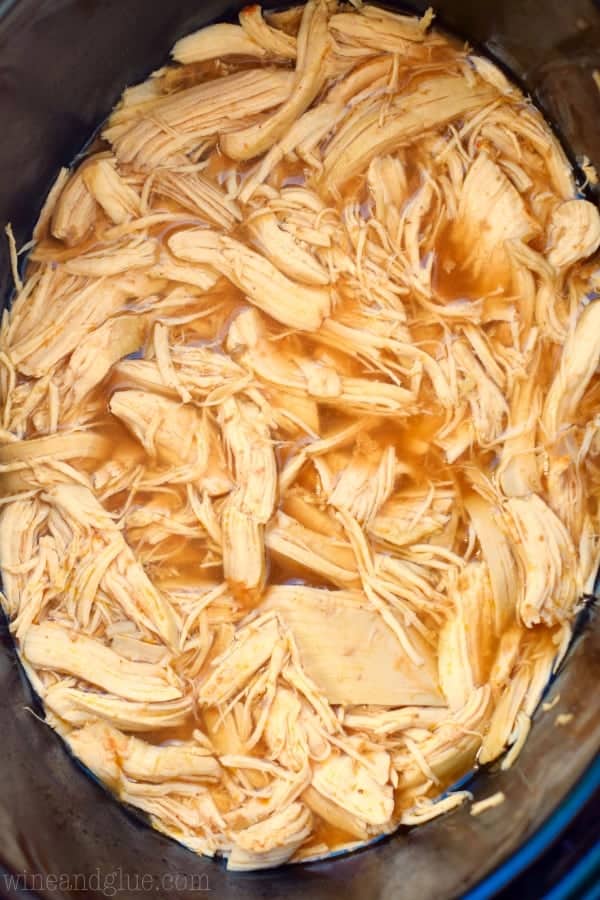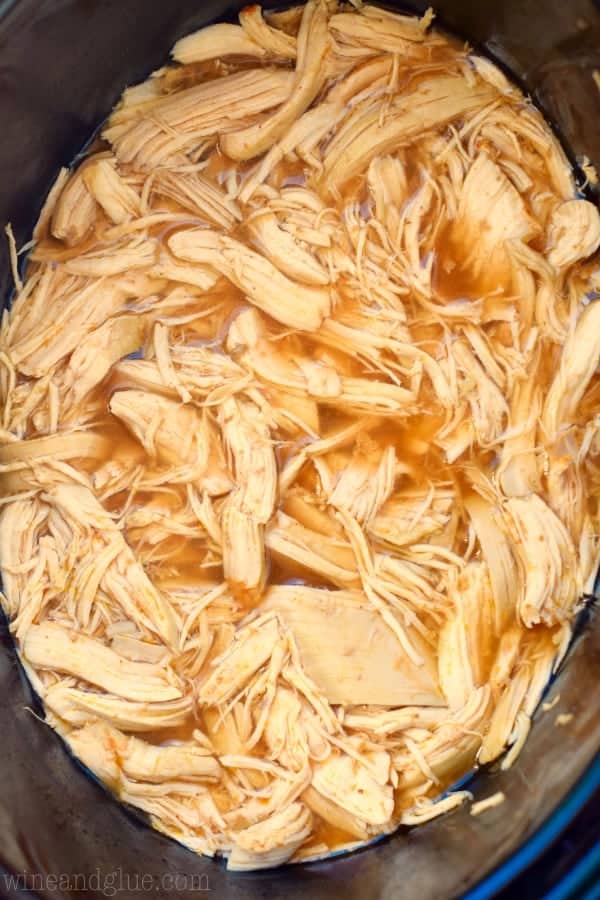 Did I Just Make Soup?
I once had someone comment on this recipe that the next time they were going to make this they were going to cut the chicken stock down to 1 cup because they had just made soup.
Please don't do that.
By covering the chicken with chicken stock we keep it from drying out in the slow cooker. There is nothing worse than coming home to a crockpot meal to find that your white meat is all dry.
With the stock in this recipe that doesn't happen.
Remove the chicken from the slow cooker and shred it. You will have delicious seasoned shredded chicken perfect for chicken tacos.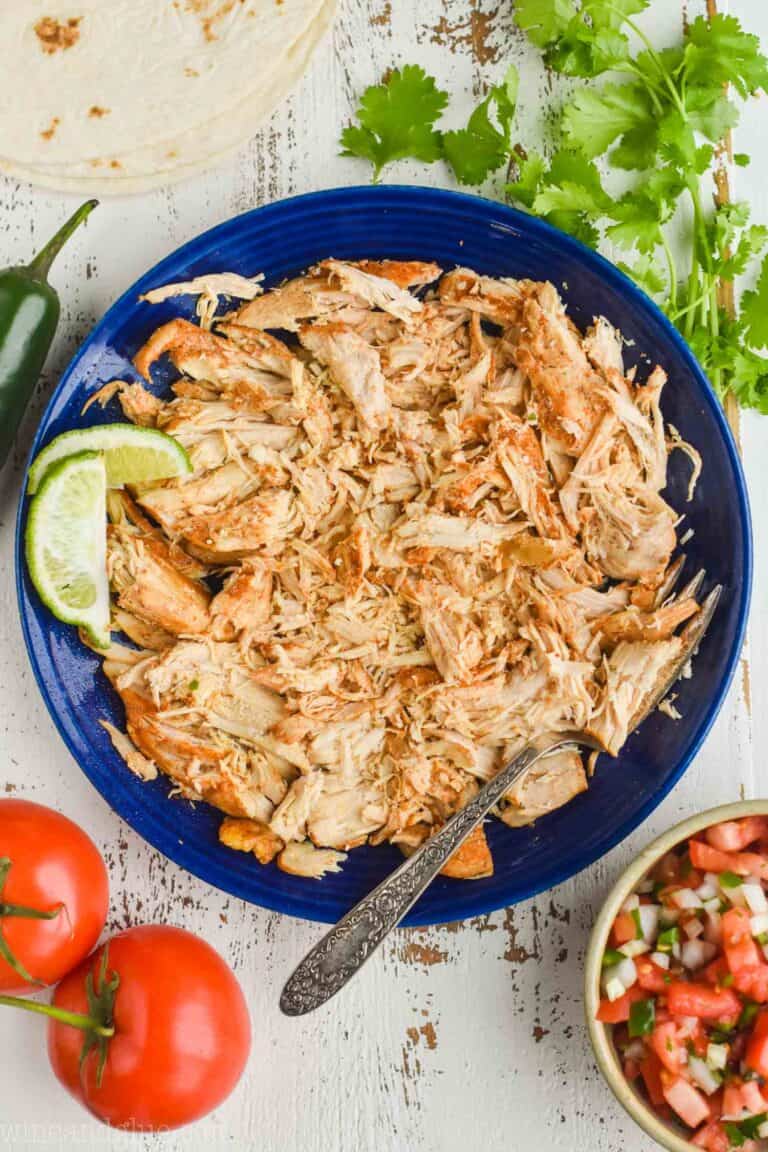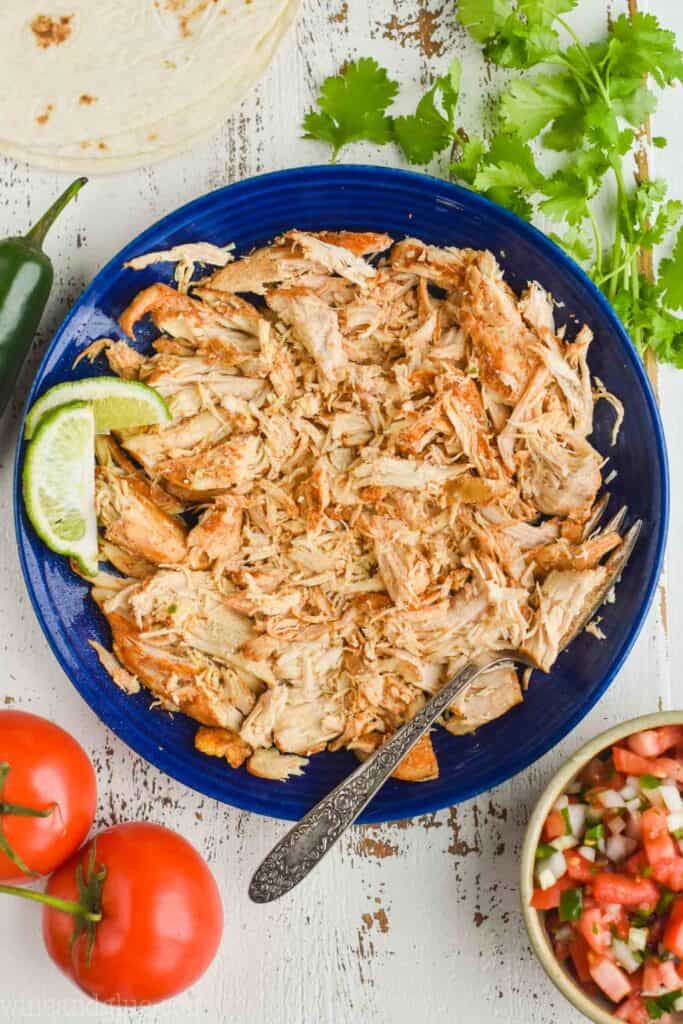 Double It
We made this recipe for my in laws at Christmas. We had about thirty people eating, a mixture of adults and kids. We made this recipe and my Taco Meat. It was a huge hit!
You can easily double this recipe and it will still work in a 6 quart slow cooker. Double the meat, double the taco seasoning, and make sure you have enough chicken stock to cover the chicken. Cook for 1 to 2 extra hours on low.
I do not recommend tripling this recipe. We are fortunate enough to own two slow cookers, so we did four pounds of chicken – two in each slow cooker.
Freezing Leftovers
The left overs for this recipe are great! I often store them (without the liquid from the slow cooker) and have them on a taco salad for lunch the next day.
If you would like to freeze the left overs, do so in an airtight container with enough cooking liquid to completely cover the chicken.
What to Serve with Chicken Tacos
This chicken taco recipe is so simple that we often just put out shredded cheese, sour cream, olives, and jalapeños and let the kids built their own tacos.
If you want to get a little classier, make my homemade Pico de Gallo. It is absolutely delicious and takes these tacos over the top.
I'm not sure that taco night is fully complete with out the world's best margaritas. Not a brag, it's a friend's recipe, and it really is the best. Especially if you toss in a few fresh jalapeño slices.
If you want to bulk out this meal a little more, you can make some cilantro lime rice.
If you make this recipe or any of my other recipes, leave me a comment and let me know what you think!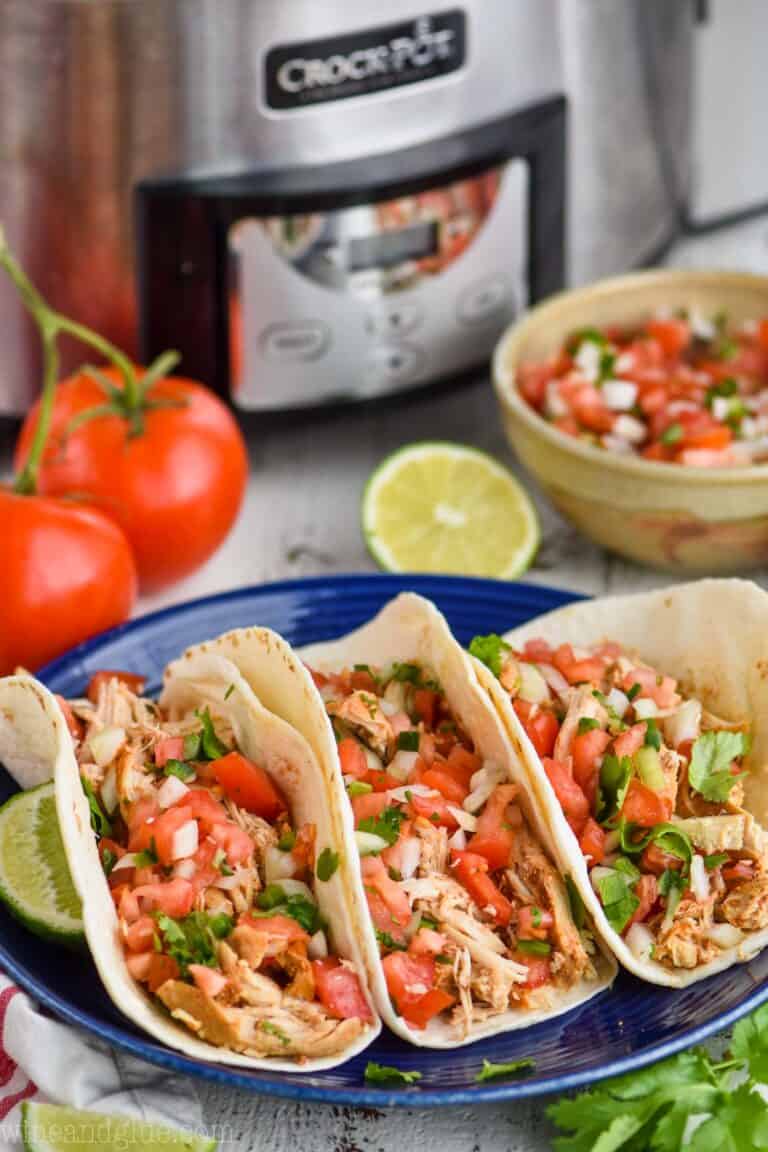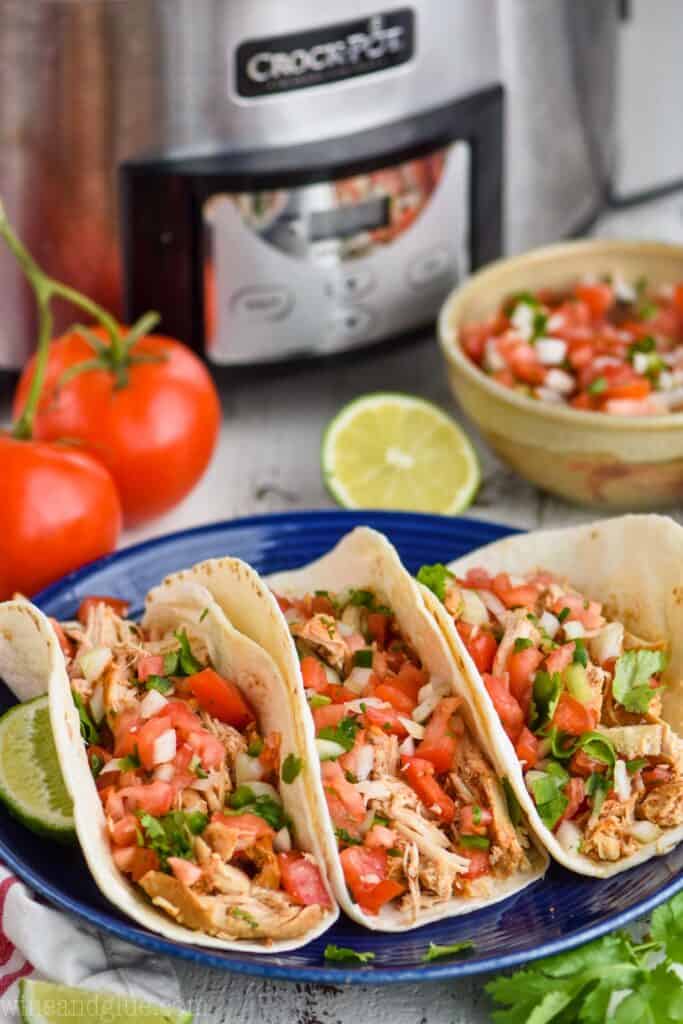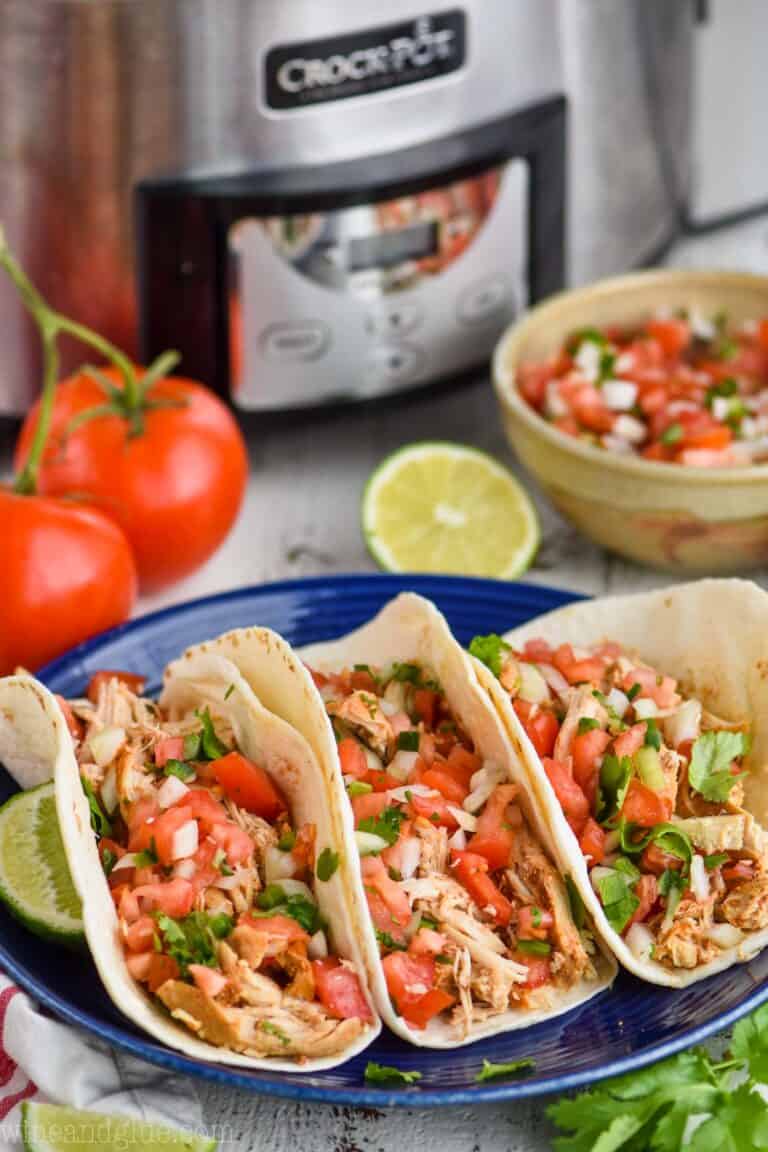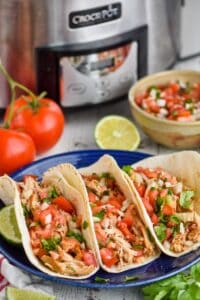 Crockpot Chicken Tacos
Crockpot Chicken Tacos are a staple in our house. This recipe is only three ingredients and makes for a perfect easy dinner.
Ingredients
1

pound

chicken breasts

4

cups

chicken stock

3

tablespoons

taco seasoning

or a 1 ounce packet from the store
Instructions
In the base of a slow cooker wisk together the taco seasoning and chicken stock. Add in the chicken.

Cook on low for four hours.

Remove the chicken breasts from the crockpot, shred and serve with tortillas and taco toppings.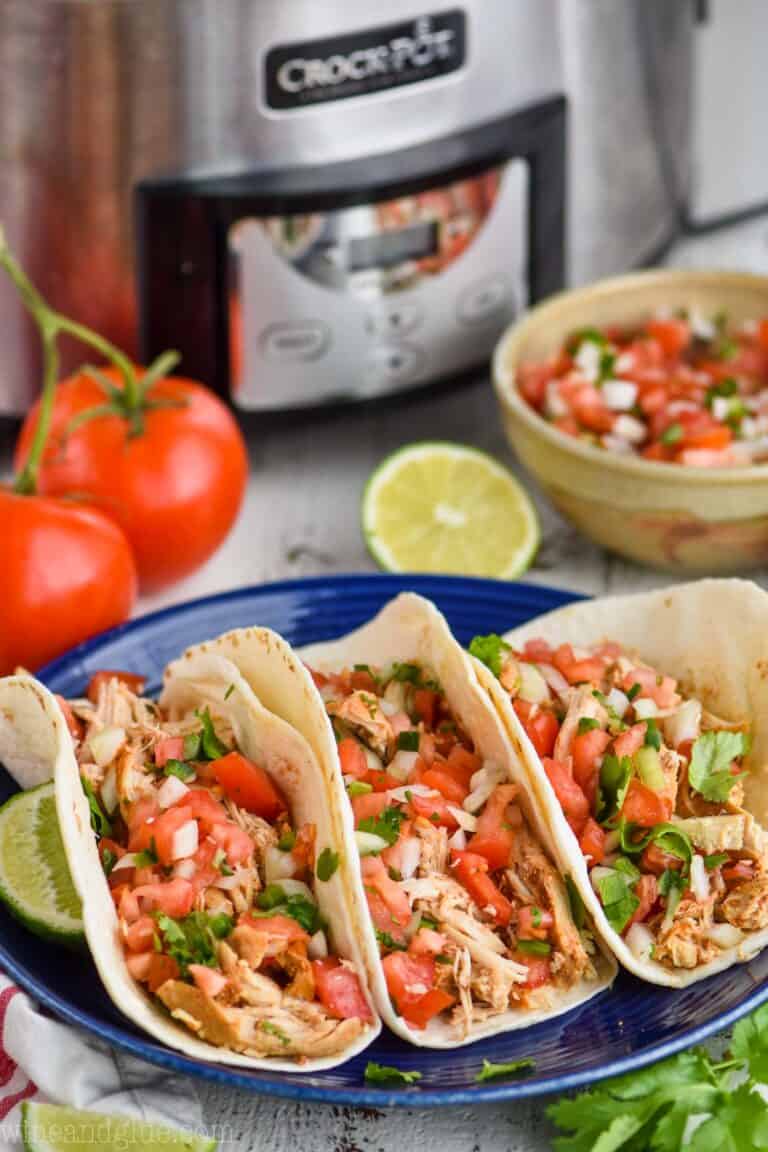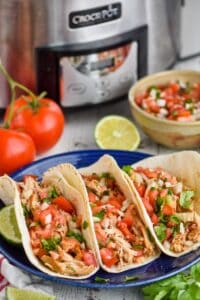 did you make this
Crockpot Chicken Tacos