These Chicken Tacos are the absolute best! They will remind you of your favorite restaurant, and then convince you that you never need to go there again.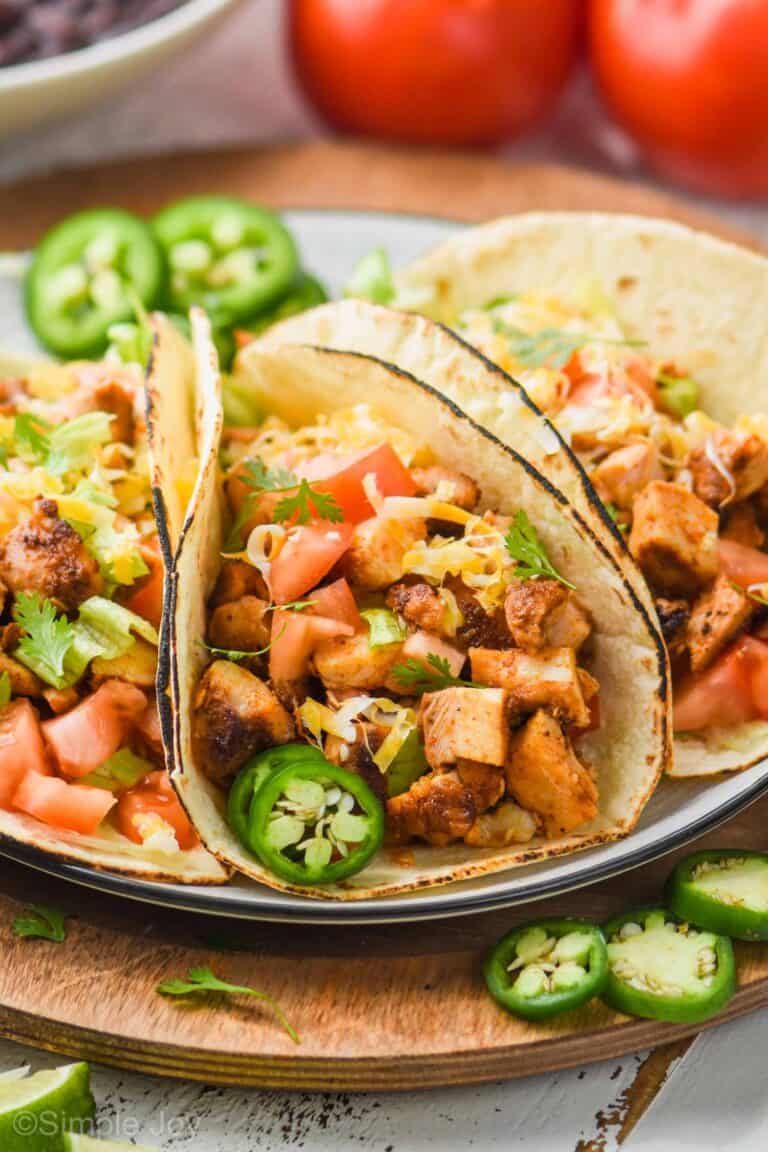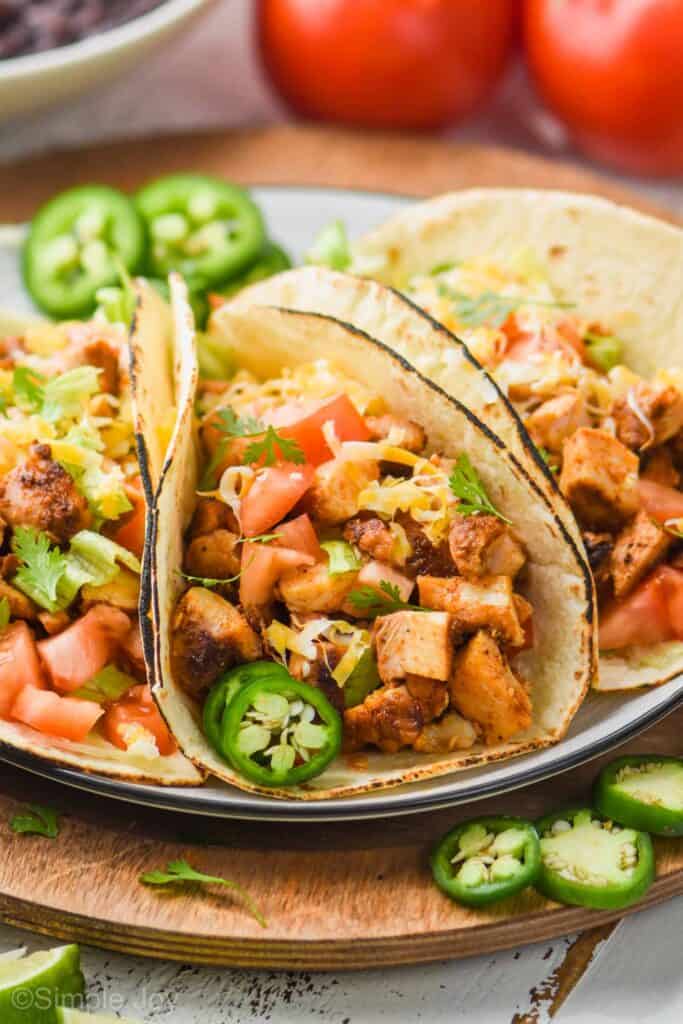 My family is completely obsessed with this Chicken Taco recipe! The first time they ate them, they decided that they were better than all of our favorite taco restaurants. Not only that, but my whole family loves them. That's a unicorn recipe.
Quinn has started calling it "That Chicken Taco recipe that's better than Qdoba."
The thing that makes this recipe so special is the marinade. It is the right combination of flavors with the perfect amount of smokiness that will blow your mind.
If you are looking for a faster chicken taco, I urge you to make my Instant Pot Chicken Tacos. If you want a shredded chicken taco you can come home to, make my Crockpot Chicken Tacos.
Chicken Taco Marinade
The amazing flavor in these chicken tacos comes from the marinade.
Vegetable Oil
Lime Juice
Liquid Smoke (more on that below)
Chili Powder
Kosher Salt
Paprika
Onion Powder
Garlic Powder
Chipotle Powder (more on that below)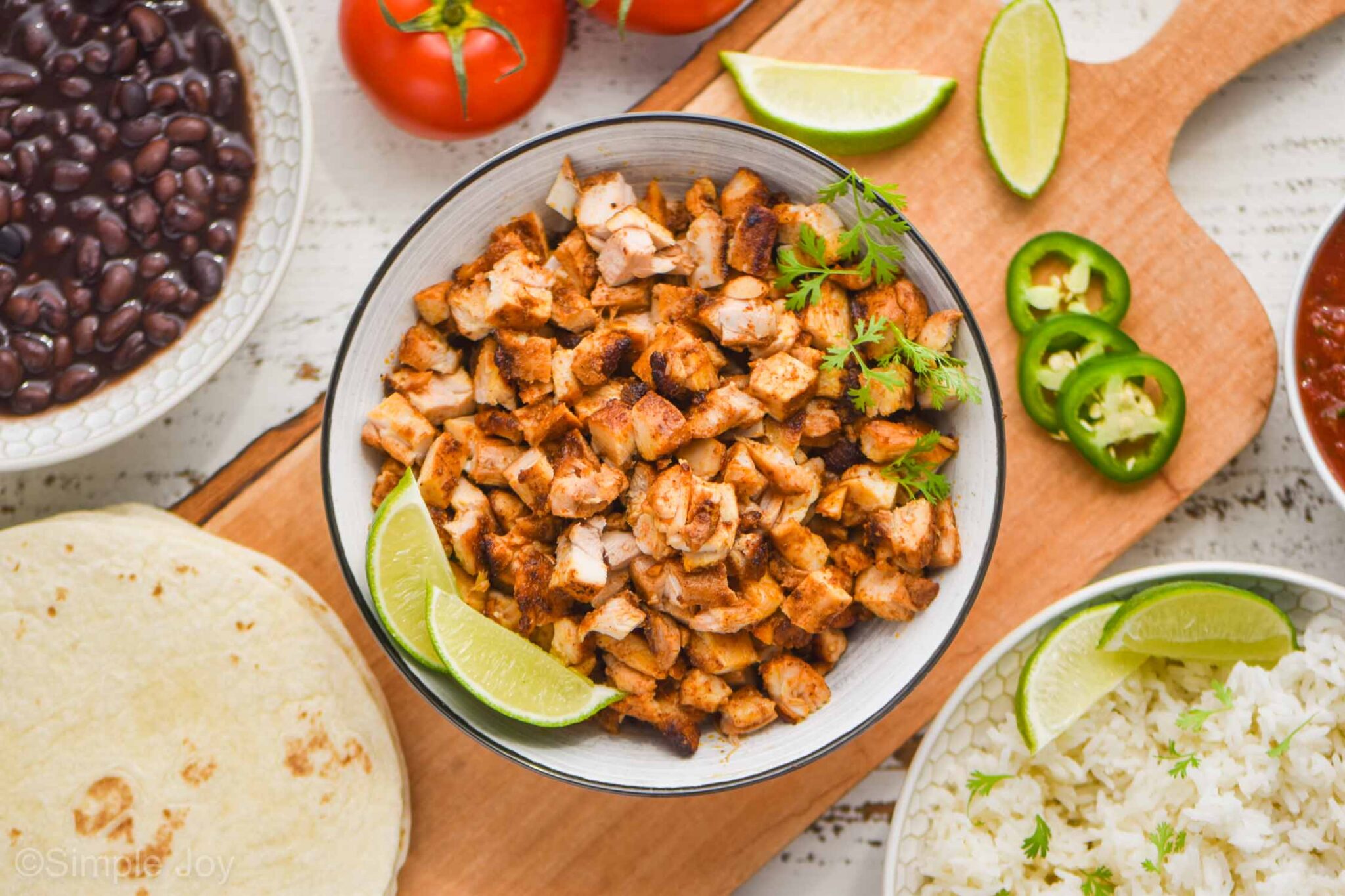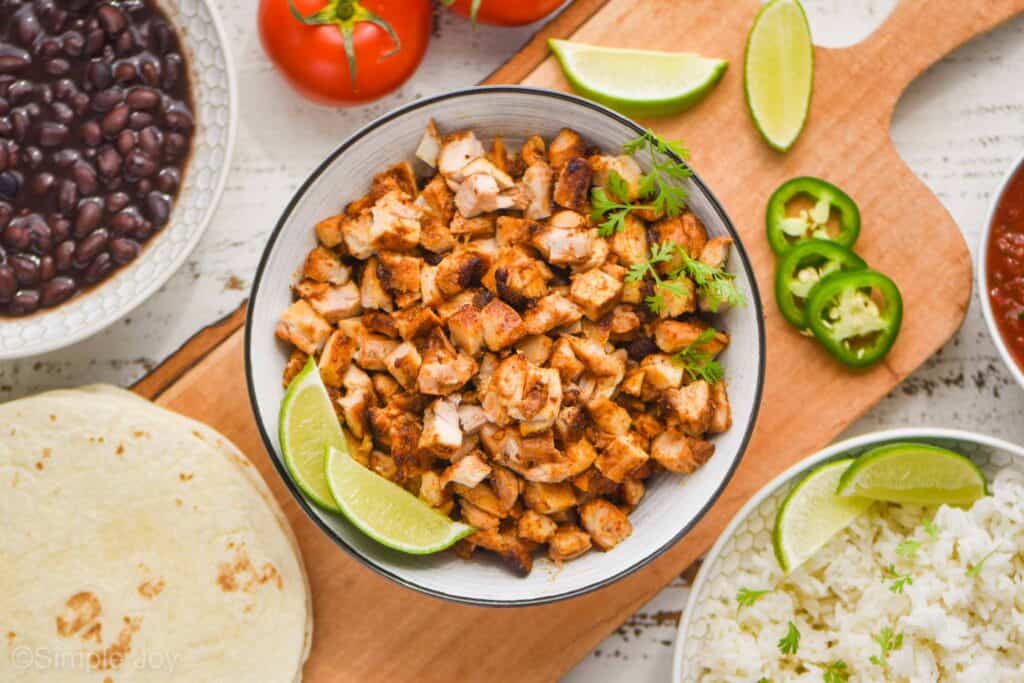 Liquid Smoke
Liquid smoke is exactly what it sounds like. It is made from the condensed liquid you get from the smoke of burning wood. It is bought by the bottle, and lasts for a long time when stored in the refrigerator.
It adds a great flavor to this recipe!
Chipotle Powder
I love the flavor that chipotle peppers bring to a recipe. Like Liquid Smoke, it brings a great smoky flavor. It is so perfect in this recipe when combined with the other seasonings.
How Long to Marinate Chicken
For chicken to really gain the benefit of a marinade, it needs to have time to penetrate the outer edges of the meat. You need at least 2 hours for that. That said, it isn't a good idea to marinate the chicken for more than 24 hours because it will break down too much.
In a pinch you can marinate this chicken for only 10 minutes. The very first time my family had this recipe and fell in love it was only a 10 minute marinade. The flavor deepens a lot more after 2 hours.
I think this is a perfect meal to make the night before. Come home from work, throw the marinated chicken into the pan, and shred some cheese while it's cooking.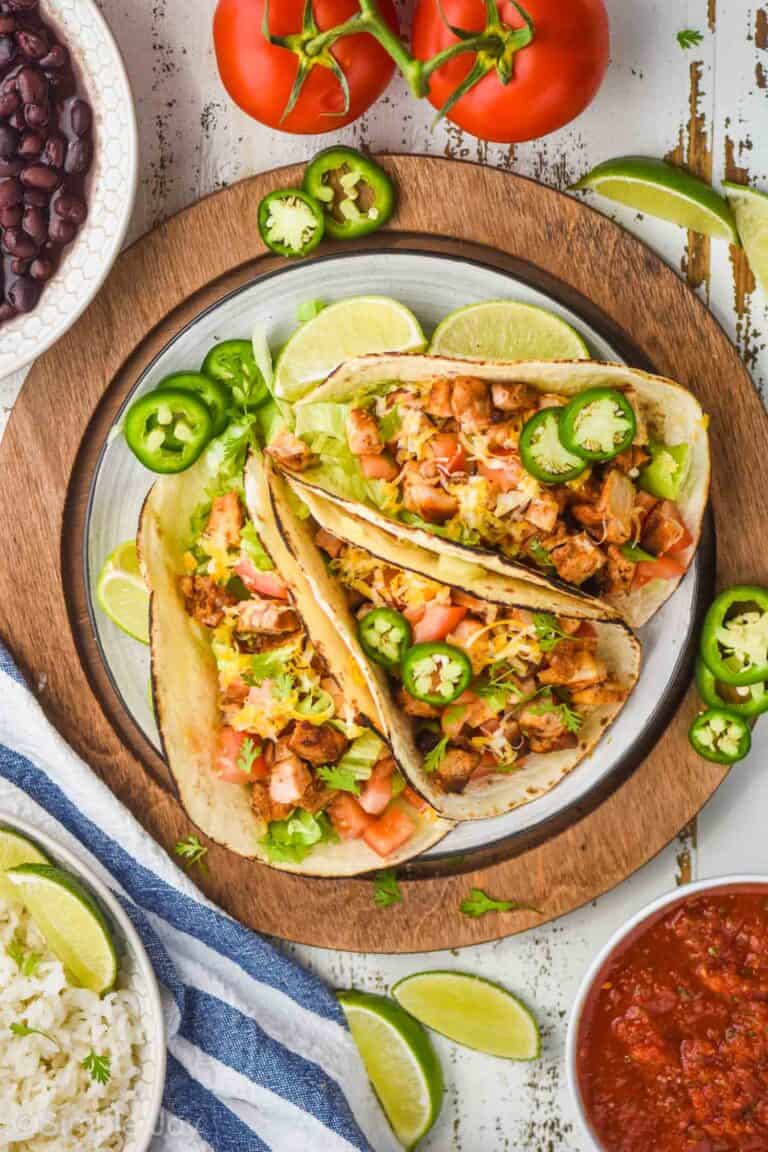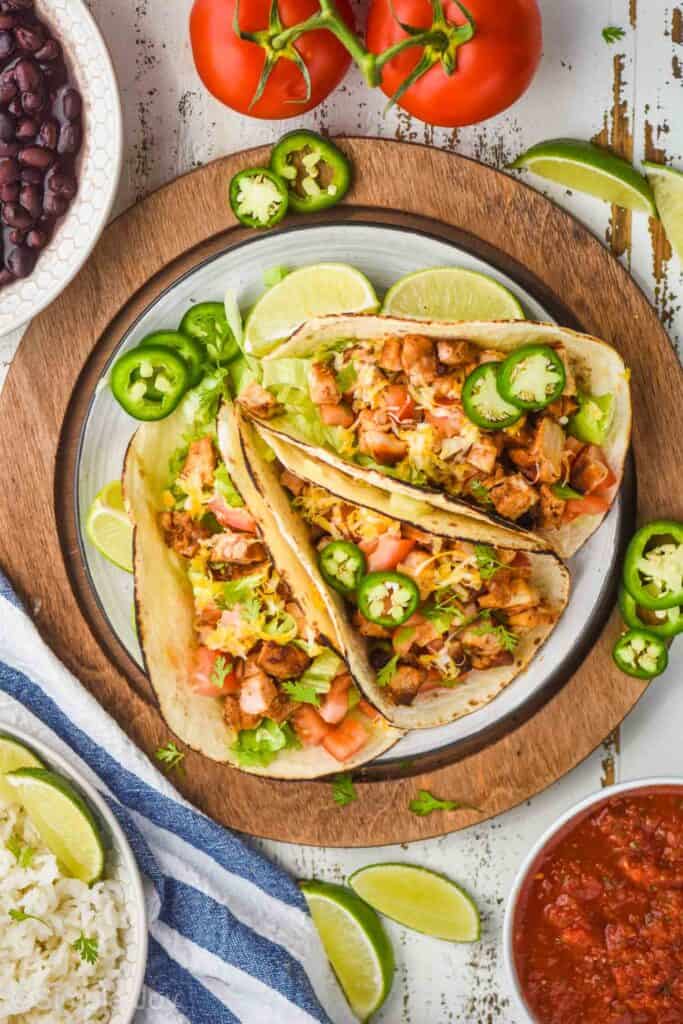 Using Chicken Breasts
You can use chicken breasts in this recipe instead of chicken thighs. That said, I think you will enjoy the taste of the recipe more with chicken thighs. They are more moist, and make for a better taco in the end.
Spiciness
This recipe isn't spicy at all. Rather, it has a great smoky flavor to it. If you are looking for spininess, add 1/4 teaspoon of cayenne pepper to the marinade.
What to Serve with Chicken Tacos
My family loves this recipe in taco shells with olives, cheese, tomatoes, and lettuce. We also make black beans and rice to go with it. Here are some great ideas to add to your table.
If you make these Chicken Tacos or any of my other recipes, leave me a comment and let me know what you think!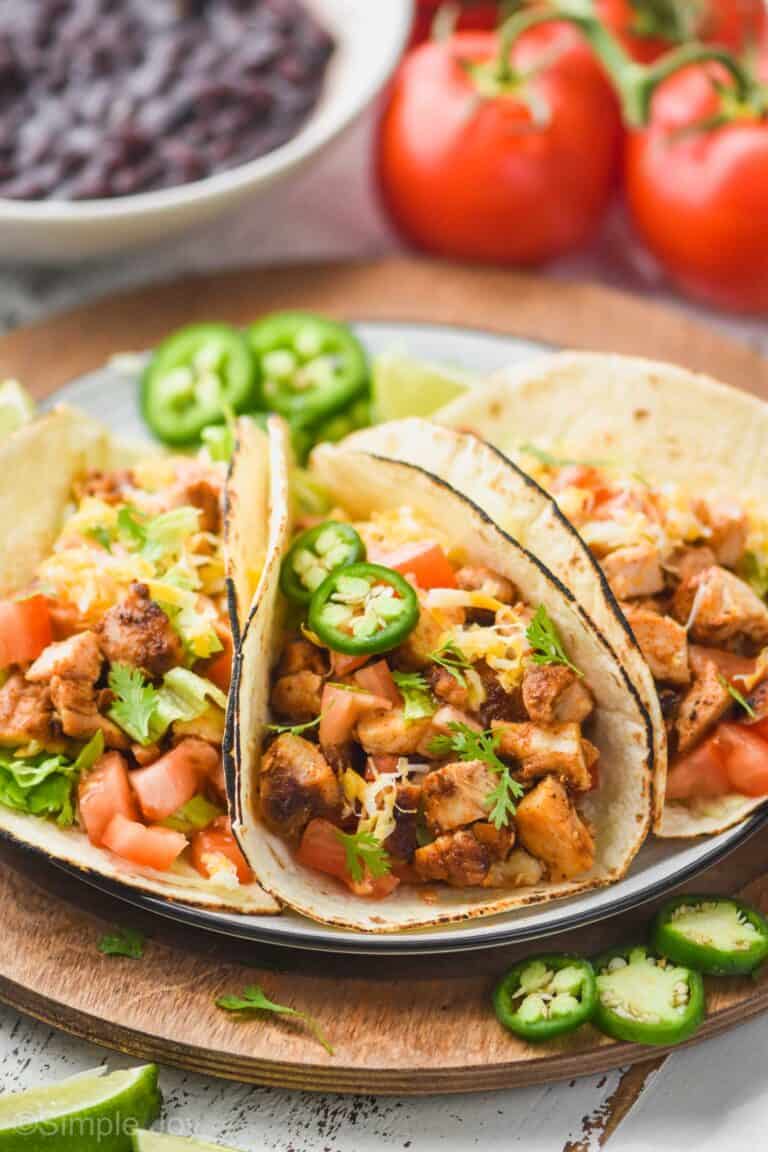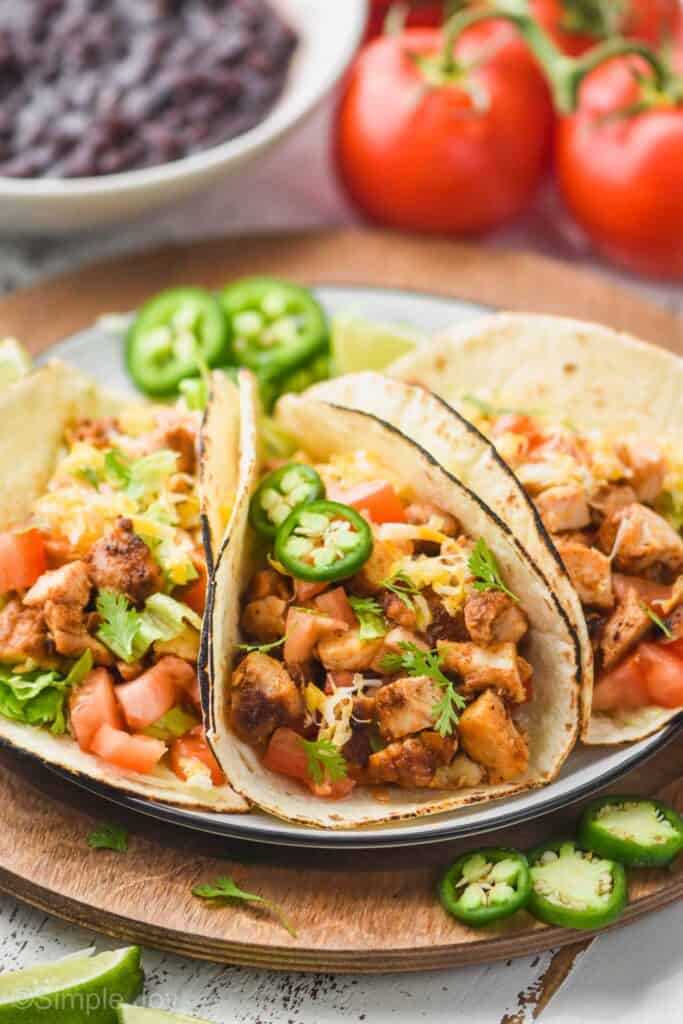 Recommended Tools
Skillet: This skillet cooks my chicken perfectly every single time.
Instant Read Thermometer: It is worth the investment to have an instant read thermometer, so you can pull your chicken out of the pan as soon as it hits 165.
A Good Knife: You want a great sharp knife to cut your chicken after it is done cooking.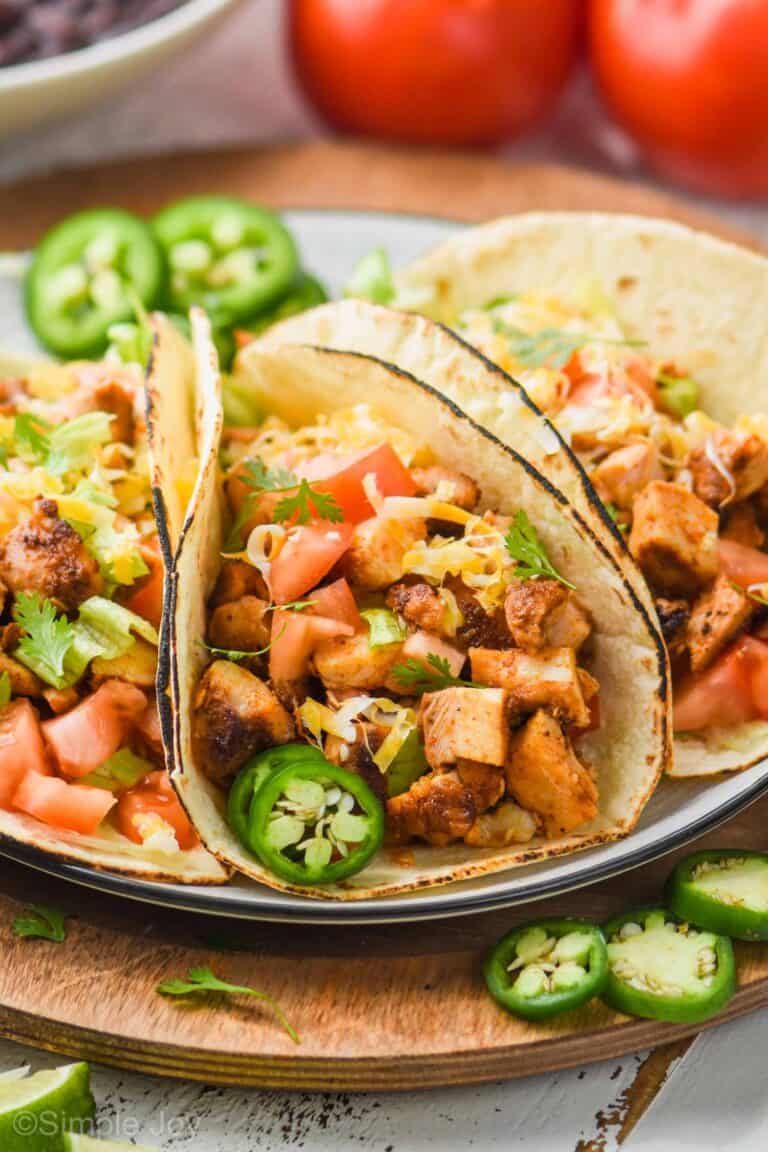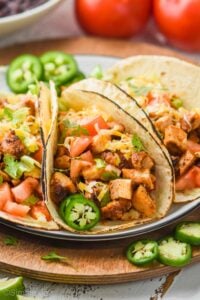 Chicken Tacos
Total:
2
hours
24
minutes
These Chicken Tacos are the absolute best! They will remind you of your favorite restaurant, and then convince you that you never need to go there again.
Ingredients
1 1/2

pounds

boneless skinless chicken thighs

1/4

cup

vegetable oil

2

tablespoons

lime juice

1

tablespoon

liquid smoke

read what liquid smoke is here

1

tablespoon

chili powder

2

teaspoons

kosher salt

1

teaspoon

paprika

1

teaspoon

onion powder

1

teaspoon

garlic powder

1

teaspoon

chipotle powder

read about chipotle powder here
Instructions
Combine the vegetable oil, lime juice, liquid smoke, chili powder, kosher salt, paprika, onion powder, garlic powder, and chipotle powder. Whisk until smooth.

Pour the marinade over the chicken thighs in a reusable container. Flip several times to make sure that the thighs are completely coated. Marinate for 2 to 24 hours. (Chicken can be marinated for only 10 minutes, though when it marinates longer the flavor deepens. Read more about that here.)

Heat a skillet over medium heat. Add the chicken thighs and marinade. Cook for 7 minutes, covered, then flip them and cook for another 6 to 7 minutes or until an instant read thermometer registers 165. (Depending on the size of the thighs, some might hit that temperature before others.)

Transfer to a cutting board and dice. Serve in taco shells with lettuce, rice, tomatoes, beans, cheese, and salsa.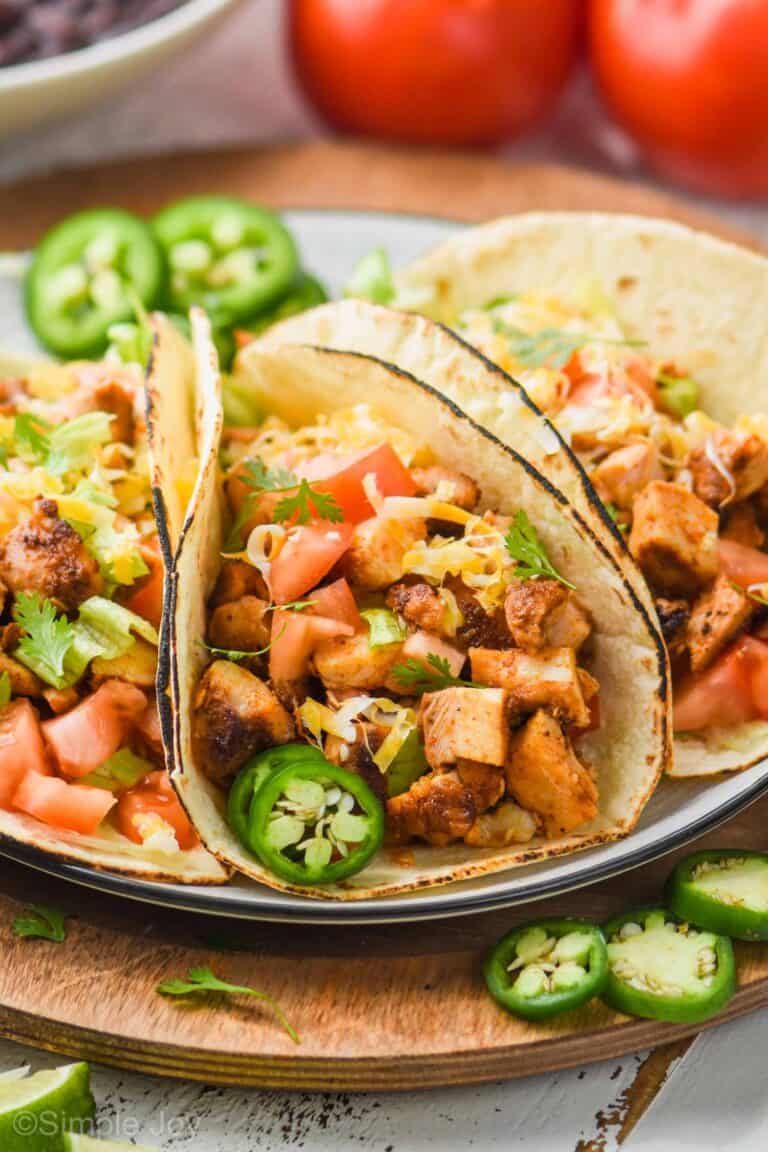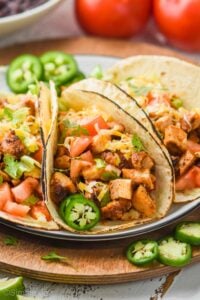 did you make this
Chicken Tacos