Chocolate Bacon Poke Cake | The perfect combination of salty and sweet, savory and ridiculously rich delicious.
I'm about to rat out my friend Cathy.
She's a blogger over at Lemon Tree Dwelling.
And she hates poke cake.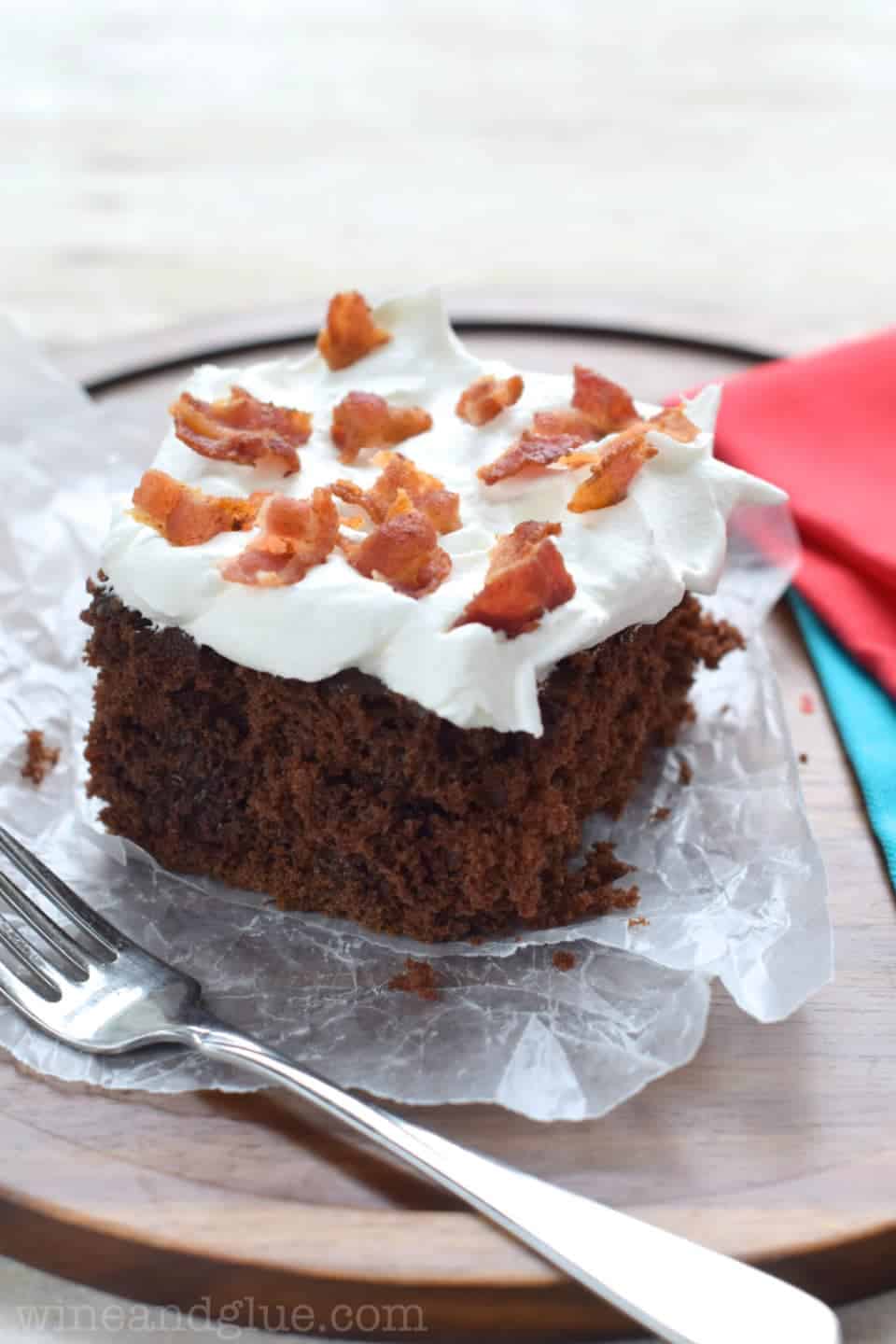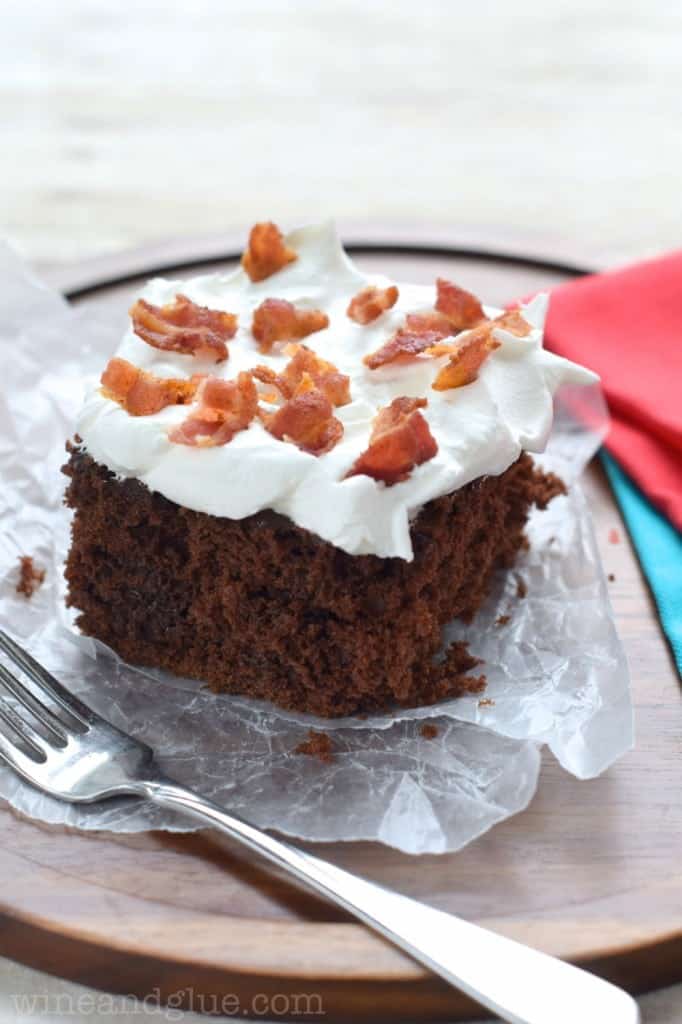 To clarify, I'm not sure if she's ever even had a poke cake. But I do recall her at one point saying, "A wet cake?? Why would anyone want to eat a wet cake???"
She also hates bacon.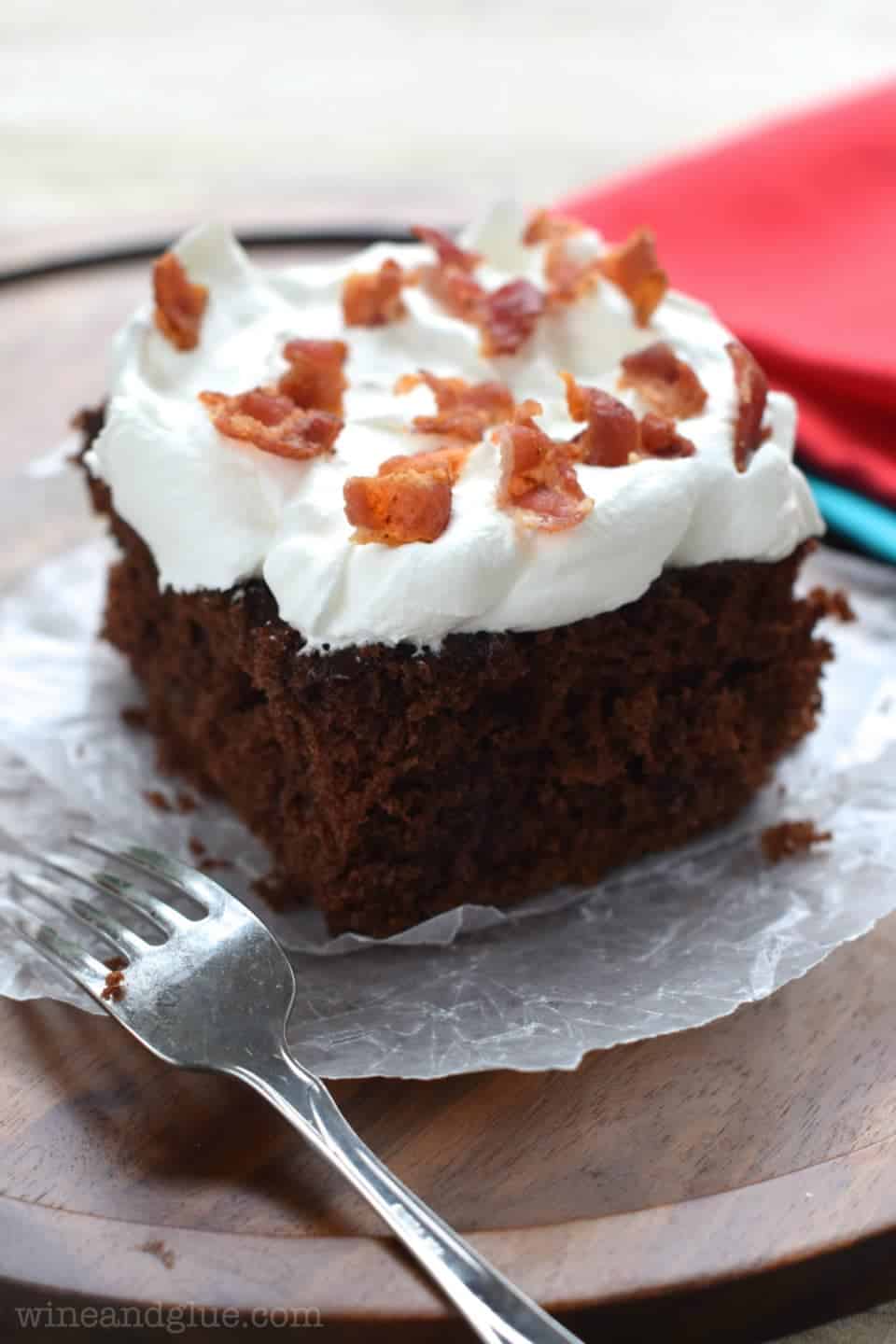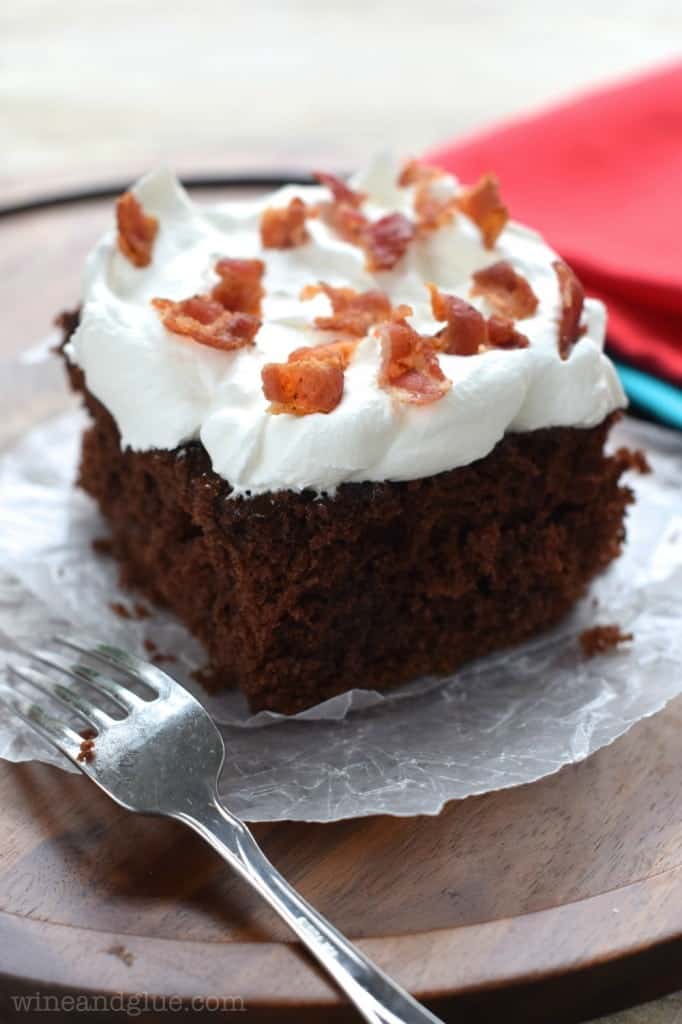 To quote her: "Lisa. Pigs don't sweat. Did you know that?? It's disgusting."
Now before you start sending her hate mail, you have to understand that these are pretty much her only two flaws.
So when I came up with Chocolate Bacon Poke Cake, and I told her about it, I wasn't the least bit surprised that she had this reaction:
I think I just threw up in my mouth.
Don't you love having good friends who are 100% honest with you, lol!
This Chocolate Bacon Poke Cake is seriously rich, super decadent, and pretty much a bacon lovers dream. I LOVE the combo of chocolate and bacon. It's like a chocolate covered pretzel, combining salty and sweet. It goes back to what I was talking about the other day about foods that both sweet and savory.
Now before you head off and read the recipe, please keep this in mind. This is a really simple concept. You take a chocolate cake mix, and you replace the fat it calls for with bacon fat. That's it. If you cook up your bacon and you don't have enough, just supplement the rest with the fat that the recipe originally called for. Make sure that you cook your bacon to a crisp so that you render enough fat and also so that when it sits in the refrigerator overnight waiting to top the cake, it doesn't get all soggified.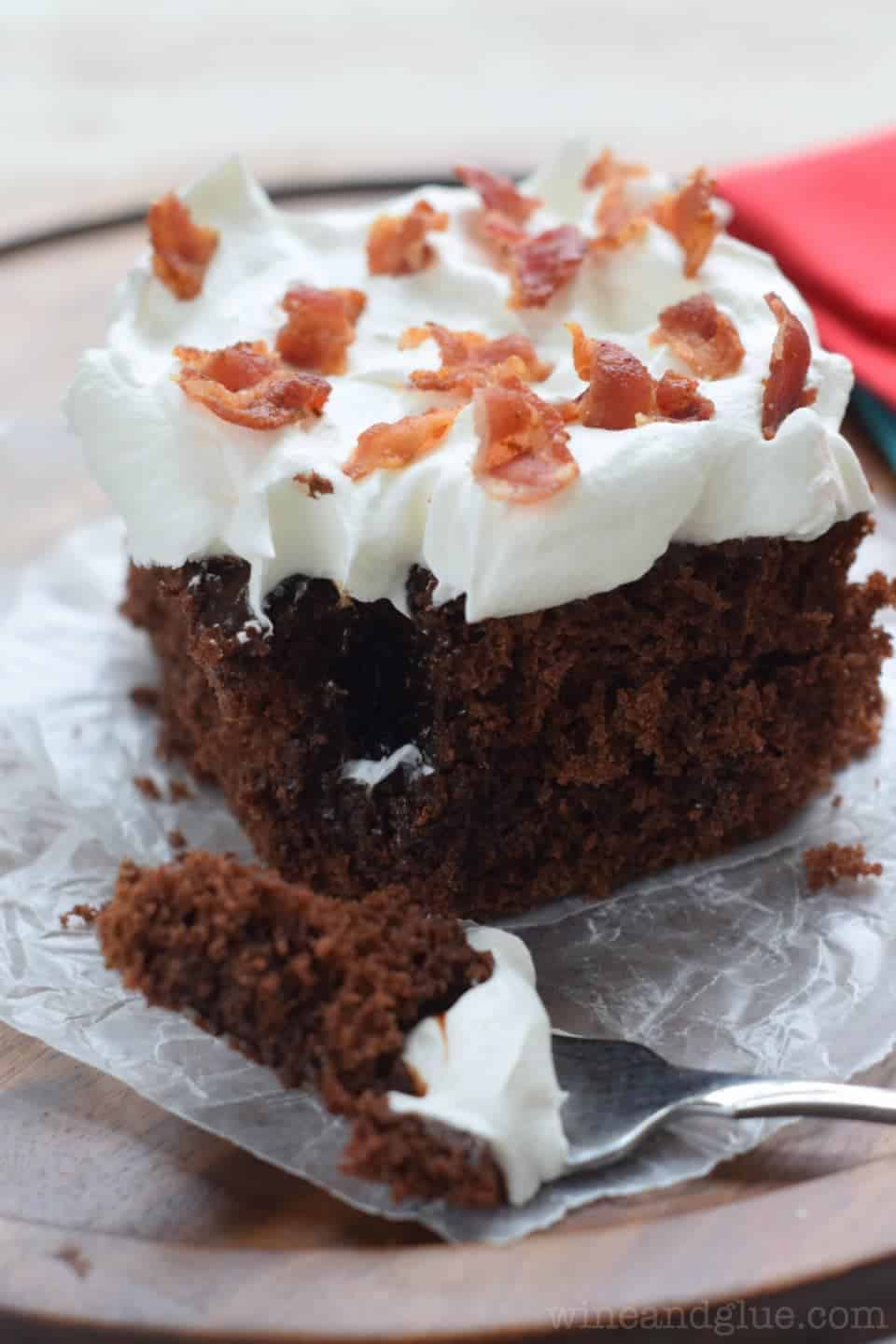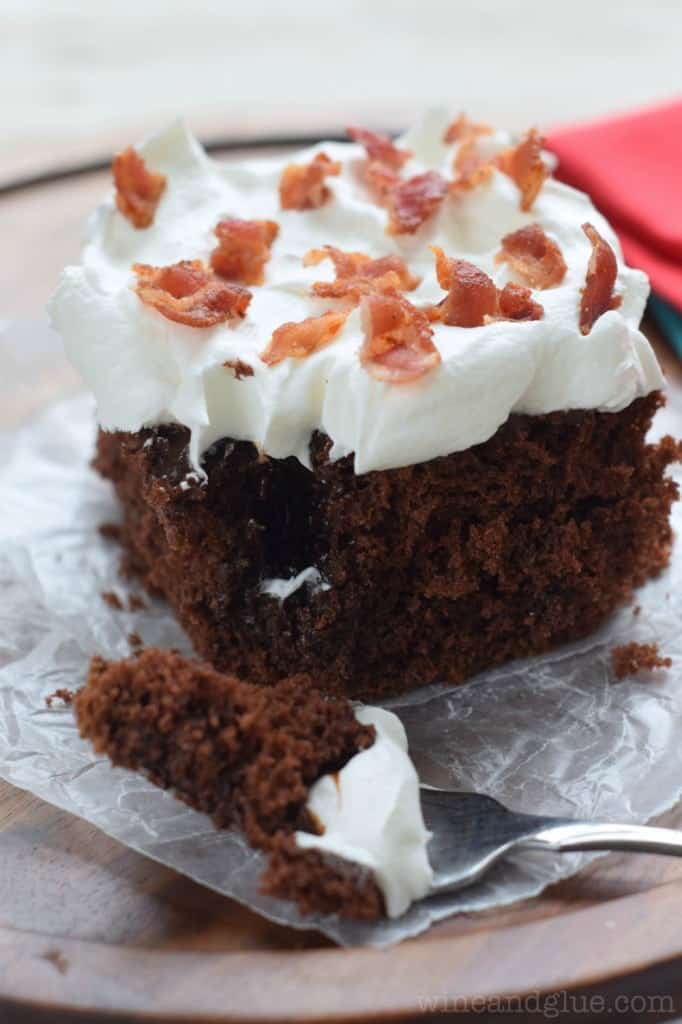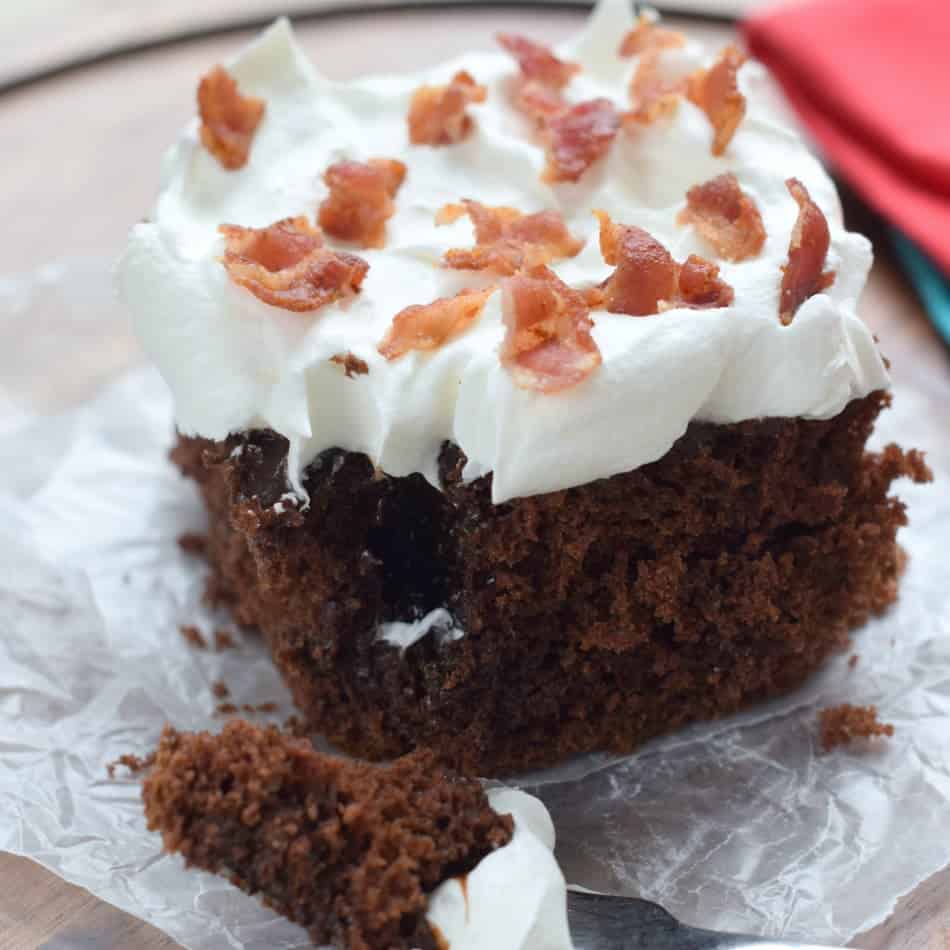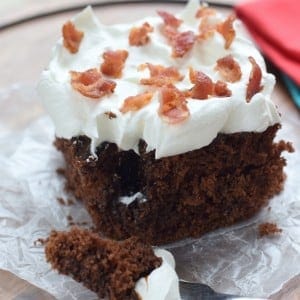 Chocolate Bacon Poke Cake
Ingredients
Chocolate Cake Mix

I used Traditional Chocolate Pillsbury 15.25 oz, which called for 1/2 cup vegetable oil, 3 eggs, and 1 cup of water

1

pound

of bacon

cooked to crispy with the fat reserved and cooked bacon crumbled and saved

Eggs

however many your cake mix calls for

Hot Fudge Topping

I used Smuckers 11.75 oz, heated so it pours easily

1 8

oz

tub of Cool Whip
Instructions
Preheat your oven to the temperature called for on the box mix. Additionally, prepare your 9x13 pan as stated on the box.

Prepare the cake batter, but replace the fat (i.e. vegetable oil) with the bacon fat.

Bake the cake as stated on the box. After it comes out of the oven, let it stand for about 10 minutes. Then poke holes in the cake with the bottom of a wooden spoon. Pour the fudge sauce evenly into all the holes.

Refrigerate the cake overnight. Before serving top with Cool Whip and bacon crumbles.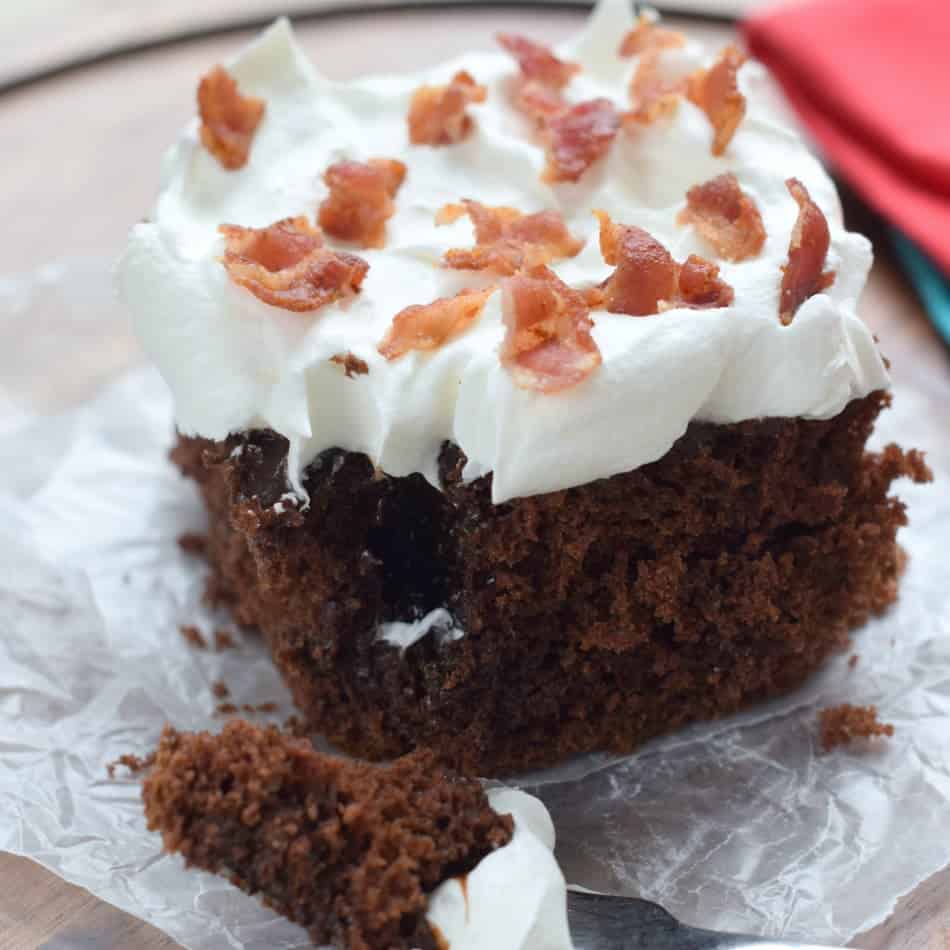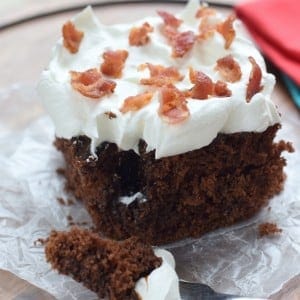 did you make this
Chocolate Bacon Poke Cake
You might also like
Chocolate Bacon Pull Apart Bread from Crazy for Crust
Chocolate Bacon Cupcakes with Maple Frosting from The Novice Chef
Chocolate Bacon Bundt Cake from Your Cup of Cake
Bacon Bourbon Chocolate Chunk Cookies from The Recipe Girl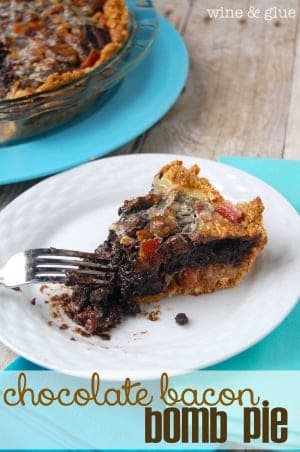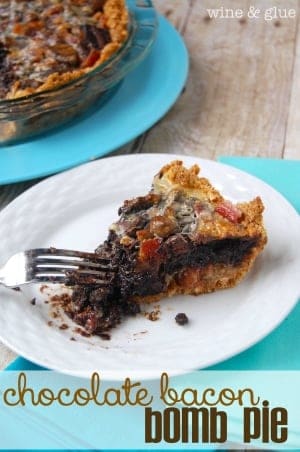 Chocolate Covered Bacon Toffee