This delicious and easy Fruit Salad comes together with a really simple glaze and is perfect for potlucks and BBQs! Serve it next to some BLT Ranch Burgers or some Taco Pasta Salad, or just make it for an dinner side with baked chicken tenders.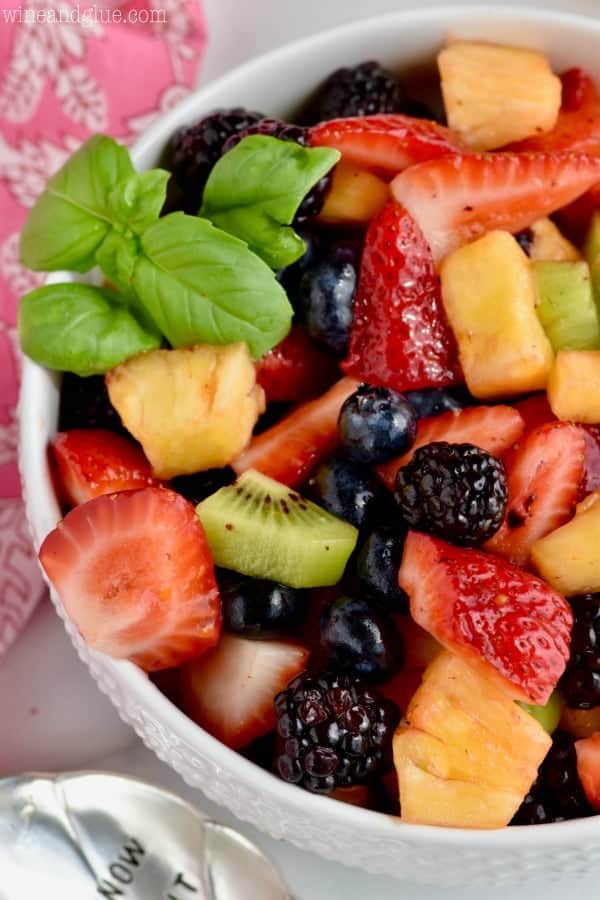 You guys, I think my skills as a multi tasker are fading as I get older.
Remember back to Teacher Appreciation Week? Well one of the suggestions by our school was that we bring in lunches for the teachers. Most of the parents were smart and asked the teachers their favorite foods from their favorite restaurants and brought them those. Gauranteed home runs. I thought, "I mean . . . I make food for a living. I should make them something!" ????
You guys. I'm not smart.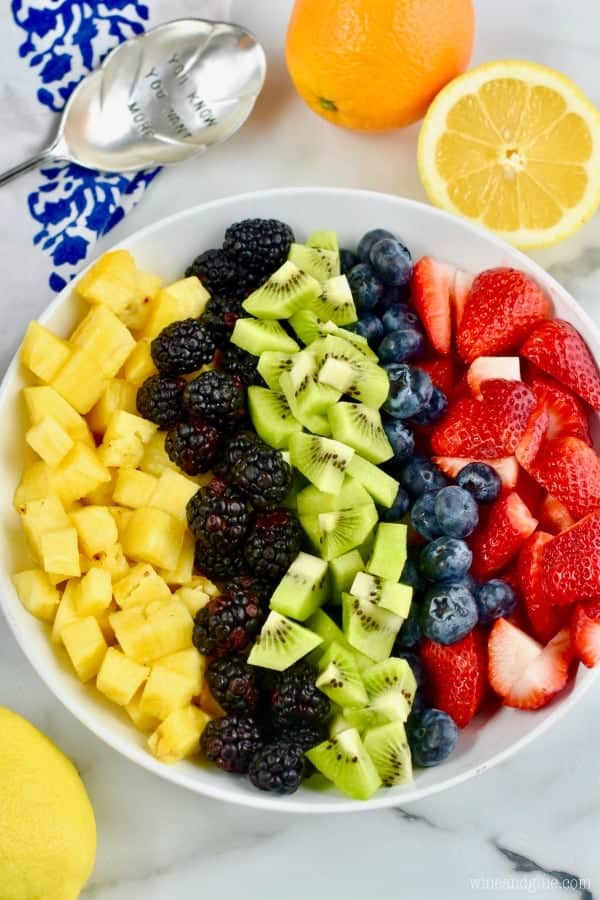 After deciding I should make something, I decided that I should make something new! Something that I could photograph and put on the blog for all of you. And after that, I decided to make . . . two new things. ????
And because I didn't want to bring the teachers left overs, I decided to make both things the morning that I was bringing them lunch and photograph it all then too. You guuuuuuys.
I'm not smart.
I know that sounds like it shouldn't be a big deal, but making a recipe, plus photographing it can be an hour plus process. And I did two . . . and my kids' school lunches are really early in the day.
. . . . . I was legit late for bringing the teachers their lunches. Gaaaaah. So much for making them feel appreciated, right? I felt so horrible! We are lucky enough to have some *amazing* teachers teaching Gavin and Quinn this year. This was our kids' first year at this school and it could have gone horrible, but their teachers made it absolutely perfect. So easy. So wonderful. Plus they did an amazing job at the actual teaching part! Our kids learned so much! We are going to miss their teachers so much.
So, hopefully I can express that in a nice end of the year gift since my lunch was so late!
HOW TO MAKE FRUIT SALAD
So! What they did get! It was my Italian Pesto Chicken Salad served up on croissants (yummy!) and this amazing Easy Fruit Salad with this awesome fruit salad dressing that goes perfectly with the fruit. The dressing on this fresh fruit salad is easy to make and has this tiny dash of vanilla in it that leaves people wanting more and more and more. You can really add any fruit you want to this guy, as long as it's about 8 cups. It is such a great side dish for summer BBQs and picnics.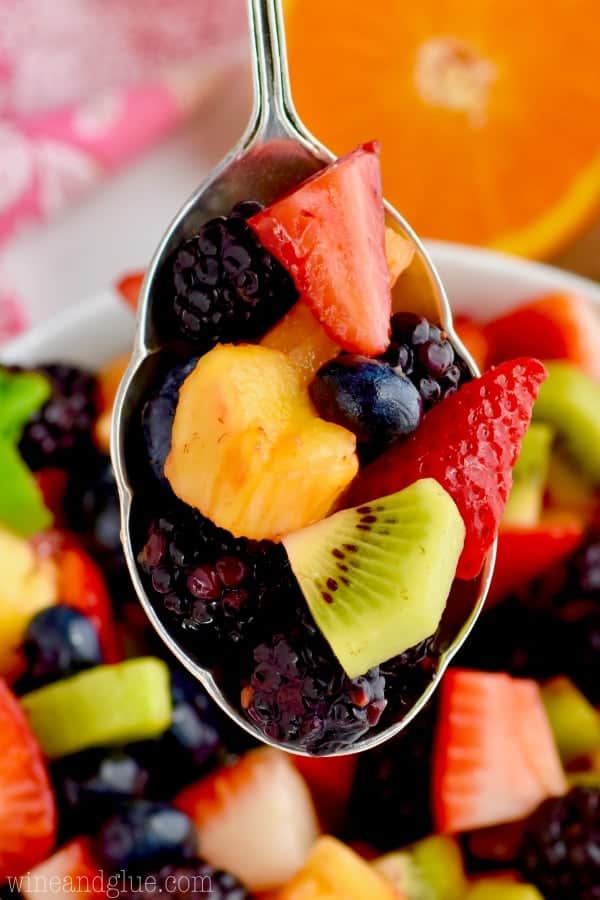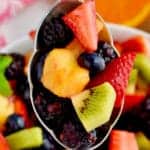 Print Recipe
Easy Fruit Salad
This delicious and easy Fruit Salad comes together with a really simple glaze and is perfect for potlucks and BBQs!
Ingredients
1

pound

fresh strawberries

cut in quarters

1/4

fresh pineapple

cubed

1

cup

black berries

6 oz container

1

cup

blueberries

6 oz container

3

kiwis

sliced and quartered

2/3

cup

orange juice

1/3

cup

lemon juice

1/3

cup

brown sugar

1/4

tsp

vanilla extract
Instructions
In a large bowl, combine all of the fruit. (Whatever fruit you have, you should end up with about 8 cups)

Combine the orange juice, lemon juice, brown sugar, and vanilla extract. Bring to a boil, and turn down to a simmer (make sure you are still seeing regular bubbles). Simmer for five to eight minutes until the liquid is reduced to less than 3/4 cup. Allow to cool completely and toss with the fruit.
Nutrition
Calories:
151
kcal
|
Carbohydrates:
38
g
|
Protein:
2
g
|
Fat:
1
g
|
Sodium:
5
mg
|
Potassium:
278
mg
|
Fiber:
4
g
|
Sugar:
24
g
|
Vitamin A:
200
IU
|
Vitamin C:
113
mg
|
Calcium:
40
mg
|
Iron:
0.7
mg
You might also like
Easy Grilled Parmesan Potatoes