This delicious and easy Fruit Salad comes together with a really simple glaze and is perfect for potlucks and BBQs!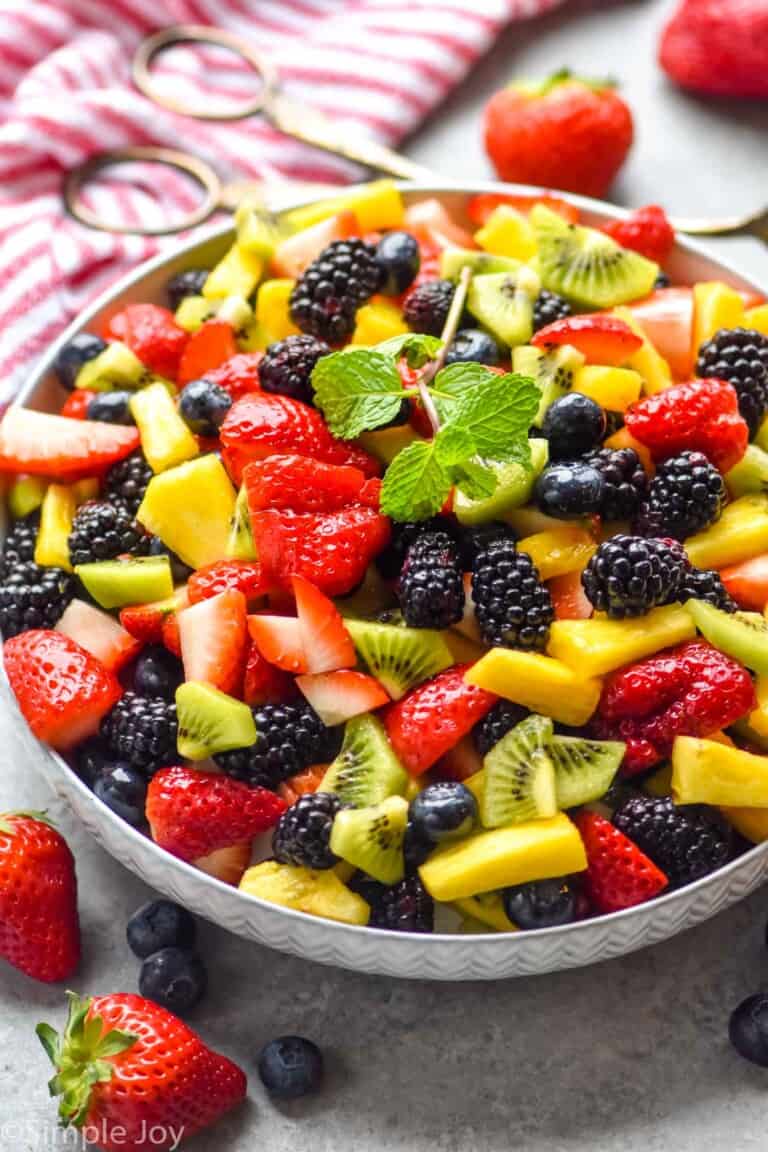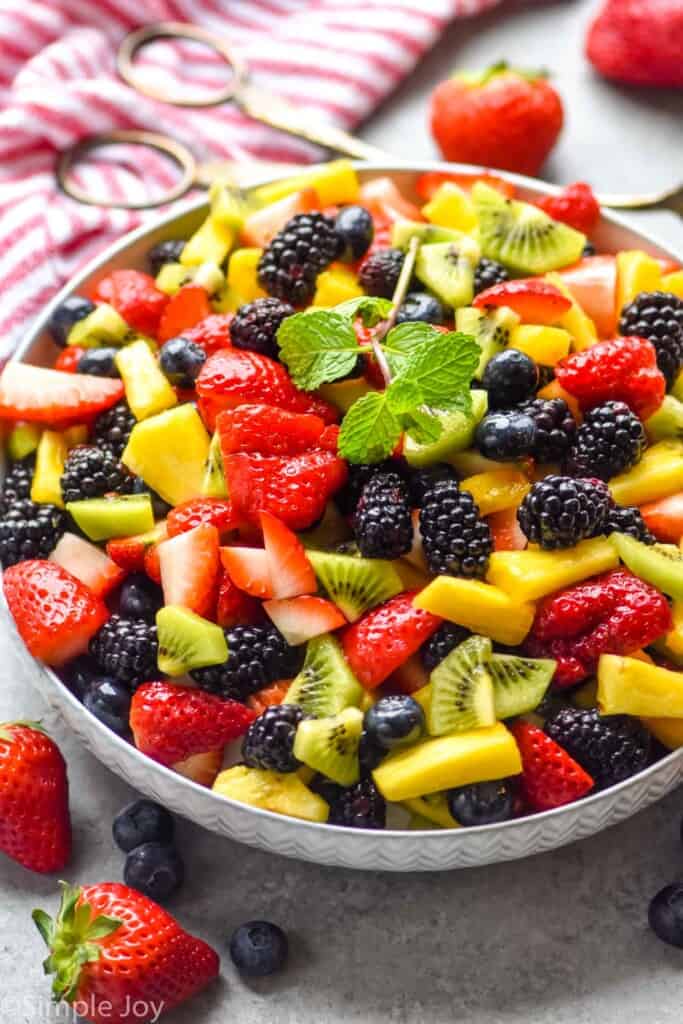 The other day we went to see my dad, who is almost 84, and is finally fully vaccinated. We haven't seen him in more than six months and I haven't hugged him in over a year. To say it was a happy day is such an understatement.
As things start to return to normal and the weather warms up, I hope you are able to see people you have been missing too. And is there anything that brings people back together like food?
This fruit salad recipe is so simple and perfect for all those outside summer picnics and get togethers that you have been dreaming about. Mix it up with your favorite fruits and make my super simple and delicious glaze to go over it.
This recipe makes a great side dish, but would also work well as a light dessert. Take it over the top by topping it with some whipped cream.
How to Make Fruit Salad
Make the glaze: Combine orange juice, lemon juice, and brown sugar in a small sauce pan. Bring to a boil while stirring, and then simmer for 8 to 12 minutes until the liquid has reduced to 3/4 cup.
Allow to cool: The glaze should cool before tossing with fruit. I like to pour mine into a glass jar and put that in a bowl of ice. It cools in about a half hour.
Chop the fruit: Cut up the strawberries, pineapple, and kiwi. See below for alternatives.
Toss everything together.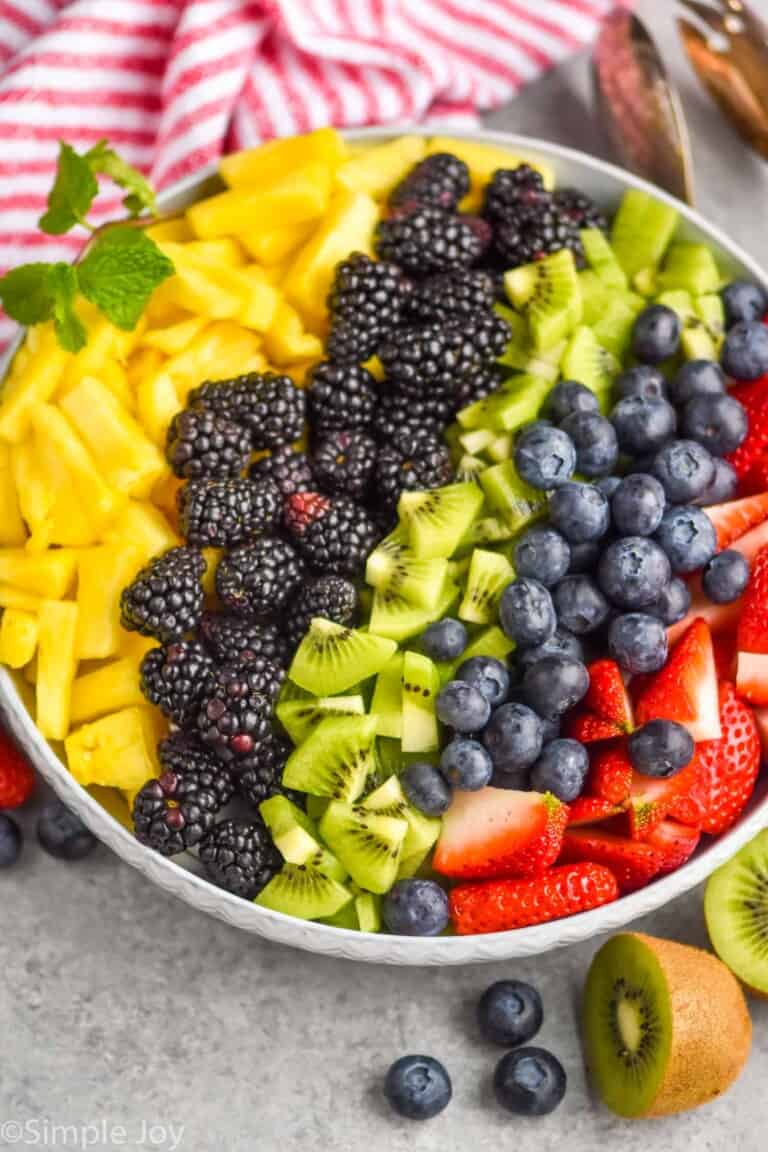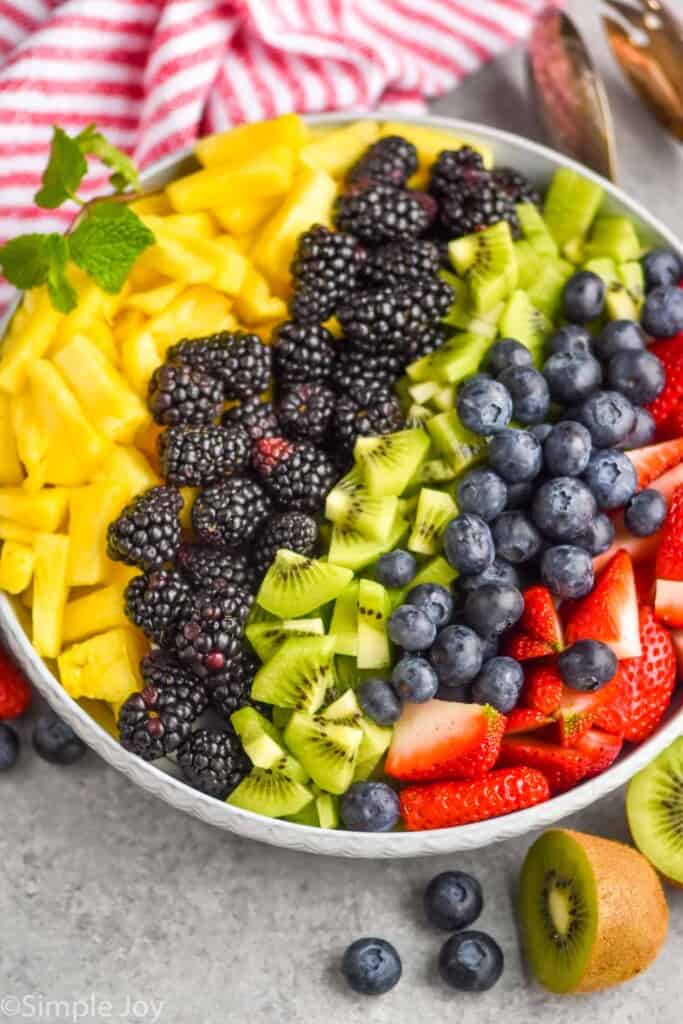 Fruit Salad Dressing
The dressing for this recipe is a really simple glaze. The combination of sugar and fruit juice are reduced over heat. It provides a light and delicious coating to the fruit.
Fruit Salad Dressing Ingredients
lemon juice
orange juice
brown sugar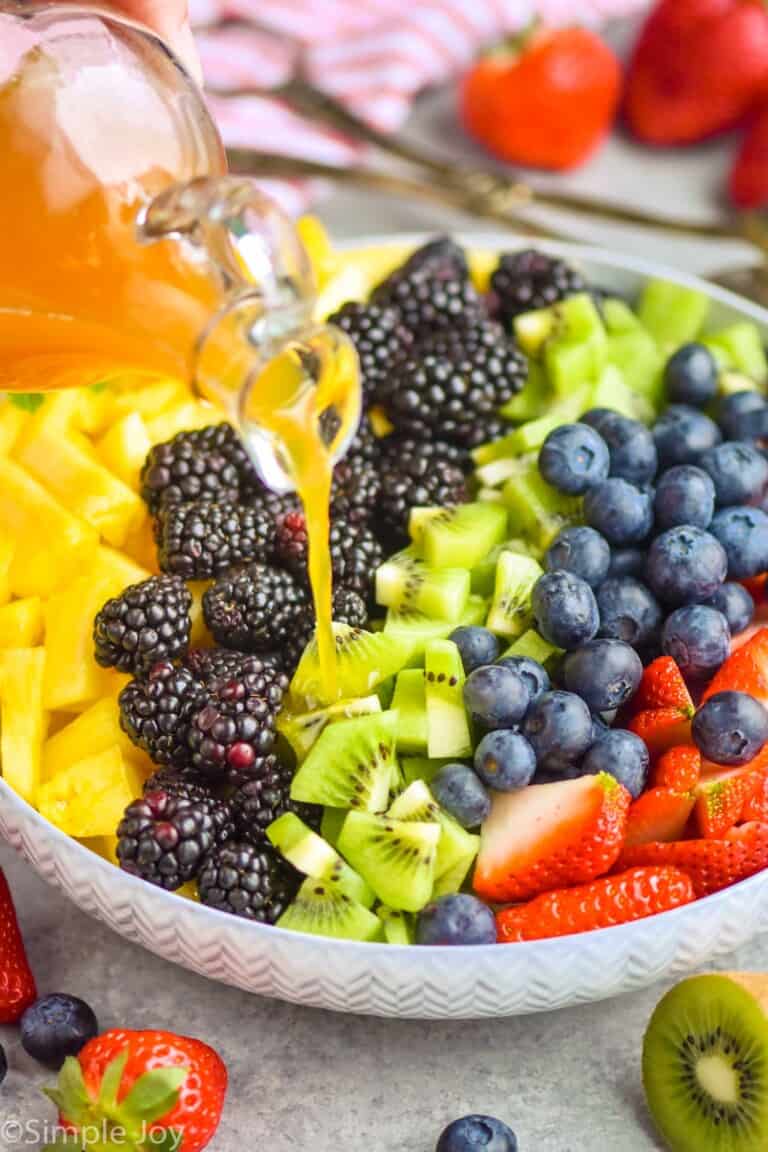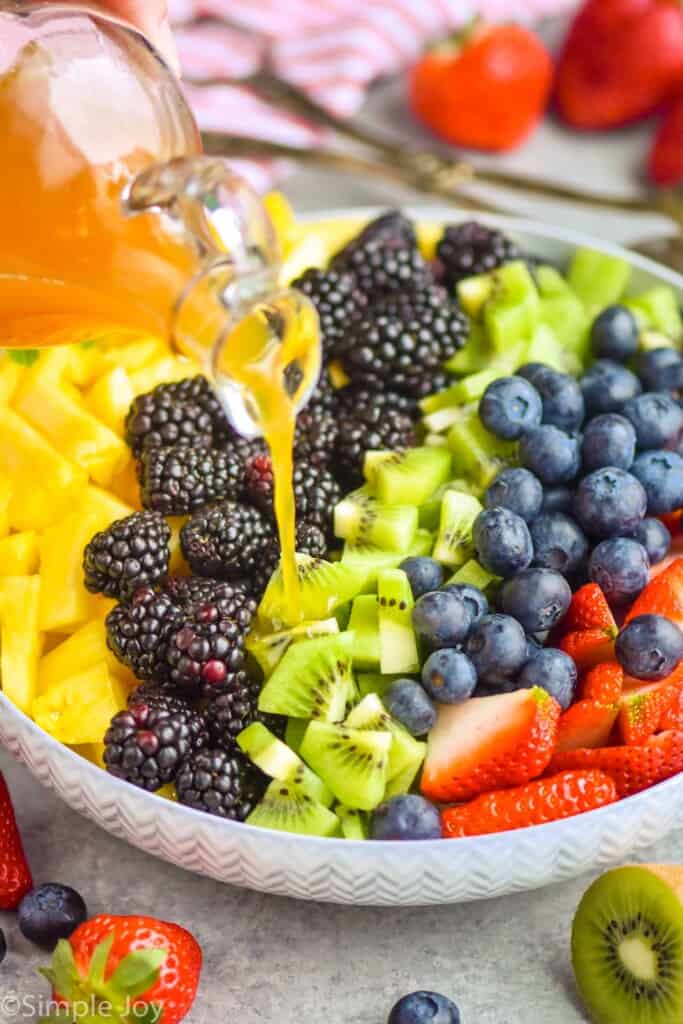 Variations
If the fruits I've used aren't your favorites, you could pick some of the alternatives listed below. I would suggest that you make sure you are picking fruit that is a little more sturdy and will hold up in a fruit salad. For example, I have purposefully left raspberries off the list as they will fall apart in the mixing.
grapes (cut in half)
mandarin oranges (fresh, not canned as they will be more sturdy)
fresh cherries (pitted and cut in half)
pear (diced)
Picking Fresh Fruit
When you are buying fruit for this recipe, make sure that the fruit is ripe, but not overly so. Here are a few tips:
Strawberries: Look for strawberries that are bright red. They should all look firm. Turn the package over to make sure none of those on the bottom have mushy spots.
Kiwi: Pick the kiwis up. They should be firm to the touch without being rock hard. You should not be able to easily push into them.
Blackberries and Blueberries: Like the strawberries, turn the package over and make sure that you are picking a package with plump and firm berries.
Pineapple: Look for a pineapple that is more yellow than green. (If it looks more brown than yellow, it is over ripe.) It should have the slightest give when you push into it, and the bottom should smell fruity.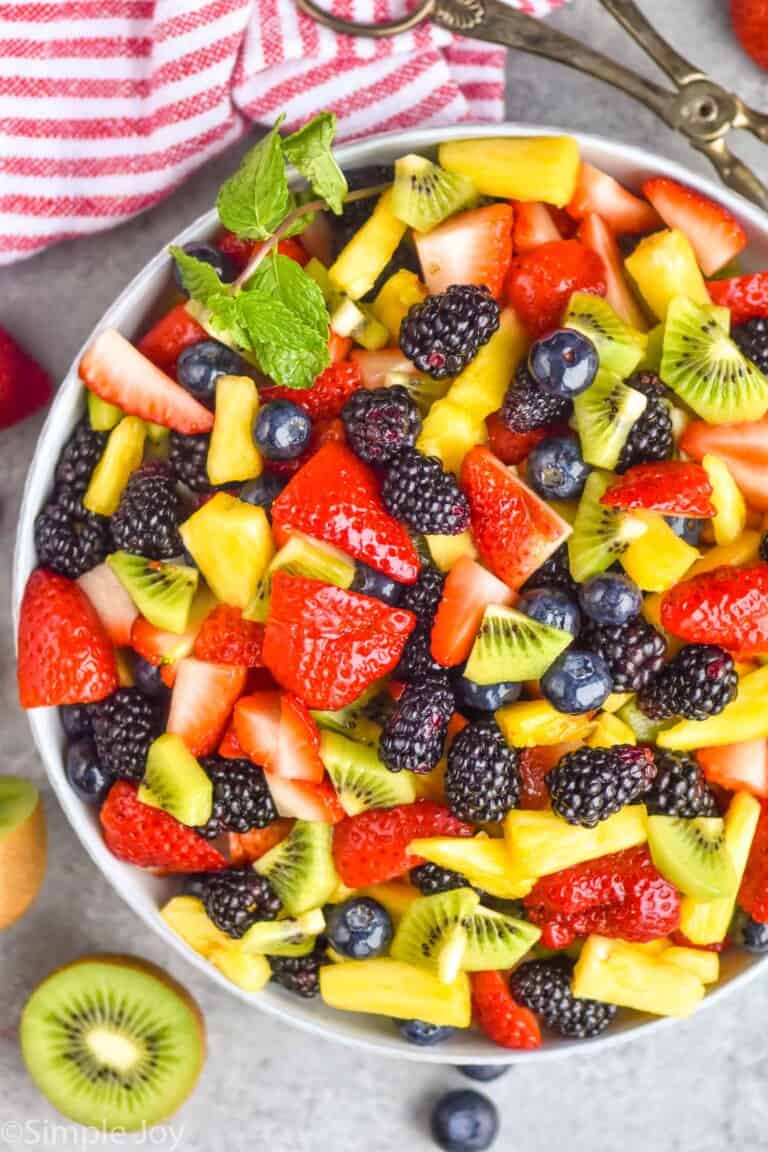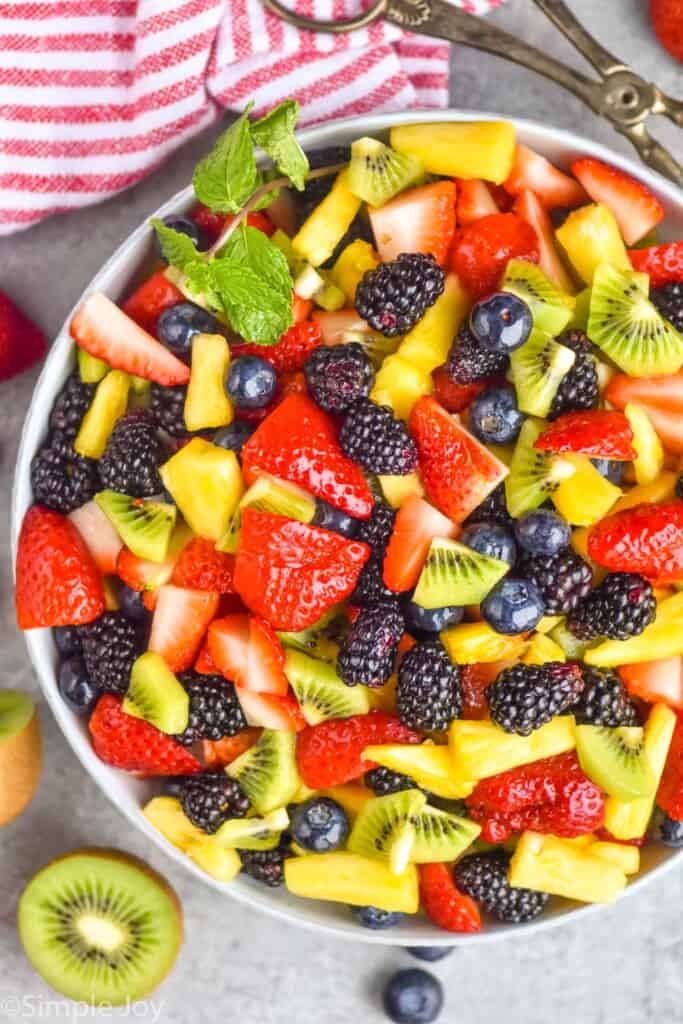 Making Fruit Salad the Day Before
This salad is best when tossed right before serving. If you are preparing for a party, I suggest making the glaze the day before. Since it needs to cool before tossing with the fruit anyway, it is perfect to prepare in advance. Store it in the refrigerator overnight and toss with the fresh fruit right before serving.
Leftovers
As mentioned, this fruit salad is best the day it is made. That said, it will still be delicious for 2 to 3 days when stored in an airtight container in the refrigerator.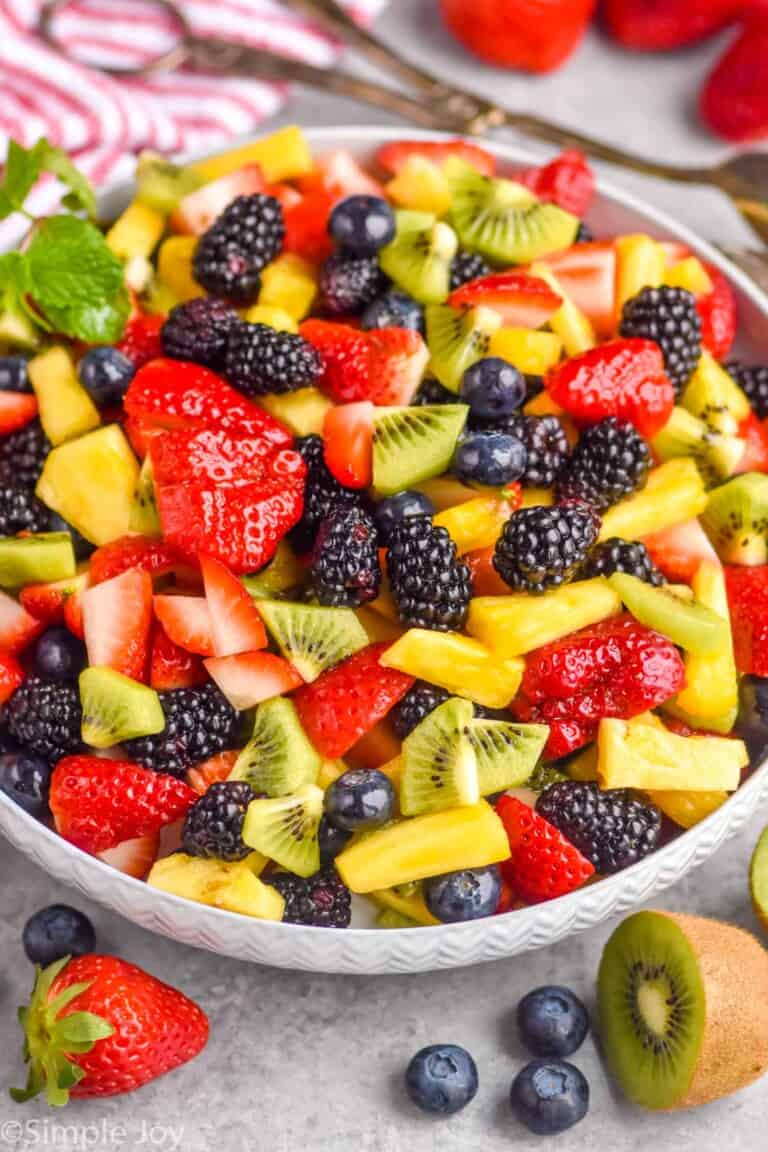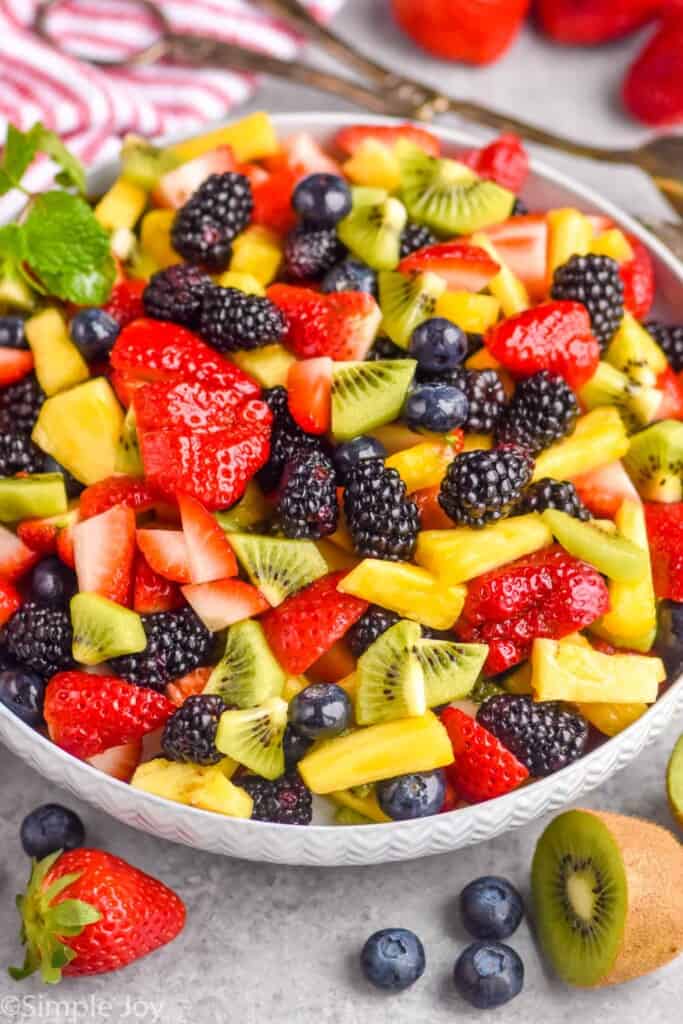 What to Serve with Fruit Salad
We have so many great summer dinner recipes that are perfect for a back yard BBQ. This fresh fruit salad would be perfect with all of these.
For other great summer sides, check out the recipes below the recipe card.
Grilled Chicken Sandwiches: We love this recipe. It is easy and better than your favorite drive through.
Steak Kabobs: The steak kabob marinade in this recipe makes the meat melt in your mouth. It is amazing.
Salmon Foil Packets: This is a light healthy dinner that will leave everyone feeling satisfied.
If you make this recipe or any of my other recipes, please leave me a comment and let me know what you think!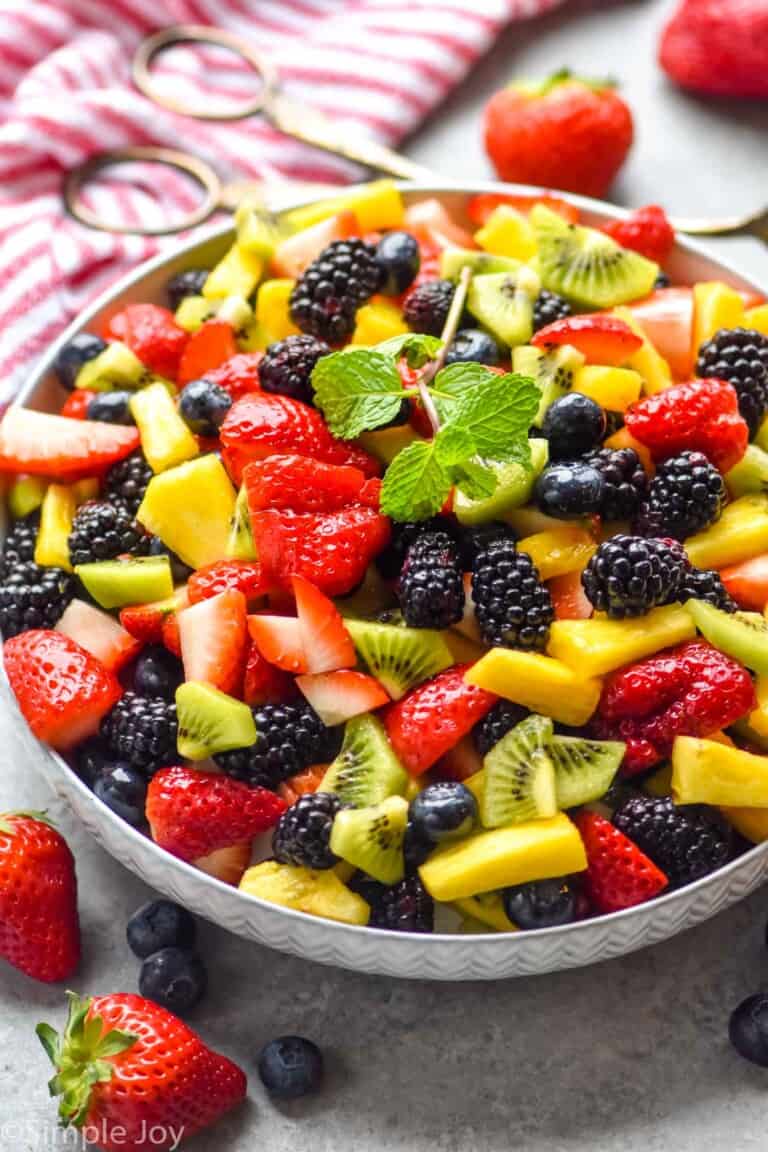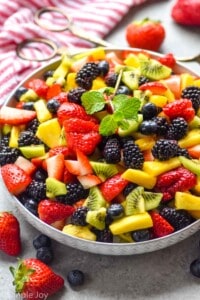 Easy Fruit Salad
This delicious and easy Fruit Salad comes together with a really simple glaze and is perfect for potlucks and BBQs!
Ingredients
2/3

cup

orange juice

1

pound

fresh strawberries

cut in quarters

1/3

cup

lemon juice

1/3

cup

brown sugar

1/2

fresh pineapple

cubed

1

cup

black berries

(6 ounce container)

1

cup

blueberries

(6 ounce container)

3

kiwis

peeled, sliced, and quartered
Instructions
Combine the orange juice, lemon juice, and brown sugar in a small saucepan. While stirring, bring to a boil. Simmer for 8 to 12 minutes or until the liquid reduces to 3/4 cup. Allow it to cool compltely. I like to do this by pouring it into a glass mason jar and putting that jar in a bowl of ice. Alternatively, make this the day before and store in the refrigerator overnight.

In a large bowl, combine all of the fruit. Please see the post for alternative fruit ideas. The total amount of fruit should equal 8 cups.

Pour the dressing over the fruit and toss to combine. For best results, serve right after tossing.
Serving:
1
cup
Calories:
151
kcal
(8%)
Carbohydrates:
38
g
(13%)
Protein:
2
g
(4%)
Fat:
1
g
(2%)
Sodium:
5
mg
Potassium:
278
mg
(8%)
Fiber:
4
g
(17%)
Sugar:
24
g
(27%)
Vitamin A:
200
IU
(4%)
Vitamin C:
113
mg
(137%)
Calcium:
40
mg
(4%)
Iron:
0.7
mg
(4%)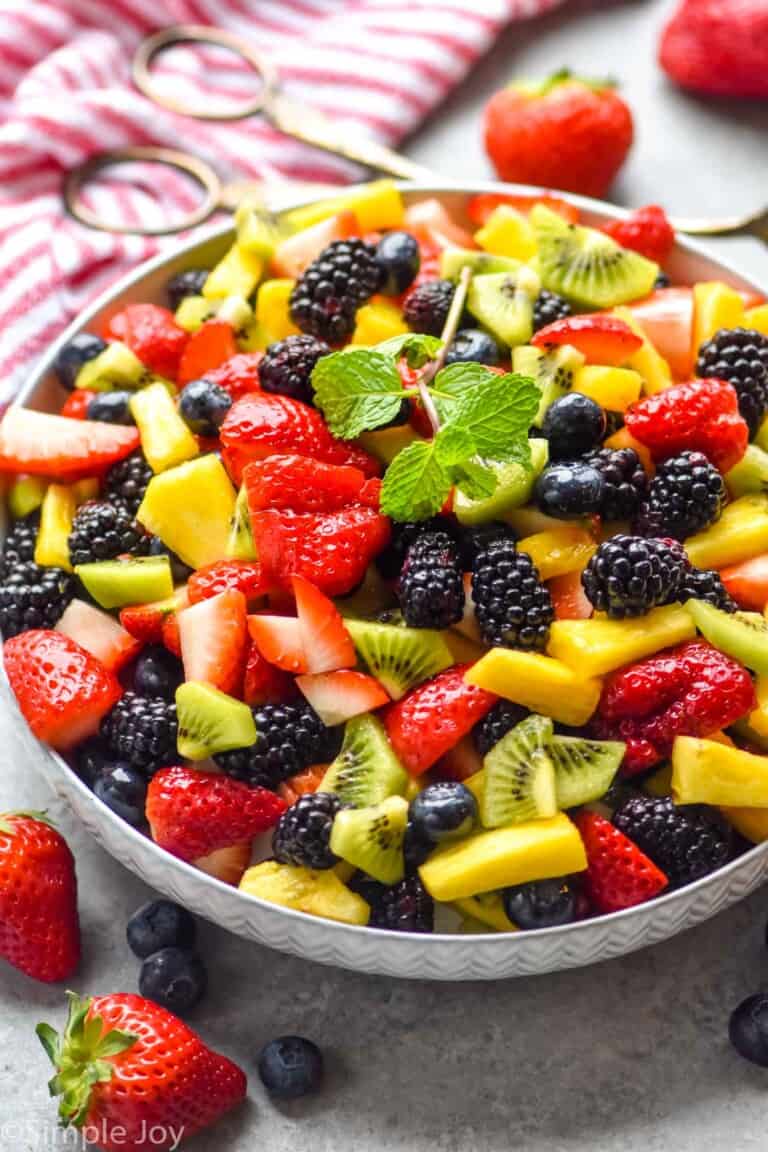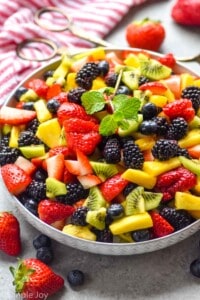 did you make this
Easy Fruit Salad
you might also like . . .