Pea Salad is the perfect easy picnic recipe. Throw together a few easy ingredients for a classic side dish that everyone will love.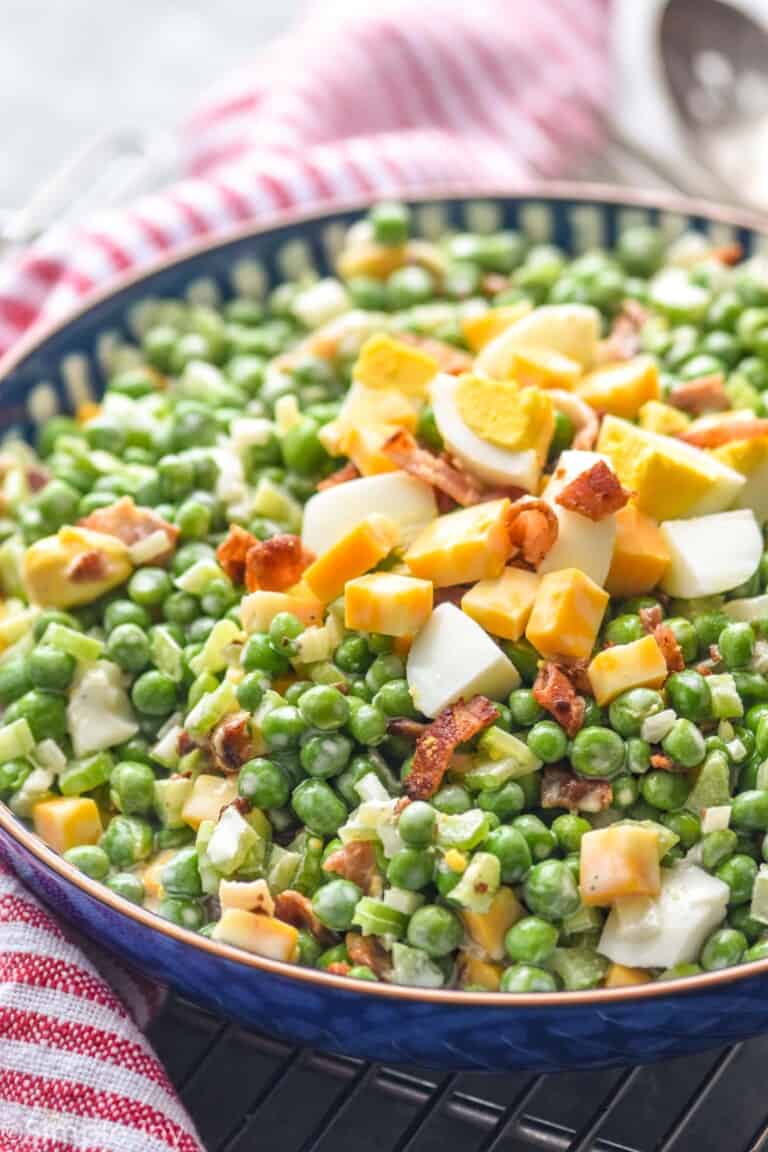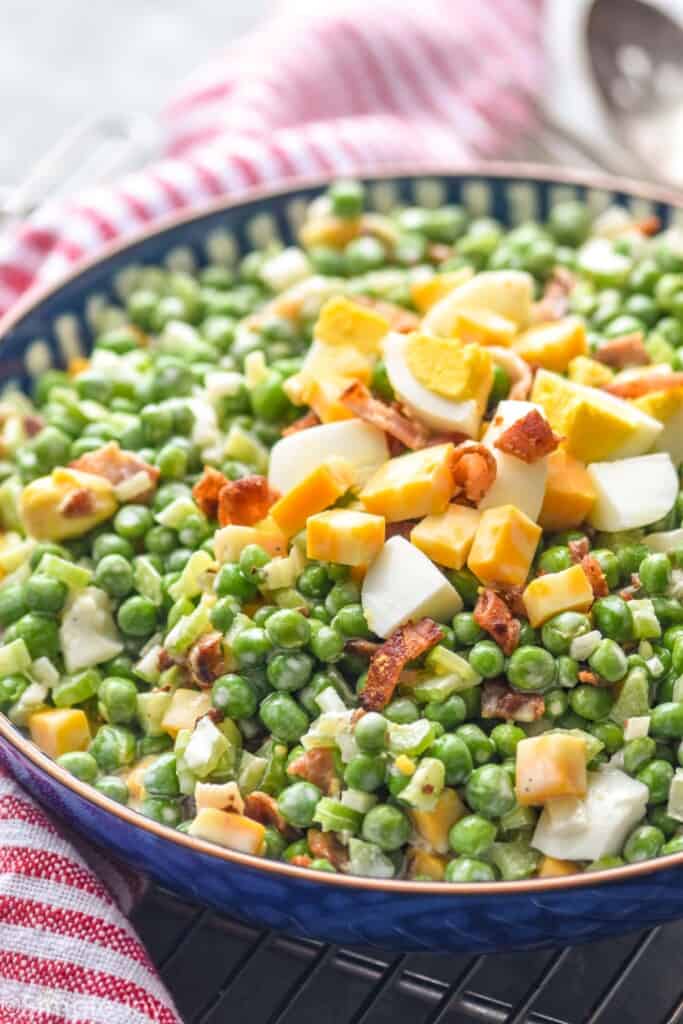 One of my favorite things is to take classic old recipes and put my own spin on them. I like to make them a few times to make sure that they are easy to make, have the best flavor, and use ingredients that make sense to me – nothing hard to find or hard to use.
The best recipes to do this with are potluck recipes. They are old classics that are so fun to give a little updated twist on. This Pea Salad is just that type of recipe. It has such simple ingredients, but you will absolutely fall in love with this picnic recipe.
How to Make Pea Salad
Thaw the peas. Make sure your frozen peas are well thawed and drained before making this salad.
Make hard boiled eggs. I love making hard boiled eggs in my instant pot. If you don't have an instant pot, you can read how to make hard boiled eggs here.
Make the bacon. Dice the bacon and then cook it in heavy bottomed pan until it is just crisp. Turn off the heat and use a slotted spoon to remove the bacon from the grease. Remember to reserve a bit of the fat for the dressing.
Make the dressing. Whisk together mayonnaise, honey, white sugar, salt, pepper, and the reserved bacon fat. If you want to make a creamier version of this salad, whisk in 1 cup of sour cream.
Mix it together. In a large bowl mix together the peas, celery, and onion. Toss it with the salad dressing.
Chill and then serve. Refrigerate the salad for at least 1 hour. Just before serving, mix in the hard boiled eggs, bacon, and cheese.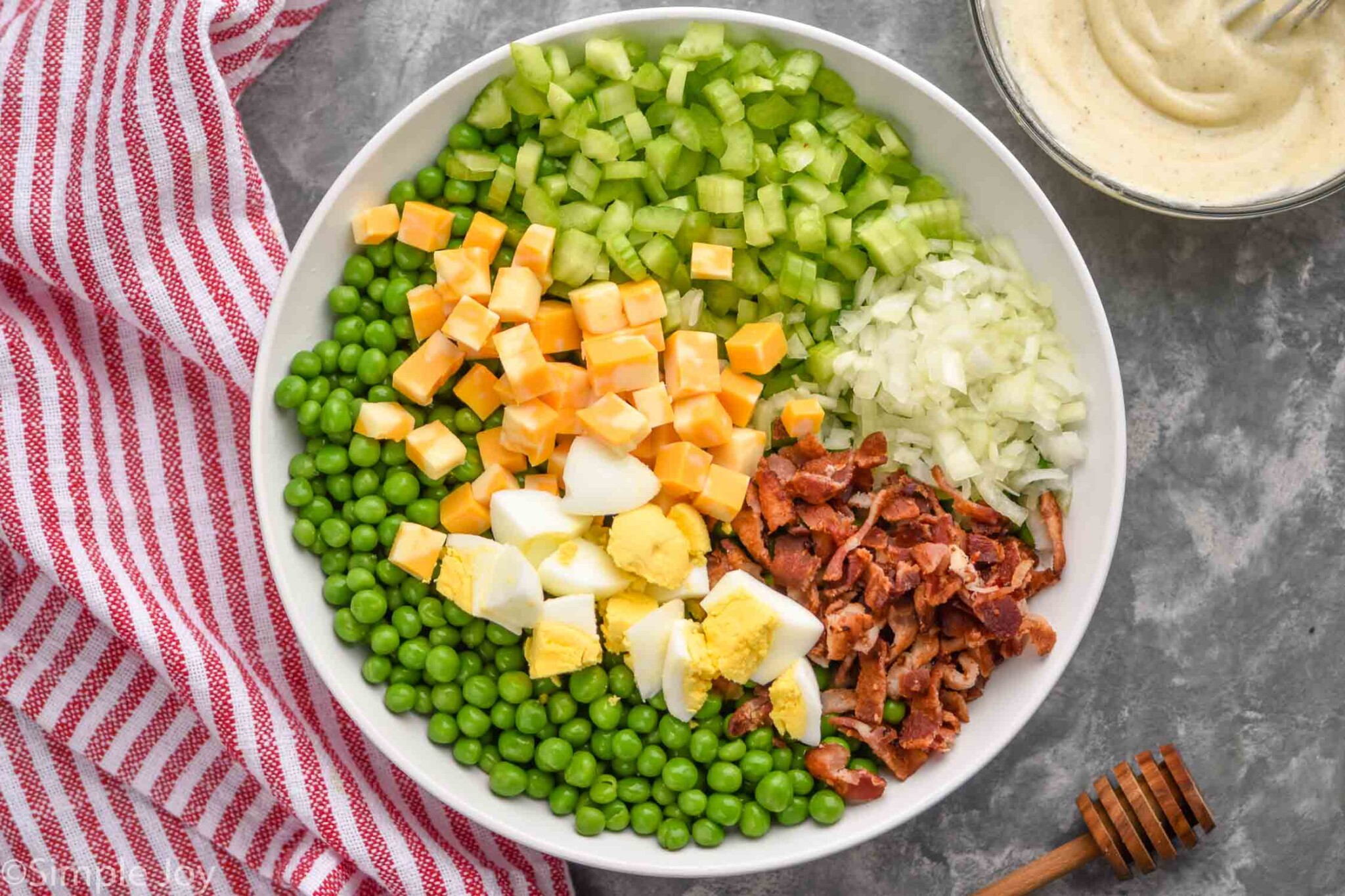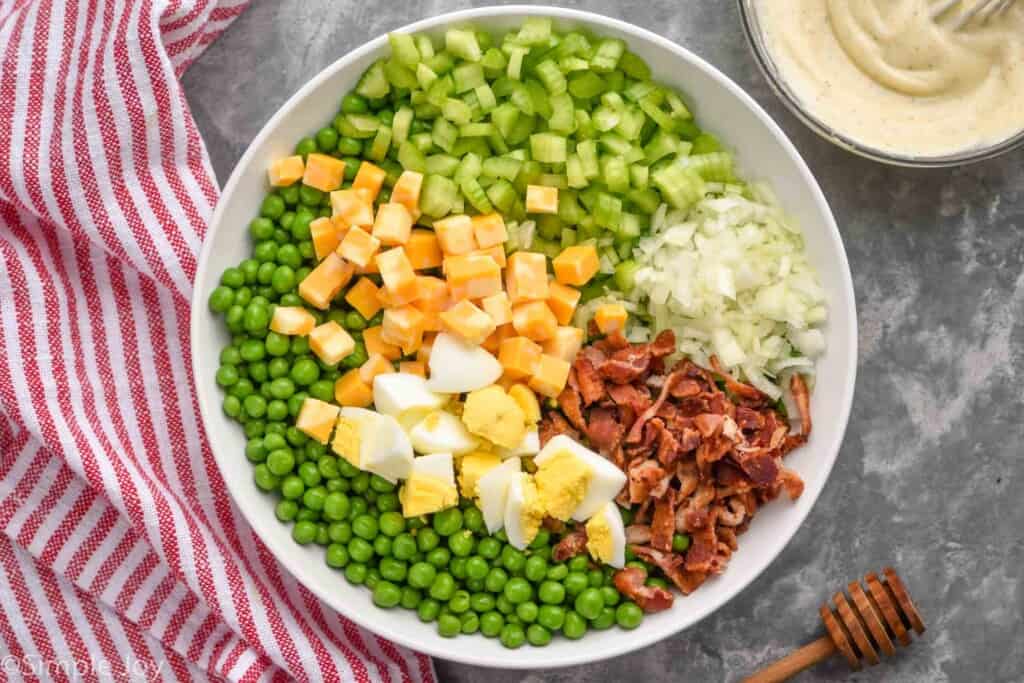 Pea Salad Dressing
The dressing for this salad is extremely simple and made from four easy ingredients. (It is six ingredients if you count salt and pepper, but let's not.) You will need mayonnaise, honey, sugar, salt, and pepper. You can substitute with low fat mayonnaise if you would like to skim a few calories off the recipe. Then you just need to reserve a little of the bacon fat from the bacon that goes in this salad.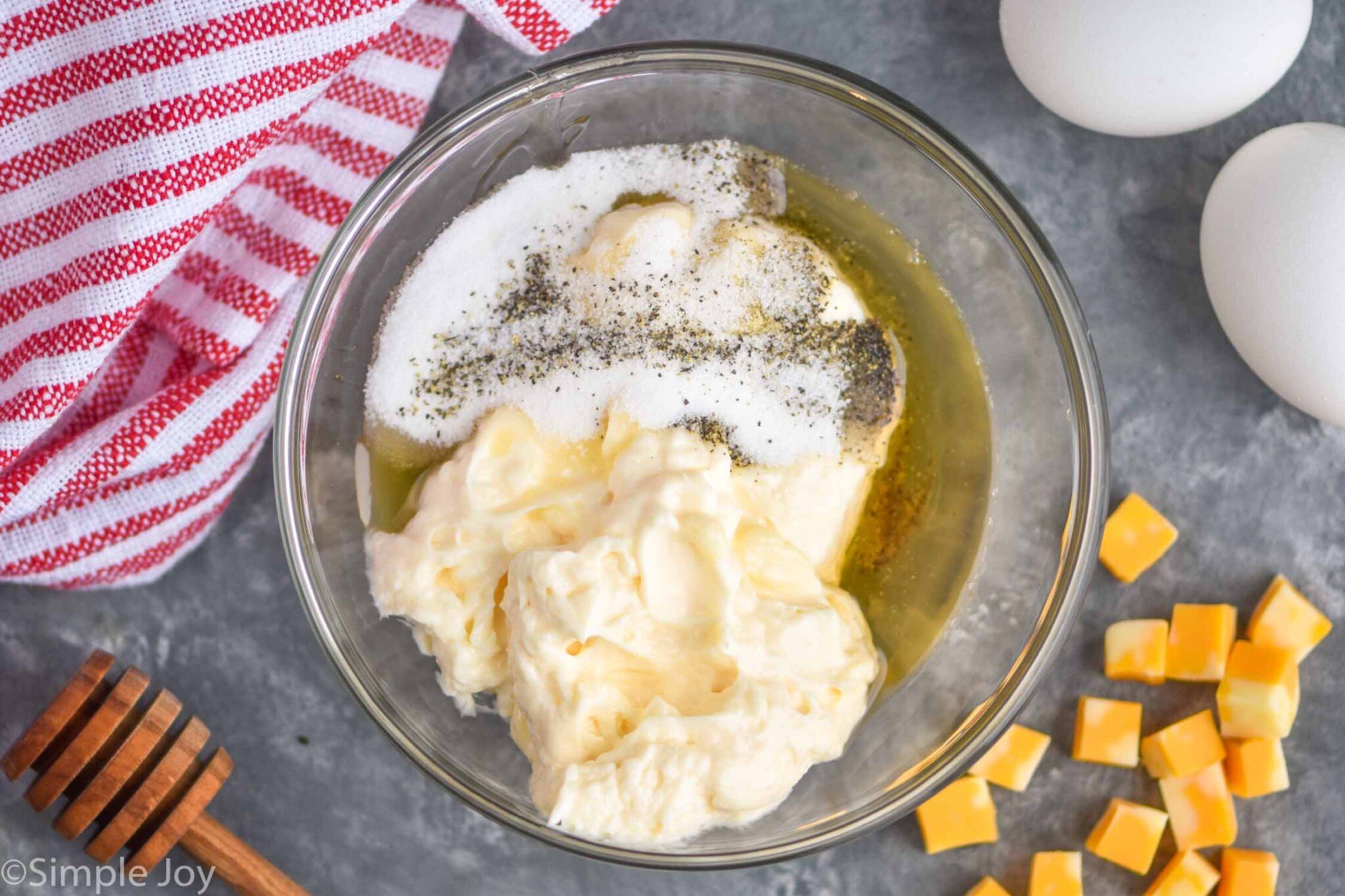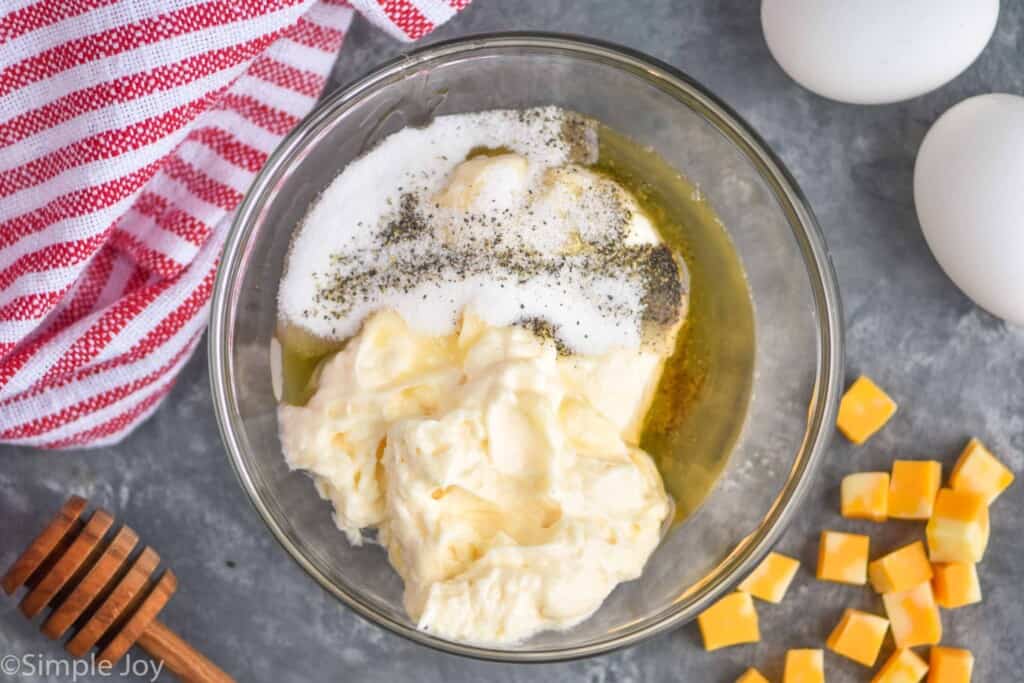 Making this Salad Creamier
Some versions of this salad are substantially creamier. We tested that by adding 1 cup of sour cream. While it held the dressing to the salad a little better, we felt that the resulting taste wasn't as good as when we left it out.
I will leave it up to you. Make this pea salad recipe creamier by adding a little sour cream when you mix up the dressing.
Using Frozen Peas
I always use frozen peas with this recipe. They are so convenient and easy to keep on hand. Make sure that when you thaw and drain them very well so that they don't add extra moisture to the recipe. I like to even give them a little pat down with a paper towel. There is no need to cook them first.
I wouldn't recommend using canned peas in this recipe as they aren't as fresh and bright as frozen peas. They won't have the same texture and color and they will not hold up as well.
You could definitely use fresh peas in this recipe, you just want to make sure to cook them first.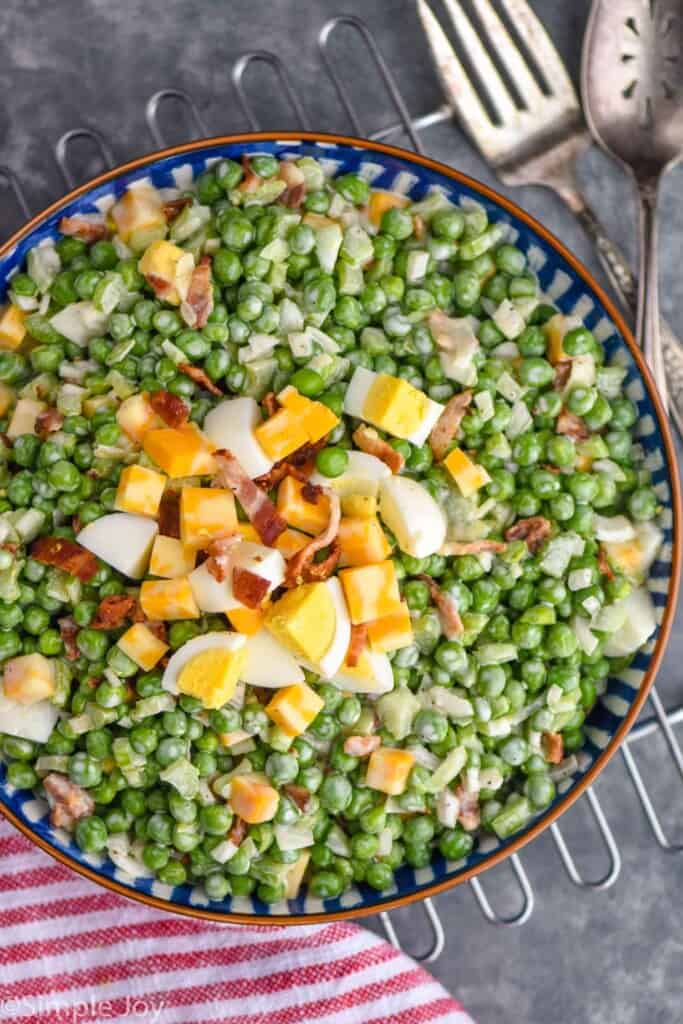 FAQ
Can this pea salad recipe be made ahead?
Yes! This salad works great being made the night before. Just be sure to leave the egg, cheese, and bacon out until you are just ready to serve it. (Though you can prepare those the night before as well.)
Can this recipe be made with fresh peas?
Yes! But make sure to cook them before adding them to the salad.
What to Serve with Pea Salad
This is the perfect side dish recipe, and it would go amazing with so many recipes, but I do think of it more as a summer side. It would be great with some of the following main dishes:
If you make any of this great recipes or my green pea salad, please leave me a comment and let me know what you think!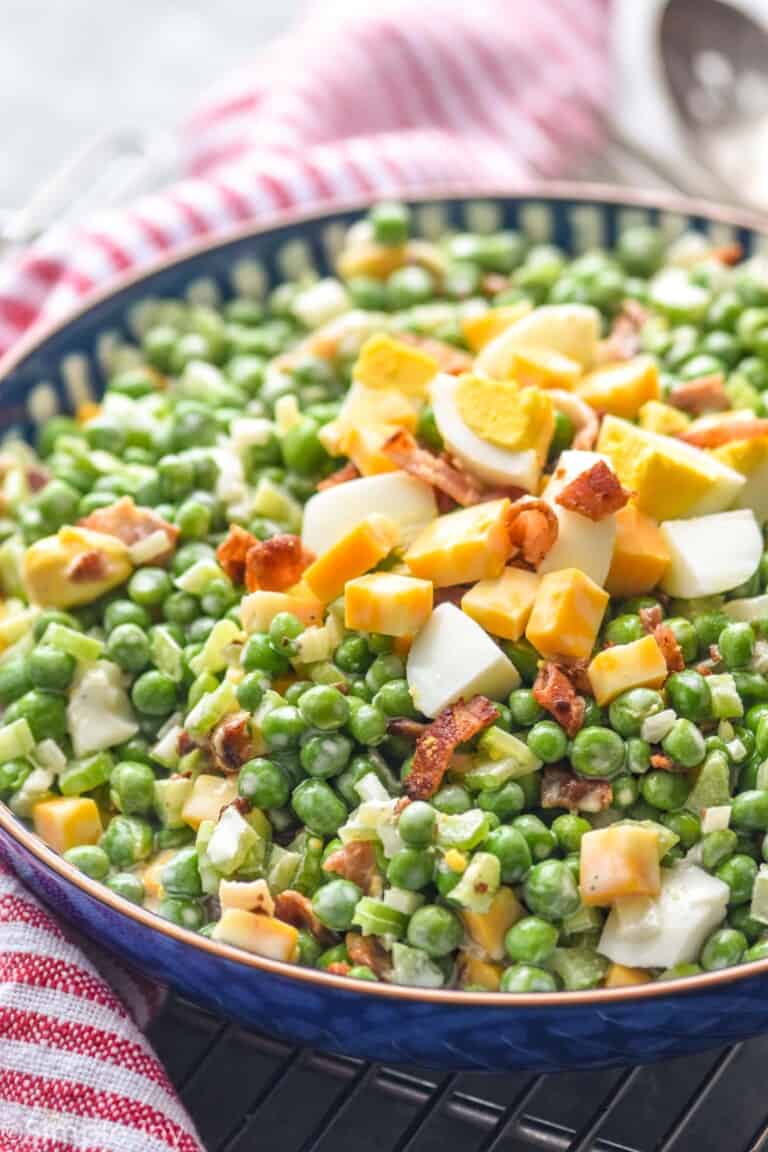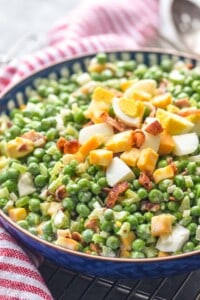 Pea Salad
Pea Salad is the perfect easy picnic recipe. Throw together a few easy ingredients for a classic side dish that everyone will love.
Ingredients
4

slices bacon

diced

3/4

cup

mayonnaise

1

tablespoon

honey

1

tablespoon

white sugar

1/2

teaspoon

salt

1/4

teaspoon

black pepper

20

ounces

frozen peas

thawed and well drained

3

celery stalks

diced

2

hard boiled eggs

diced

1/2

cup

Colby Jack cheese

cubed (3 ounces)

1

small yellow onion

diced
Instructions
Cook the bacon in a large skillet until it is just crisp. Remove from the heat and pull from the grease with a slotted spoon, transfer to a paper towel lined plate to fully drian. Reserve 1 tablespoon bacon fat.

Whisk together the mayonnaise, 1 tablespoon bacon fat, honey, sugar, salt, and black pepper until smooth.

Mix together the peas, celery, and onion. Toss with the dressing and chill in the refrigerator for 30 minutes.

Just before serving, stir in the bacon, cheese, and hard boiled egg.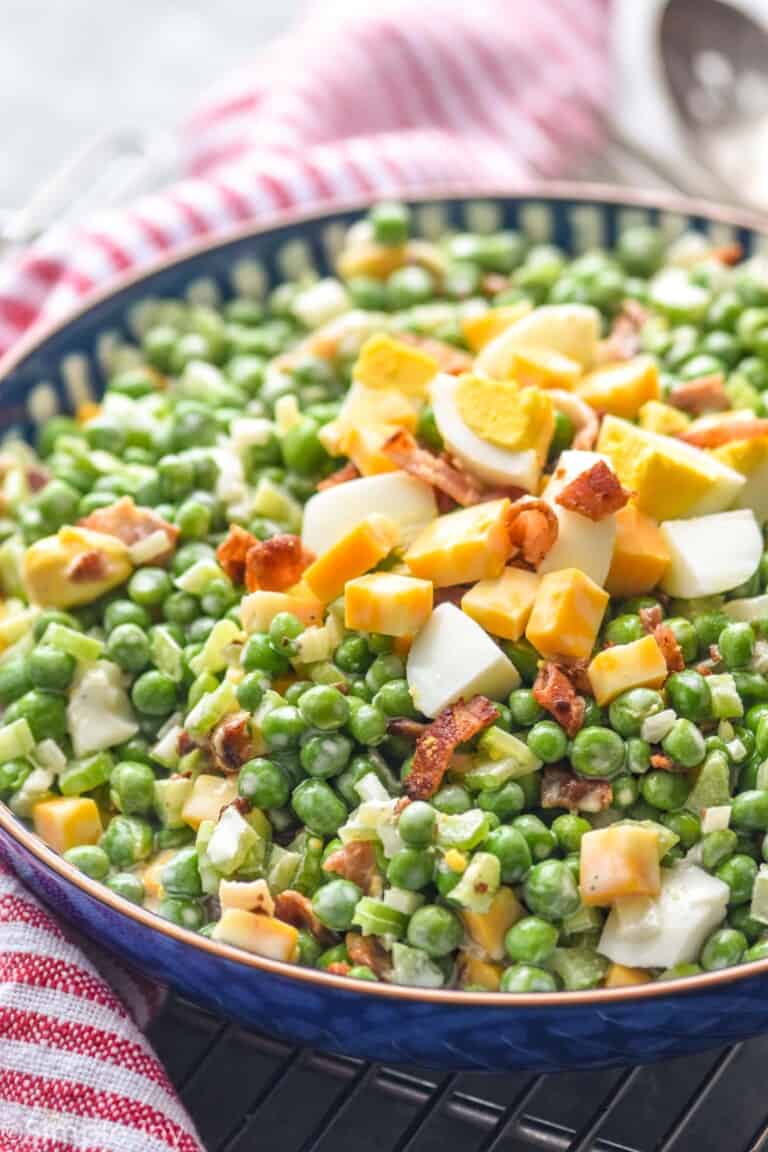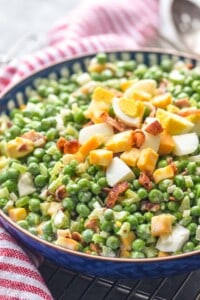 did you make this
Pea Salad
you might also like . . .