BLT Ranch Wraps are such an easy lunch recipe. Make this recipe for an easy bagged lunch for the whole family.
I'm so happy to be working with Ibotta to bring you this great lunch idea and this amazing deal on back to school supplies.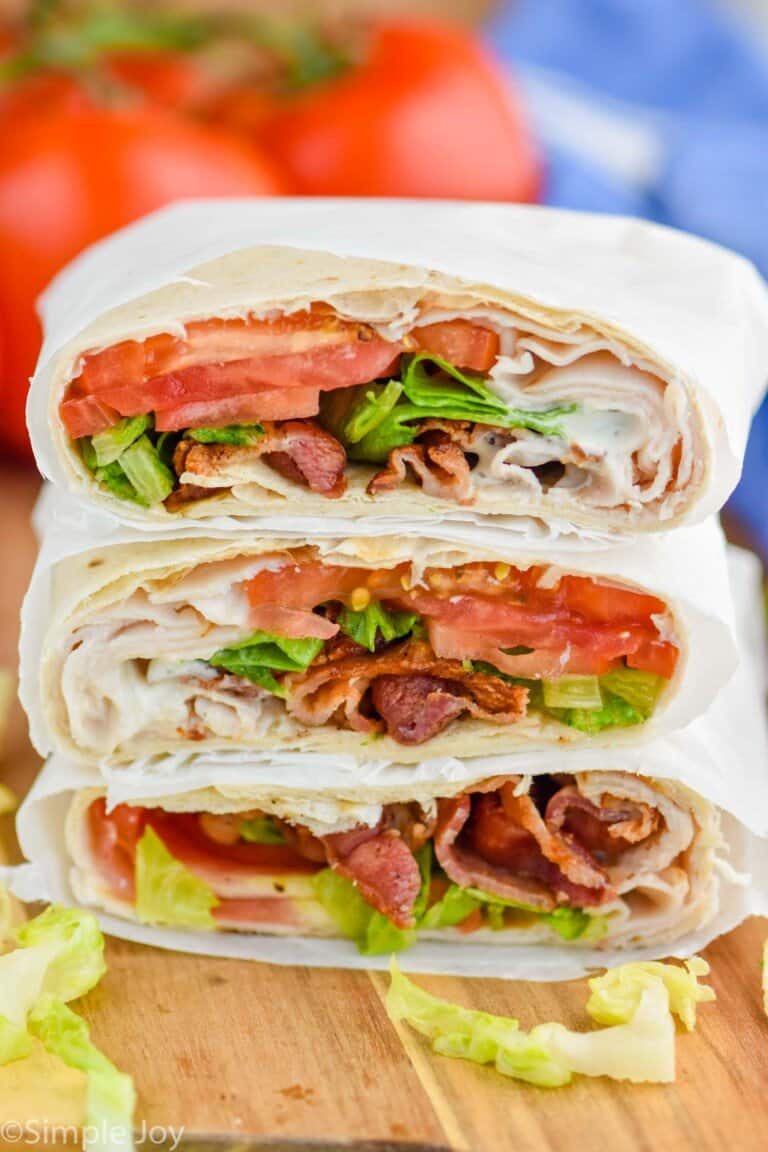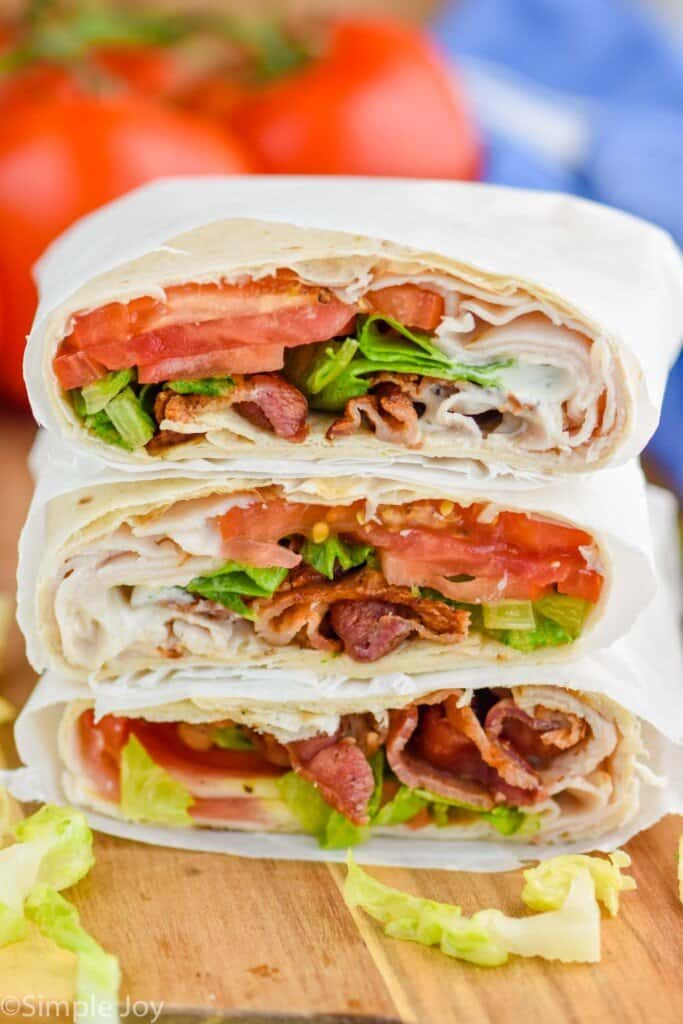 Can you believe that we are headed like a speeding train into back to school season? I feel like we just started summer!
Every year I vow to get my ducks in a row and get school supplies and lunch ideas ready before First Day of School Eve. If you are like me and you need a little bit of encouragement to get those ducks in a row, this post is for you: a lunch idea and help with school supplies!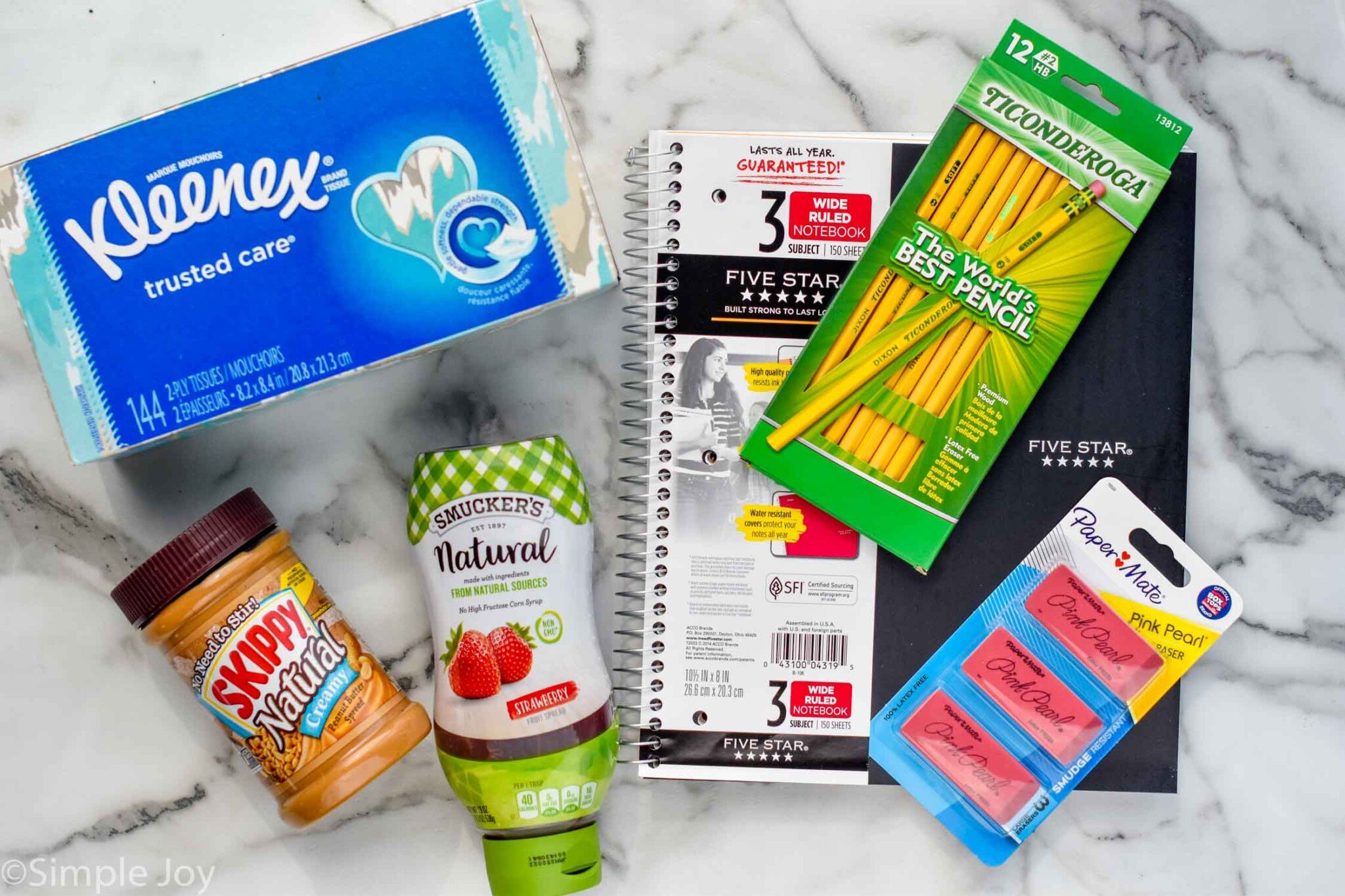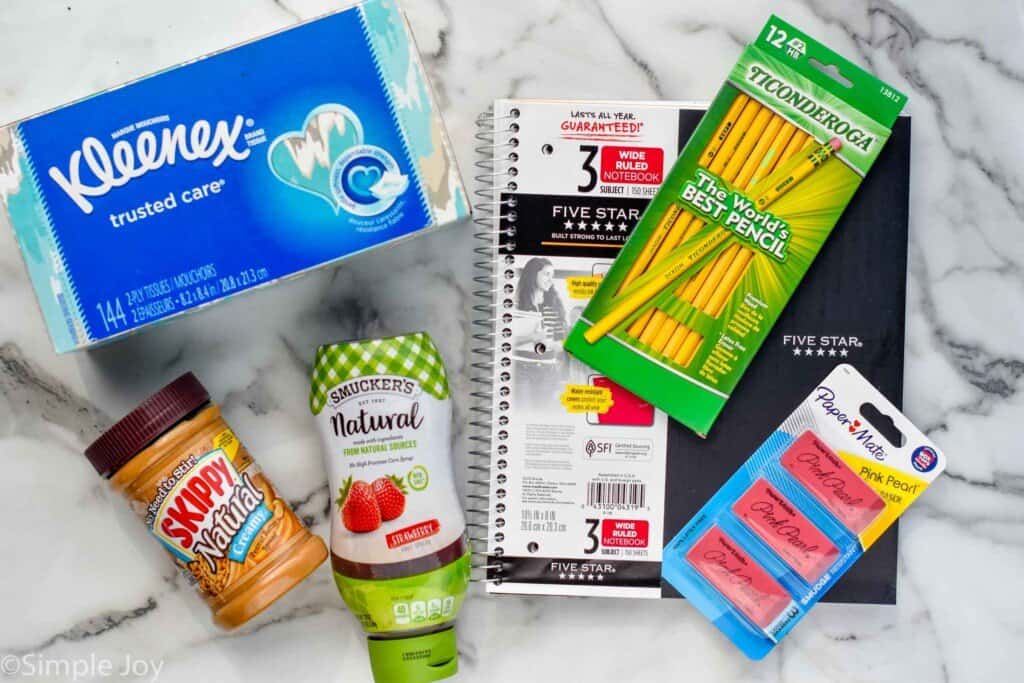 Great Back to School Deal
From now until the end of August, Ibotta is giving away the best back to school bundle. All you need to do is download their app or browser extension and select the included supplies to get 100% cash back on them with your grocery order. In it you will find:
1 FIVE STAR 3-Subject Notebook
1 12-Pack Ticonderoga Pencils
1 110-Count Box Kleenex
1 Loaf of Nature's Own Bread
1 Jar Skippy Peanut Butter
1 Smucker's Fruit Spread Squeeze Bottle
3-Pack Paper mate Erasers
Download their app today or use the browser extension for cash back with online shopping! And then you can make this super easy BLT Wrap and you are almost ready for the first day of school!
Please note all offers were valid as of publish date. Don't forget to check your app for details, as offers change frequently and may not be available in all areas.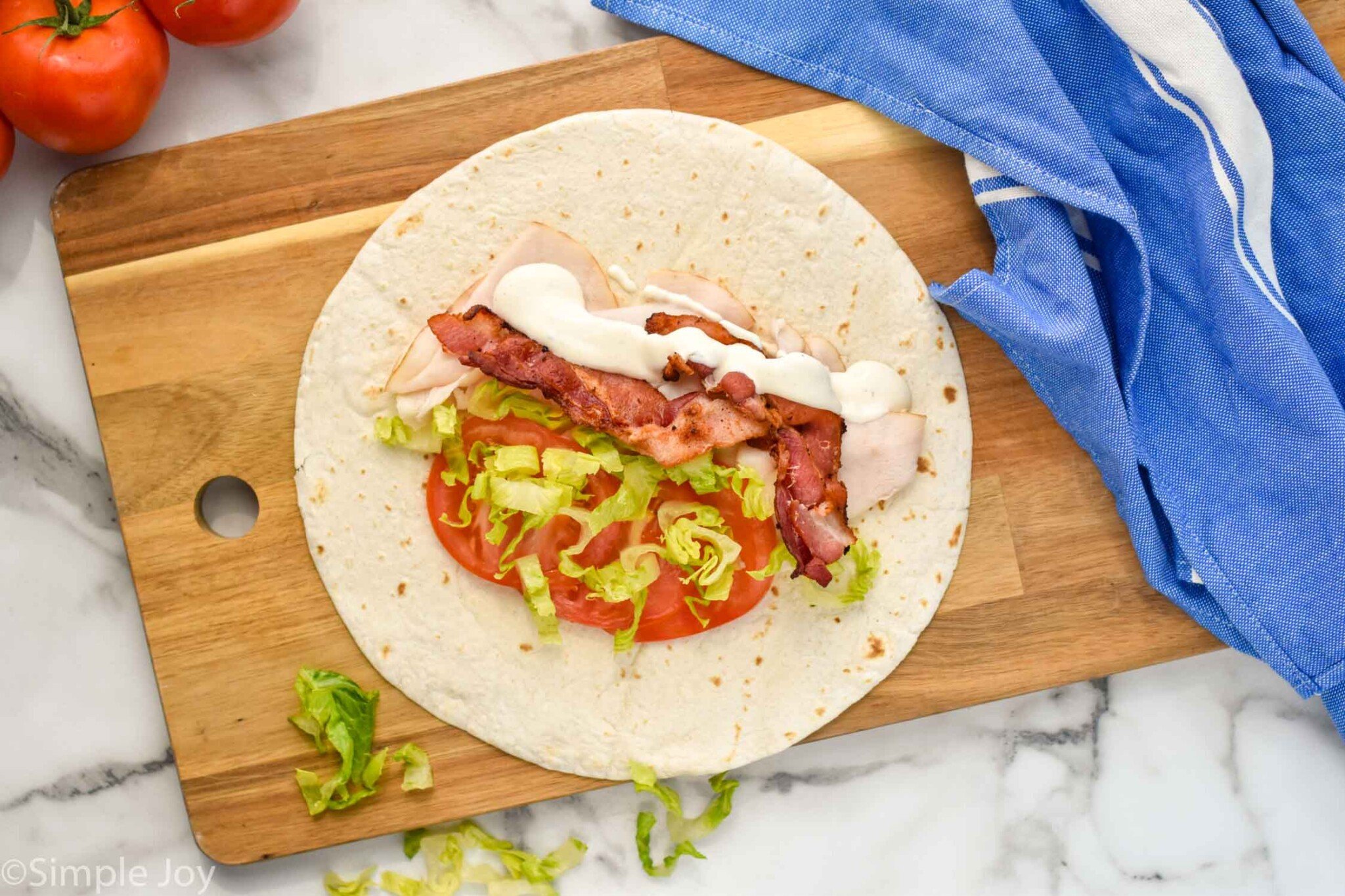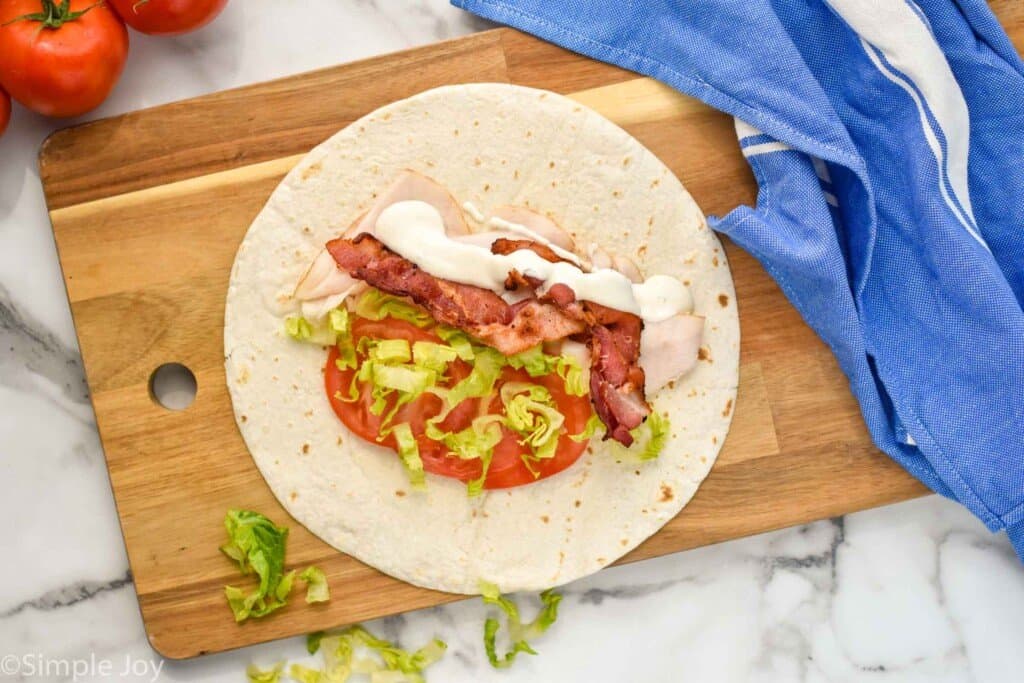 How to Make a BLT Wrap
Cook some bacon. I love using thick cut bacon in this recipe. We used two slices per wrap, but obviously you could add more.
Assemble the wrap. We added in some turkey in this recipe to bulk it out a little, but you could certainly skip that.
Wrap it up. Fold up the ends and then fold one side towards the middle and continue folding until it is all wrapped up. (See the photos below.)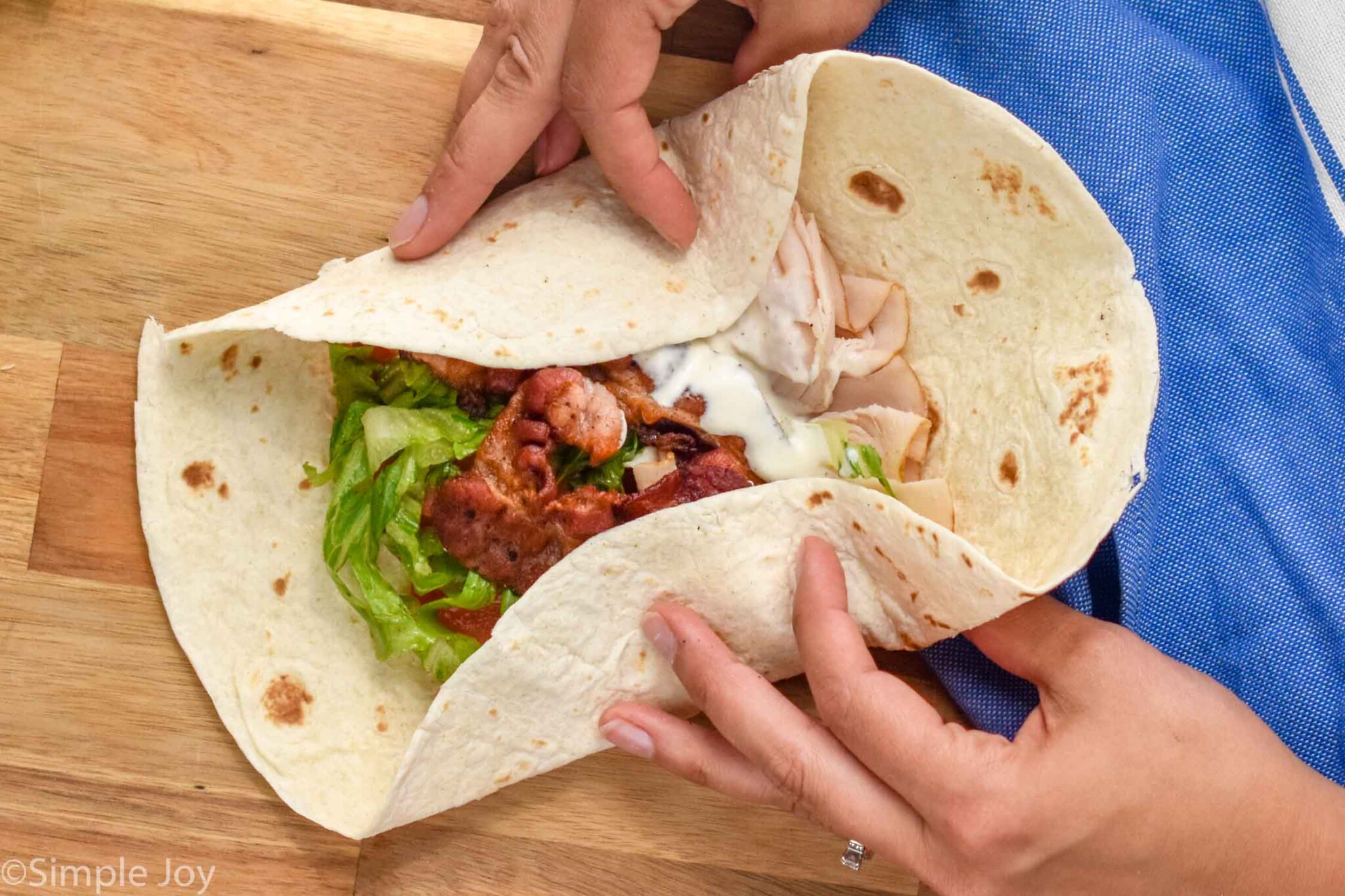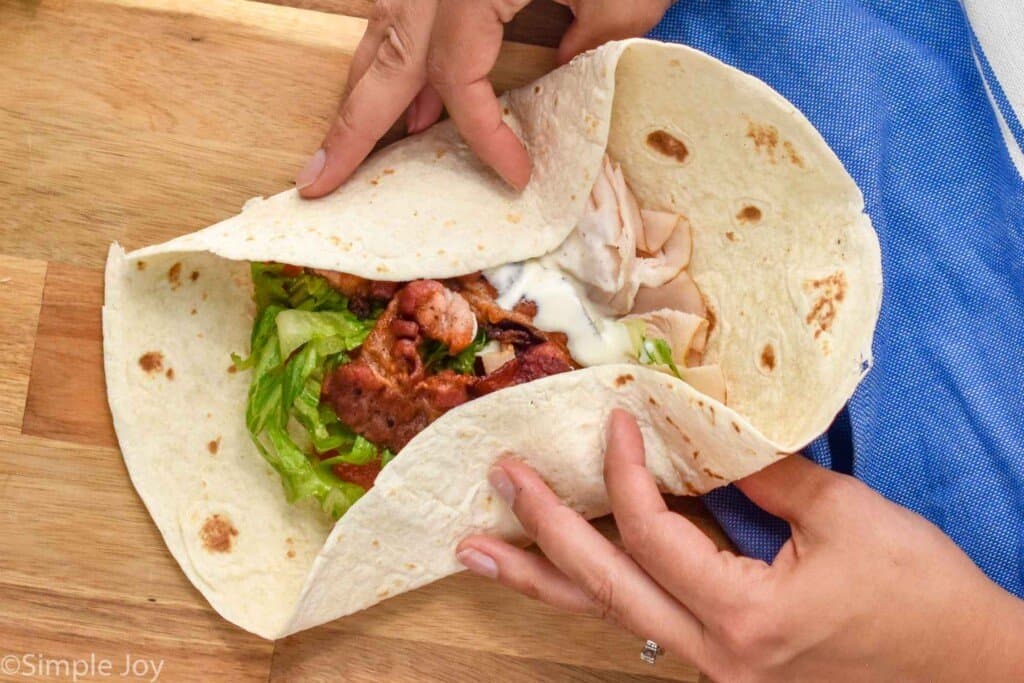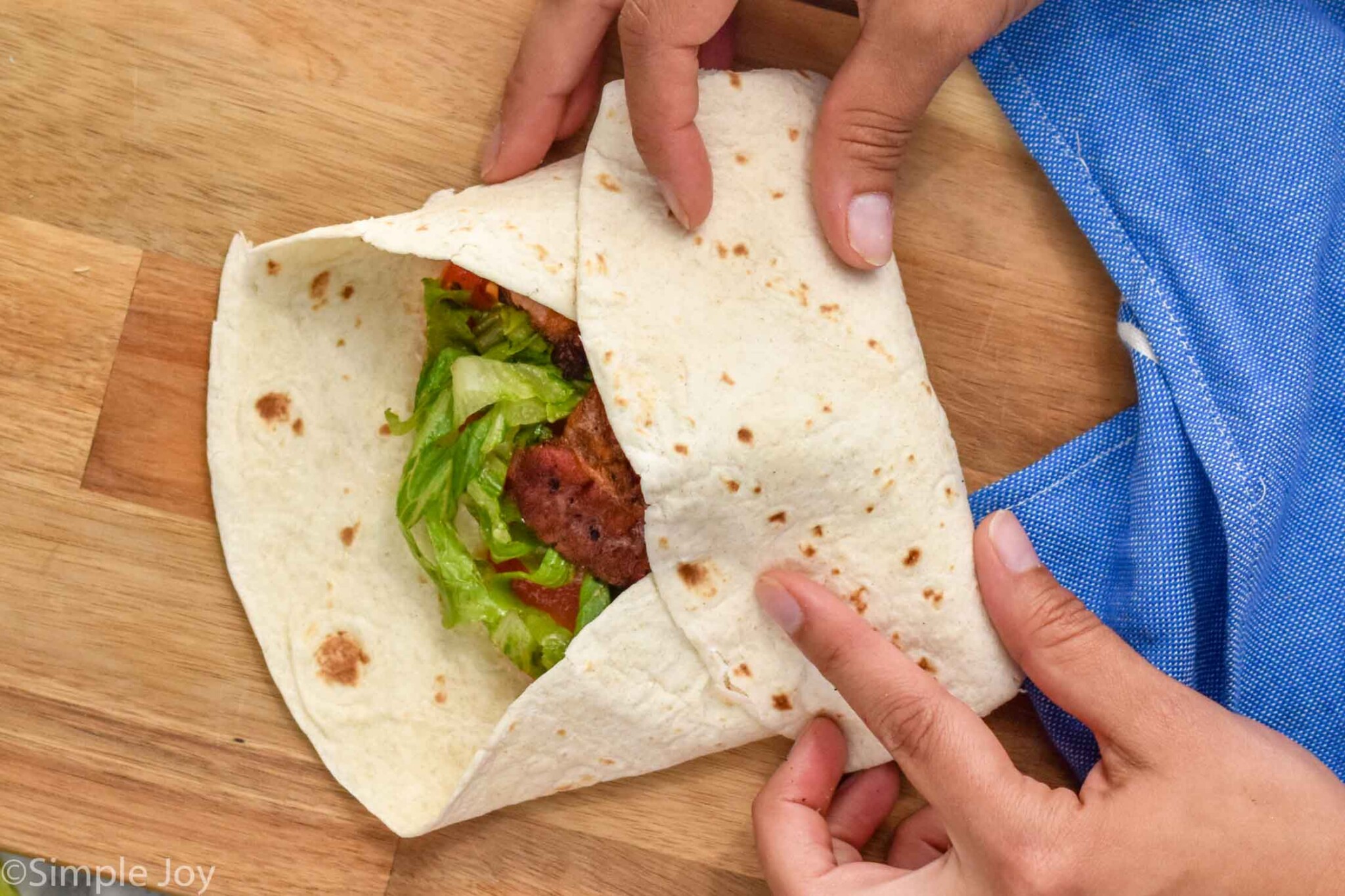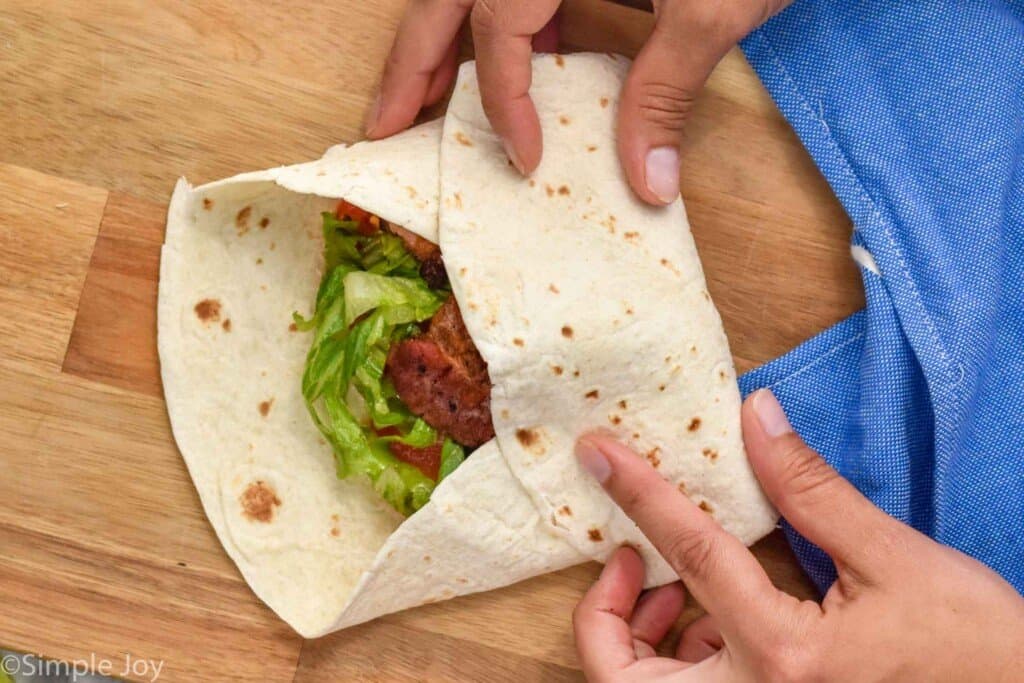 Homemade Ranch Dressing
We made these with our homemade ranch dressing, and I have to say, I love it so much more than the store-bought version. You can find almost everything you need to make it already in your pantry and refrigerator. Of course if you are short on time or already have the bottle of store-bought in your refrigerator, go with that!
You could also mix these up a little and make them with my Jalapeño Ranch Dressing.
Making these Low Carb
If you are following a low carb diet, this is a great recipe! Just skip the Romaine lettuce and buy a head of Iceberg Lettuce instead. Use one of the big outer leaves in the place of the tortilla shell. You will have a perfectly delicious and carb free wrap.
FAQ
Can these BLT Wraps be made ahead of time?
Yes! These can be made the night before, especially if you do a good job using the turkey and the bacon as the layers that touch the tortilla and keep the tomatoes and the ranch dressing more towards the inside. Make sure to wrap them in aluminum foil, plastic wrap, or a reusable wrap.
Can these wraps be frozen?
Because of the fresh lettuce and the tomato in them, I do not recommend freezing.
What can I use in place of the tortilla?
See our section above on making these low carb!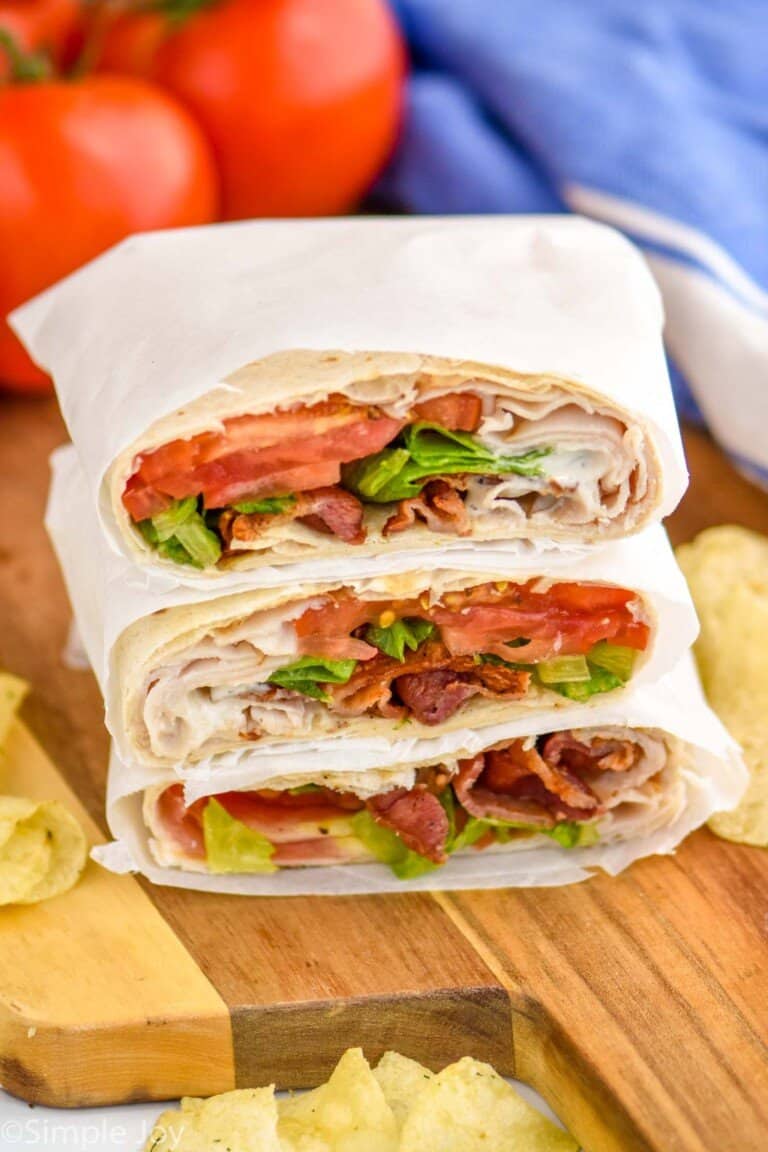 Other Back to School Lunch Ideas
If you make these great wraps or any of my other recipes, leave me a comment and let me know what you think.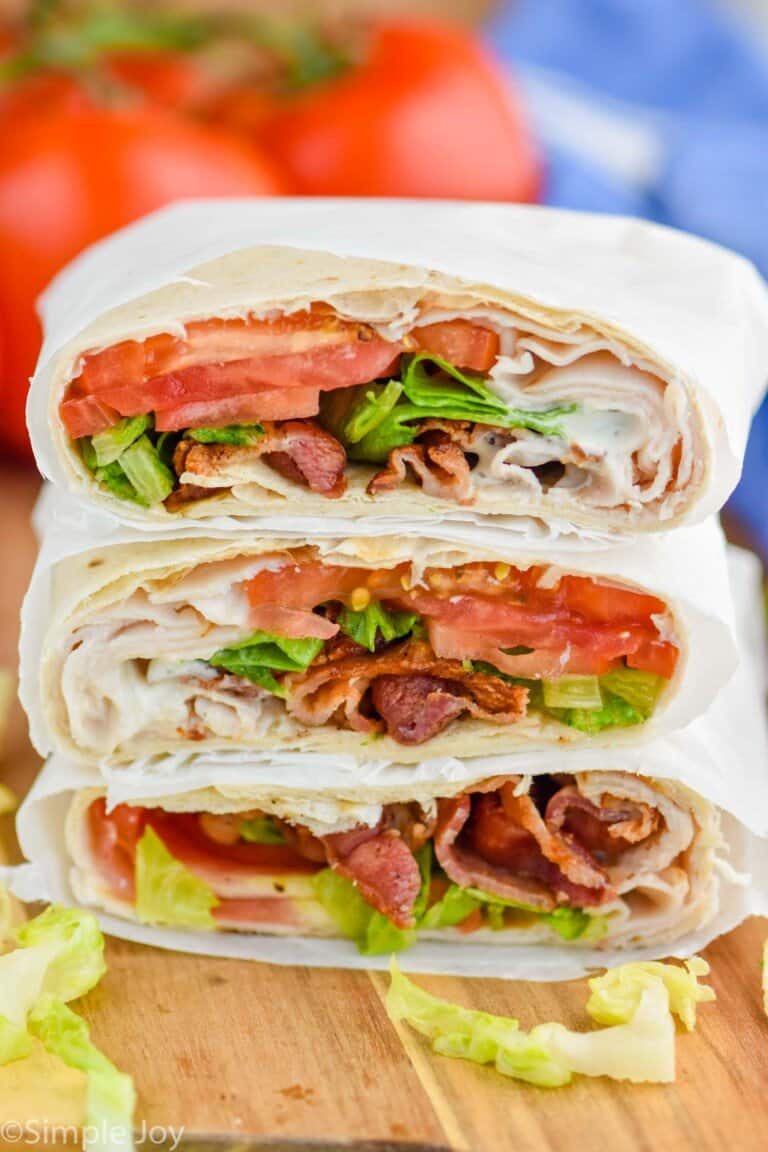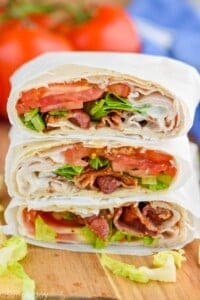 Ranch BLT Wraps
BLT Ranch Wraps are such an easy lunch recipe. Make this recipe for an easy bagged lunch for the whole family.
Ingredients
12

ounces

deli turkey

1/2

pound

thick cut bacon

cooked

1

cup

chopped Romain lettuce

1

large tomato

sliced

1/2

cup

ranch dressing

4

9 inch flour tortillas

(You are looking for burrito size)
Instructions
Divide the turkey, bacon, lettuce, and tomatoes evenly among the tortillas.

Top each one with ranch dressing. Fold in the ends about two inches, and then roll up the wraps.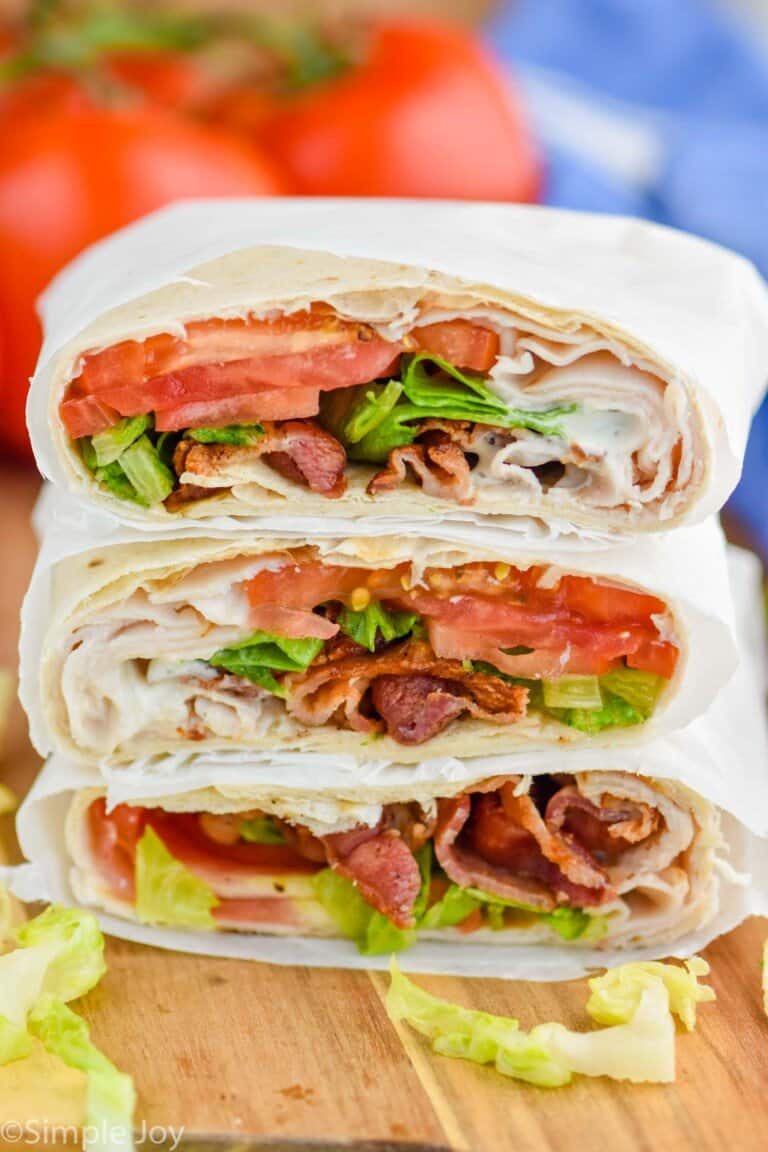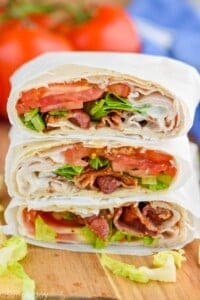 did you make this
Ranch BLT Wraps
you might also like . . .