Chocolate Fudge Peppermint Poke Cake | Such an easy and delicious dessert that is perfect for the holidays!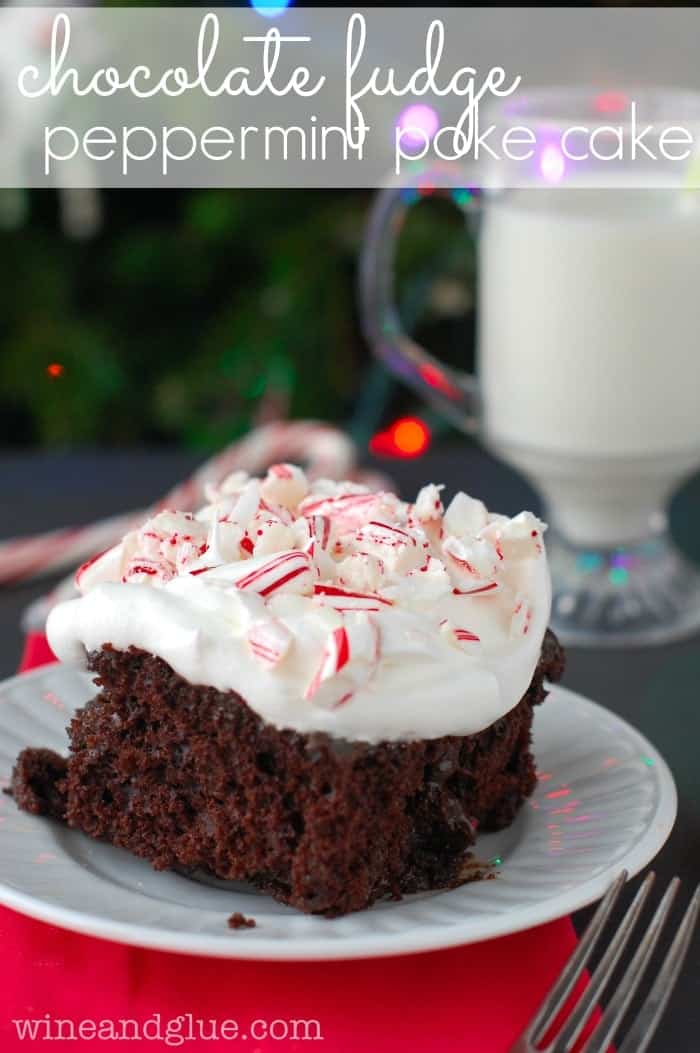 Happy Monday! I know lots of you are probably starting your holiday break today, and lots of you are working right through the holidays with no break at all. For us, though Gavin is off of school as of noon on Friday, our real vacation doesn't start until Tuesday afternoon when Nathan gets home from work and we can all start relaxing together (as I write this, my children are screaming at each other . . . who knows how much "relaxing" there will really be).
Did you have a weekend full of holiday celebrations?
Our weekend was an emotion and snow packed holiday weekend!!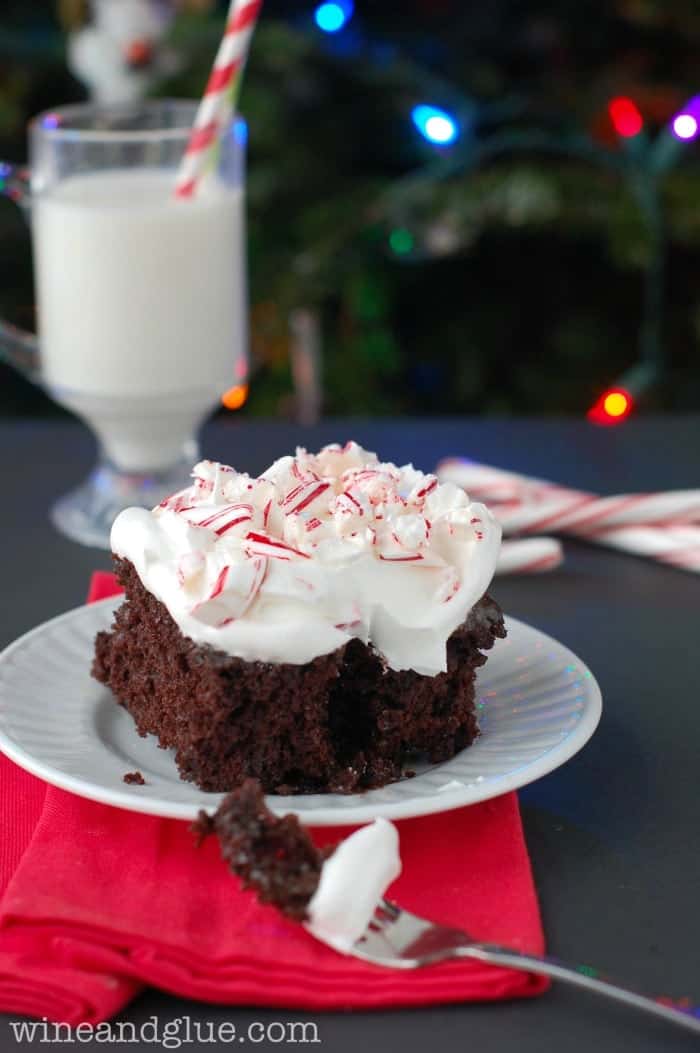 Friday, a day before he turned six, we celebrated little Gavin. I picked him up from school at his noon dismissal, took him out to lunch, and then as a special birthday treat, took him to the Lego store where he got to fill a bucket with random Legos and build three guys. (He was in heaven.) I don't really get that much alone time with Gavin, so it felt like a special treat for me too. Then we took the kids out for more fun and a family birthday dinner.
On Saturday, Gavin's actual birthday, we celebrated Christmas with Nathan's side of the family. Six boys, two parents, five daughter in laws, and nine grandkids in one house makes for a wild and fun Christmas!
While we were there we told the family the gender of our baby with some of these scratch offs! It was SO fun telling everyone at once and in person!! (I'll be sharing it on the blog sooooon . . . ish).
The 21st is also the anniversary of my mom's death. (My mom died, just seven hours after I had given birth to Gavin, which was amazing and also very very painful and hard.) Two things. One, it's hard to stay sad around nine kids bouncing off the walls and screaming at the top of their lungs when they open THE gift they have been begging for. Two, it's been six years and I'm not over it. My mom's death kind of rocked my world, and I miss her all the time, but especially the anniversary of her death.
And Sunday, we braved a snow storm to get our kids home. It was CRAAAAAAAZY. Nathan has about three hundred times more patience than I do which is valuable when it comes to kids begging for help with Legos while I'm making dinner and snow storms and four hundred other things. We made it home safe and sound, where this amazing Chocolate Fudge Peppermint Poke Cake was waiting!
I hope everyone has a safe and happy holidays!! I'll probably be taking some time off from the blog now until the New Year. Thank you for reading! You've made 2013 more amazing than I could have imagined!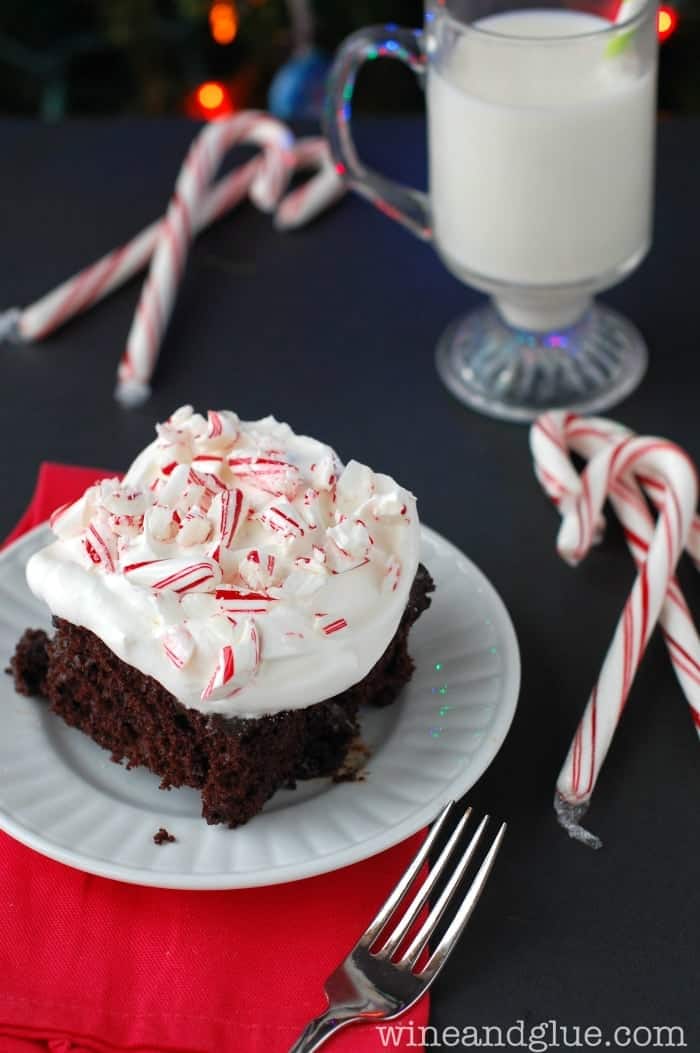 Chocolate Peppermint Poke Cake
Devil's Food Cake Mix and the fixings to make it
1 tsp peppermint extract
1 jar of hot fudge sauce (I used Smuckers)
1/2 a can of 14 oz sweetened condensed milk (Need to use the other half of the can? Try this or this!)
whipped topping
crushed candy canes for topping (optional) – UPDATE: These might work better
Preheat your oven according to the directions on the box.
Mix the cake mix according to the directions on the box, adding 1 tsp of peppermint extract to the batter.
Bake your cake according to the directions on the box. Once it comes out, let it cool 10 minutes, it will make the hole poking easier.
While the cake is cooling, heat up your fudge sauce. I used the microwave. Whatever method you use, make sure the fudge sauce pours smoothly like a liquid.
After you have poked the wholes in the top of your cake, pour in the sweetened condensed milk (just half of a 14 oz can). Then pour the fudge over the cake, getting as much fudge in the holes as possible. I had some left that just sat on top of the cake and ended up using the back of a spoon to push some into the holes.
Cover your cake with aluminum foil and refrigerate overnight.
Before serving, top with cool whip and crushed candy canes if you desire.
Want more poke cake?
Eggnog Poke Cake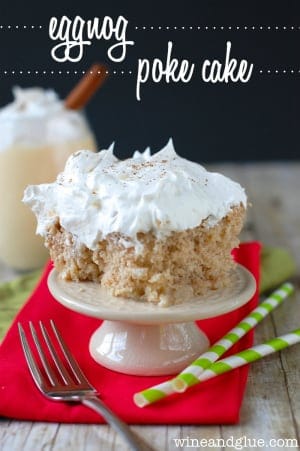 Candy Corn Poke Cake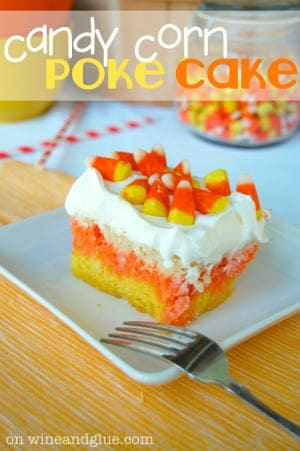 Orange Chocolate Poke Cake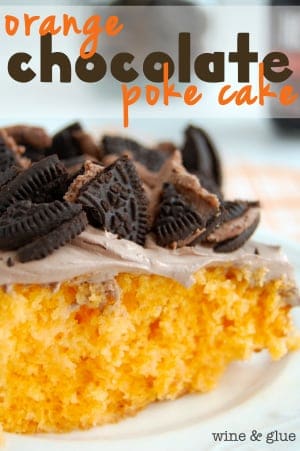 30 Poke Cake Recipes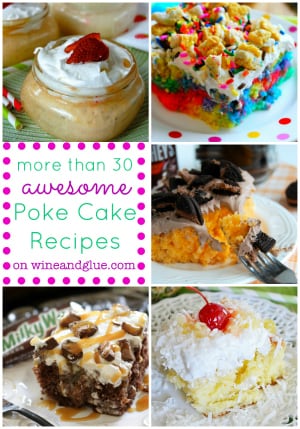 Better Than Strawberry Shortcake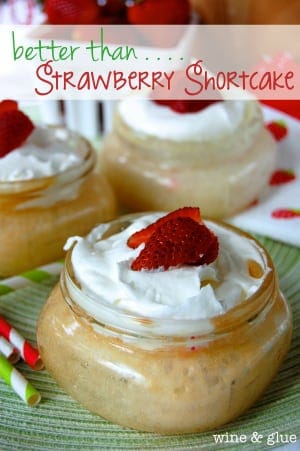 This post may contain affiliate links which won't change your price but will share some commission.