This Crab Pasta Salad is a family recipe, one of my favorites! Packed with veggies and delicious flavor, it's a staple at summer BBQs! This crab pasta salad is made with Italian dressing and either Spike or Old Bay Seasoning.
It is made with imitation crab, though you could certainly substitute real crab meat int his pasta salad. The pasta shells work perfectly in this recipe, holding on to the sauce and making a great crab pasta salad recipe that you will want to make again and again.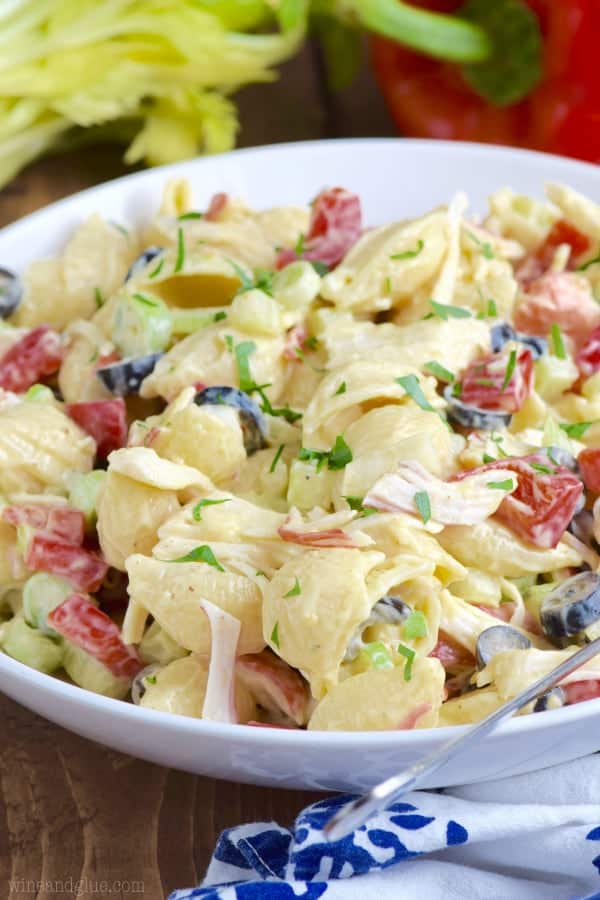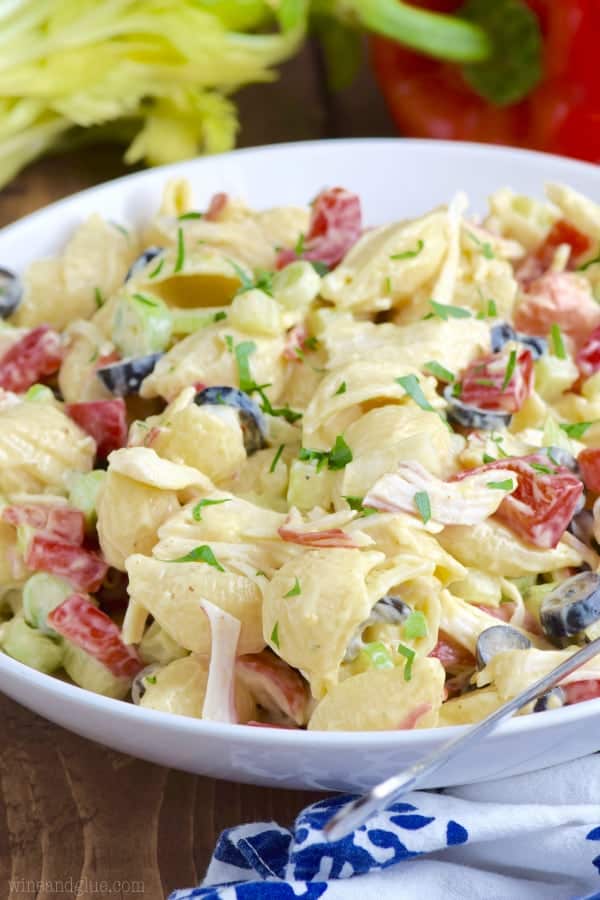 Today my mom would have been 69 years old. And I'm sure that she would have loved me sharing that with the internets.
Or maybe at this point in her life, she would have been completely cool with it. She might have even worn it as a badge of honor.
My mom was diagnosed with fourth stage metastatic breast cancer when she was 57 years old. I was just shy of my 21st birthday. I remember vividly taking a walk with her in the brisk cold April Wisconsin weather just after she was diagnosed. I can remember the exact coat and hat she was wearing. Her doctors had told her to just go home and enjoy the last month of her life with her family. She was talking about fighting. She was talking in terms of years. And she was saying if she could just have two more years. She and I agreed that that would be amazing.
And then two years flew by.
I graduated college, started graduate school, bought a house, got engaged.
Two years wasn't nearly enough. There was no time that would have been enough.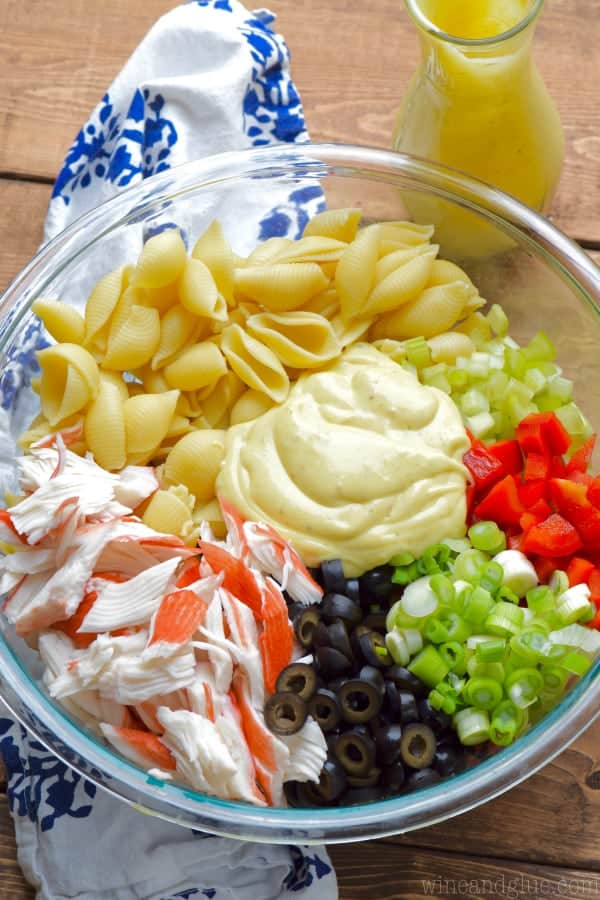 After I became pregnant with Gavin my mom told me all confession style that she had really wanted to live just to see me get pregnant. And then Gavin was here, and just hours later she made her exit. Like once she knew he and I were safe she could succumb and give her body some peace.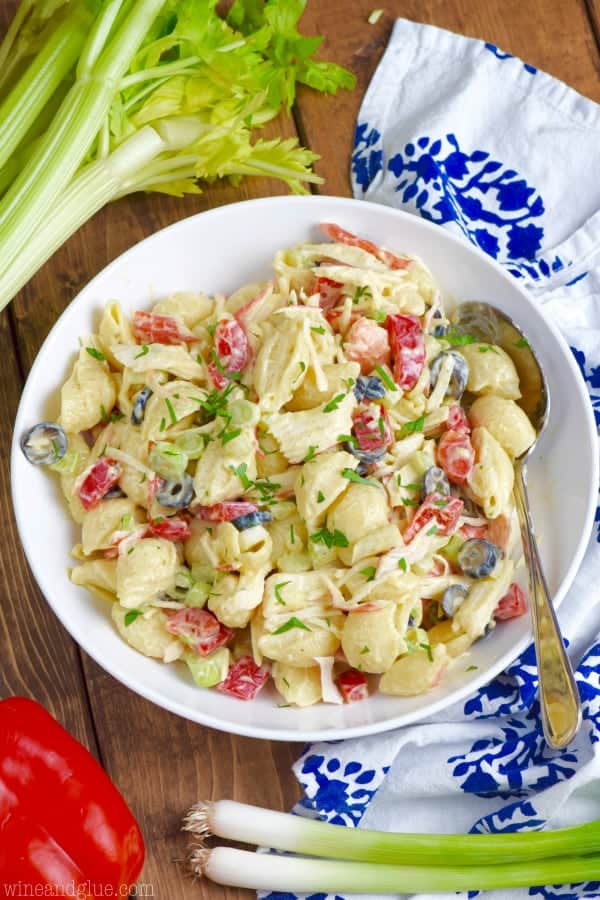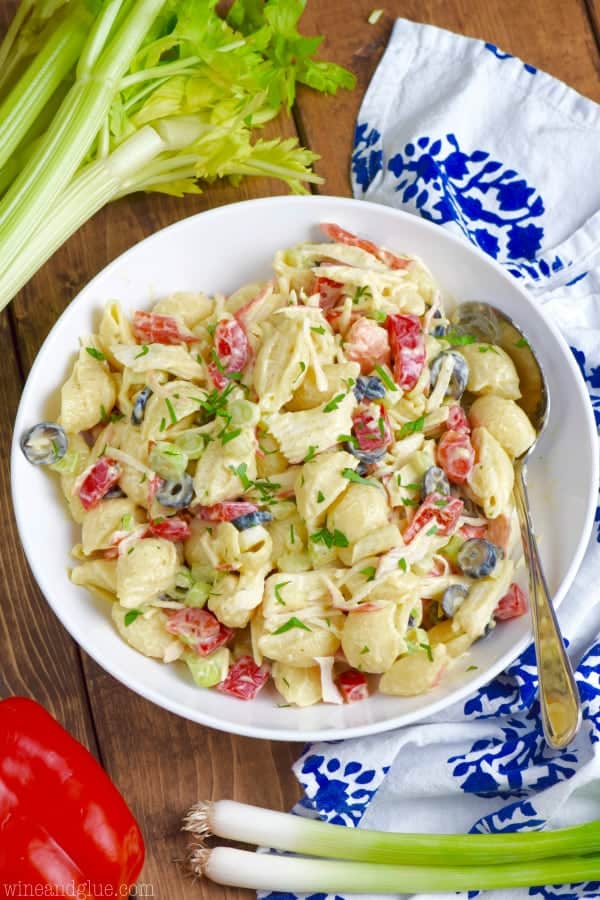 Regularly I think to myself, "Okay, now I really need my mom." As if all the challenges that came before were just a rehearsal compared to this current challenge. I mean, I'm totally kidding myself. There was nothing about Elliot that was a dress rehearsal. It's just that when you are in the current challenge, and the past is the past . . . you get it.
I've been having those moments recently. The "Okay, now I really need my mom," moments. And I just keep thinking that if I can't have her here, the least I can do for myself is try to be the kid that she would have been proud to have raised. Scratch that. My mom would never have wanted to take credit for my poise, strength, patience with my screaming kids, etc. . . . I want to be the kid that I feel like lives up to the amazing mom that Betty was.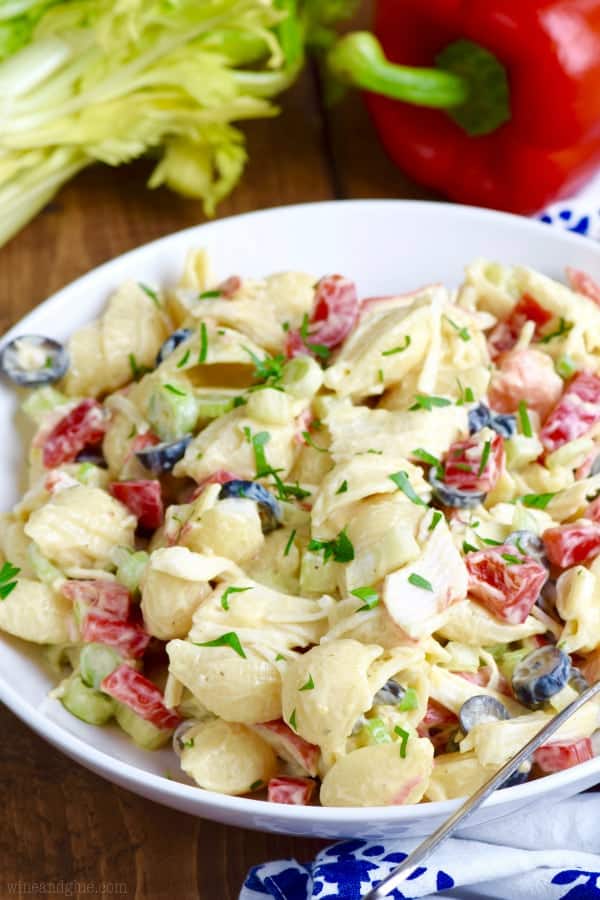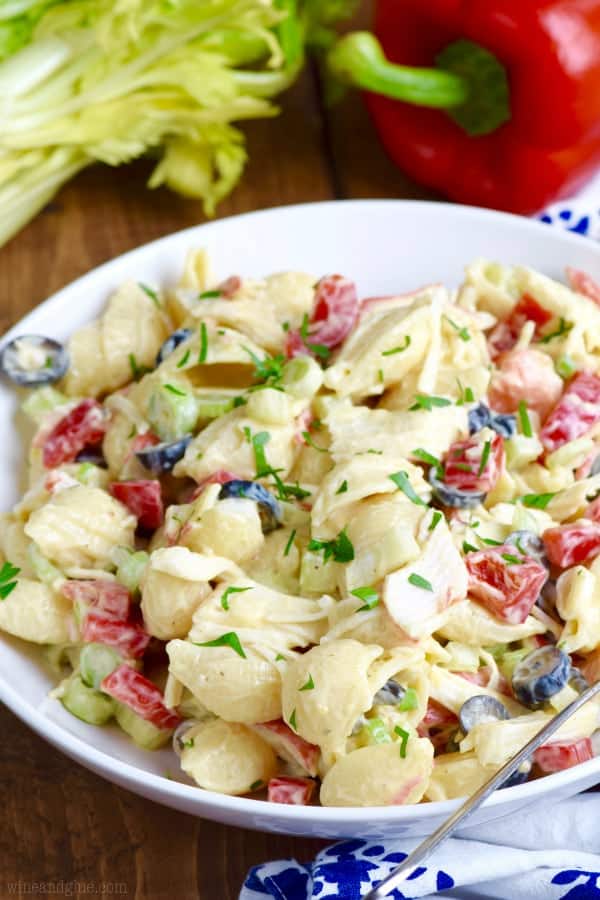 So that was kind of intense for a Friday morning, huh?
Let's have some Crab Pasta Salad, shall we?
This was one of my mom's recipes and I LOVE it. It was one of those recipes that meant summer to me. One of those recipes that I would just stand in the door of the fridge and eat out of the container with a fork when I was a teenager, until my mom would walk in and say, "Lisa. Just put some in a bowl for yourself." Sooooooooo good!
One of the things you are going to love about this recipe is that it is super forgiving. My mom didn't even use a recipe. The recipe I have from her is like, "a generous squirt of mustard." So if you don't really like that much dressing on your pasta salads, just cut back on the yogurt. Don't like olives? Leave 'em out. No celery? Add some frozen peas instead. You get it.
Make it for your summer picnics and love it year after year!
If you make this recipe leave me a comment letting me know what you think!
READER REVIEW
I tripled your recipe and was very pleased with the outcome. At the gathering I took it to, the people raved. Thank you.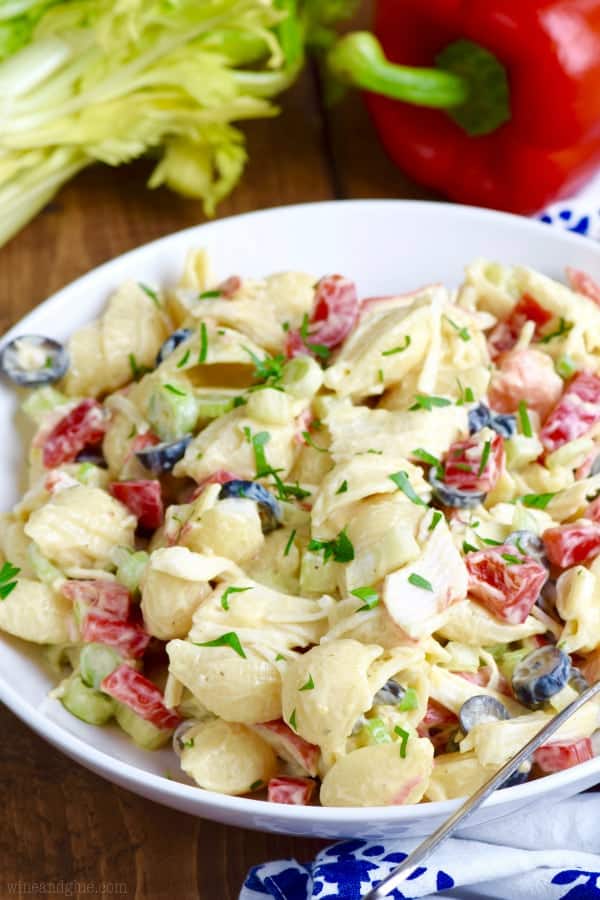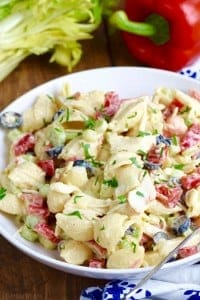 Crab Pasta Salad
This Crab Pasta Salad is a family recipe, one of my favorites!  Packed with veggies and delicious flavor, it's a staple at summer BBQs!  
Ingredients
1

lb

medium pasta shells

1

pound

package imitation crab meat

cut bite size

1

can medium black olives

sliced

1

medium red bell pepper

diced

3

or 4 green onions

sliced thin about two inches into the green

3

stalks of celery

diced
Dressing
1 1/2

cups

plain non fat yogurt

see note

1/4

cup

fat free mayonnaise

1/2

TBSP

Spike

found in the spice aisle (you can also substitute with 1/2 a tablespoon of Old Bay Seasoning)

1

tsp

celery salt

1

TBSP

yellow mustard

1/2

TBSP

soy sauce

1/4

cup

Italian vinaigrette salad dressing

see note
Instructions
Cook pasta according to package instructions. Drain and rinse with cold water.

In a very large bowl, mix the pasta, crab, olives, red peppers, green onions, and celery.

In a small bowl, whisk together the yogurt, mayo, Spike, celery salt, yellow mustard, soy sauce, and salad dressing.

Pour the dressing over the pasta and veggies and stir to combine. Refrigerate at least two hours before serving.
Notes
Do NOT use Greek yogurt for this recipe. It is way too thick and doesn't give the dressing the right consistency or flavor.
My mom always used Seven Seas Viva Italian salad dressing for this recipe. I used Wishbone because it's what Nathan picked up at the store. Again, this recipe is forgiving, so just use what you find.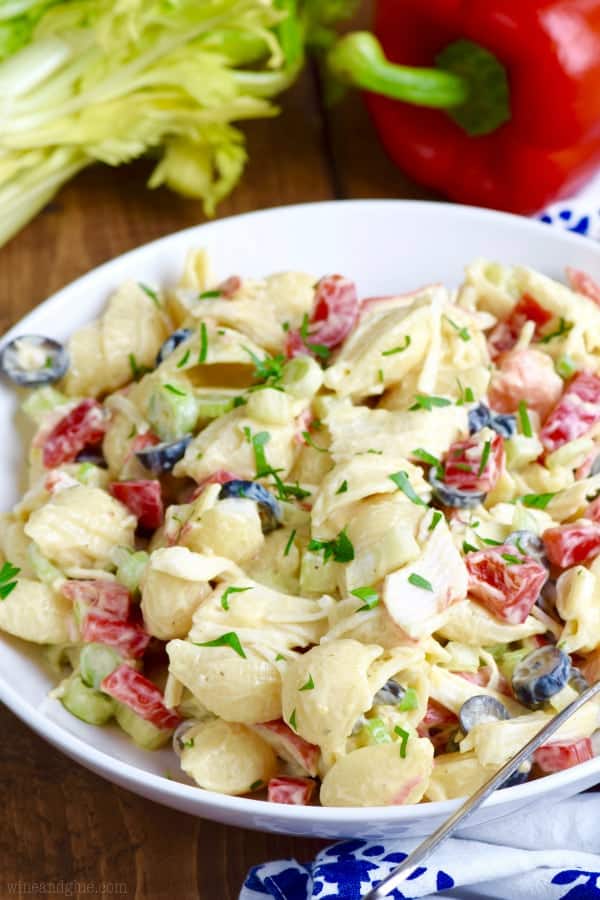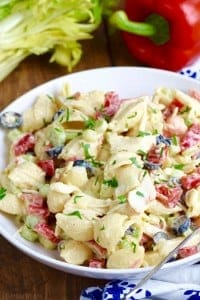 did you make this
Crab Pasta Salad
you might also like . . .
SaveSave