This simple Caprese Pasta Salad is four ingredients plus a homemade balsamic dressing. It is perfect for family gatherings or picnics!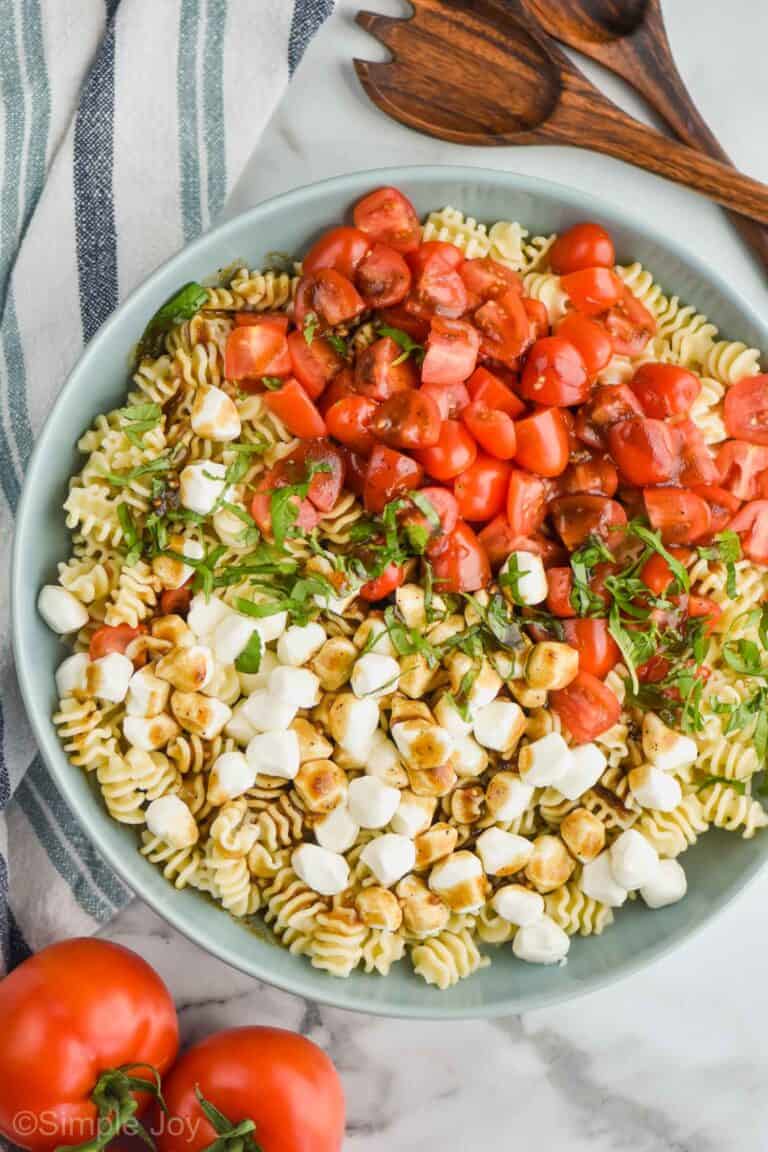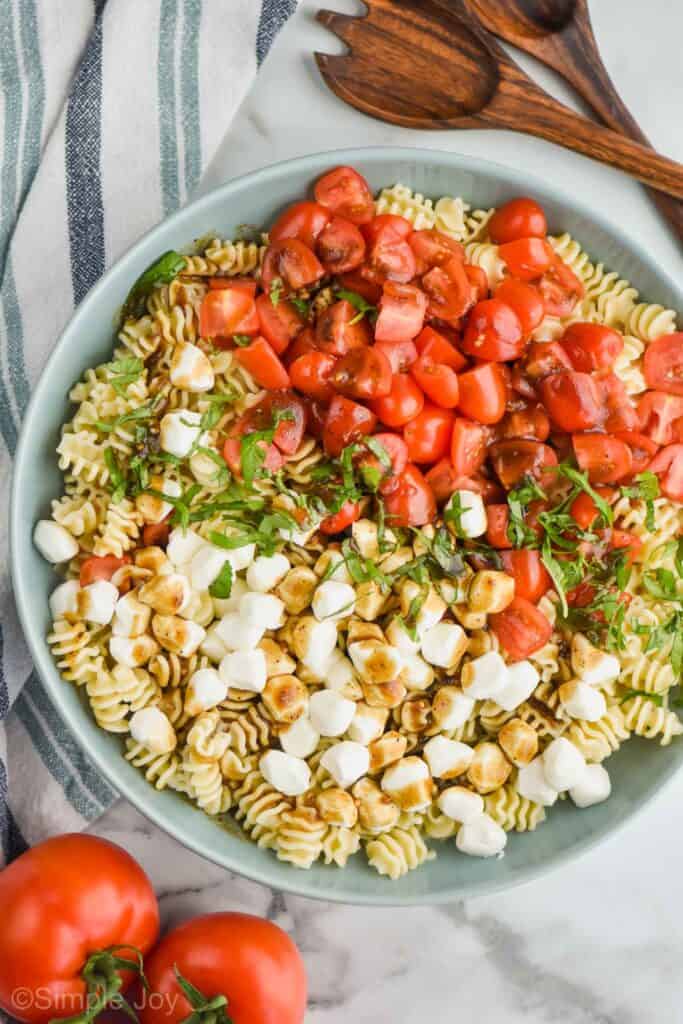 The flavors of a Caprese Salad – fresh basil, mozzarella cheese, and tomatoes – are some of my favorite. It's all so simple, but so delicious.
In this Caprese Pasta Salad we easily pull those flavors together and then toss it with a homemade balsamic dressing for a delicious and easy pasta salad that everyone will love.
This pasta salad recipe is a great potluck dish, but can be cut in half to make a great side dish for family dinners. The leftovers are delicious and perfect to bring to work the next day.
Reader Review
I loved the simplicity, the melded flavors, plus the dressing was delicious (I wasn't sure about the Honey Mustard, but it worked very well) and best of all for my Paisan relatives, the colors represented the Green-White-Red of the Italian flag!
Caprese Pasta Salad Ingredients
For this recipe we need four main ingredients (scroll to the recipe card at the bottom of the post for the measurements):
Pasta: I used Radiatori because I love the way those ridges hold on to the dressing. But you could use any small pasta in this recipe.
Cherry Tomatoes: These tiny tomatoes are perfect for pasta salad because the hold up so well in a salad.
Pearl Mozzarella: These tiny balls of fresh mozzarella mimic what you would get in a Caprese salad, but work perfect in this pasta salad recipe.
Fresh Basil: Any good Caprese salad needs fresh basil. If you aren't growing any, you should definitely buy some for this recipe. Keep an eye out for the plants in the produce section of your grocery store. Sometimes they are less expensive than a package of fresh basil.
Balsamic Dressing: To all that we add a great balsamic dressing. Below I give you instructions for how to make it homemade. It is very simple. But I am also going to give you the amount you need so that you could use your favorite store-bought brand.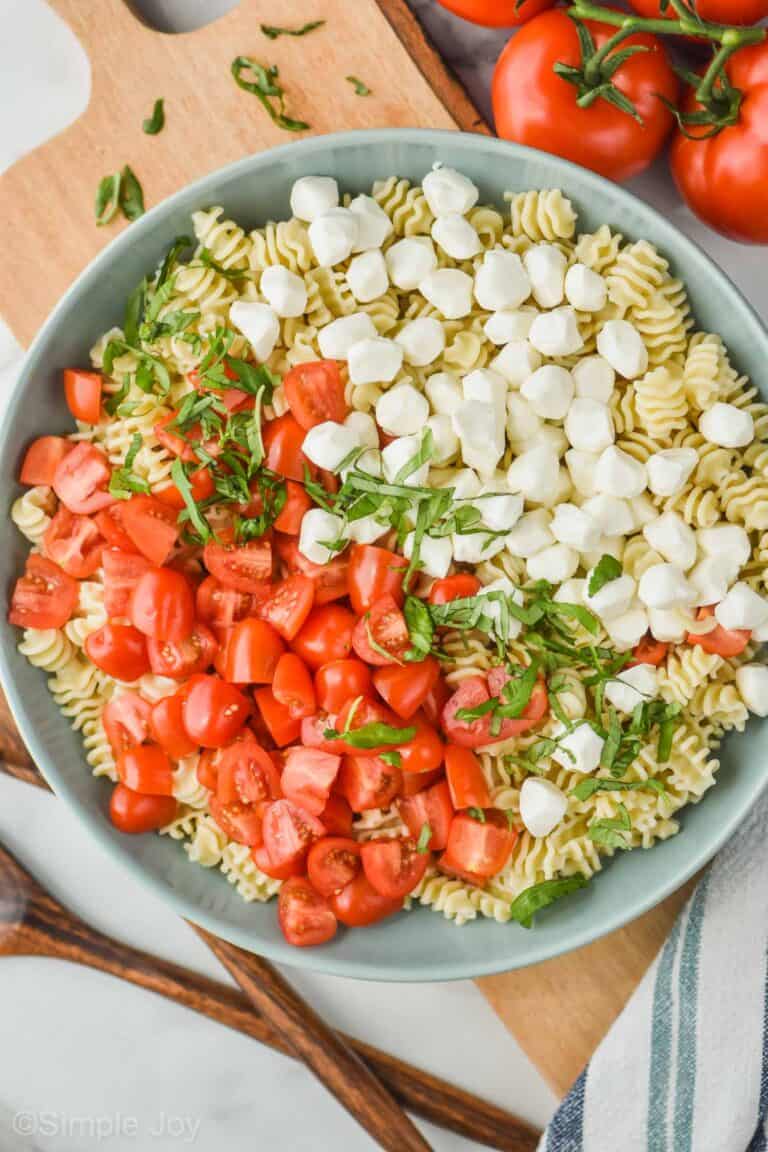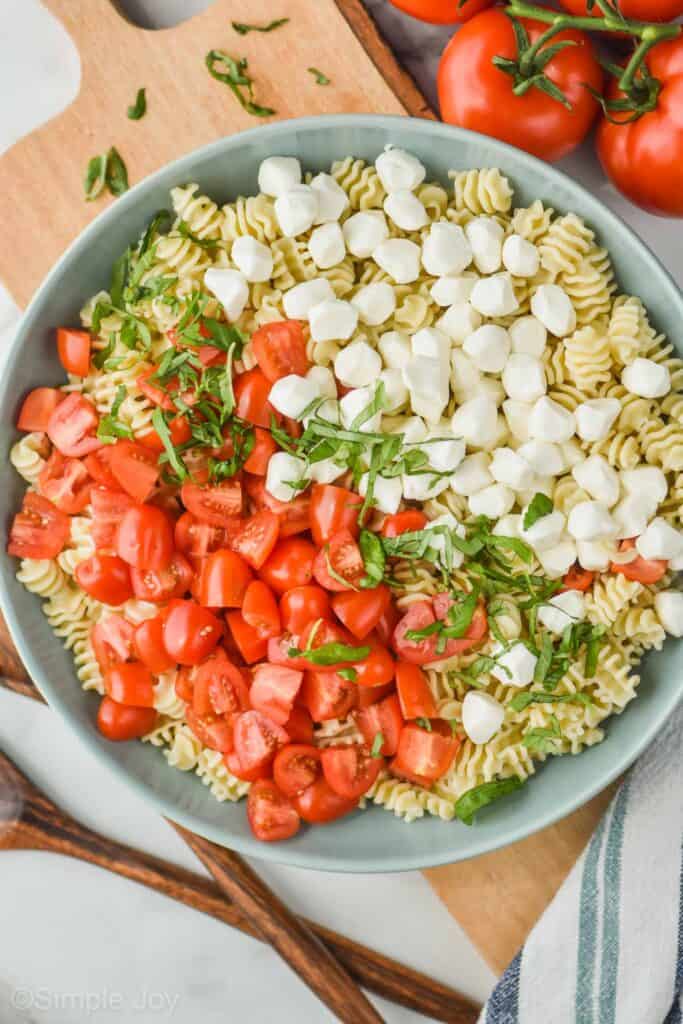 Making Pasta for Pasta Salad
I'm obsessed with pasta salads, but since the base is the noodle itself, it's important we cook it properly. Here are a few tips to make sure that happens:
Make sure to add enough water. You want there to be a LOT of room for that pasta to grow. It shouldn't stick out of the water at the end. You need at least 4 quarts of water for a pound of pasta.
Bring your water to a roaring boil. Before you add any pasta, you want to see BIG bubbles. Turn the heat on high and cover your pot to make this happen faster.
Add salt to the water after you add the noodles. You don't need to measure it, but add a generous pinch – about 1 to 2 teaspoons for a full pound of pasta.
Cook the pasta according to the time on the package. If there is a range given. Test the pasta at the bottom end of the range. It should still have a bite to it. If it is gummy, you cooked too long.
Drain the pasta and then rinse with water. We want to stop the cooking process. Additionally, this is a cold pasta salad, so we don't need our noodles to stay warm.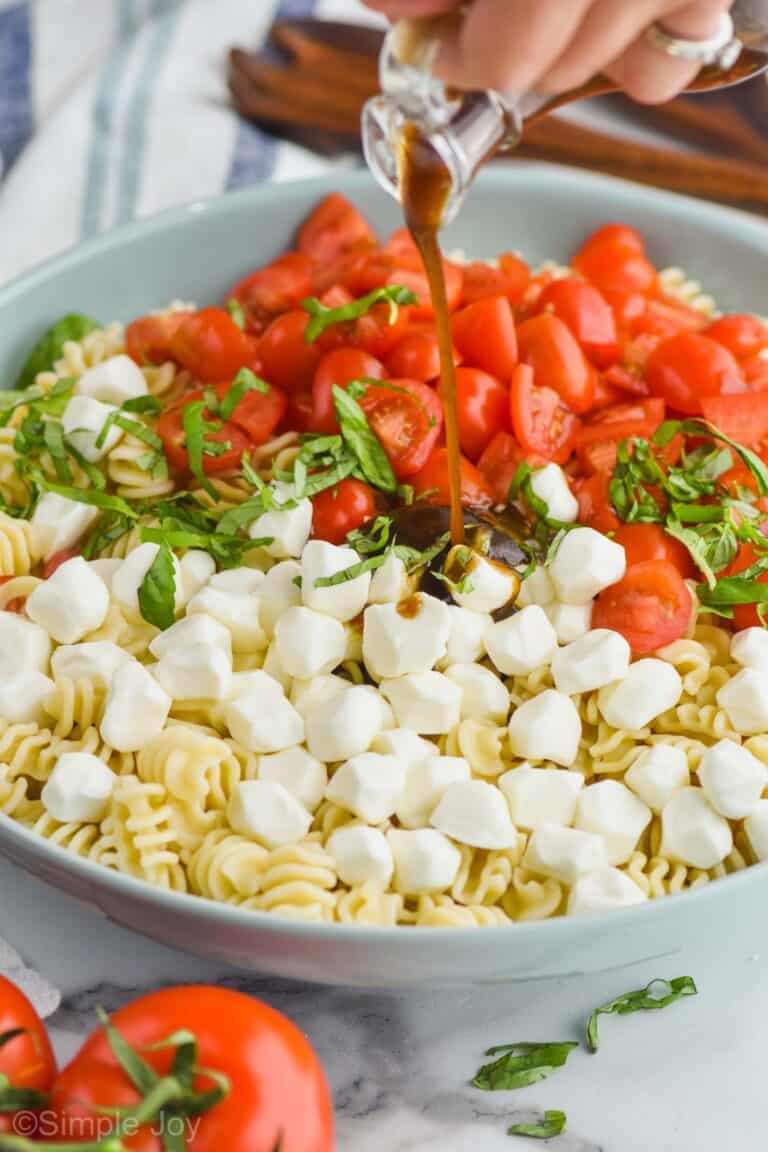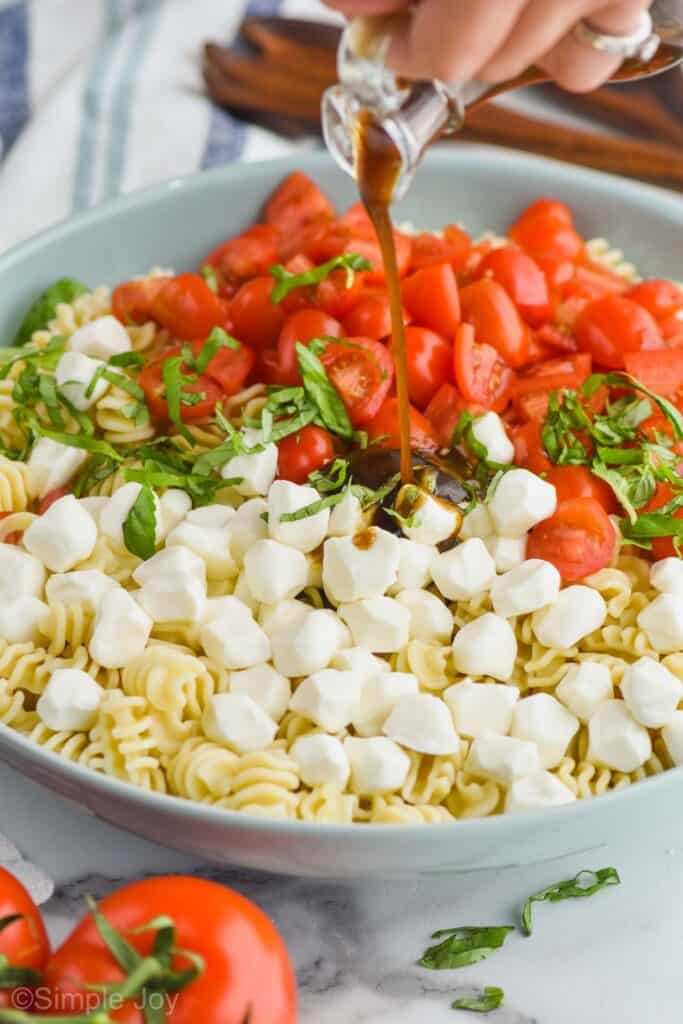 Balsamic Dressing
For this recipe we are using my homemade balsamic dressing. It is a great recipe that you will love on day to day side salads, but it is just perfect for this caprese pasta salad.
If you decide that you would like to use store-bought dressing instead, no judgement from me. Shortcuts can be so helpful in cooking. You will need about 1 cup of store-bought dressing.
Balsamic Dressing
This Balsamic Dressing is a simple and easy recipe, that anyone can make at home! Slightly sweet and deliciously tangy, you will fall in love with this recipe.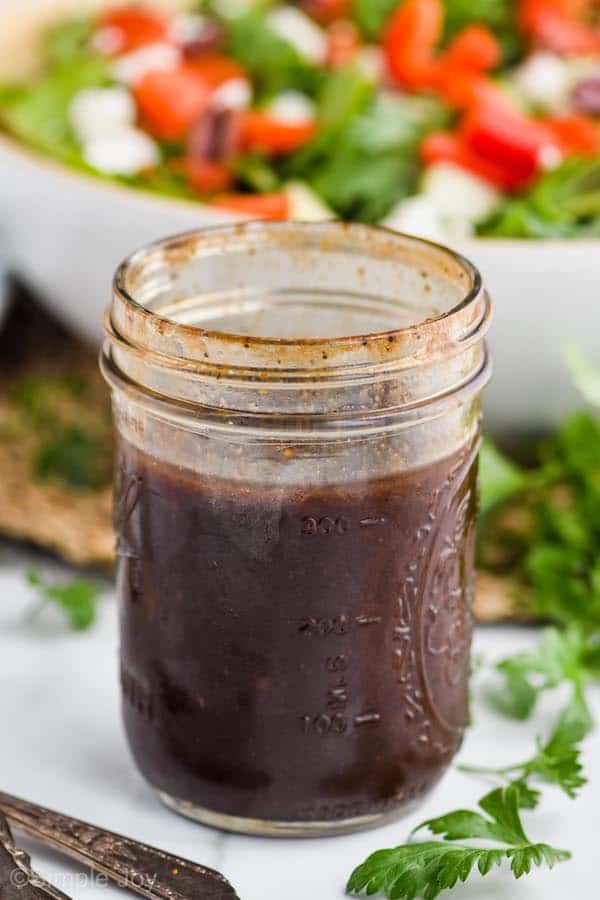 Storing Leftovers
If there are left overs of this pasta salad, I recommend tossing them with a bit more balsamic dressing before serving. You can use store bought or you can make another round of this recipe, saving the extra for salads.
Leftovers of this recipe should be stored in an airtight container in the refrigerator. They can be kept for up to three days.
I would not recommend freezing this recipe.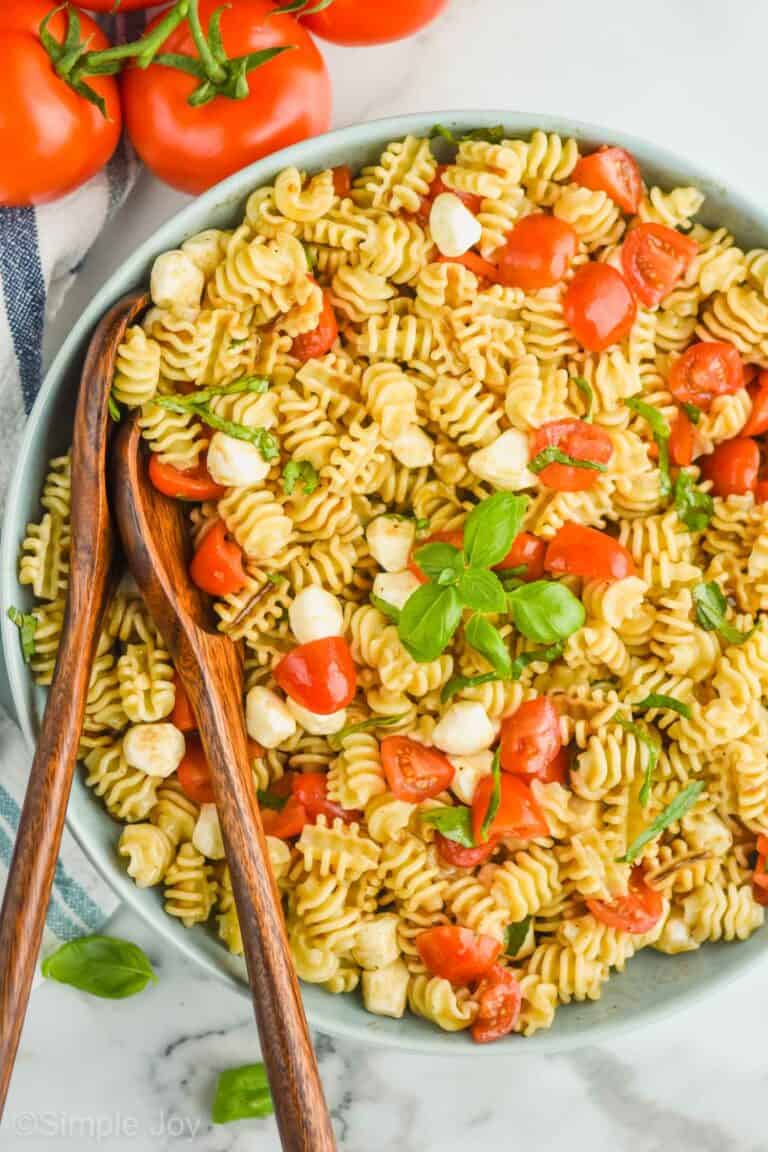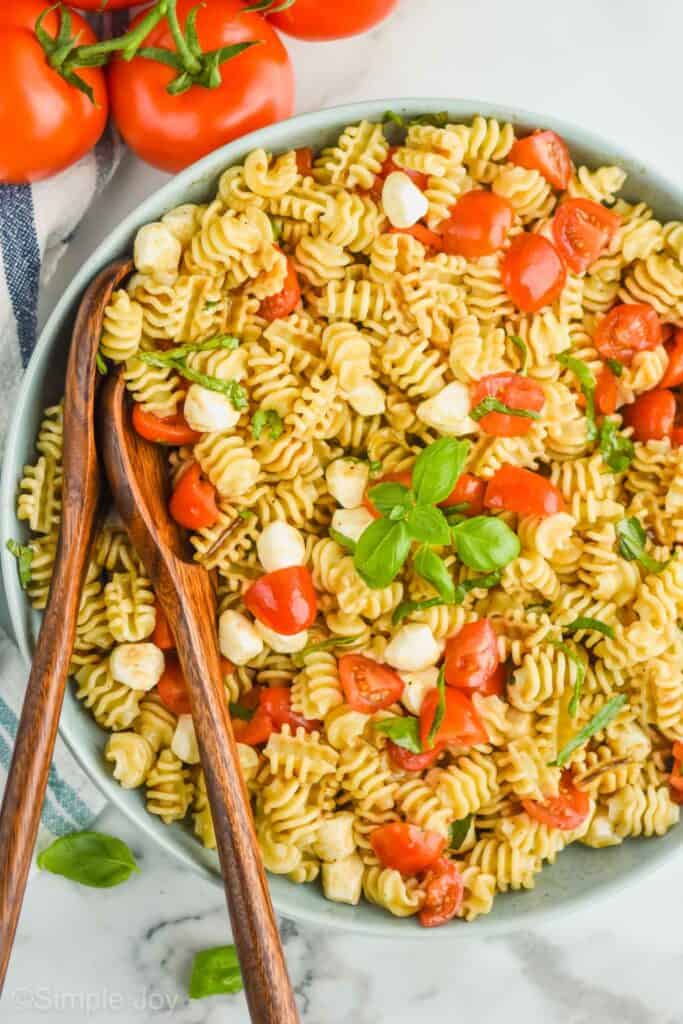 FAQ
Can you make caprese pasta salad ahead of time?
I hate to say this, but I would not recommend making this recipe the day before. The noodles absorb a lot of the dressing overnight, and I didn't care for the results.
You can make the salad dressing the night before and cook the noodles! This will save you time the next day as you try to wrangle three kids before you head out the door to a family BBQ.
What does caprese mean in salad?
Traditionally a caprese salad is a fresh slices of mozzarella, tomatoes, and basil with a drizzle of dressing. This can be olive oil and is often a balsamic reduction.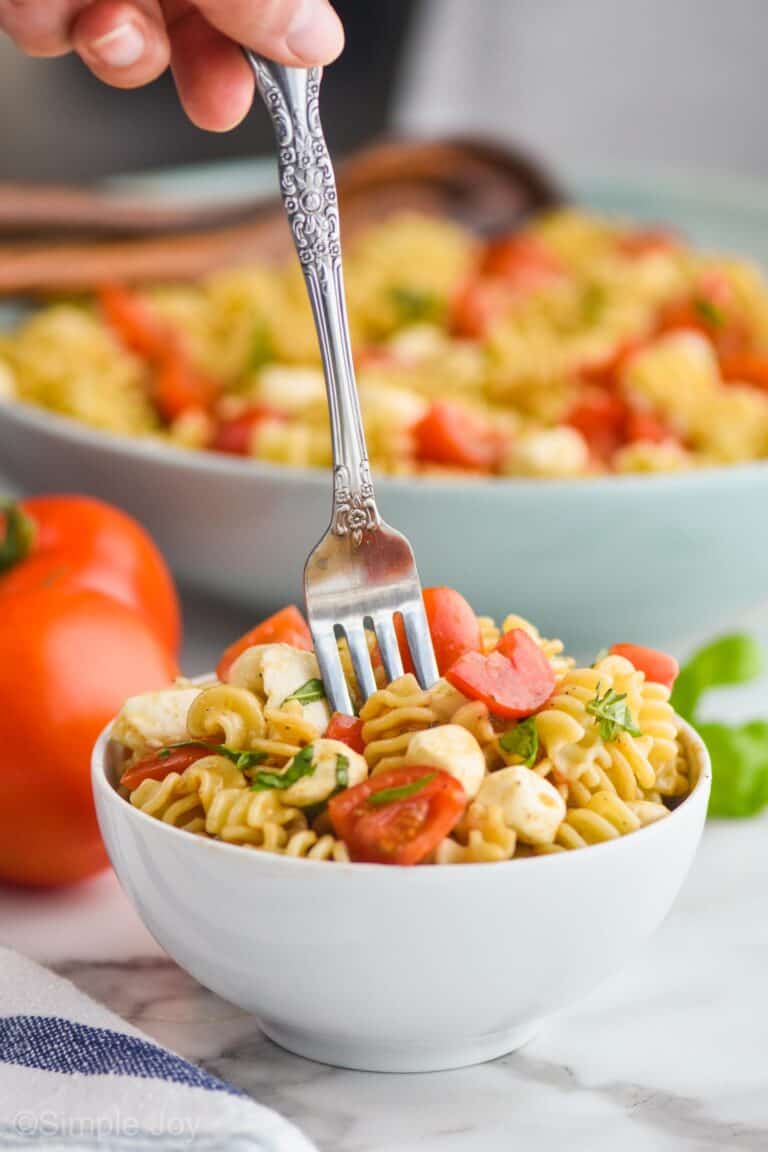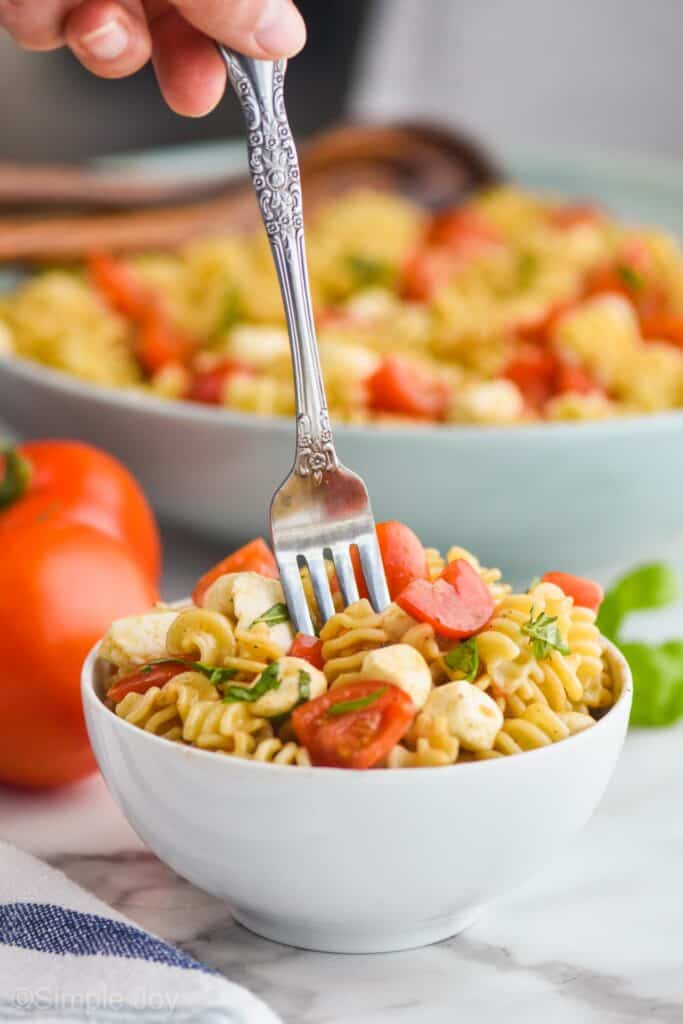 What to Serve with Caprese Pasta Salad
If you are serving this as a dinner – and who could blame you – you might want to round it out with a few other things.
If you try my Caprese Pasta Salad recipe or any of my other recipes, please leave me a comment and let me know what you think.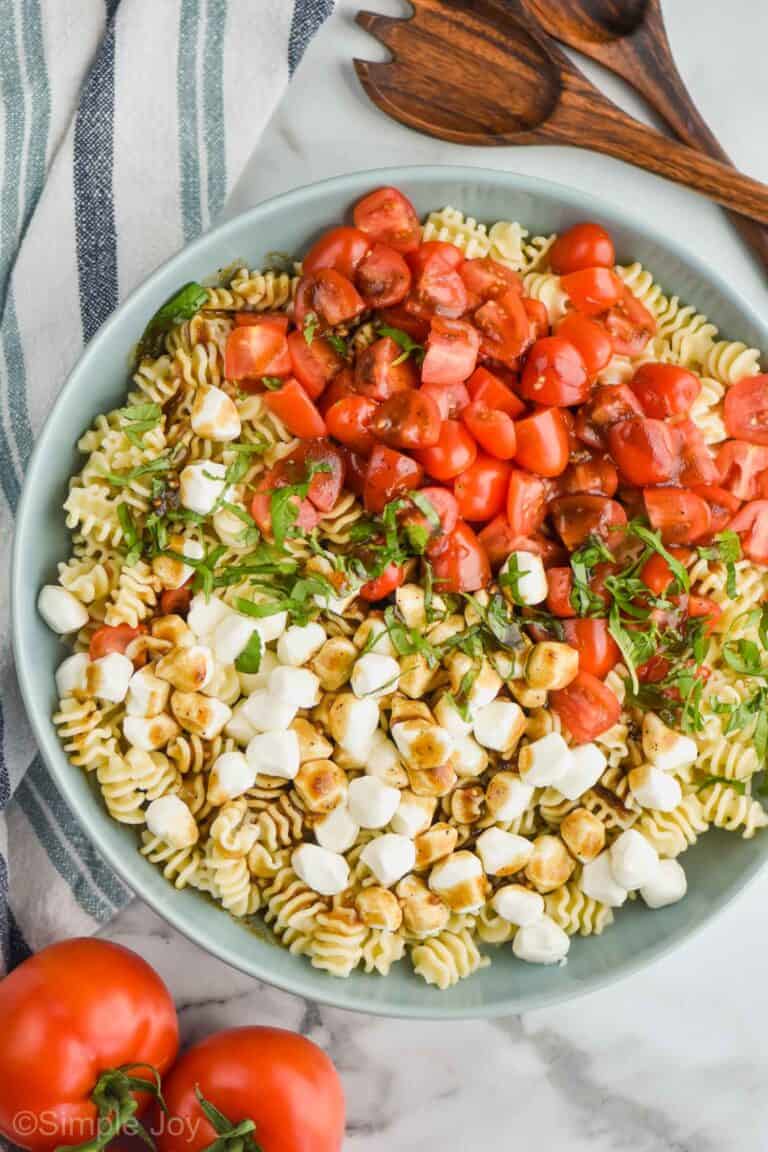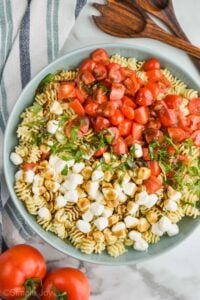 Caprese Pasta Salad
This simple Caprese Pasta Salad is four ingredients plus a homemade balsamic dressing. It is perfect for family gatherings or picnics!
Ingredients
1

pound

pasta

I used Radiatori

2

cups

cherry tomatoes

cut small (a 10.5 ounce container)

8

ounces

fresh mozzarella pearls

1/4

cup

fresh basil

shredded
Dressing (or about 1 cup store bought Balsamic Dressing)
3/4

cup

extra virgin olive oil

1/4

cup

balsamic vinegar

1 1/2

tablespoons

honey mustard

2

garlic cloves

minced

3/4

teaspoon

sugar

1 1/2

teaspoons

kosher salt

1/2

teaspoon

black pepper
Instructions
Cook the pasta according to package instructions, adding salt to the water.  Drain and rinse with cool water to stop the cooking process and cool the noodles.

In a large bowl combine the noodles, mozzarella pearls, tomatoes and basil.

In a small measuring cup, whisk together the ingredients for the salad dressing. Pour over the pasta salad and toss to combine.
Serving:
1
cup
Calories:
311
kcal
(16%)
Carbohydrates:
31
g
(10%)
Protein:
8
g
(16%)
Fat:
17
g
(26%)
Saturated Fat:
4
g
(25%)
Polyunsaturated Fat:
7
g
Monounsaturated Fat:
5
g
Cholesterol:
1
mg
Sodium:
233
mg
(10%)
Potassium:
157
mg
(4%)
Fiber:
2
g
(8%)
Sugar:
3
g
(3%)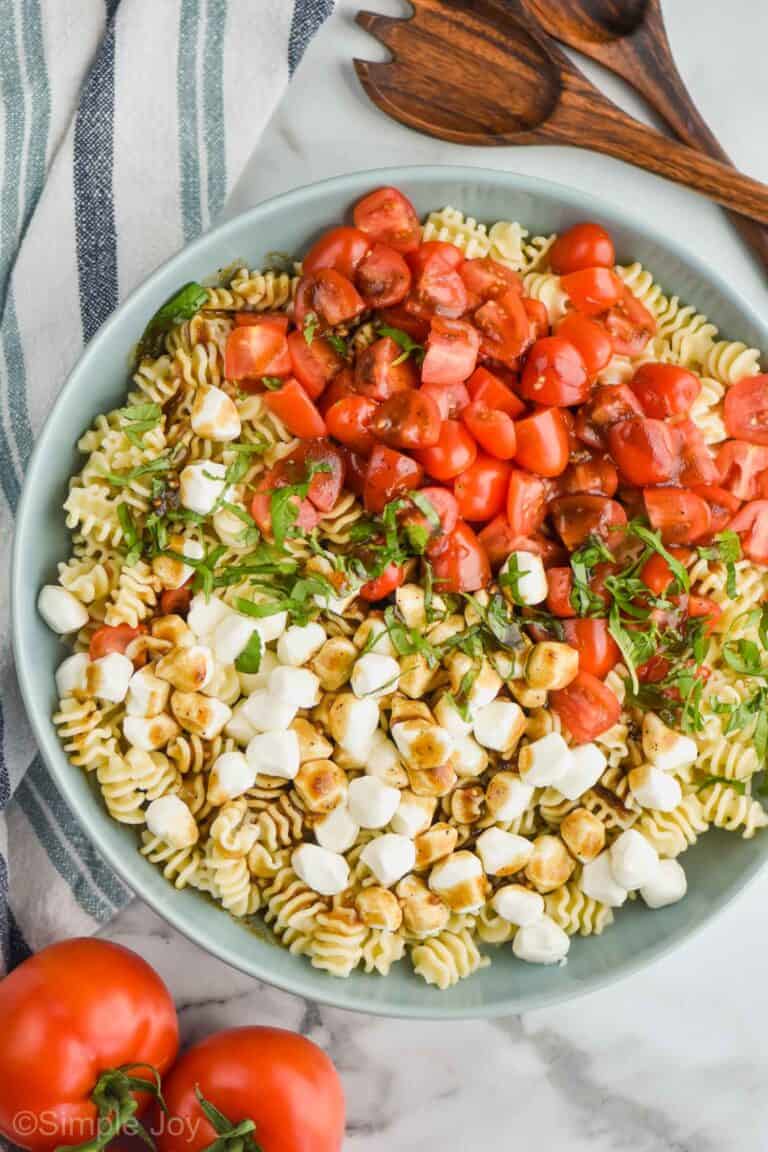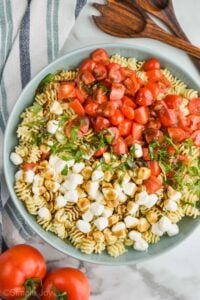 did you make this
Caprese Pasta Salad