This Pie Crust Recipe is easy to make, but more importantly it tastes delicious. The combination of butter and shortening help the pie keep its shape without sacrificing any flavor.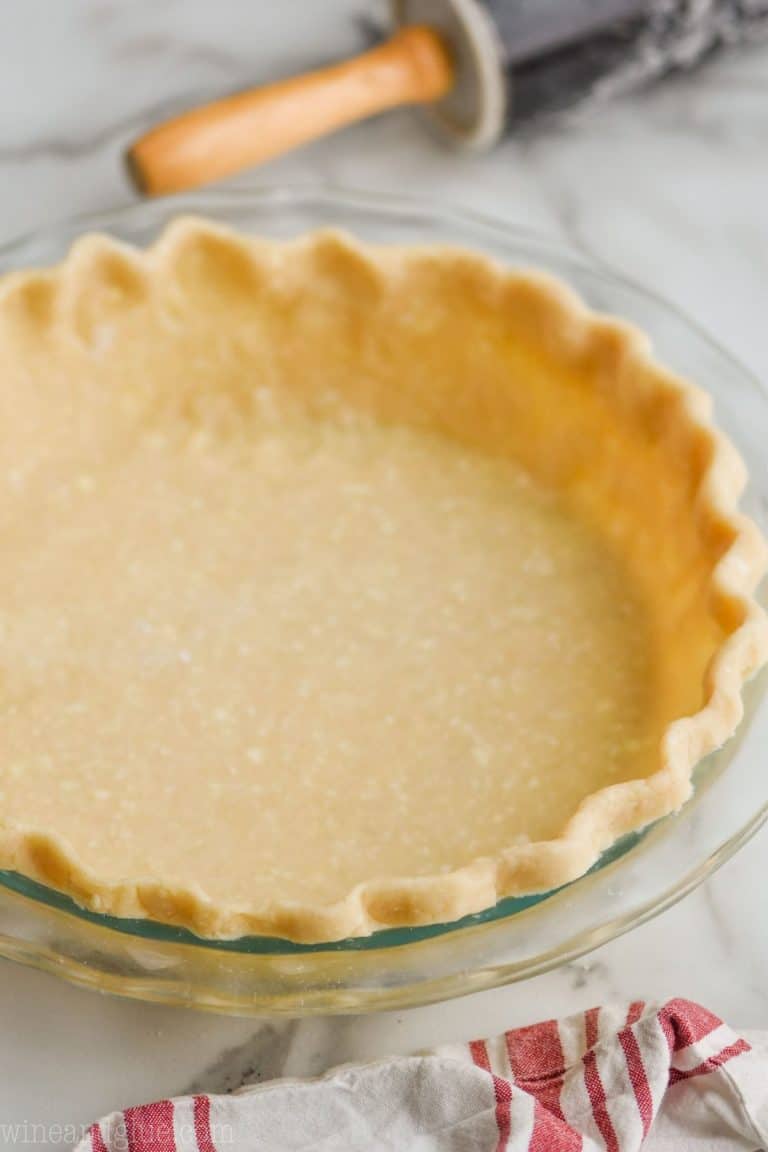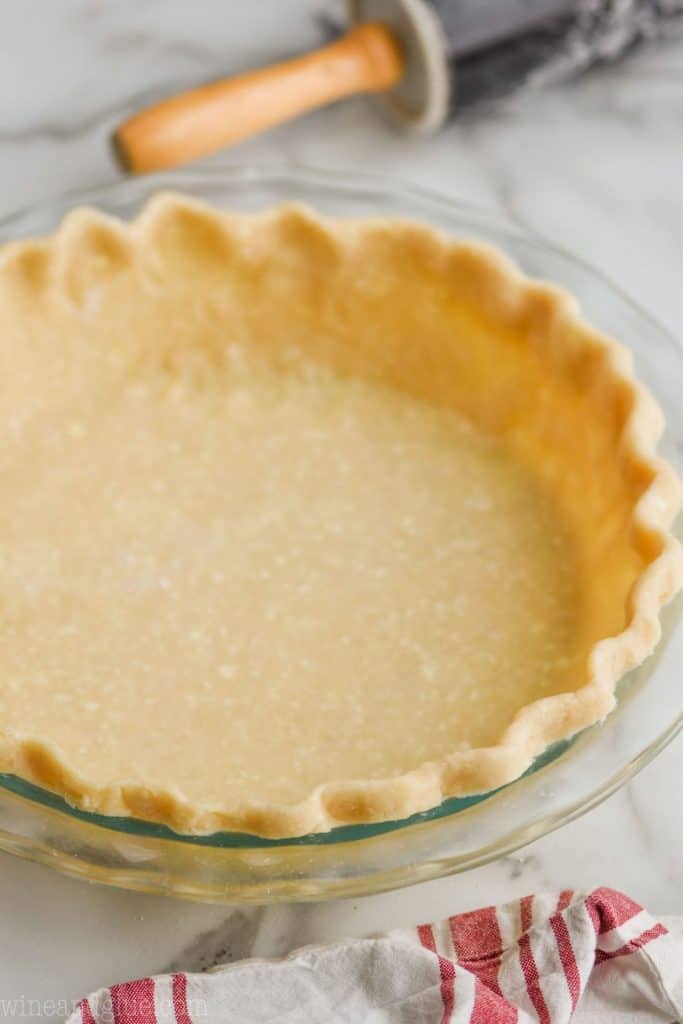 Happy Sunday my friends! With baking season upon us, I wanted to give you an updated version of this pie crust that has been pinned more than 200k times! Today I'm giving you the BEST pie crust recipe with easy to follow photos. I even have a video for you, so you know exactly how to make pie crust.
This is a recipe, from America's Test Kitchen, that I fall back on over and over again. It never fails me and it turns out flakey and perfect every single time. It is a stand by for a lot of you too! Look at this review:
READER REVIEW
I think this is the first time I've made a crust I can be proud of! Amazingly light and flaky. I needed a crust for a cream pie so I blind baked with the sugar as the weight. Worked perfectly. Will definitely use this as my go to crust. Thank you for posting this.
What Makes this Homemade Pie Crust Work
We Use Vodka as the Secret Ingredient
I love the science behind this recipe. Pie crusts start with flour, a dry ingredient. Moisture is needed to pull the dry ingredients together, but you don't want too much moisture or the final crust won't be flakey.
If you use vodka, the moisture of it will pull the dry ingredients together and then bake off when the pie bakes. The results is the perfect flake crust.
If you are serving someone who is sober or you don't ever cook with alcohol, you can use vinegar as a replacement, but please note that it will leave a residual taste.
Pie crust with butter and shortening
This recipe has both butter and shortening (vegetable lard).
The butter creates the most delicious taste to the pie crust. But a pie crust made completely of butter will be less likely to hold it's shape.
Therefore, we add shortening to this recipe. While it doesn't taste as amazing, it holds the shape of the crust.
The two together are the beginning of the best pie crust.
How to Make Pie Crust
PLEASE NOTE: This pie crust recipe comes together in a food processor, but you can make it without one! See instructions at the bottom of the post.
STEP 1: Put 6 tablespoons (3 ounces/85 grams) butter, 1/4 cup vegetable shortening (50 grams), and 2 tablespoons (1 fluid ounce/29.6 ml) of vodka in the freezer for 30 minutes.
STEP 2: Fill a small measuring cup with water and ice and put it in the refrigerator.
STEP 3: Add 3/4 cup (96 grams) all purpose flour, 1/2 teaspoon salt (3 grams), and 1 tablespoon granulated sugar (12.5 grams) to your food processor. (Please see note under frequently asked questions about measuring flour.) Blend to combine.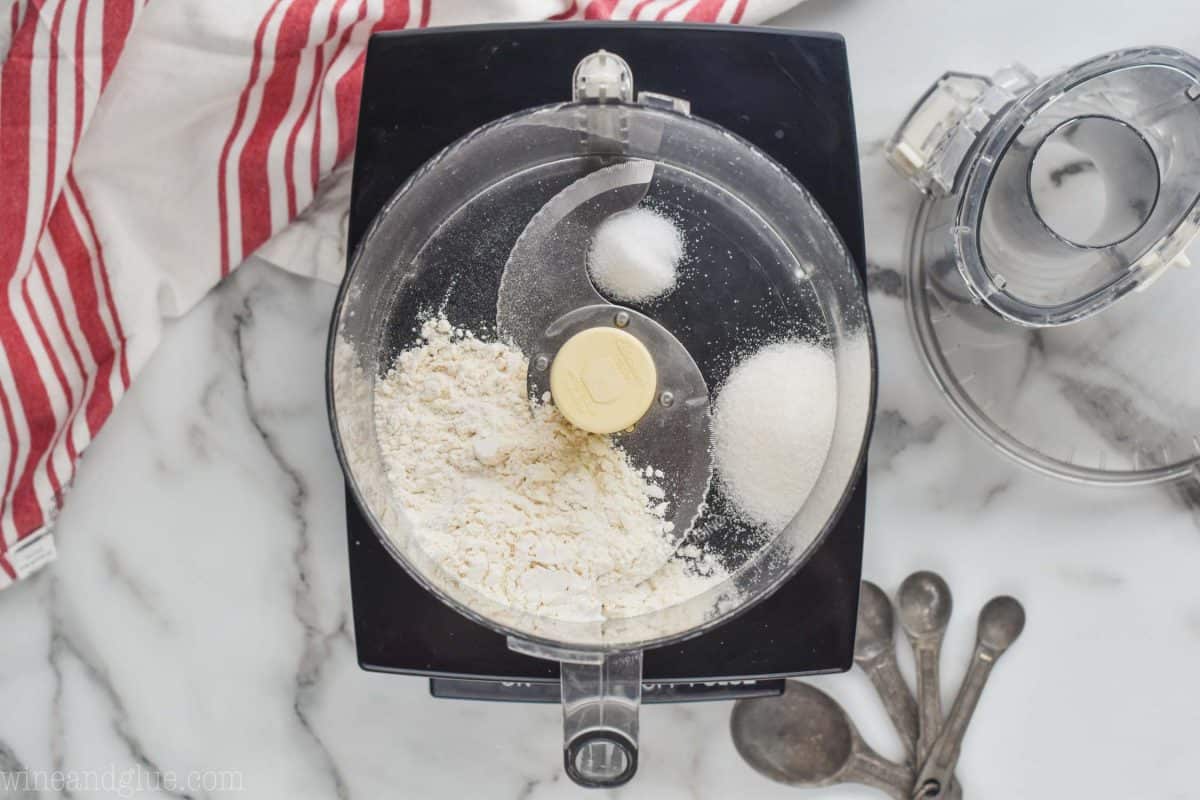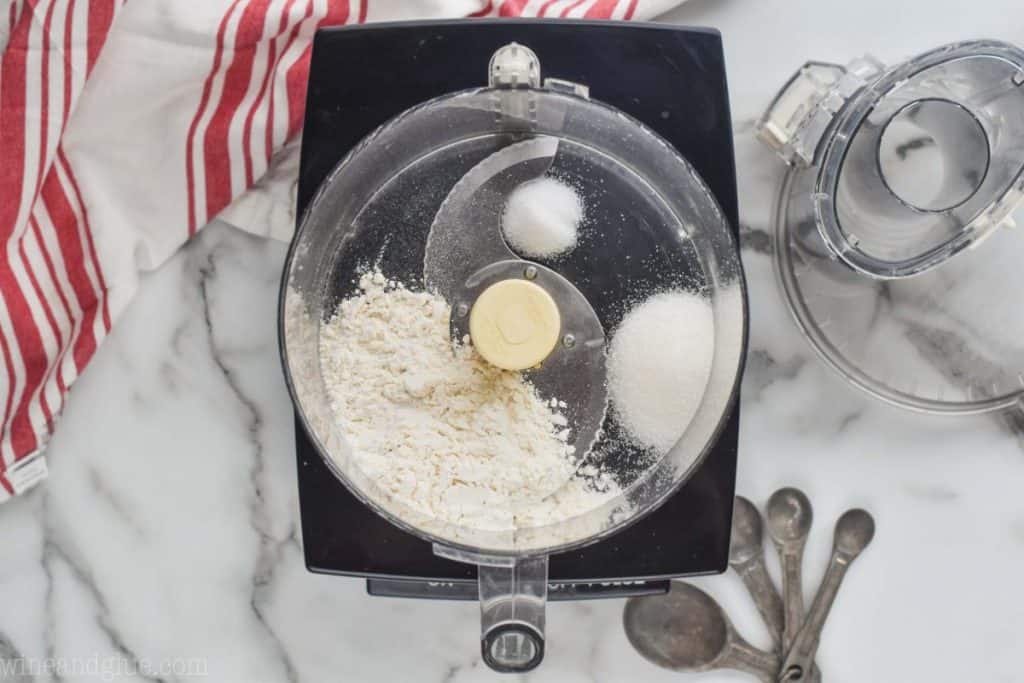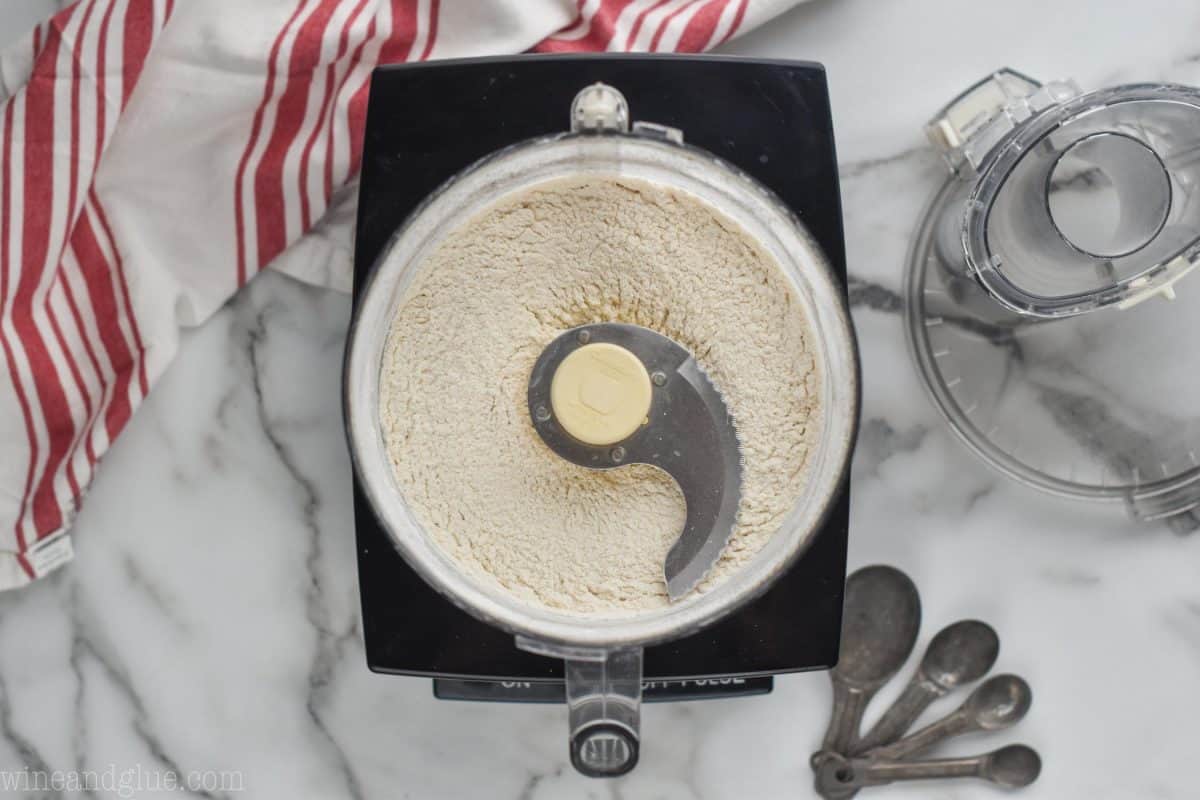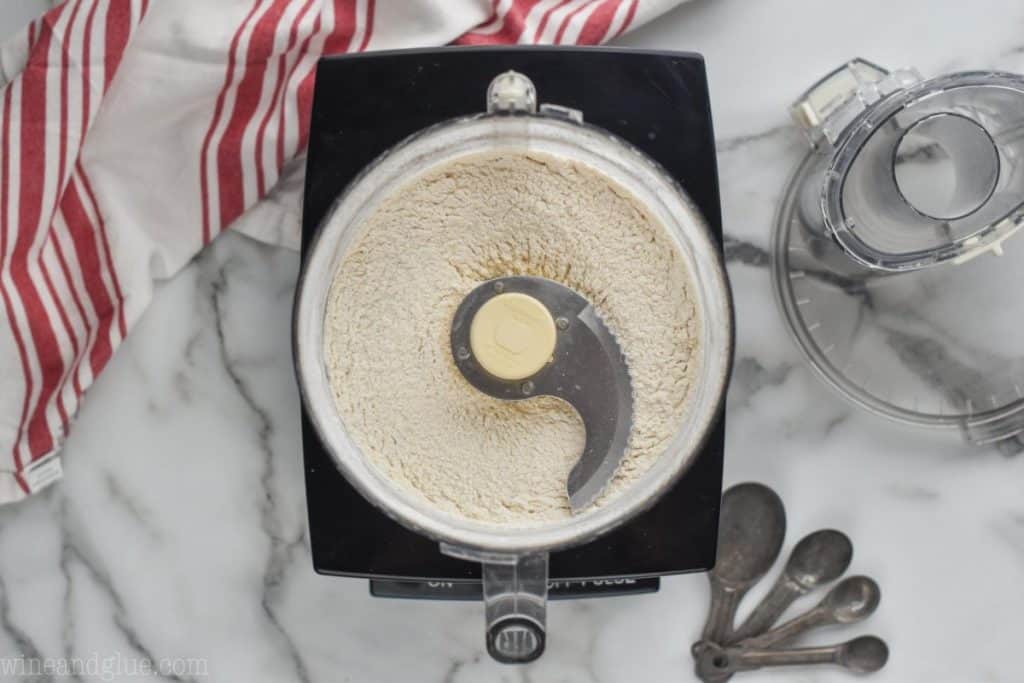 STEP 4: Add the butter and shortening from the freezer. Blend together until there are no streaks of flour left. I'm including an up close picture so you really know what you are looking for.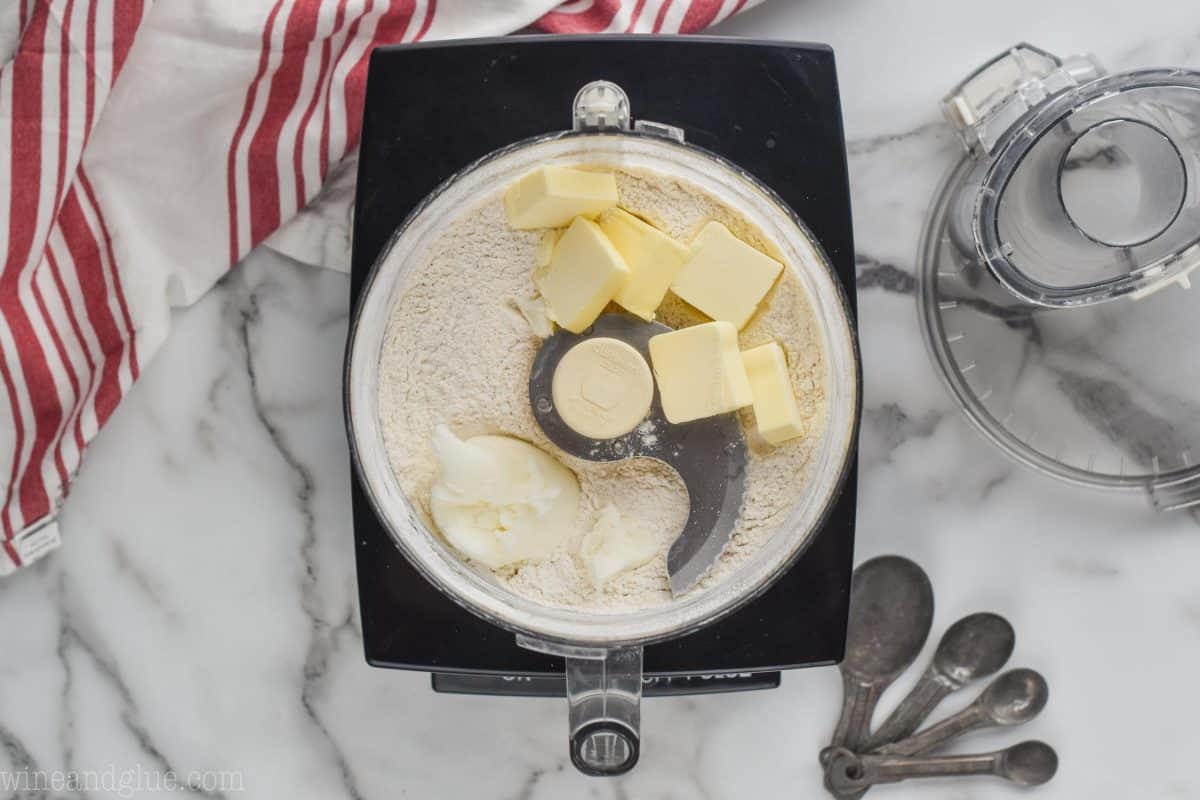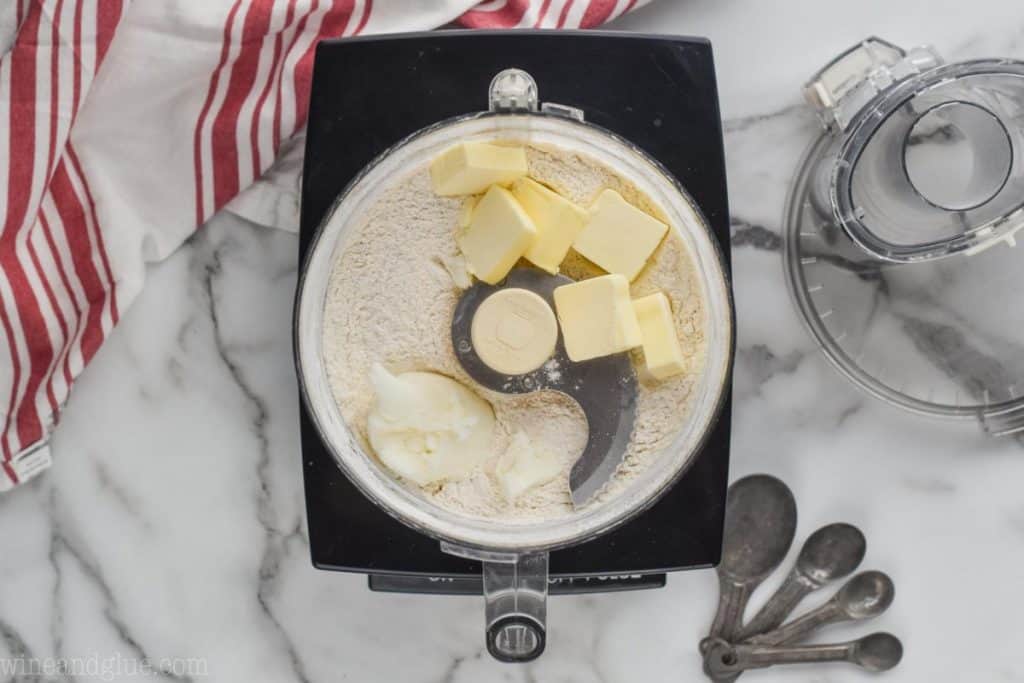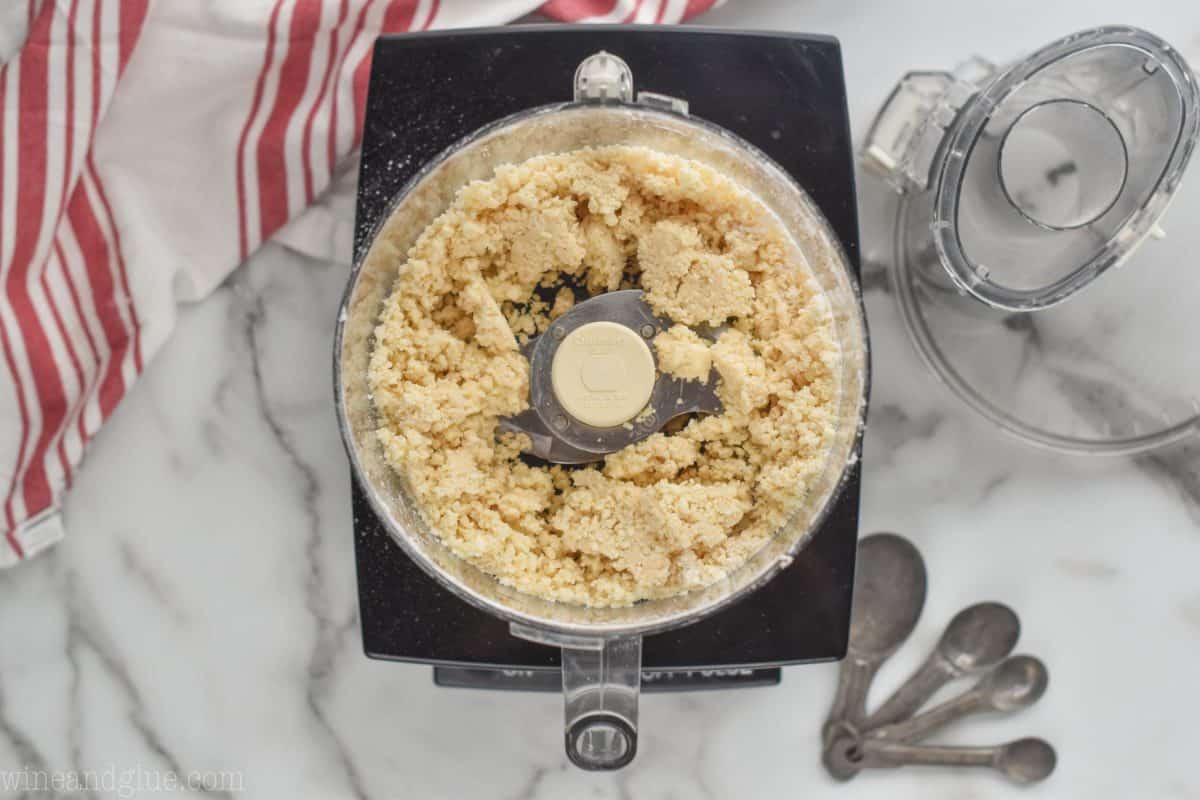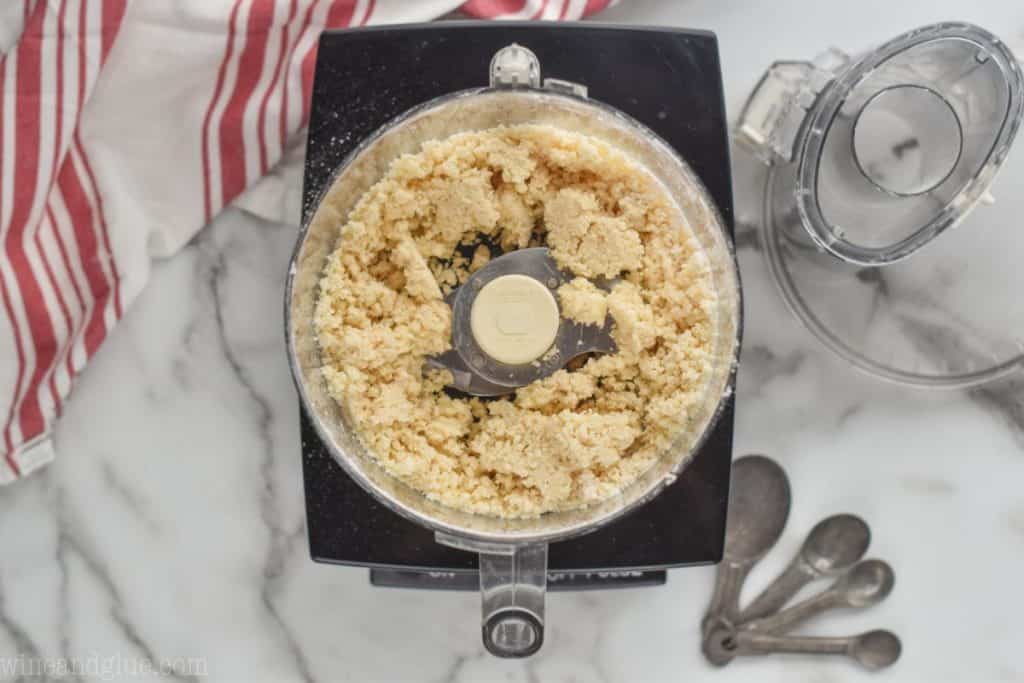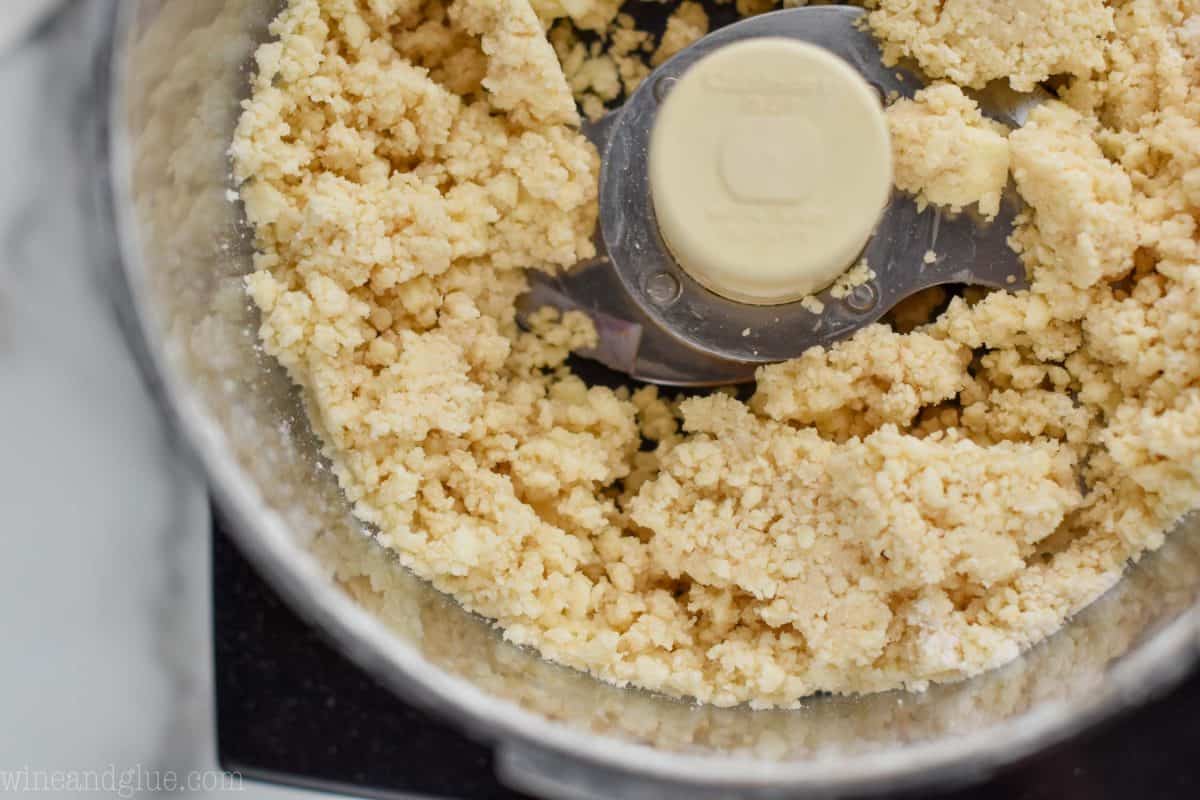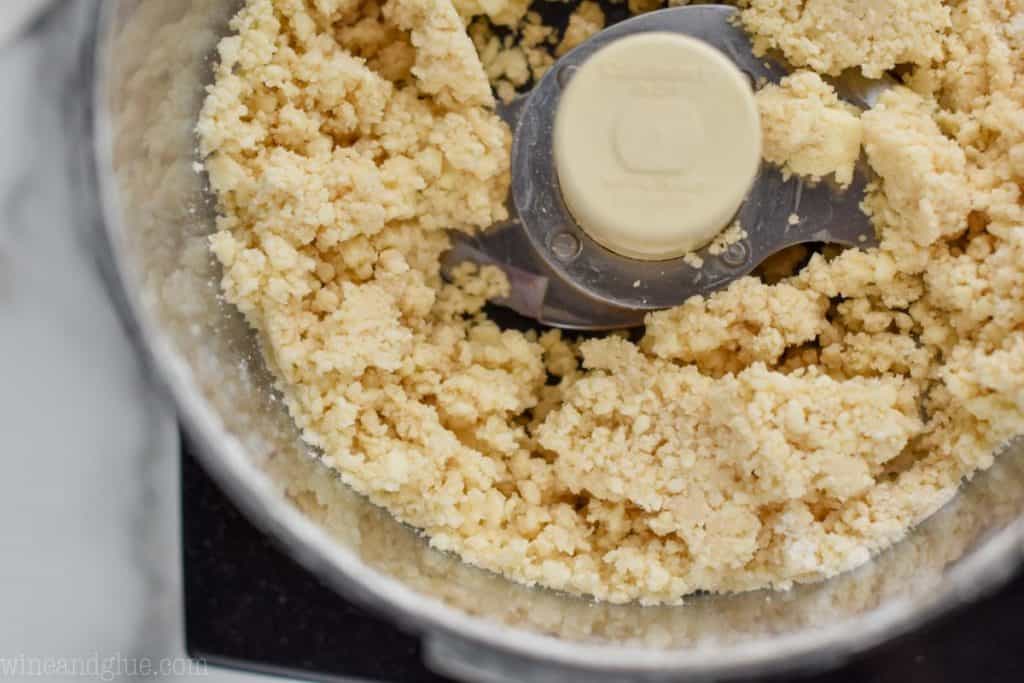 STEP 5: Add in the final 1/2 cup (64 grams) of flour. Blend until the mixture becomes a fine crumb. Be careful not to over blend.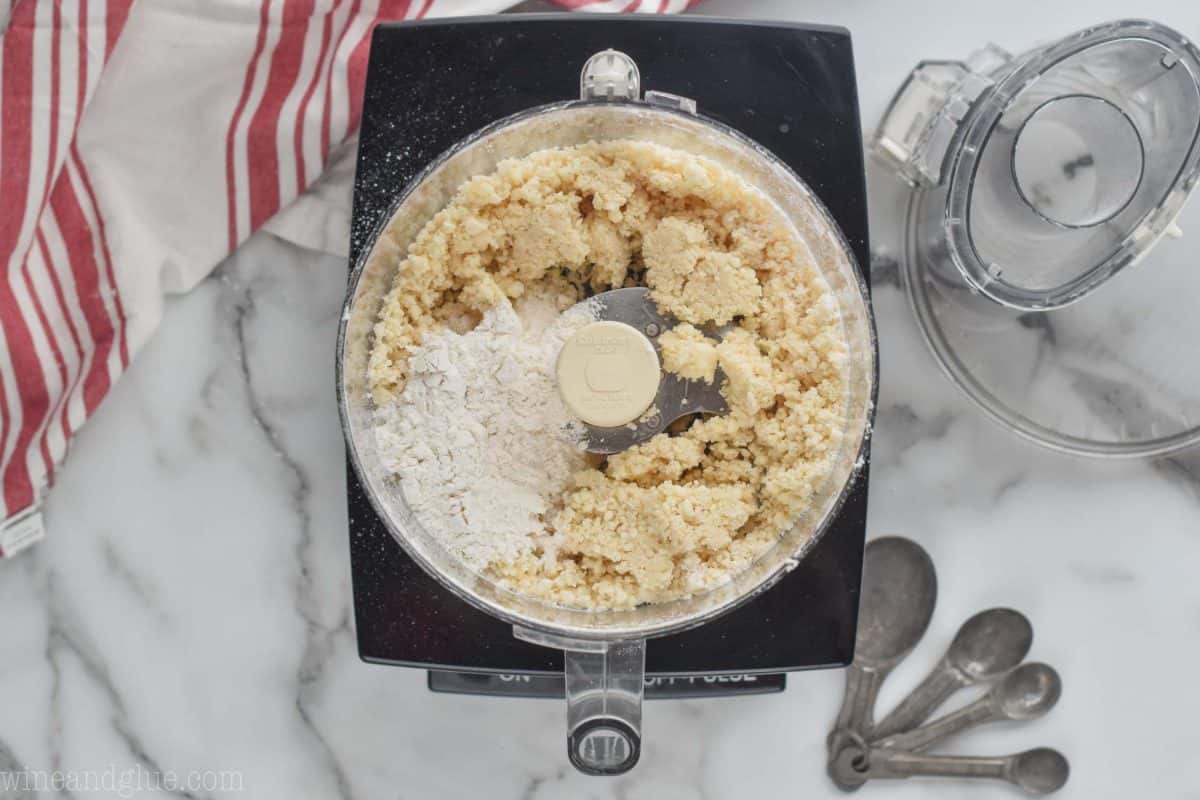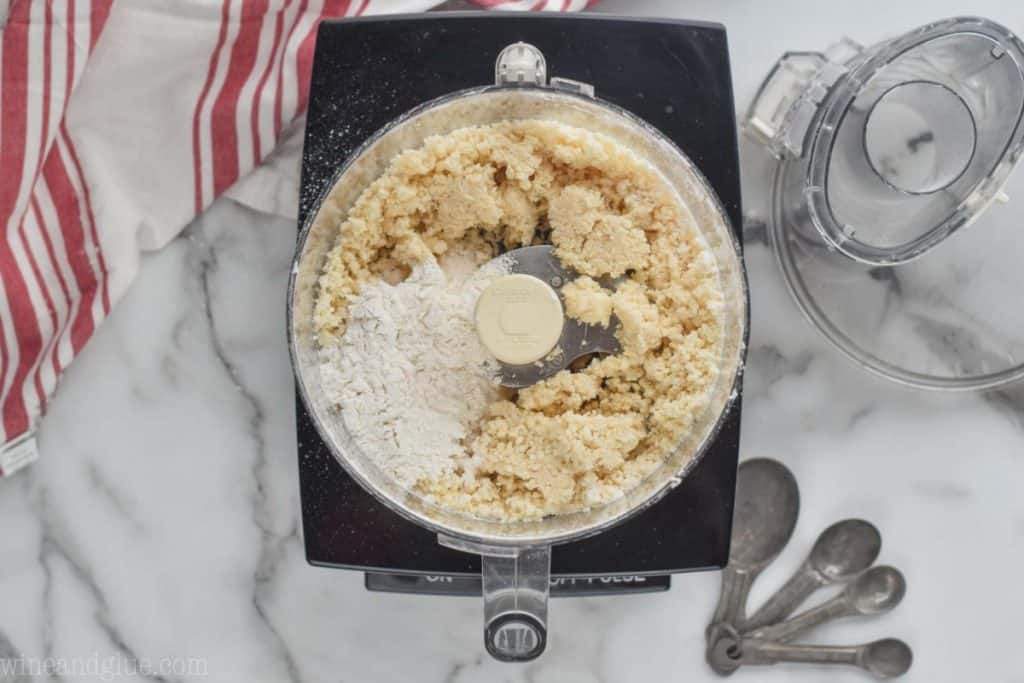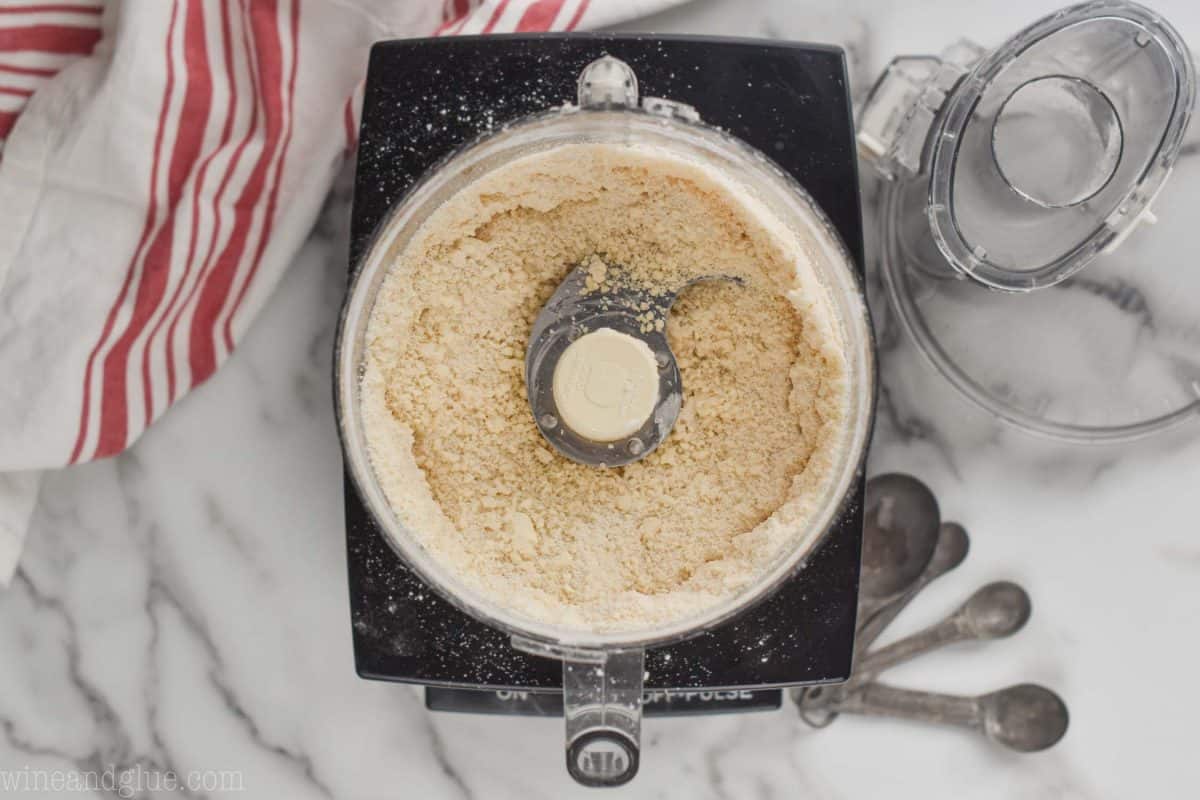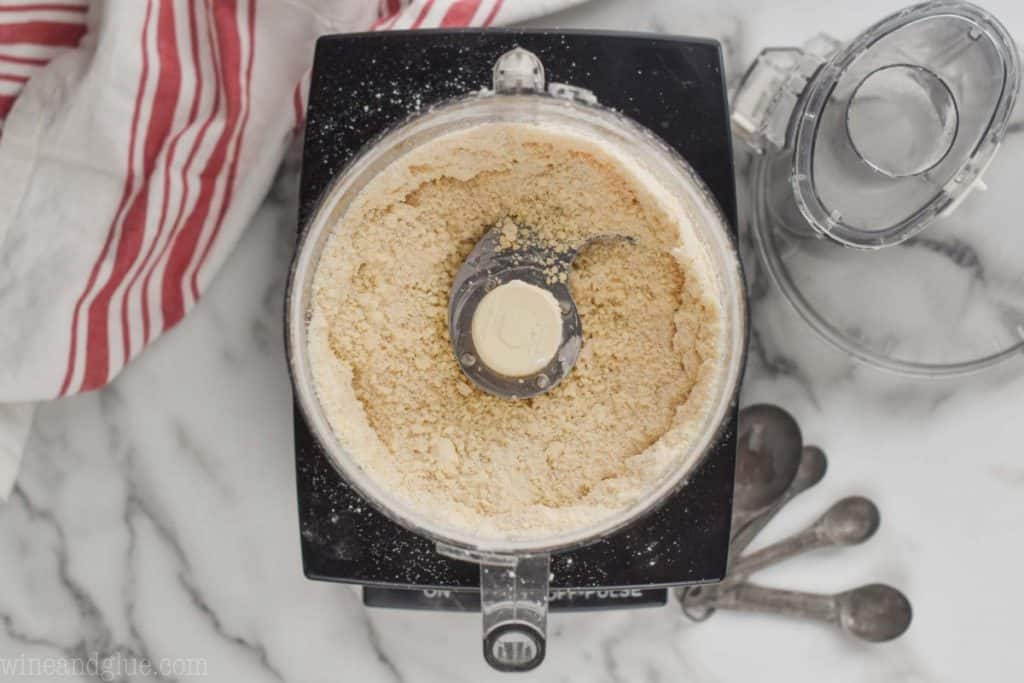 STEP 6: Transfer the mixture to a bowl. Add in the cold vodka (from the freezer) and 2 tablespoons ice cold water (29.6 ml) that you had in the refrigerator. Using a spatula during this process keeps everything chilled and cold by not adding the heat from your hands into the mix.
The second photo is what it looks like after you add the vodka and water.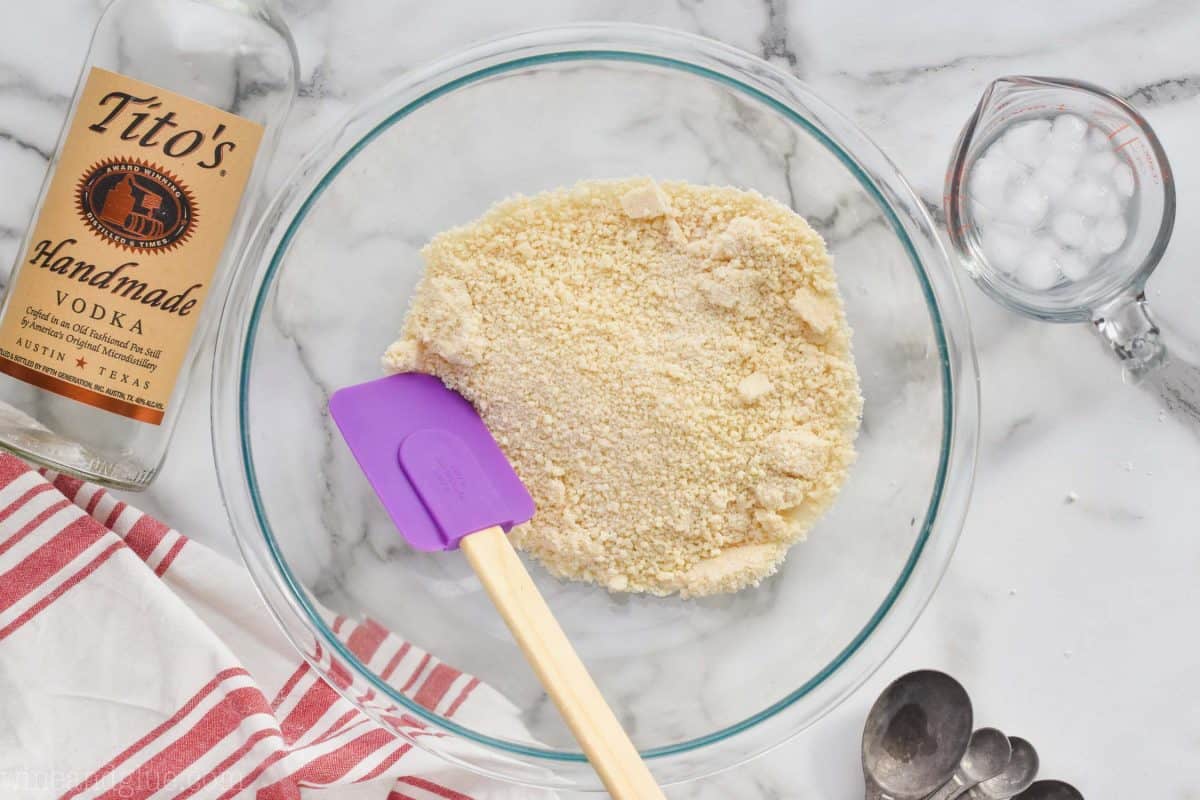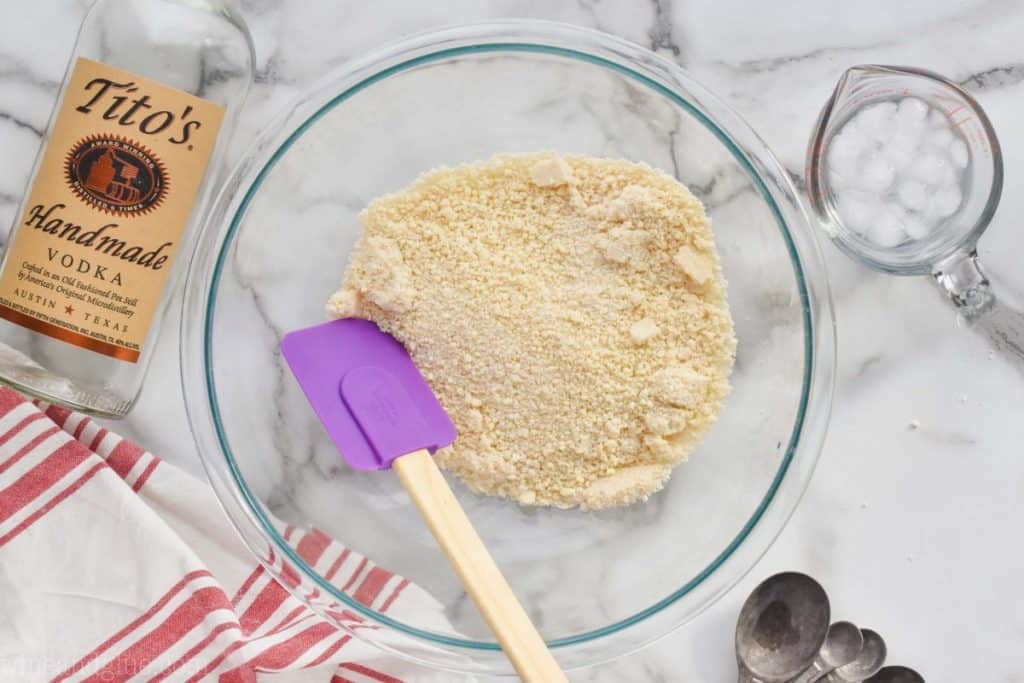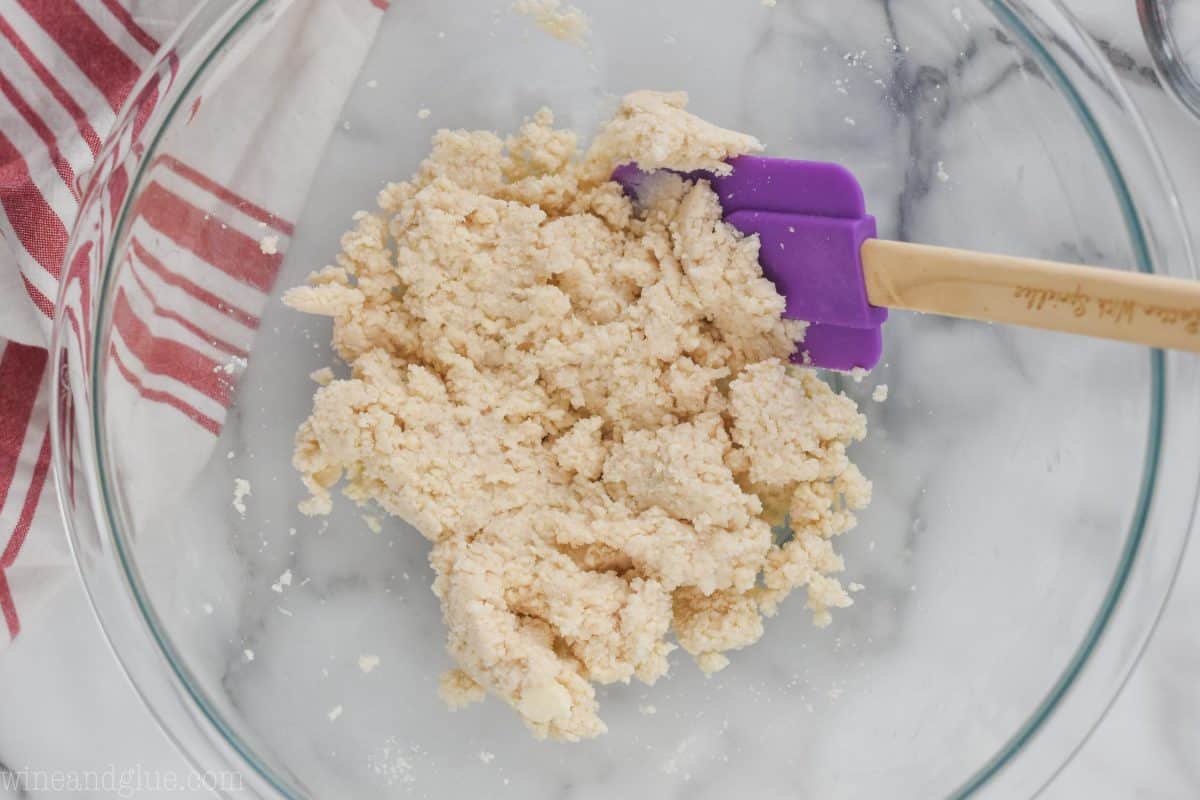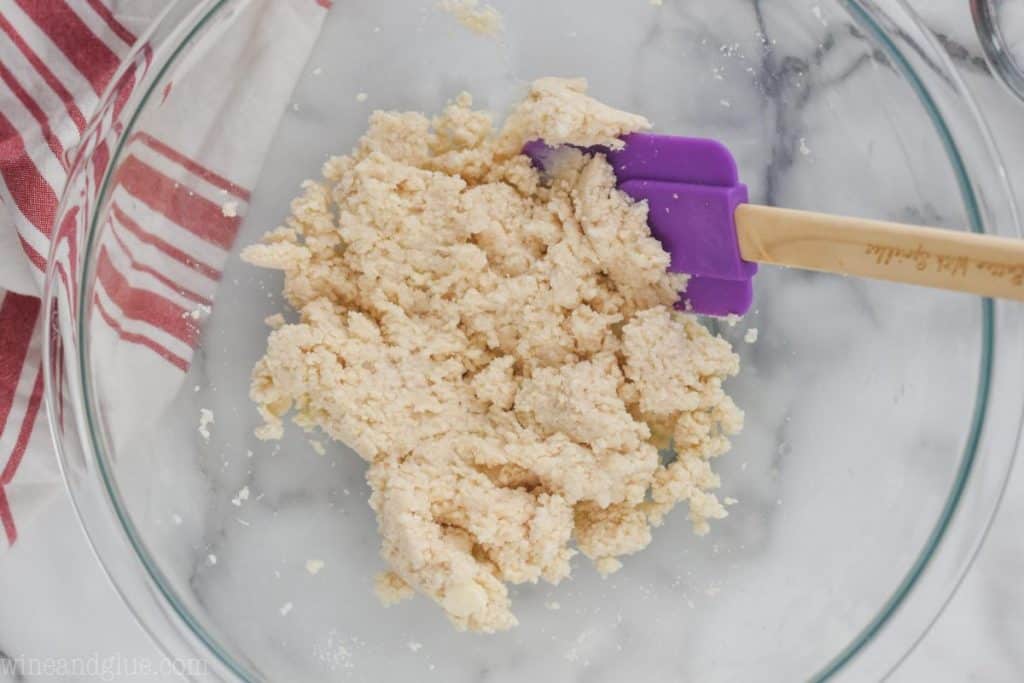 STEP 7: Make the mixture into a disk and wrap tightly with plastic wrap. Put it in the refrigerator for at least an hour or up to two days.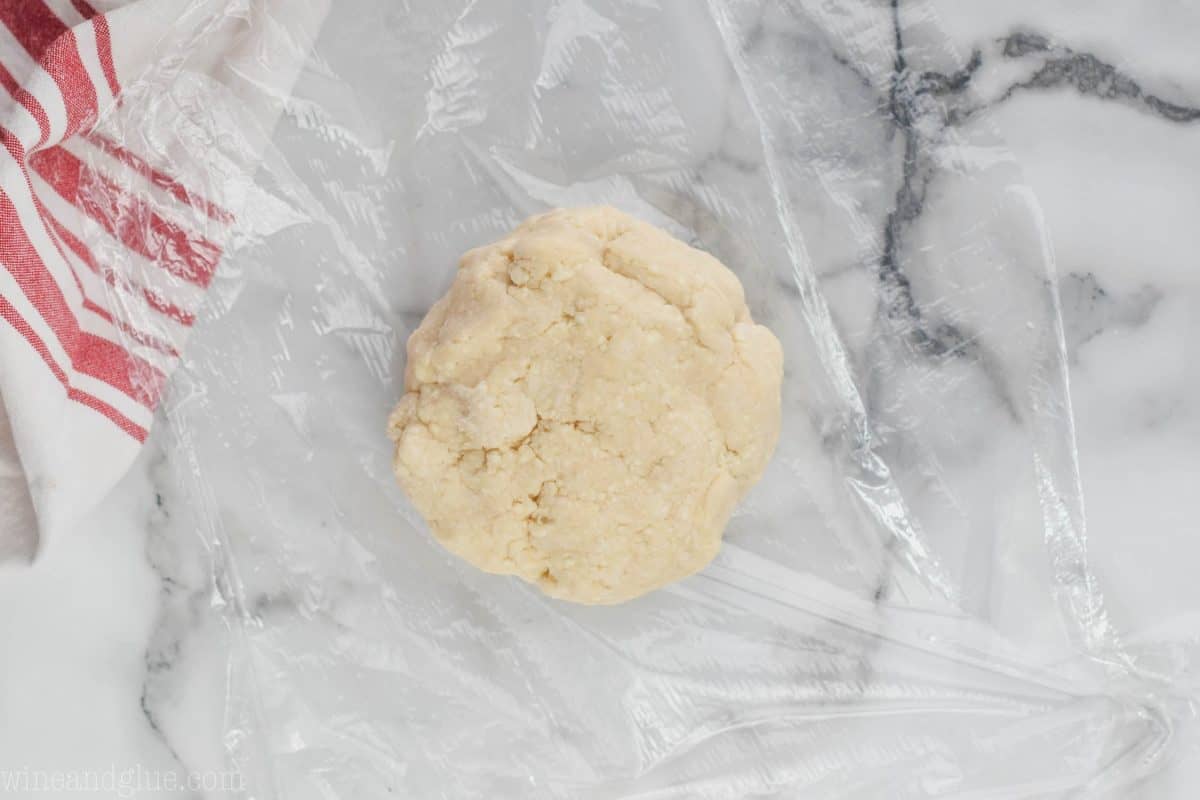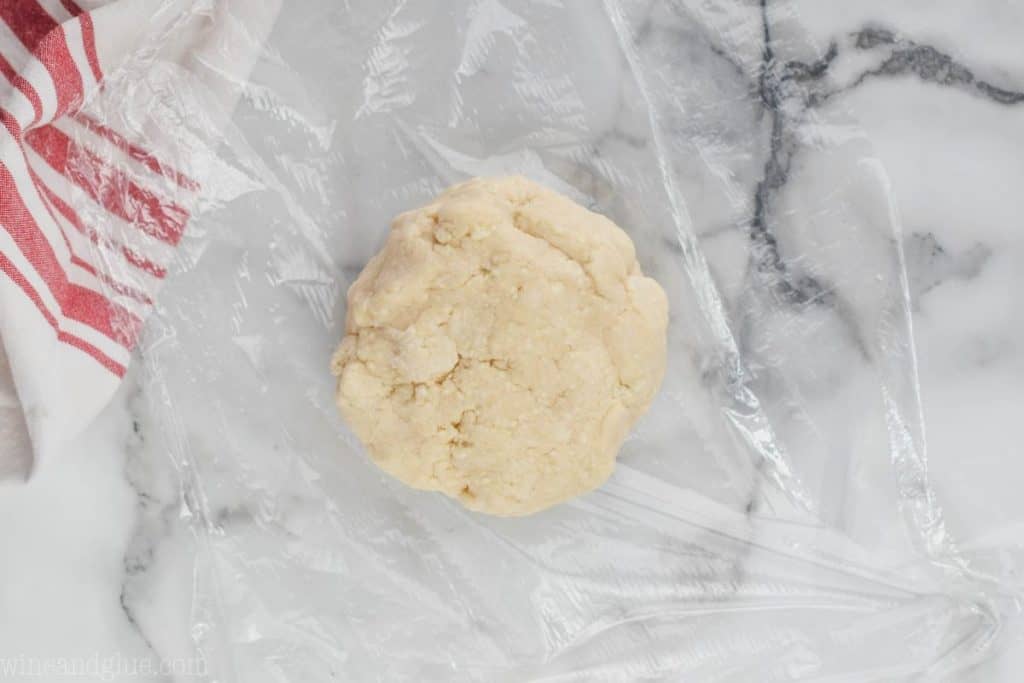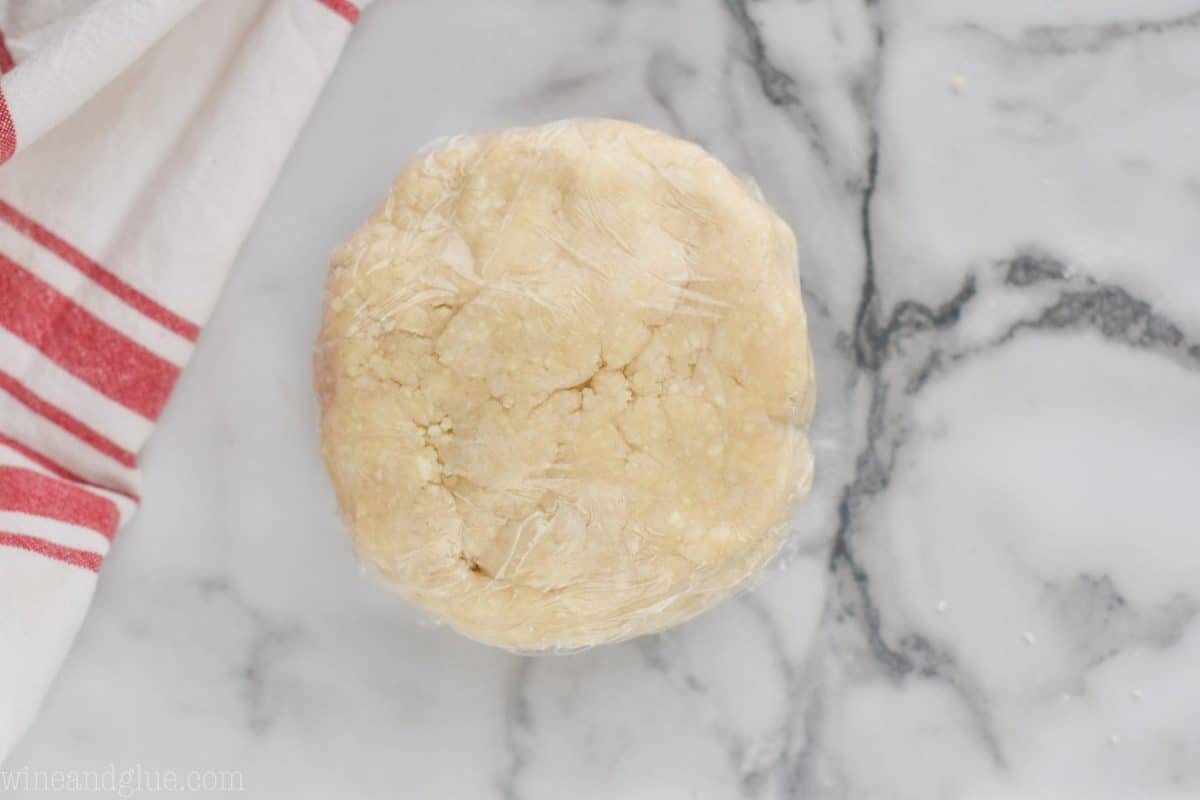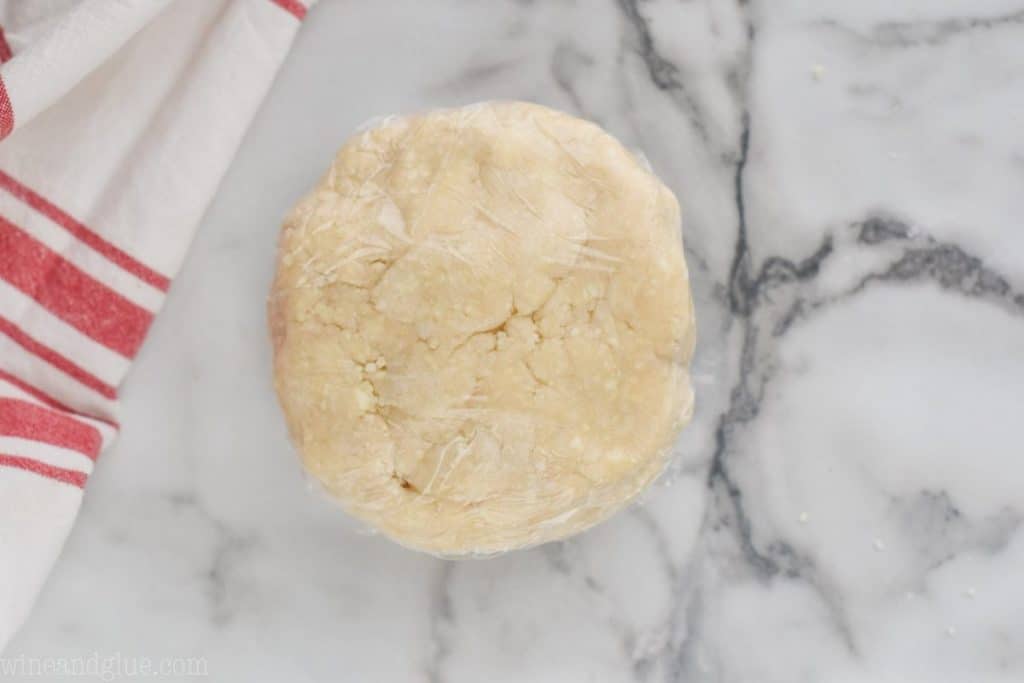 STEP 8: After the pie crust has been chilled in the refrigerator, flour your surface very well. Unwrap it and roll it out. You are looking to roll it out with about a 15 inch diameter for a 9 inch deep pie pan.
Use the rolling pin to help transfer the dough into the pie pan.
Do not skimp on the flour when going to roll it out and add more as needed.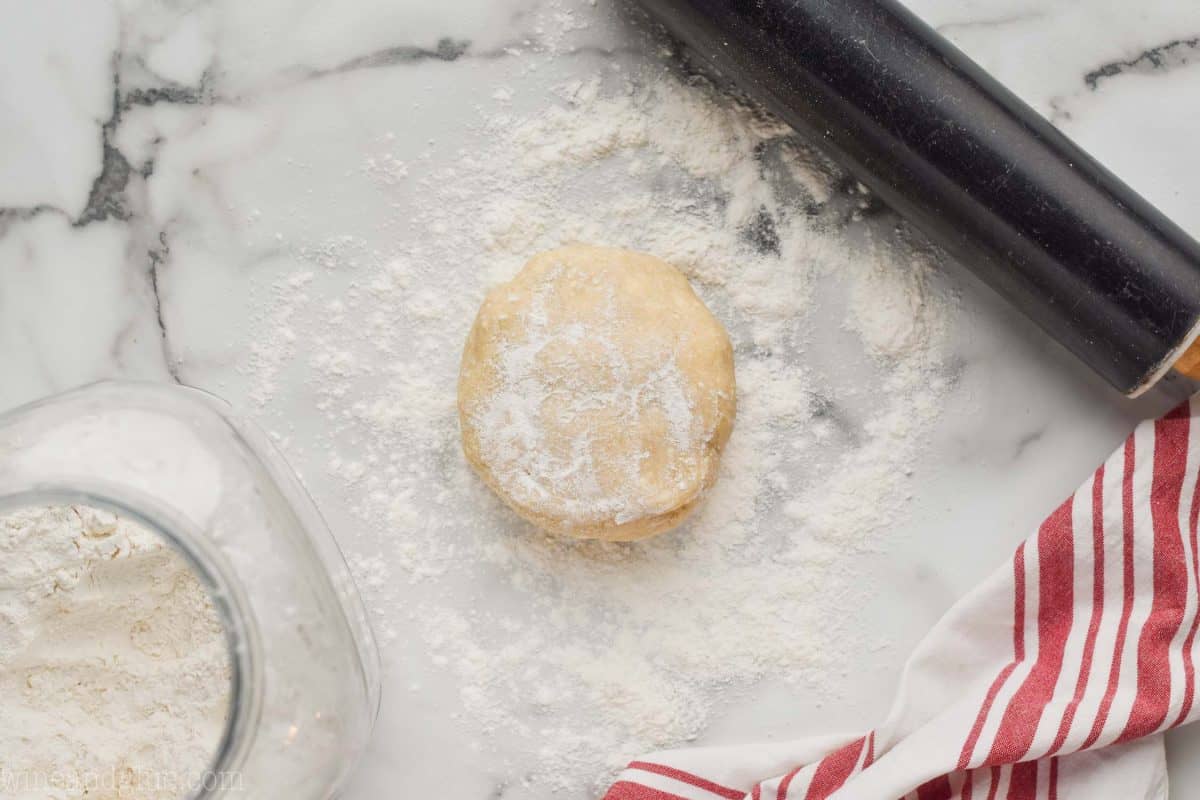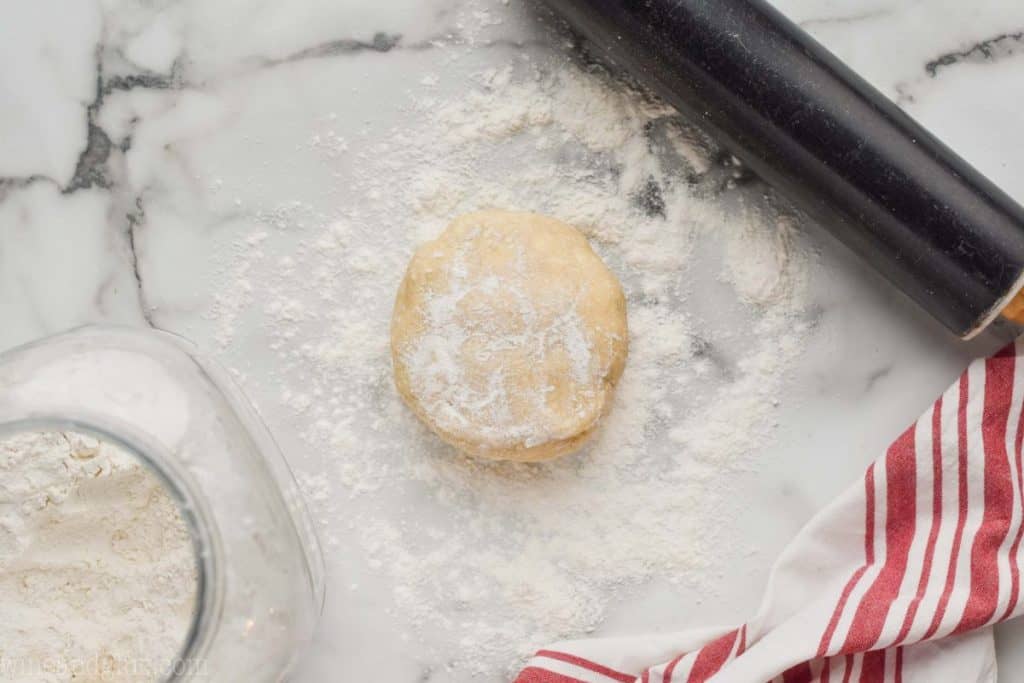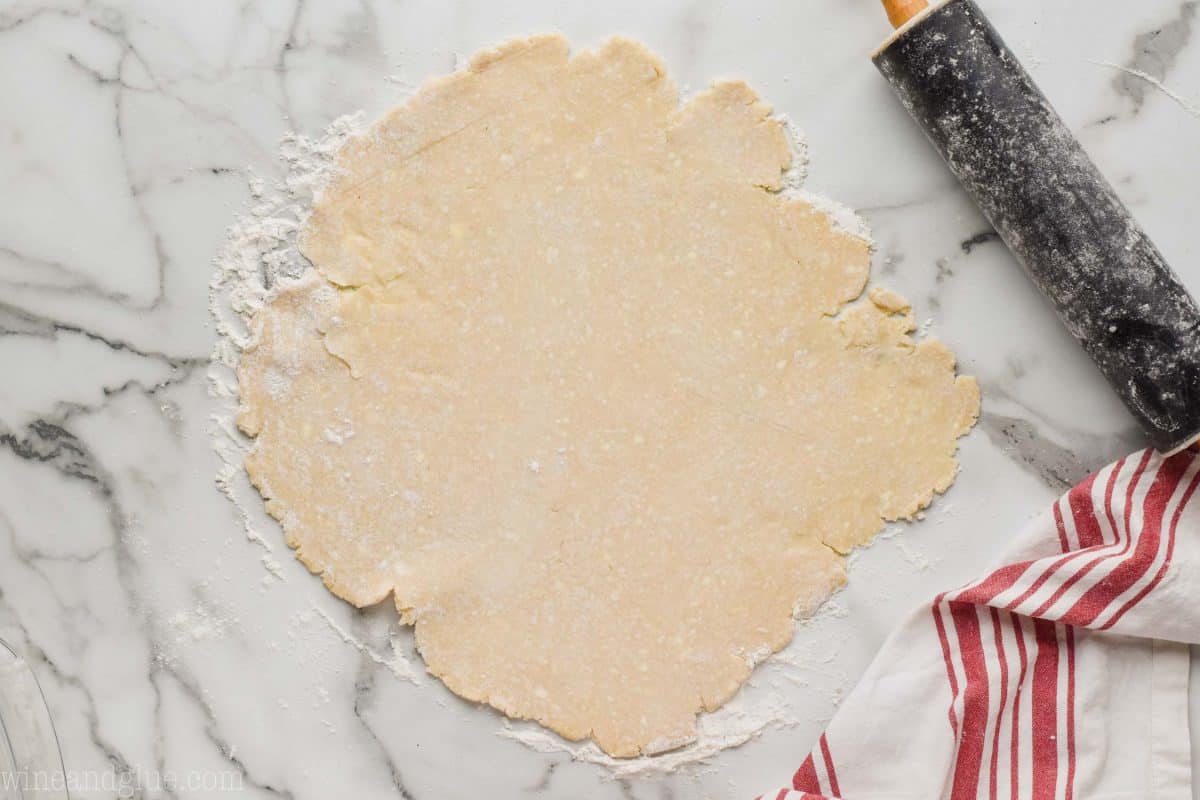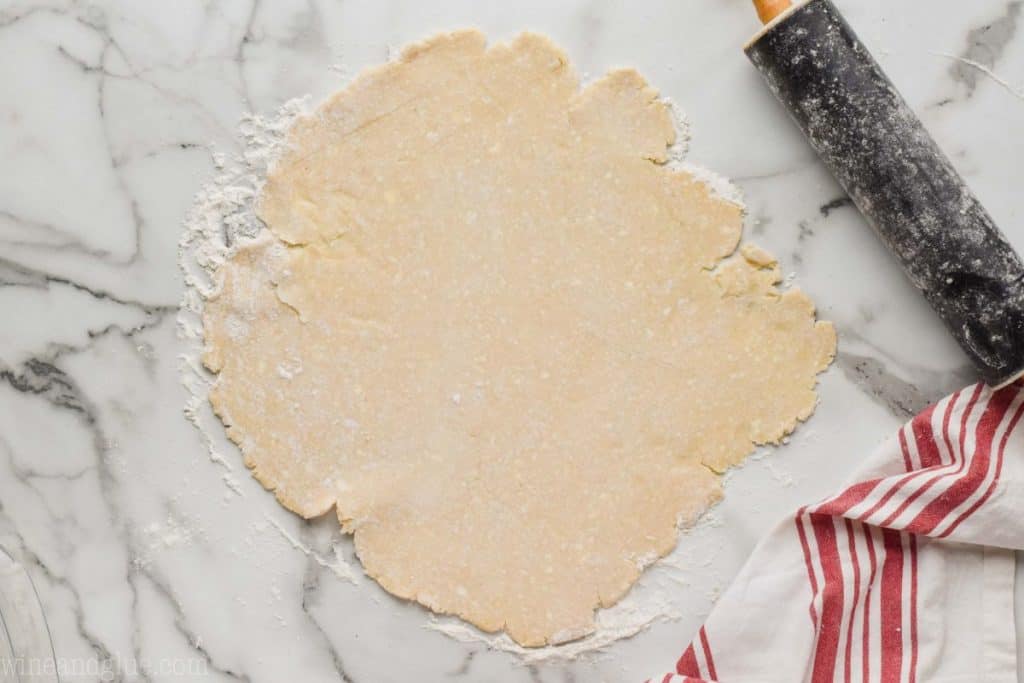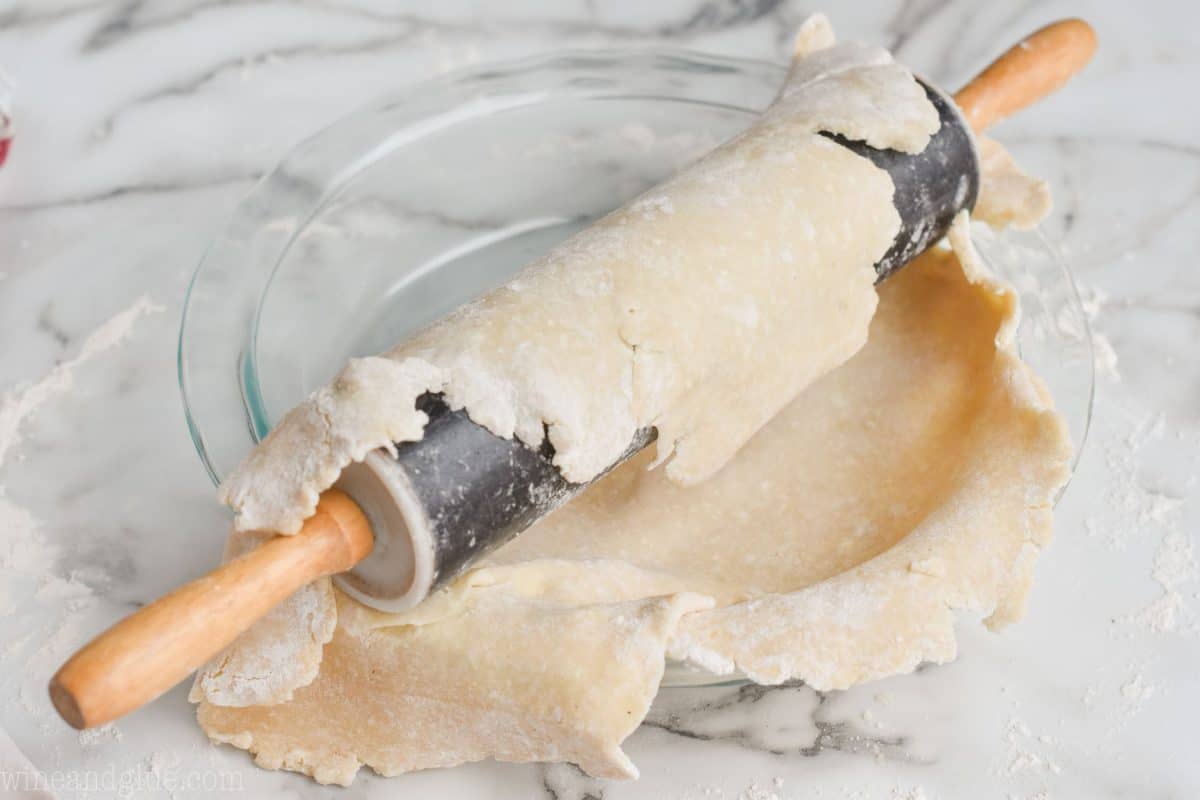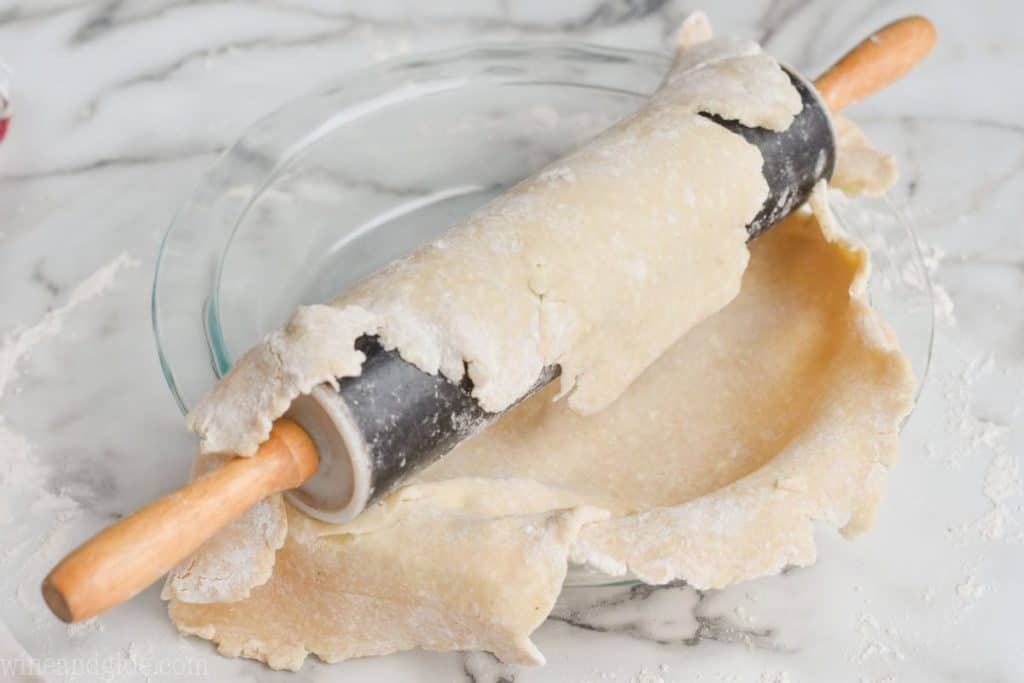 STEP 9: Trim the edges and then crimp them. Put one finger between the dough and the pie pan and two other fingers on the opposite side to press and create a ridge. Sometimes I use pieces of dough that have been trimmed off in areas that are lacking in dough.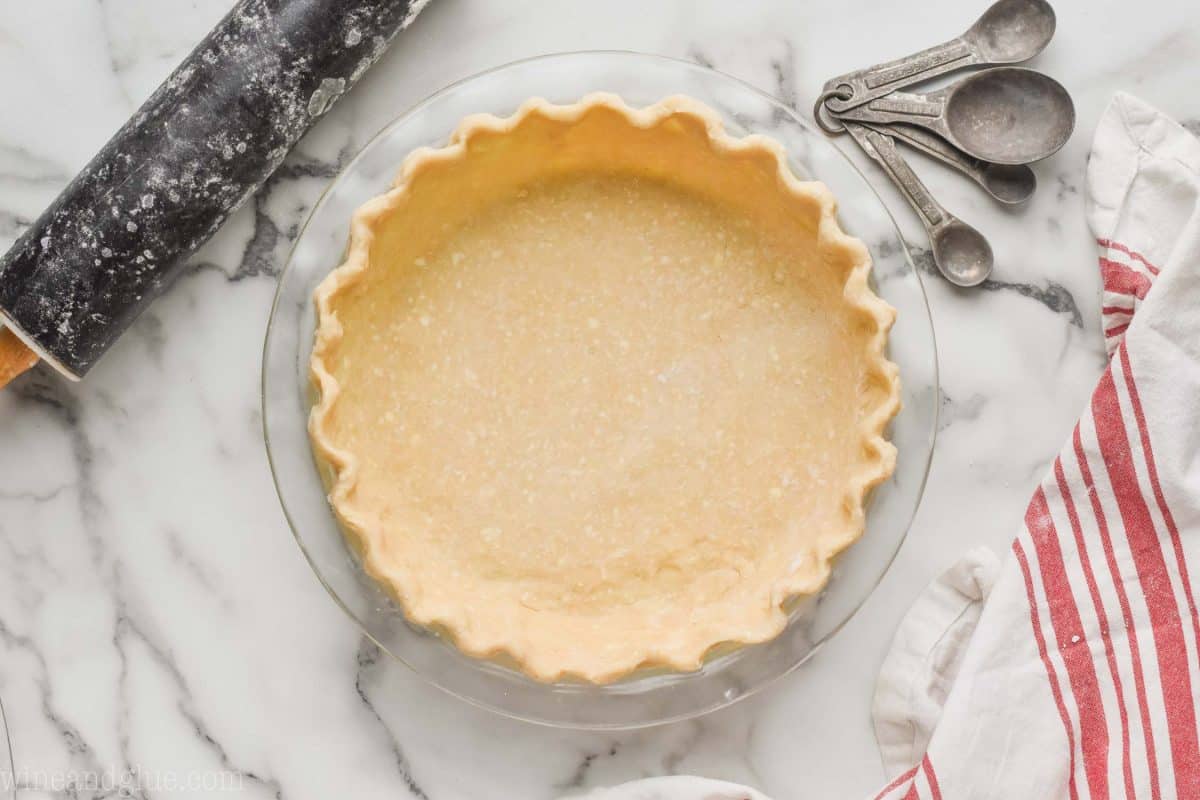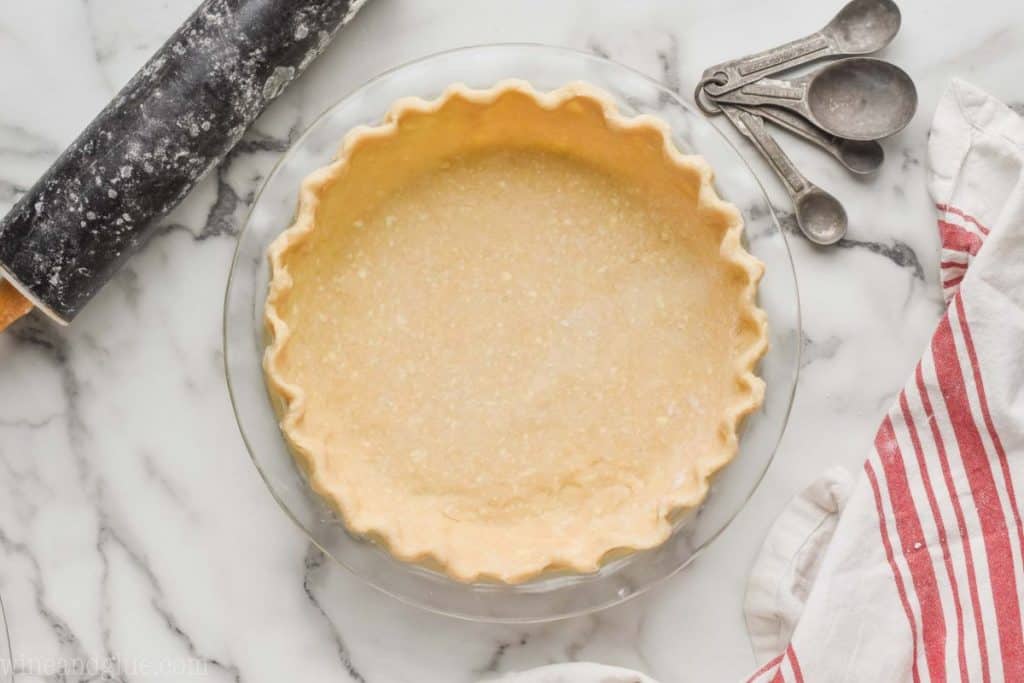 How to Bake
The most important thing is to follow the directions in the pie recipe you are using.
A lot of recipes (including my pumpkin pie) use blind baking to pre bake the crust before adding the filling.
Line the pie crust two times with aluminum foil.
Fill with pie weights or coins.
Bake for 25 to 30 minutes at 375 degrees.
Remove the coins/weights and foil and add the pie filling.
Return to the oven for the rest of the baking.
Replacing Vodka in this Pie Crust Recipe
I have received this question so frequently: I don't drink alcohol, what can I use instead?
The answer is vinegar! It will evaporate the same way that vodka does in this recipe. If you do that, I would use a high quality vinegar to ensure you don't taste any in your pie. (Note: You will taste it in the dough before baking, don't panic.)
I have also received the question: I don't want to buy an entire bottle of vodka to use this recipe.
Buy a small one ounce bottle! Like the kind in hotel refrigerators. You can try the recipe without committing.
Making this Pie Crust Without a Food Processor
You absolutely can make this without a food processor. Follow the instructions above, but:
Make the recipe in a large bowl.
Use a whisk in step 3.
Use a pastry cutter for steps 4 and 5. You will need to use a lot of muscle and focus on my pictures so you get the same texture.
FAQ
My pie crust didn't come together! What did I do wrong?
Most likely you had too much flour. If you measure your flour right from the container it will be packed and you will have too much. Scoop your flour into your measuring cup and level it off.
How long can I store it in the refrigerator?
This pie crust can be stored in the refrigerator for up to 2 days.
Can I freeze pie crust?
Yes! Triple wrap your pie crust and store it in the freezer for up to one month. When ready to use let it defrost in the refrigerator for 24 hours.
It is too hard to roll out! Help!
Leave your pie crust on the counter, don't panic. Keep trying every 5 minutes until it is rollable. Be careful not to wait too long.
Can I use a flavored vodka?
I haven't tried that. I would suggest making sure that it is the same alcohol content as a typical bottle of vodka. If not, it might be too much moisture.
Can I double this recipe?
Absolutely. Follow the instructions up through step 6. At step 6 divide it equally and wrap the two discs separately.
What size pie is this for?
This pie crust works great for a 9 inch deep dish pie. You could use it for smaller pans, and just trim off the extra or use them for decretive pieces on top.
Can I use salted butter?
Yes, but cut the salt in the recipe. Use only 1/4 teaspoon salt. It will not be the exact same taste as this recipe, but it will work.
If I'm making this for a quiche, should I take out the sugar?
I personally wouldn't! I think that the sugar enhances the taste of the crust without making it taste sweet. That being said, you can take it out and it will still work.
Recipes to Use This Pie Crust
My favorite recipe to use this is my pumpkin pie.
I also love this Triple Berry Pie and have fallen head over heals for this Pecan Pie.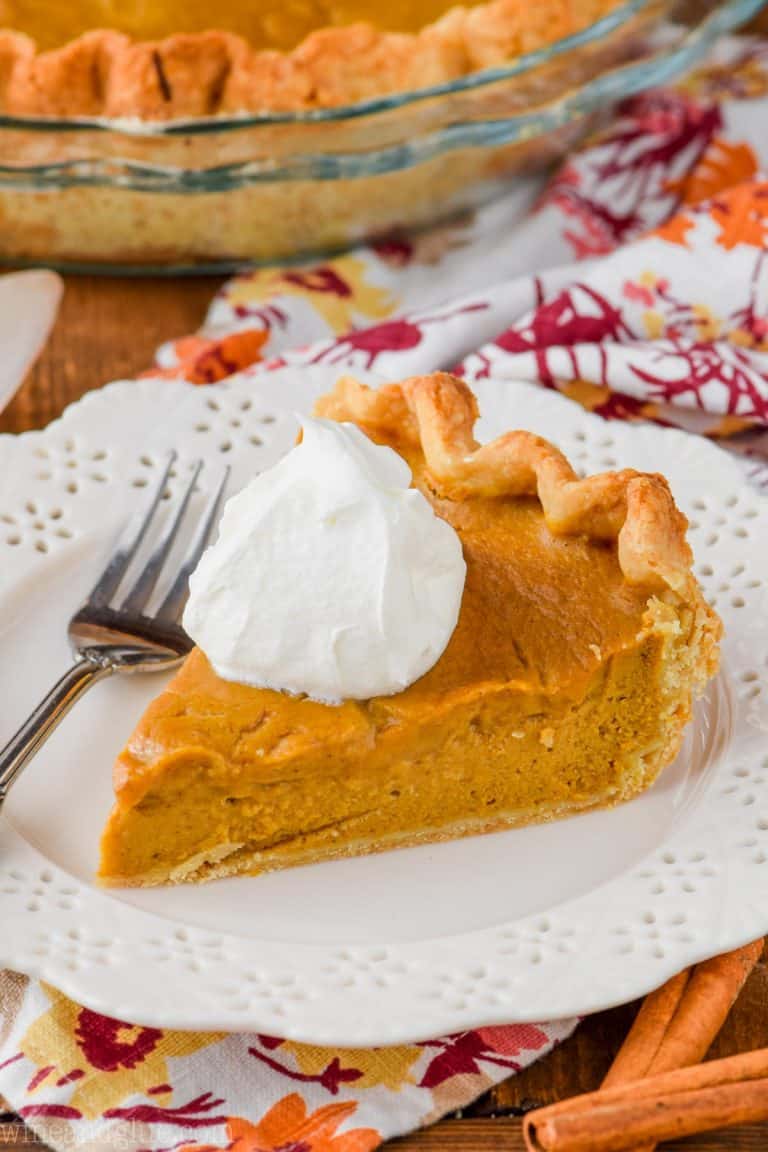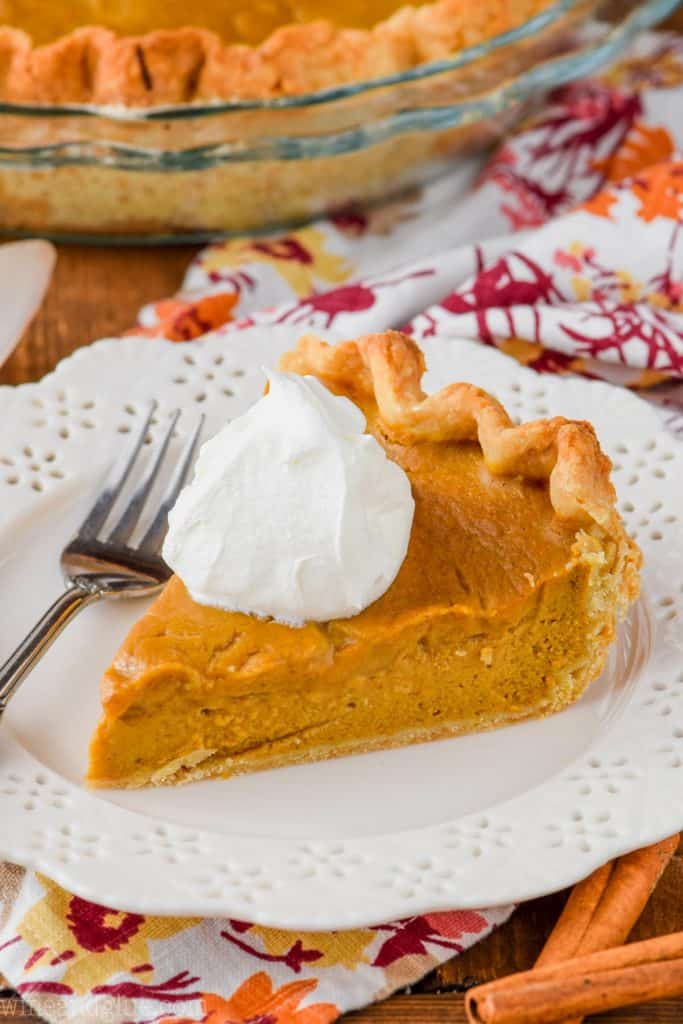 If you use this recipe, I'd love for you to come back and leave me a comment letting me know how it went!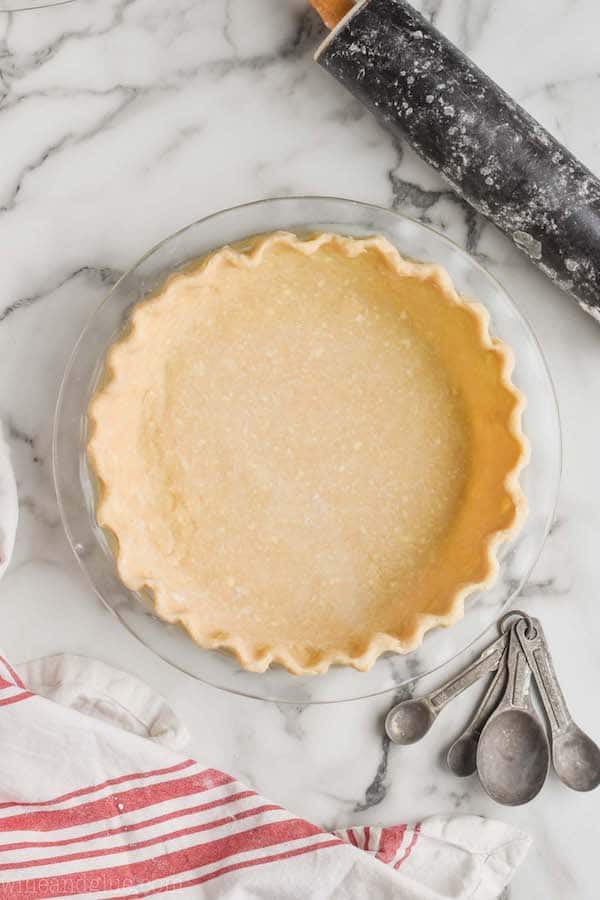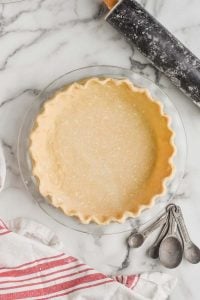 Fool Proof Pie Crust
This Pie Crust Recipe is easy to make, but more importantly it tastes delicious. The combination of butter and shortening help the pie keep its shape without sacrificing any flavor.
Ingredients
6

tablespoons

unsalted butter

3 ounces or 85 grams

1/4

cup

vegetable shortening

50 grams

2

tablespoons

vodka

1 fluid ounce or 29.6 ml see note

1 1/4

cups

all purpose flour

divided (3/4 cup/96 grams & 1/2 cup/64 grams) see note

1

tablespoon

granulated sugar

12.5 grams

1/2

teaspoon

salt

3 grams

2

tablespoons

ice water

29.6 ml
Instructions
Cut up the 6 tablespoons butter into 1/2 inch pieces. Place the cut up butter, shortening, and vodka into the freezer. Fill a measuring cup about a 1/2 cup full of cold water and ice and put it in your refrigerator. Leave the butter, shortening, vodka and water in the freezer/refrigerator for 30 minutes.

To the bowl of your food processor, add 3/4 cup all purpose flour, 1/2 tsp salt, and 1 TBSP granulated sugar. Pulse until just combined.

Add the chilled butter and shortening.

Pulse until it is combined and there are no streaks of flour left.

Add the last 1/2 cup of flour.

Pulse until it is combined, broken up, and evenly distributed around the bowl.

Pour the mixture into a large bowl and add 2 tablespoons of cold vodka and 2 tablespoons ice water.

With a stiff spatula work the dough into a ball.

Turn the dough out, shape into a disk, wrap with plastic and refrigerate for an hour.

Using a lot of flour, roll the dough out.

Once the dough is rolled out, use the rolling pin to roll it up and transfer it into the pie plate.

Press into the pie plate, trim off the extra dough, and pinch the edges.

Line the crust with aluminum foil and pie weights or coins and bake at 375 degrees for 25 minutes to prebake the crust, or fill and bake following the instructions in the pie recipe you are using.
Notes
If you are not able to use alcohol in recipes you can replace it in this recipe with a high quality vinegar. See the notes in the post for further instructions.
When measuring the flour, make sure that you scoop the flour into the measuring cup and then level it off. Scooping directly from the container will result in more flour.
NOTE: This recipe makes one pie crust. If you would like a lattice top or a double crusted pie, you will need to double it.
Calories:
214
kcal
(11%)
Carbohydrates:
15
g
(5%)
Protein:
2
g
(4%)
Fat:
15
g
(23%)
Saturated Fat:
7
g
(44%)
Polyunsaturated Fat:
3
g
Monounsaturated Fat:
3
g
Cholesterol:
23
mg
(8%)
Sodium:
10
mg
Potassium:
3
mg
Fiber:
1
g
(4%)
Sugar:
2
g
(2%)
Vitamin A:
250
IU
(5%)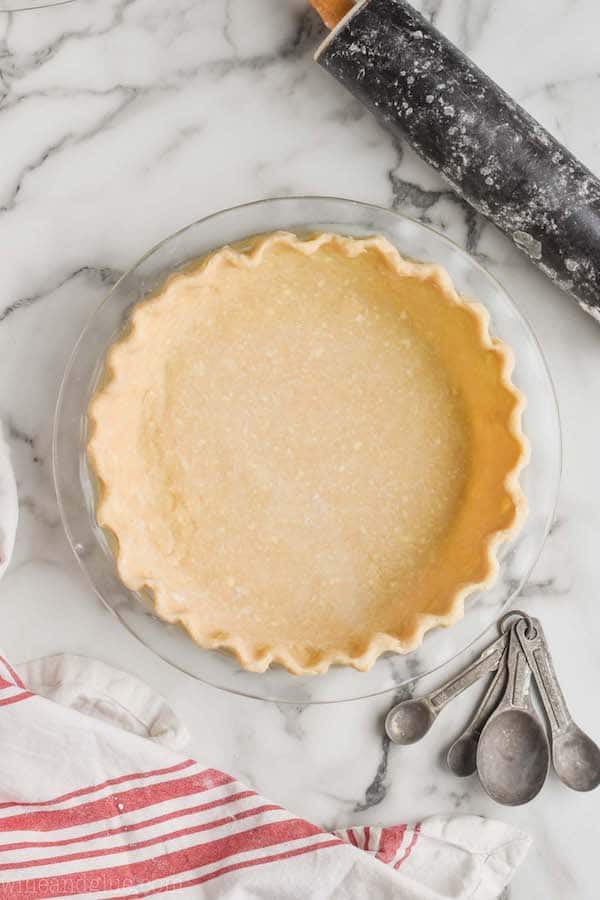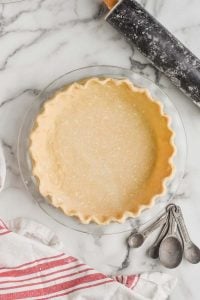 did you make this
Fool Proof Pie Crust
Recipe from America's Test Kitchen