This Jambalaya Foil Packet Dinner Recipe is about 30 minutes start to finish and so delicious! Make it on the grill, make it in the oven, make it over and over! This is such an easy jambalaya recipe and so tasty! If you are looking for more easy dinners, make sure you check out these healthy meatballs, these sheet pan fajitas, and of course this lemon pepper baked cod and vegetables that is done in 20 minutes!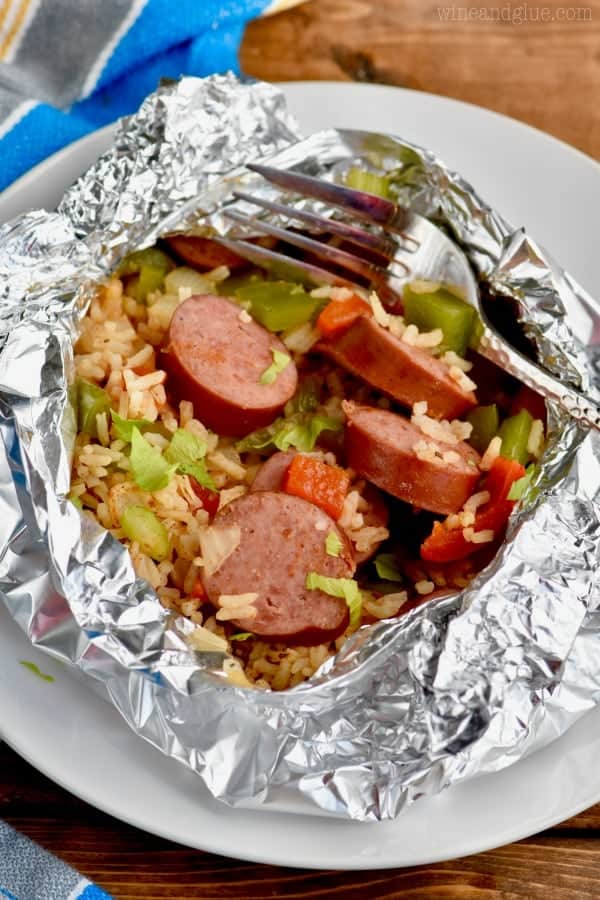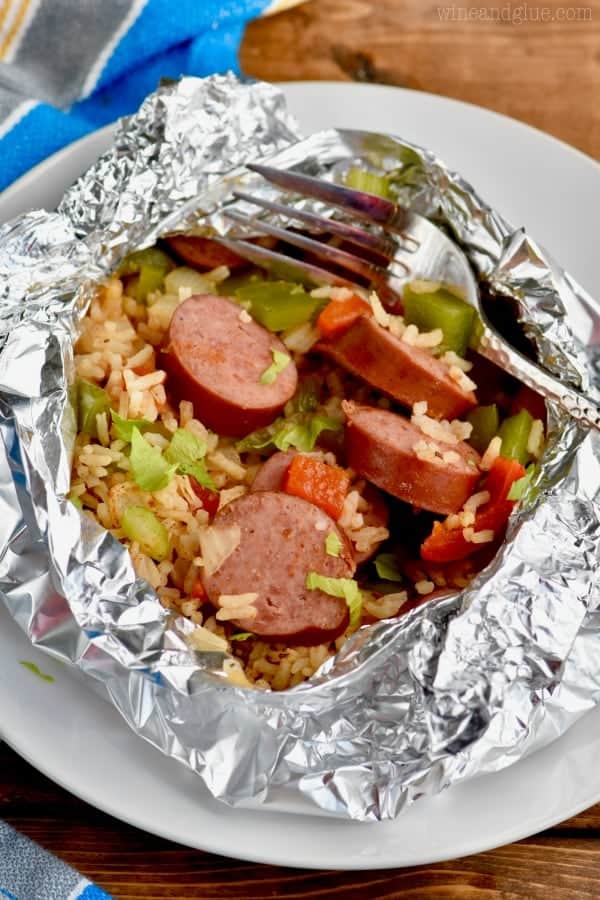 I'm so happy to be partnering with Jennie-O to bring you this great easy dinner! Our fridge is fully stocked with Jennie-O at all times and we are so grateful when you support the brands that make Wine & Glue possible!
Please raise your hand if you have been reaaaaaddddyyyyyy for your kids to go back to school for like the last month and now that it is happening you are kind of freaking out and crying when they do the smallest sweetest thing. No? Just me? Okay.
You guys, I'm not even kidding. At this point when I type in my phone "I'm so ready for . . . . " my phone autocorrects and adds "my kids to go back to school." No joke. I love the little buggers, but it is time. And I'm not quiet about it either. The other day when two of them were trying to murder each other over a puzzle (A PUZZLE!!!!), I said, "You guys. We have ONE WEEK LEFT. WE HAVE TO HOLD ON A LITTLE LONGER!"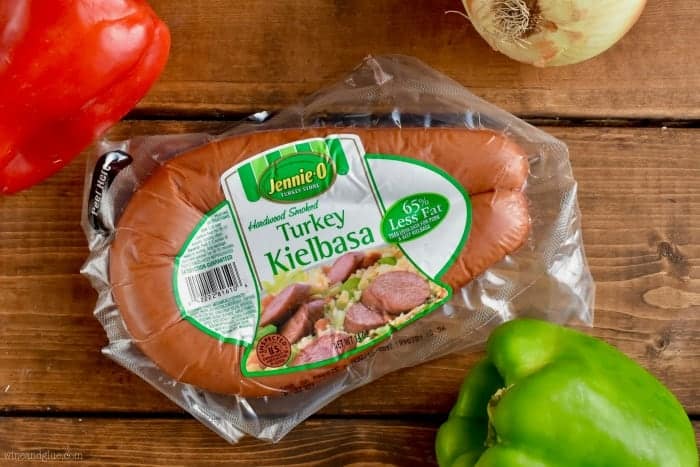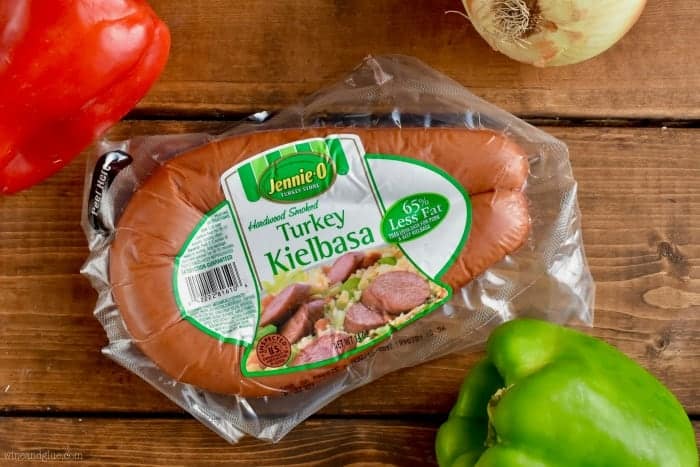 But . . . like . . . . here we are at the week when it is all happening and I must admit, I am borderline . . . a mess. I mean, I'm always a full on mess, but this week I'm a borderline mushy mom full on mess. And it's not even just the emotions, though, admittedly that's a really big part of it. Like did I do enough fun things with them this summer? Did I soak in their childhood this summer? Did I make it fun and memorable for them??
But I'm also a mess with all the back to school-ness of it. I bought my school supplies like a month ago (my first win EVER), but I'm suddenly questioning if we have everything we need. Enough paper towels? Shoes?? Clean underwear?? As if we are headed off for a 30 week camp instead of just the back to school season. Like suddenly there will be no stores.
Sigh.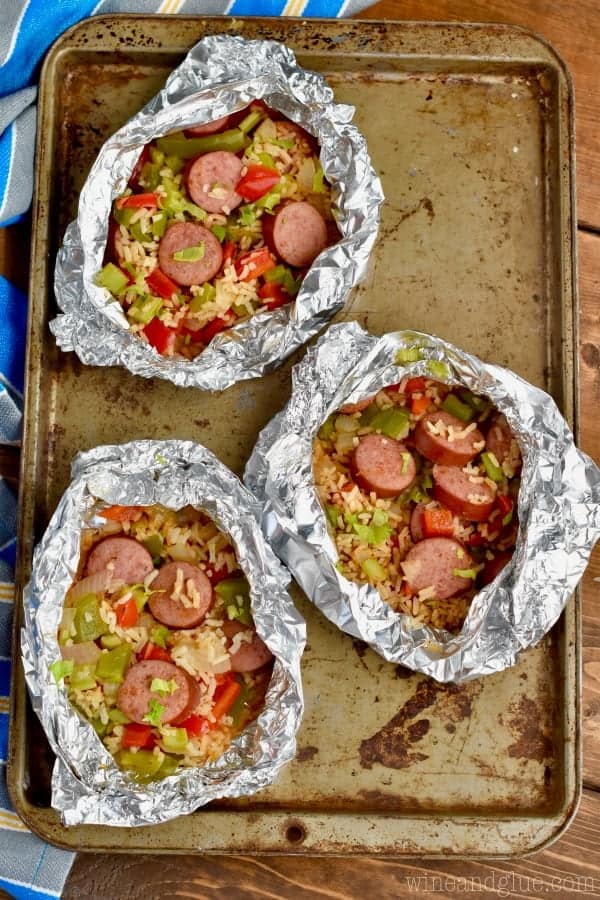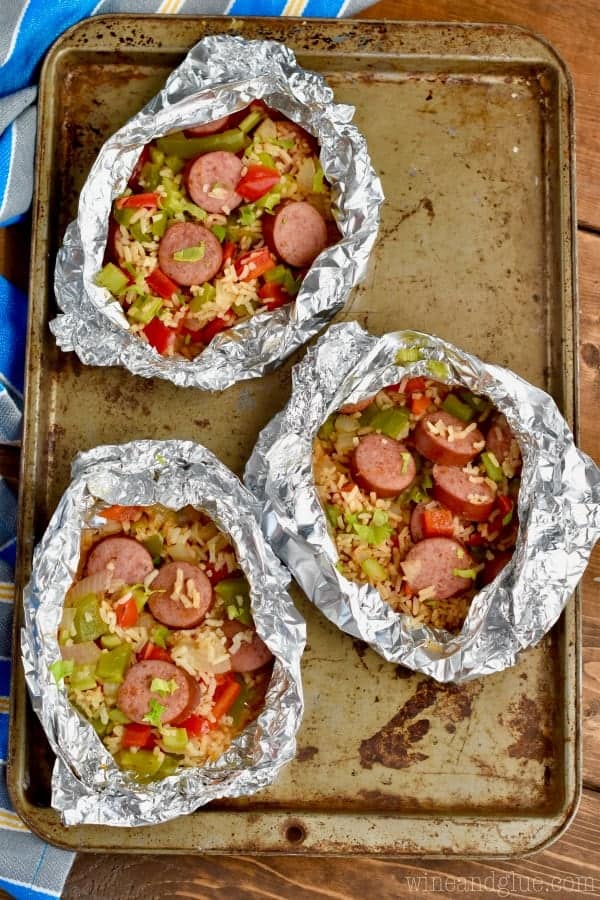 So I'm all in when it comes to easy dinners this time of year. Having an arsenal of GOOD easy dinners makes me feel like maybe I can handle the month of September. Maybe.
Enter this Foil Packet Jambalaya dinner.
FOIL PACKET JAMBALAYA DINNER
You guys, this recipe really does come together so quickly in one big giant bowl. It's simple ingredients, it's easy to put together, and it's pretty much fool proof. Plus! It is done in 30 minutes, so you can do other things, like hunt down shoes that fit and underwear that are clean. Maybe get someone a hair cut. Who knows? The sky's the limit!
This easy jambalaya is made with Jennie-O's Fully Cooked Hardwood Smoked Turkey Kielbasa. Like everything Jennie-O makes, it's totally delicious and very easy to incorporate into recipes. I totally want to make a Jambalaya soup with it next. (Doesn't that sound so yummy?? Don't tell anyone. I don't want the internets to know my ideas.)  I don't know how, but somehow the turkey kielbasa made all of the veggies and the rice in that little foil packet taste perfectly buttery and delicious. It was like magic happened in there!
TIPS TO MAKE THIS JAMBALAYA DINNER
Spray the foil with cooking spray.
Make sure you use instant rice.
Make your own Cajun seasoning. It's perfect for this!
Make sure the grill or the oven is fully preheated before it goes in.
For more great dinner ideas from Jennie-O on Facebook, Instagram, Twitter, and Pinterest!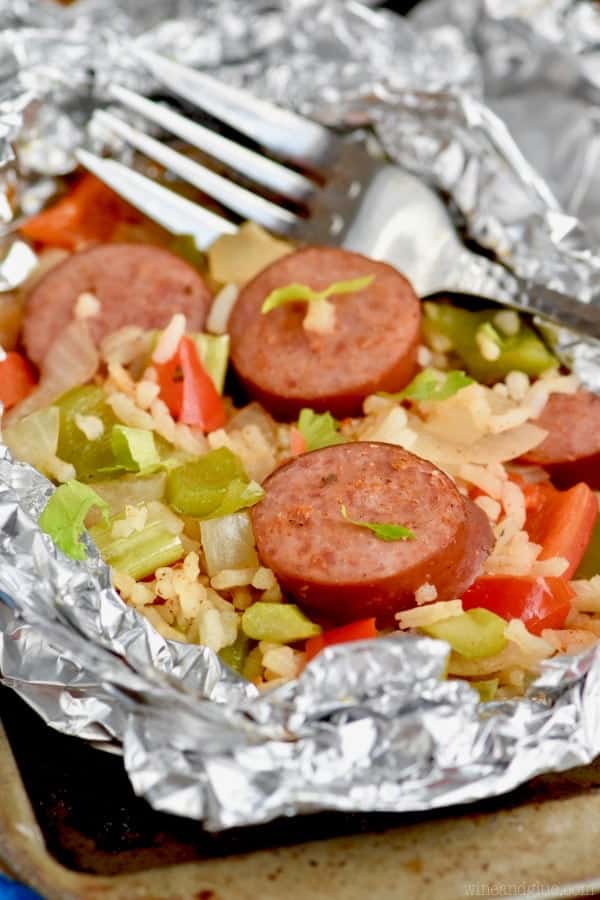 WATCH ME MAKE THIS JAMBALAYA FOIL PACKET DINNER RECIPE
READER COMMENTS
"The first time I made it with the foil…thereafter I just mixed everything in a huge casserole baking dish and covered it with foil. Slow cooked it for about 45 minutes in the oven. I now have to double the recipe and eat one and freeze one! I serve with a side of applesauce or cottage cheese to cool the heat. ( I always add more Cajun spice) Husband LOVES this! win win!" – Bonni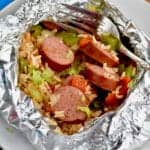 Print Recipe
Jambalaya Foil Packet Dinner Recipe
This Jambalaya Foil Packet Dinner Recipe is about 30 minutes start to finish and so delicious! Make it on the grill, make it in the oven, make it over and over!
Ingredients
1

pound

Jennie-O andouille sausage

sliced

1/2

yellow onion

diced

1

red bell pepper

diced

1

green bell pepper

diced

2

ribs of celery

diced

3

teaspoons

cajun seasoning

1

cup

instant rice

1

cup

chicken broth
Instructions
Preheat your oven or grill to 400 degrees.

Combine all of the ingredients in a large bowl and mix well.

Place five square pieces of foil on the counter and spray the centers with cooking spray. Divide the mixture among them. Fold up two sides of the foil and fold over. Then curl both ends in to make a seal packet. Place directly on the grill, or on a baking sheet in the oven.

If grilling, turn over half way through grilling.

Cook for 20 to 25 minutes or until the rice is soft.
Nutrition
Serving:
1
packet
|
Calories:
259
kcal
|
Carbohydrates:
28
g
|
Protein:
4
g
|
Fat:
8
g
|
Saturated Fat:
2
g
|
Cholesterol:
55
mg
|
Sodium:
1557
mg
|
Potassium:
162
mg
|
Fiber:
2
g
|
Sugar:
4
g
Other great easy dinners you will love: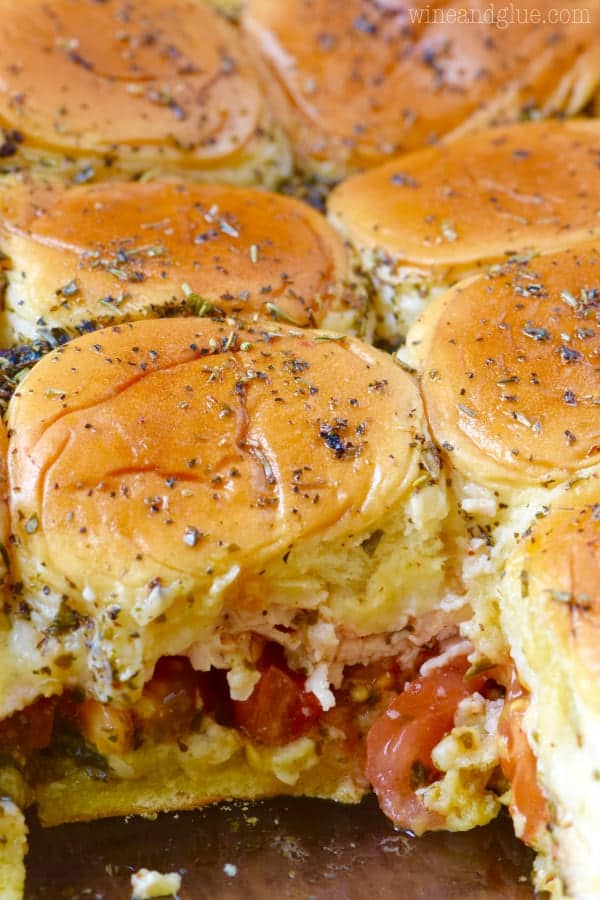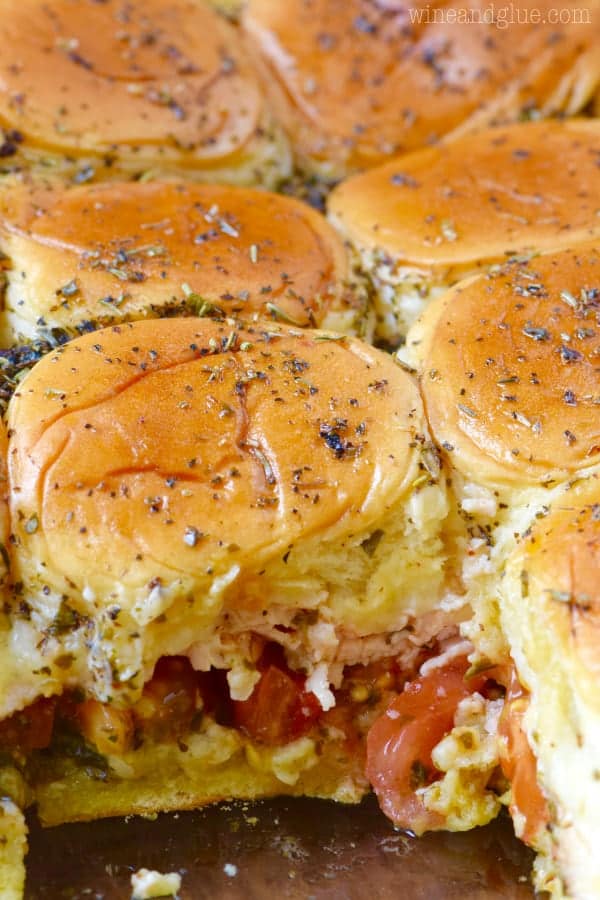 Five Ingredient Southwestern Lettuce Wraps