Steak Kabobs make the perfect delicious dinner for grilling season. The steak marinade makes the meat melt in your mouth.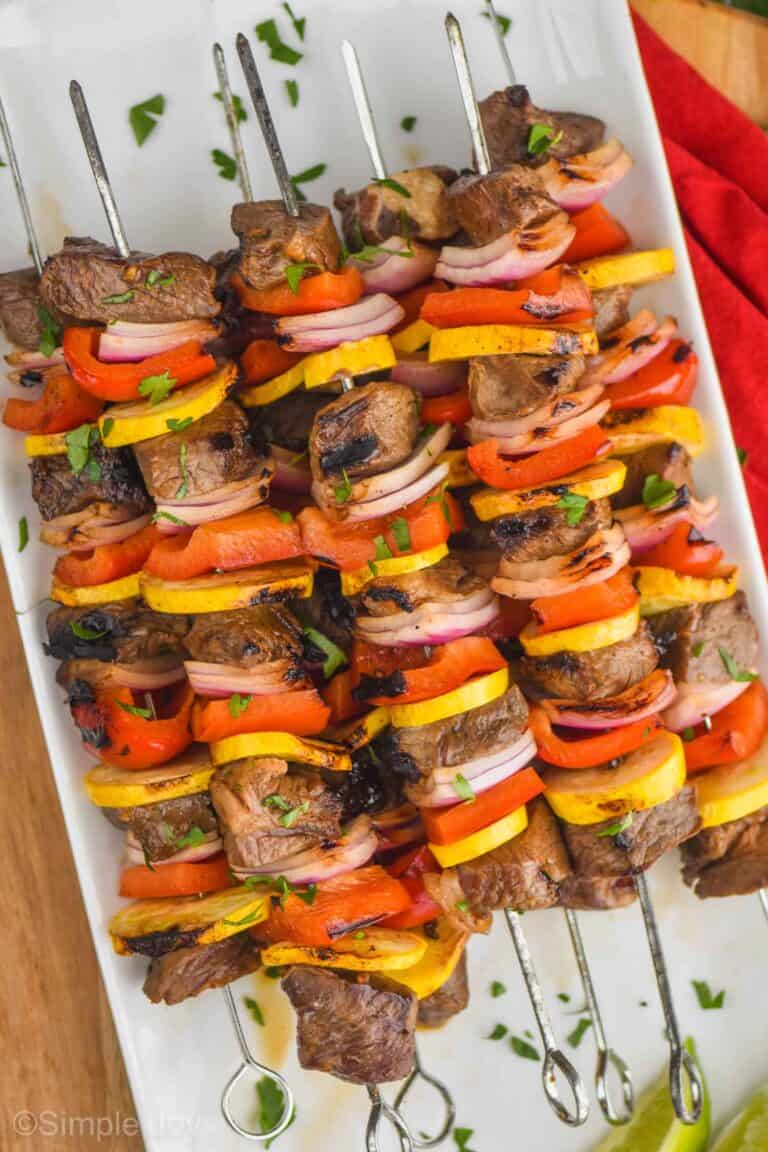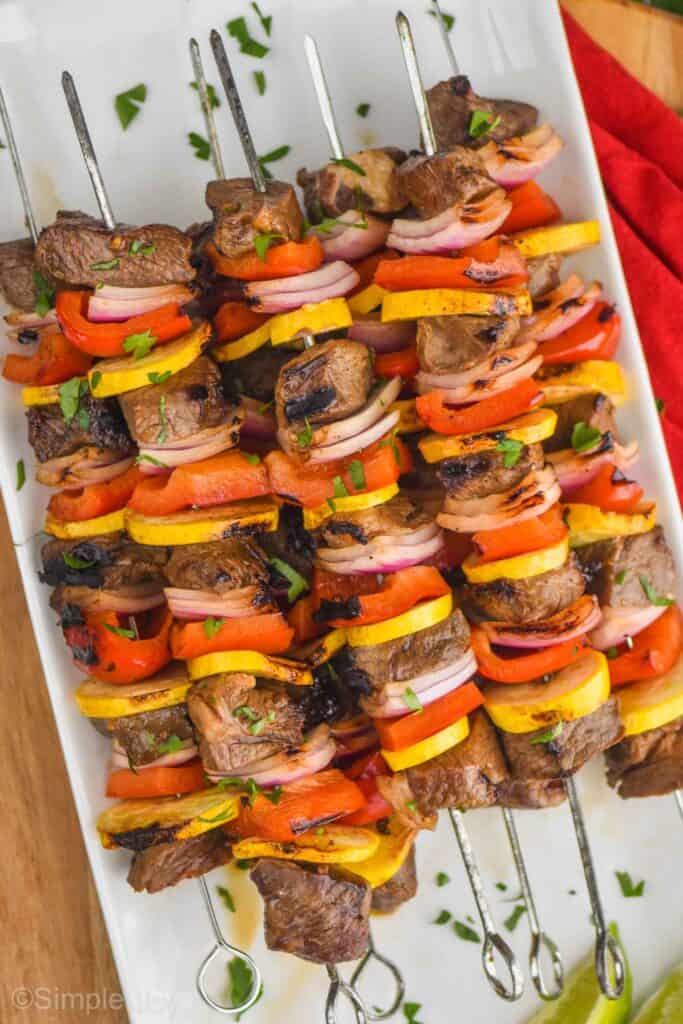 These Steak Kabobs are going to become a go-to recipe for your family in summer. The marinade is easy to throw together and makes for the most perfect and tender meat.
Nathan took one bite of these and said, "Well, I could eat those all day." And then he did. These will win over any guest you invite over or a spouse who just cleaned the kitchen so you don't have to.
Reader Review
Oh my gosh. This was an amazing recipe. The marinade was so delicious. The steak was fork tender. Thank you once again for a fabulous recipe.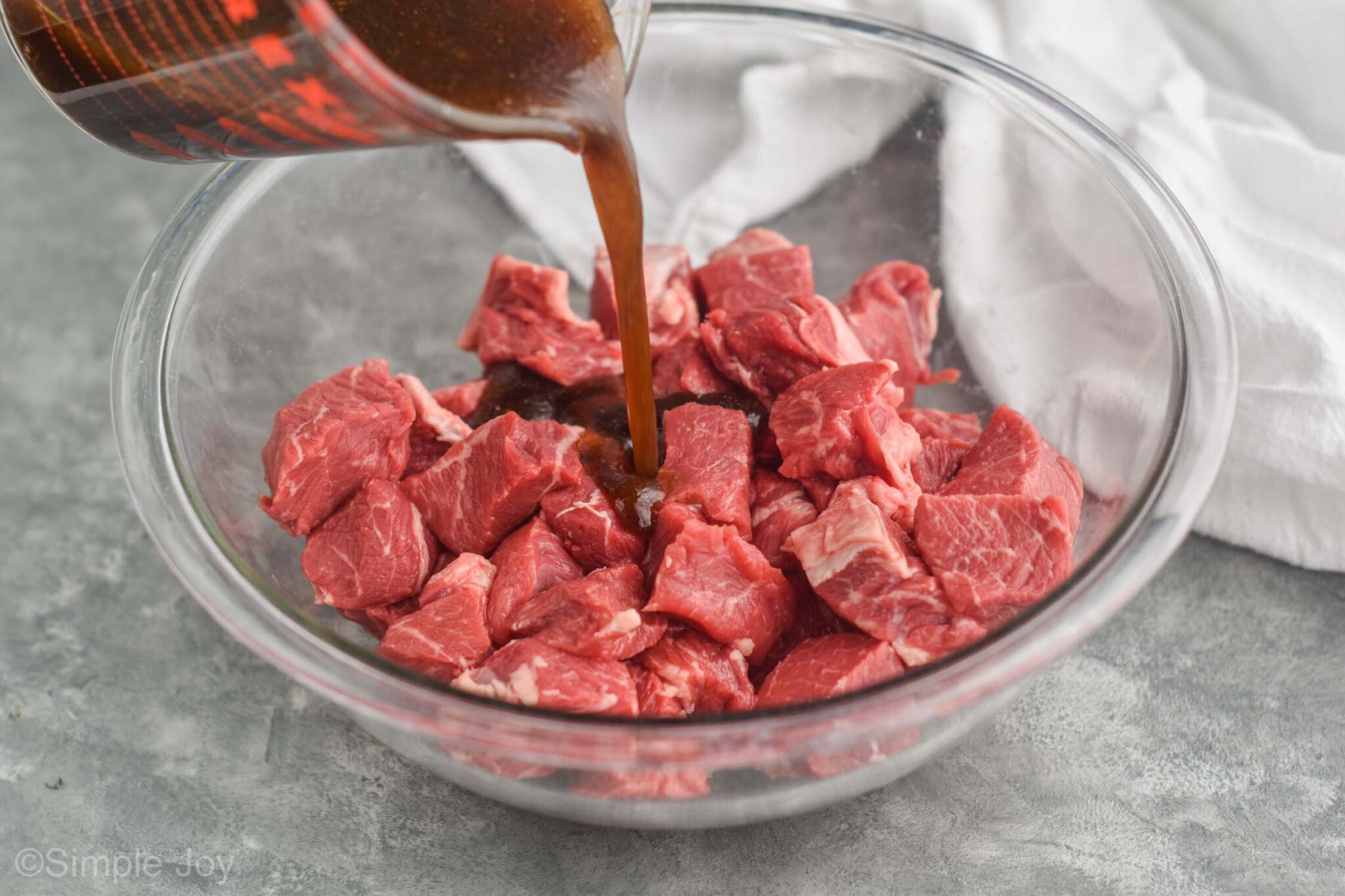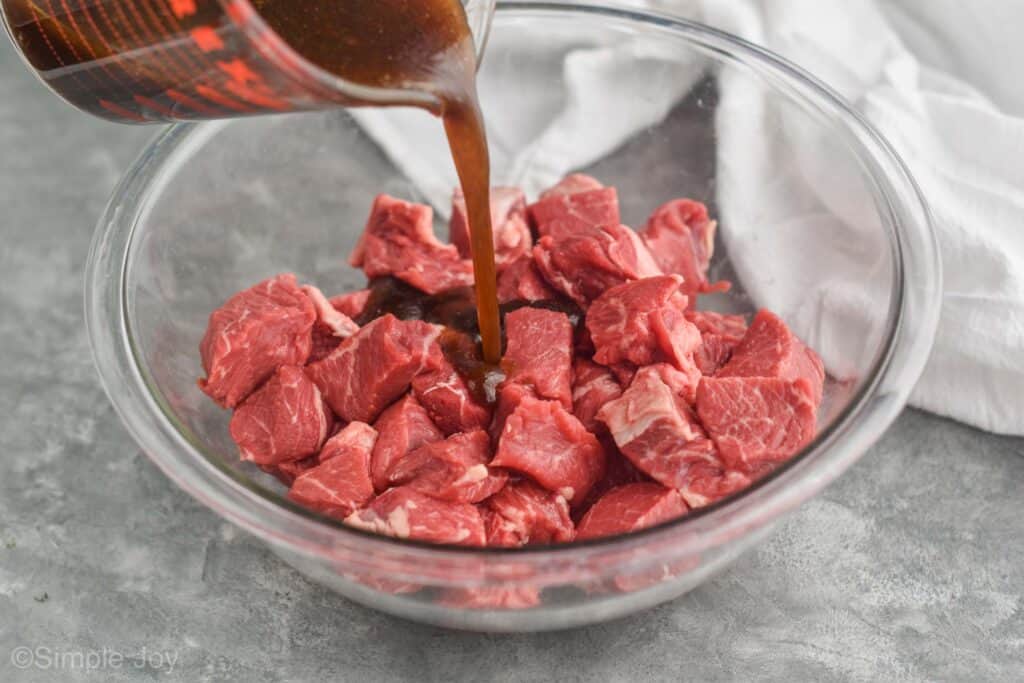 Steak Kabob Marinade
I can't say enough about how much I love this marinade recipe. It is simple to throw together and I always have the ingredients on hand.
Olive Oil: This is the foundation of your marinade. Because we are grilling and need to tolerate a little higher of heat, you want to use regular olive oil and not extra virgin olive oil.
Soy Sauce: I love using soy sauce in my marinades. It's a great way to add in the salt and some extra flavor all at once.
Lemon Juice: Any good marinade needs an acid that helps break down the meat a little. The lemon juice is that here.
Worcestershire Sauce: This adds another great layer of flavor and just a little something that will make your guests ask for the recipe.
Brown Sugar: We are adding just a bit of brown sugar to this recipe to help balance out both the salt and the acid.
Garlic Cloves: Fresh garlic adds some great flavor to this marinade. If you love garlic, feel free to toss in another clove or two.
Black Pepper
You'll note that there is no salt. The soy sauce really covers our bases there and more salt would be too much.
How Long to Marinate Steak
I love marinating meat because you can elevate the flavor of a recipe so easily. Marinating shouldn't be a week long process though. Too long in a marinade and the meat will end up being an unappetizing texture.
Marinate steak for 1 hour to 24 hours. This is a great recipe to start the marinade on the night before. That way when you get home from work, it is just putting the kabobs together and grilling them.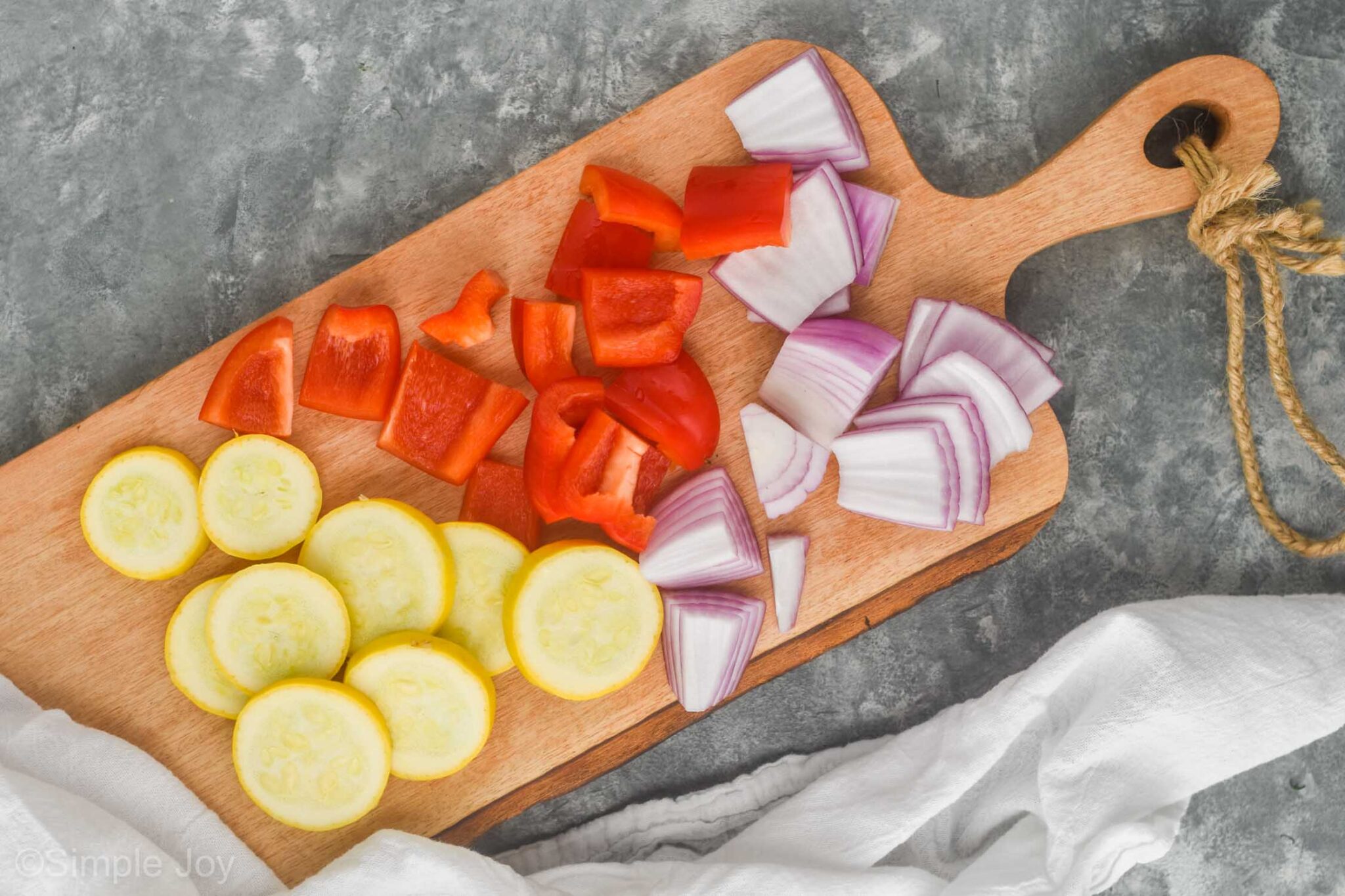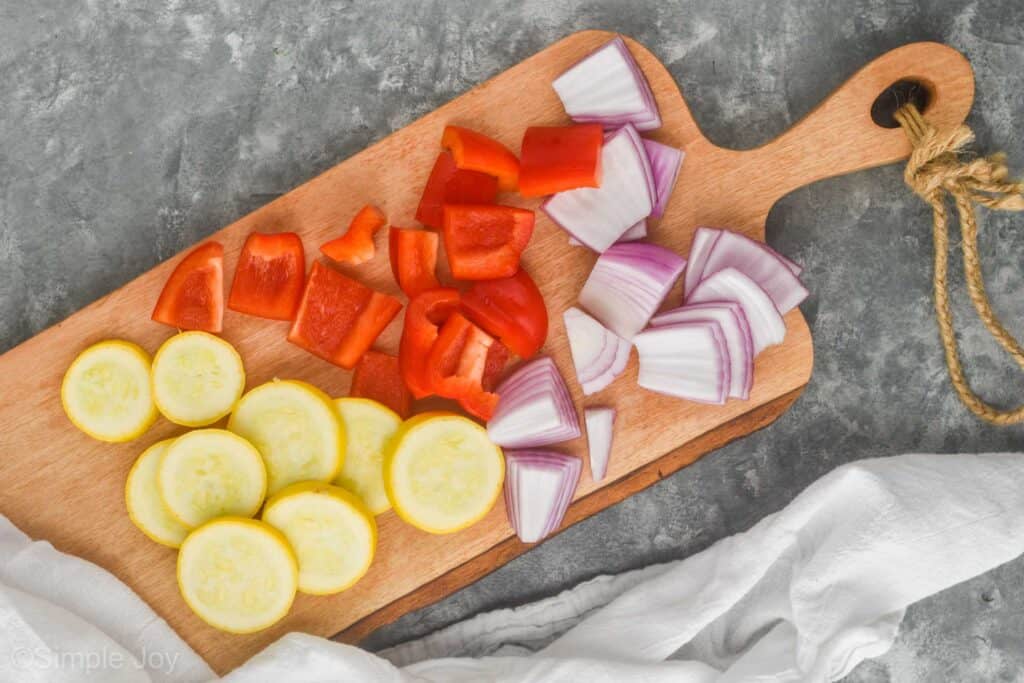 Best Steak for Kabobs
We are using top sirloin for these steak kabobs for a few different reasons.
It is a leaner cut of meat, which makes it easier to skewer. This also means that once marinated it will be incredibly tender.
Despite being a leaner cut, it has enough marbling that it is great for grilling and is deliciously juicy.
This cut of meat picks up marinades very well.
Top Sirloin tends to be a little bit more affordable than some other cuts of steak, making this great to use in a family meal like these grilled steak kabobs.
Finally, it is a flavorful cut of beef, so it works perfectly as the star of the show.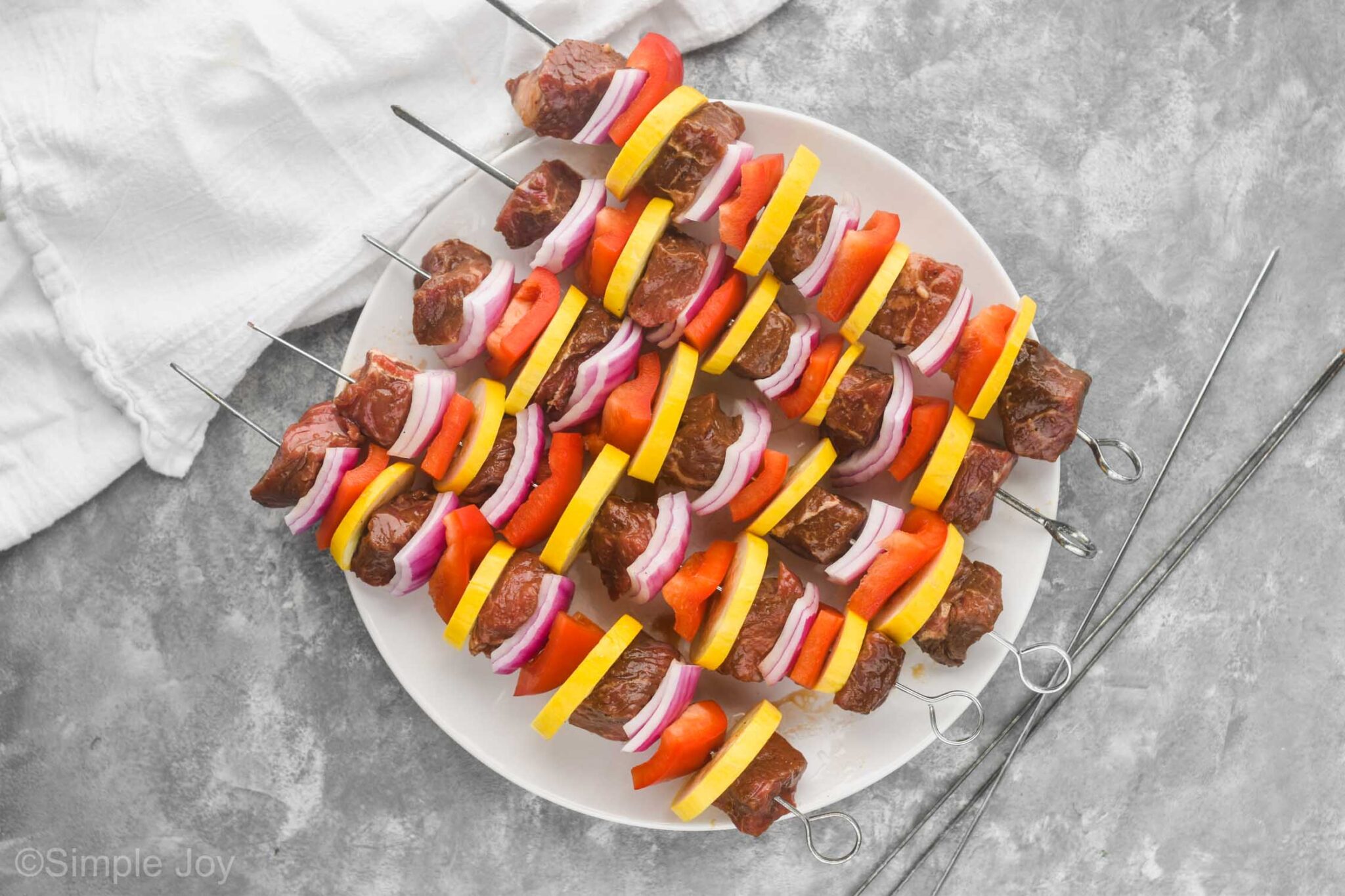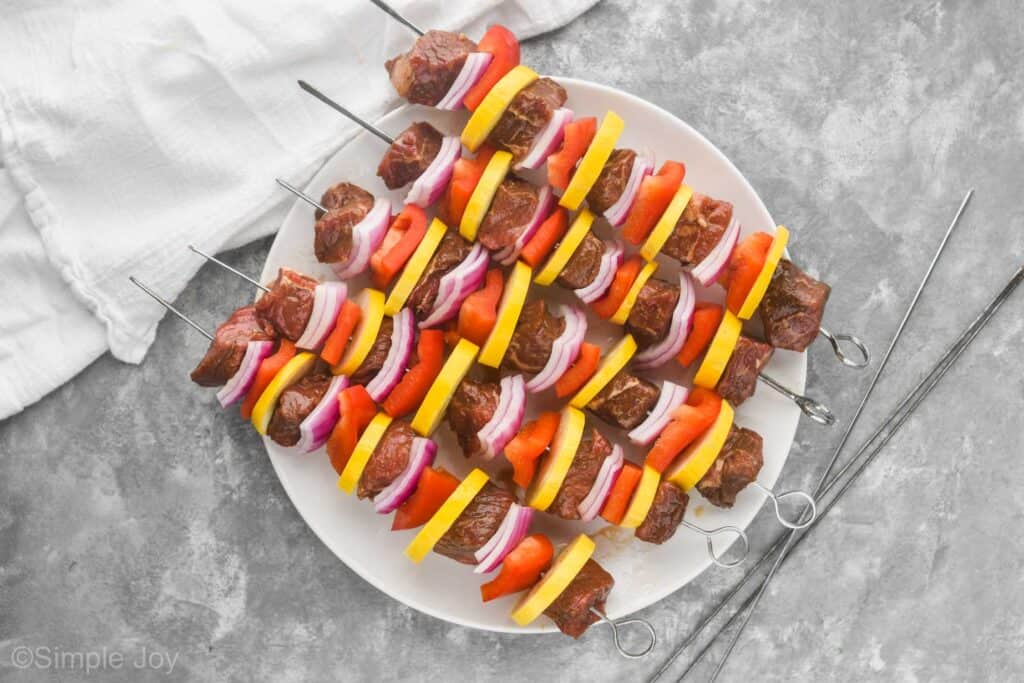 Wood or Metal Skewers
I always prefer to use metal skewers. They are reusable, which is a big win for me, and they don't require soaking. I think that they are a worthwhile investment for summer grilling. The only downside to metal skewers is that they come off the grill very hot. If you are making these for kids, test them with your own fingers before handing them off.
If you choose to use wood skewers, you will want to soak them first. This will prevent the wood from burning on the grill. Recommendations vary, but you want to soak them for at least 30 minutes.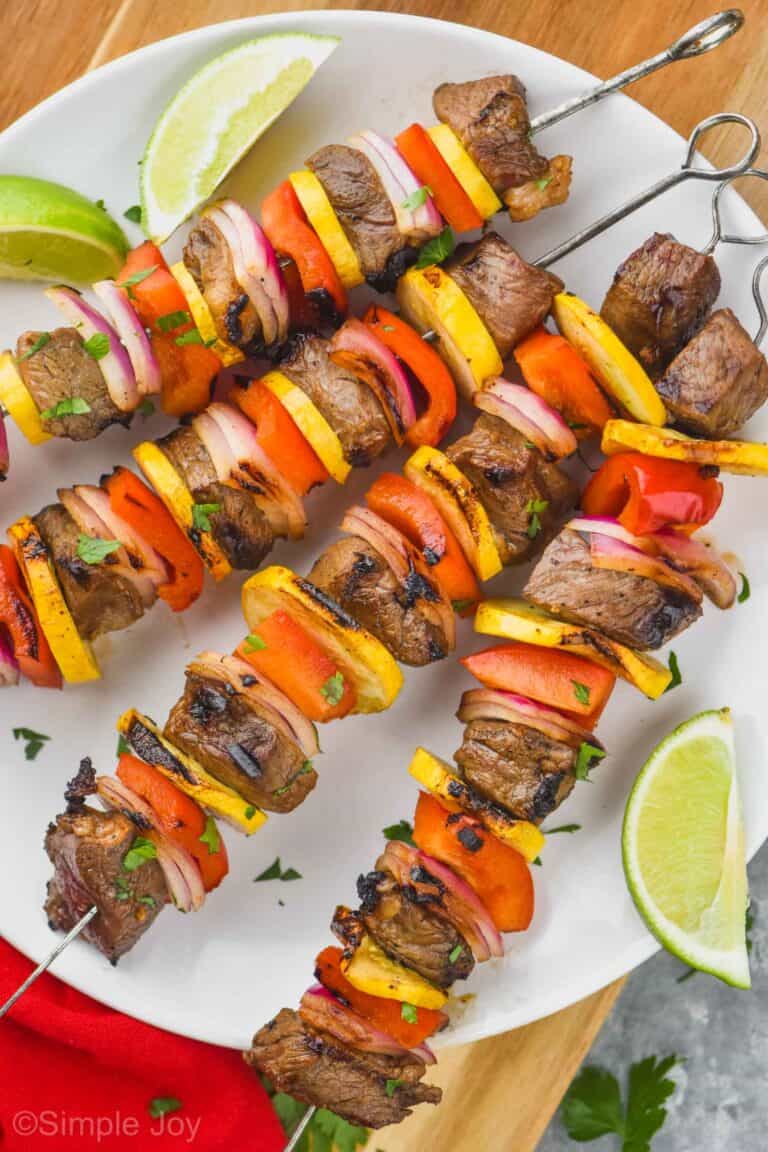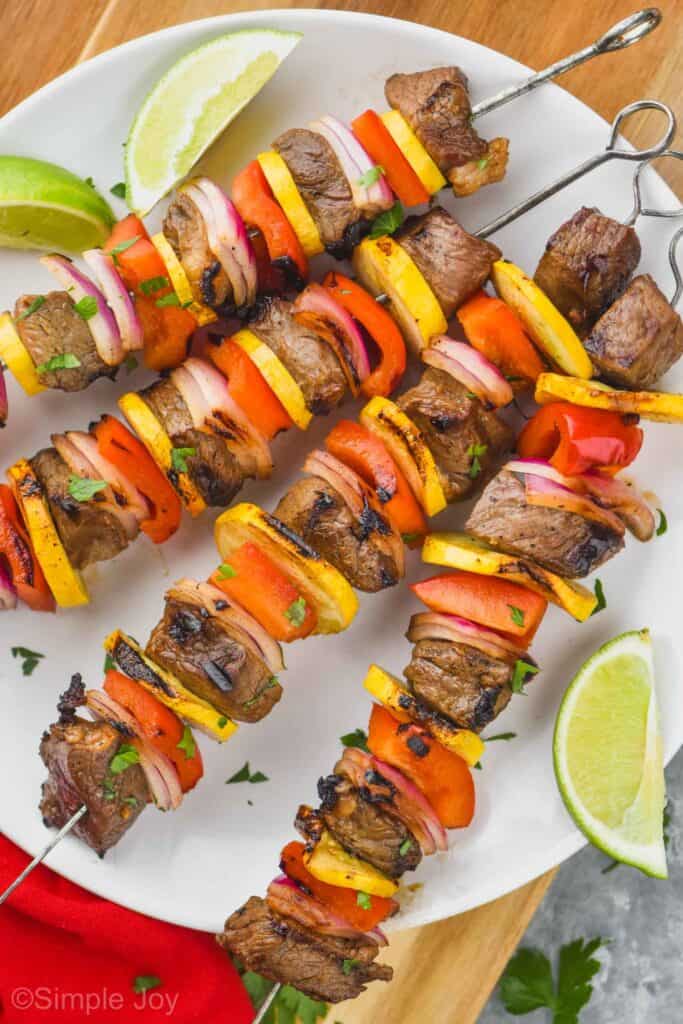 FAQ
How many does this serve?
This makes about 10 kabobs. That is enough for for four adults. You might consider adding some side dishes to this recipe to fill it out this dinner a further. We have a few great suggestions listed below, but you can find even more in our side dish recipes section.
How long do you grill steak kabobs?
Steak kabobs grill up quickly! Over medium heat, you will need to grill these for about six minutes on each side, for a total of 12 minutes.
Is top round steak good for kabobs?
Top round is a little too lean to be good in this recipe. It won't get as tender as you want it to. If you have a top round roast in your refrigerator waiting to be cooked make this: Easy Top Round Roast.
Can I leave out the brown sugar?
I think you might find the marinade overwhelming without it. It helps to balance the salt and the acid. If you are on a low carb diet, you might want to consider using monk fruit instead.
Are these steak kabobs gluten free?
They are not. Soy sauce contains gluten. There are gluten free soy sauces on the market, but we have not tested this recipe with them.
What steak do you use for kabobs?
As mentioned in the section above, you want to use top sirloin for this.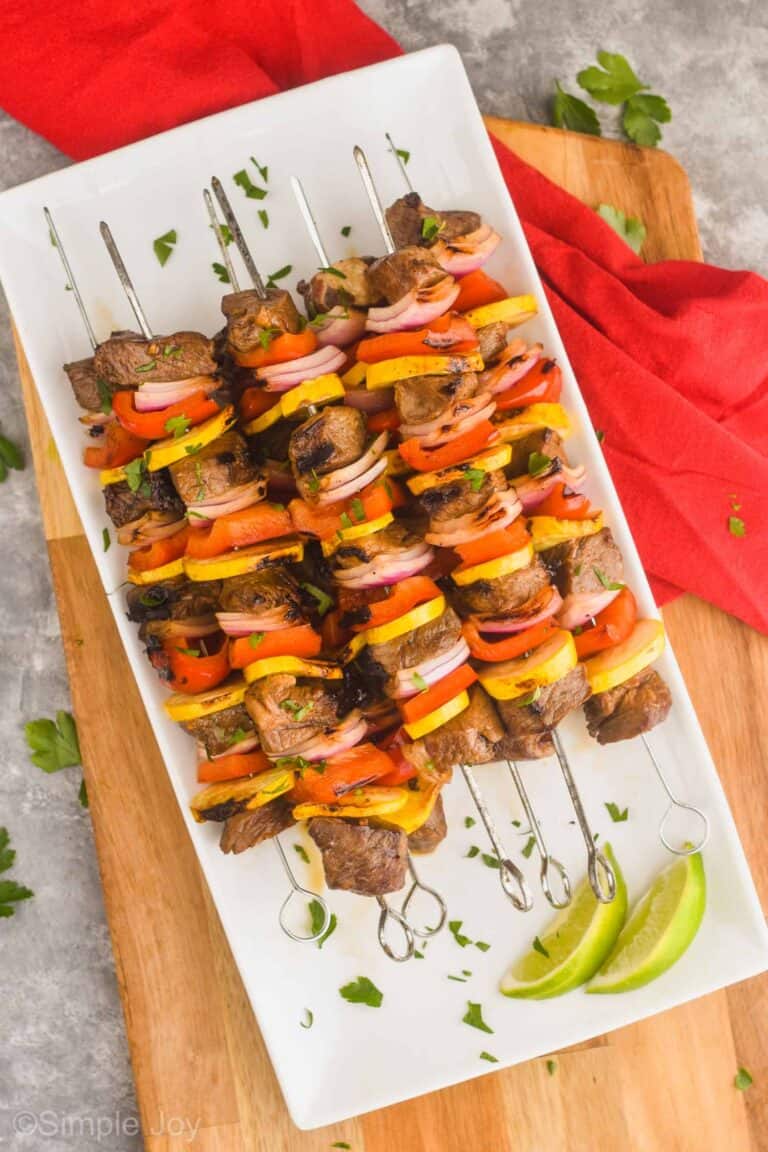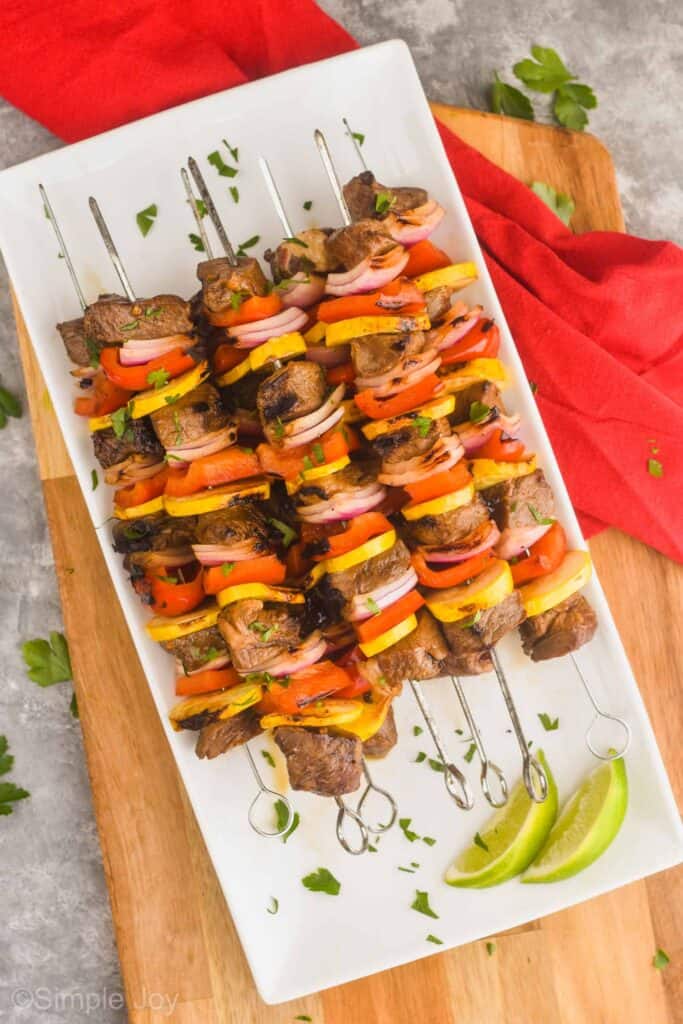 What Goes with Steak Kabobs
I would recommend the following side dishes to compliment this:
If you make these steak kabobs or any of my other recipes, leave me a comment and let me know what you thought! The best part of making my recipes is hearing from you.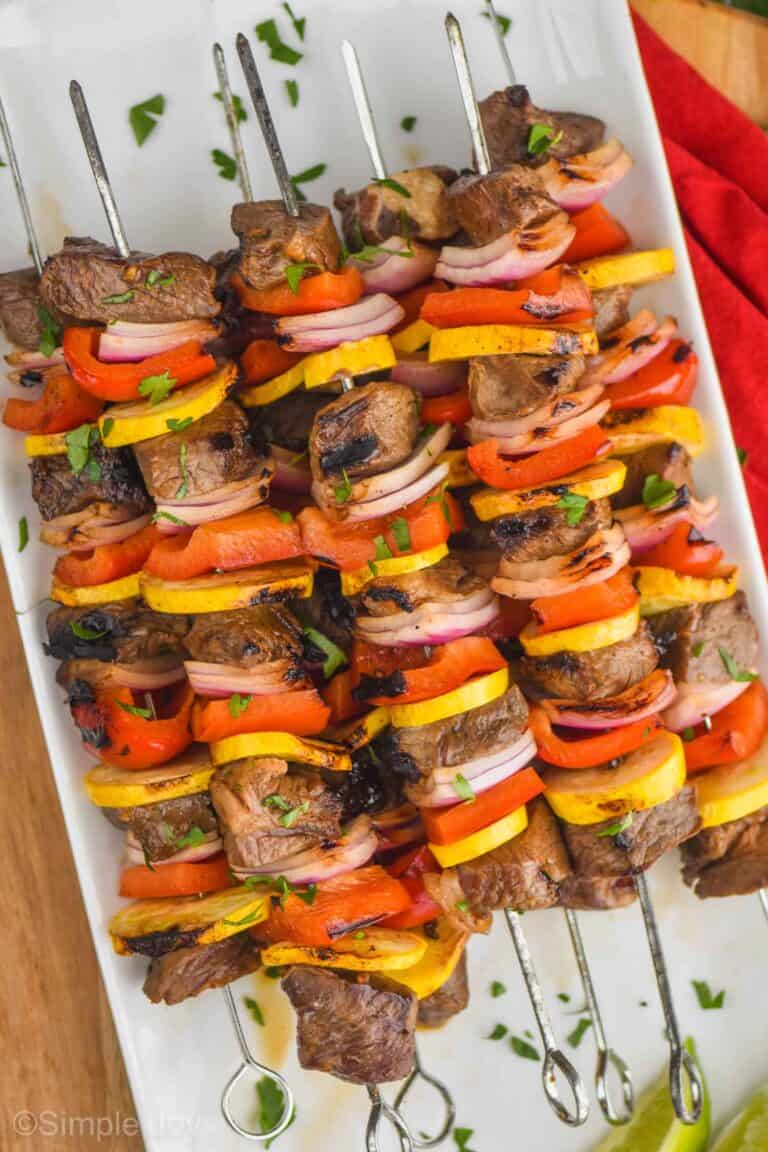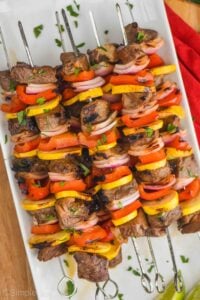 Steak Kabobs
Steak Kabobs make the perfect delicious dinner for grilling season. The steak marinade makes the meat melt in your mouth.
Ingredients
2

pound

top sirloin

cut into cubes

1

large red onion

cut into square pieces

2

red bell pepper

cut into square pieces

2

yellow squash

sliced into 1/4 inch pieces (look for one that is uniform in width from tip to end)
Steak Kabob Marinade
1/2

cup

olive oil

1/3

cup

soy sauce

1

tablespoon

brown sugar

packed

1

tablespoon

lemon juice

2

tablespoons

Worcestershire sauce

2

cloves

garlic

minced

1/4

teaspoon

black pepper
Instructions
Combine the ingredients for the marinade in a small bowl. Whisk until smooth. Pour the marinade over the cubed sirloin. Stir to combine. Cover and refrigerate for 1 to 24 hours.

Preheat your grill to medium heat.

After the meat has marniated, put together the skewers by adding meat, then the vegetables, then another piece of meat to the skewer. Repeat until the skewer is full. You can see in the photos I did about 5 pieces of meat, and four sets of vegetables for each skewer to make 10 skewers. (Read in the post about the difference between metal and wood skewers and why I use metal.)

Place the skewers on the grill and grill for 6 minutes on each side. It works best to use metal tongs to flip the skewers.
Calories:
411
kcal
(21%)
Carbohydrates:
11
g
(4%)
Protein:
54
g
(108%)
Fat:
16
g
(25%)
Saturated Fat:
5
g
(31%)
Polyunsaturated Fat:
1
g
Monounsaturated Fat:
9
g
Cholesterol:
120
mg
(40%)
Sodium:
521
mg
(23%)
Potassium:
1156
mg
(33%)
Fiber:
2
g
(8%)
Sugar:
5
g
(6%)
Vitamin A:
1
IU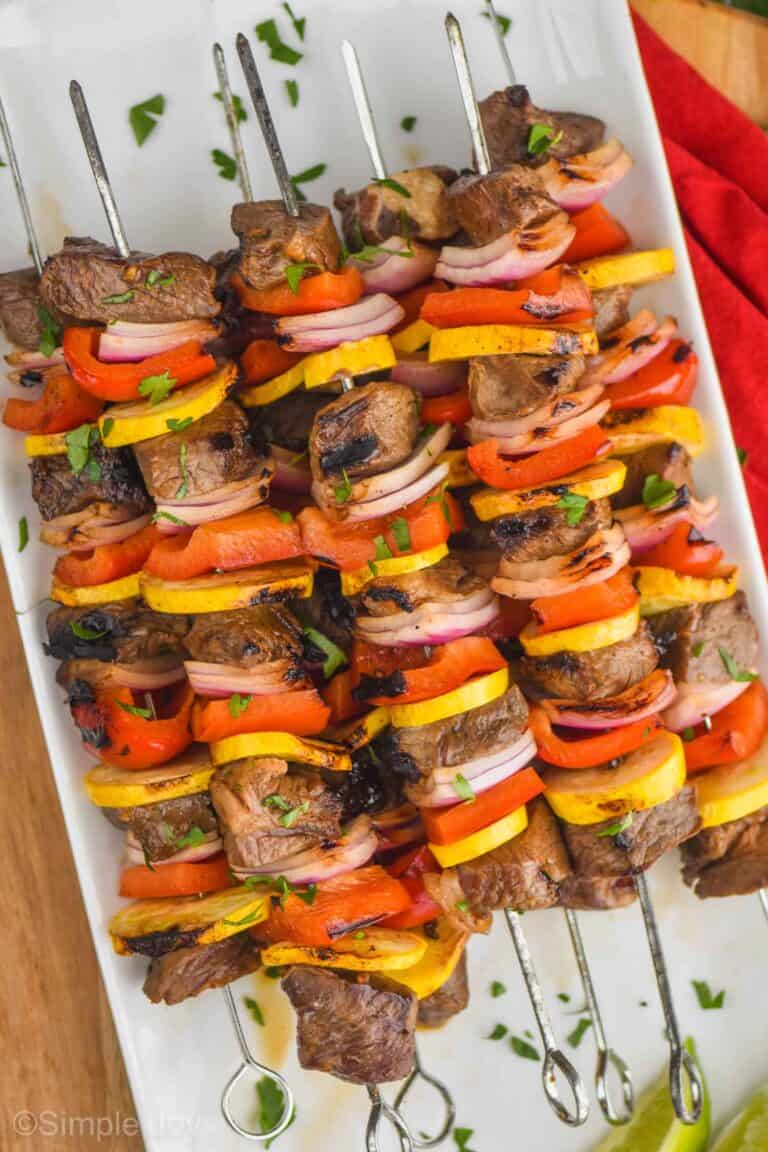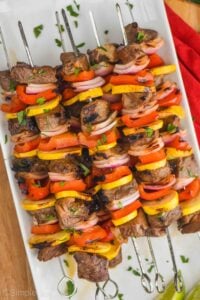 did you make this
Steak Kabobs
you might also like . . .