This Healthy Frozen Hot Chocolate is rich and refreshing! With only four ingredients and just a few calories, you'll want to make this all the time.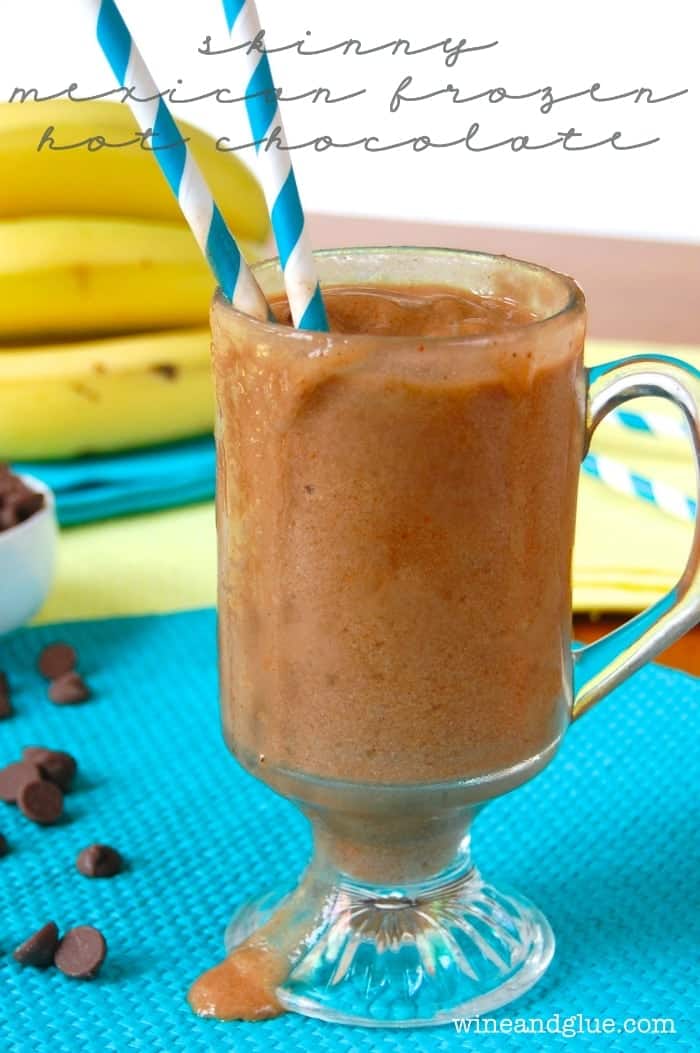 Next time you're craving a sweet treat but don't want to derail your diet, reach for this Healthy Frozen Hot Chocolate recipe. It's so delicious and totally fills you up with wholesome ingredients, not a lot of sugar. It's so easy and refreshing, it's the perfect summertime dessert.
What Makes this Frozen Hot Chocolate Healthy?
This healthy recipe comes together with just four simple, wholesome ingredients. You can have a giant glass of this vegan frozen drink for just about 150 calories! Here's all you need for a super healthy, chocolatey treat:
Frozen bananas (read on for the best way to freeze them!)
Cocoa powder
Cayenne pepper
Cinnamon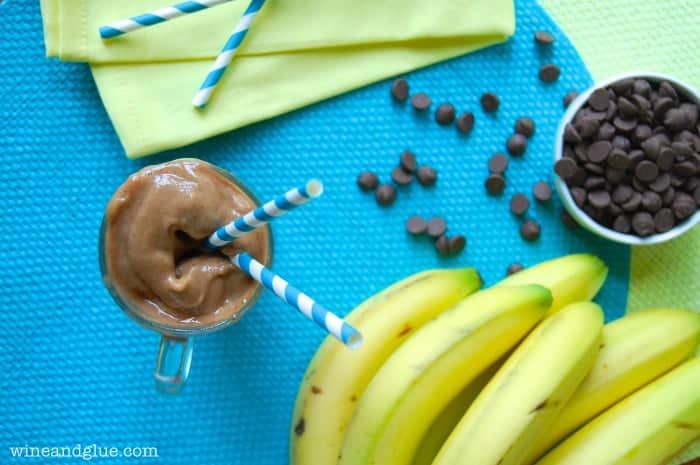 How to Freeze Bananas
Frozen bananas, when blended, are super creamy and take on an ice cream-like texture. So yummy! Now you can use all those darkening bananas to create delectable desserts.
First, peel all your overripe bananas. You can use ripe, yellow bananas too, but this is a terrific way to use up those sad looking bananas in the bottom of the fruit basket.
Then slice them into chunks (bite size or even a bit larger) and place them on wax paper on a baking tray.
Next, freeze the bananas on the tray overnight, or up to 24 hours. As long as they're pretty solid, you're good to go. The reason for freezing them on a tray is so the chunks of banana won't stick to each other when they're stored in a freezer bag.
Finally, take all those frozen banana chunks and store them in a freezer bag. They'll stay good for up to a couple of months in the freezer.
Use them for smoothies, low-calorie ice cream, or frozen hot chocolate!
Variations to this Frozen Hot Chocolate Recipe
This super simple drink can be changed up a variety of ways, depending on your tastes and who you're making it for!
Take out the cayenne and cinnamon for kiddos who don't usually like the extra spice and heat.
Add the spices back in, along with a splash of tequila to make the most delicious Skinny Mexican Frozen Hot Chocolate. So yummy!
Add a tablespoon of peanut butter and make a rich, peanut butter chocolate smoothie.
Top your frozen hot chocolate with whipped cream, cherries, raspberries, or nuts.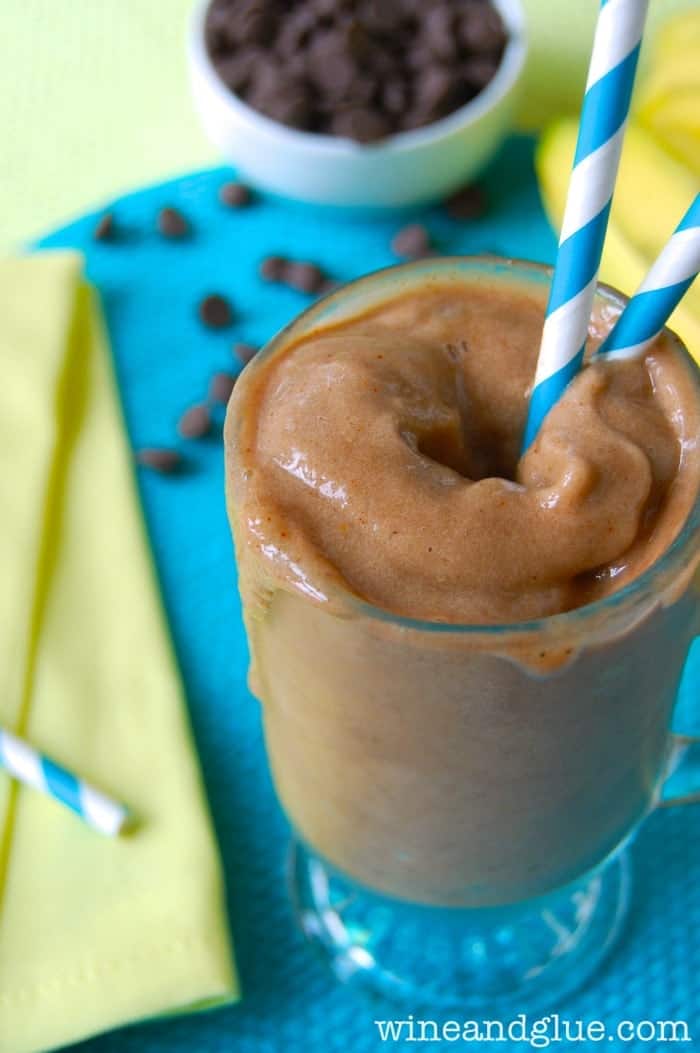 More Healthy Frozen Treats
You don't have to scrap your healthy routine to indulge once in a while and enjoy a frozen dessert. There are so many recipes that cut calories, but not flavor. Try some of my favorites:
You will LOVE this chocolatey, cold, creamy and most of all HEALTHY Frozen Hot Chocolate! Trust me, it's gotten me through many a long summer afternoon. What's your go-to indulgent snack? I would love to hear your ideas in the comments below. And let me know what you think of this deliciously easy dessert drink. Cheers!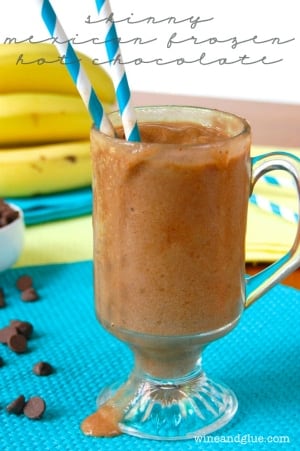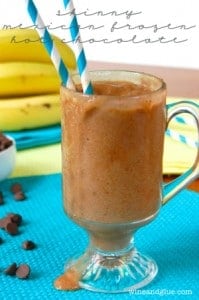 Healthy Frozen Hot Chocolate
This Healthy Frozen Hot Chocolate is rich and refreshing! With only four ingredients and just a few calories, you'll want to make this all the time.
Ingredients
1-1 1/2

banana

I just used enough frozen chunks that looked like about one and a half bananas. You can use more or less.

1/2

tablespoon

cocoa powder

1/2

teaspoon

cinnamon

1/8

teaspoon

cayenne pepper
Instructions
Blend the frozen banana chunks in a food processor until smooth.

Take the lid off, and stir in the cocoa powder a little bit, just so it's folded in, then blend again until it's completely incorporated.

Add the cinnamon and the cayenne pepper the same way.
Serving:
1
serving
Calories:
150
kcal
(8%)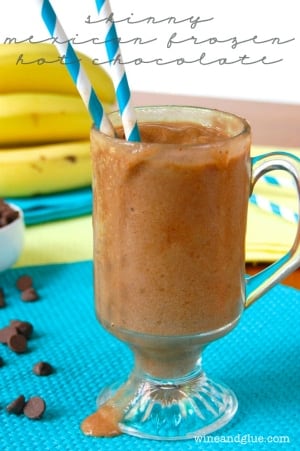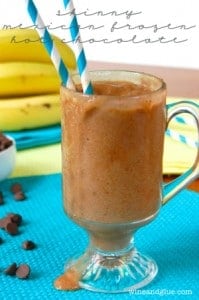 did you make this
Healthy Frozen Hot Chocolate