Skinny Mexican Frozen Hot Chocolate that is easy to make, delicious, and super low calorie & healthy!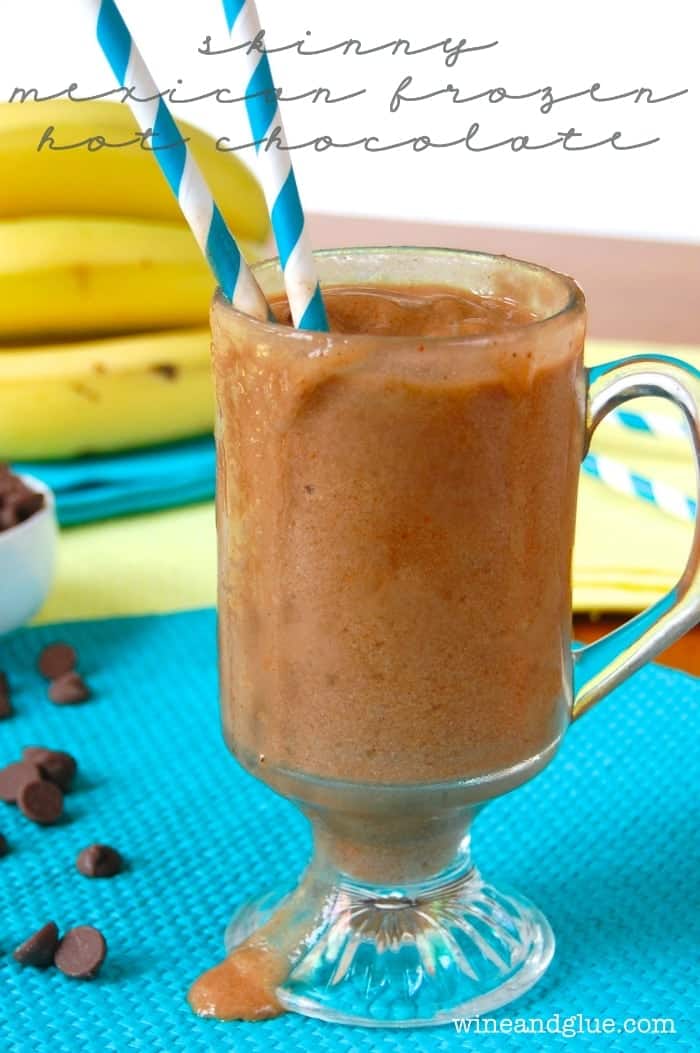 So . . . . things are getting a bit ugly round these parts.
And by round these parts, I mean aroooooound my waist, and by a bit ugly I mean . . . the pants are not so much with the fitting.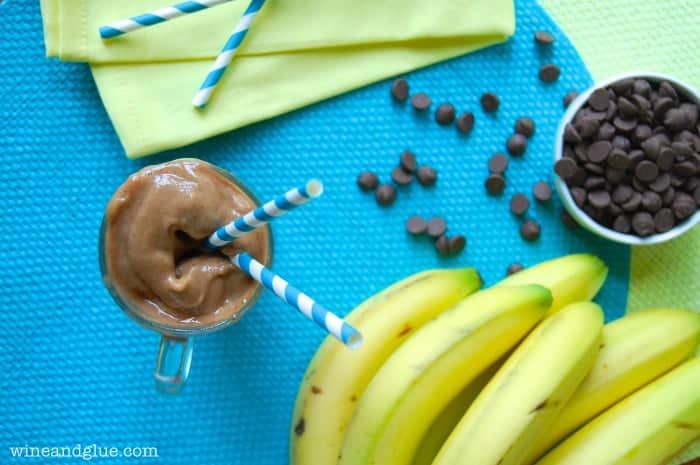 Here are the reasons why my muffin top is starting to grow it's own muffin top:
1. My kids. Yes, my kids drive me to drink and to chocolate. Usually in that order. Seriously, raising little kids with very little local family support (who don't have munchkins of their own) is haaaaaaaaard. Sometimes when I hear moms talking about calling their moms to drop their kids off for the day, I want to poke myself in the eye with a fork. Instead I poke some cheese with a fork.
2. Blogging. It's become a job, like a busy job, like a stressful busy job that requires me to try out different foods. Like crazy foods . . . like Twinkie Bomb Pies and Cheesecakes that taste like Cake Batter. The Freshman 15 of Blogging is no joke, 'yo!
3. I'm a stay at home mom. Which means a couple things. I have all day access to food. My house is full of munchies. You'd think that I was living with a couple of pot heads the way my roommates go nuts for crackers, pretzels, and mac 'n cheese. And then of course there is the that really ugly mom behavior of standing over the sink, pretending to clear off your child's uneaten foods, but really tackling the problem with the baby plastic fork and . . . your mouth.
4. My kids. Did I mention it's stressful to be a mom??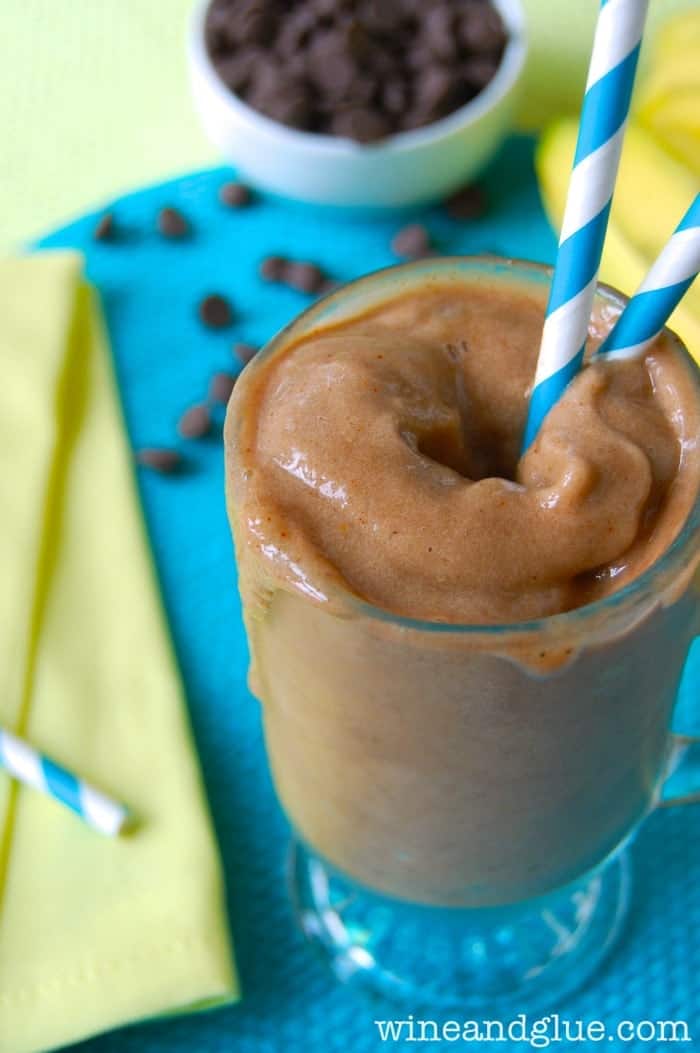 So here we are. At a cross roads if you will. I can either buy new pants, or I can start actually keeping track of what I put in my gullet. I choose the later, only because my sense of frugality just narrowly beats out my love of food.
Skinny Mexican Frozen Hot Chocolate!! It is super simple to make, it's probably in the neighborhood of 150 calories a serving, and it is really delicious. You really do feel like you are having a treat. It's made with bananas, cocoa powder, cinnamon, and cayenne pepper. Healthy, right? But sooooo chocolatey and delicious! This little concoction has been spinning around in my head ever since I started seeing bloggers whipping up frozen bananas to make smoothies, most notably Sally from Sally's Baking Addiction – she's got a great collection to check out.
One tip:  When you take your super mushy, ridiculously over ripe bananas and freeze them, break them up, set them on some wax paper and on a tray and freeze them for like a day and then stick them in a freezer bag for long term storage. (I didn't do this, but wish I had.)  Also, use a food processor to whip them up. It could be that my blender is just wimpy, but it really didn't get the job done and I had to bring out the big guns.
So now I can blissfully ignore my children while fulfilling my love of chocolate. Win win!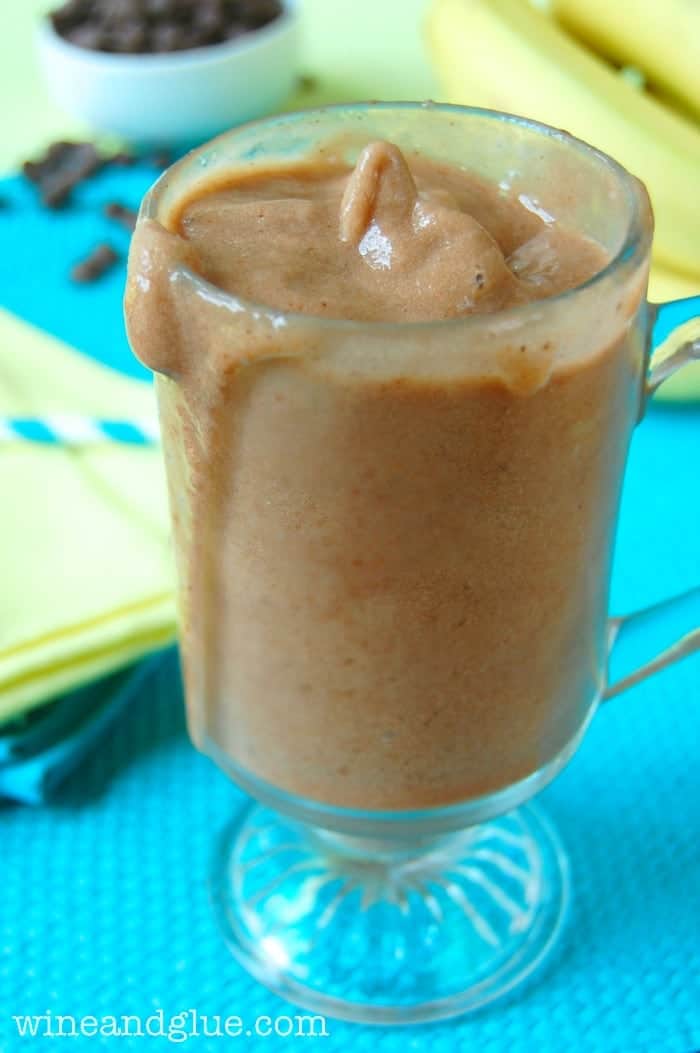 Skinny Mexican Frozen Hot Chocolate
1 to 1/2 frozen bananas (I can't tell you the exact amount because I just grabbed a bunch of chunks that look like they amounted to about one and a half bananas)
1/2 TBSP cocoa powder
1/2 tsp of cinnamon
1/8 a tsp of cayenne pepper
Blend the frozen banana chunks in a food processor until smooth.
Take the lid off, and stir in the cocoa powder a little bit, just so it's folded in, then blend again until it's completely incorporated.
Add the cinnamon and the cayenne pepper the same way.
Enjoy!