Homemade Whipped Cream comes together with only two ingredients and it is perfect for topping all of your homemade desserts and pies.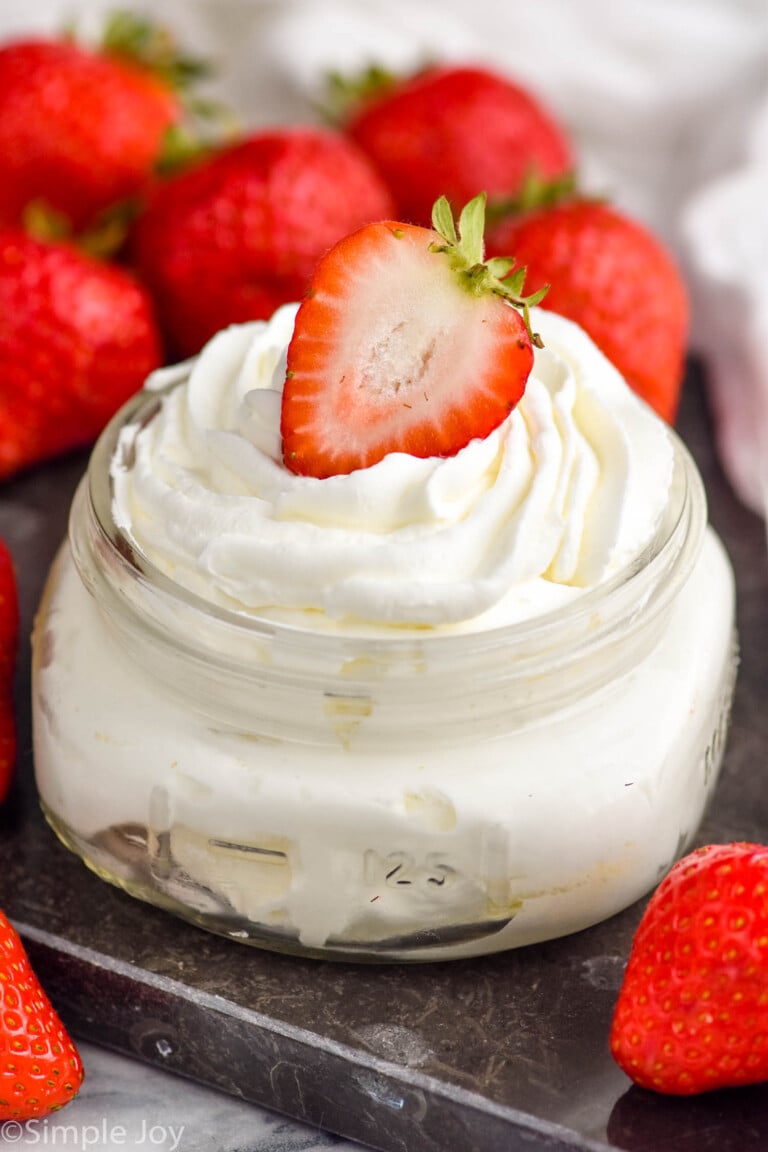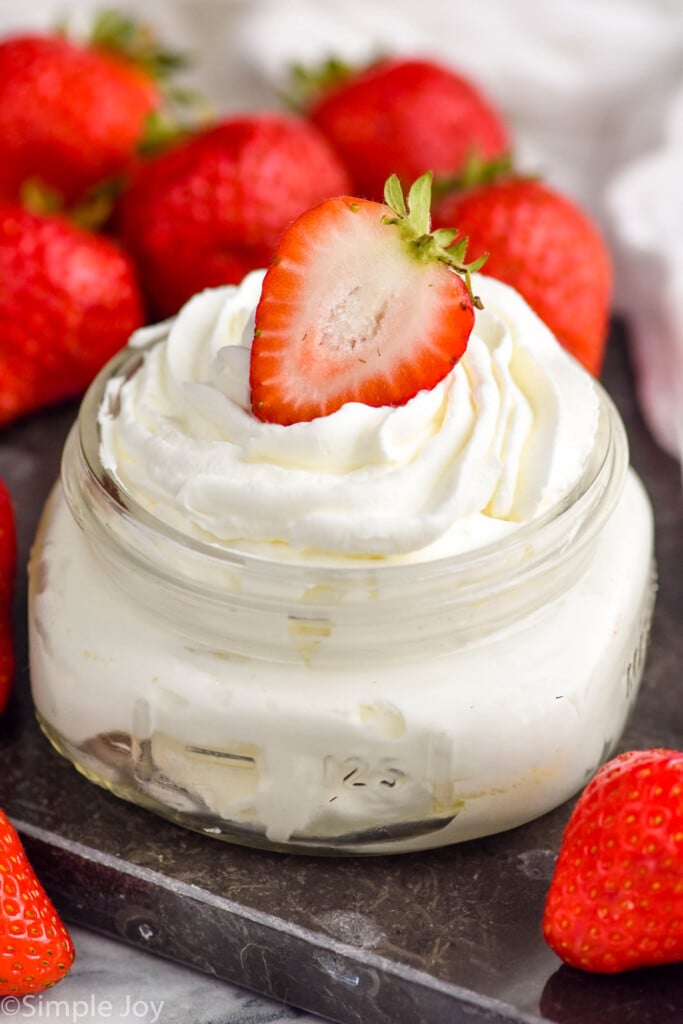 The Benefits of Making Whipped Cream From Scratch
The beauty of making anything from scratch is controlling exactly what is in it and having the peace of mind that it is fresh. Rather than buying Cool Whip or pre-made whipped cream that has extra ingredients, sweeteners, and preservatives, it is so easy to make your own at home. This is the best whipped cream recipe because it is simple and has the perfect texture and flavor. With just two ingredients and very little hands-on time, this homemade whipped cream will make you never want to buy store-bought again!
Using Heavy Whipping Cream
While this easy whipped cream recipe only calls for two ingredients, it is very important to use the correct things and follow these tips! There are many "cream" options at the store and they won't all give you the same result. Here is a breakdown of what we are using in this recipe. For the measurement of each ingredient, see the recipe card at the bottom of the post.
Heavy whipping cream, or heavy cream, is crucial for creating a whipped cream that holds its shape and has a nice thick and creamy texture. It has a milk fat content of around 36% which gives us nice peaks when whipped. It is also important that your heavy whipping cream is cold, so make sure it is well chilled before you start your recipe.
Whipping cream is a different type of cream that has a lower fat content, so it isn't as ideal as heavy cream for this recipe. Half and half (something we have here in the US that is half cream and half whole milk) will not work in this recipe.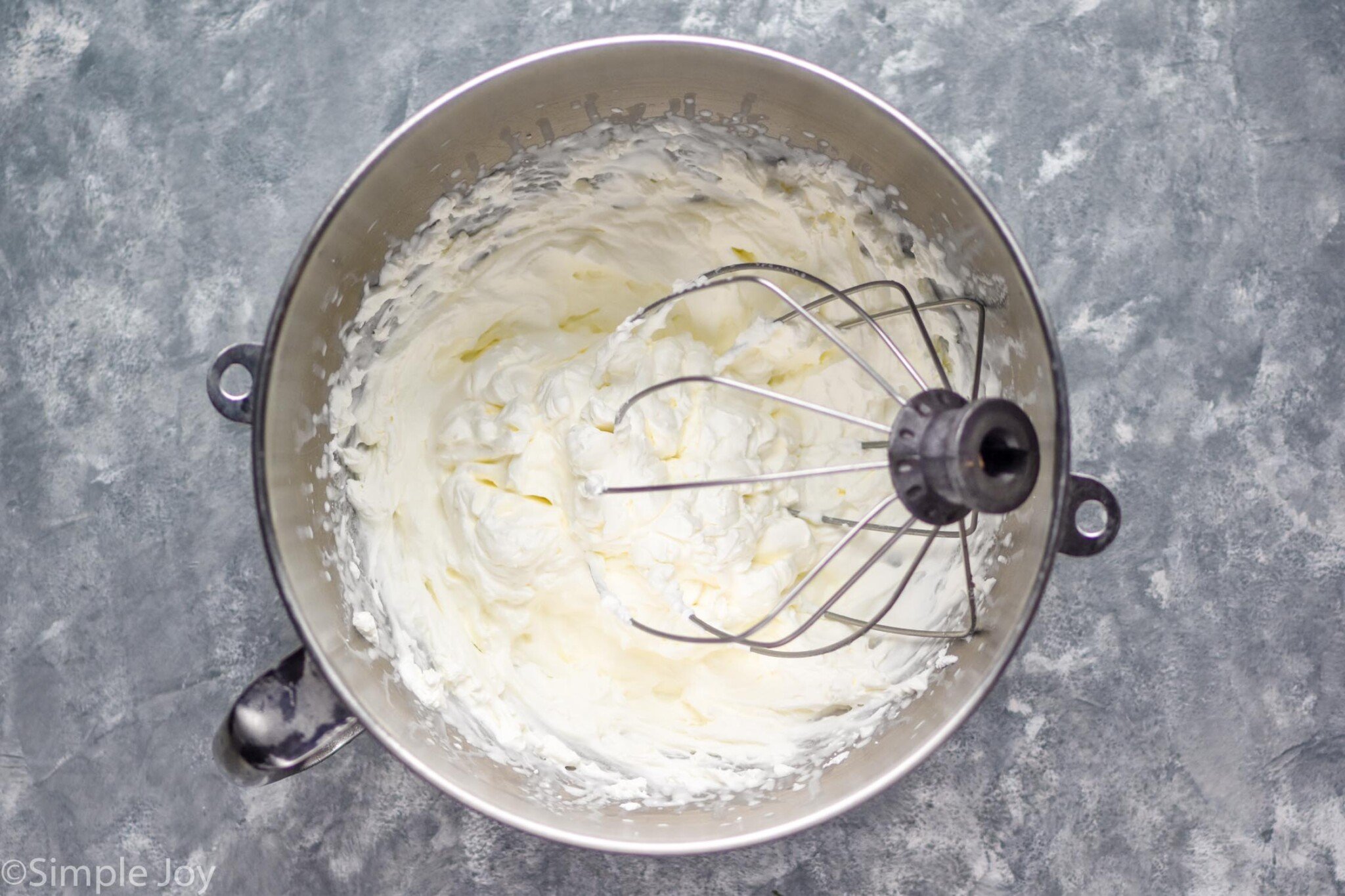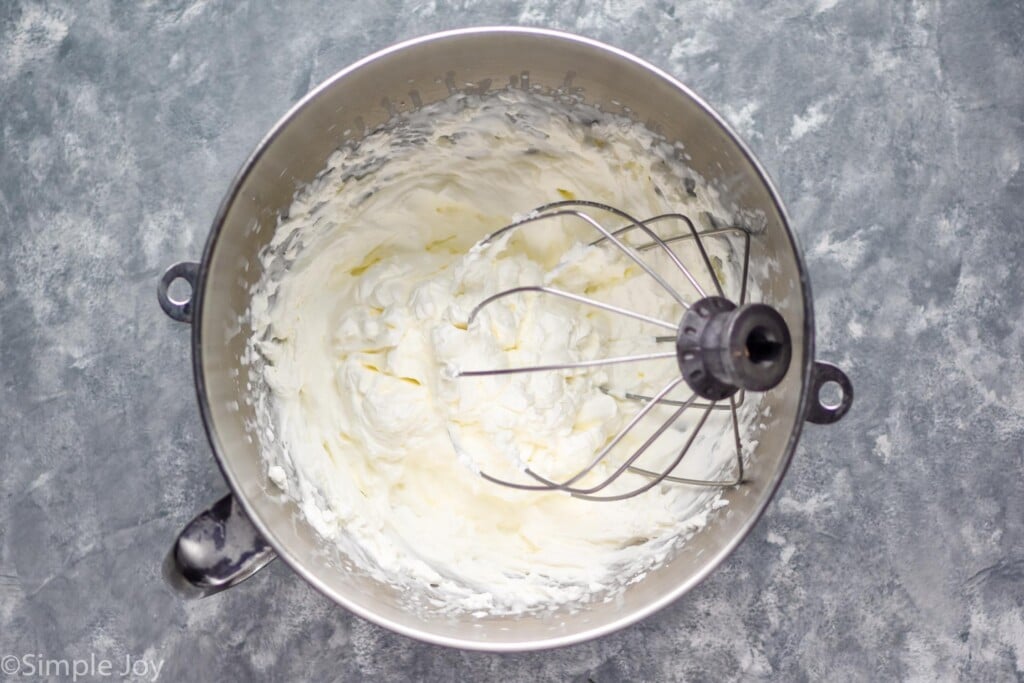 How to Make Homemade Whipped Cream
Here is a brief overview of how simply this recipe for whipped cream comes together. For the full recipe including all measurements, scroll to the recipe card at the bottom of the post.
Prepare your attachments. This recipe takes only minutes to make, but it is crucial that you put both your metal bowl and metal attachment for your mixer in the freezer for at least 15 minutes before making. This is the minimum; I prefer 30 minutes or more. It is essential that they are very cold.
Combine ingredients. Add the heavy whipping cream to the cold bowl along with the powdered sugar.
Whip it. You may need to start your mixer on low to incorporate the powdered sugar for a few seconds, then increase to high and beat the mixture until stiff peaks appear.
How to Use Whipped Cream
This whipped cream frosting recipe can be used as a replacement as whipped cream in any of your favorite dessert recipes. It is amazing on cakes and pies and is a delicious topping on pancakes, ice cream, or even just with fresh fruit.
One cup of heavy whipping cream will make about one and a half cups of whipped cream once it is prepared. If you want to make a bigger batch, double or triple the ingredients but know it will increase in volume when you are beating it so may not fit in your mixing bowl all at once.
If you want to have a frosting that will be stable, and good for piping, you will want to use my Stabilized Whipped Cream recipe. It is also what I recommend for using as a replacement to Cool Whip.
Stabilized Whipped Cream
Stabilized Whipped Cream is easy to throw together with just three ingredients. This recipe is perfect for topping cakes, piping, or using as a replacement for Cool Whip!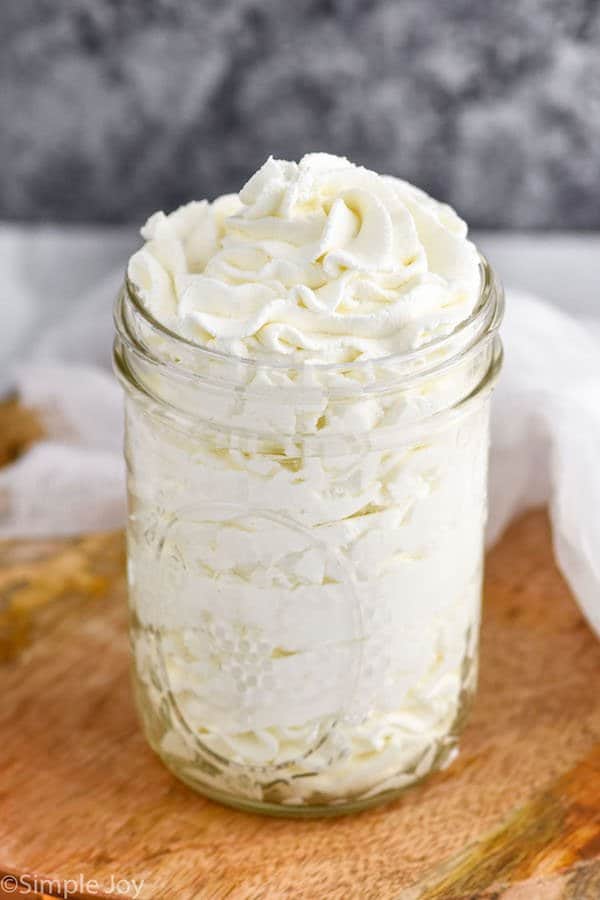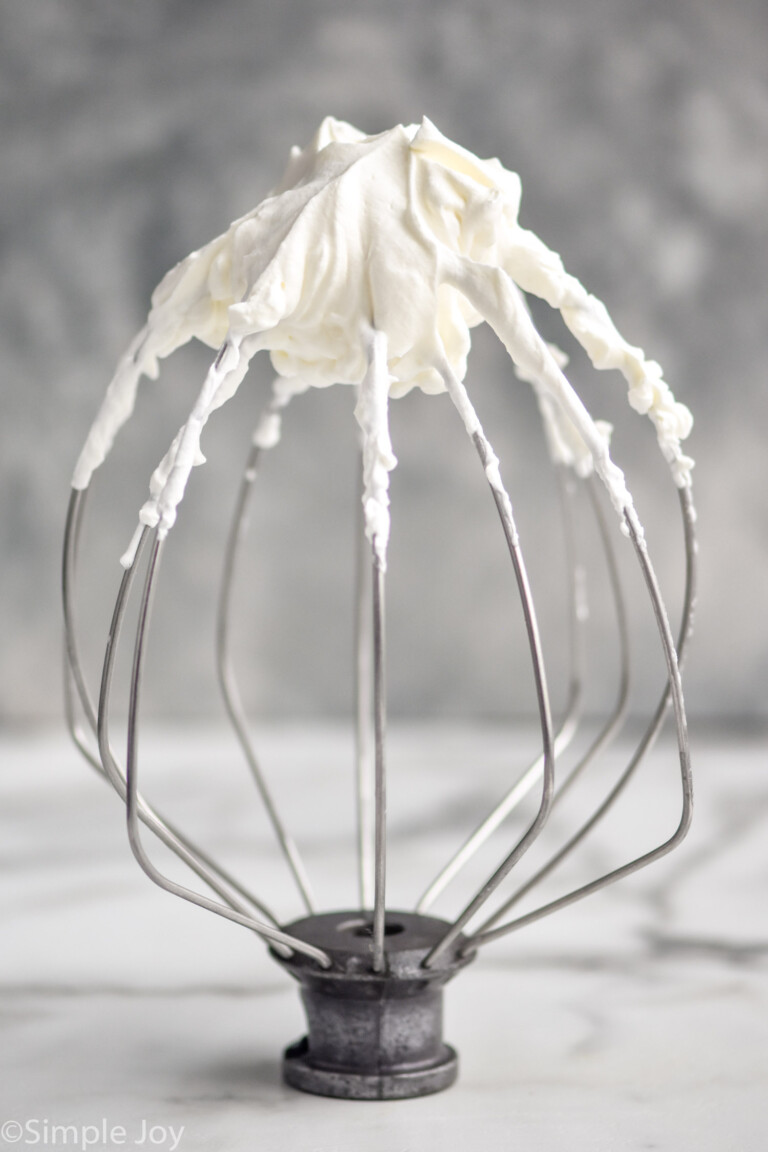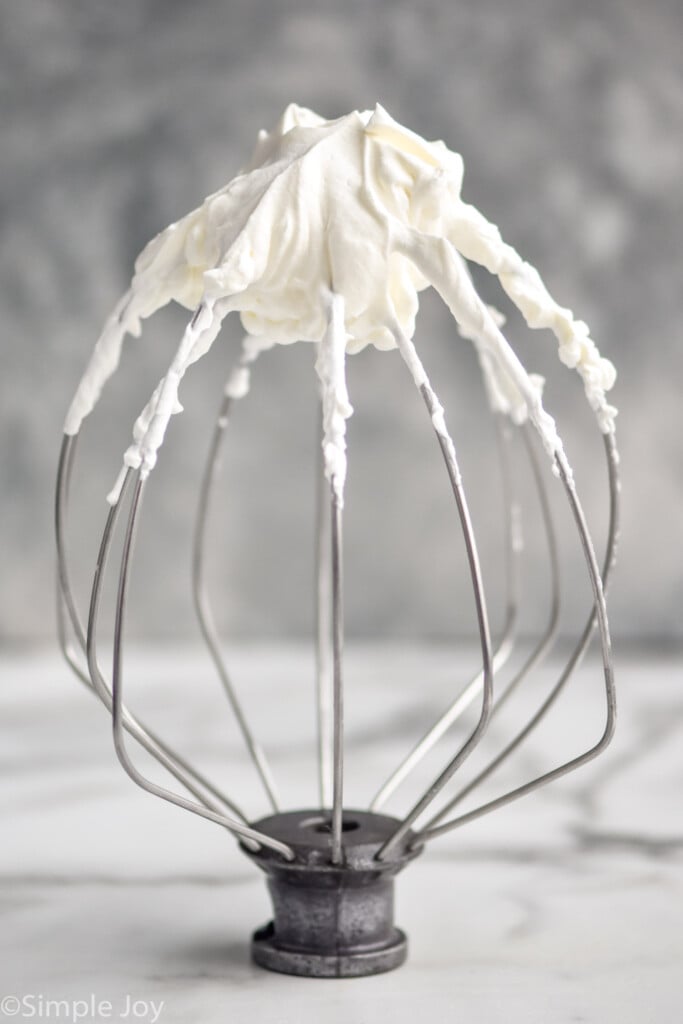 Flavored Whipped Cream
If you are looking for flavored spins on the classic whipped cream, here are a few ideas:
Chocolate whipped cream: I have a separate recipe for chocolate whipped cream that is absolutely perfect.
Peppermint whipped cream: Add one teaspoon of peppermint extract when beating the whipped cream. This would be delicious on a mug of hot chocolate.
Other flavors: Add lemon extract, vanilla extract, or even almond extract to give your whipped cream additional flavor.
Chocolate Whipped Cream
Chocolate Whipped Cream is only three ingredients! Easy to make and is the perfect addition to any dessert, you can even use it as frosting.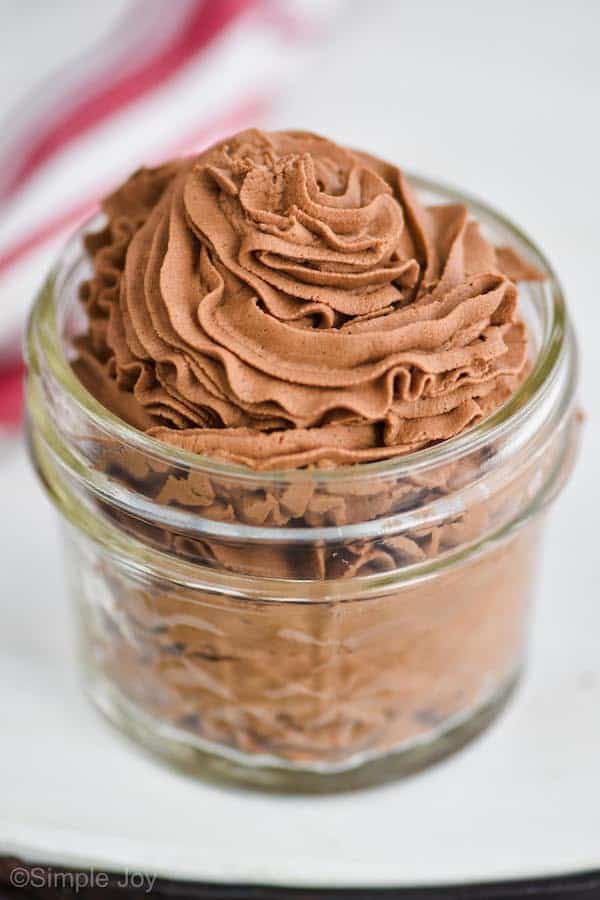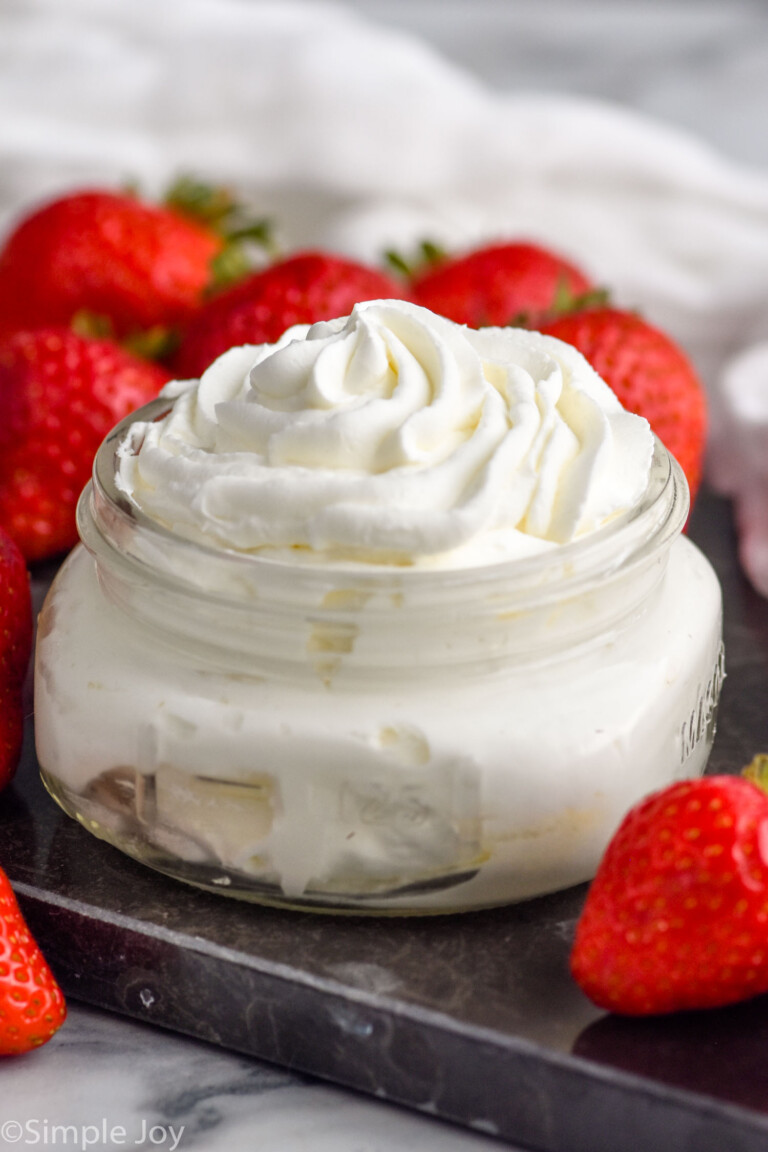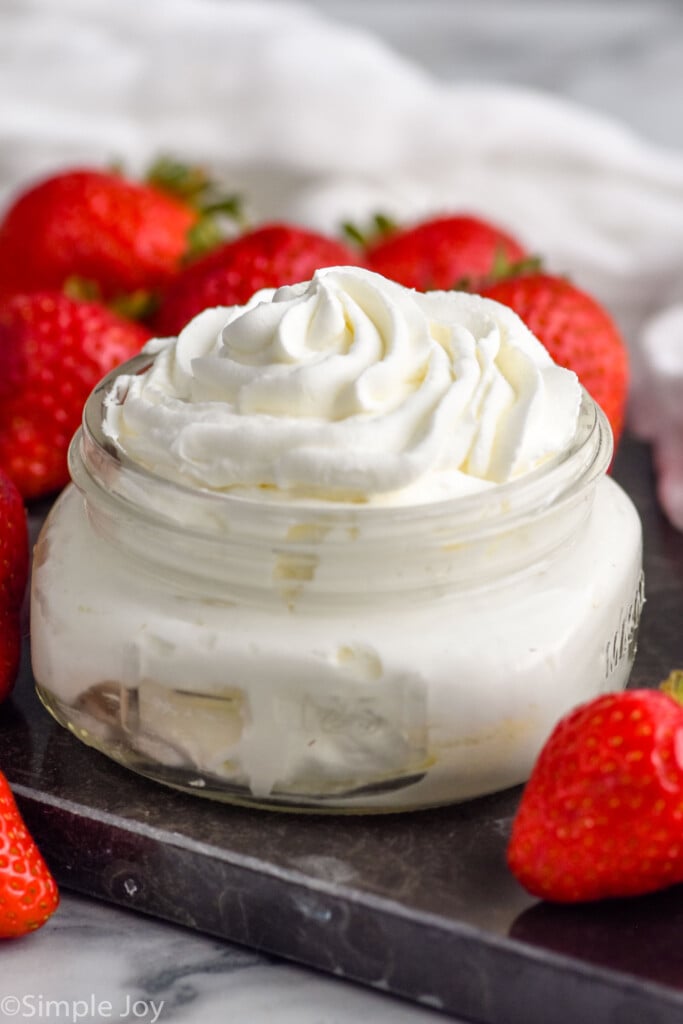 My Favorite Mixer
I always like to give you guys the option of a bowl with a hand mixer or a stand mixer when I write my recipe instructions. But if I'm being honest, I would cry without my stand mixer. It just makes baking so much easier because my recipe can mix away while I gather the next set of ingredients. I love my Kitchen Aid Stand Mixer and the fact that the one my parents got for their wedding is still working well is the best endorsement ever.
TOP PICK
Kitchen Aid Stand Mixer
I use my stand mixer several times a week, it s such a helpful appliance! This work horse will last for years and years.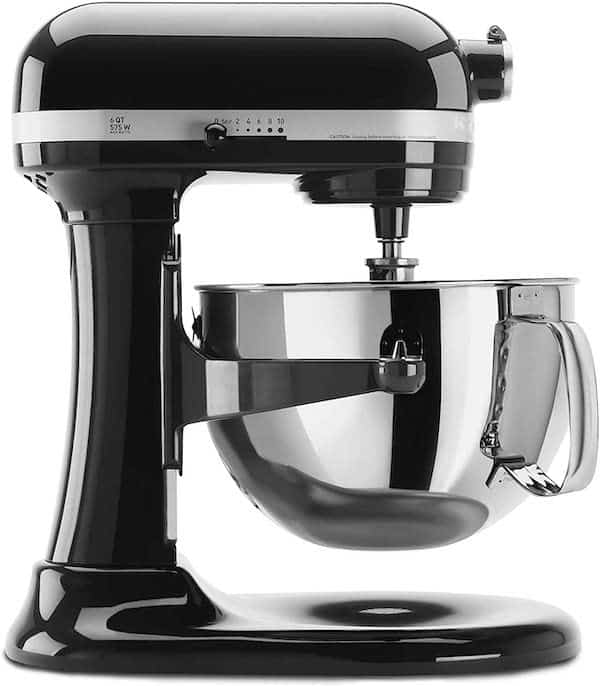 Tips and Tricks
Make sure everything is very cold. This includes your metal bowl, metal mixer, and heavy cream. I can't stress enough how important it is for this recipe to work.
Don't overmix. If you overmix your whipped cream ingredients, lumps will form. If this happens, add a little bit more heavy cream and mix by hand until the lumps disappear. To avoid this problem, stay by your mixer and turn it off once peaks form.
FAQ
Is heavy cream the same as heavy whipping cream?
Yes, they will both work in this recipe.
How long does whipped cream last?
It will last in the refrigerator for up to three days or in the freezer for up to three months. Be sure to store it in an airtight container.
How much does this recipe make?
This recipe will make two cups of whipped cream.
Can I make whipped cream without a mixer?
You can use a cold metal bowl and metal whisk, but it may not get as stiff as when you use a mixer and attachment.
Can whipped cream replace Cool Whip?
Yes! This recipe isn't made with the same ingredients as Cool Whip, it will act like Cool Whip in recipes.
Storing and Freezing
This recipe can be used immediately or stored in an airtight container in the refrigerator for up to three days.
Whipped cream also freezes very well. Store in a freezer-safe bag or container in the freezer for up to three months. Allow to thaw in the refrigerator when ready to use.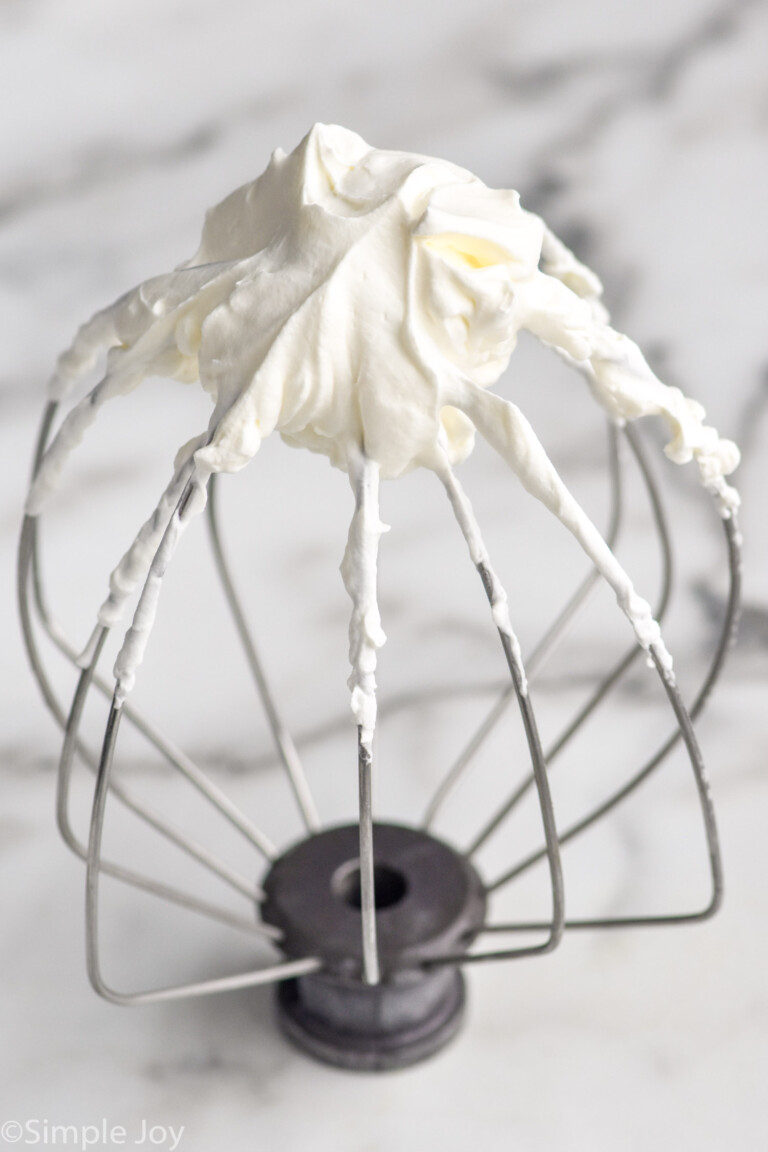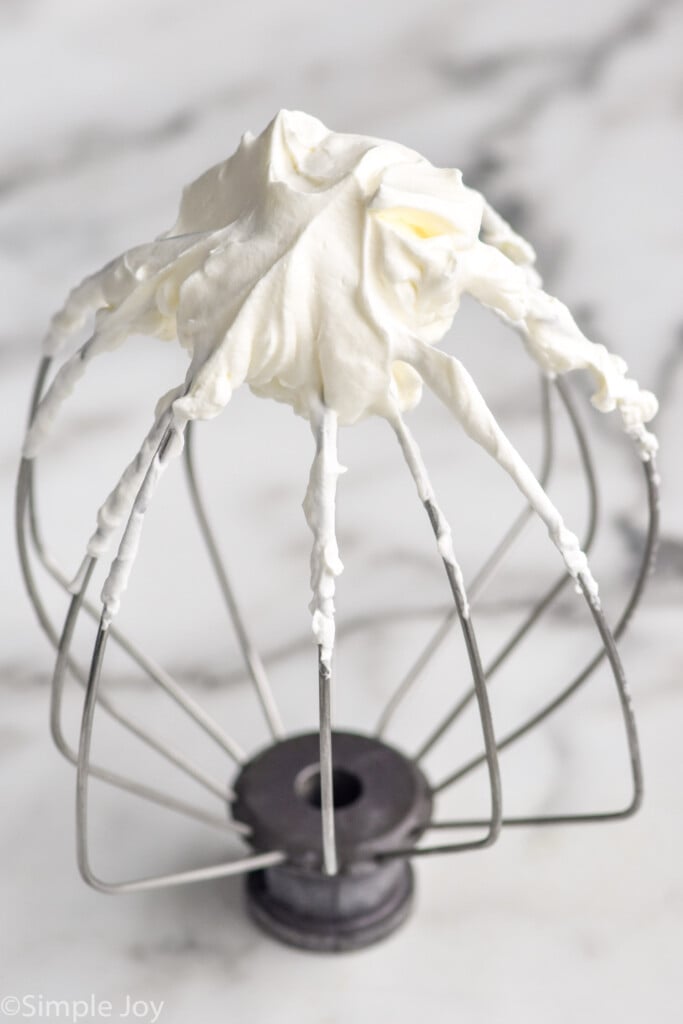 Other Dessert Recipes
These yummy desserts would be delicious topped with this amazing recipe!
If you make this homemade whipped cream recipe or any of my other recipes, please leave a comment letting me know what you think. I love hearing from you!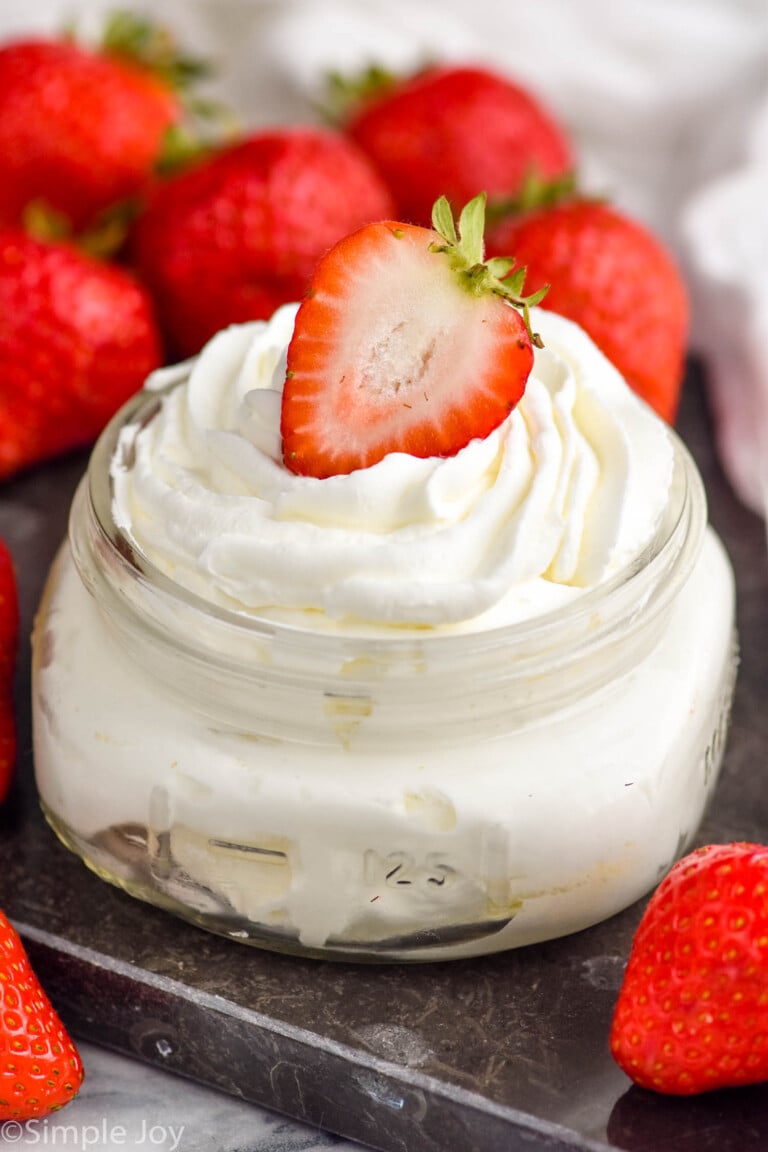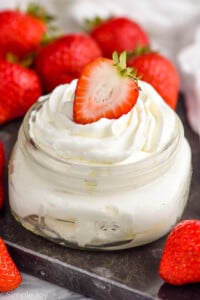 Whipped Cream
Homemade Whipped Cream comes together with only two ingredients and it is perfect for topping all of your homemade desserts and pies.
Ingredients
1

cup

heavy whipping cream

cold

3

tablespoons

powdered sugar
Instructions
Freeze a metal bowl and the metal attachment for your hand held mixer (or your stand mixer and metal stand bowl) for at least 15 minutes.

Add the heavy whipping cream to the cold bowl with the powdered sugar.

Whip on high until stiff peaks appear. Use immediately or store in the refrigerator for up to 3 days.
Serving:
2
tablespoons
Calories:
75
kcal
(4%)
Carbohydrates:
3
g
(1%)
Protein:
1
g
(2%)
Fat:
7
g
(11%)
Saturated Fat:
5
g
(31%)
Polyunsaturated Fat:
0.3
g
Monounsaturated Fat:
2
g
Cholesterol:
22
mg
(7%)
Sodium:
5
mg
Potassium:
19
mg
(1%)
Sugar:
3
g
(3%)
Vitamin A:
292
IU
(6%)
Vitamin C:
0.1
mg
Calcium:
13
mg
(1%)
Iron:
0.02
mg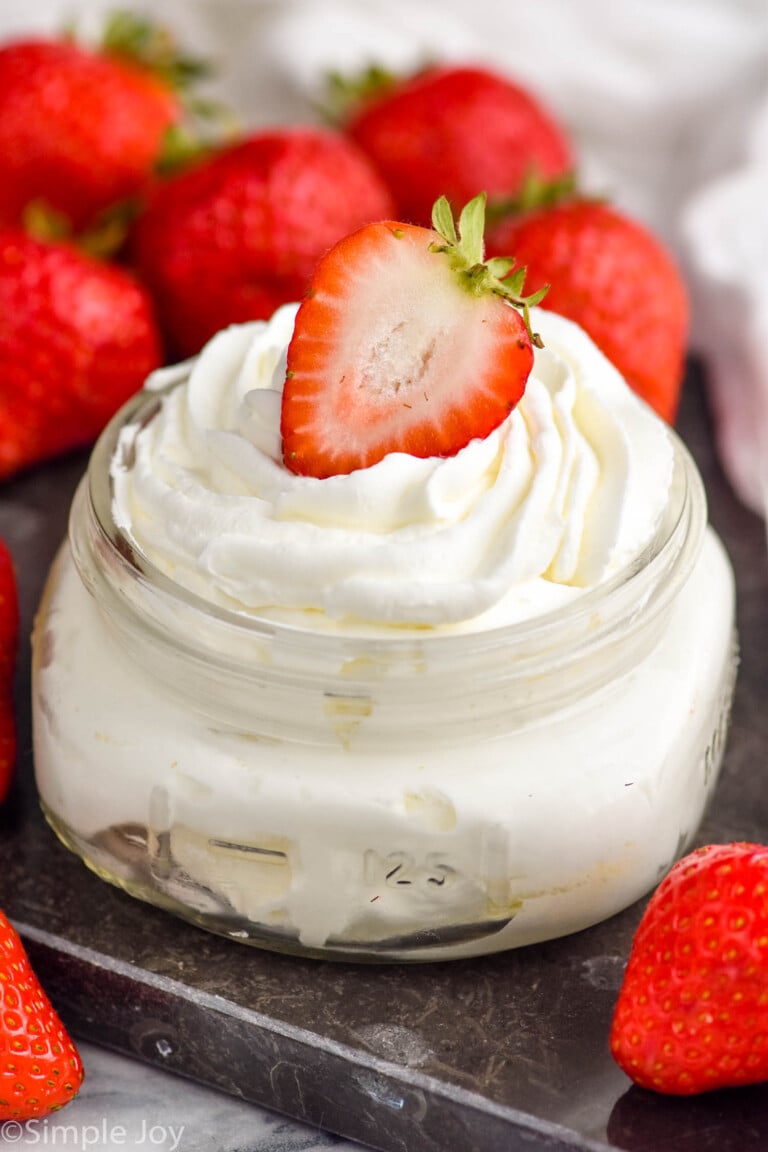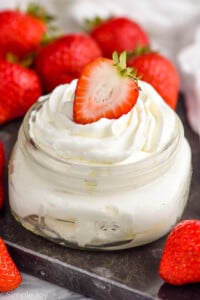 did you make this
Whipped Cream