Strawberry Shortcake Sugar Cookie Cups | The amazing taste of strawberry shortcake in cute little cups!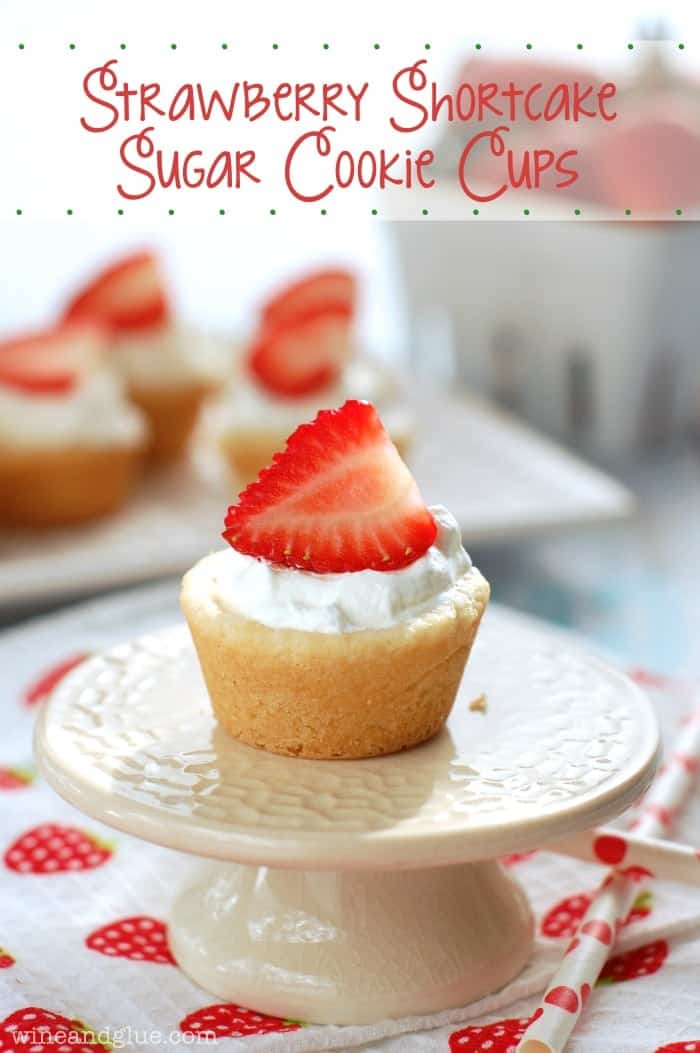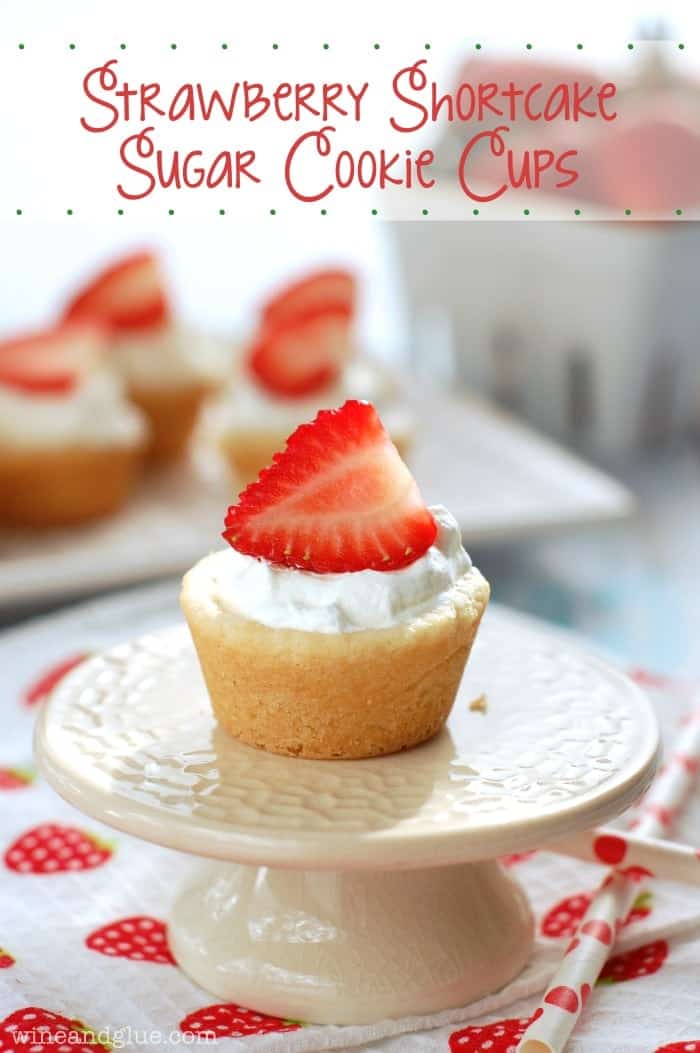 Can we talk about How I Met Your Mother for a minute?
Or three hours? Because that might be how long it takes for me to wrap my head around what the writers did to us.
**If you haven't watched the episode yet, just skip to the recipe. Because holy spoiler alert.**
So . . . I hated the ending. Hated. With a fiery passion. Like, I feel like I might need to write a letter or something. It would start with:  Dear Writers of How I Met Your Mother, That was the meanest April Fool's Day joke, EVER.
Let's talk about all the ways I hated it.
First, why did they spend season after season making us root for Barney and Robin, and hope that Ted would just calm down, burn the blue horn and move on if they were only going to have them divorce?? They got divorced because Robin traveled too much for work . . . . . ??? Riiiiiiight.
Next, and this is my biggest gripe of all, THEY KILLED OFF THE MOM!! Holy hell. That was so mean. We spent all season falling in love with her! We spent the last nine years knowing that she was super perfect for Ted! And we love Ted, we really wanted him to be happy, and we went into the show knowing that he would ultimately end up happy, WITH HER!
Finally, the group growing apart at the end? I mean, I get it. Nathan and I are at that stage in life too, where kids and work suddenly take priority and you spend less time sitting around drinking beers with your friends than you would like (like none at all). But! And this is a huge BUT, that's why we watched the damn show in the first place! So we could live vicariously through them!! Hello, that's what TV is about.
So to end my epic #firstworldproblems rant, I would just like to say to the writers in the words of the wise Lily Aldrin:  You SONAFABEEETCH.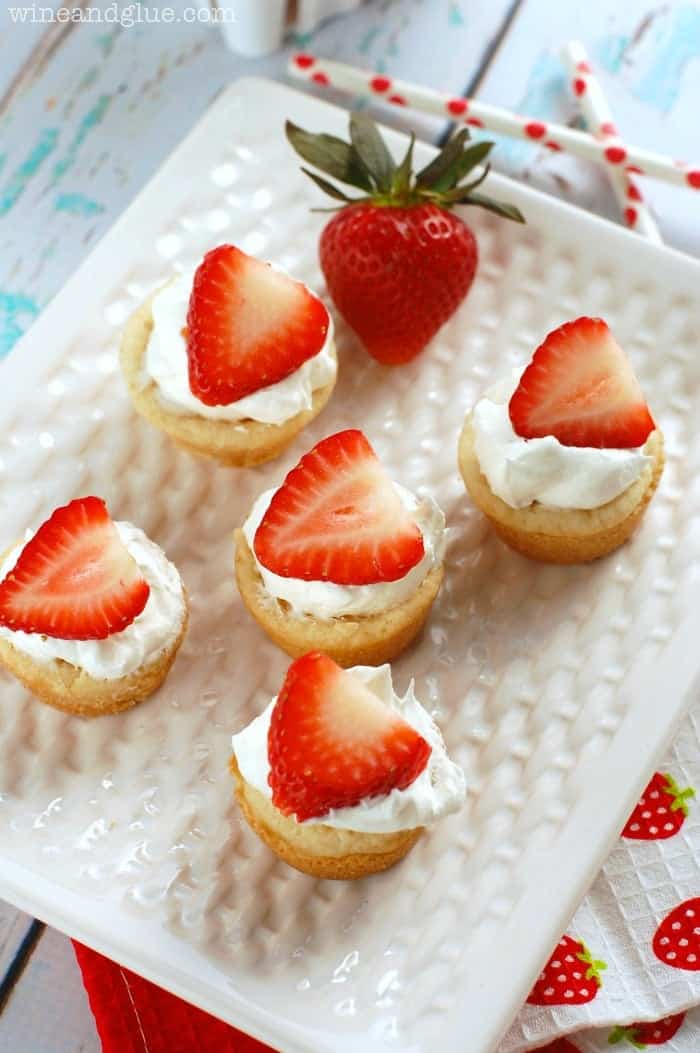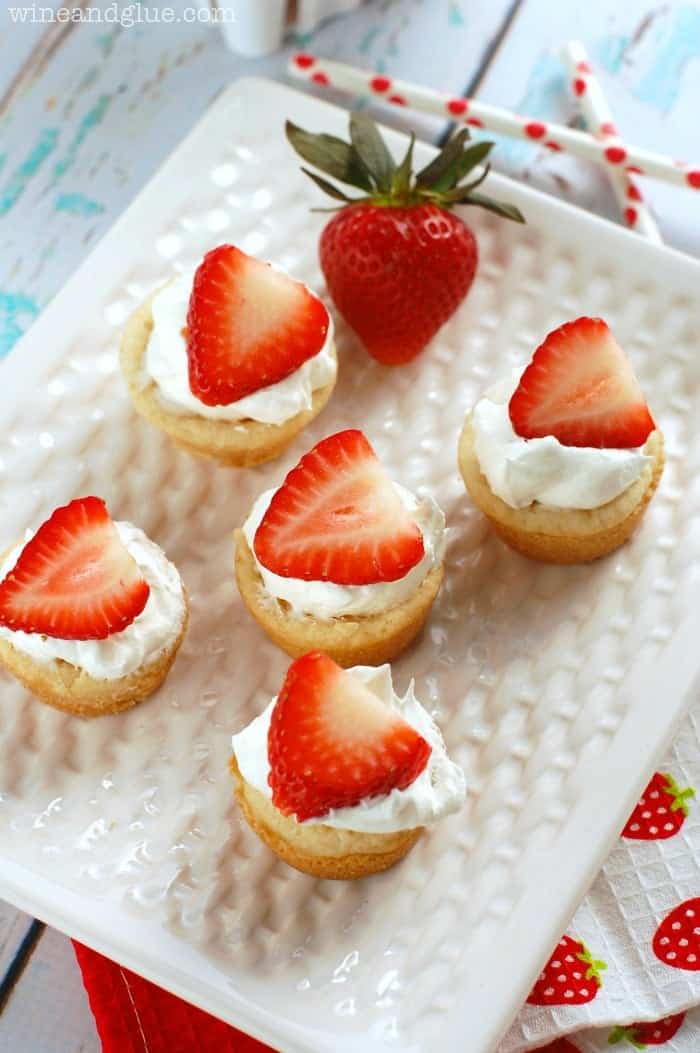 One thing that never disappoints, leaves you wishing you hadn't invested 9 years in fake characters, makes you shake your fist at the TV, or question your sanity at the level of anger that a TV show can evoke from you? Easy and cute desserts!
Like these Strawberry Shortcake Sugar Cookie Cups! Seriously. It doesn't get cuter or easier than this. I love these as a dessert for the summertime, like after dinner on the deck or a BBQ with friends. You just make the cookie cups ahead of time, keep them in an airtight container, and then when you are ready to serve, top with a dollop of whipped topping and some sliced strawberries. Yum!
And they won't take you 3 hours days, to wrap your head around :)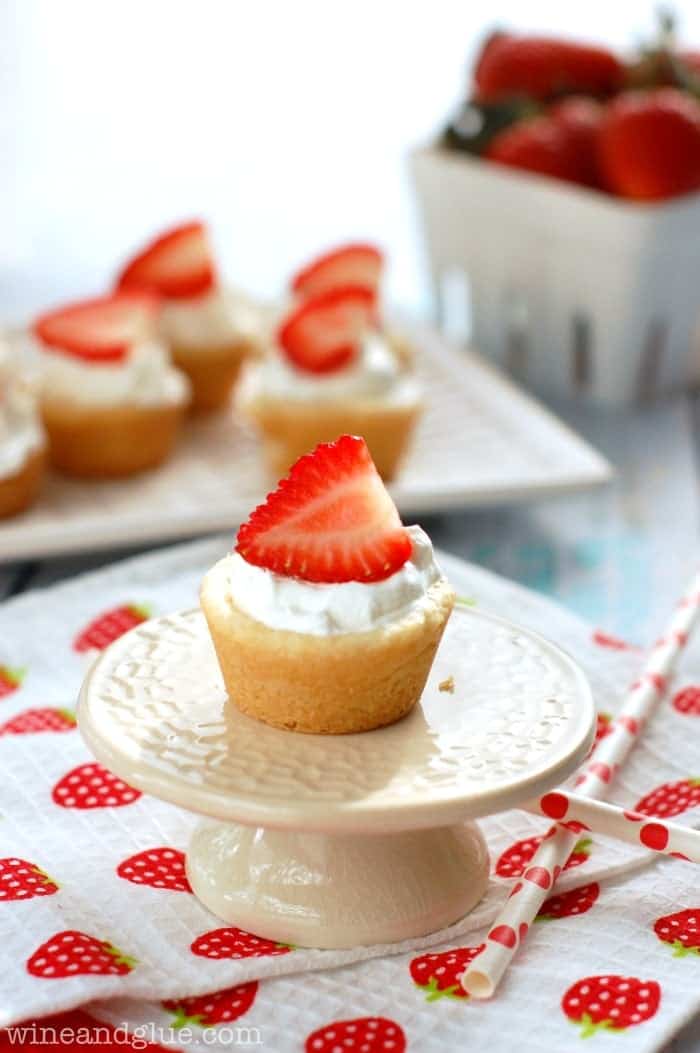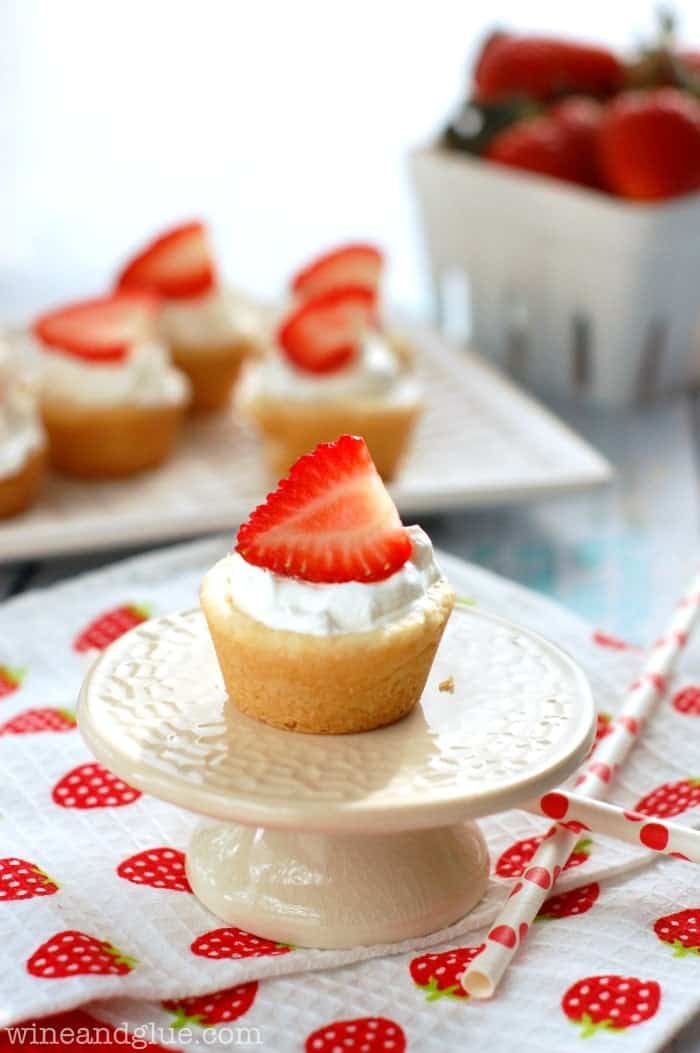 OTHER GREAT STRAWBERRY RECIPES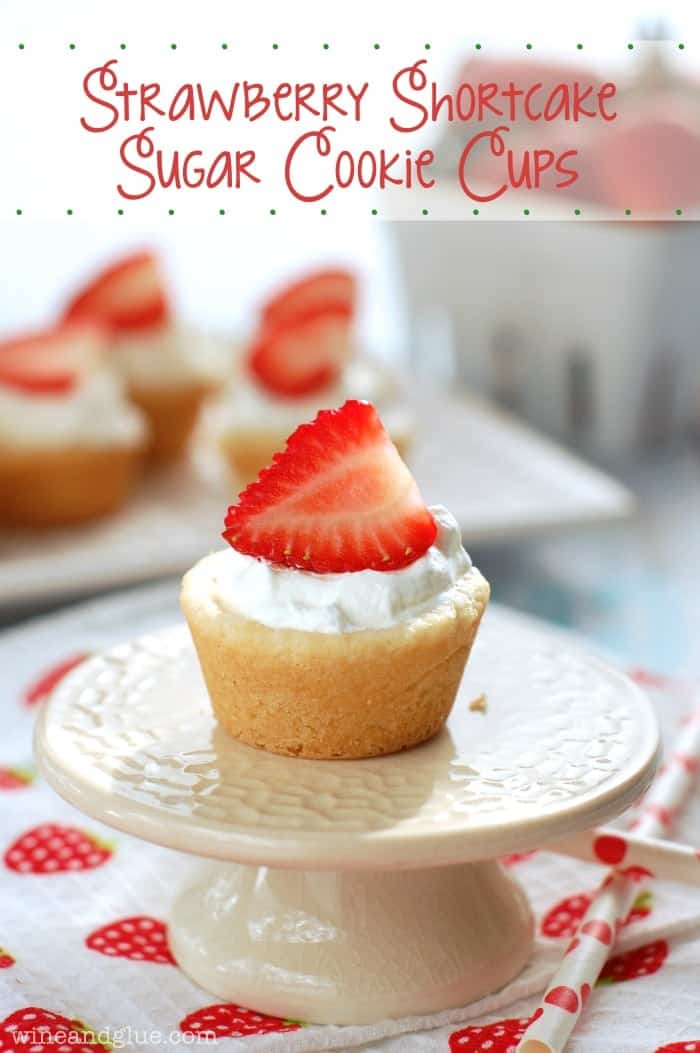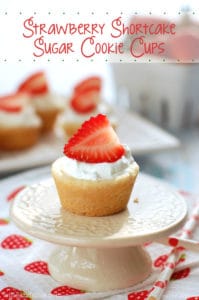 Strawberry Shortcake Sugar Cookie Cups
Ingredients
refrigerated sugar cookie dough

I used Pillsbury

whipped topping

I used Cool Whip

sliced strawberries
Instructions
Preheat your oven to 350 degrees.

Spray a 24 cup mini muffin tin heavily with cooking spray. Make one inch balls out of the cookie dough and put them in each of the 24 cups.

Bake for 12 minutes or until they are golden. Let them cool completely, then very carefully run a knife around each cookie cup and very very gently remove it from the pan.

Just before serving, top the cookie cup with a little bit of whipped topping and a slice or two of strawberry.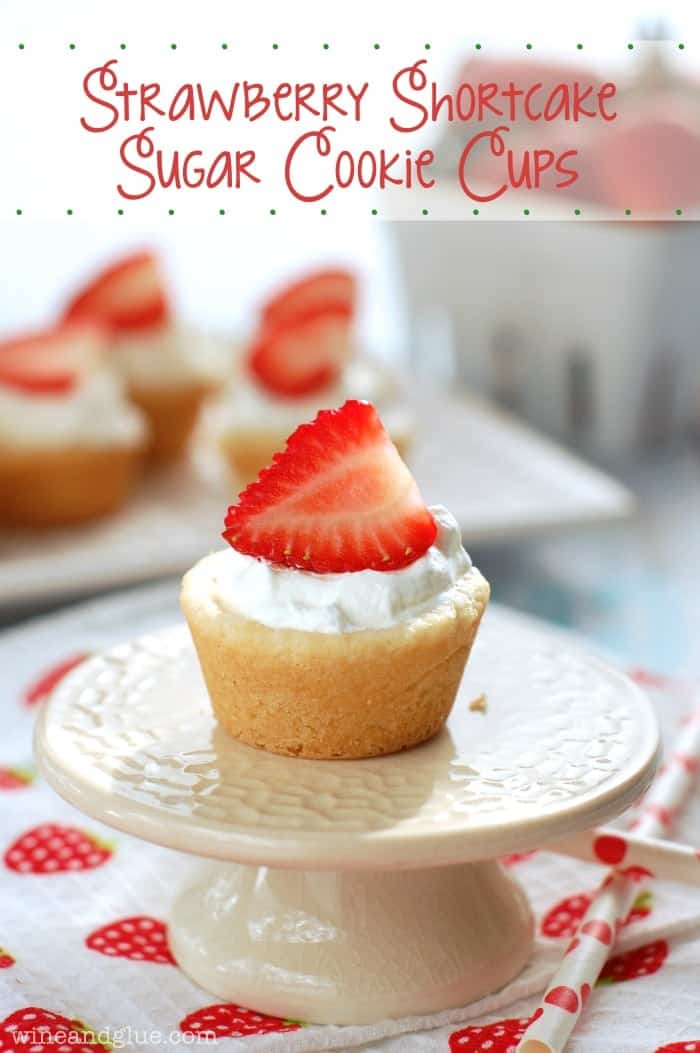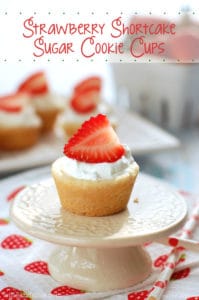 did you make this
Strawberry Shortcake Sugar Cookie Cups