This is hands down the BEST Margarita Recipe. With it's easy to find ingredients and perfect flavor, you will leave all the other recipes behind. We have instructions to make one cocktail or a whole pitcher!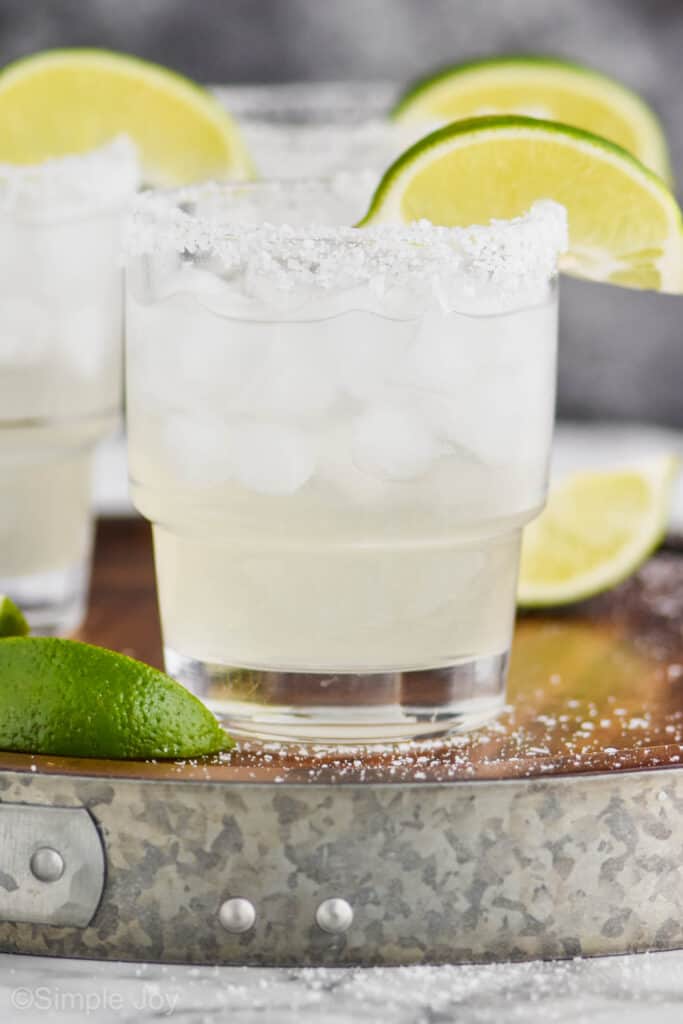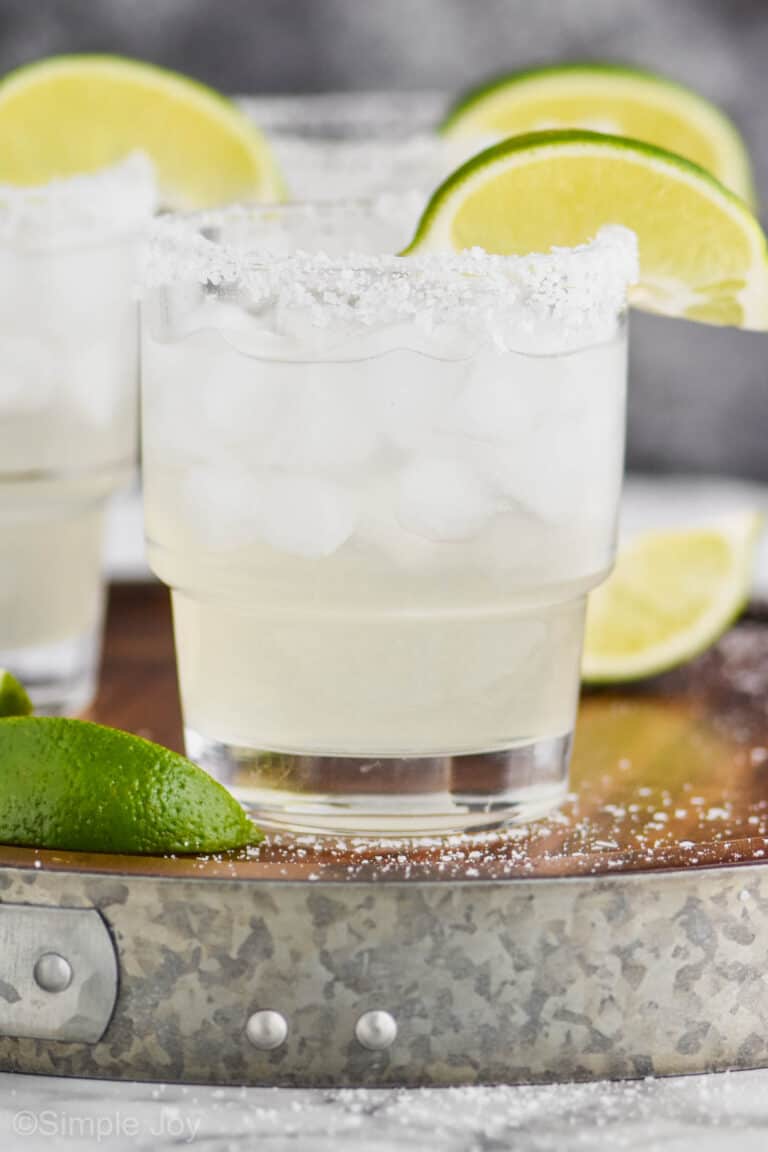 This Margarita Recipe has been on my site for many years and has lots of great reviews. I thought now would be a good time to give it a facelift on the eve of such an important day . . . . Cinco de Mayo meets Taco Tuesday.
This is a recipe that was passed to me by a dear friend who got it from her mom, who got it from an aunt. There is a reason it is a family treasure – it is truly the best. Read the reviews on this guy and then make it for yourself!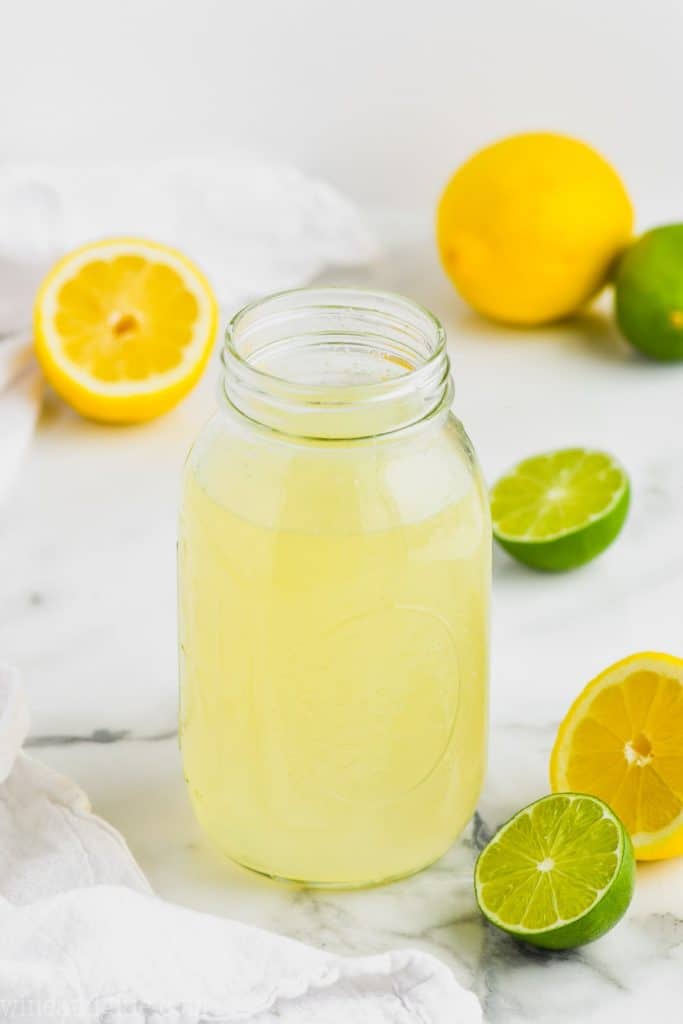 MARGARITA INGREDIENTS
There is a secret ingredient that puts this recipe above the rest: Homemade Sweet and Sour Mix. Sweet and Sour Mix is nothing more than simple syrup and fresh lemon and lime juice. But making it from scratch is what makes this margarita truly amazing. One batch will make 12 margaritas or two pitchers!
I have a whole post about the ins and outs of Sweet and Sour and how long it will keep, so be sure to check it out.
In addition you will need:
Quality Tequila
Triple Sec
That is it, my friends. A simple three ingredient recipe that is out of this world.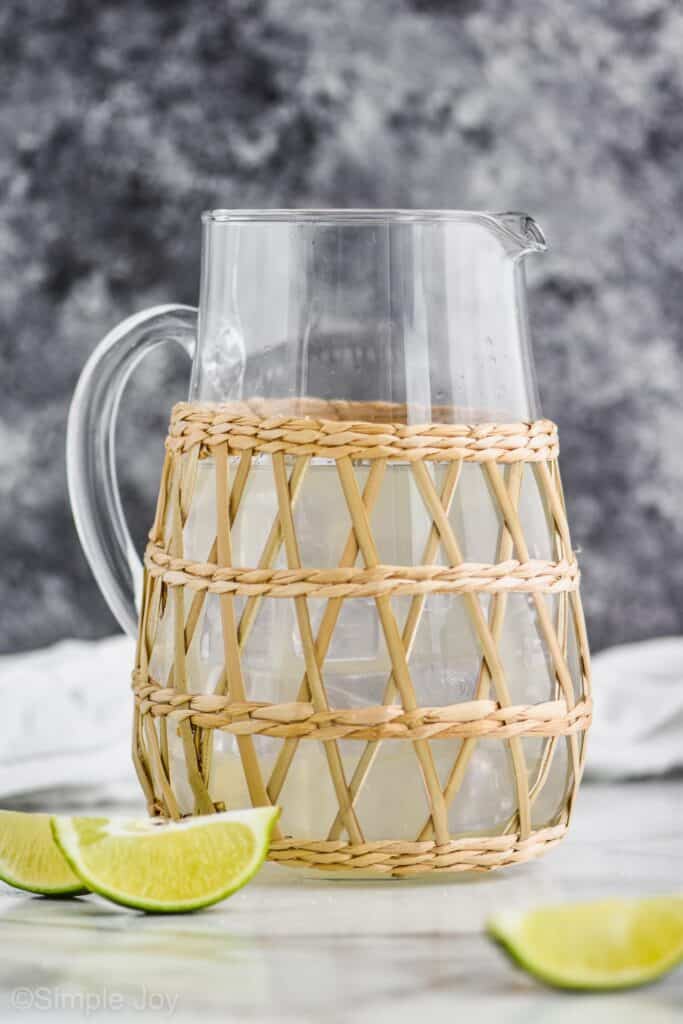 HOW TO MAKE A MARGARITA
Start this recipe the day before you want to serve it by making the homemade sweet and sour mix. You will want to give it time to cool before making the margaritas. At the very least, give yourself four hours lead time.
Then you just need to combine:
2 parts tequila
2 parts sweet and sour mix
1 part cointreau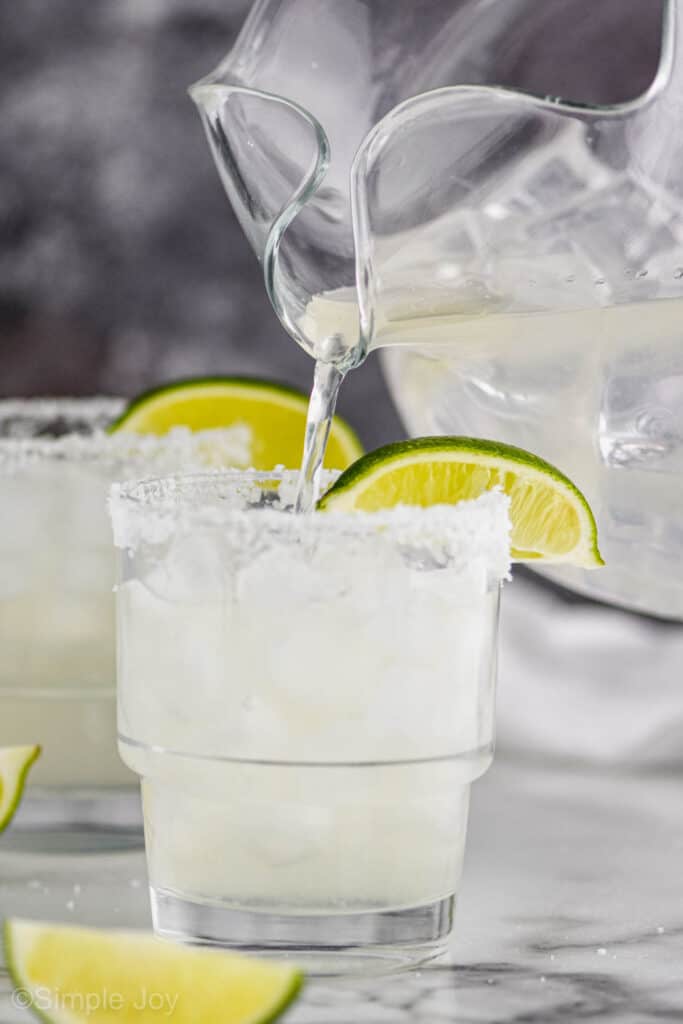 QUALITY TEQUILA
When looking for tequila, you want to look for one that is made from 100% agave (the plant that tequila is made from). Alternatives combine agave and sugar, making a hang over more likely.
Here are three silver tequilas that are well rated (though obviously opinions vary) and have a range of prices. Hopefully this is something for everyone.
Patrón is the higher end option.
Milagro is the mid range option.
Jose Cuervo is the bottom range option (make sure you buy the 100% agave bottle).
TRIPLE SEC
Every good margarita needs some triple sec. Triple Sec is a sweet orange flavored liqueur. You have three options when it comes to triple sec: plain old triple sec, Cointreau, or Grand Mariner.
Cointreau does the same job as triple sec with a higher alcohol content and better flavor.
Grand Mariner is also delicious and makes an elevated homemade margarita, but also contains cognac. It's alcohol content is similar to Cointreau.
The choice is yours.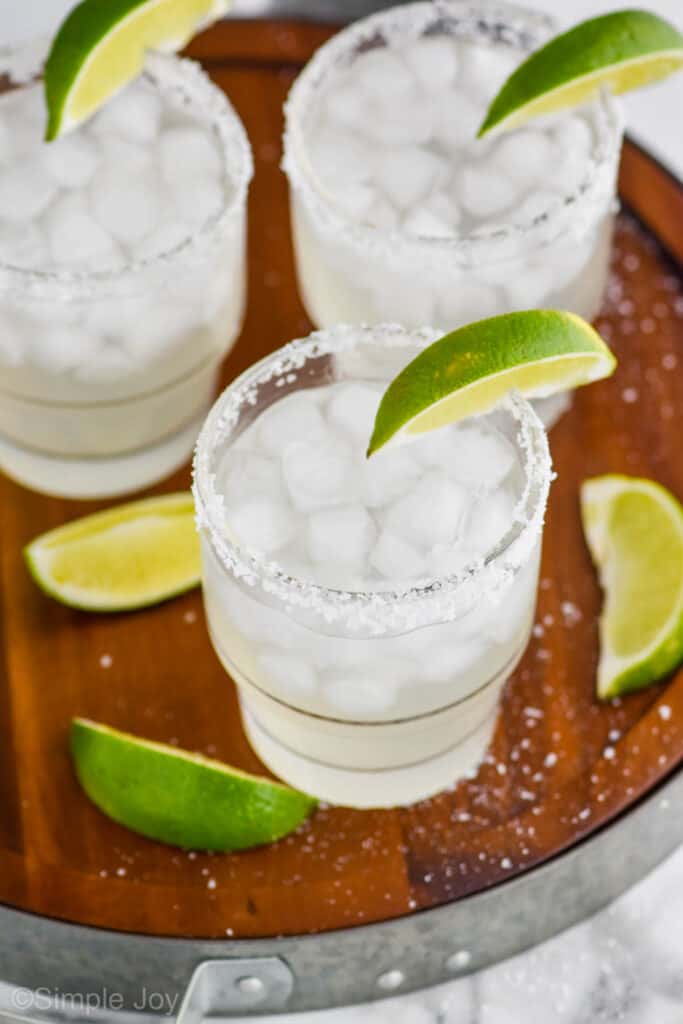 SALT RIM
You can go with salt or sugar on your rim, but I think a salt rim is best with this recipe. To do that:
Pour kosher salt onto a plate.
Use a lime wedge to coat the rim of the glass in lime juice. (I find it best to give it a tiny cut first.)
Dip the rim of the glass as well as the edge of the cup in the salt.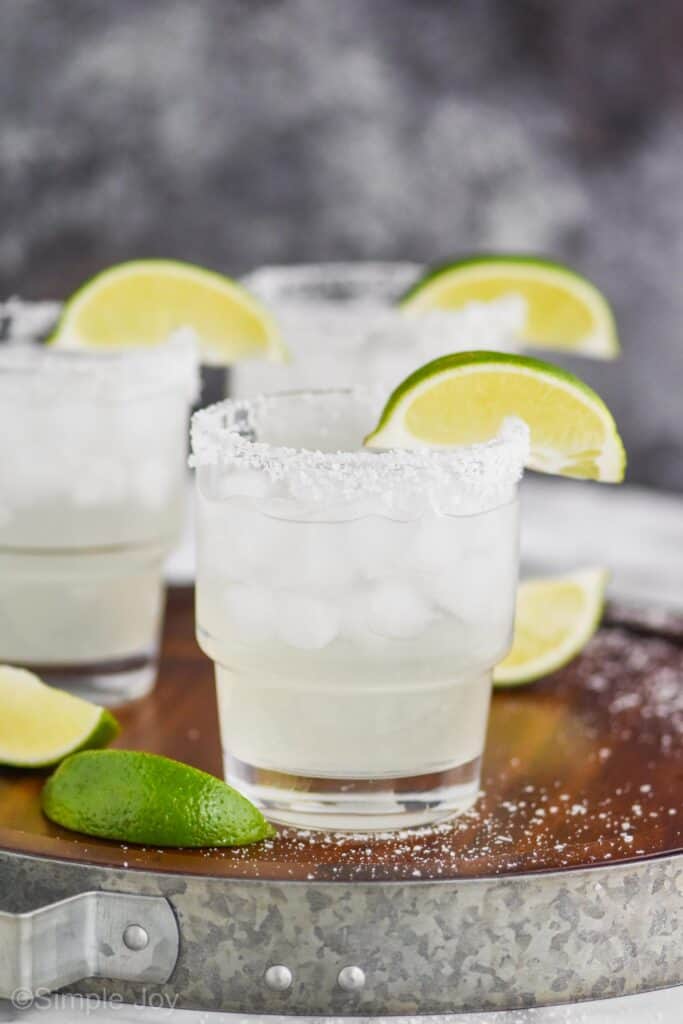 OTHER GREAT MARGARITA RECIPES
If you like this base for a margarita recipe, you can go forth and make other great recipes. Like:
GREAT RECIPES TO SERVE WITH MARGARITAS
If you are having a party where you are making a pitcher of my margaritas, then make some of these great dishes too!
If you make this great margarita recipe or any of my other recipes, please leave me a comment and let me know what you think!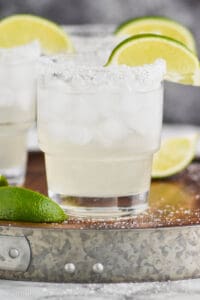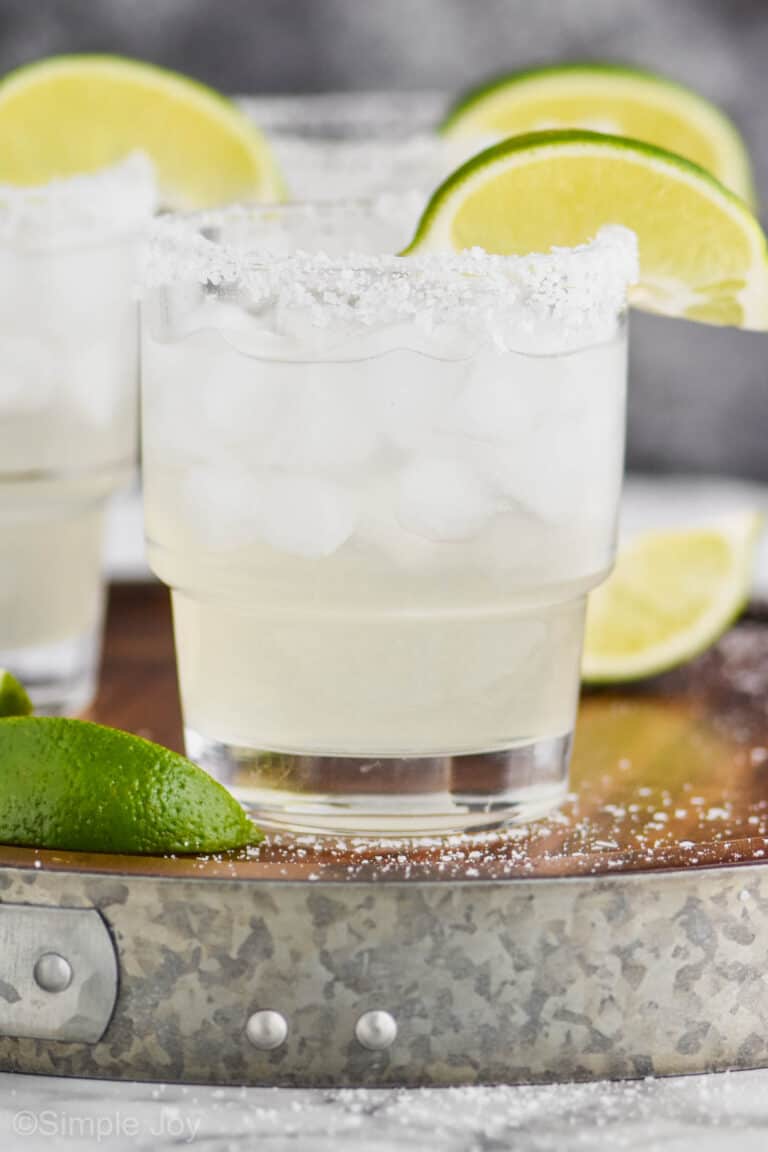 The Best Margarita Recipe
This is hands down the BEST Margarita Recipe. With it's easy to find ingredients, and perfect flavor, you will leave all the other recipes behind. We have instructions to make one cocktail or a whole pitcher!
Ingredients
One Margarita
1 1/2

oz

tequila

1 1/2

oz

sweet and sour

3/4

oz

triple sec
Pitcher of Margaritas (6 margaritas)
Sweet and Sour Mix (makes 3 1/2 cups, enough for two pitchers)
2

cups

water

1

cup

sugar

1/2

cup

fresh lime juice

about 5 – 7 small limes

1/2

cup

fresh lemon juice

about 2 medium lemons
Instructions
To Make Homemade Sweet and Sour Mix
Simmer 2 cups of water and 1 cup of granulated sugar over medium heat until it is fully dissolved. Pour it into a jar and let it come to room temperature.

Add 1/2 cup of lemon juice and 1/2 cup lime juice to the cooled sugar mixture.

Store it in a sealed container for a week or for up to a month in the freezer.
To Make a Pitcher of Margaritas
Combine all ingredients in a large pitcher and serve over ice.
To Make a Single Margarita
Pour the ingredients over ice and stir gently.
How to Garnish a Margarita Glass
Cut a small slice in a lime wedge and rub it gnerously around the edge of the glass.

Pour kosher salt onto a plate and dip the glass, and the upper edge of the sides of the glass in the salt.
Video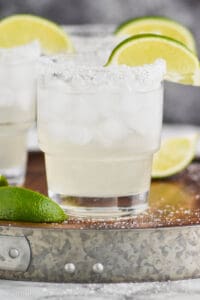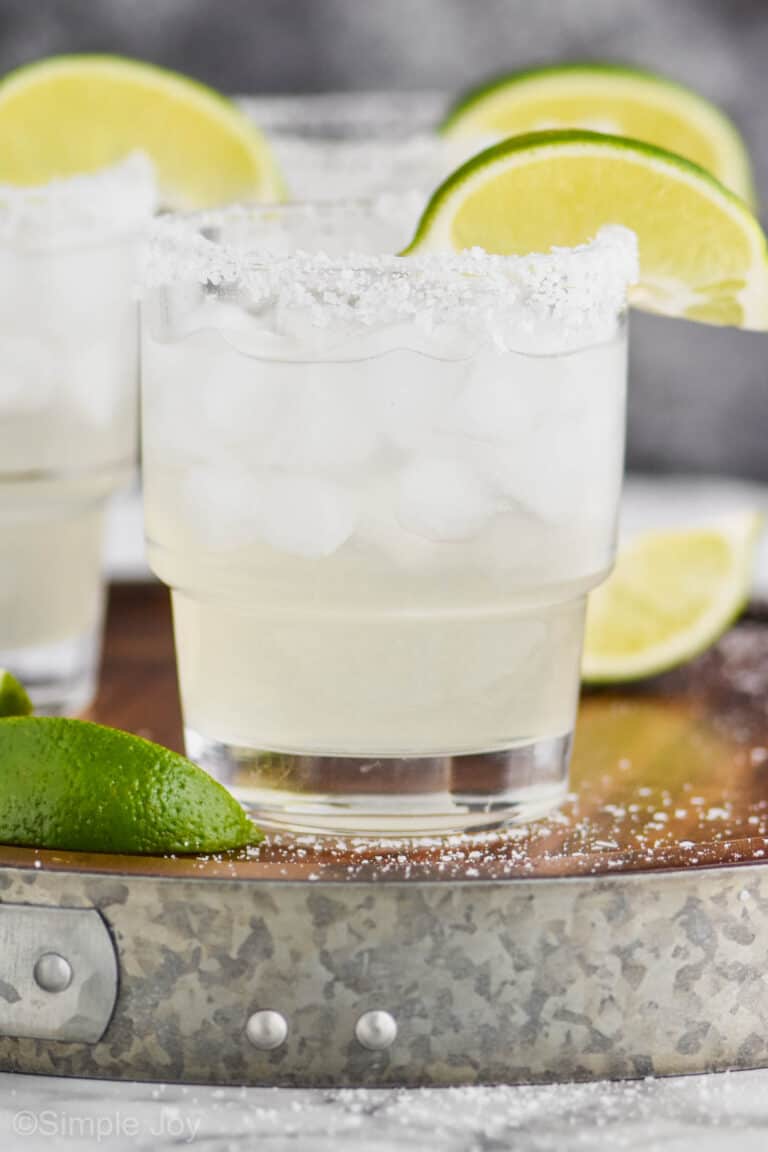 did you make this
The Best Margarita Recipe