Our Aperol Spritz is going to become your new favorite cocktail. With just three simple ingredients you will feel like you are on the streets of Rome.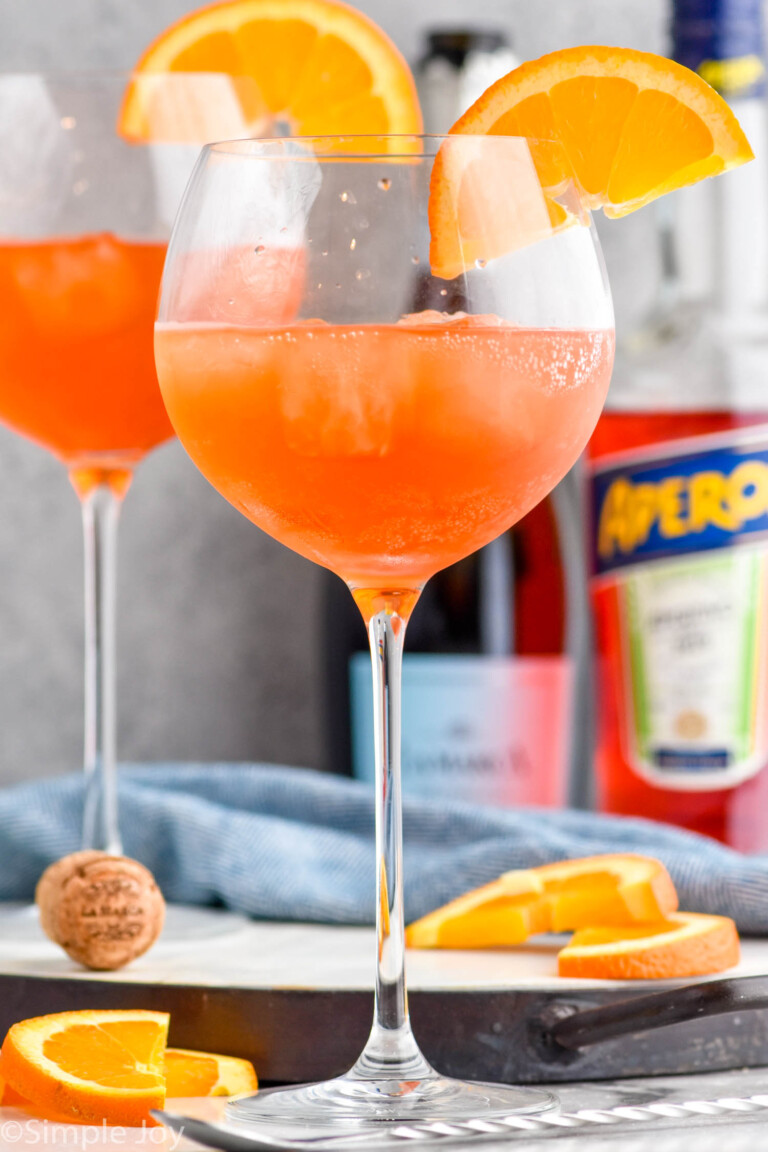 Last summer my family had the great good fortune of being able to spend a week in Rome. You can even go back to my Instagram stories and see all our stories from that week in the highlights. The 72 hours leading up to the trip were a wild ride!
The week we were there, Rome was experiencing an epic heat wave. We were dealing with temperatures in the high 90s to low 100s the whole time we were there. Do you know what is insanely refreshing when you have been melting on the streets of Rome with three kids? An Aperol Spritz.
The Aperol Spritz is made with an Italian aperitif, Aperol, and it was served all over Rome while we were there. I wasn't the only one who wanted it to cool down. The great news is that you don't need to melt in the Italian sun to enjoy this amazing cocktail. It is simple to make at home with three ingredients.
Aperol Spritz Ingredients
Just three ingredients are needed to make an Aperol Spritz right at home. Read more about what makes up this refreshing cocktail below.
Aperol: The star of this cocktail, hence the name. There is no replacement for this Italian bitters aperitif, see more on the key ingredient below.
Prosecco: An Italian sparkling wine. To avoid making your cocktail too sweet, choose a good quality prosecco with a dry flavor.
Club soda: Any unflavored sparkling water will work for this recipe. It adds some extra carbonation and dilution.
Orange slice: The signature garnish.
What is Aperol
Aperol is an Italian bitter aperitif. The aperitif was created to be enjoyed before a meal to stimulate your appetite. With its bright color hue and bitter flavor, it is a unique spirit that has been enjoyed since the 1900s. It has a flavor blend of zesty citrus, aromatic herbs, and sweet vanilla and can be found near the liqueurs at your liquor store or grocery store. When combined with bubbly club soda and crisp Prosecco in an Aperol Spritzer, the result is a refreshing cocktail perfect for sipping on a warm afternoon.
How to Make an Aperol Spritz
This Aperol Spritz recipe comes together in the glass you can enjoy it out of; no cocktail shaker or fancy bar equipment needed. These steps show just how simple this delicious cocktail is to make. Find the full recipe information, including all measurements, at the bottom of this post.
Fill a glass with ice. I recommend using a large wine glass.
Add the ingredients. Add the Prosecco, then add in the Aperol and a splash of club soda.
Stir and garnish. Stir lightly and garnish with an orange slice.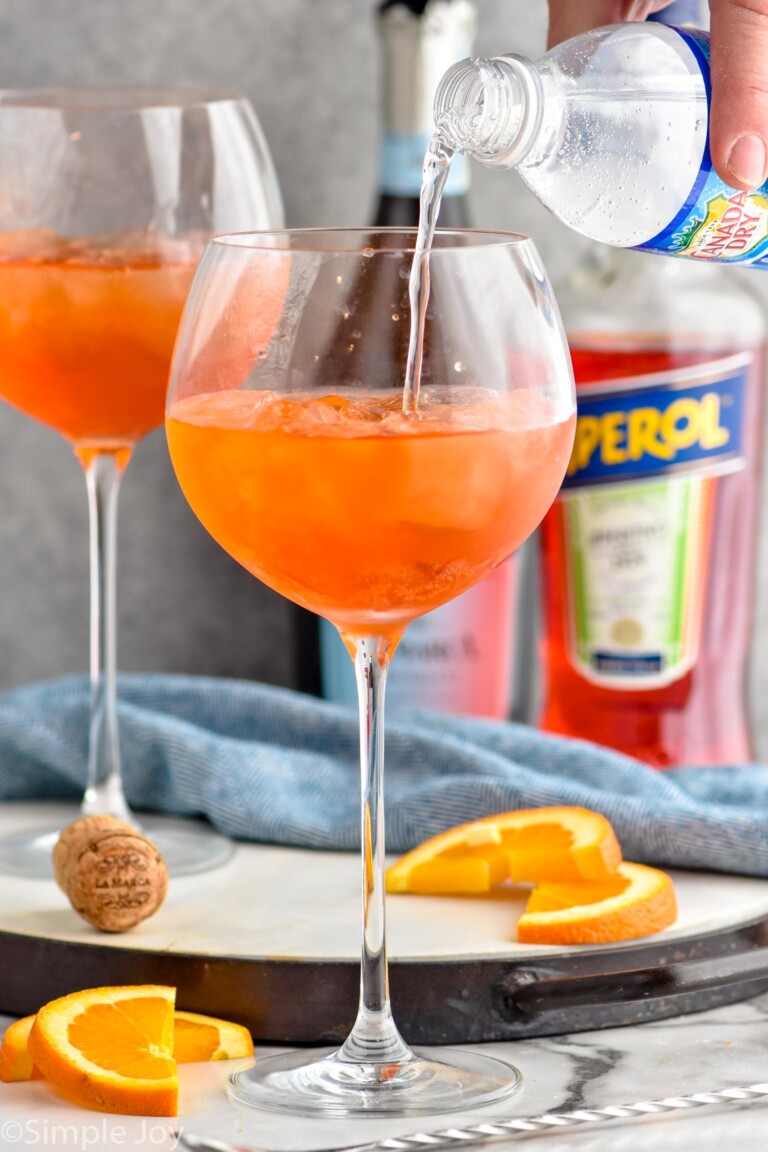 The Perfect Ratio
The keys to making the best Aperol Spritz at home are using good-quality ingredients and getting the ratio just right. Three ounces of sparkling wine or Prosecco, two ounces of Aperol, and just a splash of club.
TOP PICK
Large Wine Glasses
Big enough for the ingredients and lots of ice, these are the perfect aperol spritz glasses!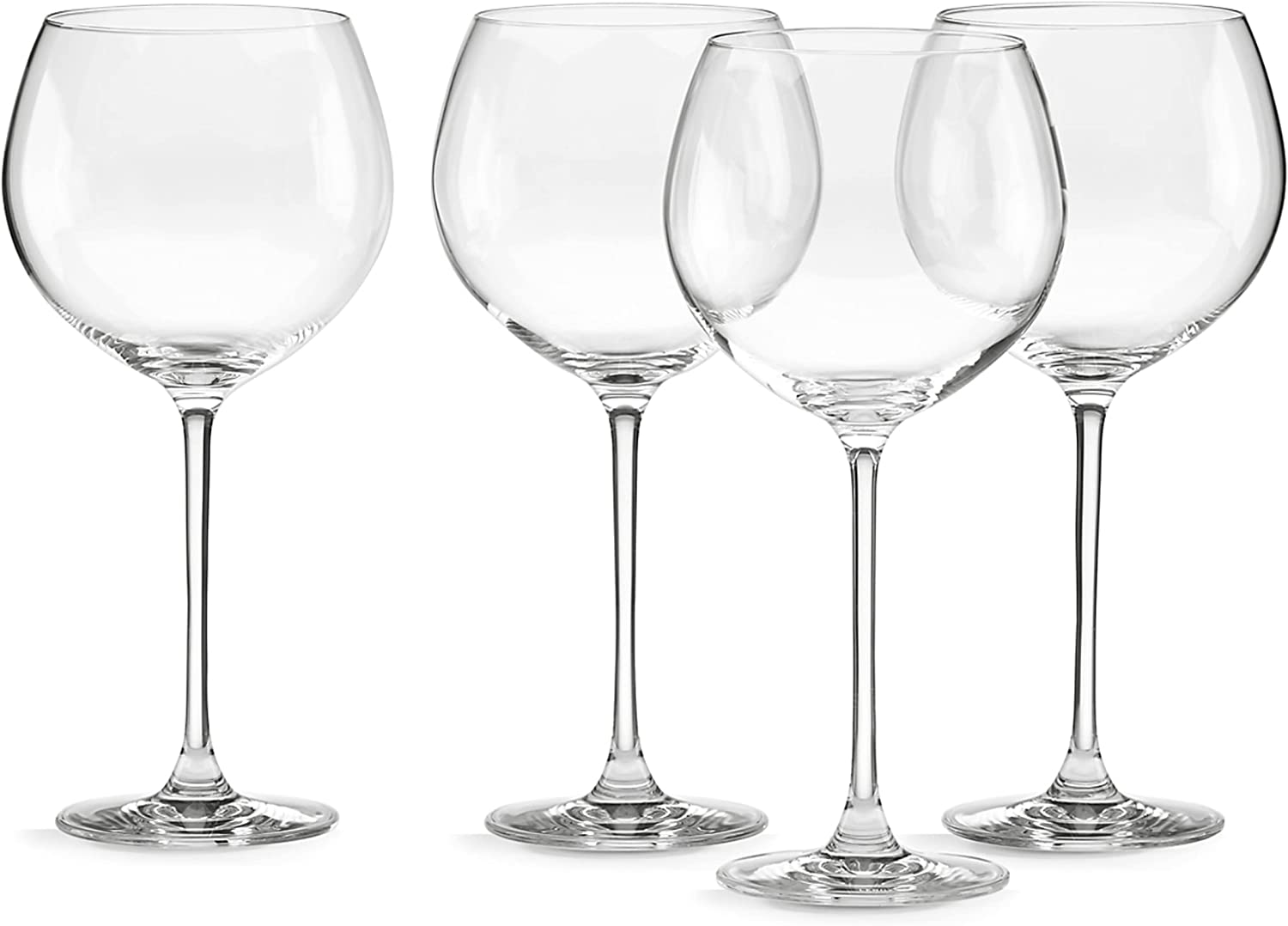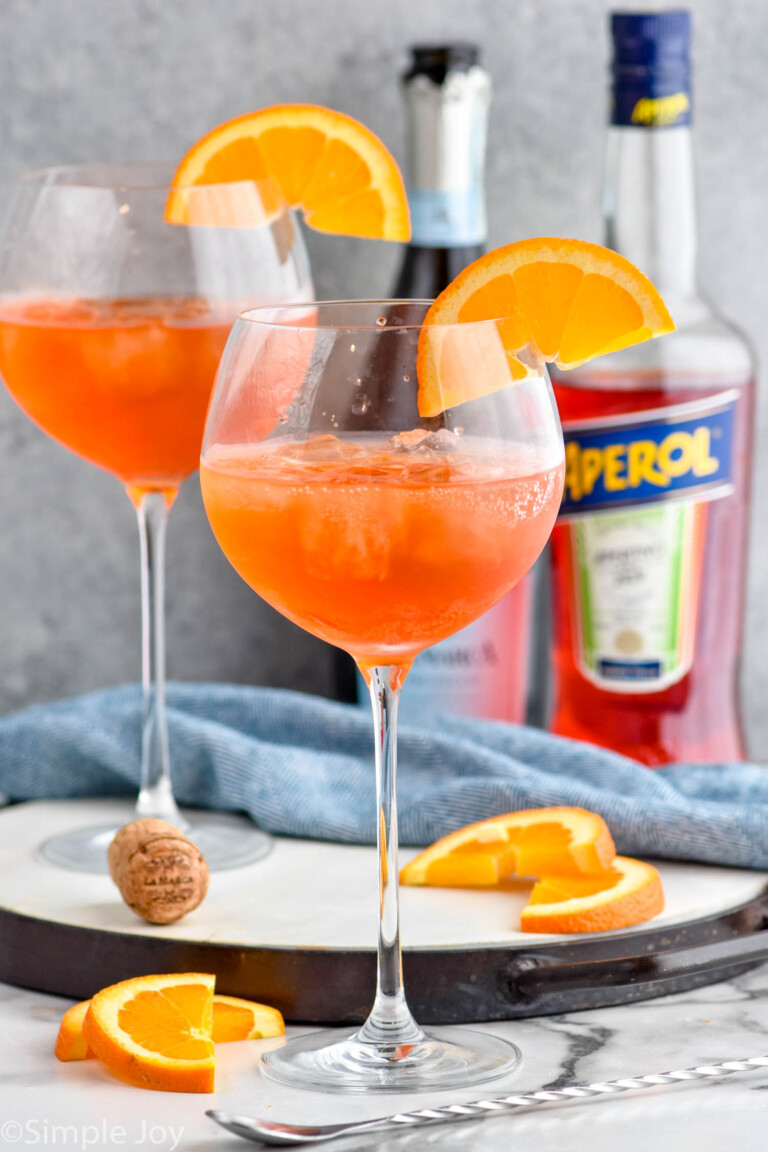 Tips and Tricks
Here are a few tips and tricks to make this the best cocktail possible. You can simply alter a few of the ingredients to cater to your crowd, so that way everyone can enjoy an Aperol Spritz!
Open your bottle of Prosecco just prior to making your Aperol Spritzes so the bubbles are fresh.
To make the cocktail less bitter, use less Aperol and more Prosecco.
To make the cocktail less boozy, use less Prosecco and more club soda.
Aperol Spritz Calories
This cocktail contains just 158 calories making it a lighter drink when compared to others. This is the perfect summer cocktail because it is so light and refreshing.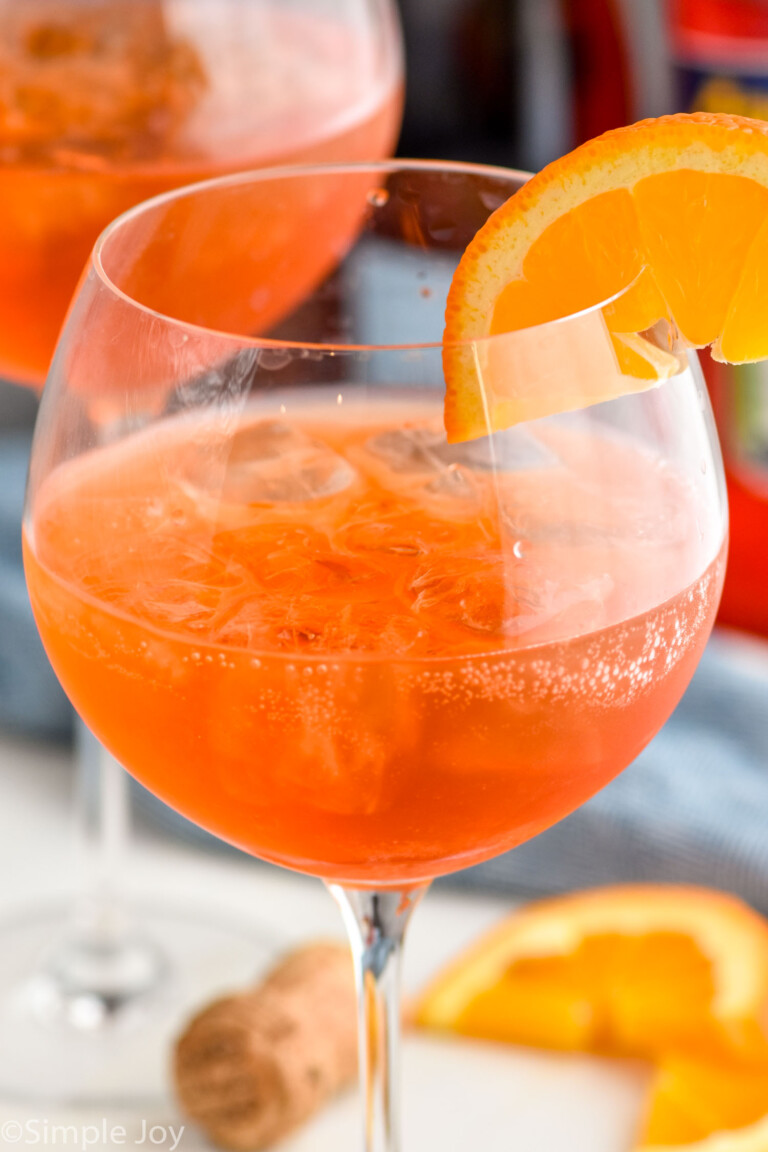 Other Classic Cocktail Recipes
If you try this Aperol Spritz recipe or any of my other recipes, please leave a comment and let me know what you think. I love hearing from you!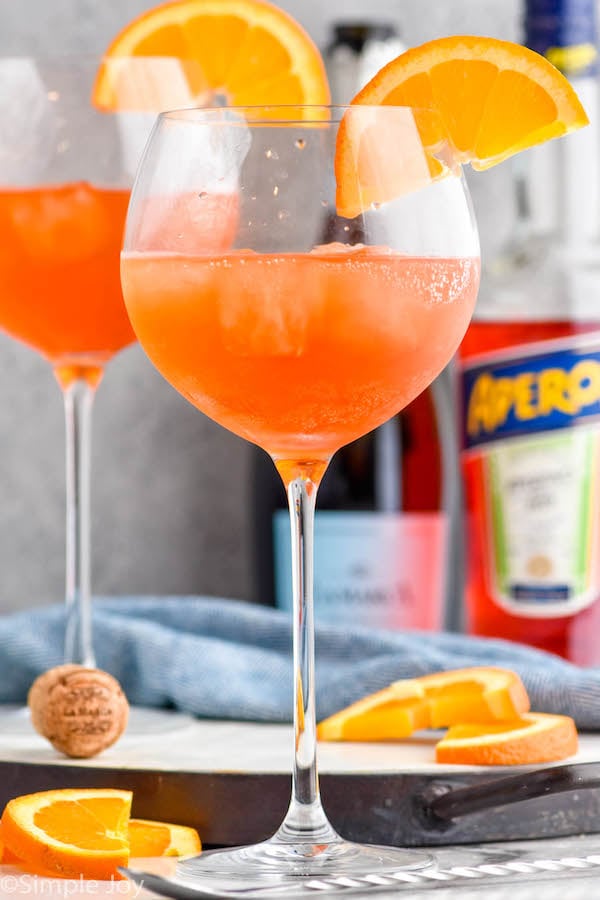 Aperol Spritz
Our Aperol Spritz is going to become your new favorite cocktail. With just three simple ingredients you will feel like you are on the streets of Rome.
Ingredients
3

ounces

Prosecco

(or sparkling wine)

2

ounces

Aperol

splash

club soda

orange slice

cut thick
Instructions
Add in the Aperol and a splash of club soda, and stir lightly to combine.

Add in the orange slice and enjoy.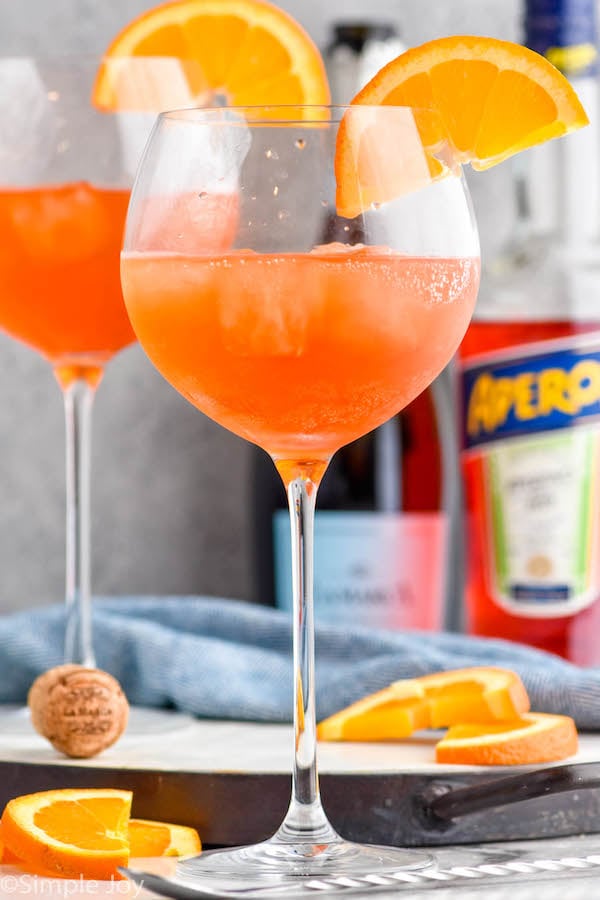 did you make this
Aperol Spritz