These are THE BEST Star Wars Gifts! Seriously so many great ideas!


My family love Star Wars so much, so I thought this would be such a fun gift guide to put together. Also . . . I might have to buy one of everything. :)
MILLENNIUM FALCON GIFTS
Star Wars Millennium Falcon Bluetooth Speaker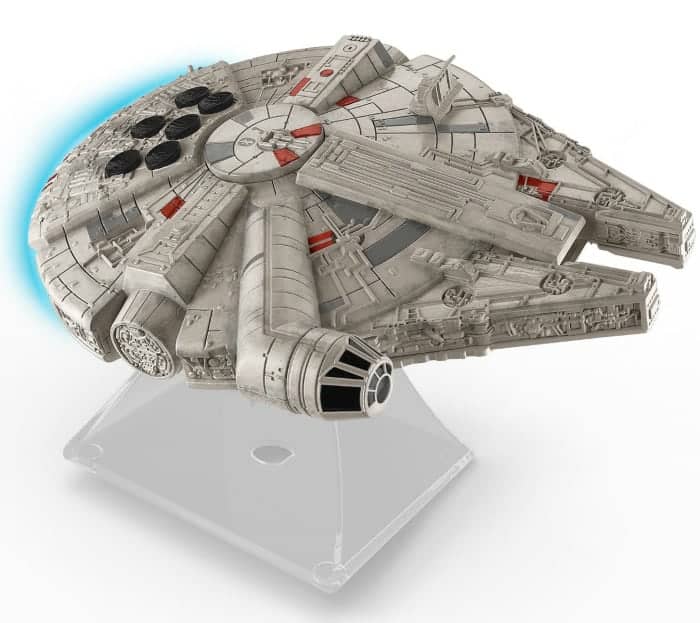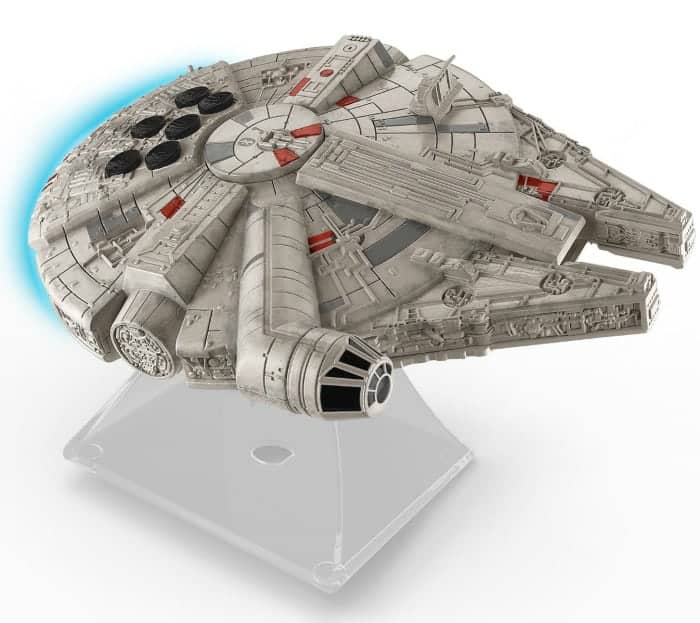 How cool is this?? A speaker shaped like the Millennium Flacon! I love that you can have it on your shelf and it just looks cool, but, Oh! Hey there! You play music too!! Plus it's got a lot of pretty great reviews!
Remote Control Millennium Falcon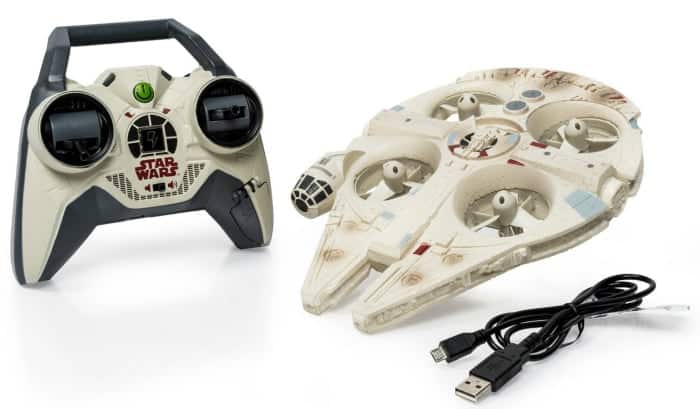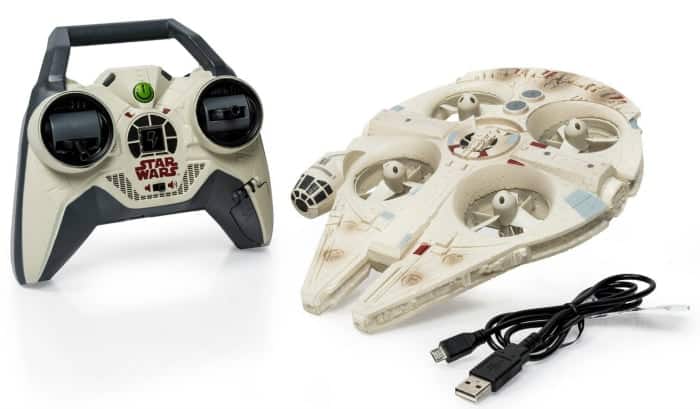 Not only is this super cool, and so fun, it also has a TON of reviews, and they average four stars. It's also not crazy priced. So I would say that this is a winner.
Millenium Falcon Metal Bottle Opener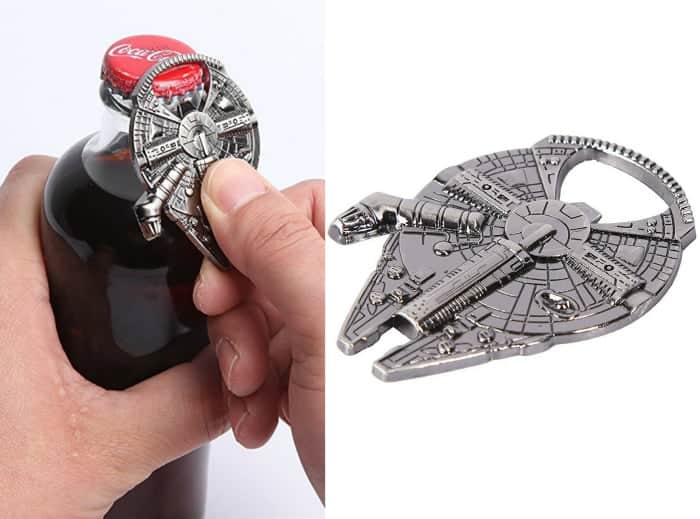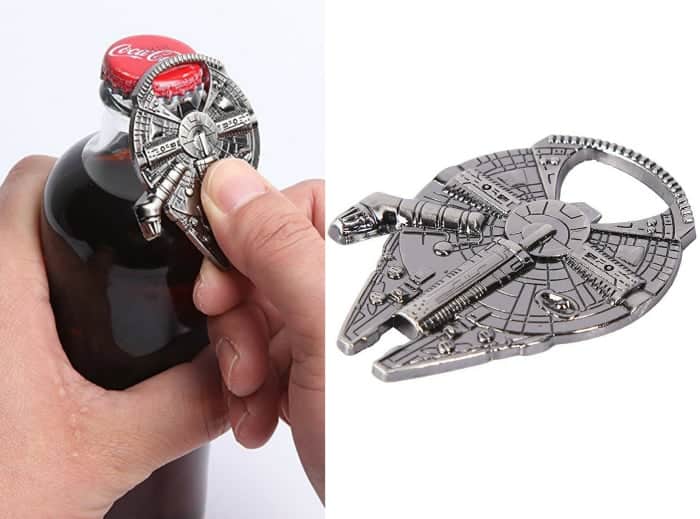 I love how simple and cool this is. And the price isn't bad either.
LIGHT SABER GIFTS
Star Wars Lightsaber Coffee Mug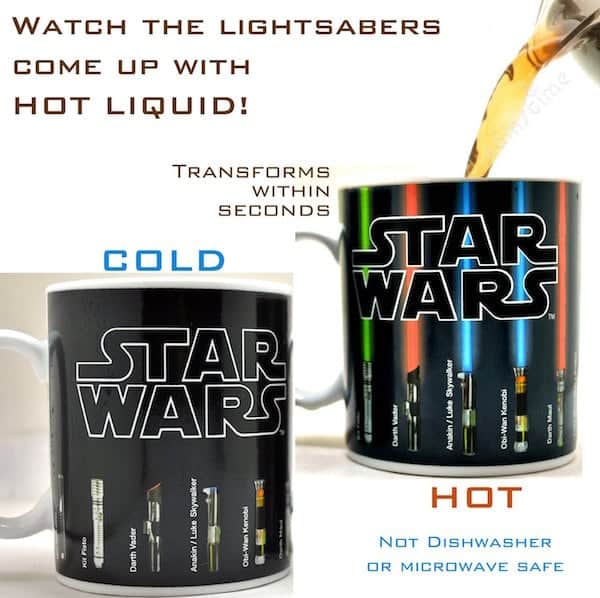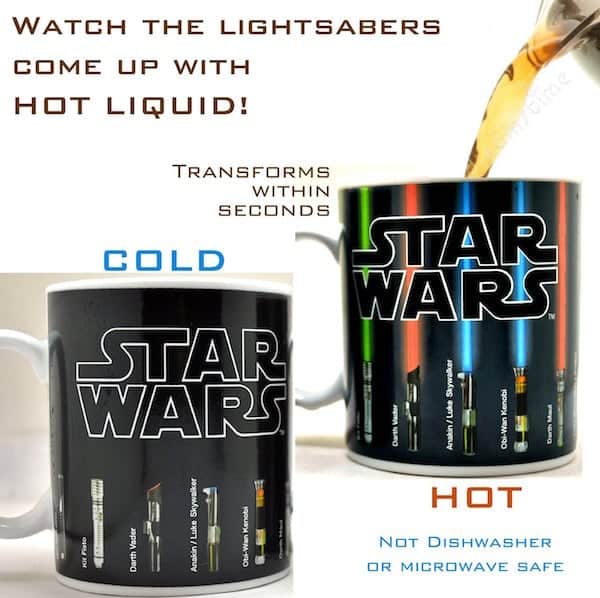 So when I first showed this one to my husband he was all, "Eh." And then. AND THEN! He realized that the light sabers only come out when you fill it with a hot beverage! Neeeeeeeed.
Star Wars Lightsaber Ice Pop Maker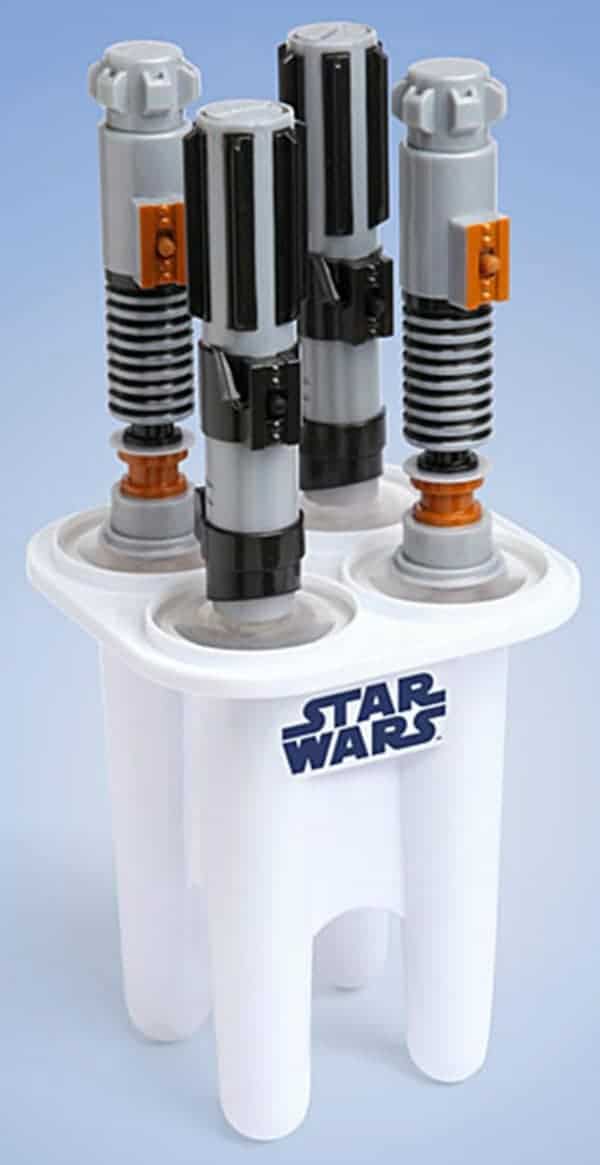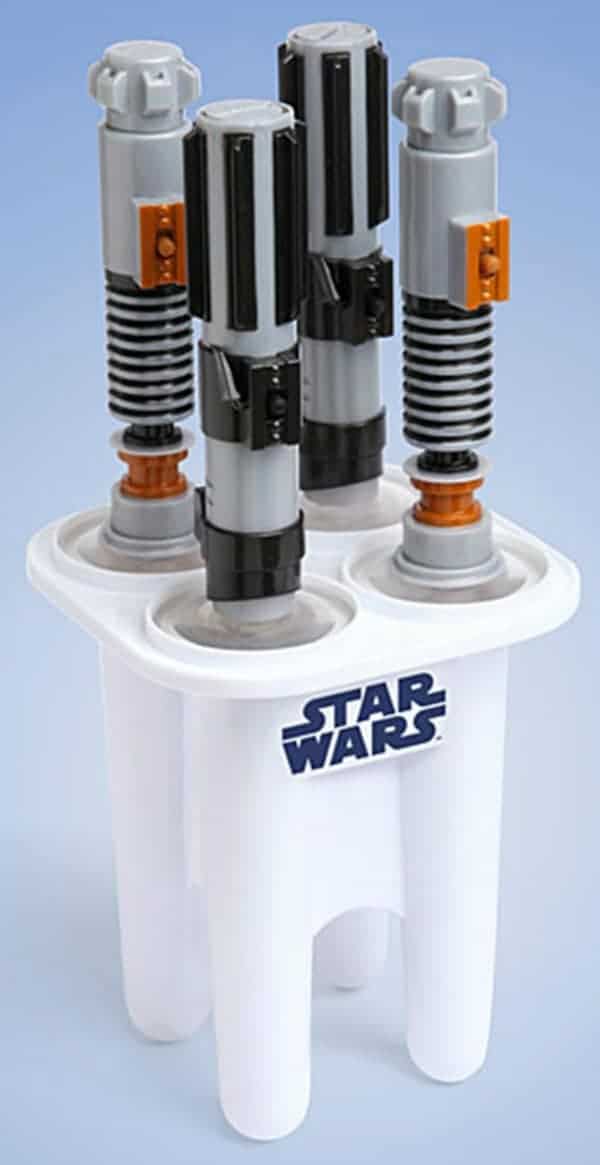 How insanely cool are these? Do you see what I did there . . . cool . . . ice pop maker . . . ;)
R2 D2 & BB-8 GIFTS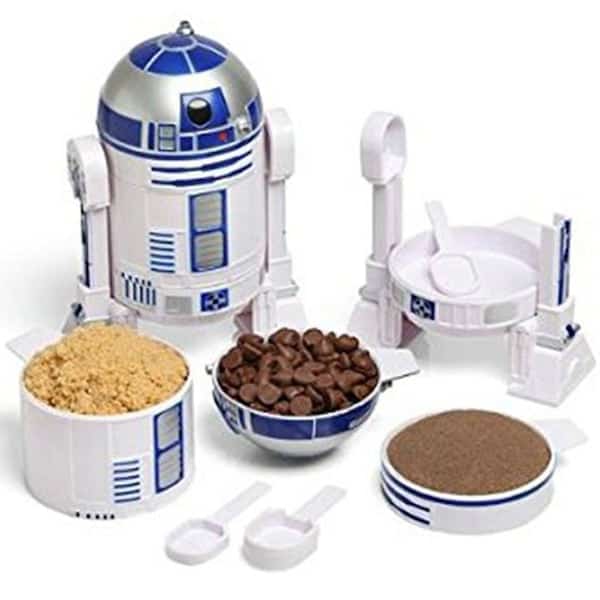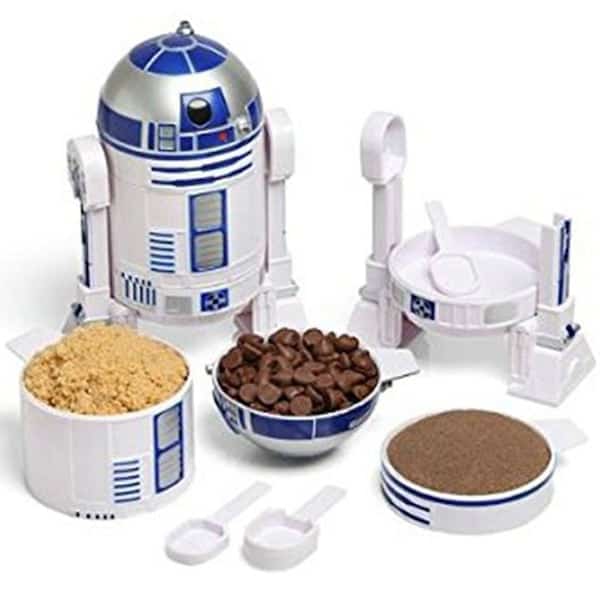 How fun are these?? A sweet little R2-D2 that I can use while baking but when I'm not baking just sits on the counter and looks at me so cutely? Yup. I'm going to need one of these too.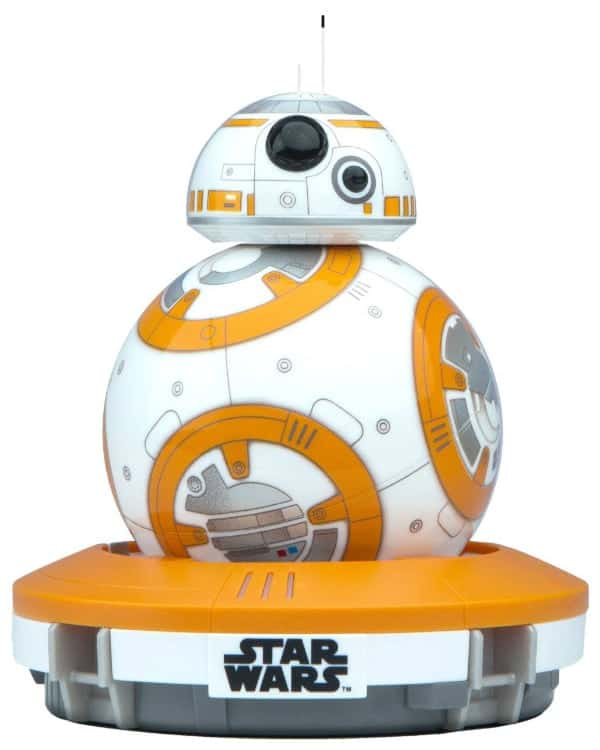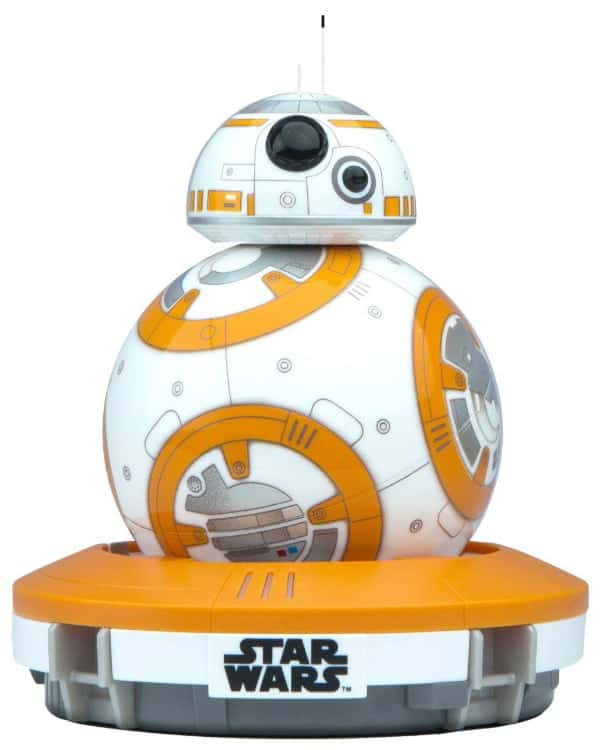 You guys. This BB-8 LEARNS YOUR VOICE AND RESPONDS TO IT! Which probably explains why after more than a thousand reviews it still has 4 1/2 stars. Because who doesn't love a BB-8 who listens to you?
So I get that this looks like a normal cute little R2-D2, but you guys. It's a cookie jar! That talks!!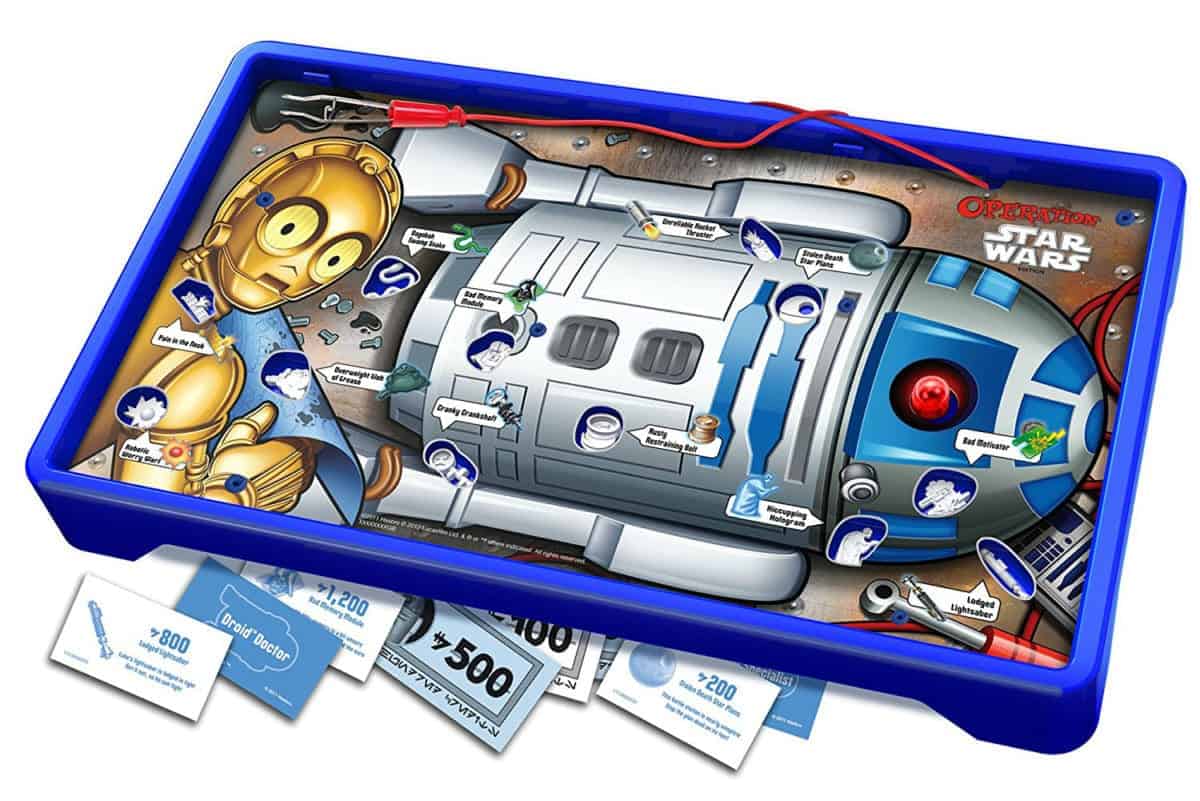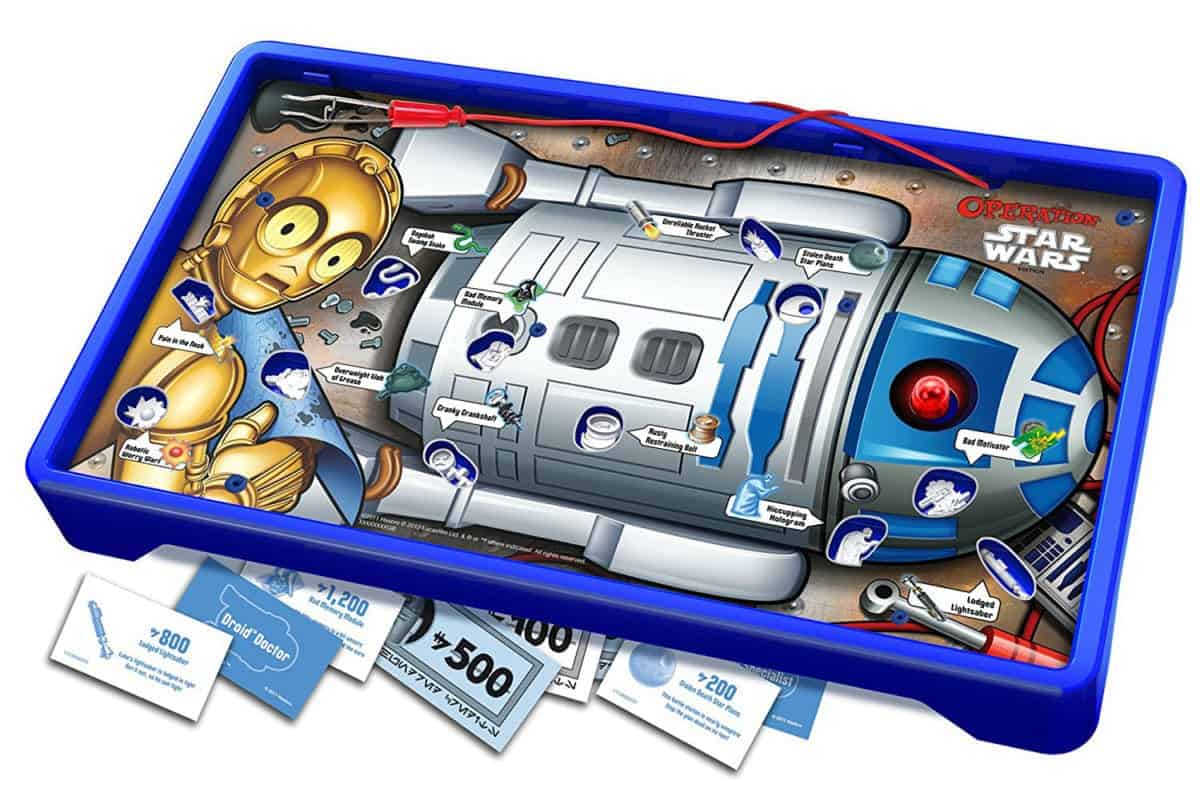 This could not be more fun! . . . . I'm starting to just feel like under my Christmas tree is going to be only Star Wars stuff, lol!
DARTH VADER GIFTS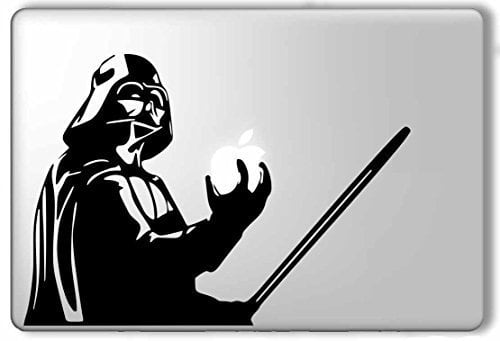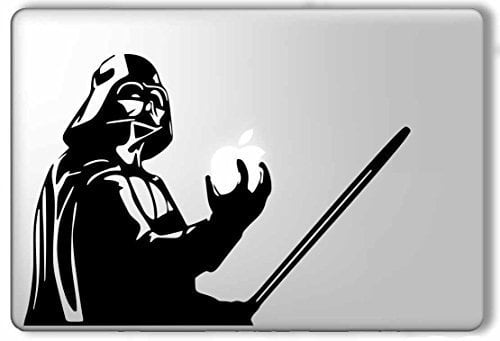 Guys . . . I just really like this. Enough said.
Vader and Stormtrooper Salt N' Pepper Shakers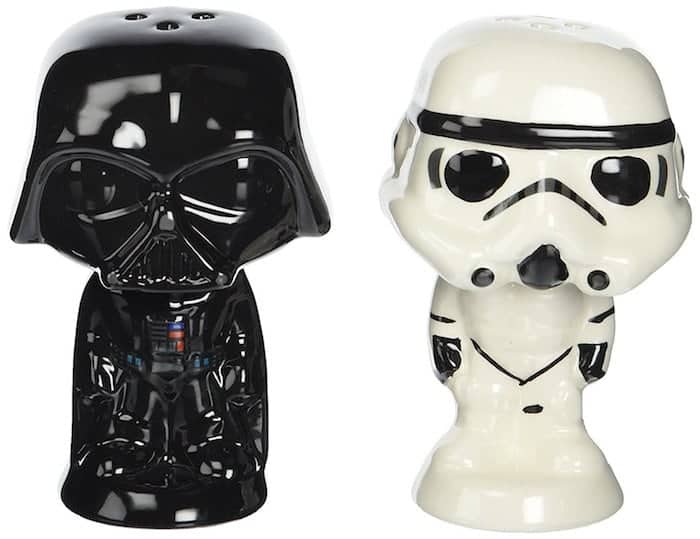 These are the cutest salt and pepper shakers ever!
DEATH STAR GIFTS
Star Wars Death Star Perplexus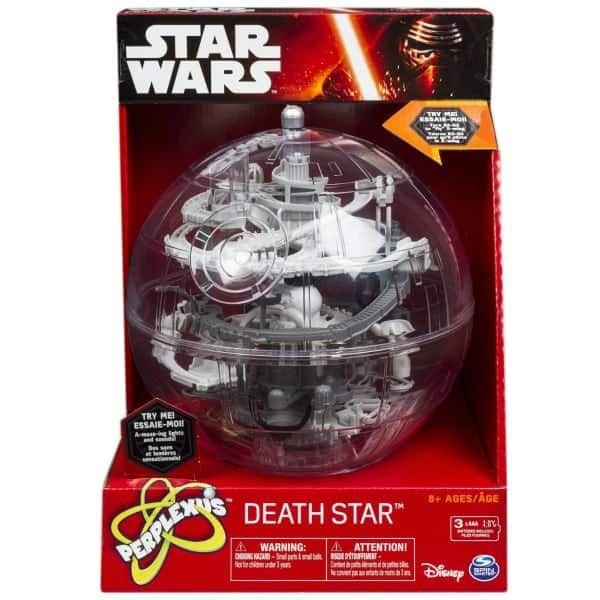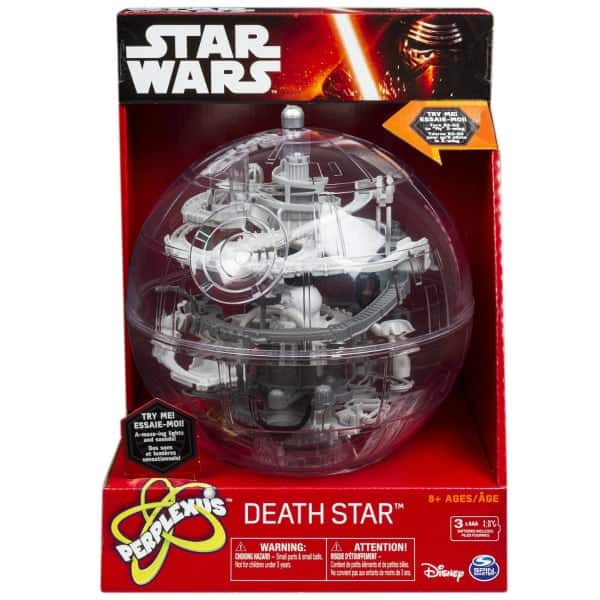 Have you guys seen these before? Where you have to get a ball all the way through a maze ball like system. So fun. And now . . . NOW IT LOOKS LIKE THE DEATH STAR!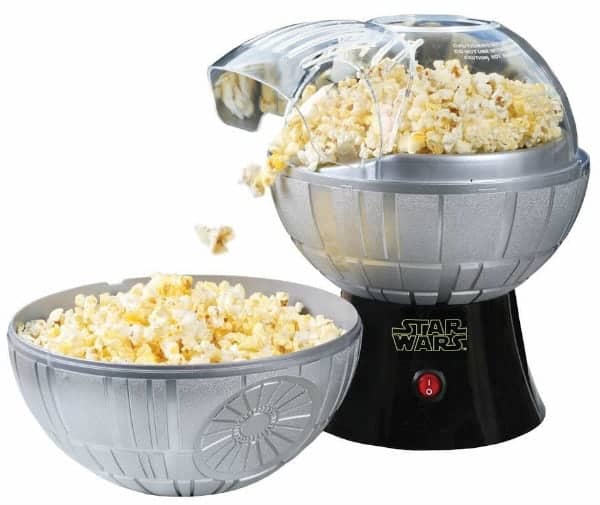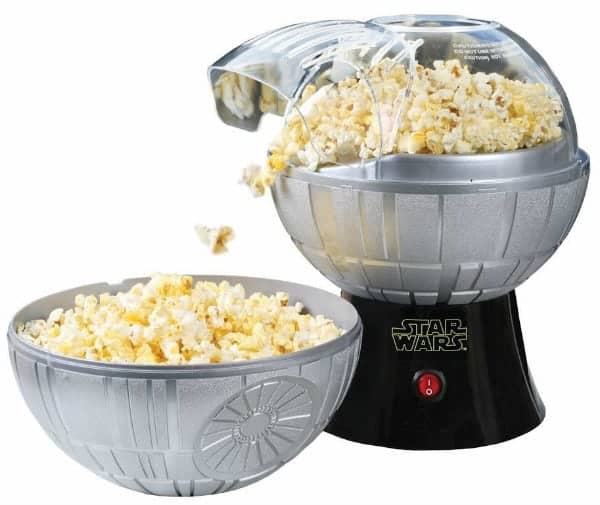 Speaking of all things cool and Death Star related, can we talk about this popcorn maker?? You guys. The bowl is the top. THE BOWL IS THE TOP.
Star Wars Death Star Waffle Maker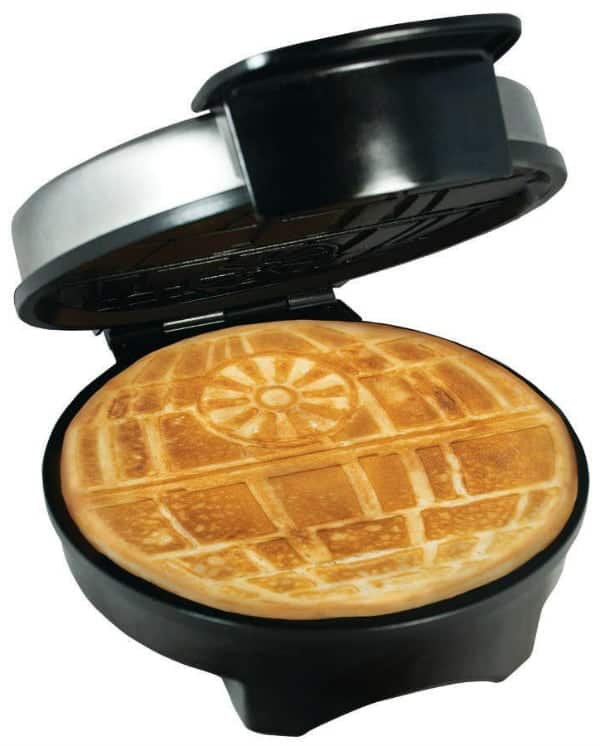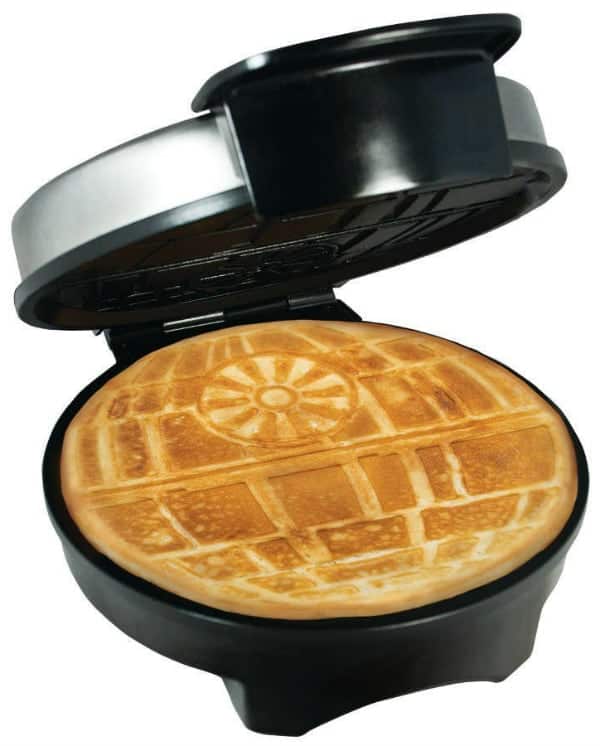 When my husband saw this in the list, he kind of freaked out. There may or may not have been an "Ahhhhhhh . . . . THIS IS AWESOME!" I might have to get it for him for Christmas.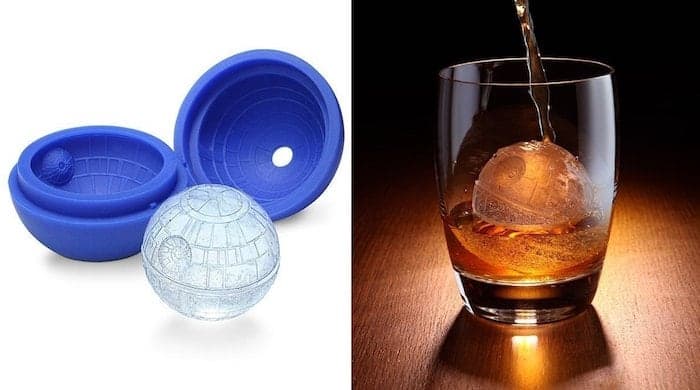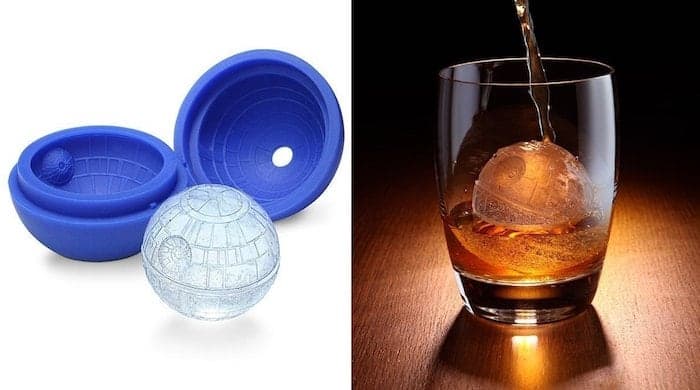 I love this so much. Annnnnnnd, I love that you get two with it!
RANDOM AWESOME STAR WARS GIFTS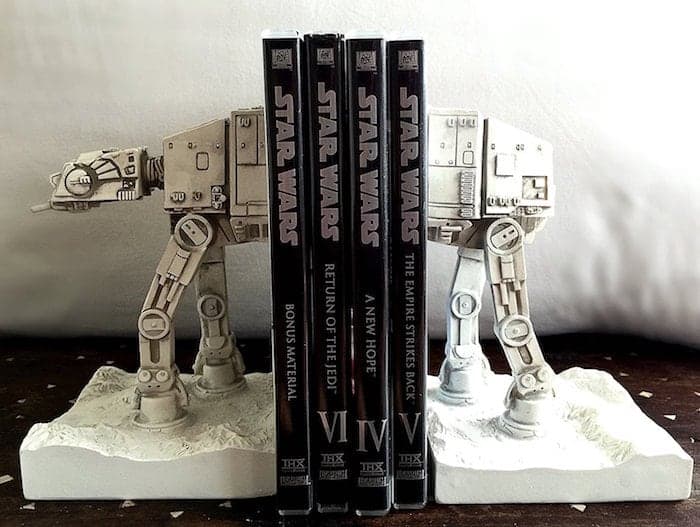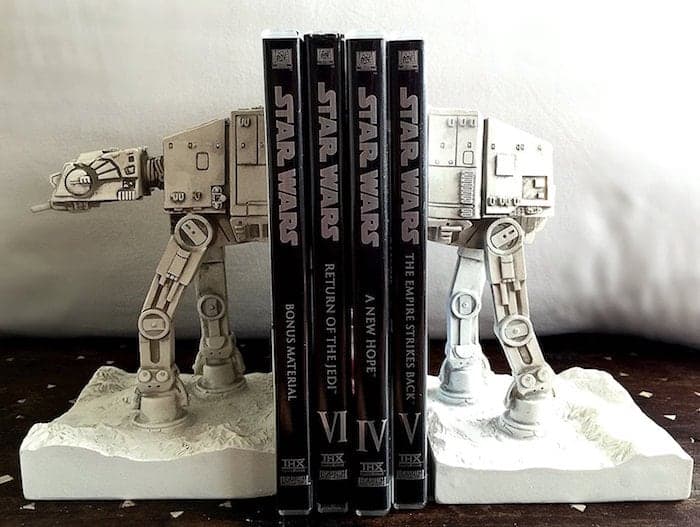 If you are getting the Millennium Falcon speaker for your bookcase, you should probably also get these AT-AT bookends! How cool are these??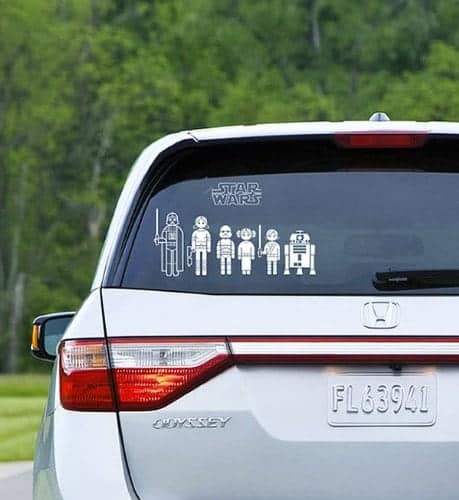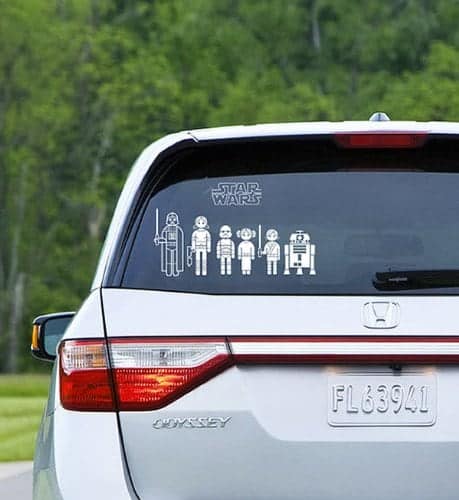 I'm for sure not the mom who puts car decals on the back of the minivan . . . but I feel like I could totally get behind these. The better question is which kid gets to be R2-D2?
This post contains affiliate links, if you click on them and then make a purchase, I make a small amount of money at no additional cost to you. Thank you in advance for supporting Wine & Glue.