This Black Bottom Banana Peanut Butter Pie has a chocolate ganache bottom and delicious creamy filling. Peanut butter, banana, and chocolate together for the win!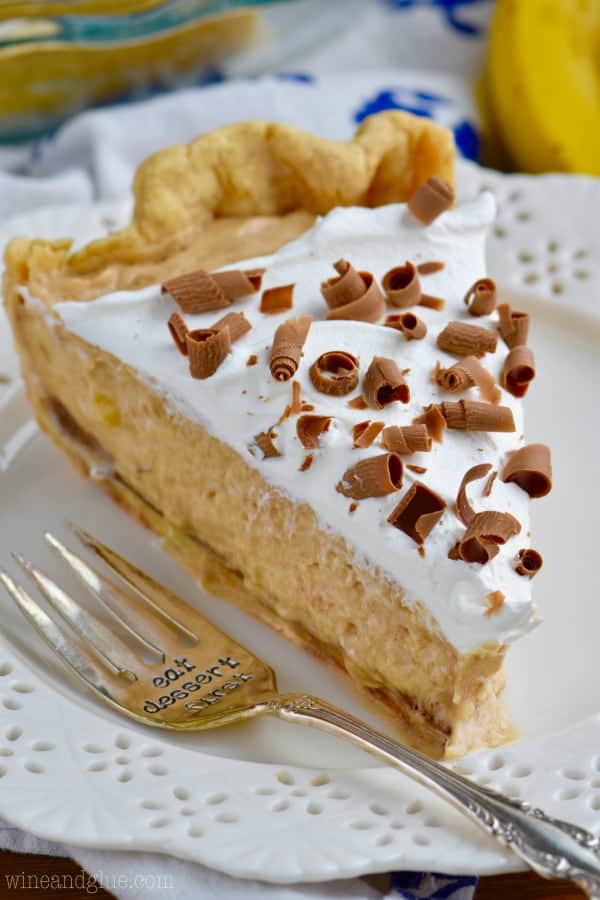 Did you all have a good Easter?
We went to Disney World!! We took our 9, 5, and almost three year olds to Florida for five days and we totally survived! You guys, the day before we were leaving I texted a friend and told her I was super nervous. She responded that when she flew when her kids were really little she got a prescription for Xanax beforehand. ???? I was all, "Why didn't I think of that???"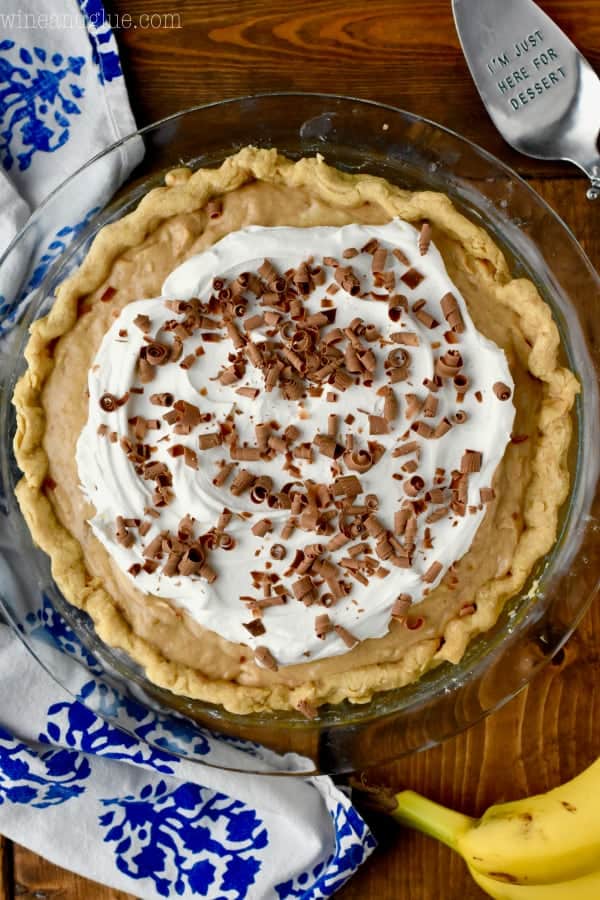 But it went so smooth! The trip there had no hiccups at all, even though our plane was over booked and we got to our gate with only minutes to spare.
And we had such a blast though!
Our kids swam and we took them to Disney for two days. It was totally a trip that none of us will ever forget. Well, Piper is little. She might forget. Though the 900 photos I took will be a good way for her to remember.
And now we are very begrudgingly getting back to *real* life. Real life is a bummer guys. But I suppose that if every day was filled with mouse shaped suckers for the kids and skinny margaritas by the pool for me, they wouldn't be so special anymore.
The cure for getting back to the ho hum might be a dessert that is anything but ho hum.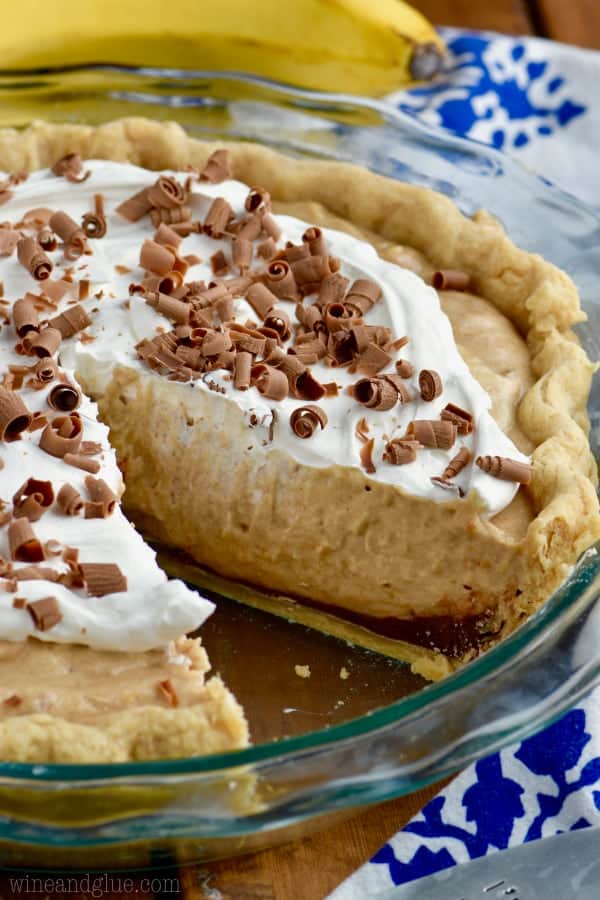 Enter the Black Bottom Banana Peanut Butter Pie.
It starts with a pre baked pie crust. You can make this amazing fool proof pie crust and bake it or you can totally just grab a premade graham cracker crust from the store. Add some chocolate ganache to the bottom. Then you make some whipped cream from scratch, mix it up with some powdered sugar, over ripe bananas, and peanut butter. Top it off with more whipped cream and chocolate shavings. You have one heck of a pie, friends.
It is not as magical as vacation, but it is pretty close!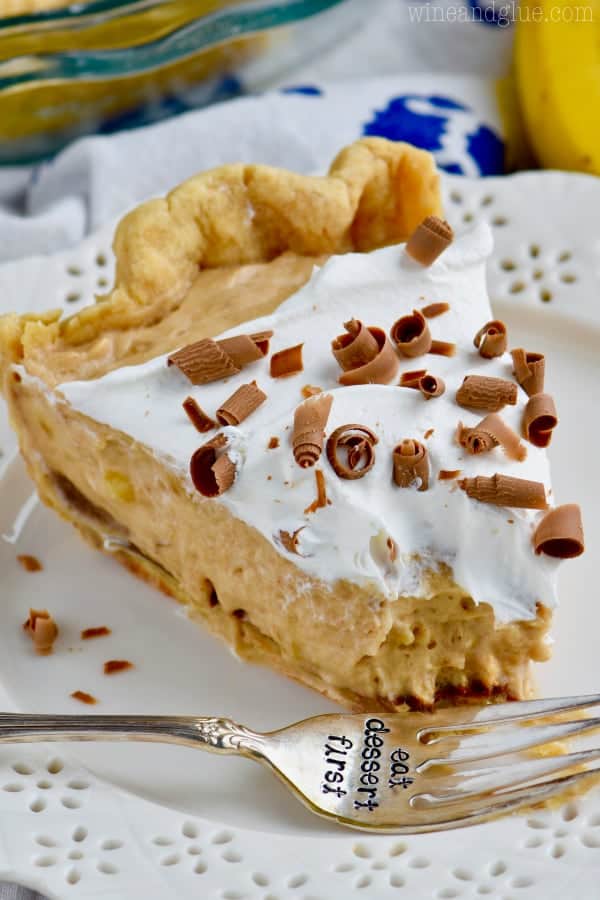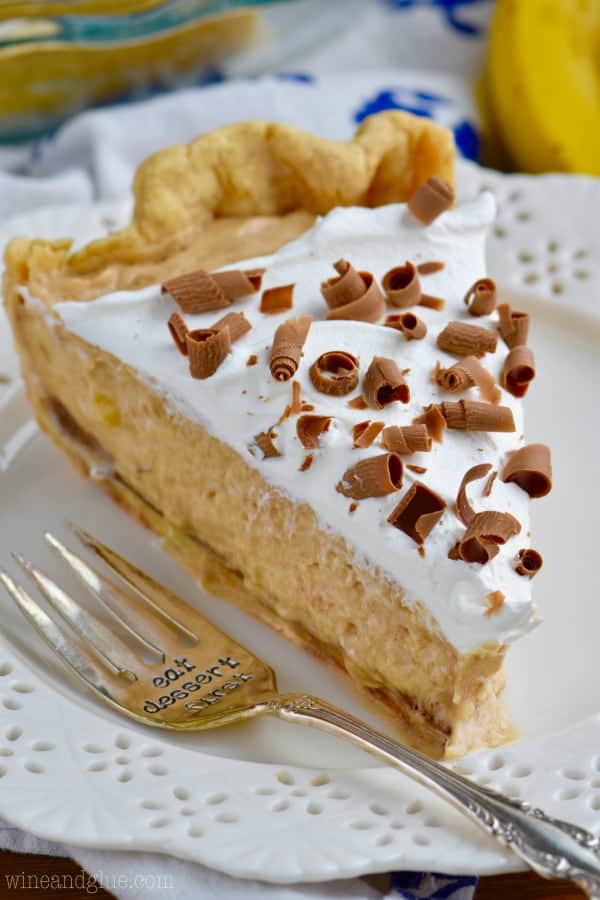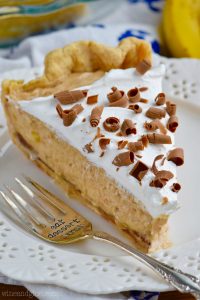 Black Bottom Banana Peanut Butter Pie
Ingredients
premade pie crust

see note

1/4

cup

heavy cream

1/2

cup

semi sweet chocolate chips

1 1/2

cups

heavy cream

3

TBSPs

granulated sugar

1/2

cup

powdered sugar

3

mashed bananas

1

cup

creamy peanut butter

softened

1/2

cup

heavy cream

1/2

TBSP

granulated sugar

chocolate bar

optional
Instructions
Place the metal bowl of the mixer and the metal whisk attachment into the freezer.

Combine 1/4 cup of heavy cream and 1/2 cup semi sweet chocolate chips in a small microwaveable bowl. Microwave on 50% heat for 30 second intervals, stirring well in between until smooth, making sure sure not to over cook. Pour the chocolate ganache into the bottom of the prepared pie crust.

Once the bowl has been in the freezer for 20 minutes, add the 3 TBSPs granulated sugar, and 1 1/2 cups heavy cream. Mix on high until the mixture thickens and looks like whipped cream.

Add the 1/2 cup powdered sugar, mashed bananas, and peanut butter to the whipped cream. Mix until fully combined. Add onto the chocolate ganache. Refrigerate until firm, about four hours.

Before serving, repeat the process of making the whipped cream with the remaining 1/2 cup heavy cream and 1/2 TBSP granulated sugar. Add the whipped cream to the top of the pie and use the chocolate bar and a vegetable peeler to make chocolate curls on top of the pie.

Enjoy immediately. Store in the refrigerator when not serving.
Notes
If you use the linked pie crust recipe, line the crust with foil, add some coins, and bake at 300 degrees for 25 minutes or until the crust is full cooked. Otherwise you can use a store-bought pastry crust or graham cracker crust.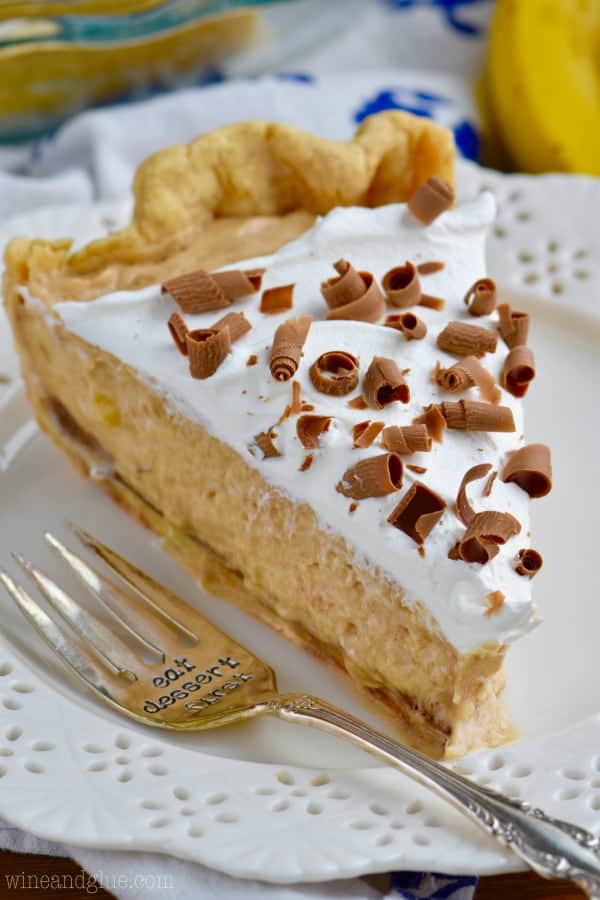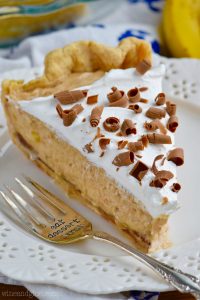 did you make this
Black Bottom Banana Peanut Butter Pie