Buffalo Chicken Enchiladas that your family will swoon over. These easy chicken enchiladas can be made the night before to quickly pop in the oven after work. They can even be made in advance and frozen!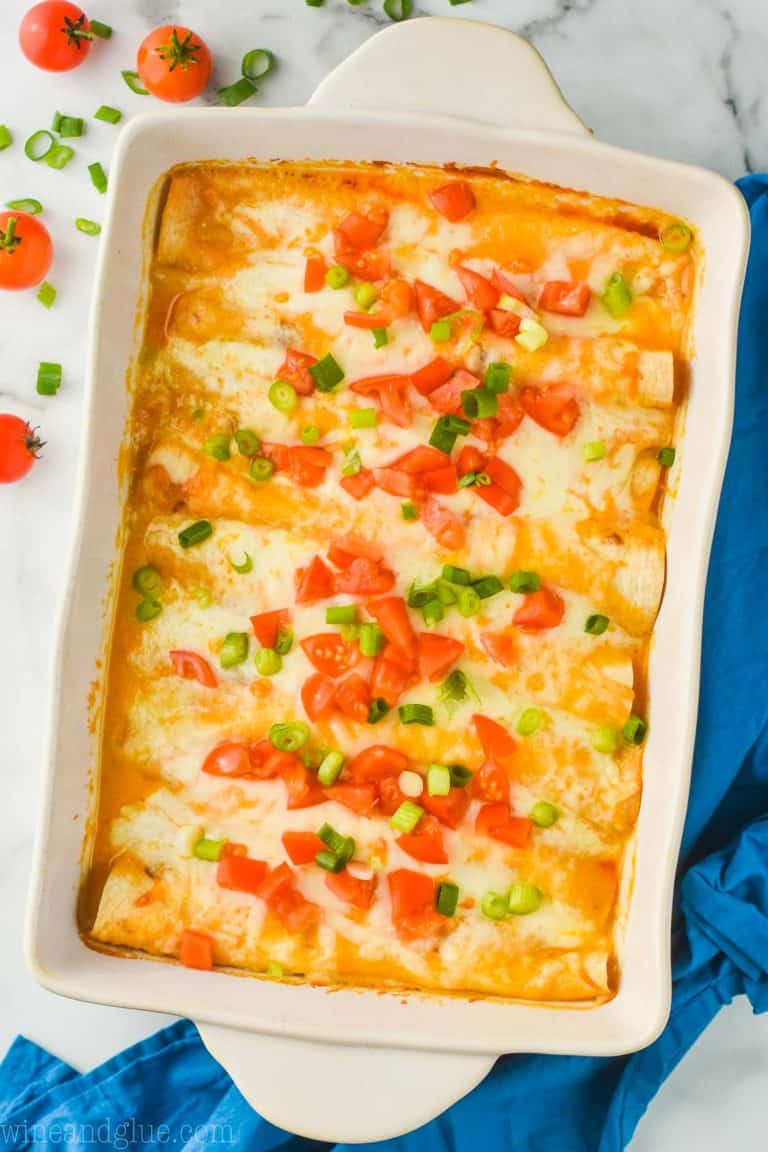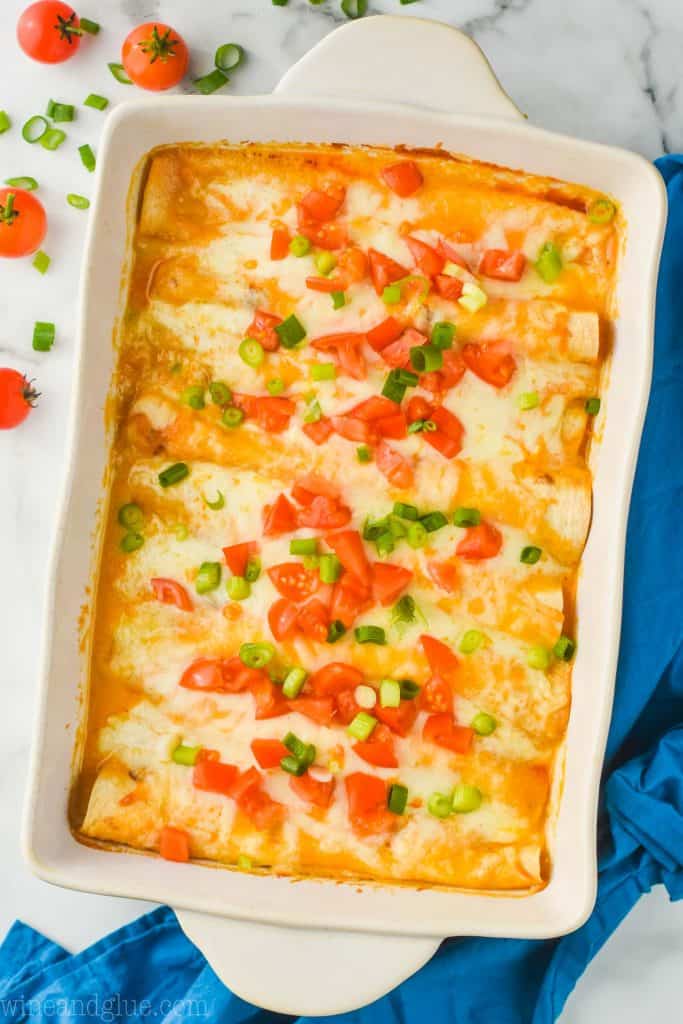 I am having one of those days where everything seems to go kind of . . . . wrong. You know the kind. It started off with a missed alarm and kind of went down hill from there. I'm not going to lie, I'm fighting the urge to just go back to bed and binge on the end of the Netflix show Unbelievable (very hard to watch, but very good).
Anyway. Days like this call for comfort food, and I'm not sure if there is much more that is comforting than a big baking dish full of a chicken enchilada casserole. For my kinds of days like these, and for yours I've made you Buffalo Chicken Enchiladas. They are creamy, delicious, and an easy spin on my Sour Cream Chicken Enchiladas. You guys know how I love spins.
One of the best parts about this recipe is you can prepare it the day before and just pop it in the oven when your work day ends or you finish that series on Netflix. Whichever comes first.
Reader Review
I couldn't believe how easy this was to make. I'm going to make this every week- it's that good. By far one of my favorite recipes of all time. Thank you so so so much for sharing!
How to Make Buffalo Chicken Enchiladas
This is a brief overview of how to make this easy and delicious recipe. For the full recipe with all of the ingredients, see the recipe card at the bottom of the post.
Make the filling for the enchiladas. Mix together shredded chicken, chiles, buffalo sauce, blue cheese, and Monterey Jack cheese.
Make the sauce. Combine the butter and flour together to make a roux. Then add in the chicken stock and finally the sour cream and buffalo sauce.
Put together the enchiladas. Pour a little of the sauce down first, then fill the tortilla shells with the chicken mixture and roll them. Top with the rest of the sauce and more cheese.
Bake and enjoy!
Freezing Cooked Chicken
Freezing cooked chicken to keep on hand is the perfect short cut for dinners during a busy weeknight! Learn how to freeze cooked chicken with these simple easy steps.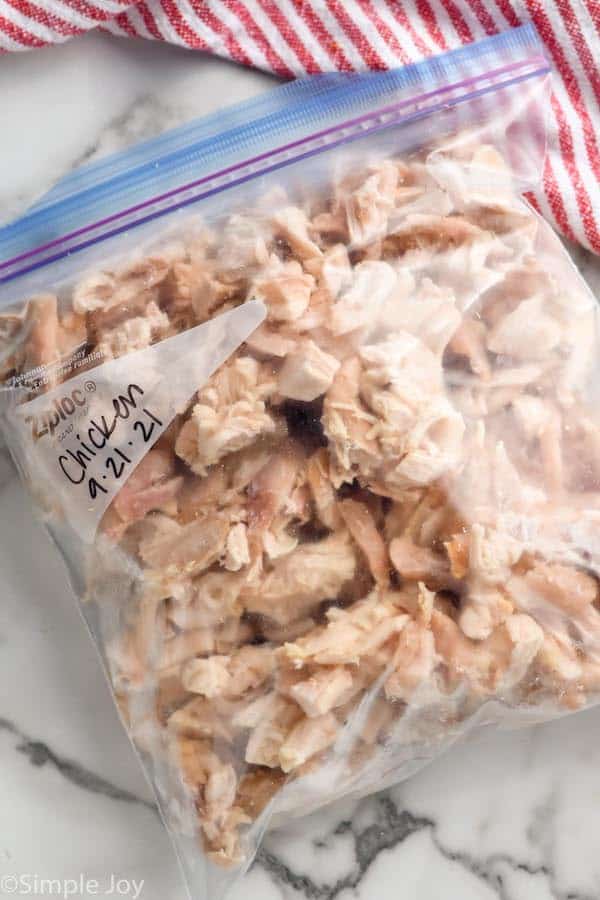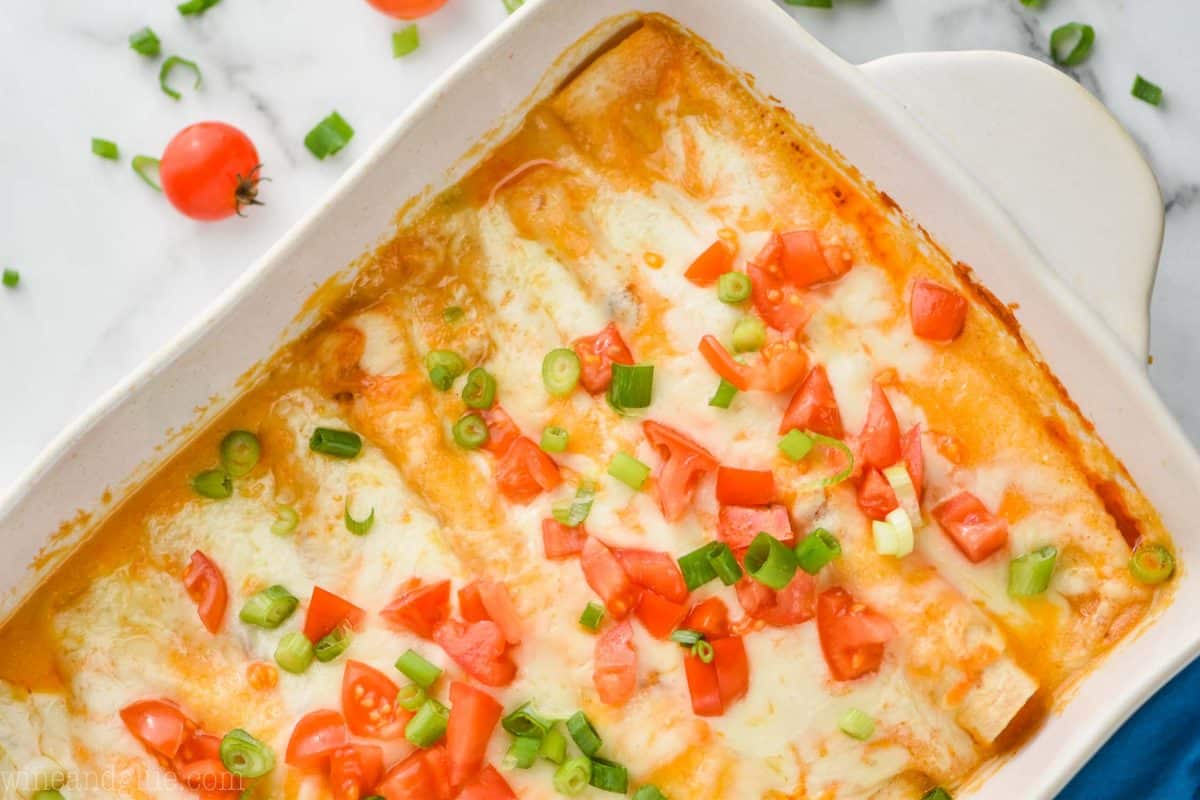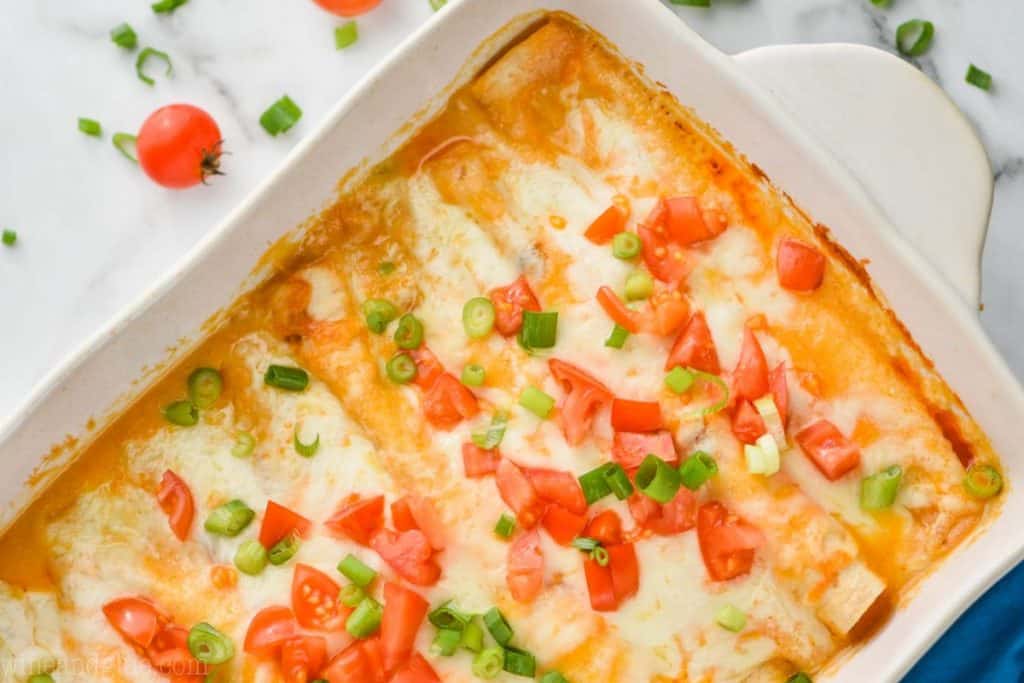 Ingredients for Buffalo Chicken Enchiladas
Everything in these easy enchiladas is simple to find. But I have a few tips, so here we go!
Shredded Chicken: I think that it is easiest to buy a rotisserie chicken and get your 3 cups shredded chicken that way. Otherwise you could make some Instant Pot Shredded Chicken or use some stored frozen shredded chicken.
Green Chiles: These come in mild and hot. Both will work in this recipe. I love keeping multiple cans of this in my pantry. I love them in my enchiladas and my white chicken chili.
Buffalo Sauce: I have a great recipe for homemade buffalo sauce, but you can certainly use store bought as well.
Monterey Jack Cheese: Read more about this below.
Blue Cheese: This adds great flavor to the enchiladas and also helps balance the spice of the buffalo sauce, but if you aren't a fan just skip it.
Butter and Flour: These two combine to make a roux or thickening agent for the sauce. You an read more about this below.
Chicken Stock: I always keep a ton of chicken stock on hand in my pantry. I like buying the 8 ounce boxes because that is often all I am using. It is more expensive to buy that way but then I'm never wasting any.
Sour Cream: This is what makes the sauce for these enchiladas creamy. You can use reduced fat in these and it will still work great.
Flour Tortillas: Typically when I make enchiladas (like my amazing chicken enchiladas), I use corn tortillas and dip them in the enchilada sauce before rolling them. In this I'm using flour tortillas for easy rolling.
Buffalo Sauce
This Buffalo Sauce sauce is a very easy 10 minute recipe that is perfect for wings, and so many other great Buffalo flavored recipes.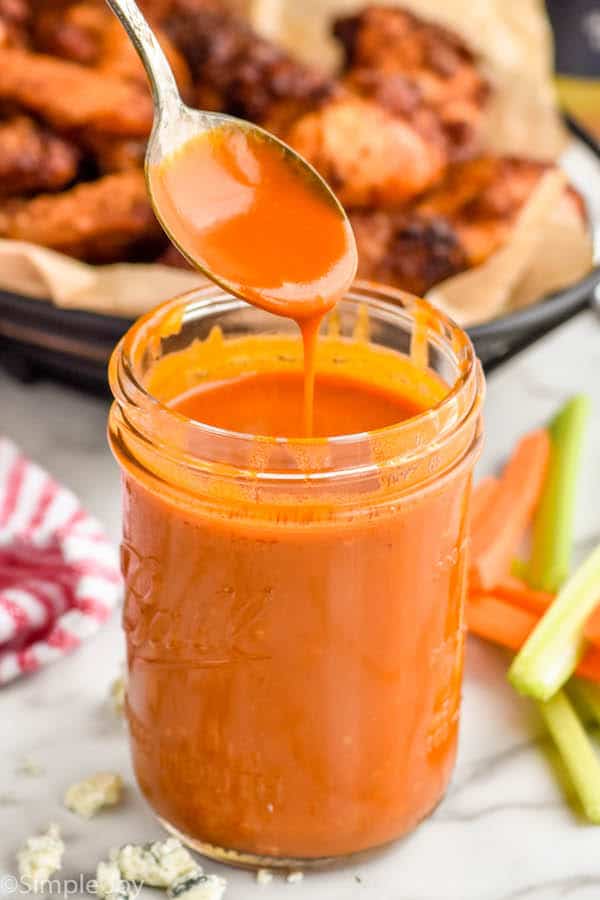 Making a Roux for Easy Chicken Enchiladas
The only tricky part of this recipe is making the roux for the sauce. A roux is when you combine flour and a fat (butter in this case) over heat. It acts as a thickening agent for sauce.
If you would like to see me doing it in a video, check out my New England Clam Chowder (you can even click "Jump to Video" at the top of the post).
Pro Tip
The most important part is to add the liquid (chicken stock in this case) slowly after you combine the butter and flour. It will look very lumpy, but each time you add a little more stock, it will get smoother and smoother. I like to start with two tablespoons at a time in the beginning.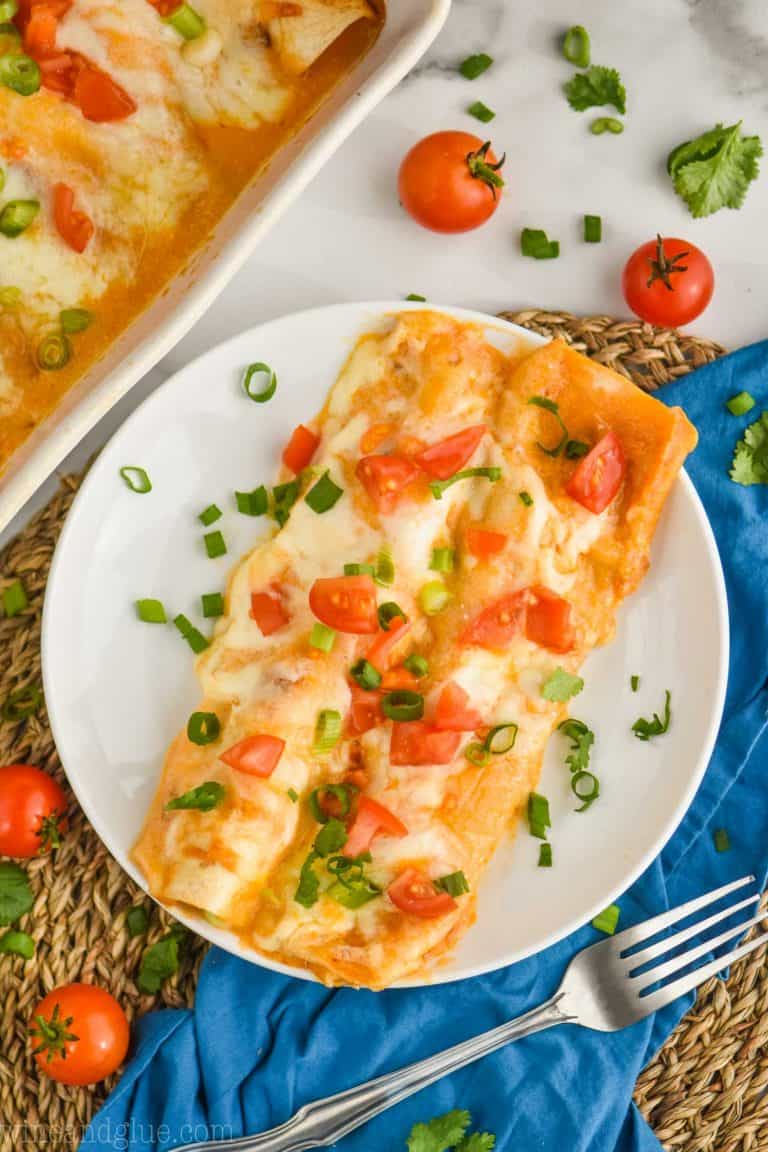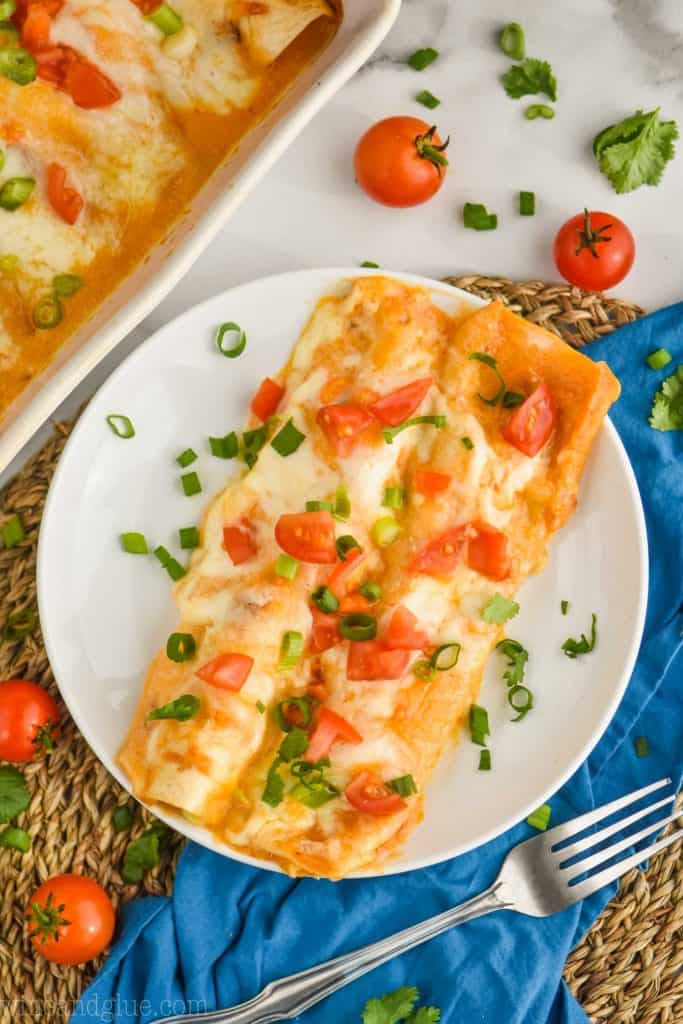 Block Cheese in Chicken Enchiladas
More and more you are seeing me urge you to buy block cheese instead of the bag of shredded. The reason is because block cheese just melts better. So in recipes like this and my Baked Ziti, it is worth the extra five minutes.
That said, I do not judge kitchen short cuts at all. And to be fair, it is your dinner to eat, not mine. So if having to use block cheese holds you back from making this, by all means, buy the bag!
Make Ahead or Freezing Enchiladas
That is right, my friends! You can make these guys ahead of time!
Make this up until that moment you are going to put them in the oven. Wrap them tightly in aluminum foil, and put them in the refrigerator for up to 24 hours. The next night when you get home from work you will be 20 minutes from a warm meal.
Or you can freeze them. I suggest using a disposable oven safe container so you don't worry about a ceramic baking dish cracking. Wrap them tightly after making them (but before baking). Use two layers of aluminum foil. Freeze for up to three months. When you are ready to bake put them in the oven preheated to 350 degrees and bake for 35 minutes or until they are bubbly at the edges and warm in the middle.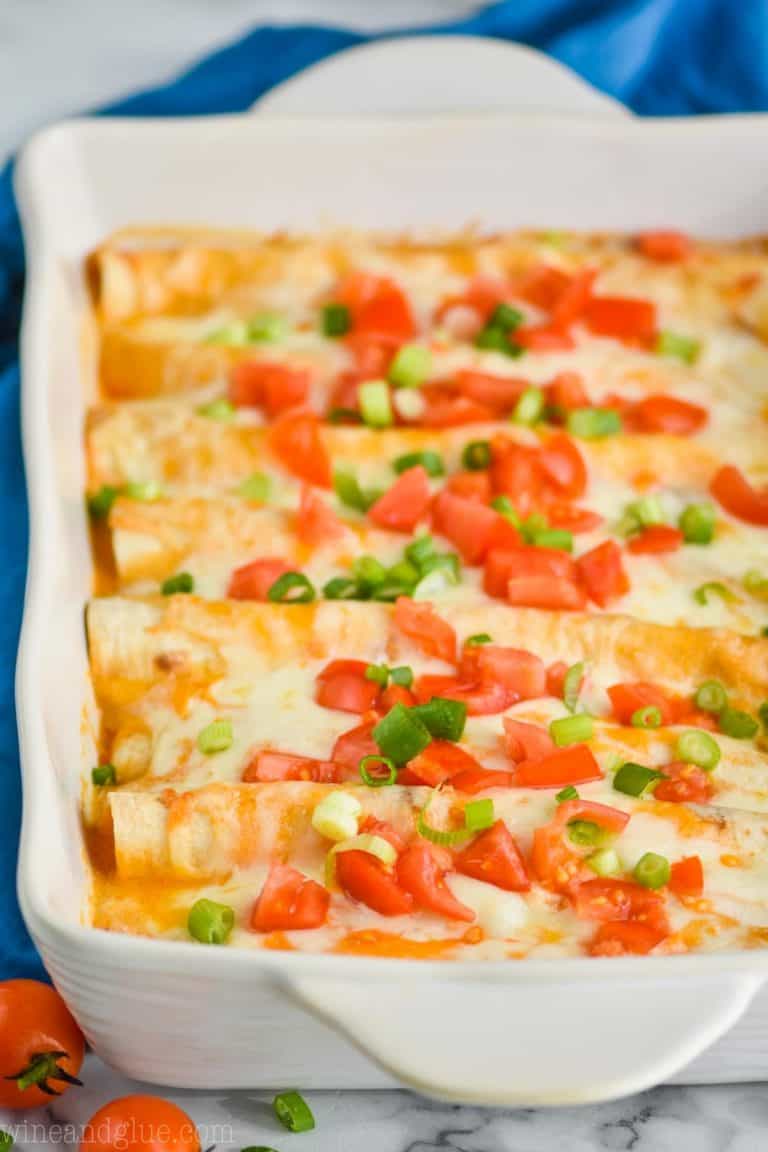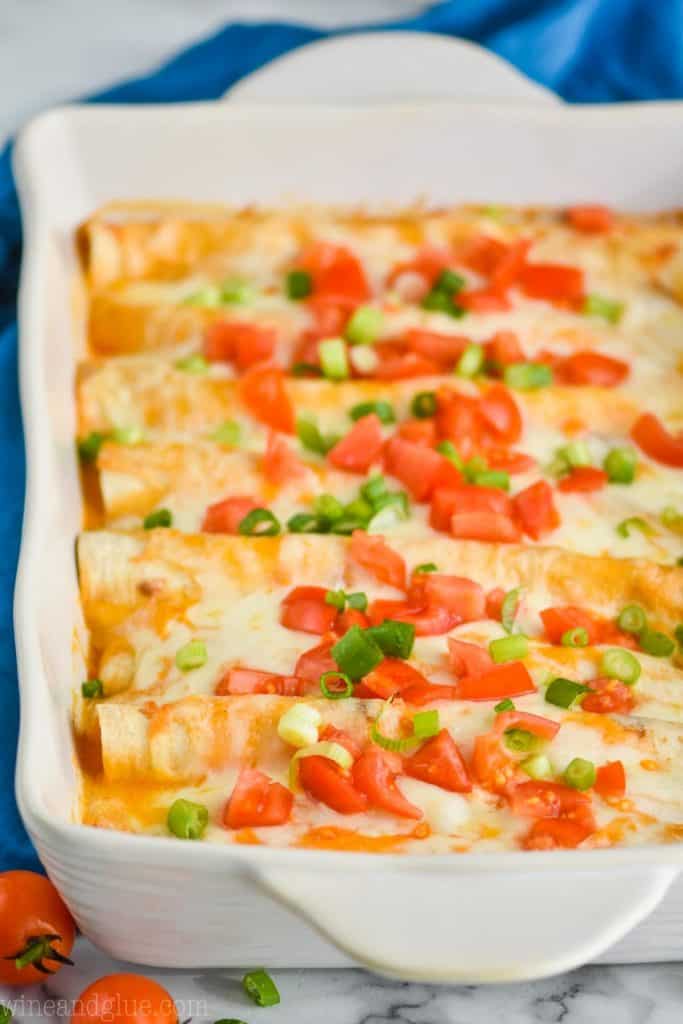 Other Great Dinners
If you need even more easy dinner ideas, and who doesn't, check out some of these:
If you make these Buffalo Chicken Enchiladas or any of my other recipes, please leave me a comment and let me know what you think!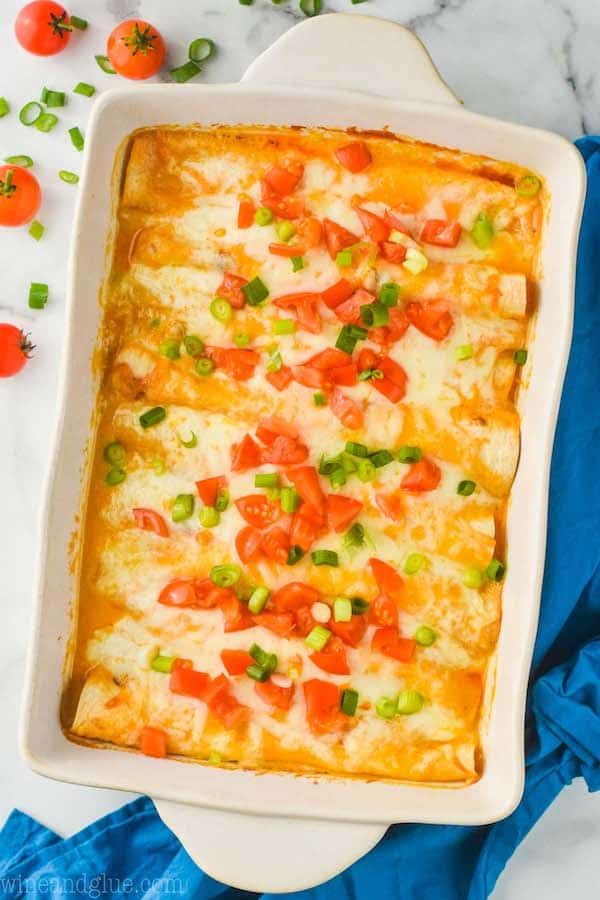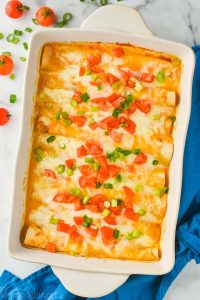 Buffalo Chicken Enchiladas
Buffalo Chicken Enchiladas that your family will swoon over. These easy chicken enchiladas can be made the night before to quickly pop in the oven after work. They can even be made in advance and frozen!
Ingredients
3

cups

cooked shredded chicken

(about 1 pound raw, cooked and shredded)

5

ounces

diced green chiles

1/2

cup

bleu cheese

optional

1/2

cup

buffalo sauce

divided

8

ounces

Montery Jack cheese

shredded (about 2 1/2 cups)

1/4

cup

unsalted butter

1/4

cup

all purpose flour

15

ounces

chicken broth

1/3

cup

sour cream

8

10 inch tortillas
Instructions
Preheat your oven to 400 degrees. Spray a 9 by 13 inch baking dish with cooking spray and set aside.

In a medium bowl, mix together the chicken, chiles, 1/4 cup buffalo sauce, bleu cheese (if using) and 3/4 a cup of the cheese.

Melt butter in a medium saucepan over medium low heat; stir in flour to make a roux, stirring and cooking the mixture until bubbly. Gradually whisk in the chicken broth. Bring to a boil, stirring frequently. Remove from heat and stir in the sour cream and buffalo sauce.

Pour a small amount of the sauce you just made – just enough to coat the bottom – into the 9 by 13 inch pan.

Add a heaping 1/3 a cup of the chicken mixture to each tortilla and roll tightly. Place seam side down in the preparred baking dish.

When all 8 tortillas have been added to the baking dish, top with the remaining sauce and then the reamining cheese.

Place in the oven, uncovered, and bake for 20 minutes or until the cheese is fully melted, the sauce has begun to boil near the endges and the visable tortilla shells are just beginning to brown.
Serving:
1.3
enchilada
Calories:
556
kcal
(28%)
Carbohydrates:
40
g
(13%)
Protein:
32
g
(64%)
Fat:
29
g
(45%)
Saturated Fat:
15
g
(94%)
Polyunsaturated Fat:
2
g
Monounsaturated Fat:
3
g
Cholesterol:
97
mg
(32%)
Sodium:
1451
mg
(63%)
Potassium:
102
mg
(3%)
Fiber:
2
g
(8%)
Sugar:
4
g
(4%)
Vitamin A:
14
IU
Vitamin C:
8
mg
(10%)
Calcium:
36
mg
(4%)
Iron:
11
mg
(61%)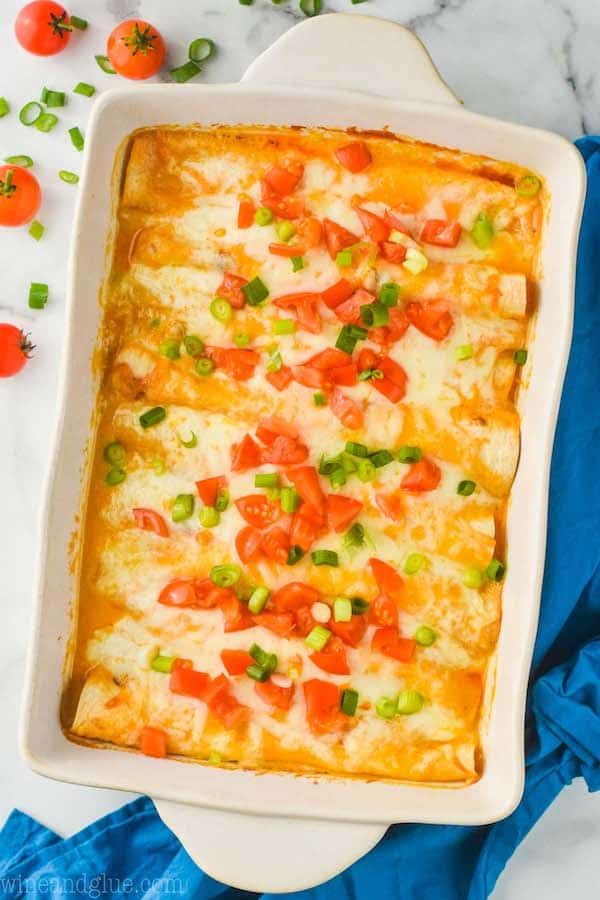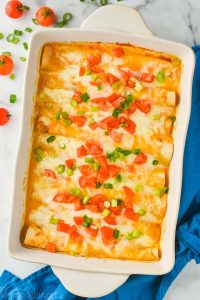 did you make this
Buffalo Chicken Enchiladas