Green Enchiladas are such a delicious dinner option. Made with simple ingredients, and full of flavor, your family will love this recipe.
Even better, these Green Chicken Enchiladas can be made ahead of time and frozen!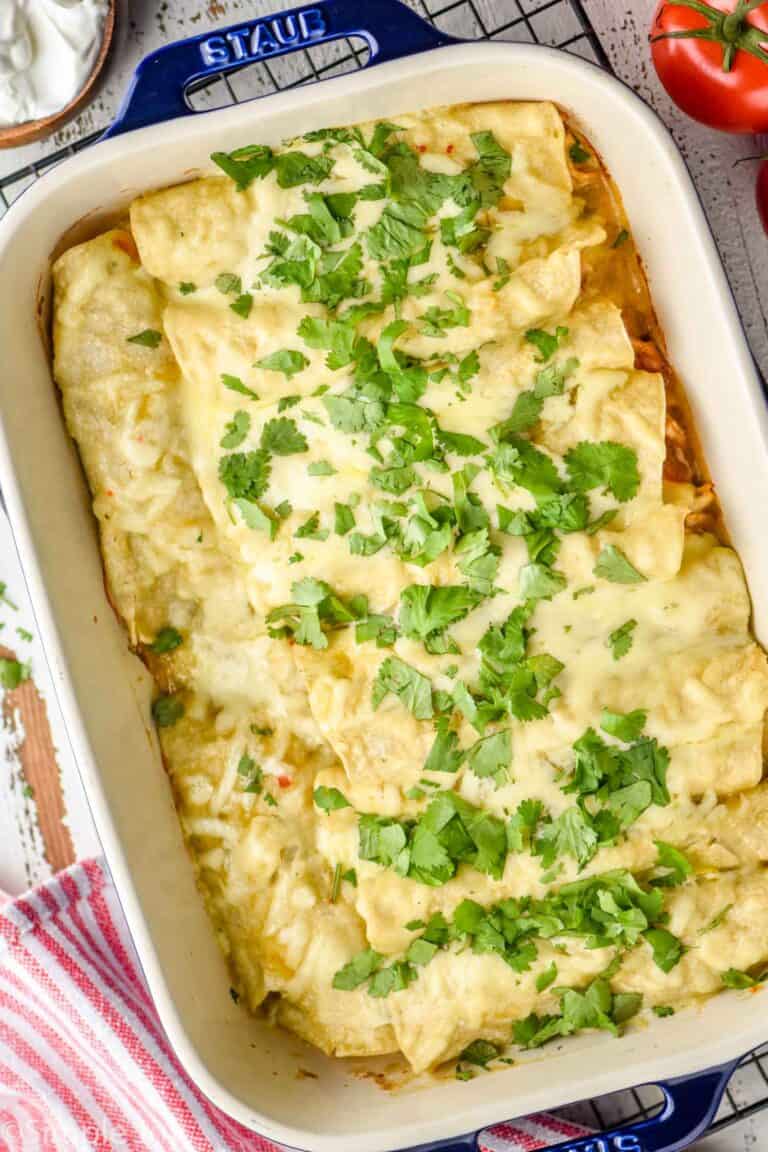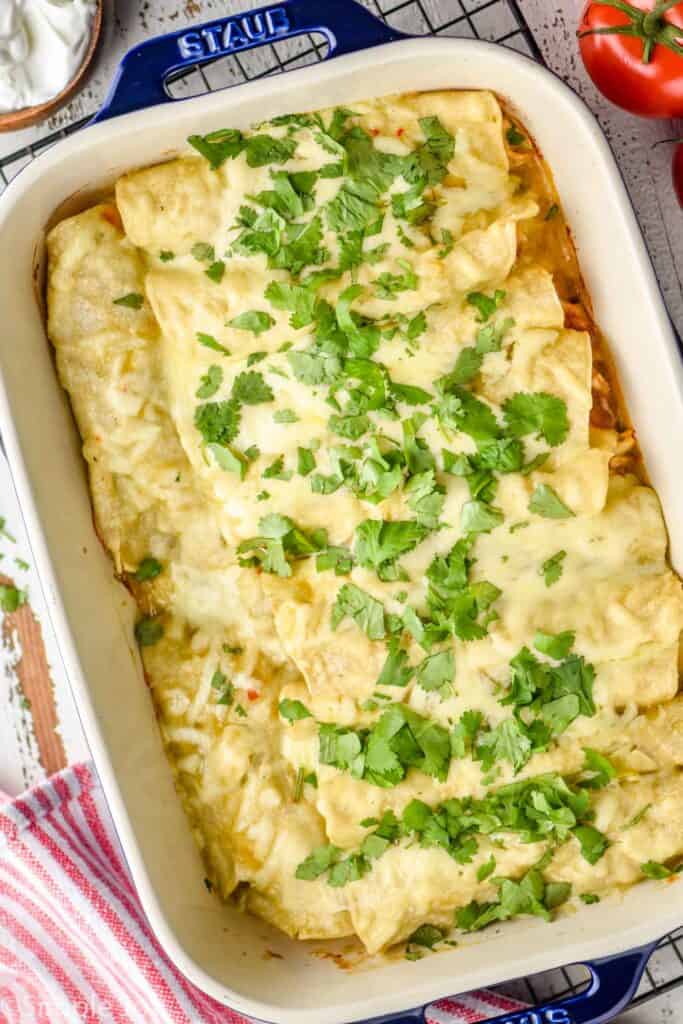 This post is sponsored by Mirum. All opinions are my own.
Our family is always on the hunt for new dinner recipes that everyone can get on board with. Truth be told, it is a win when four out of the five of us love it. These Green Enchiladas are an even bigger win because they can be made the night before. They can even go straight from the freezer to the oven!
If they have one drawback, it is that they can cause my frequent heartburn to act up. If frequent heartburn is something you also struggle with, I suggest you try Omeprazole Orally Disintegrating Tablets* (ODT).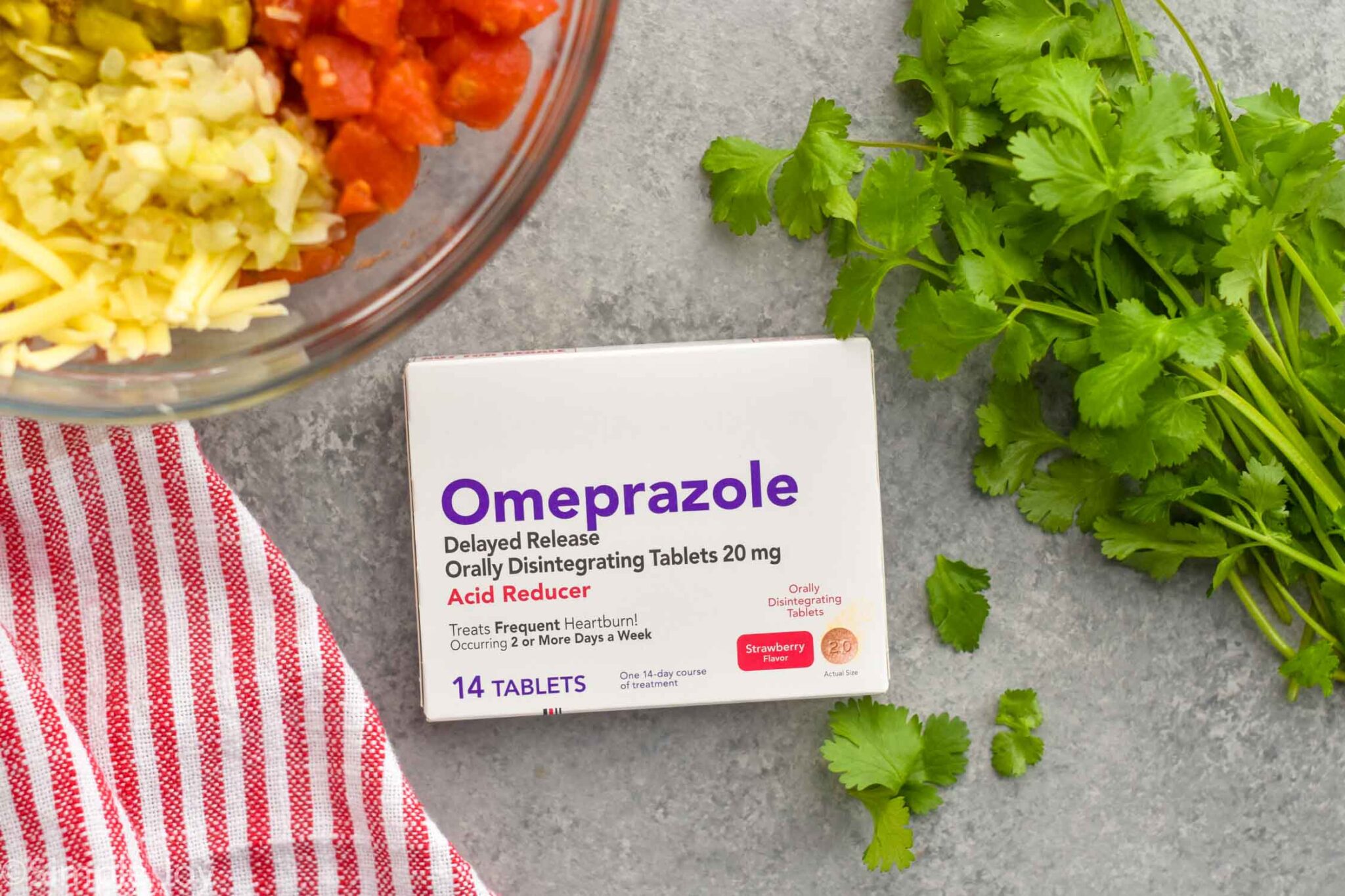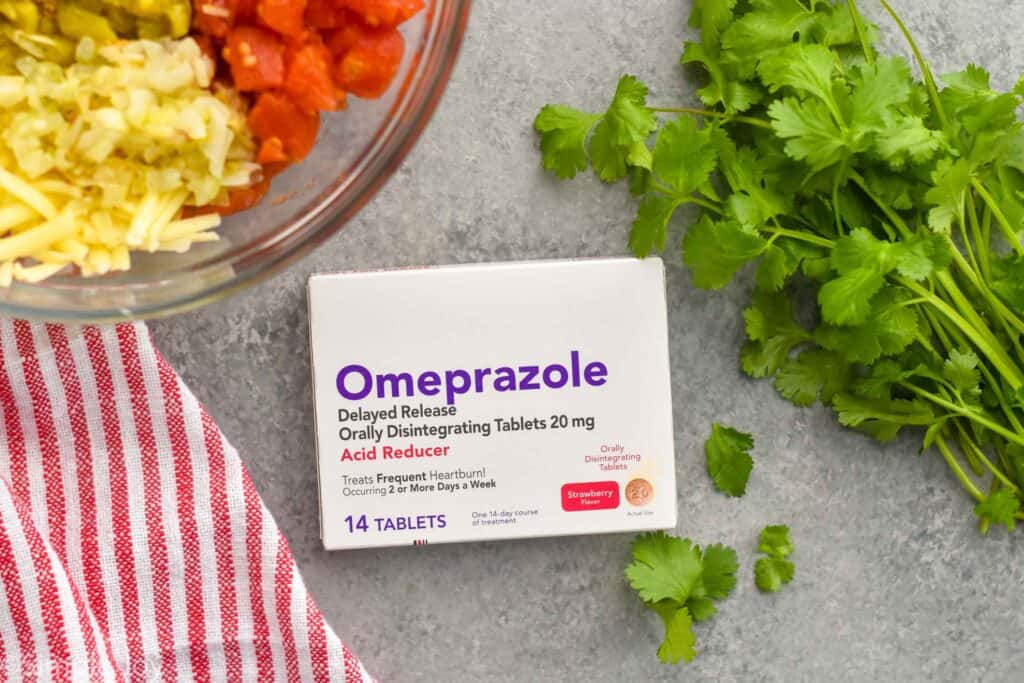 Omeprazole ODT is used to treat the symptoms of frequent heartburn (2+ days a week or more). It has a subtle strawberry taste and dissolves on my tongue, so I can take them without water. Using Omeprazole ODT in the morning allows me to be proactive about treating heartburn so I can eat great dinners like this with my family without any discomfort. Learn more here.
*Use as directed for 14 days to treat frequent heartburn (occurring 2 or more days a week). May take 1-4 days for full effect. Not intended for immediate relief.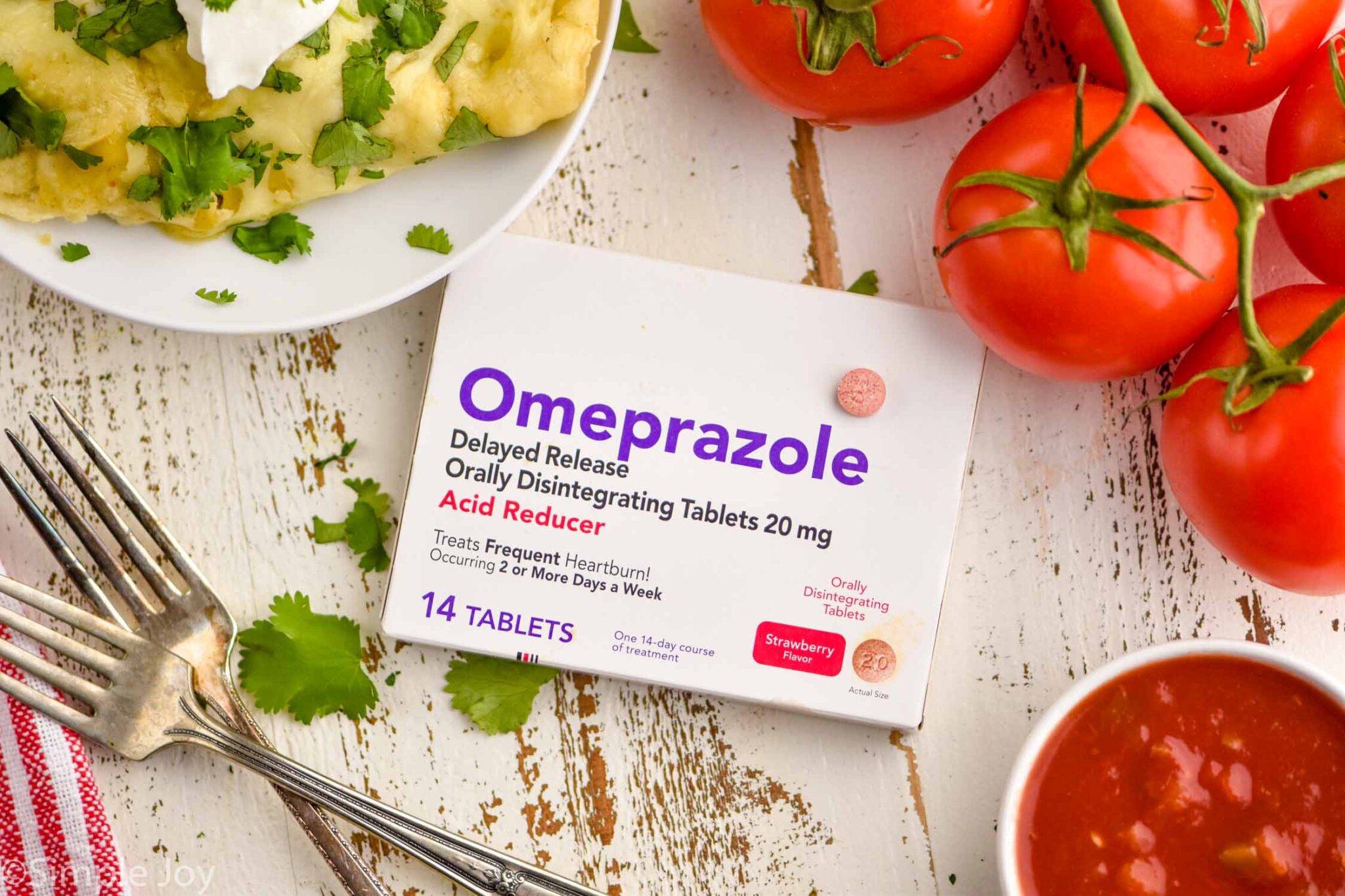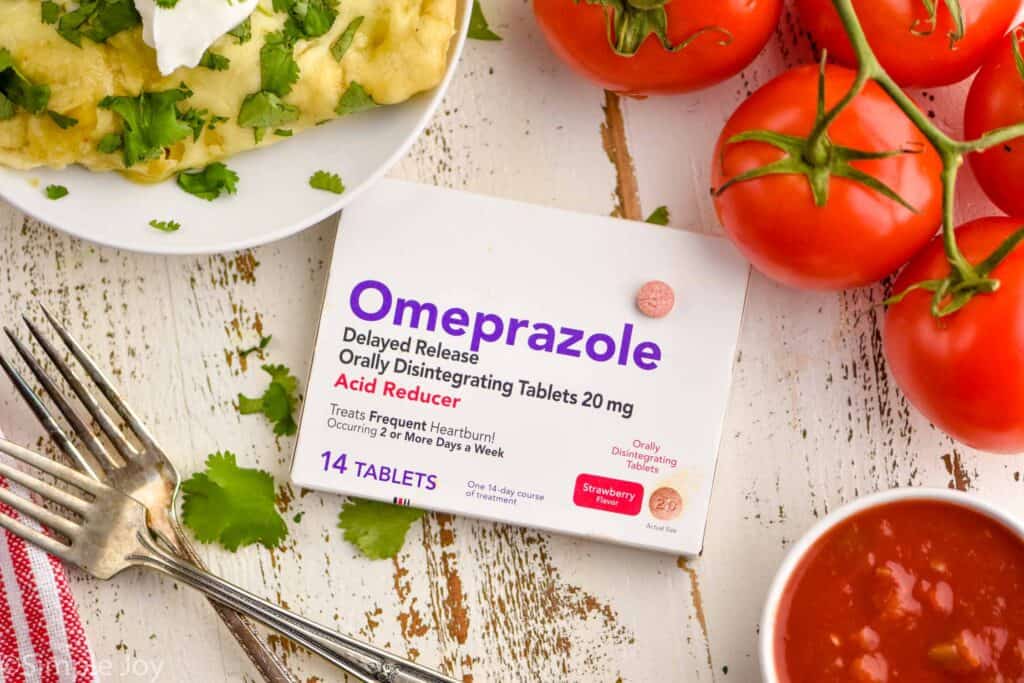 How to Make Green Enchiladas
The steps to this recipe are really simple. And with a few tips, these enchiladas will come together easily and become a regular in your house.
Make sure to check out the recipe card at the bottom of the post for the full list of measurements. You also can watch the video for this recipe there.
Sauté onions and garlic: The addition of these to the recipe ups the flavor.
Make the filling: Add the softened onion and garlic to shredded cooked chicken, drained diced tomatoes, green chiles, shredded cheese, and cumin.
Soften the tortillas: In the pan you sautéed the onions in, heat up the green enchilada sauce. Dip the corn tortillas in the sauce.
Fill the tortillas: Once a tortilla has been dipped in sauce, add 1/3 cup of filling to it and roll it. Place it seam side down in the casserole dish.
Top the tortillas and bake: Top the tortillas with the remaining sauce (there may not be a lot), and the rest of the shredded cheese. Bake uncovered for 20 minutes.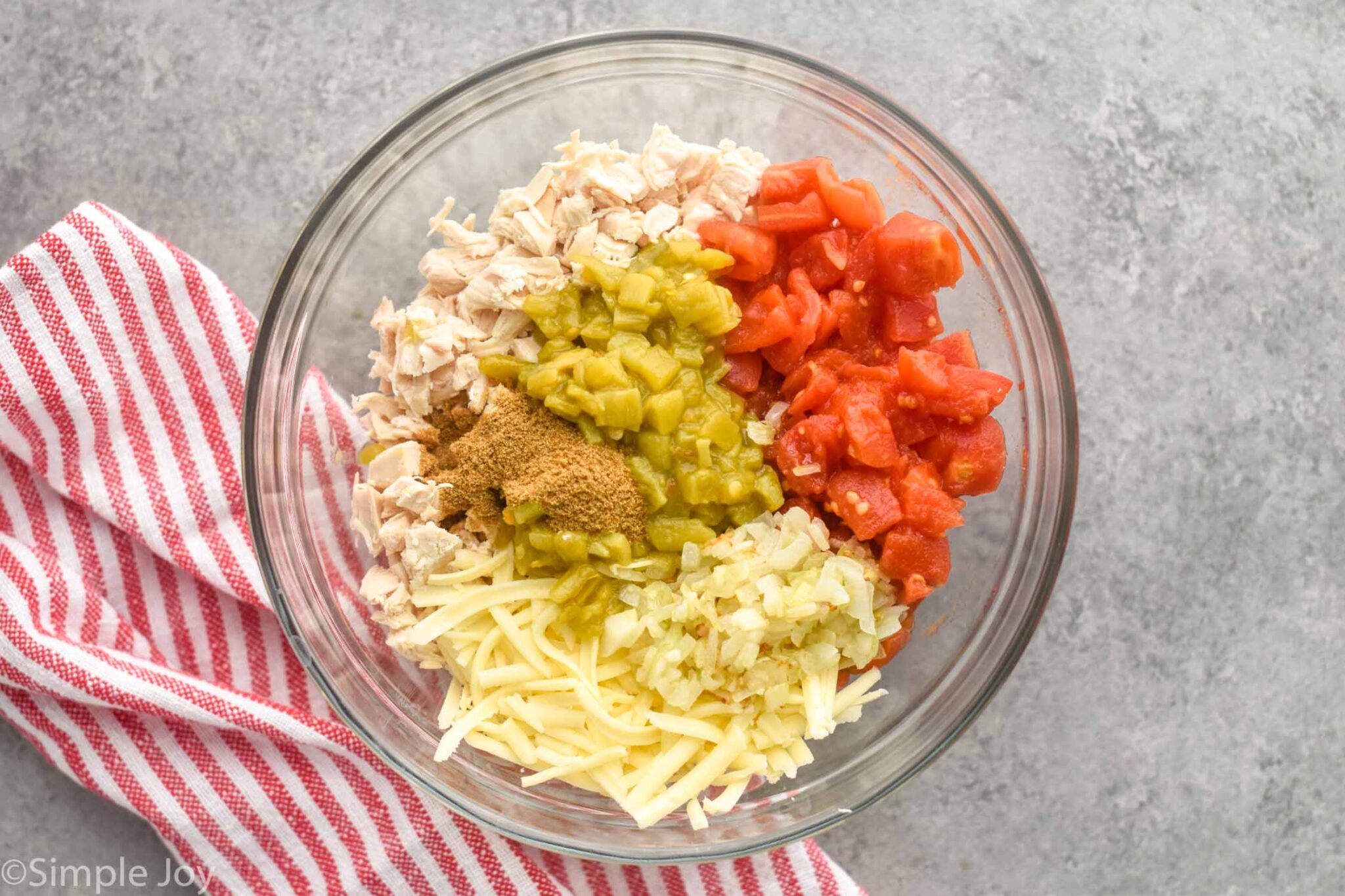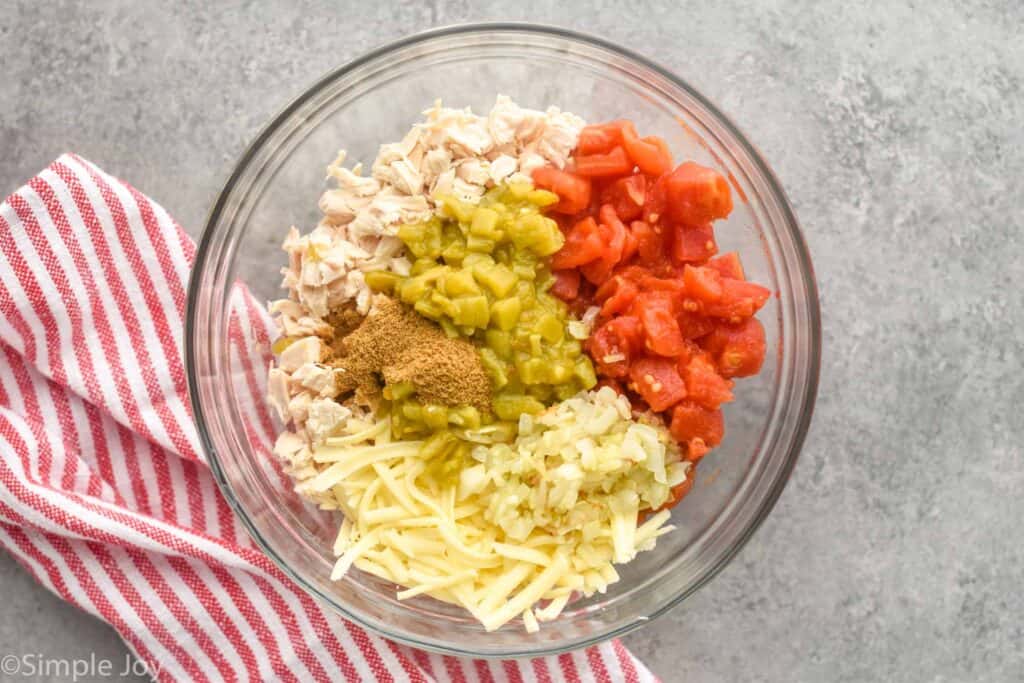 Corn vs. Flour Tortillas
You will notice that in my Sour Cream Enchiladas, I opted to use flour tortillas instead of corn. This eliminates the need to dip the tortillas to soften them. You could absolutely do that here too.
If you use flour tortillas, simply fill them and then top everything with the green enchilada sauce. Add the cheese to the top and bake.
With these Green Chicken Enchiladas, I decided to go with corn tortillas for a more authentic taste and texture. I loved the results, but I always encourage you to do what works best for you in your own kitchen.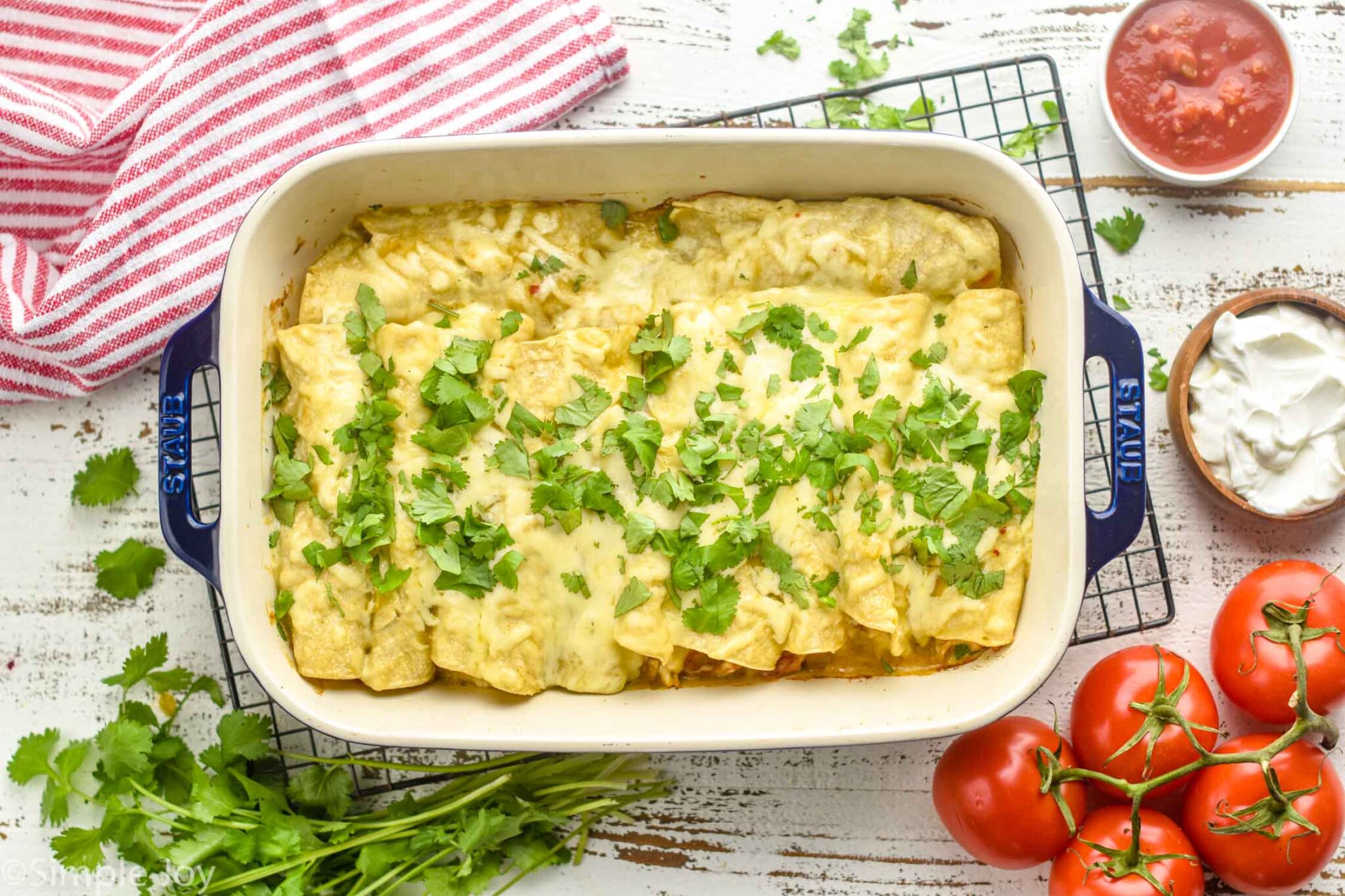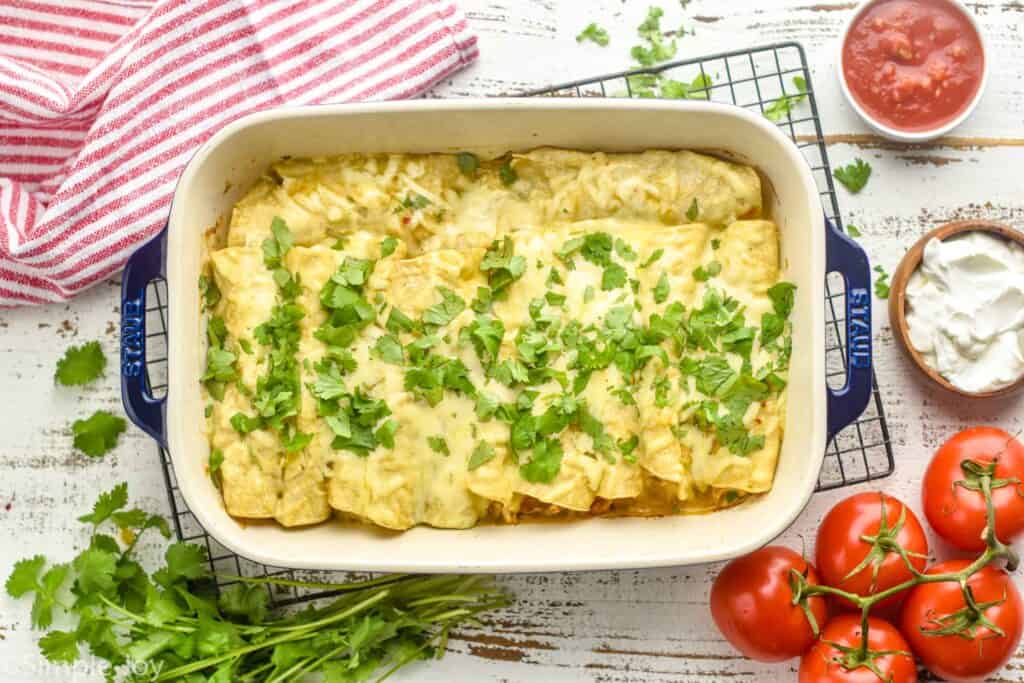 Shredding Cheese
There aren't a ton of ingredients to this recipe. Because of that, you want to focus on making sure the ones you are using are high quality. Shredding your own cheese will definitely kick this recipe up a notch.
While buying pre shredded cheese takes a few minutes off a recipe, in my opinion, it's not worth it. Cheese that is shredded from the block both melts and tastes better. In recipes like this, it can actually make a difference in whether or not your family just likes it or loves it.
Green Chiles
This recipe calls for green chiles. Our family chose to go with mild green chiles, but if your family likes spice, I encourage you to pick spicy. Additionally, you can buy green enchilada sauce in either mild or spicy. This is another opportunity bring the heat up a level.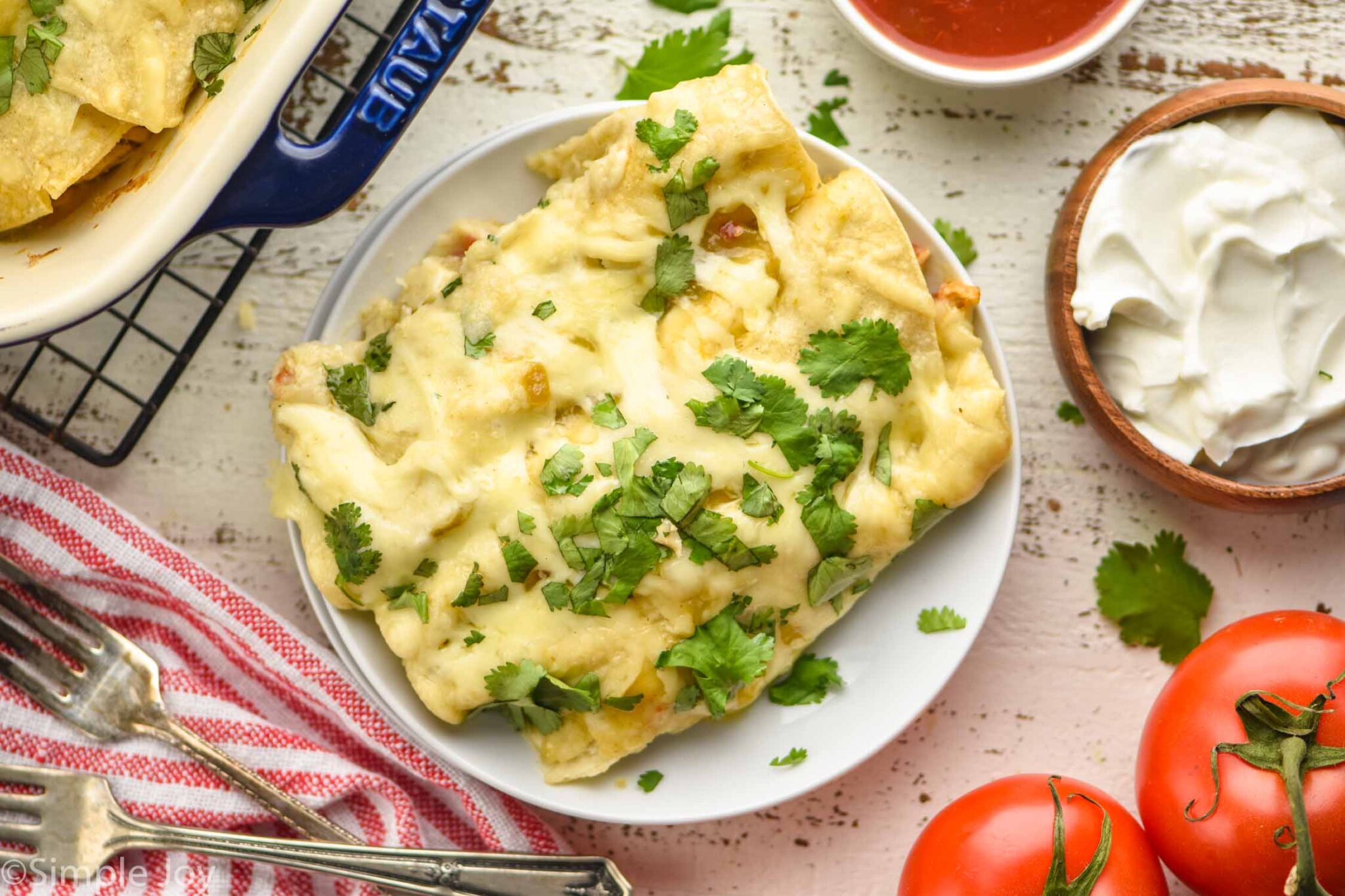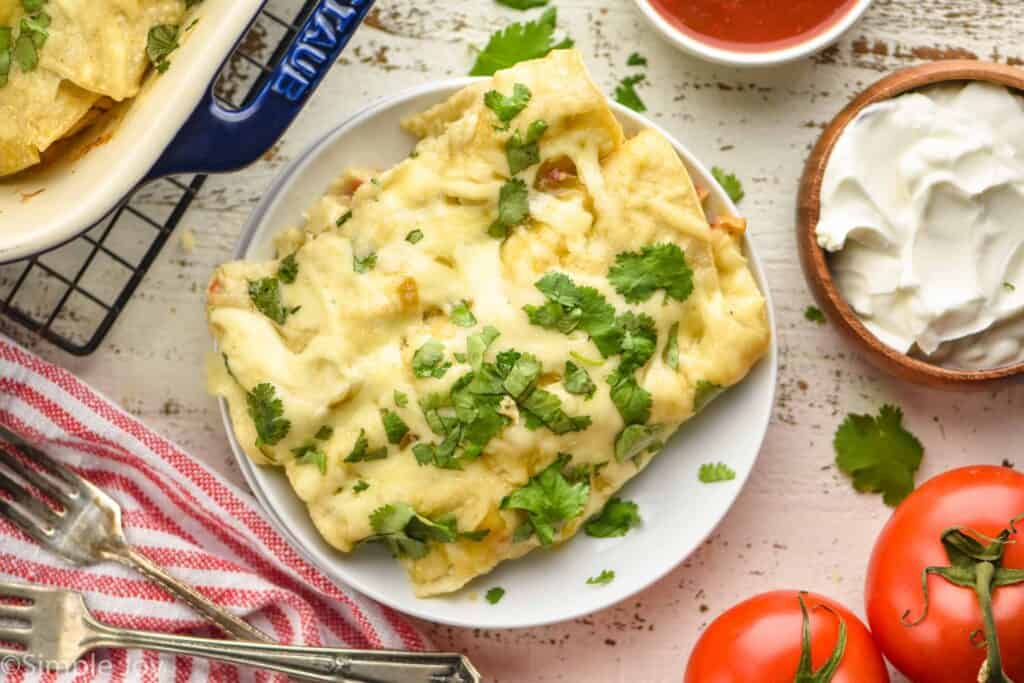 Cooking Chicken
These green chili chicken enchiladas call for cooked chicken. You could use a rotisserie chicken. Otherwise follow these simple steps to make shredded chicken.
Add raw chicken breasts to a saucepan and cover with water. You will need about 2/3 of a pound.
Bring the water to a boil. Simmer, uncovered, for 4 to 10 minutes depending on the thickness of the chicken breasts.
Using an instant read thermometer, remove the chicken when it reaches 165 degrees at the thickest point.
Allow to cool slightly and then using two forks, shred the chicken.
I like to give the chicken an additional rough chop for this recipe after shredding it.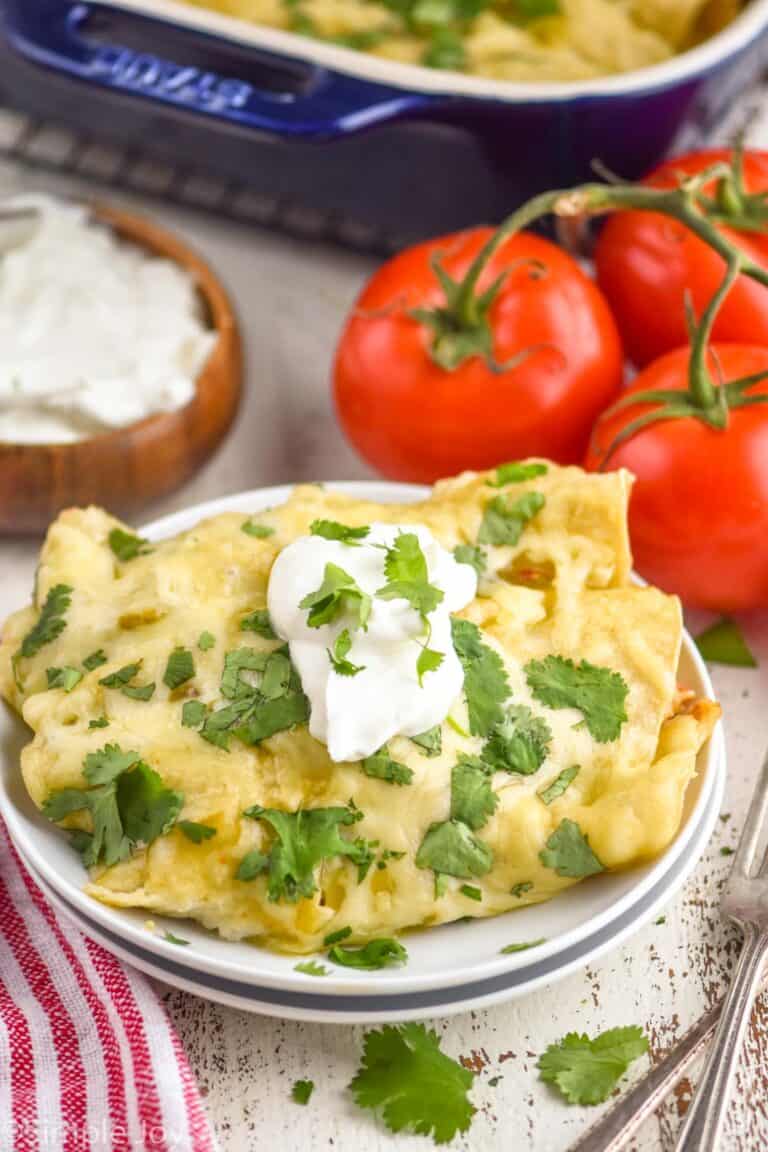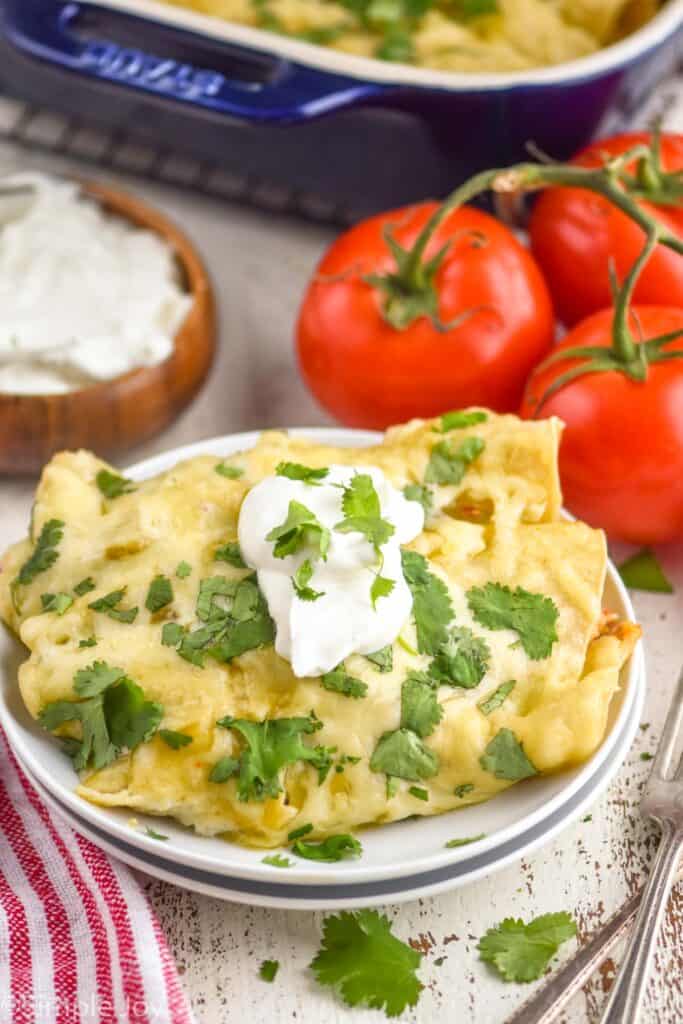 Making Ahead
You can make these green chili enchiladas the night before and then just throw them in the oven when you get home from work. Make sure that you cover the enchiladas and refrigerate them overnight.
When you are ready to make them, uncover them and put them in the preheated oven. Since they are coming from the cold refrigerator, they will need a few extra minutes. Keep an eye on them after 20 minutes and remove them when the edges turn golden brown.
Freezing
This enchilada recipe is freezer friendly! Use the below tips to help them turn out perfect.
Make the enchiladas in a disposable pan so they can go right from the freezer to the hot oven without risking the casserole dish shattering.
To freeze, wrap the enchiladas in aluminum foil or plastic wrap to keep them well preserved.
Freeze for up to three months.
Remove all the wrapping before baking.
Bake the enchiladas at 400 degrees for an extra 15 minutes (no need to thaw first) for a total of 35 minutes.
FAQ
Can I use flour tortillas?
Absolutely. You can then skip dipping them in the sauce if you like.
Can this recipe be made ahead of
Yes! Please see the instructions above for making ahead.
Can this recipe be frozen?
Yes! Please see the instructions above for freezing.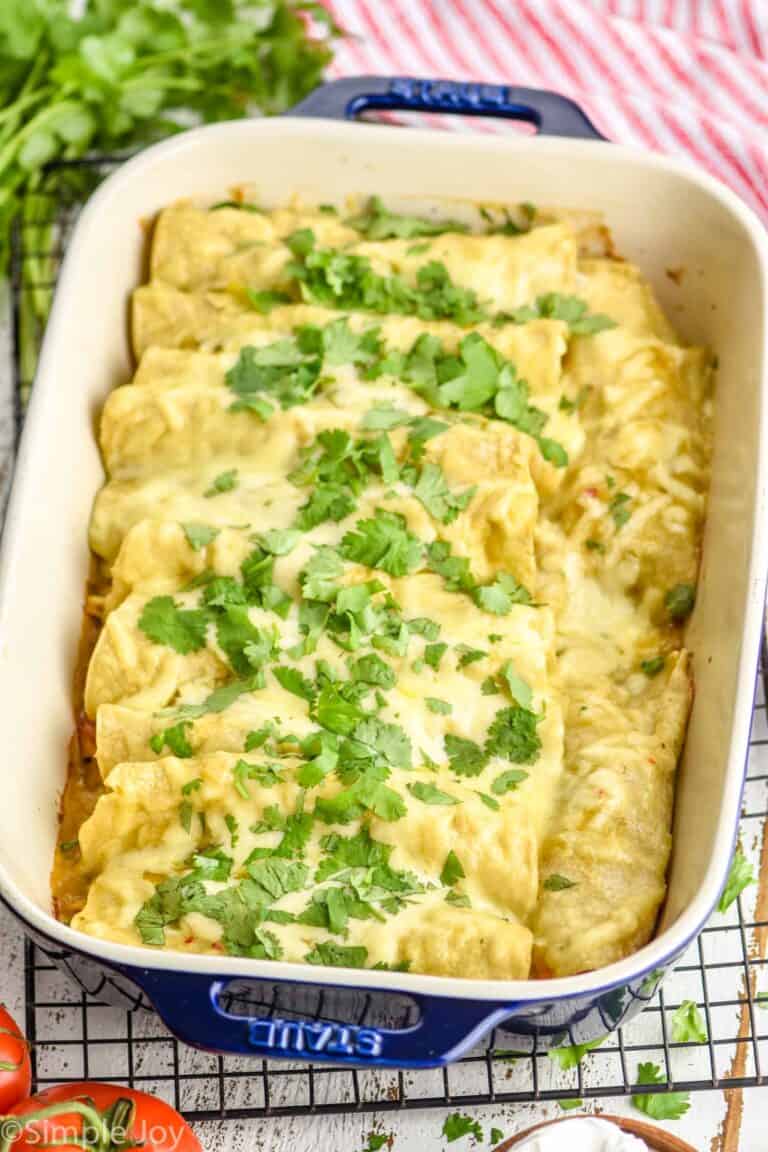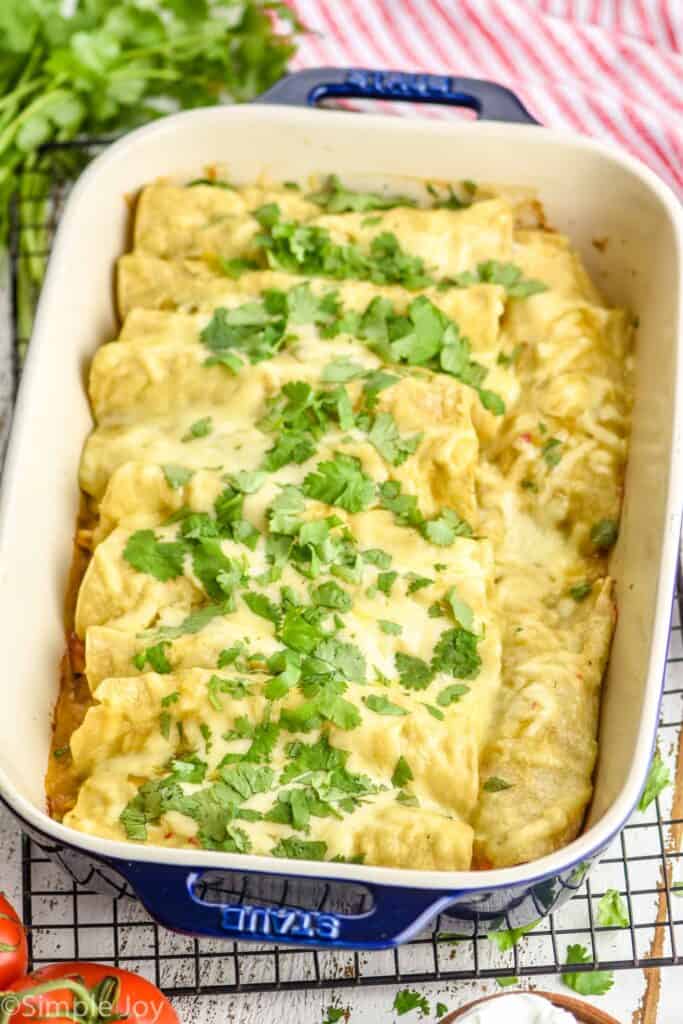 Other Great Dinners
Looking for other great dinner ideas? Here are some of our favorites:
All of those dinners are delicious, and have a small kick. So make sure you pick up your Omeprazole ODT from your local store if you also suffer from frequent heartburn triggers by spicy foods.
If you make these great Green Enchiladas or any of my other recipes, please leave me a comment and let me know what you think!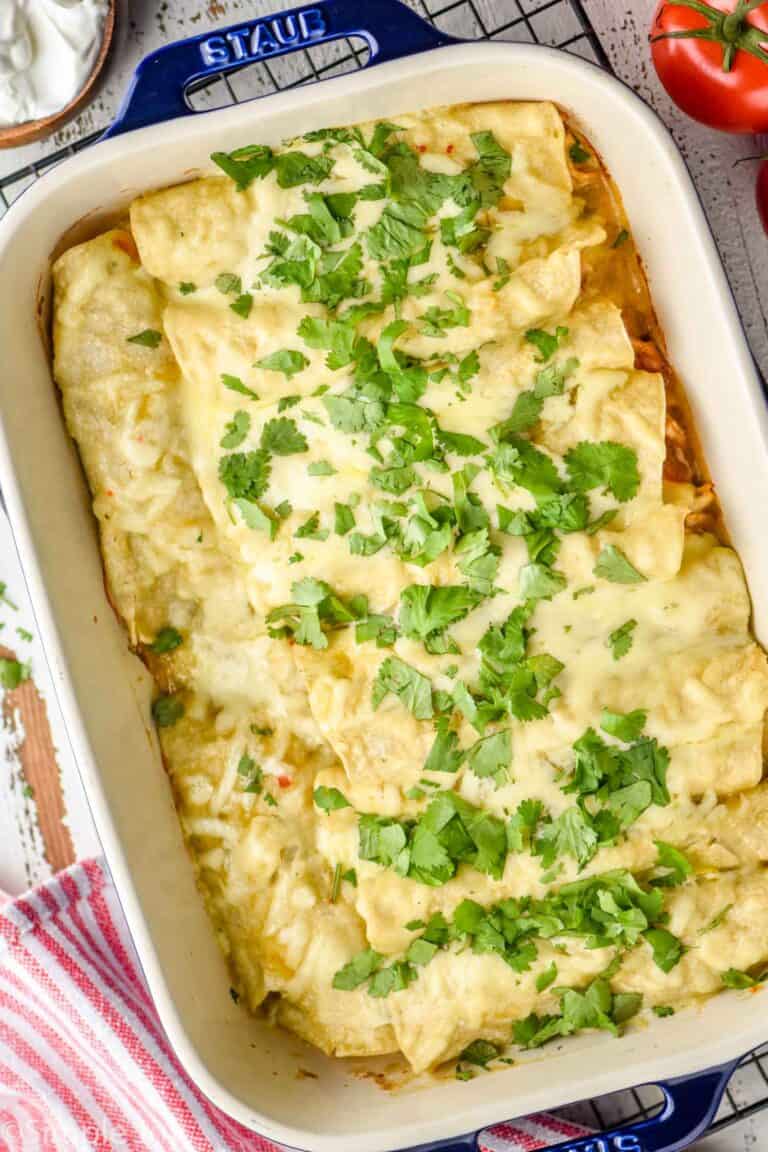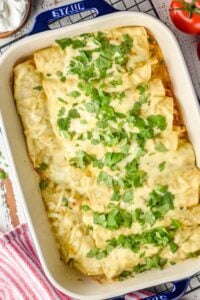 Green Enchiladas
Green Enchiladas are such a delicious dinner option. Made with simple ingredients, and full of flavor, your family will love this recipe.
Ingredients
2

tablespoon

olive oil

1

small yellow onion

diced

2

garlic cloves

minced

20

ounces

green enchilada sauce

8

ounces

Monterey Jack cheese

shredded

2

cups

cooked chicken breast meat

(about 2/3 pound before cooking)

15

ounces

diced tomatoes

drained

2

teaspoons

cumin

4

ounces

diced green chiles

drained

12

10 inch corn tortillas
Instructions
Preheat your oven to 400 degrees. Spray a 9 by 13 inch baking dish with cooking spray and set aside.

Heat the olive oil in a small skillet over medium heat. Add the onions and garlic and cook until the onion is translucent about 3 to 5 minutes. Remove from heat.

In a large bowl, combine 3/4 cup of the shredded cheese, the cooked shredded chicken, diced tomatoes, cumin, green chiles, and sautéed onion and garlic.

In the same pan you sautéed the onion in, heat the enchilada sauce. Bring to a simmer, and then reduce the heat.

Pour a 1/4 cup of the warm enchilada sauce in the bottom of the baking dish.

Dip the tortillas in the warm enchilada sauce. Fill with 1/3 cup of the chicken mixture. Roll the tortilla and place seam side down in the baking dish. Continue until all of the tortillas are rolled.

Pour the remaining sauce over the enchiladas. Top with the remaining cheese.

Bake uncovered for 20 minutes or until the sauce begins to boil at the edges.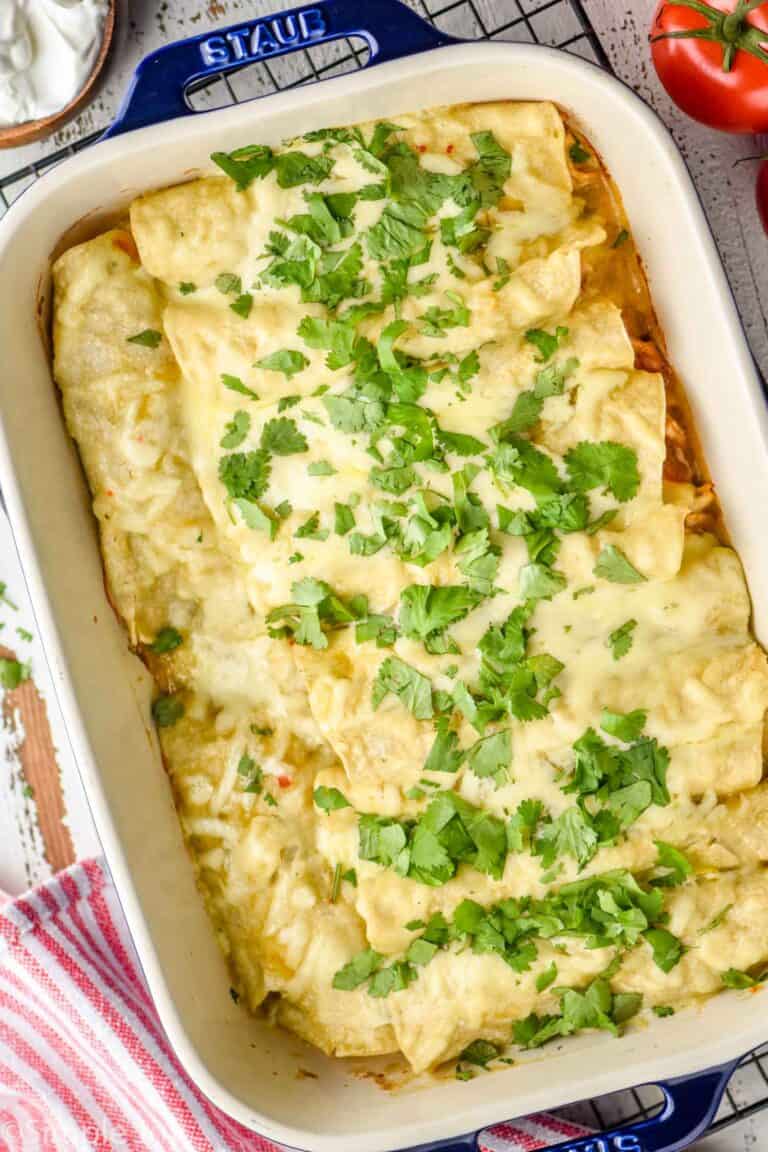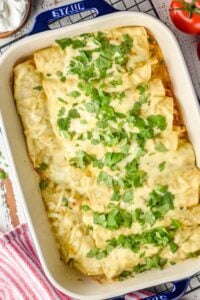 did you make this
Green Enchiladas