These Caramel Apple Bars are like a sugar cookie and a caramel apple combination. Easy, delicious, and the perfect recipe for fall!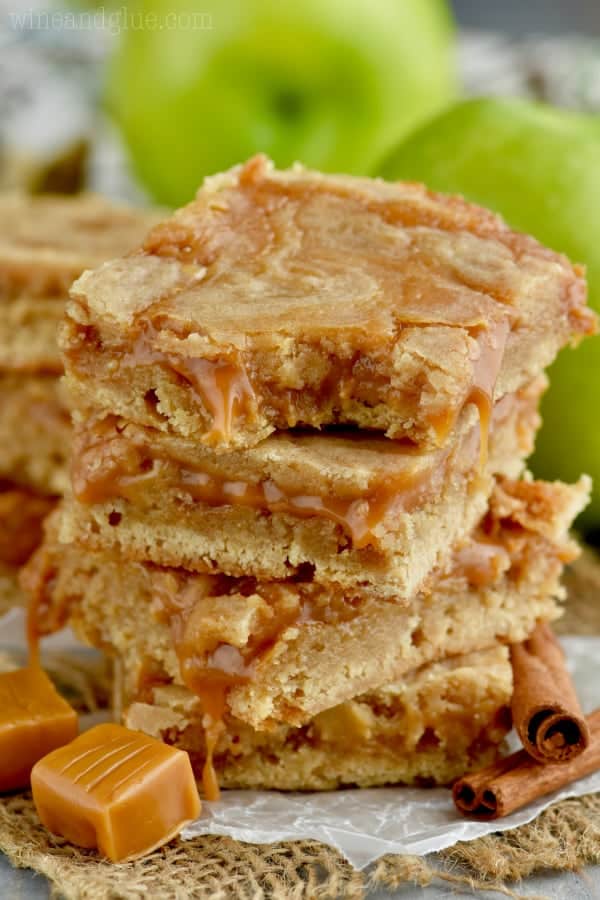 I'm so happy to be partnering with Horizon Organic to bring you these absolutely amazing Caramel Apple Bars. We love using Horizon products and appreciate when you support the brands that make Wine & Glue possible.
The other day an old friend of mine reached out to me and just sent me this link for these Snickerdoodle Caramel Bars from Lauren's Latest. It's okay. You just take a minute to go over there and soak those bad boys in. I'll wait.
Back?
Great.
So then, this friend of mine said that she combined those bars with my Pumpkin Sugar Cookies and said that it was totally the fall match made in heaven. And I had an AH HA! moment that made me want to run to my kitchen immediately!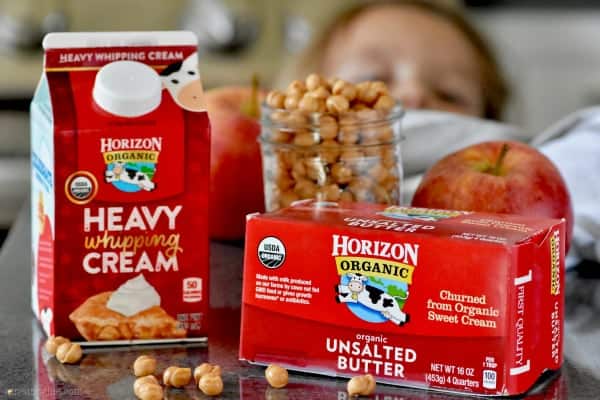 Side note: Do you spy little Piper's face in there? It's like the call of the red Horizon box (her beloved milk) the caramels and the apples were too much for her.
Caramel Apple Bars!!
I've already made Caramel Apple Sugar Cookies, but after looking at Lauren's recipe, I knew that I could make them in bar form and make them AMAZING-er.
That's totally a word. Don't question me. (Now you know even more about my parenting style.)
We absolutely love Horizon products in our house. My kids flip over every single red box they see, but this week it is especially their cheese cracker sandwiches and the mac 'n cheese (as always) – and that's probably only because they didn't know that I used Horizon in these bars. Because they totally flipped over these easy apple bars.
Carmel Apple Bar Tips
Make sure your Horizon butter is room temperature. That means that you should be able to easily dent it with your fingers, but not push your finger all the way through.
Same deal with your apple butter, make sure it's room temperature.
When you measure your flour, make sure you scoop it into the measuring cup and then level it off. If you use the measuring cup to scoop it from the container you keep it in your risk packing it.
These are perfect and perfectly fall and so delicious!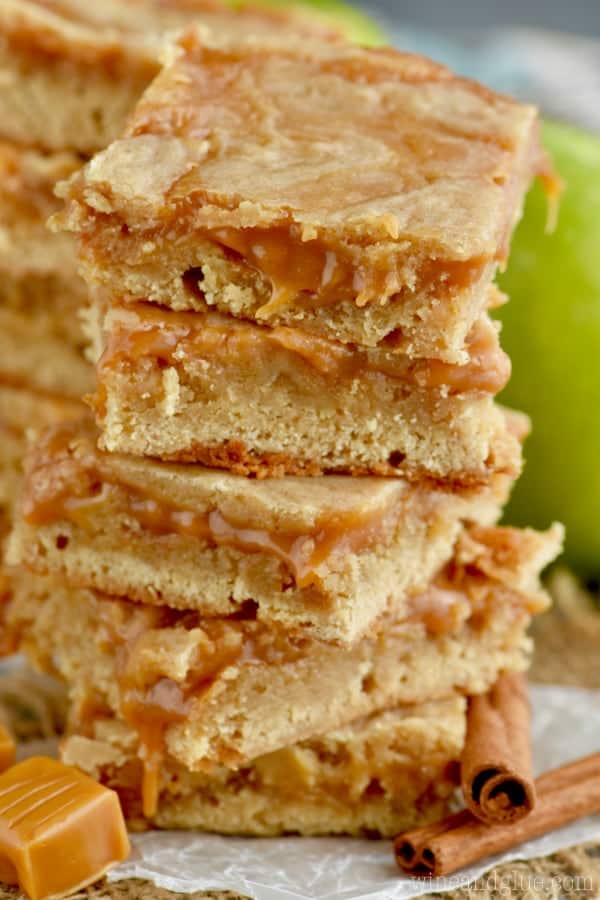 For more great ideas be sure to follow Horizon on Facebook, Twitter, Instagram, and Pinterest. And Horizon is all about weird when it comes to kids (which is great, because I'm raising the weirdest kids ever), just not weird when it comes to their food. Check out the cutest video about out here.
Carmel Apple Bars Recipe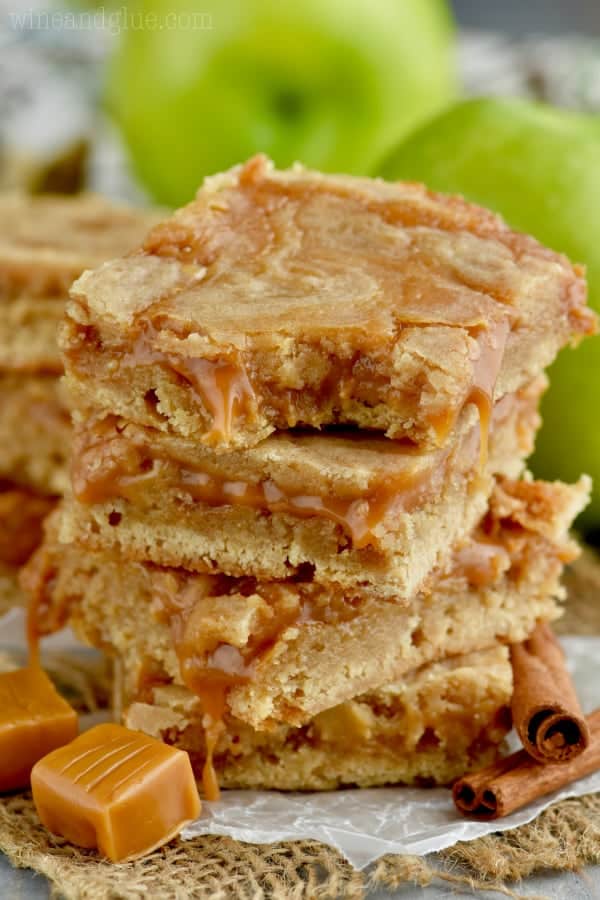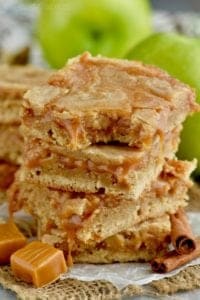 Caramel Apple Bars
Ingredients
2 1/2

cups

all purpose flour

1/2

tsp

baking powder

1/2

tsp

salt

1/2

tsp

cinnamon

1 1/2

cups

sugar

8

TBSPs

Horizon Unsalted Butter at room temperature

1/3

cup

apple butter

2

eggs

2

tsps

vanilla extract

11

ounces

caramel bits

1/4

cup

Horizon Heavy Cream
Instructions
Preheat your oven to 350 degrees, spray a 9 by 13 inch pan and set aside.

In a large bowl, whisk together the flour, baking powder, salt, and cinnamon.

In the stand of a mixer, beat together the Horizon Butter and the apple butter until combined. Then beat in the sugar until light and fluffy.

Add in the eggs, one at a time, and the vanilla.

Slowly add in the flour mixture, until just combined.

Combine the caramel and the Horizon Heavy Cream in a measuring cup and microwave on 30 second intervals, stirring in between, until smooth.

Spread 2/3 of the dough on the bottom of the baking dish, pour the caramel over it, and add the rest of the dough to the top. It is easiest to add the rest of the dough by flattening small pieces and setting it on top of the caramel.

Bake for 20 to 25 minutes or until the edges of the bars are golden brown. Remove from the oven and allow to cool completely. Cut and serve!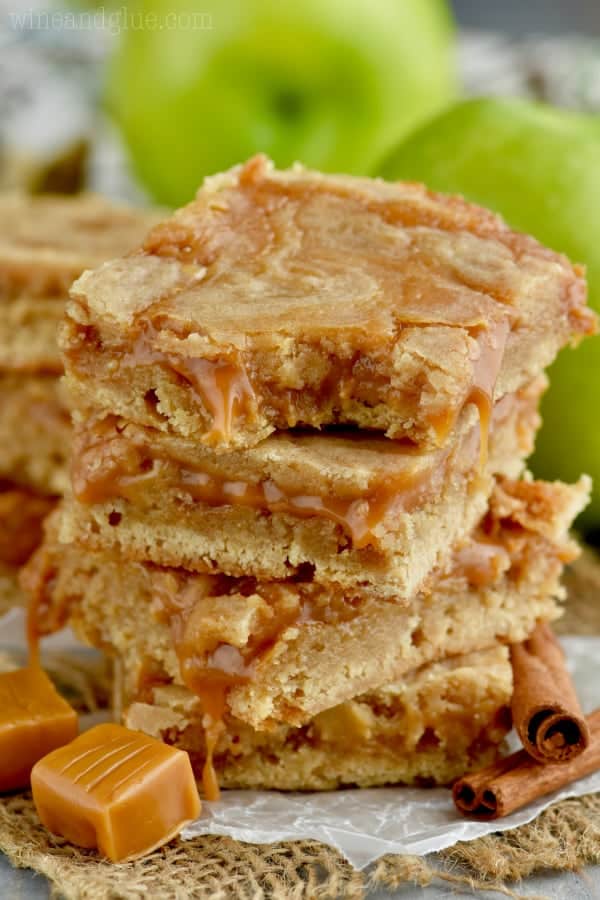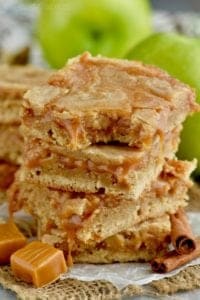 did you make this
Caramel Apple Bars
More fall treats for you to fall in love with:
This Simple Apple Tart is perfect for a get together!
This Caramel Apple Slab Pie needs to be on your fall bucket list!
This Pumpkin Pie Smoothie would be a great lighter way to taste fall!

This is a sponsored conversation written by me on behalf of Horizon. The opinions and text are all mine.