This Caramel Apple Sangria is only FOUR ingredients and it is delicious! It tastes just like a caramel apple! Such an easy white wine sangria recipe!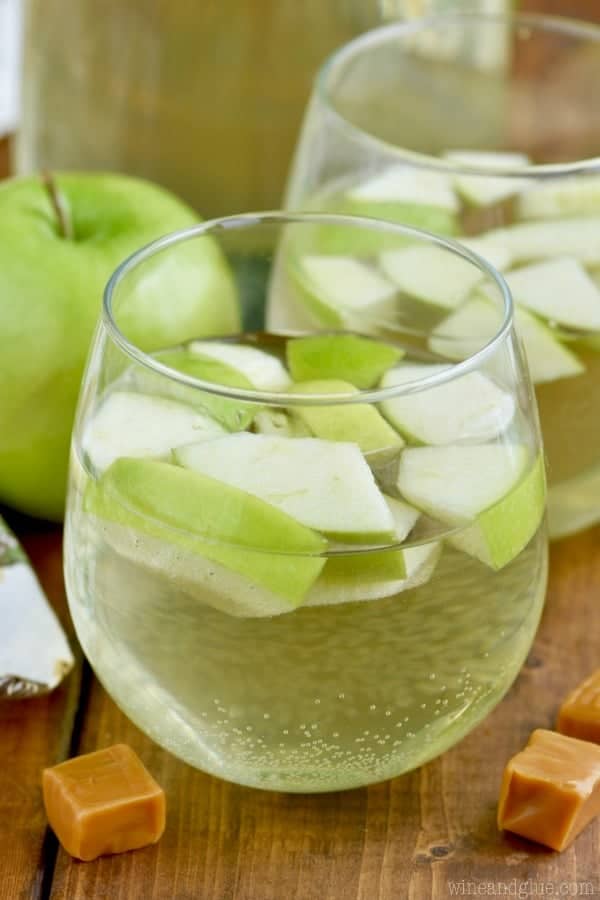 The other day someone said something to me and it has me totally thinking about my parenting. Like I'm watching my own parenting now with a microscope.
It's annoying.
It's made me question if I'm patient enough with my kiddos. If I am too strict. You know, fun stuff.
I was talking about it with a friend the other day and she said, "Lisa. You are a good mom. It's the end of summer vacation. You CANNOT judge your parenting based on right now. Give it a solid two weeks before you even think about it again."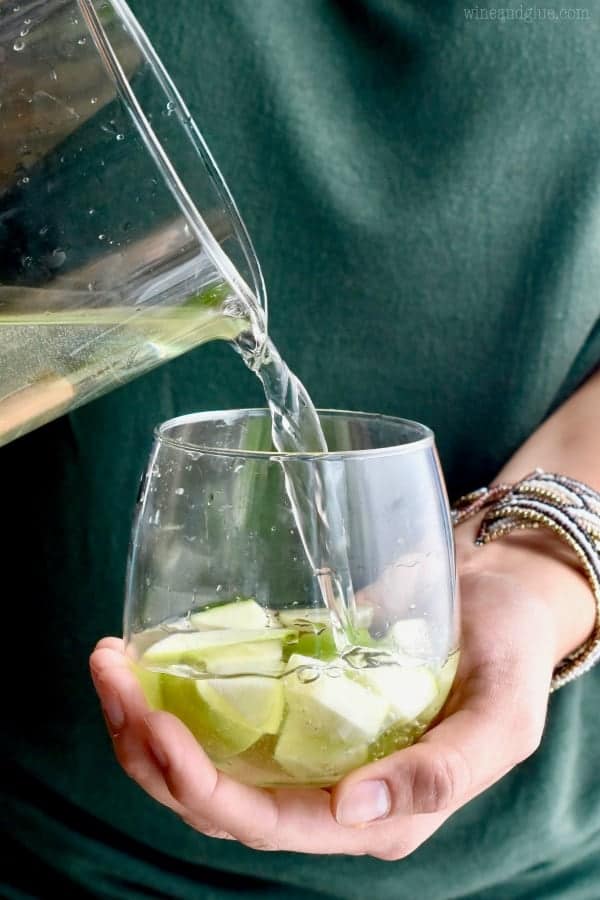 So smart. It's important to keep smart friends around. The good news is that I've been a lot more patient with my kids, which I think they kind of needed as they struggle with the end of summer and mixed feelings about going back to school. The bad news is that patience is hard guys, lol. And usually it means by the end of the day I need a nice glass of . . . you know, anything.
TURNING CARAMEL APPLES INTO SANGRIA
Enter my new best friend, Caramel Apple Sangria. Because you know that I don't just do caramel apples as a caramel apple. I do Caramel Apple Poke Cake. I do Caramel Apple Cobbler. I do Caramel Apple Milkshake. And now this! You guys, it's so good. I "tested" the various ratio options when it comes to the liquor you put in this, deciding just how much caramel vodka and just how much apple liquor was needed to make the most caramely appley taste and we have a winner, friends!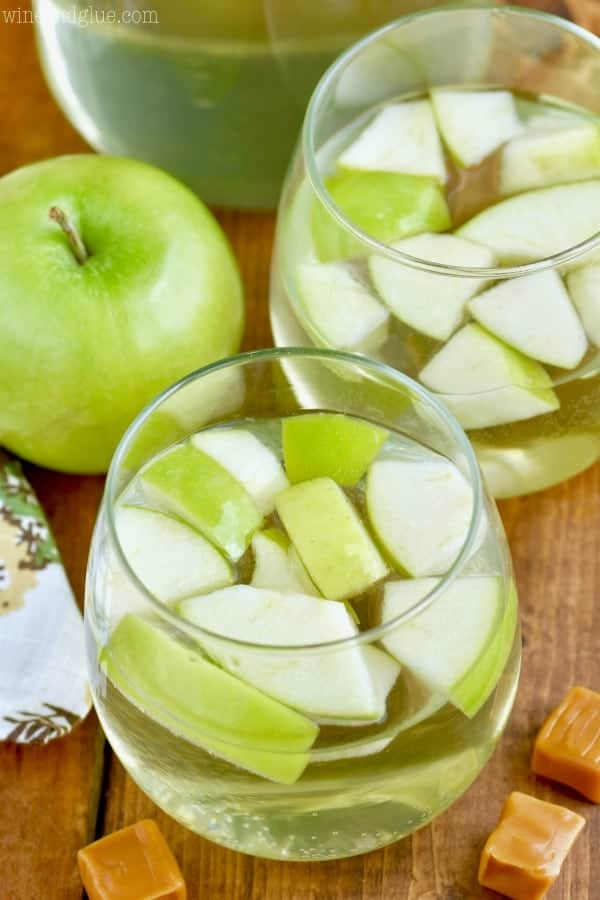 FOUR INGREDIENT CARAMEL APPLE SANGRIA
And did I mention that this is only four ingredients? Awesome, right? So if you lose your patience with your kids, you are only four ingredients away from Caramel Apple Sangria. A few sips and then reset.
And you know what? Losing your patience with your kids is just a good lesson in teaching them humility. You just apologize and they get a good life lesson. And you get sangria. Win – win.
If you need more good fall sangria recipes, make sure you look at this Cranberry Orange Sangria, this Easy Holiday Sangria, this Blackberry Apple Spooky Sangria, and this Halloween Sangria!
Click here for more sangria recipes.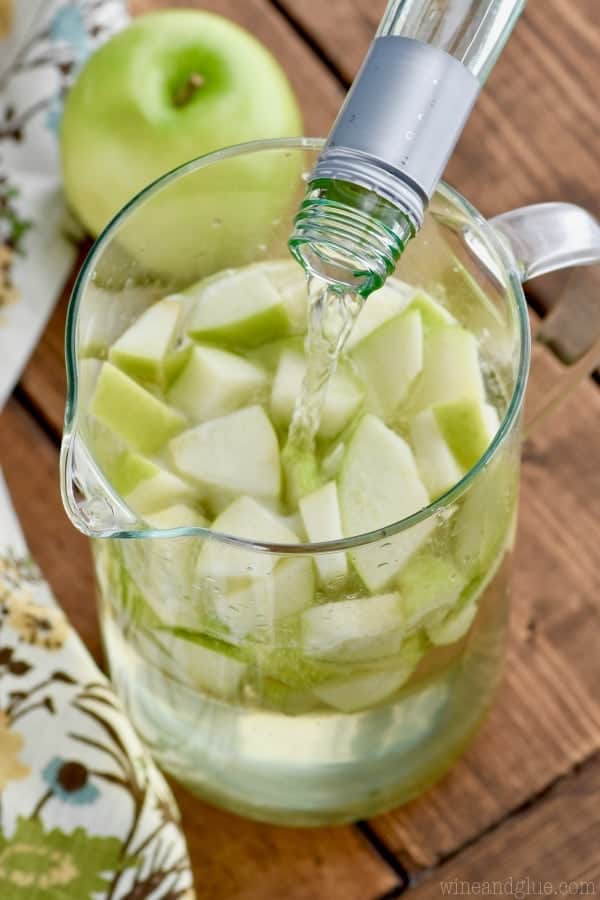 WATCH ME MAKE CARAMEL APPLE SANGRIA
Print Recipe
Caramel Apple Sangria
This Caramel Apple Sangria is only FOUR ingredients and it is delicious! It tastes just like a caramel apple! Such an easy white wine sangria recipe!

Ingredients
1/2

cup

caramel vodka

1

cup

apple liquor

see note

750

ml

white wine

I used a sparkling white

2

green apples cut up

see note
Instructions
Combine all of the ingredients in a large pitcher.

Chill and serve.
Notes
If you decide to double this recipe, and I really think that you should, you don't need to double the number of apples in it. It will still be delicious with two.
I used Apple Pucker, but there are lots of great apple liquors on the market and any will do!
Caramel Apple recipes from friends that you can't miss!
This Caramel Apple Freezer Pie from The Cookie Rookie is totally genius!
I cannot wait to try this Caramel Apple Cream Cheese Spread from She Wears Many Hats!
These Cinnamon Caramel Apple Energy Bites from Cupcakes and Kale Chips is such a snacking win!
Other sangria recipes you have to try!