These Carrot Cake Rice Krispies® Treats are an absolutely amazing twist on your favorite easy treat! I'm so happy to be partnering with Rice Krispies to bring you this fun and fantastic treat just in time for Easter! This is a sponsored post written by me on behalf of Rice Krispies®. As always, all opinions are my own.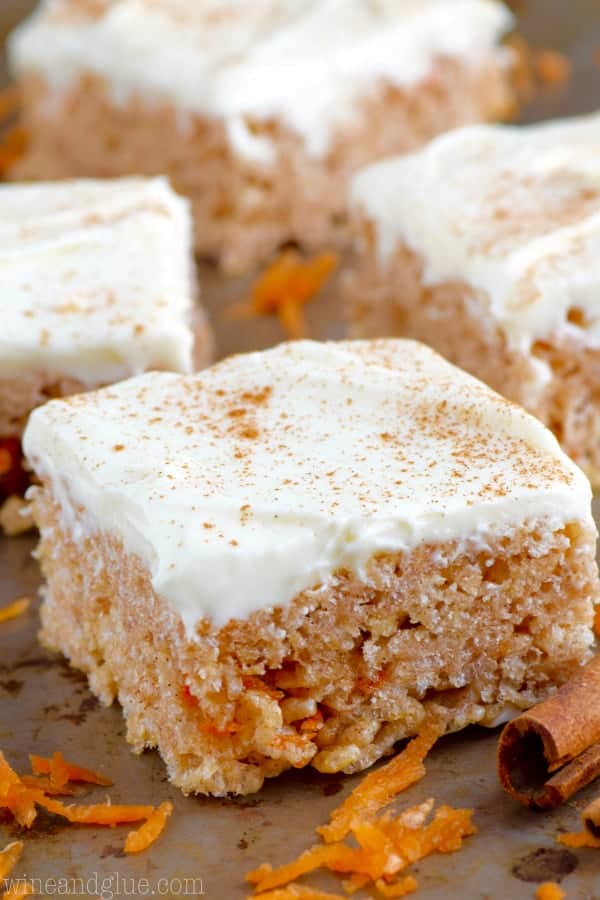 When I was growing up, every year we drove out to Colorado to visit my mom's parents and her brother. I LOVED going. It was the one time of year I saw my grandparents, and though I wasn't especially close to them, I have such warm fuzzy feelings when I think about that week every year that we spent there. Watching gameshows with my grandfather, smelling my grandmother's sauerkraut cooking, going hiking in the mountains, spending time with my cousins.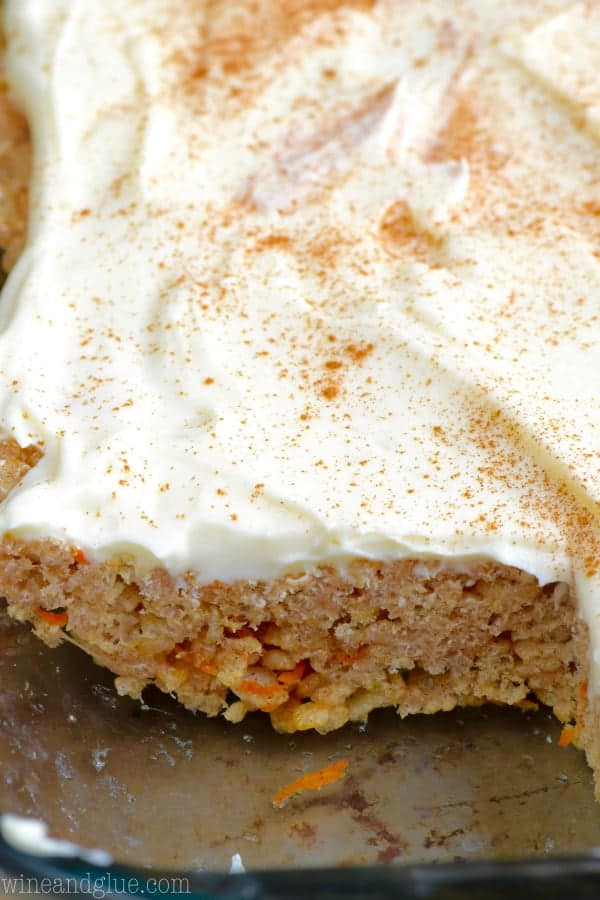 It was always around Easter, and we would do fun Eastery things. Like making bunny shaped cakes and coloring eggs. I even remember my gruff, totally not a softie grandfather dying Easter eggs with us.
So now when I think of starting Easter traditions with my own kids, I think about that week with my mom's family and I get all mushy and sentimental and just want to make it all so special for them. I want there to be coloring Easter eggs, building houses out of candy for candy bunnies to live in, Easter egg hunts, Easter basket scavenger hunts, and enough paper grass to drive me insane. (Hint: That's like anything more than two straws.)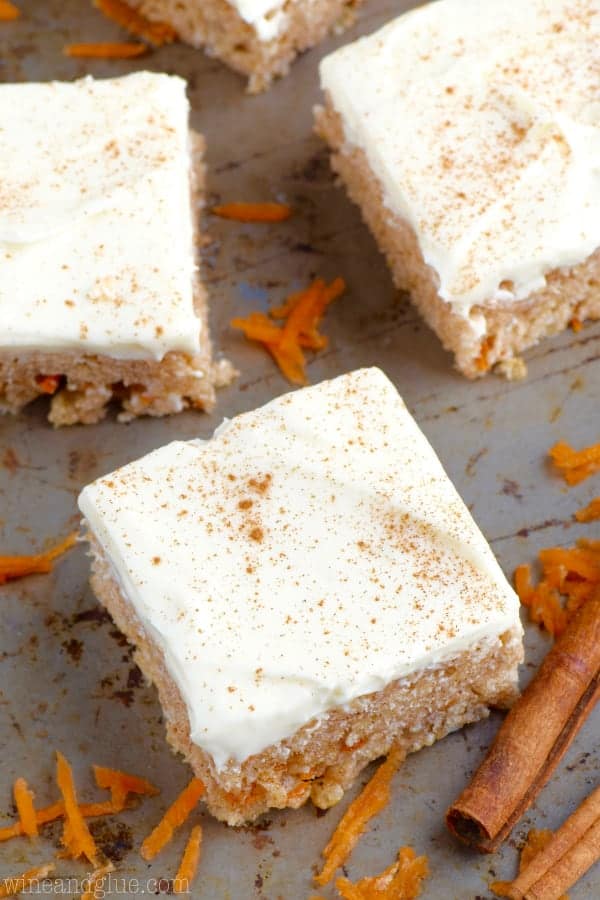 And treats! There always need to be homemade treats.
Easter treats are so fun to make, because there are SO MANY DIFFERENT OPTIONS! But I especially like these Carrot Cake Rice Krispies® Treats. You guys. These are treat perfection. First of all, they seem way fancy, but they start with the basic Rice Krispies® Treats recipe, so you know they are super easy. But! They pack in so much flavor that they are absolutely addictive. And then you put the cream cheese frosting on top, and you take an amazing treat to a whole other world.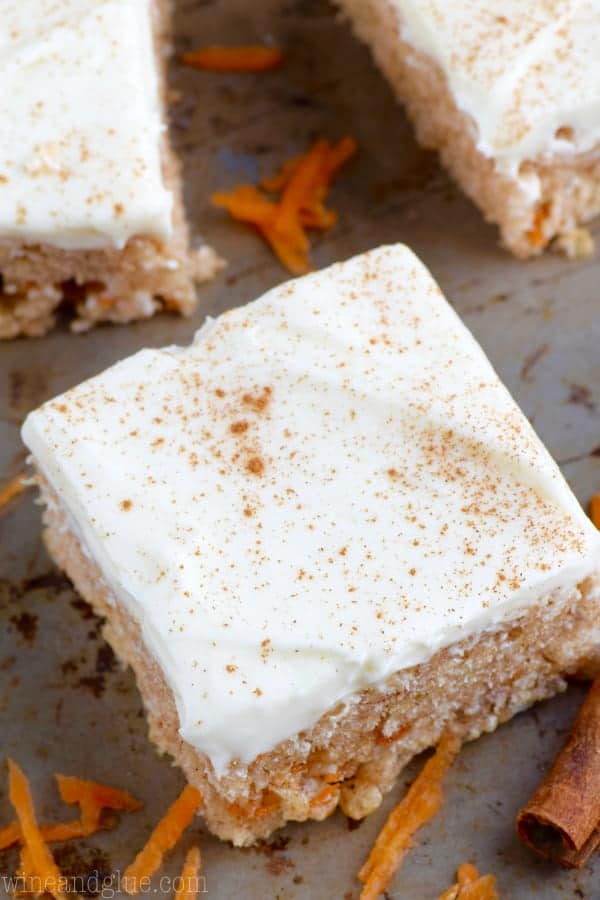 A few things about this recipe: While it is very easy, you do really have to follow the steps, or you will end up with Rice Krispies® Treats that taste stale. You need to throw the spices in with the marshmallows to fully distribute them, but you need to wait on the carrots until the cereal is completely coated by the marshmallows. That way they will make a nice little coating for the cereal and it won't soak up the moisture from the carrots. Finally, when I say a quarter cup of carrots, I really mean it. If you add more, you risk the stale soggy issue. But if you follow the recipe as written, you will end up with a pan of Rice Krispies® Treats that you know you should share with everyone but that happens to begin and end with you. ;)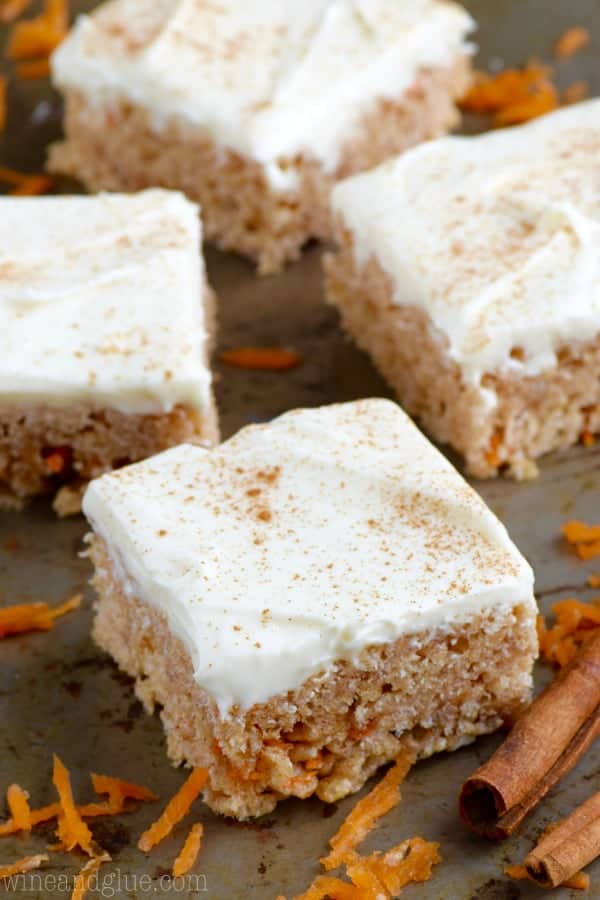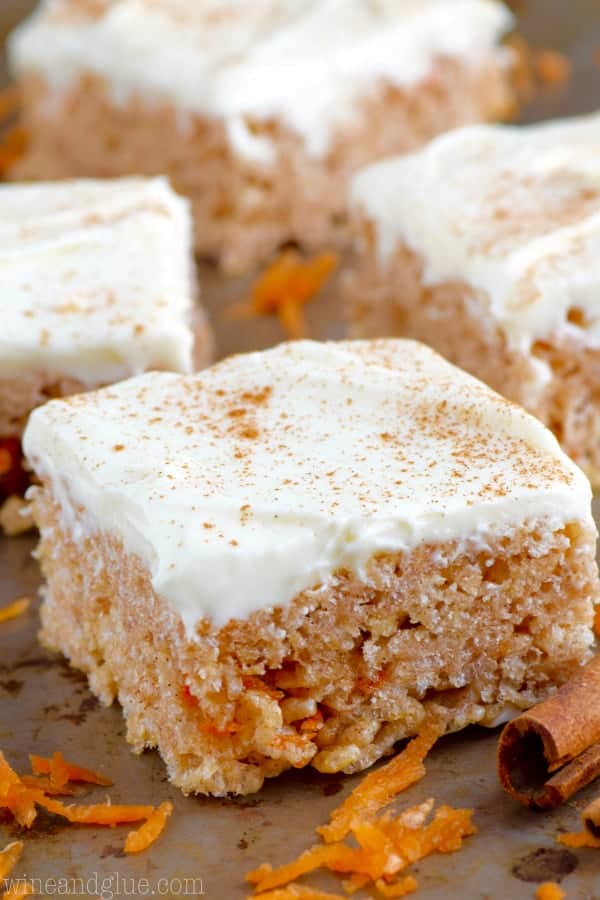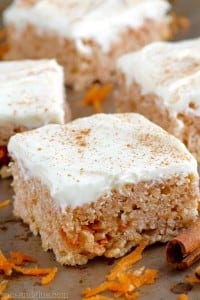 Carrot Cake Rice Krispies Treats
Ingredients
3

TBSPs

unsalted butter

10

oz

marshmallows

1 1/2

tsps

cinnamon

1/2

tsp

nutmeg

6

cups

Rice Krispies®

1/4

cup

finely grated carrots

8

oz

cream cheese

room temperature

4

TBSPs

unsalted butter

room temperature

2

cups

powdered sugar

not packed

2

tsps

vanilla extract
Instructions
Spray a 9 by 13 inch pan with cooking spray.

In a large saucepan, melt 3 TBSPs butter. Once melted add the marshmallows stirring regularly until melted. Add the cinnamon and nutmeg until well distributed. Remove from the heat and stir in the Rice Krispies®, stirring so they are fully coated. Finally, add the shredded carrots and pour into the 9 by 13 inch pan. Push down and allow to fully cool.

Beat together the cream cheese, butter, powdered sugar, and vanilla extract until smooth. Spread over the cooled Rice Krispies® Treats and serve.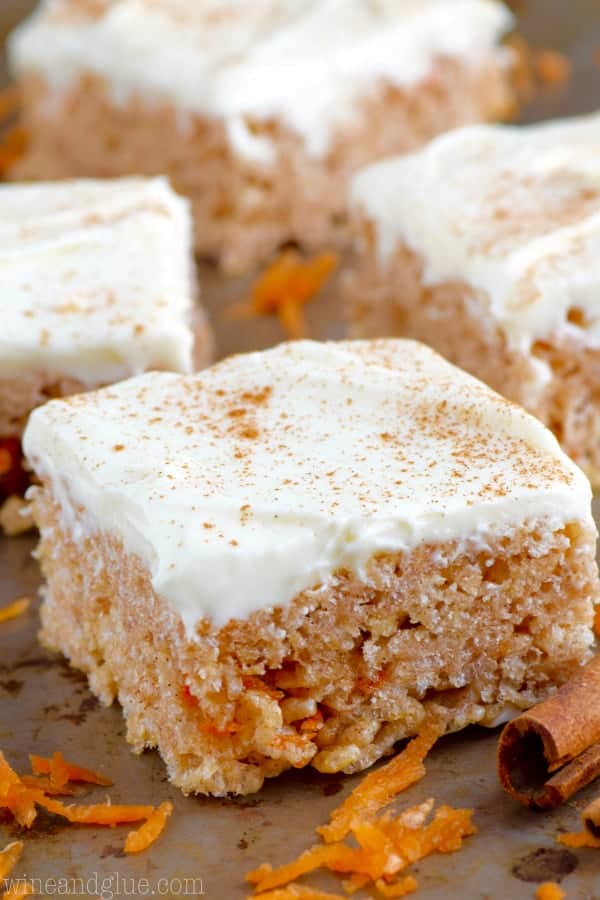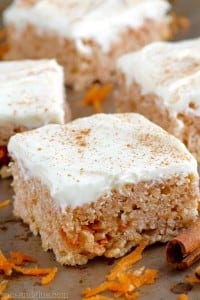 did you make this
Carrot Cake Rice Krispies Treats
For more great Easter recipes using Rice Krispies®, be sure to follow along on Facebook!