This Cherry Vanilla Bean Fudge is easy to make and just FIVE ingredients. So deliciously irresistible too!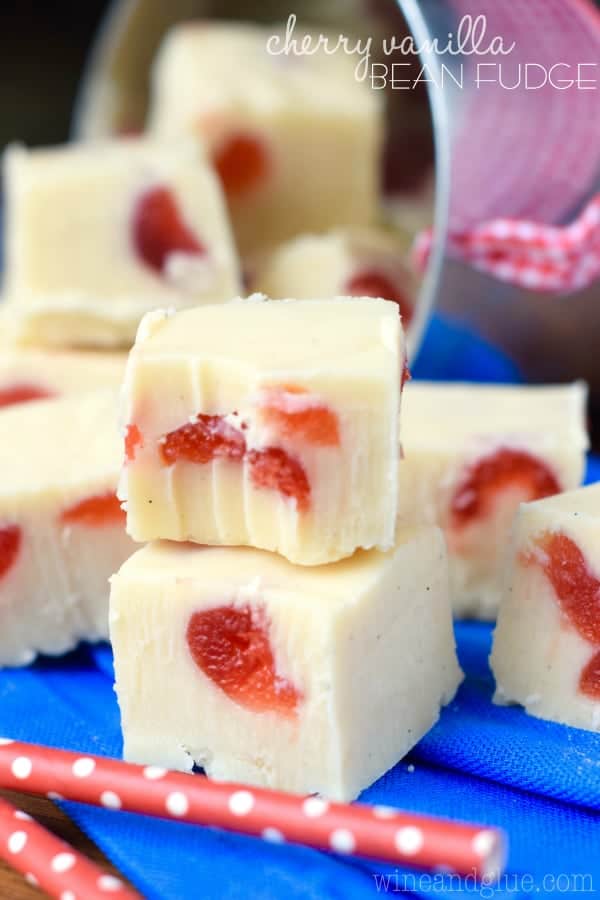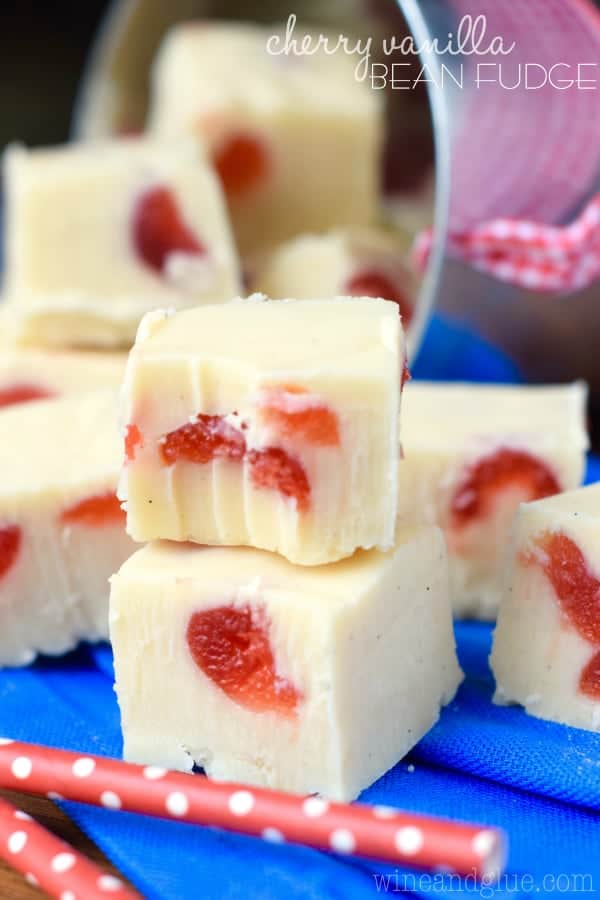 Over the weekend we celebrated our sweet little Piper turning one!
I can't believe that she is already one. (If you want to read her crazy birth story you can find it HERE.) Since we tried to get pregnant so hard with our other three kids, but Piper just kind of burst into our lives with joy and love . . . I affectionately refer to her as our Cherry On Top.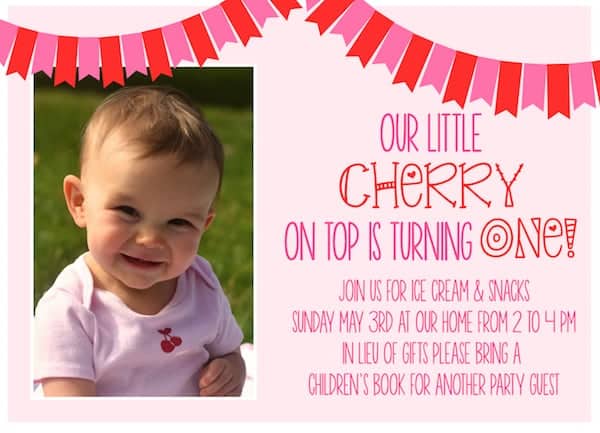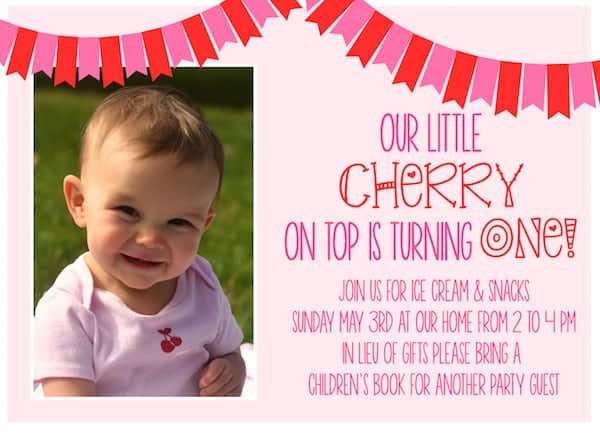 So we had a Cherry On Top birthday party! I have three kids now, and a blog that has become a full time job . . . so yeah, I didn't go all Rainbow Party on this one. We did have an ice cream bar (you know, with cherries for on top) and Cherry Sangria (I made a double batch and it still wasn't enough).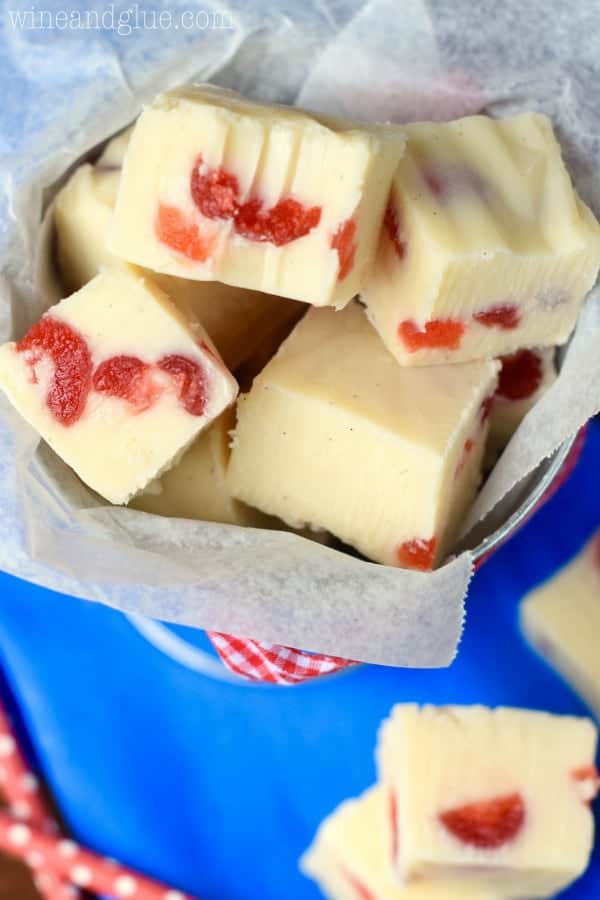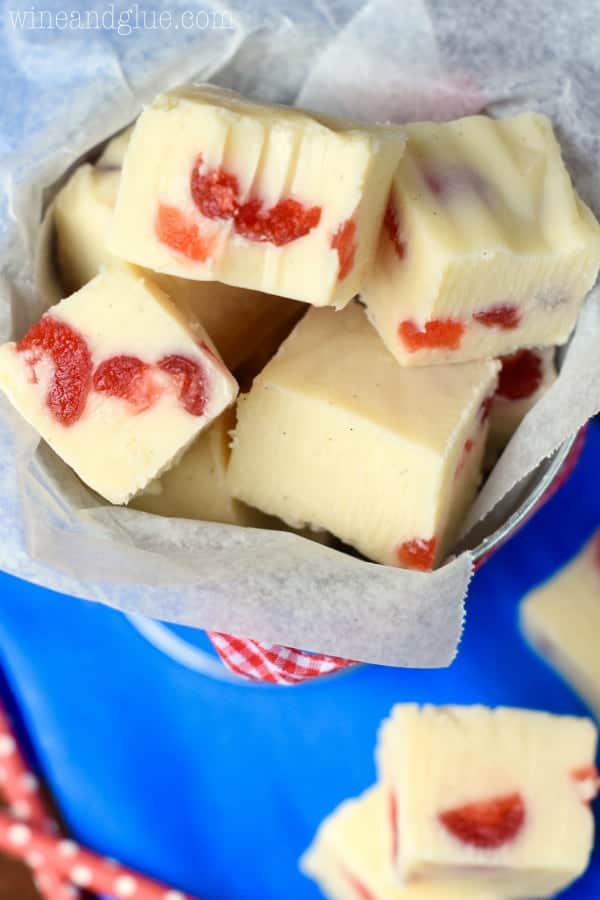 And as a party favor, we had Cherry Vanilla Bean Fudge!
Guys, I think I'm always going to give away fudge as a party favor from here on out. First of all, I was able to give it out in these absolutely adorable cups that totally fit my theme. (I also made a label for the top that I'm going to share with you later this week!)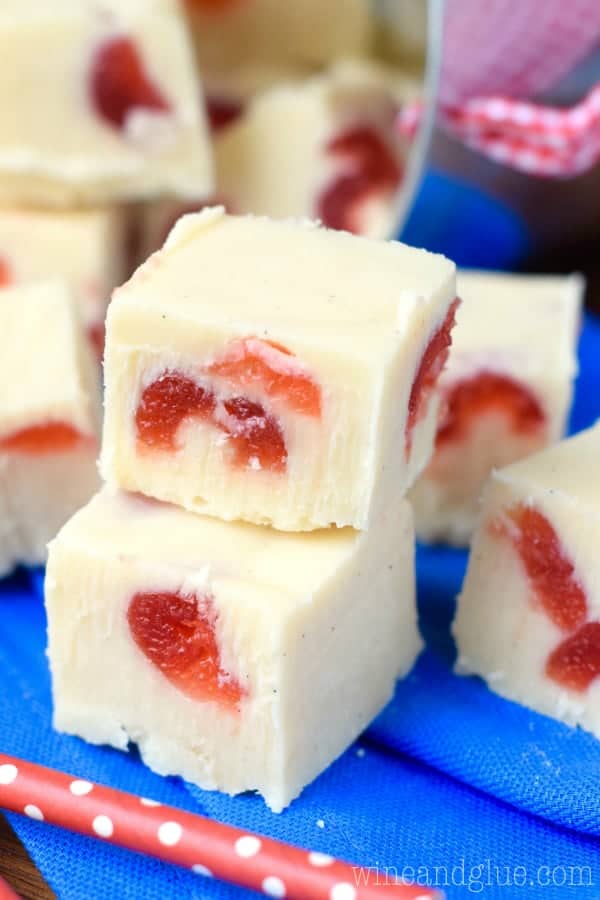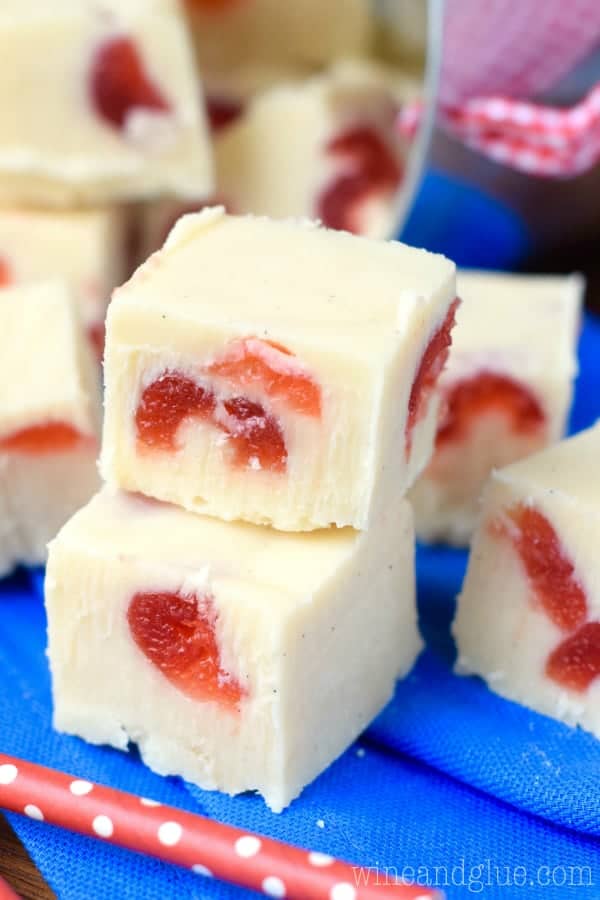 Second of all, it is SO EASY. I love making fudge because it is SO EASY. You melt a bunch of stuff together, pour it into a square foil lined pan, wait for it to get hard, cut, and done. And then you do it three more times because you want to make your party guests fat. SO EASY.
You guys this fudge is crazy good. You are going to love it. Here's the caveat. You need to use these candied cherries. You absolutely totally can use maraschino cherries, but if you do, you need to keep it refrigerated unless you are putting it in your mouth. In the fridge and cold, totally fine. Out for a few hours, mushy mess. So, use candied cherries or proceed with caution. The choice is yours.
Here's my other caveat. I haven't tried making it without the vanilla bean paste. I suspect that it will still be insanely delicious, so if you don't want to drop the cash for the paste, I still think you can make it. BUT! Vanilla bean paste can be found at TJ Max and Marshall's for like $6 a bottle when you are lucky. #worthit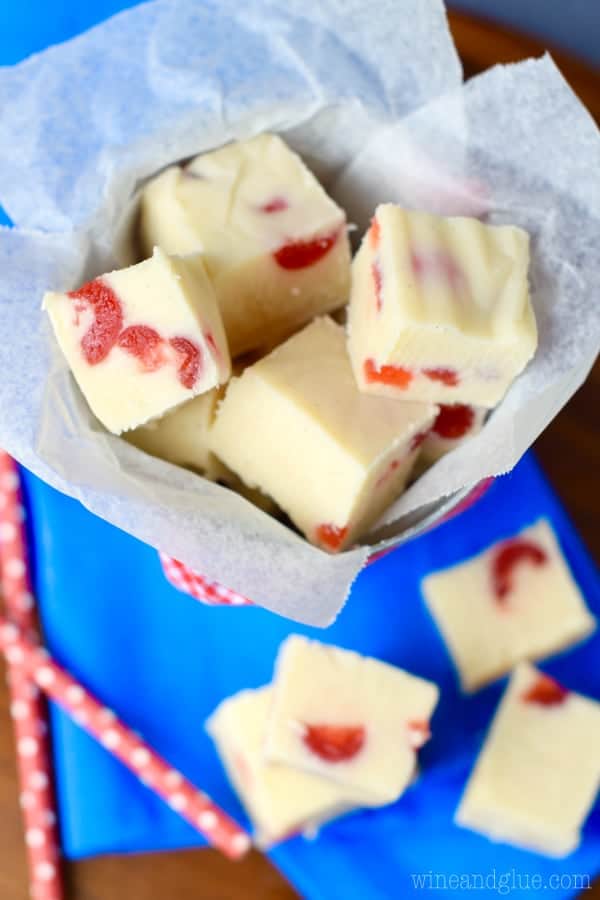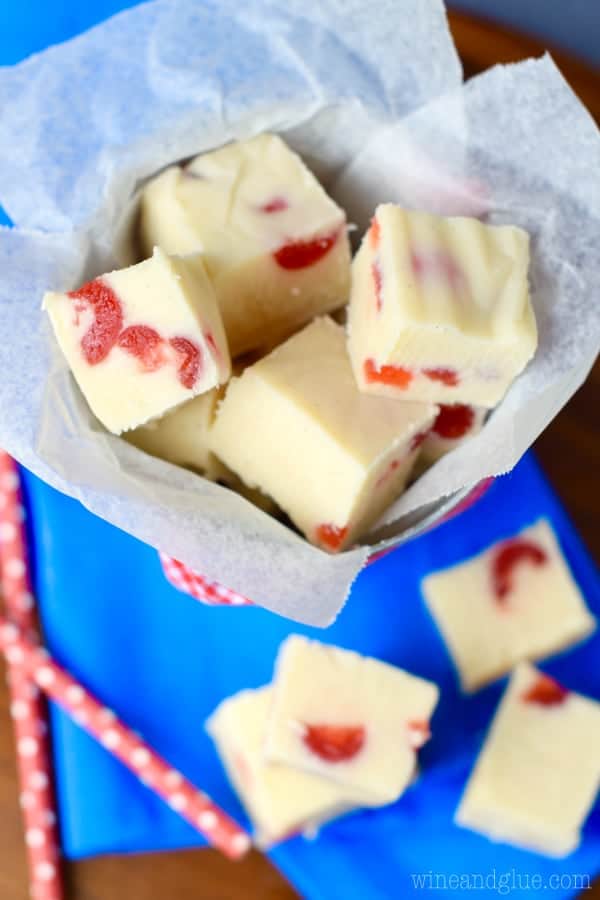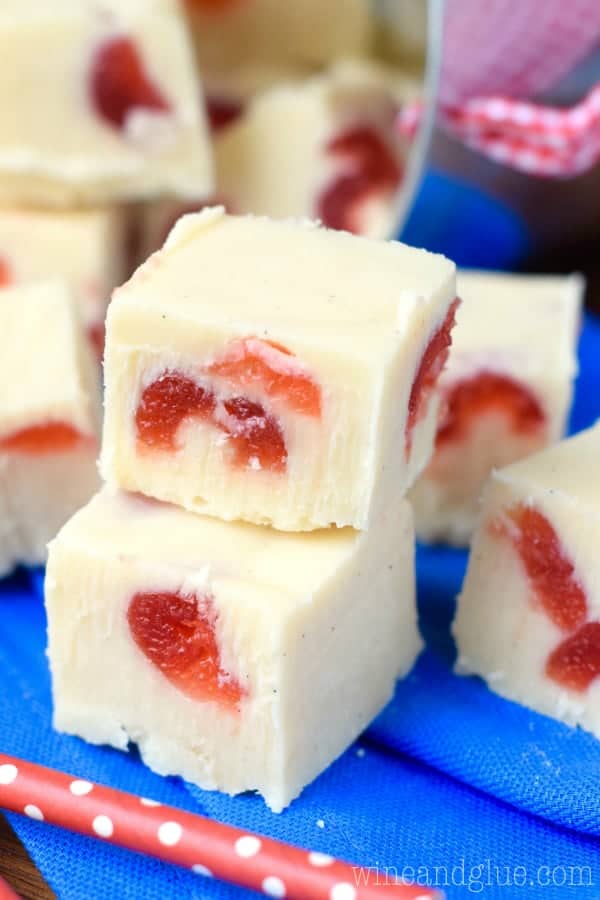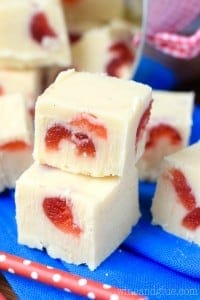 Cherry Vanilla Bean Fudge
Ingredients
3

cups

white chocolate chips

14

oz

sweetened condensed milk

1 1/2

tsp

vanilla bean paste

1

tsp

vanilla extract

1/2

cup

candied cherries chopped
Instructions
Line an 8 by 8 inch glass dish with aluminum foil and set aside.

Melt the chocolate chips and the sweetened condensed milk in a medium sauce pan over medium heat, stirring regularly.

Once completely melted, stir in the vanilla bean paste, extract, and then the cherries.

Pour into the foil lined pan. Put in the refrigerator and let set overnight. Cut into square pieces and store outside of the refrigerator for up to two weeks in an airtight container.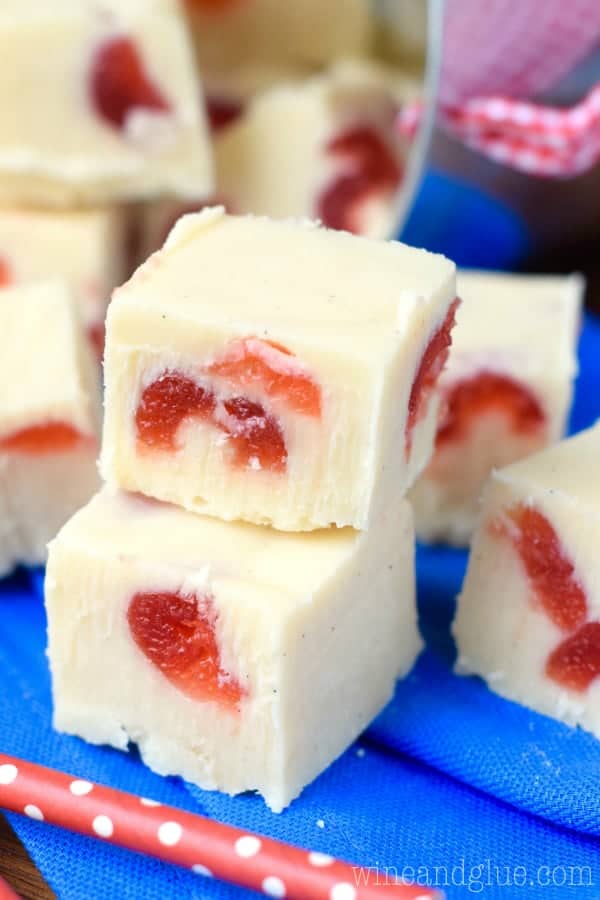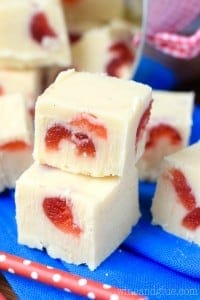 did you make this
Cherry Vanilla Bean Fudge
You might also like
Spicy Mexican Chocolate Fudge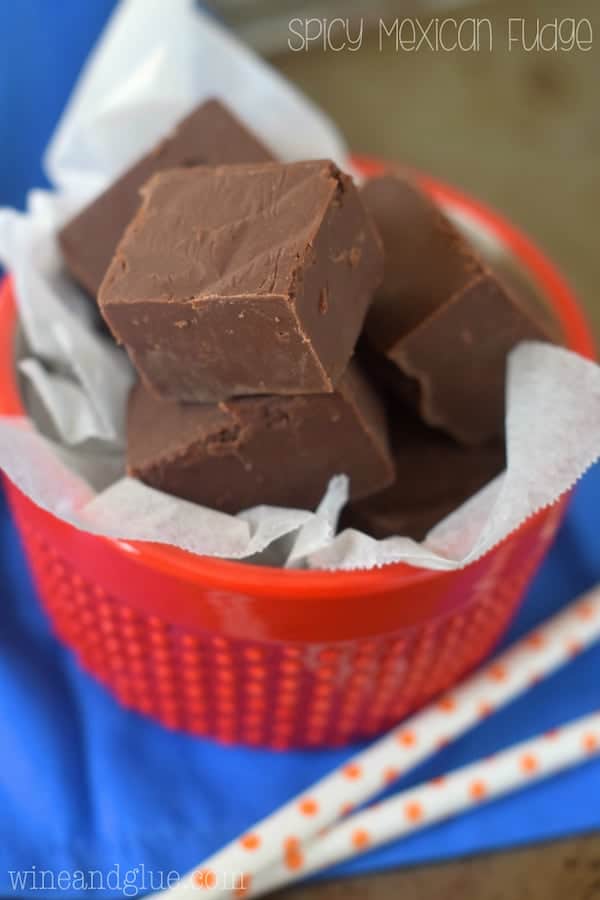 Fudge Stuffed Oreos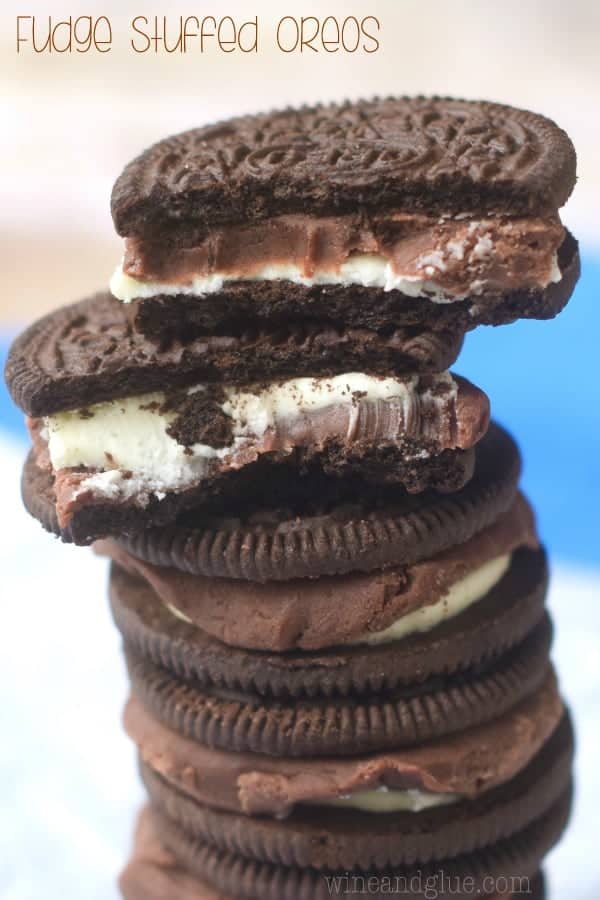 This post contains affiliate links, if you click on them and then make a purchase, I make a small amount of money at no additional cost to you. Thank you in advance for supporting Wine & Glue.