Chicken Fajita Stuffed Peppers are a delicious dinner recipe that even your picky eater will love! Full of fajita flavor and simple to make, your family will love this recipe!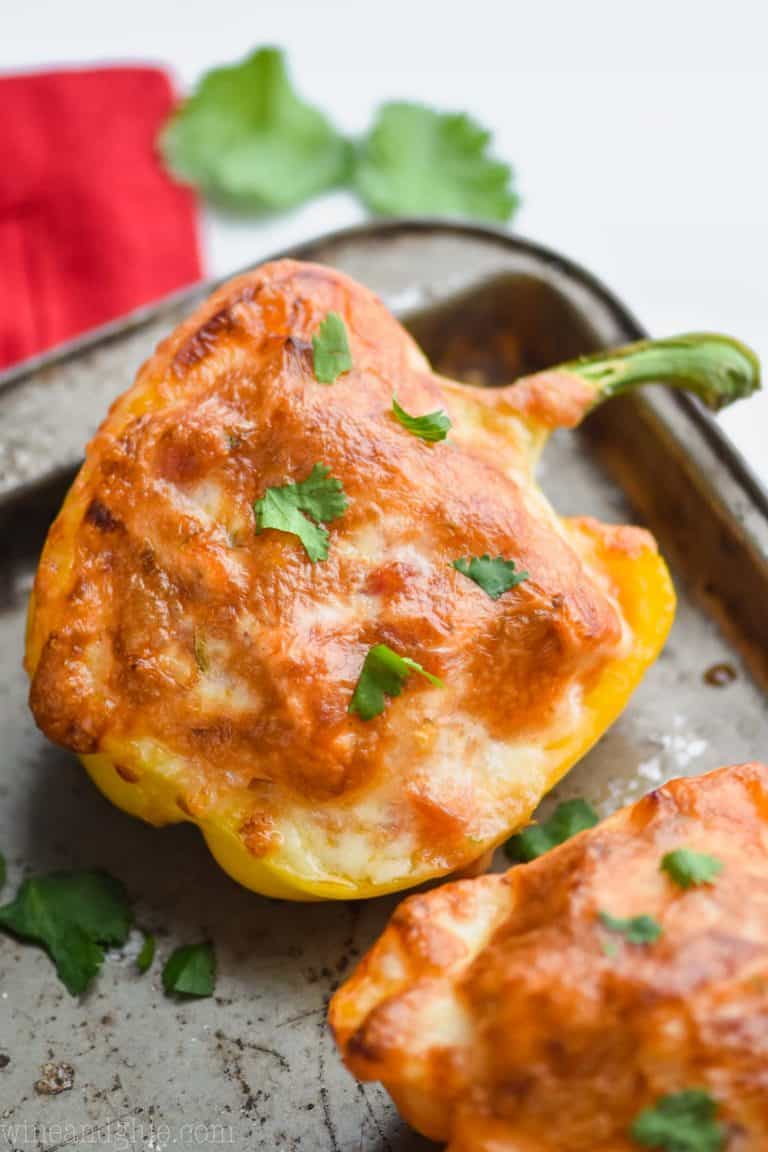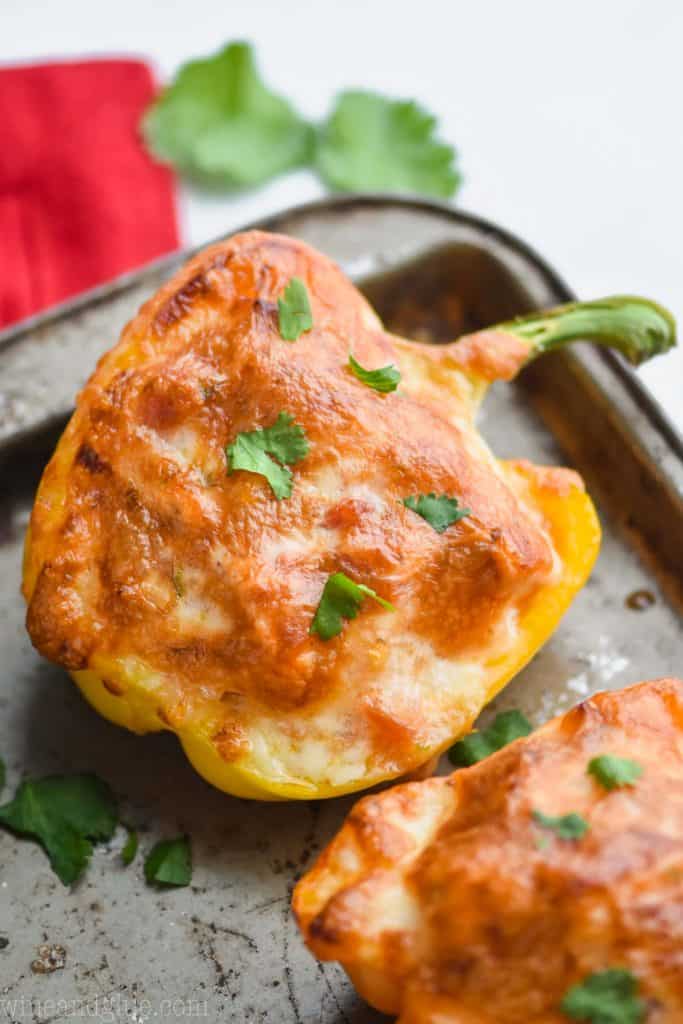 A lot of people who know me personally ask me why I am not the size of a small house. Probably because I spend my days making things like The Best Cream Cheese Frosting and Peanut Butter Blossoms.
No lie, it's really hard. And it's something I spend too much time thinking about.
There are a few things that help me:
My body feels a lot better when I eat in moderation.
Denying myself treats often back fires. But just one good piece of chocolate after dinner can feel really satisfying.
Forgiving myself when I don't eat in moderation and moving forward works well.
And above all else, eating balanced dinners full of good for my body ingredients works the best.
These Chicken Fajita Stuffed Peppers are a perfect example. Lots of veggies, a lean protein, and carbs and cheese to fulfill my cravings make this an ideal weeknight dinner.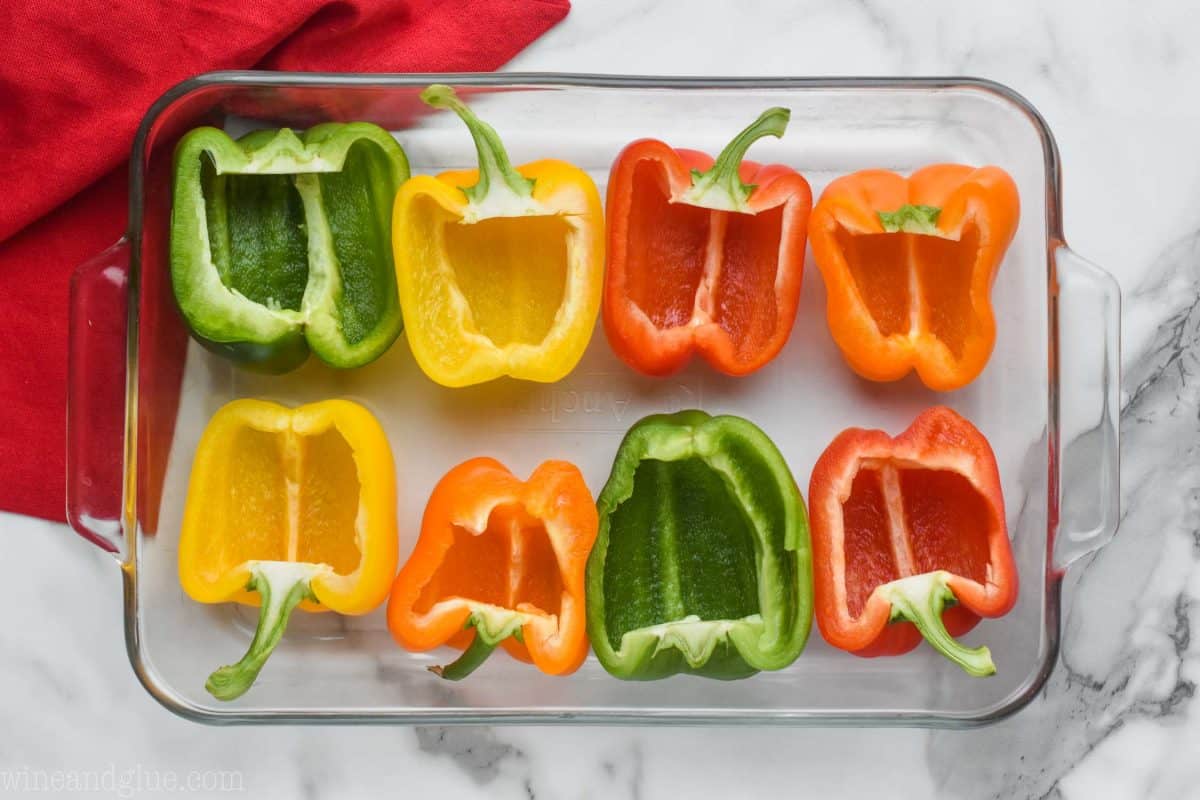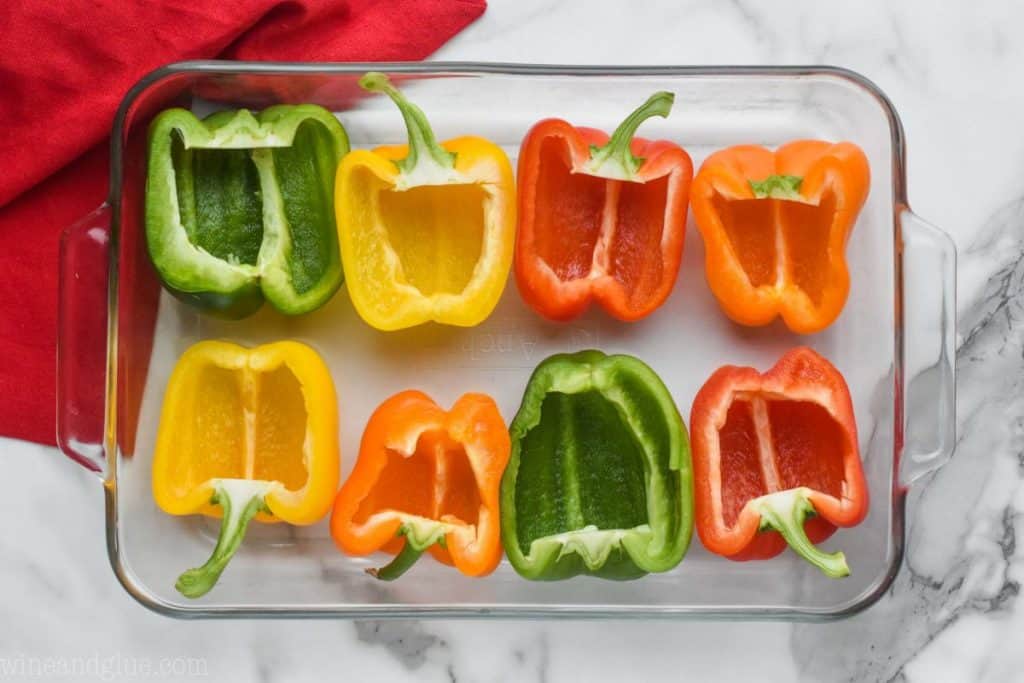 HOW TO MAKE CHICKEN STUFFED PEPPERS
These chicken stuffed peppers are very easy, but they do have a few steps that turn it into a success.
Once you make it once, you'll barely need to read the instructions again.
Preheat your oven to 450 degrees.
Add approximately 1 1/2 cups of water to a baking dish. Carefully add your pepper halves and cover the dish with aluminum foil. Bake the empty peppers while you make the filling.
Sauté red onion and garlic in olive oil.
Add in the chicken and spices.
Add in diced tomatoes and a touch of lime juice and let simmer for 5 minutes.
Add the filling to the pre-baked pepper shells, and cover with cheese.
Bake, covered, for 20 minutes.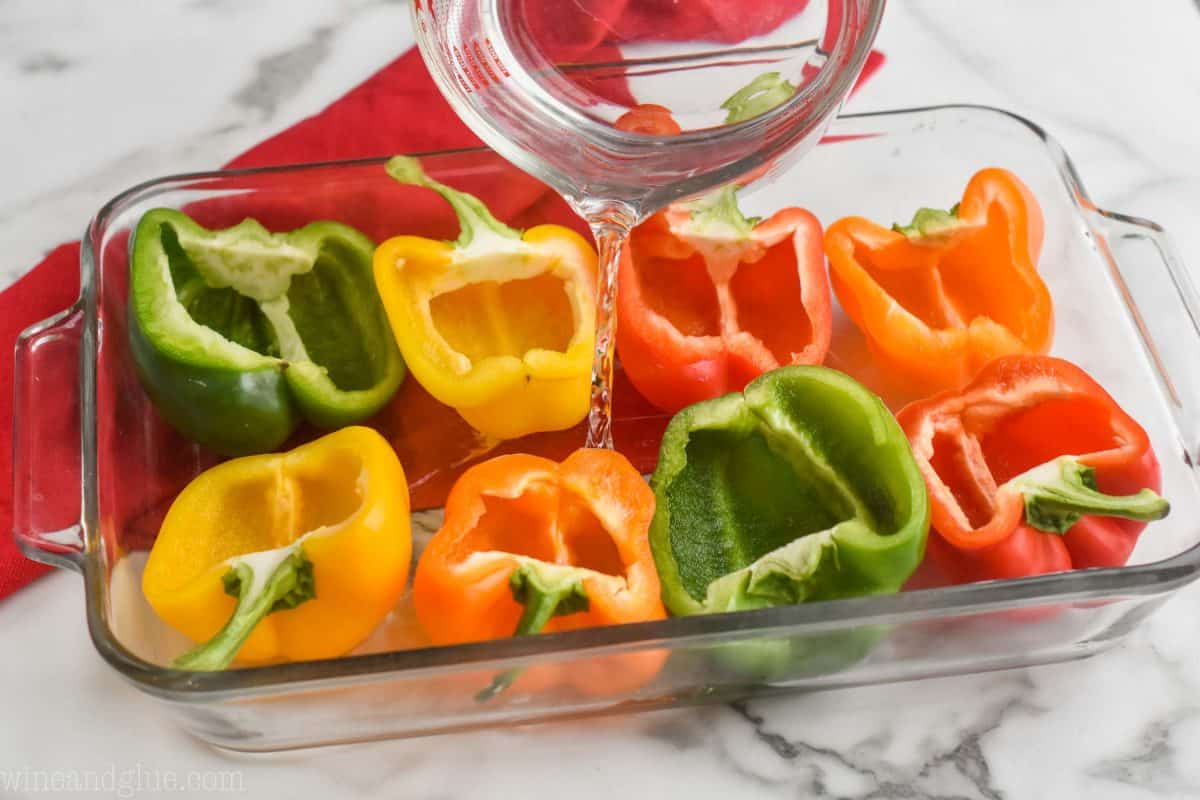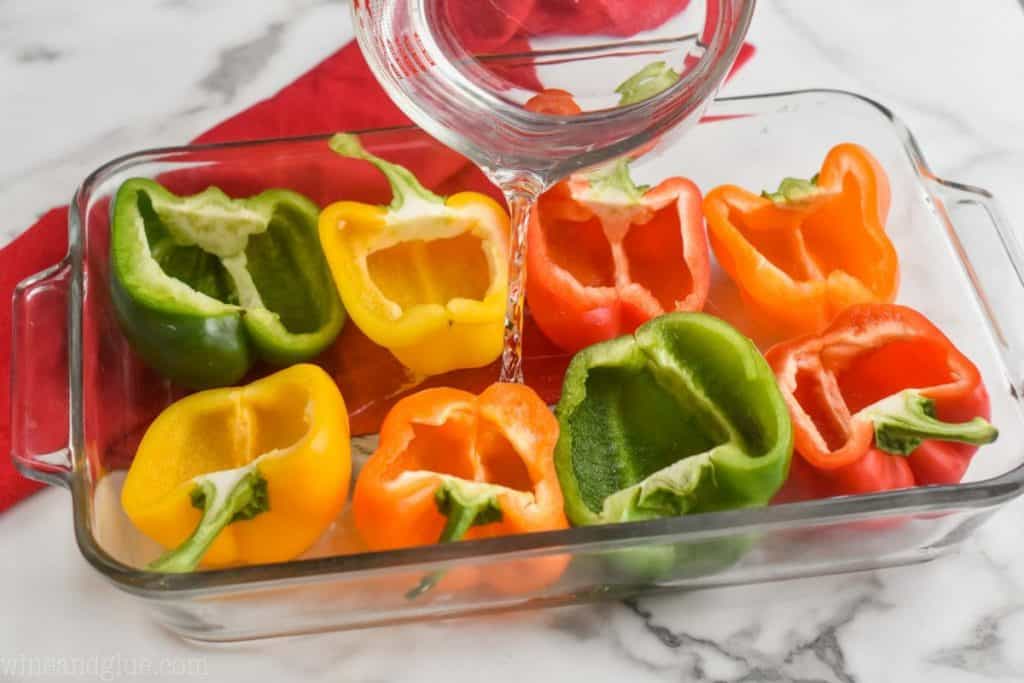 WHY WE PRE-BAKE THE PEPPERS
I love stuffed peppers. LOVE THEM. But unless you want them to bake for almost an hour, you really need to do something to soften the actual pepper.
Some recipes par-boil them. Others microwave them.
I love this idea of using our preheated oven and the time we are taking to make the filling to get the peppers soft. Then we just fill and give them a quick 20 minutes.
If you like your peppers with just the slightest crunch, cut that baking time down to 10 minutes.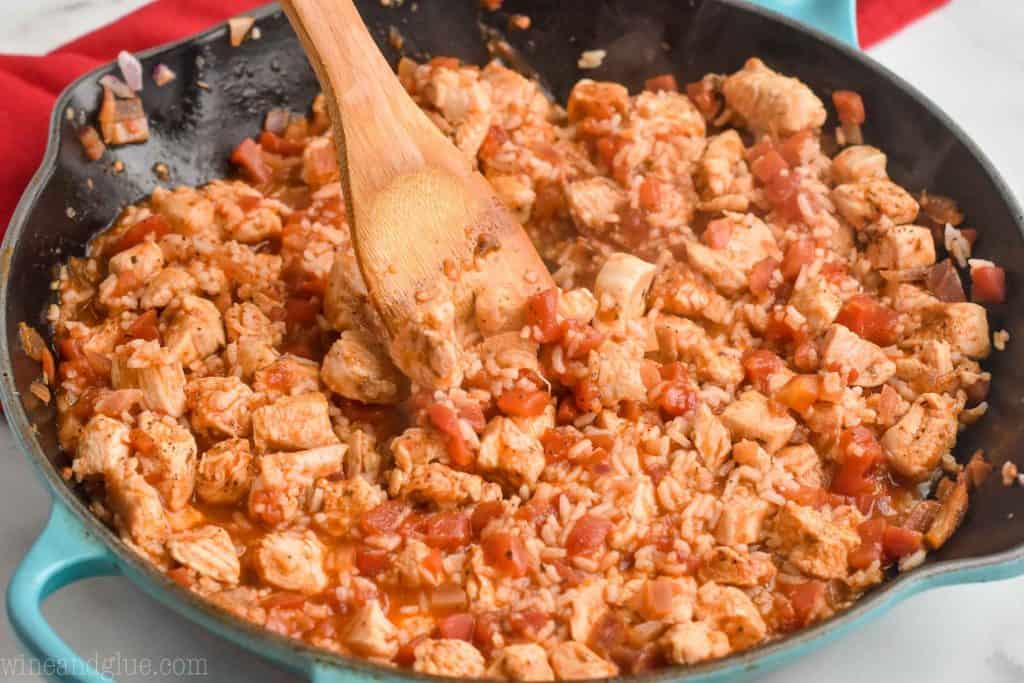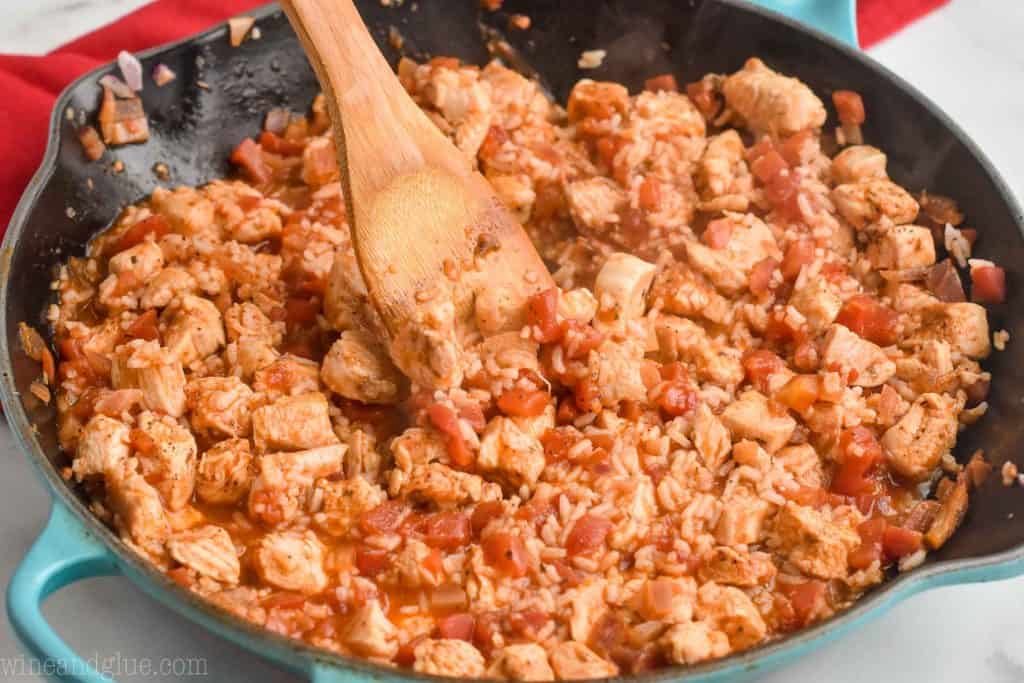 MAKE IT EASIER
If you want to cut some time off this recipe, use rotisserie shredded chicken! Doing this will cut about 10 minutes off this recipe!
After you have sautéed your onion and garlic, toss in 3 cups of shredded chicken.
Then immediately add in the spices, tomatoes, and lime juice and simmer for 5 minutes.
You can even use shredded chicken right from the freezer. It will just take slightly longer for your tomatoes to come to a simmer.
"GIVE ME BROWN CHEESE OR GIVE ME DEATH"
In my small circle of friends there was much debate on how the cheese should be on these glorious stuffed peppers.
The quote above is from a friend of mine, and I think you get where she stands.
The deeply browned and crispy cheese you see in these pictures is the result of 10 minutes uncovered in the oven.
In the recipe I recommend 5 minutes uncovered for some browning.
If you want none, like my sweet neighbor and dear husband, leave them covered for the whole baking time, and you get a pepper like you see below.
Which camp are you in? Brown cheese or no?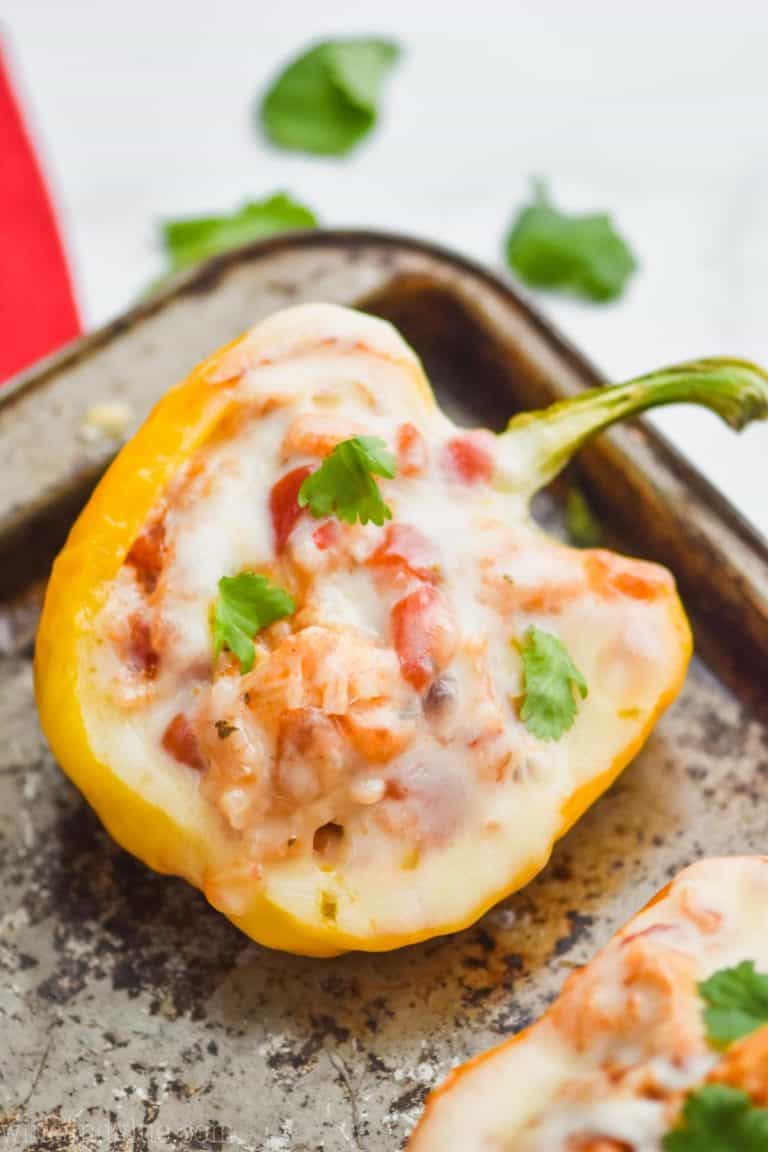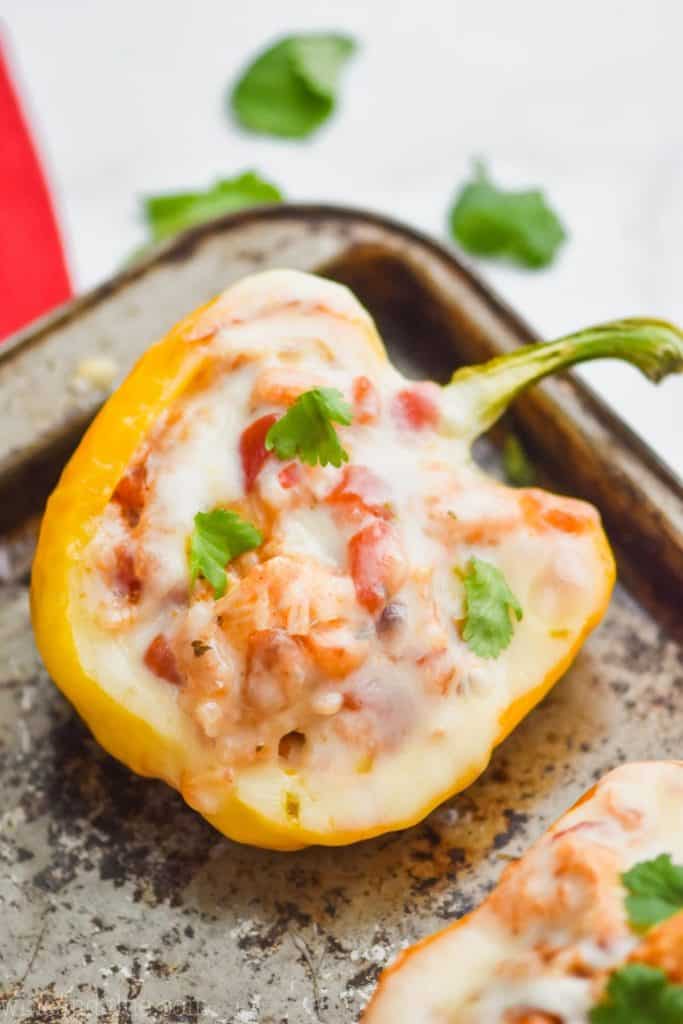 A NOTE ON SERVING SIZE
This recipe makes 8 half peppers. It is a great main dish for an adult, but will need a side dish to leave adults feeling full.
An alternative is to make this into very stuffed full peppers (see below), for four very big servings.
HALVES OR WHOLES
I made these stuffed peppers into halves, but you could easily just make four whole stuffed peppers.
You likely will have some filling left over as it is easier to over fill half peppers than whole peppers.
Each whole pepper would be roughly 340 calories as you would be using only four slices of cheese instead of 8.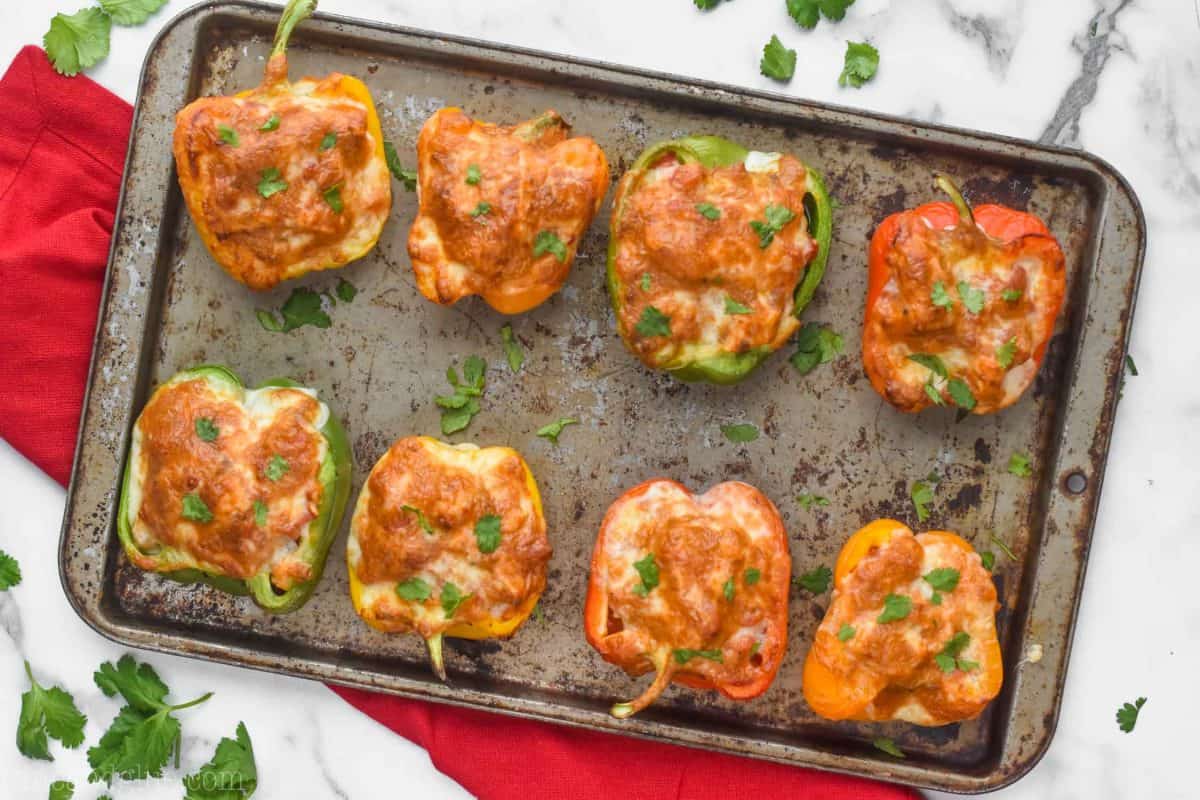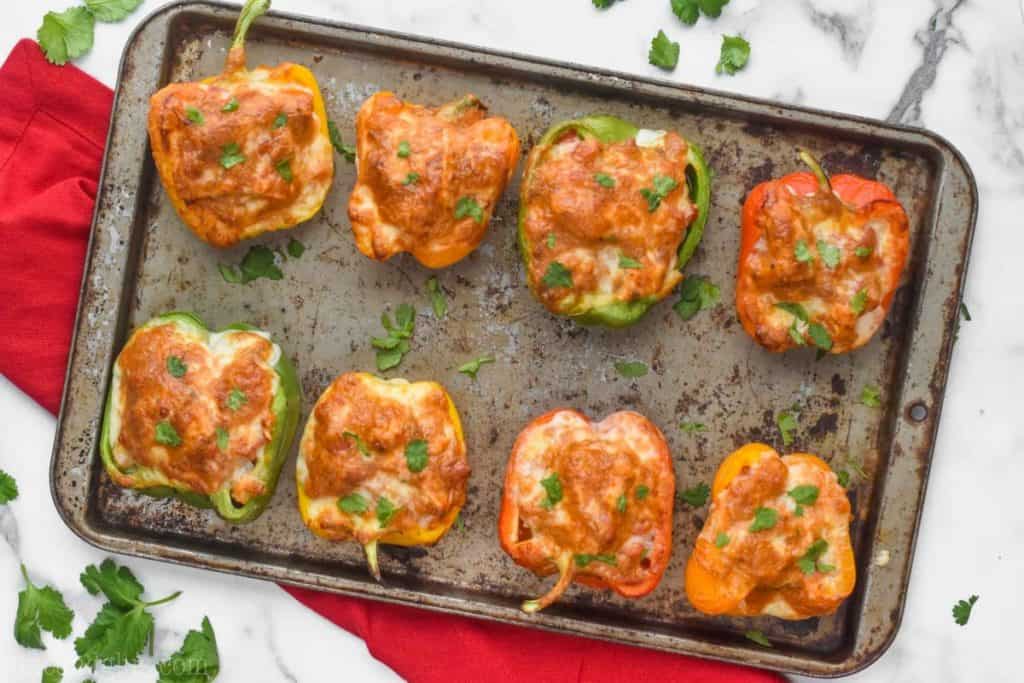 MAKING THIS RECIPE LOW CARB
This is a great recipe to make low carb. Simply leave out the rice, and as mentioned above make four full peppers.
You will have a delicious and satisfying dinner, that is on the healthy side.
OTHER GREAT STUFFED PEPPERS
If you like these you will also love my other stuffed pepper recipes.
These Italian Stuffed Peppers are one of Gavin's favorite recipes.
These Ground Turkey Stuffed Peppers are another favorite.
My Taco Stuffed Peppers are a very popular recipe for how easy they are.
And if you like stuffed peppers, but your family isn't into a pepper shell, try my Stuffed Pepper Casserole. It's a hit!
If you make this recipe or any of my other easy family dinner recipes, leave me a comment and let me know!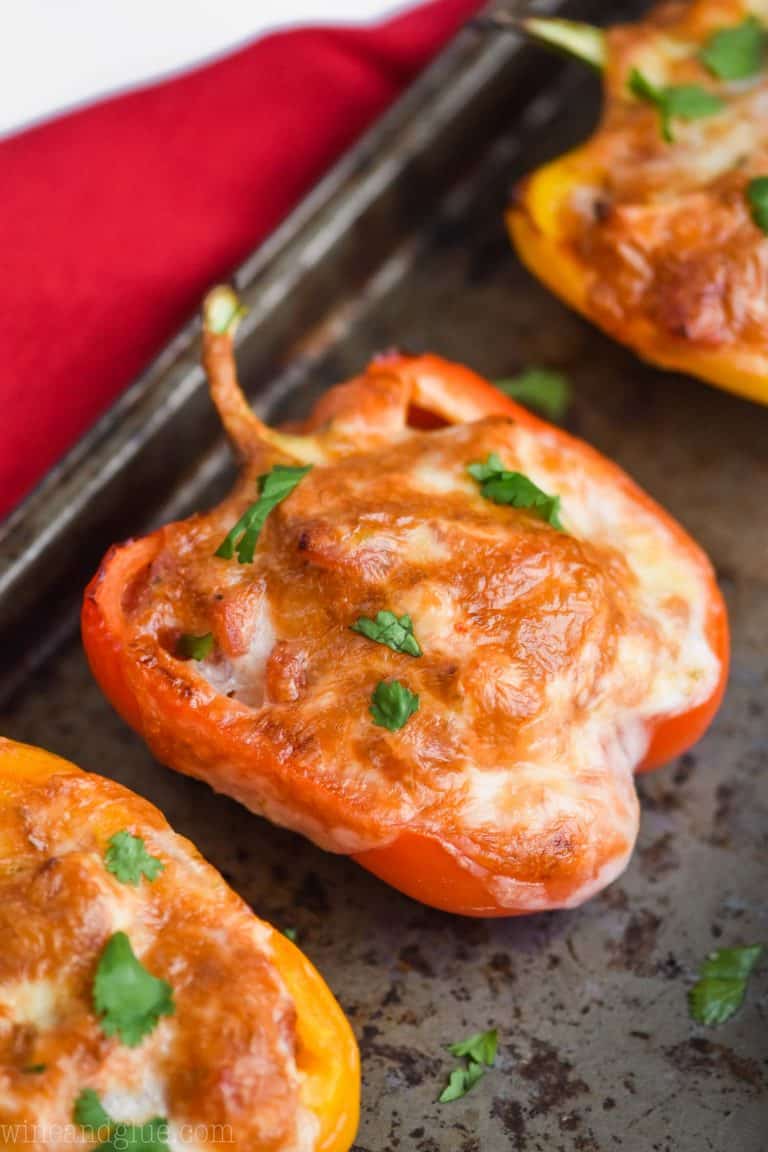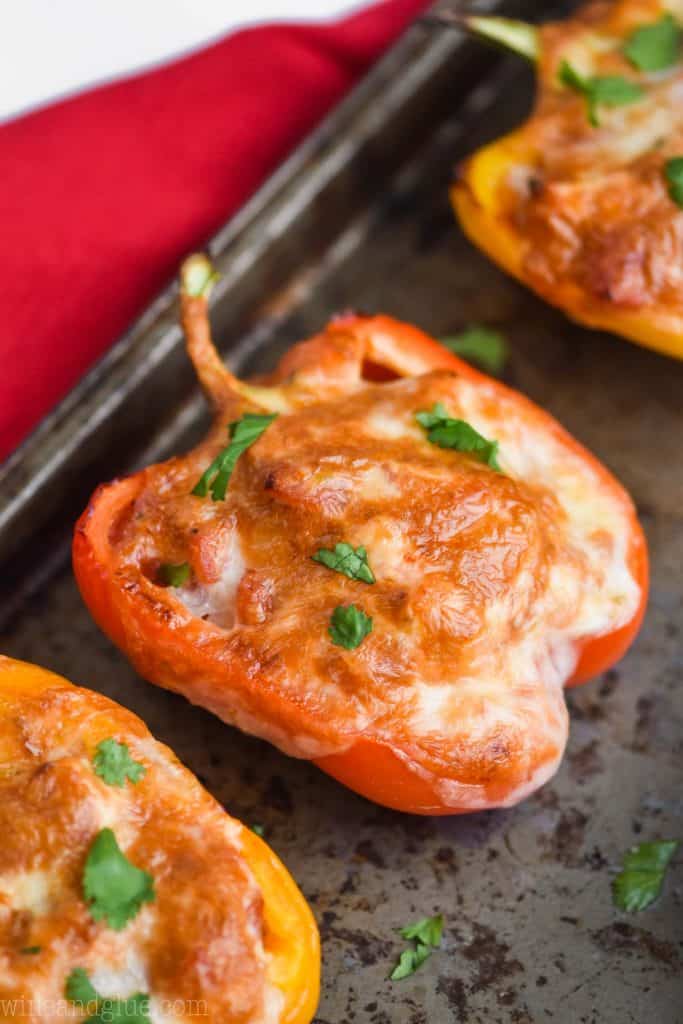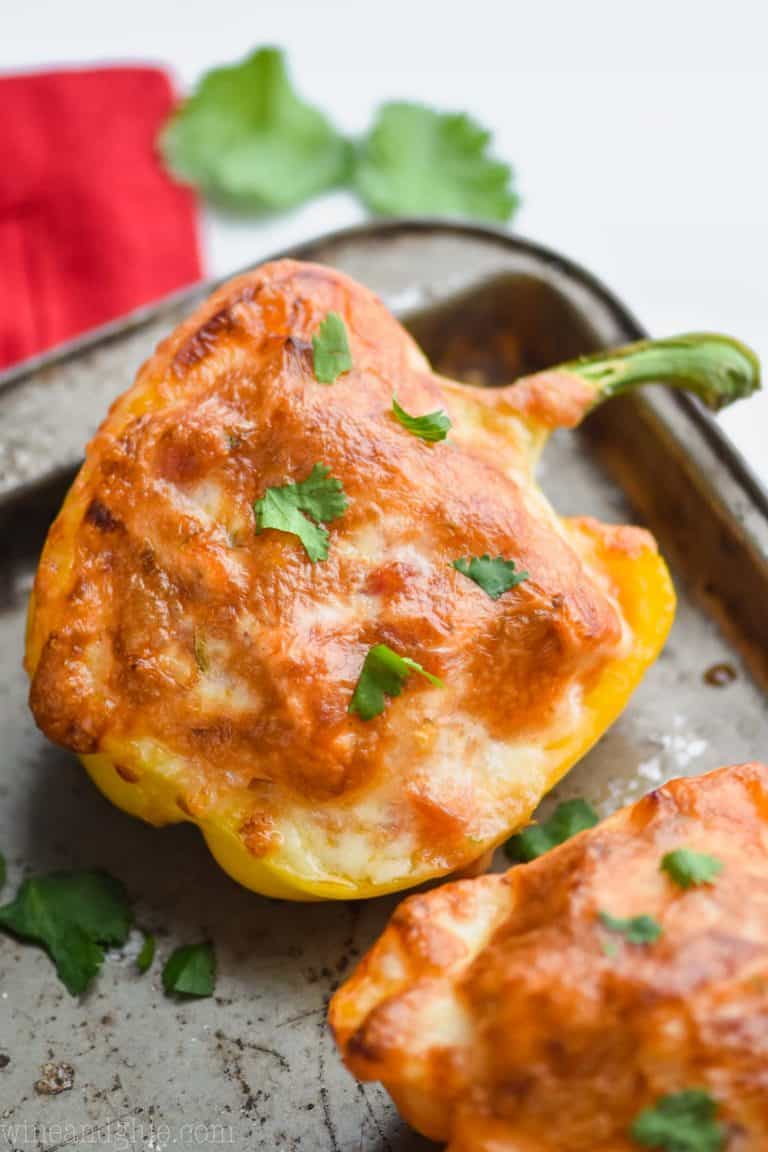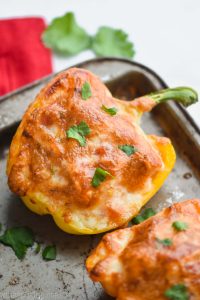 Chicken Fajita Stuffed Peppers
Chicken Fajita Stuffed Peppers are a delicious dinner recipe that even your picky eater will love! Full of fajita flavor and simple to make, your family will love this recipe!
Ingredients
4

bell peppers

(cut in half with the seeds and stems removed)

2

tablespoon

olive oil

1/2

red onion

2

cloves

garlic

minced

1

pound

boneless skinless chicken breasts

cut into small bite sized pieces

1 1/2

teaspoon

salt

1/4

teaspoon

black pepper

1

teaspoon

paprika

1

teaspoon

oregano

15

ounces

diced tomatoes

1

tablespoon

lime juice

1

cup

cooked rice

(instant rice that has been cooked works very well in this recipe)

8

slices

pepper jack cheese
Instructions
Preheat your oven to 450 degrees.

Place the empty half peppers on a rimmed baking sheet lined with parchment paper. Bake for 10 minutes in the preheated oven, until they are easy to pierce with a fork.

While the peppers are baking, heat a skillet over medium heat. Add the oil.

Add the onion and garlic and cook until the onion is soft, about three to four minutes.

Add the chicken and season with salt, pepper, paprika, and oregano. Sauté until no longer pink, about 4 minutes. No need to cook all the way through.

Add the diced tomatoes and lime juice, bring to a simmer and cook for 5 minutes. Stir the rice into the mixture.

Equally divide the chicken mixture amongst the pepper halves. Top with slices of pepper jack cheese and cover losely with aluminum foil. Bake for 20 minutes. For browned cheese, remove the foil for the last 5 minutes of baking.
Serving:
1
stuffed half pepper
Calories:
228
kcal
(11%)
Carbohydrates:
14
g
(5%)
Protein:
19
g
(38%)
Fat:
10
g
(15%)
Saturated Fat:
5
g
(31%)
Monounsaturated Fat:
2
g
Cholesterol:
60
mg
(20%)
Sodium:
602
mg
(26%)
Potassium:
159
mg
(5%)
Fiber:
2
g
(8%)
Sugar:
6
g
(7%)
Vitamin A:
29
IU
(1%)
Vitamin C:
8
mg
(10%)
Calcium:
23
mg
(2%)
Iron:
6
mg
(33%)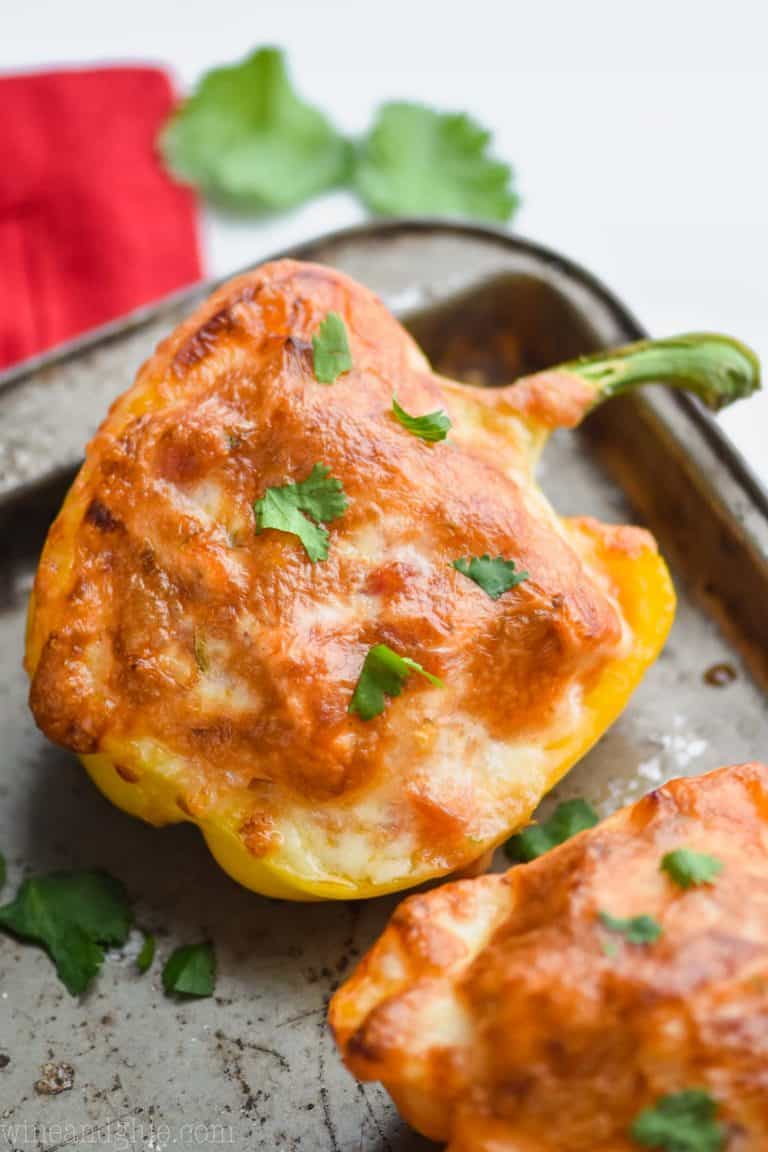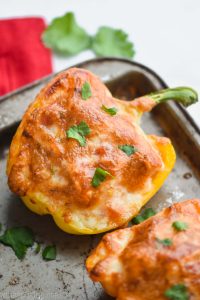 did you make this
Chicken Fajita Stuffed Peppers