Chocolate Covered Bacon Toffee | The saltiness of bacon with the sweetness of toffee. There is a reason they call it Bacon Crack.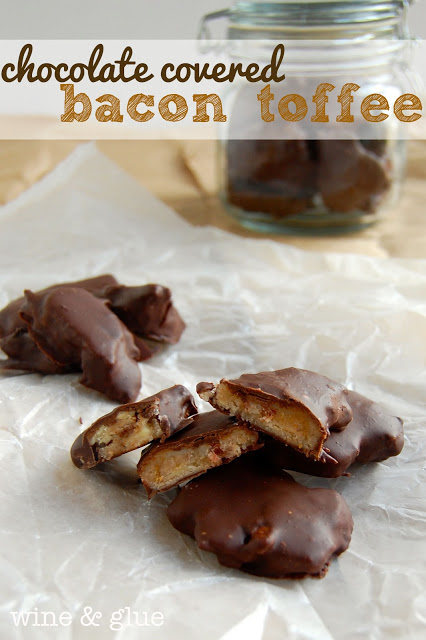 I told a friend the other day that I think I might be "Blog Pregnant."
Wait. Let me first say that I am in no way shape or form actually pregnant with a human child. I mean, just take a gander at the plethora of cocktails I've posted lately.
But I'm for sure Blog Pregnant.
I've been actually pregnant (you know, the human child kind) three times. And all three times I was absolutely obsessed with it.
I wanted to know when the baby changed from the size of a lemon to the size of a kumquat. (Does it go from lemon to kumquat? Or kumquat to lemon?)  And every other tiny detail in between. I wanted to know when baby developed finger nails. Should I have felt a kick by now? Can he or she hear me when I talk? Is it a boy or a girl? What should we name him or her? How should we decorate the nursery? What kind of labor am I going to have? Can I eat that? Can I drink that?
Wait. How many more days exactly until I can drink that, specifically??
I was completely 100% focused on me and this little tiny life growing inside of me. All three times.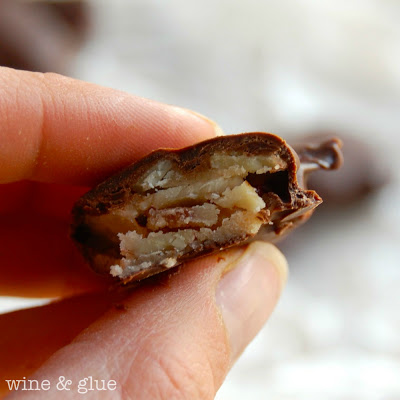 And now I can say with absolute certainty that I am totally Blog Pregnant.
I spend every free waking moment thinking about my blog. And when I'm not thinking about my blog, I'm grocery shopping to create a new recipe. Or switching my Facebook page identity over from Lisa to Wine & Glue so I can respond to any comments, see how many readers my postings have reached, and cross your fingers see if I have any new FB fans. Then I log into Instagram, see if my pins have been repinned, and ohdearlordmakeitstop then there is the checking of the stats.
I check my stats on blogger approximately 800 million times an hour. I avoid Google Analytics like the plague because even though it is far more reliable, it is much more of a let down.
Then I respond to emails, chat with friends on G+, and scroll through my facebook groups.
And then I hit refresh on my stats.
Again.
And again.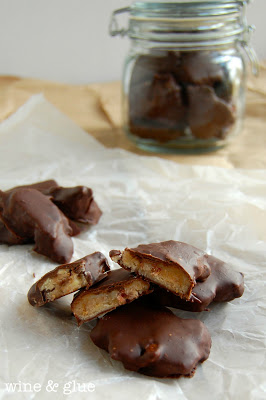 What's worse, is that I annoy all those around me with my Blog Pregnancy. If they ask the littlest question, you know, like "How's blogging going?" about two hours later they are still getting a run down.
I'm even dreaming about blogging.
My Skylanders Guess Who? Yeah, that was a dream made to reality.
So when a friend asked me if I would take a swing at this Bacon Crack from Nosh This, it didn't even phase me. Yes! A friend who gets that I seriously can only talk about things if they somehow come back to blogging!!
Narcissistic much, Lisa?
This stuff is so good, it almost didn't make it through the photo session.
Calories eaten during a photo shoot don't count, right?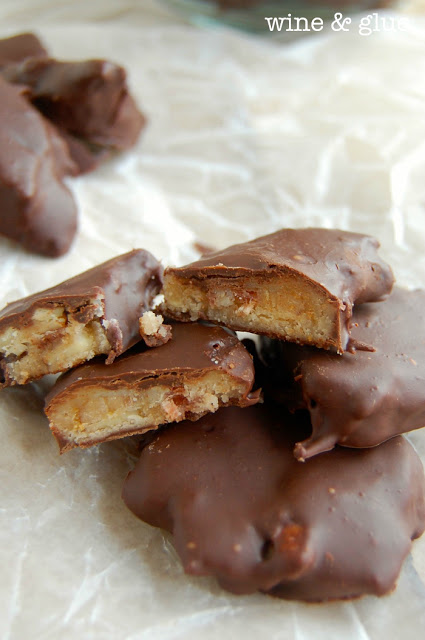 Chocolate Covered Bacon Toffee (aka Bacon Crack)
2 cups butter
2 cups sugar
1/4 tsp salt
1 cup sliced almonds
10 slices bacon, cooked and chopped (should make about one cup)
3 cups semi-sweet chocolate morsels
Layer a jelly roll pan with aluminum foil. Put a glass measuring cup next to the pan.
In a heavy bottomed pot over medium heat, melt the butter, sugar, and salt. Stir regularly until the mixture boils and comes to a 285 degrees F. (I would not recommend making this without a candy thermometer.)
Once the mixture has reached the right temperature, quickly stir in the almonds, and then the bacon. Brace yourself. The fat is going to melt off the bacon immediately and separate from the rest of the mixture.
Pour it all into the jelly roll pan. It will start to set quickly, and the bacon fat will be liquid and on top. Lift the pan with one of the corners pointed down and pour off the fat into the glass measuring cup. Get as much of it as you can, turning the pan and dripping from the opposite corner as necessary.
Let the toffee set for at least two hours in the refrigerator. Move to the freezer for an hour.
Once the toffee is frozen, break it apart and keep it in the freezer. Melt the chocolate according to the package directions, and taking a few pieces of toffee out of the freezer at a time, dip it in the chocolate, setting it on wax paper to set.
Store in an air tight container in the refrigerator.
Looking for more bacon deliciousness??
*Toffee recipe adapted from All Recipes. Baconness inspired by Nosh This.