This Crustless Vegetable Quiche is easy to make and only 120 calories a slice! This is an easy breakfast quiche recipe that is perfect to make for any brunch or even for a weekday breakfast.
The left overs are great! This vegetarian no crust quiche recipe is great if you are looking eat lighter.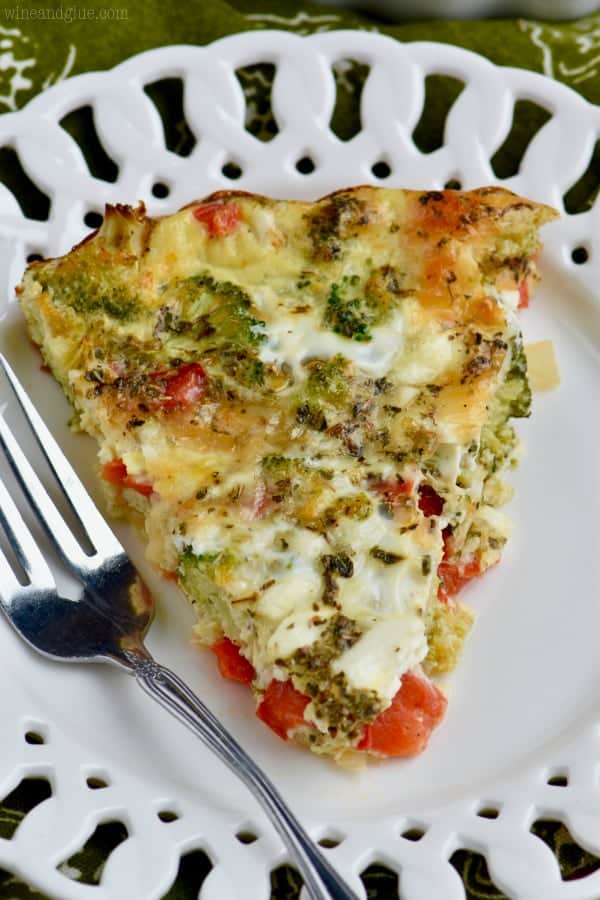 This week I've had a few friends casually talk to me about dealing with grief . . . or rather dealing with people who are dealing with grief. I'm always careful about what I say, because even though I have been through it and then through it some more, I don't want to say the wrong things. But I feel like it would be almost negligent for me to say nothing.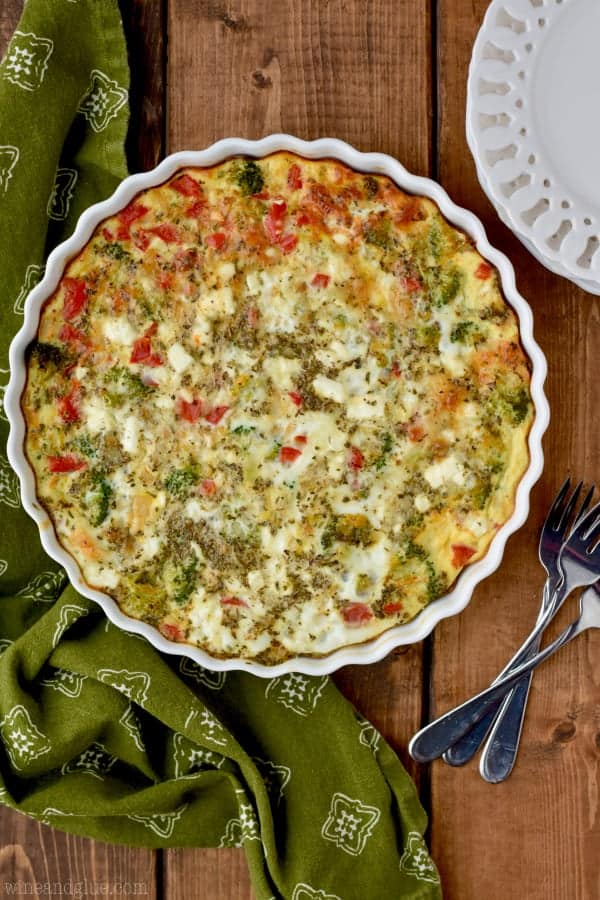 The question beneath their casual talk is this: What do you do for someone who lost someone or is currently in the process of losing someone? The people who have talked to me recently are talking about THE BIG losses. Children. Spouses. The kinds of loses that are soul crushing. And I know that sounds dramatic, but when you are in it, that is exactly how it feels. Like your soul is crushed and you will never quite be the same.
And you won't.
I tend to believe that the universe talks to you. Sends people your way who you need to learn something from. And maybe I'm taking it a step too far, but I feel like if I can possibly help one person by writing about this (even if it is paired with a crustless vegetable quiche recipe . . . . maybe especially if it is paired with a crustless vegetable quiche recipe) than I should write.
So this is my advice.
Bear witness.
And this isn't actually my advice. This is the advice from my old therapist who got me through the death of my mom, through Elliot's death, and the intensely difficult pregnancies that followed. She said that there is nothing you can actually do to help someone who is grieving. There are no cards that will make them feel better. No plants. No meals. Those things are wonderful, don't get me wrong. But they won't actually fix anything.
The greatest gift you can do for someone who is grieving is: Bear witness.
I think that can mean so many things. It can look like so many different things. But I think what it boils down to is allowing the person who is grieving to feel however they are going to feel in whatever moment they are going to feel it for as long as they are going to feel it while letting them know you love them and passing no judgement.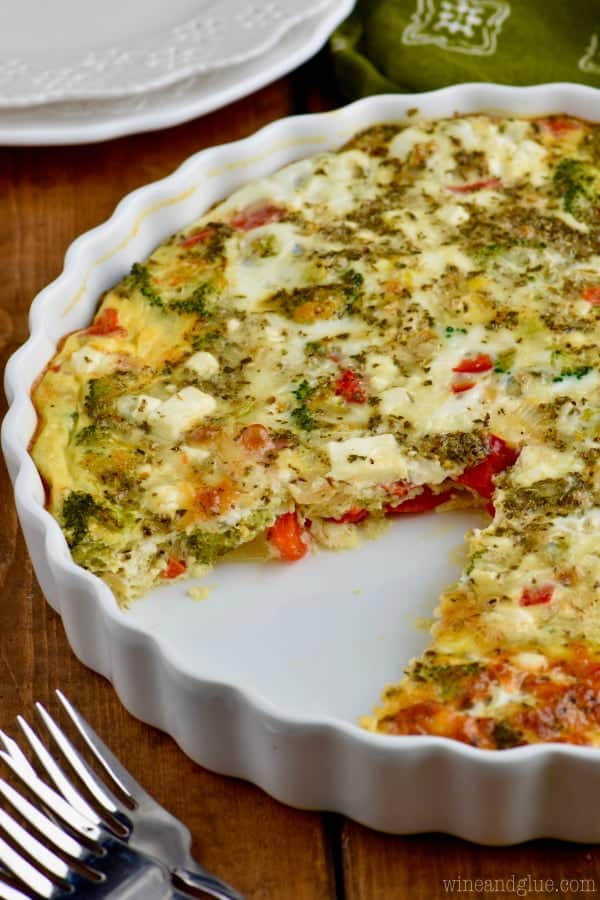 I am going to be brutally honest.
After Elliot died, there were people who did this beautifully. There were people who let us be exactly where we were at. Over and over and over. And there were people, some of the very people we thought would be there for us, who did the exact opposite. And that sucked.
You can't make it better. Please don't try. Bear witness.
And remember that the thickest part of the grief comes later. It comes six, nine months down the road. Maybe even years later for some people. It doesn't mean they aren't moving on. Grief is a debt that has to be paid (another great line from my great therapist) and people have to be allowed to pay it in their own time.
That's it.
Woah. Super heavy for a brunch recipe, aye?
Thank you for forgiving me all this talk of grief, friends. It's a huge piece of who I am and I don't suspect this will be my last post like this.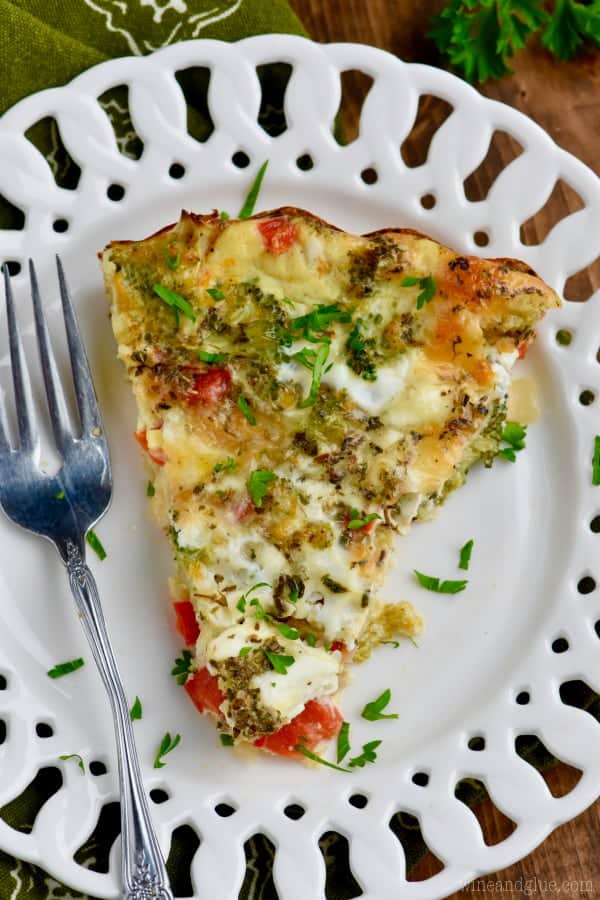 Crustless Vegetable Quiche!
You guys, this quiche is so crazy good! And its made with loads of veggies, a little cheese, egg whites, a few eggs, and skim milk, so it's only 120 calories a slice! I loooooove brunch recipes, but so many of them are totally loaded with calories. I love this lighter option that is still packed with flavor. Give me a slice of this and a cup of coffee and I am a happy happy girl.
Other Light Breakfast Ideas
If you are looking for other light breakfast ideas, try this quinoa breakfast recipe. If you need another easy breakfast, make these cheese and sausage egg muffins or another great quiche make my crustless spinach quiche.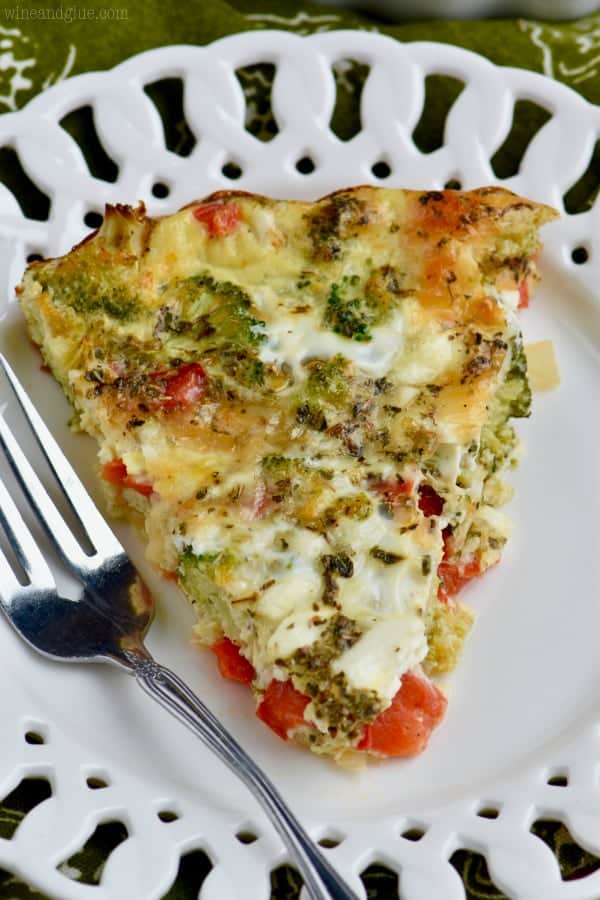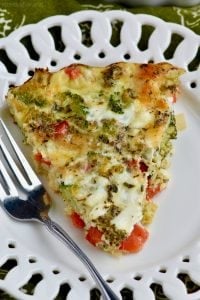 Crustless Vegetable Quiche
This Crustless Vegetable Quiche is easy to make and only 120 calories a slice! So delicious!
Ingredients
1

TBSP

extra virgin olive oil

2

cloves

of garlic

minced

1

red pepper

diced small

3

cups

chopped broccoli florets

1/2

a yellow onion

diced small

4

large eggs

4

egg whites

3/4

cup

milk

1/2

tsp

salt

1/4

tsp

black pepper

1/2

tbsp

oregano

1/2

tbsp

basil

1/2

cup

shredded mozzarella

1/4

cup

crumbled feta
Instructions
Preheat the oven to 350 degrees. Spray a nine inch quiche dish with cooking spray and set aside.

In a large skillet, heat the olive oil. Then add the garlic, peppers, broccoli, and onion. Cooking, stirring intermittently over medium heat until the vegetables are soft, about eight minutes.

While the vegetables are cooking, whisk together the eggs and egg whites. Then whisk in the milk, salt, pepper, oregano, and basil. Stir in the mozzarella and feta cheese.

Once the vegetables are cooked, pour them into the quiche dish. Pour the egg mixture over it, gently smoothing it out so it is all even. Put in the oven and bake for 40 minutes or until the edge of the quiche starts to pull away from the side. Let set for 10 minutes and then serve and enjoy!
Calories:
120
kcal
(6%)
Carbohydrates:
6
g
(2%)
Protein:
9
g
(18%)
Fat:
7
g
(11%)
Saturated Fat:
3
g
(19%)
Polyunsaturated Fat:
1
g
Monounsaturated Fat:
2
g
Cholesterol:
103
mg
(34%)
Sodium:
379
mg
(16%)
Potassium:
249
mg
(7%)
Fiber:
2
g
(8%)
Sugar:
4
g
(4%)
Vitamin A:
1100
IU
(22%)
Vitamin C:
78.4
mg
(95%)
Calcium:
140
mg
(14%)
Iron:
0.9
mg
(5%)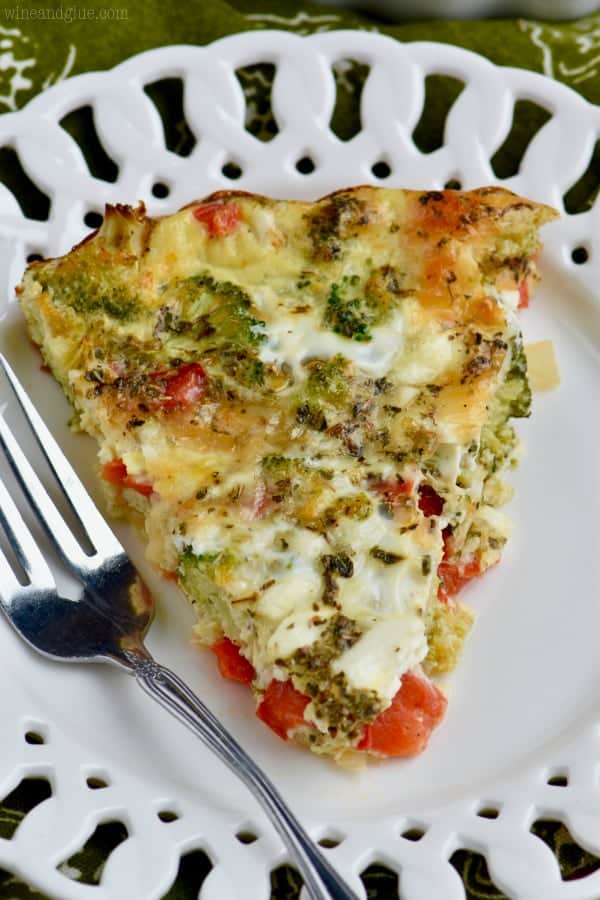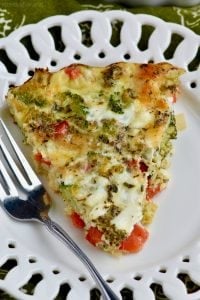 did you make this
Crustless Vegetable Quiche
SaveSave
SaveSave
SaveSave