This Cinnamon Cake Roll is packed  with amazing flavor and rolled up with the smoothest buttercream frosting and the smothered in an amazing glaze! Such a show stopper!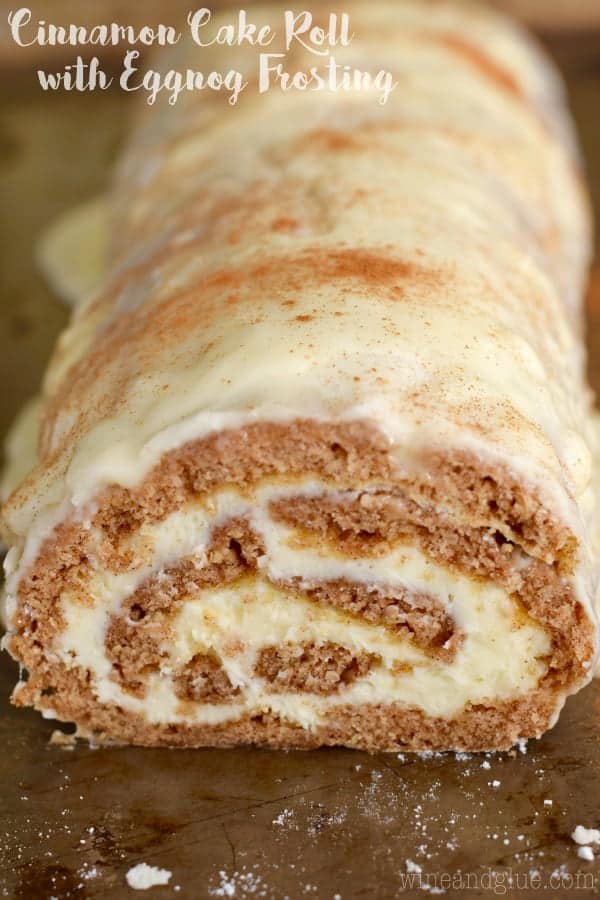 So the other night we were off looking at Christmas lights. It's kind of silly, but it's one of my favorite Christmas traditions. We pick up subs and drive around this neighborhood that goes all out. This was the first year we had three kids in the car who could all really appreciate the lights. We got lots of "Oooos" and "Aaaaahs" from Piper in the backseat. It was so awesome.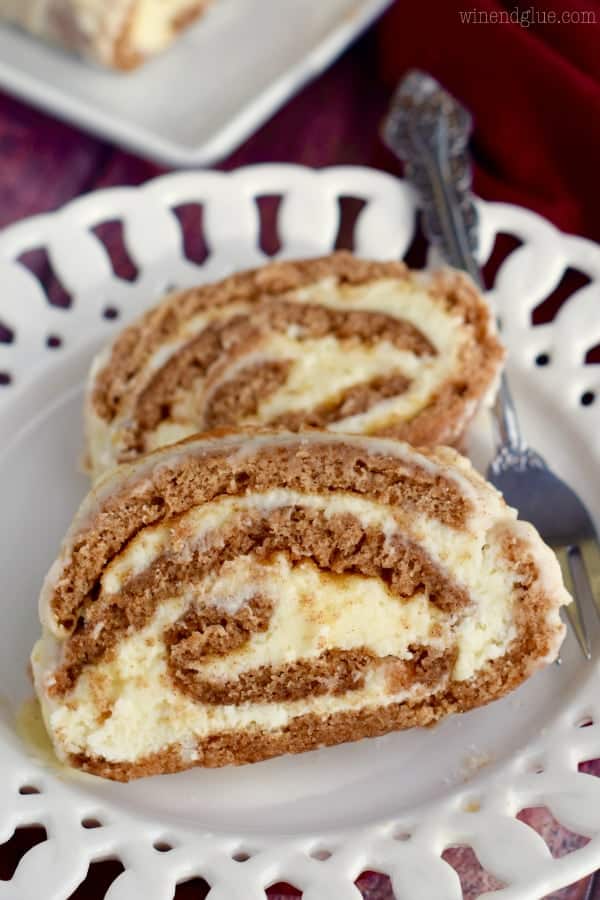 So it was just as we were about done when Quinn yells, "That house had an AT-AT!!!"
Nathan:  Really???
Quinn:  Yeah!! It was small and it had yellow lights!
Nathan:  Really???
Quinn:  Yes, Dad!! I saw it! That house had an AT-AT!!
If you have no idea what I am talking about at this point, you probably aren't a Star Wars fan. It's cool, up until this summer I wasn't one either. But then we watched A New Hope with the kids, and it was kind of amazing to see it through their eyes. AT-ATs or All Terrain Armored Transports are these huge things with four legs that belong to the dark side. It's cool, Luke takes 'em down. (I literally had to look up how to describe them on a site called Wookieepedia.)
So Nathan turned around, because if someone has put an AT-AT outside to celebrate the Christmas season, he for sure wants to see it. Guys? It was a deer. It was one of those lit up deers. Gavin is screaming in the back seat, "QUINN!! That is NOT an AT-AT!! IT'S A DEER!!!!" Meanwhile, in the front seat, I'm not sure that Nathan was ever more proud. It seriously did look like an AT-AT.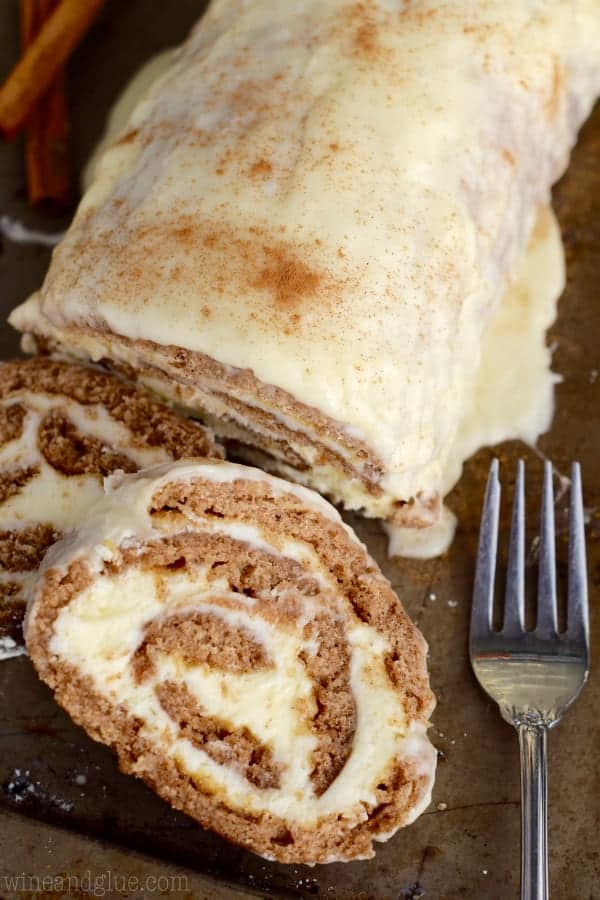 So let's talk this cake roll guys.
Guys. Cake Rolls are amazing. They are like a buttercream frosting delivery service. Loooooove. And the other thing is that if they crack that is just an excuse to add more frosting. Seriously though, if you do crack yours, and mine did, it's not a big deal. Frosting is the answer. In this cake, I added Eggnog Buttercream Frosting, but if it's not the Christmas season, or if you don't like eggnog, just replace it with my Vanilla Buttercream Frosting. Same with the glaze. I used an eggnog glaze, but you can always just take out the eggnog in it and replace it with milk and it will be amazing.
Also, my friend Dorothy is pretty much the Cake Roll Queen. She has tips for making them here, and she even has a video here. To see all of Dorothy's Cake Rolls, click here.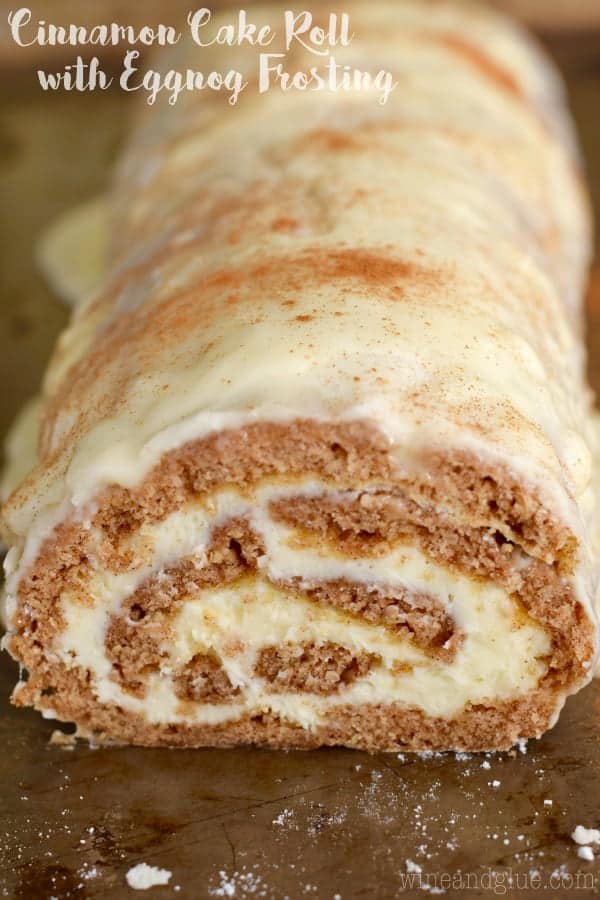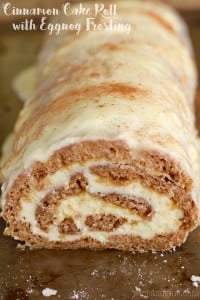 Cinnamon Cake Roll
Ingredients
For the Cake

3

eggs

3/4

cup

sugar

2

TBSP

vegetable oil

1

tsp

vanilla extract

1/4

tsp

salt

3/4

cup

flour

1

tsp

baking powder

1

TBSP

cinnamon

1/4

tsp

nutmeg

1/8

tsp

cloves

powdered sugar

for rolling the cake

For the Frosting

1/2

cup

unsalted butter

room temperature

5

cups

powdered sugar

1/2

TBSP

white rum or 1 tsp rum extract

1/4

cup

eggnog

For the Glaze

1 1/2

cups

powdered sugar

2

TBSPs

eggnog
Instructions
Preheat the oven to 350. Line a jelly roll pan (the shallow ones that are 10 by 15) with foil, spray the foil (make sure you get the sides) with cooking spray and lightly dust it with flour.

Beat the eggs on high until frothy, about five minutes.

Beat in the sugar, oil, and vanilla.

In a separate bowl, whisk together your dry ingredients, the flour, salt, baking powder and spices, until combined. Now add them to your wet ingredients by folding them in. Do not over mix.

Pour the batter into your jelly roll pan. Gently move it over the pan to spread it evenly.

Bake for about 9 minutes.

While the cake is baking spread a clean towel on the counter, sprinkle very liberally with powdered sugar making sure that no area of the towel that will see cake is showing.

As soon as the cake comes out of the oven, flip it over onto the towel and peel away the tin foil carefully. Roll the cake up in the towel.

Let the cake cool, rolled up in the towel, for at least an hour, but not longer than four hours.

While the cake is cooling,make the frosting, beat the butter until fluffy. Then add the powdered sugar gradually, one cup at a time. Finally, add the rum and the eggnog.

After the cake has finished cooling, unroll it. Gently frost the cake, making sure to cover the whole thing, though the thicker you add the frosting the more likely it will be to crack when you roll it back up.

Roll the cake back up. Whisk together the powdered sugar and eggnog. Pour over the cake, sprinkle with ground cinnamon. Allow the glaze to set before slicing and serving.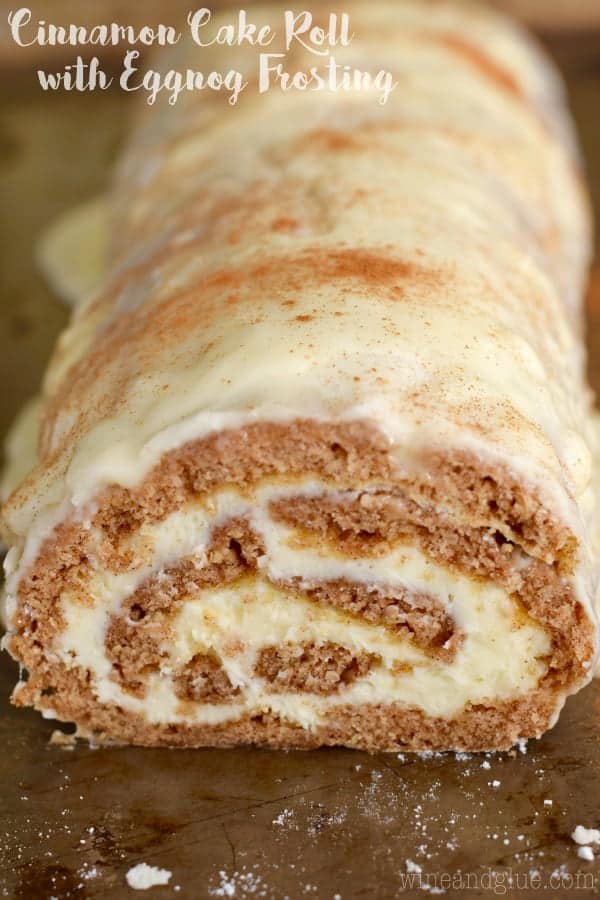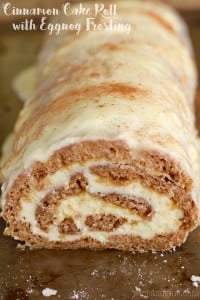 did you make this
Cinnamon Cake Roll