100 Bloggers Share their Favorite Desserts from their blogs and why they love them so much!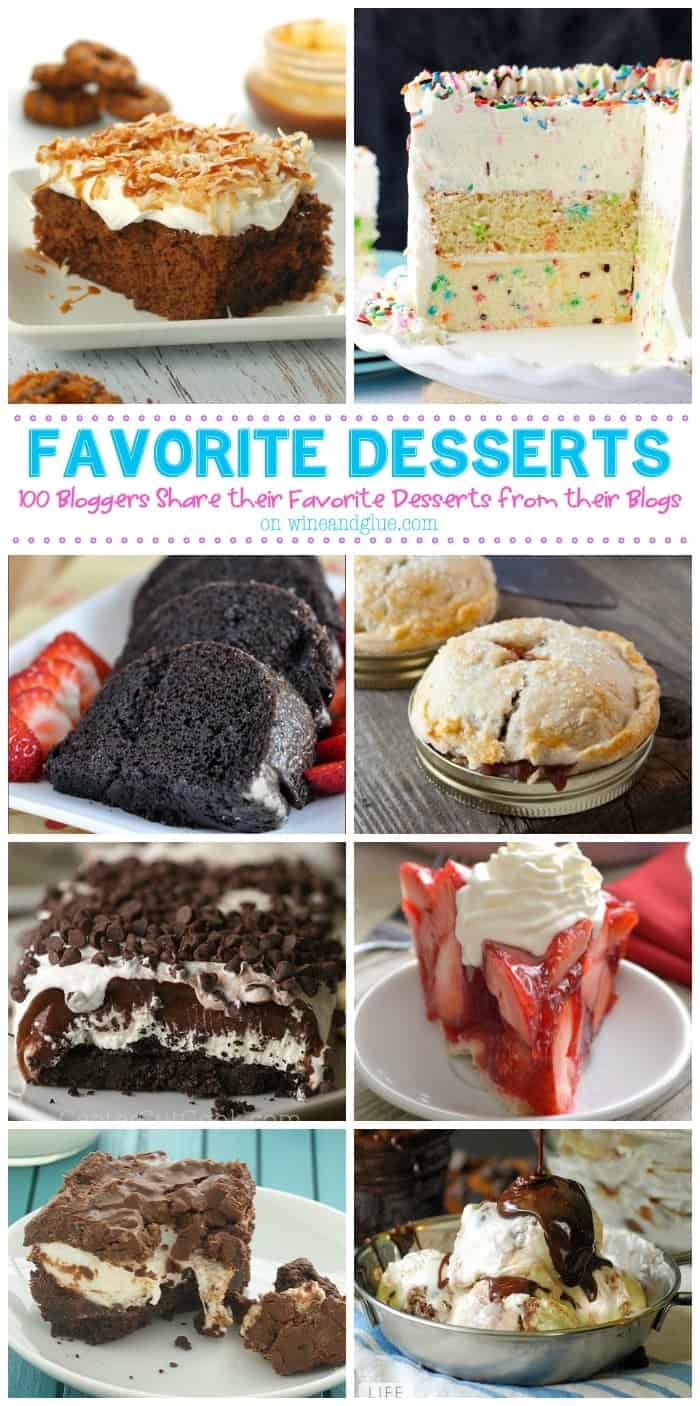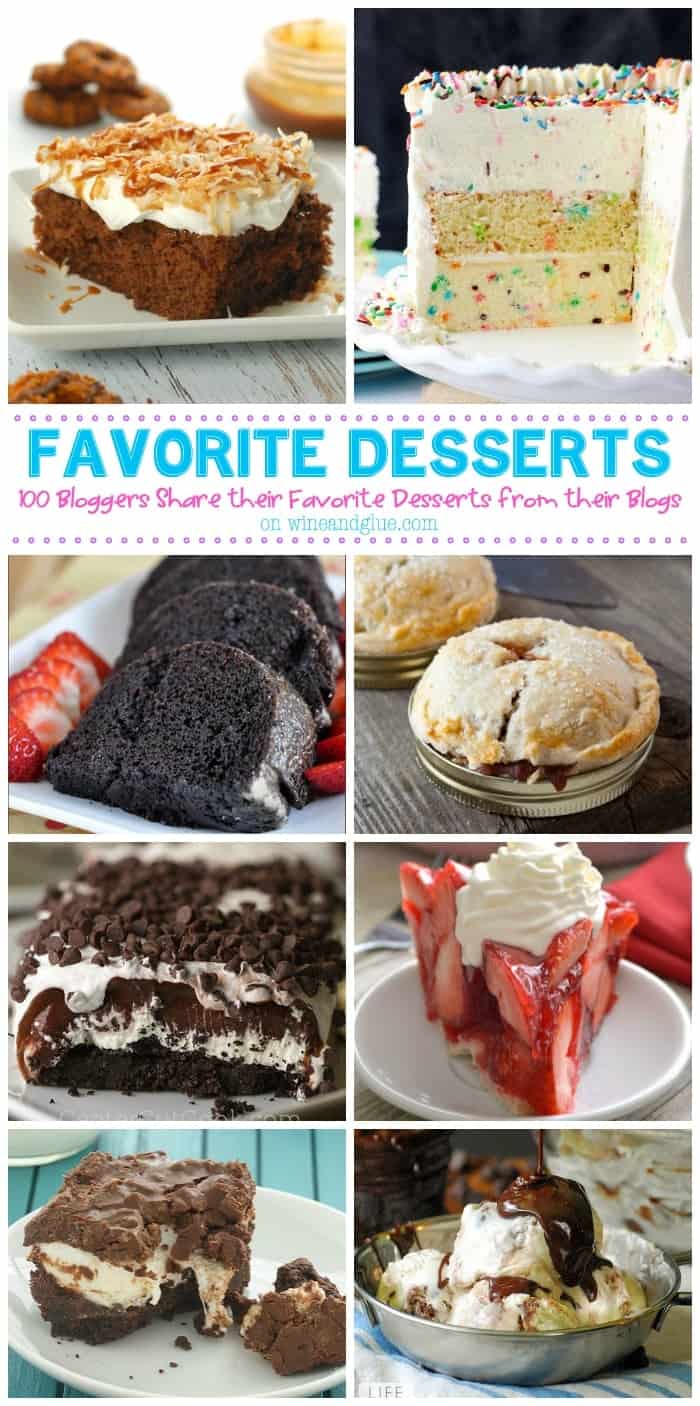 I've put together a bunch of round ups. For me, for other bloggers . . . I think it's so fun to peruse blog land and find 1 million different things you can do with Nutella, or cocktails for summer, or perfect recipes for Game Day.
But recently, I was thinking how it would be fun to share blogger's favorite desserts from their own blogs . . . and the reason that it is their favorite! This was maybe my favorite collection that I've ever put together. It was so fun to see what bloggers picked as their favorites, and then read their sweet reasons why in their own words.
So many told me that it was hard to pick a favorite, and it WAS! I send a lot of the desserts I make to work with my husband, but there have been a couple that I have hoarded all to myself because they were sooooo good. This pie was like that and something that I considered for my favorite. This pie too! I ate it all myself . . . one insanely good piece at a time. I also thought about this bark, because I nearly ate it all in one day. These truffles were perfection and I ate them ALL. But ultimately I picked . . . .
Samoas Poke Cake from Wine & Glue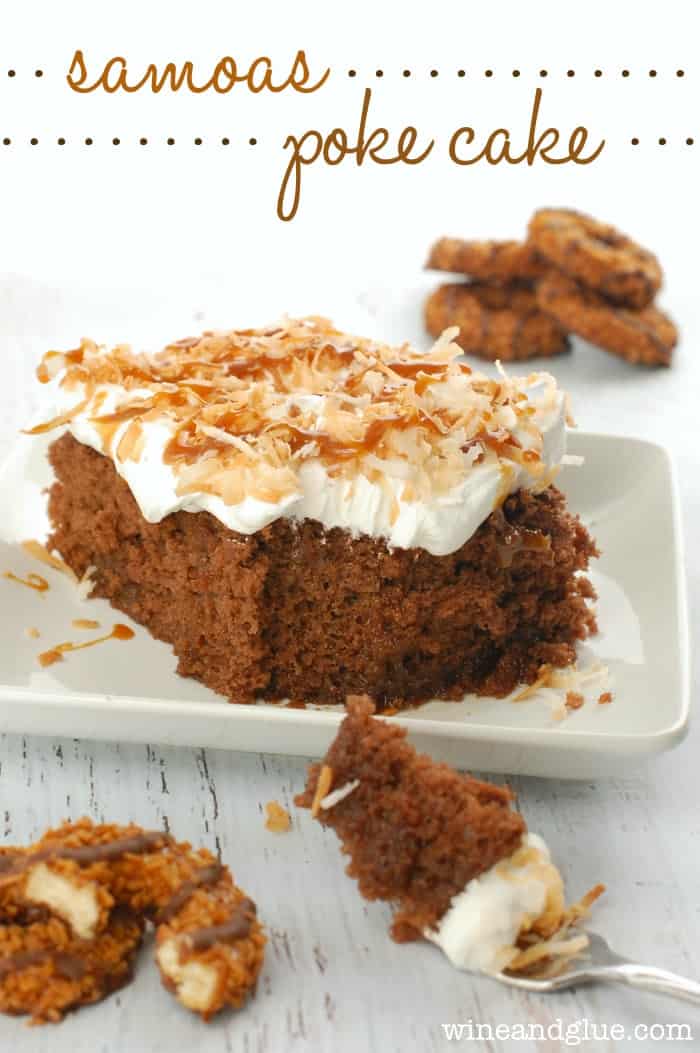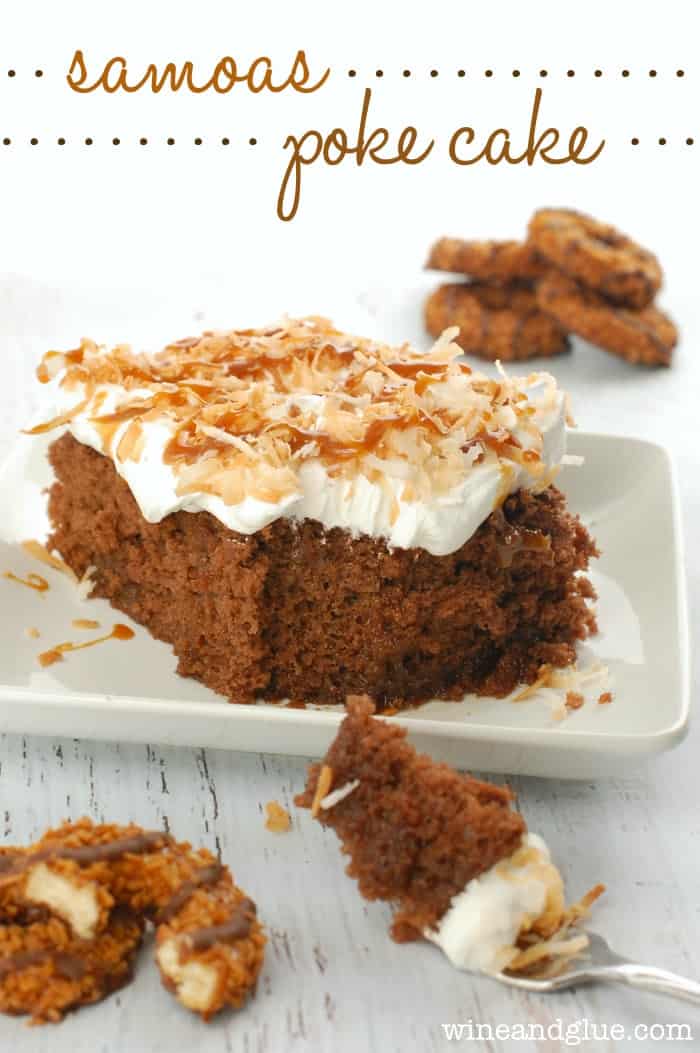 "Poke Cake isn't my favorite dessert, but THIS ONE IS! It turned out about three million times better than I expected, and the toasted coconut on the top is absolute perfection. I could probably eat a whole sheet of this myself, and feel really good about the world." – Lisa
Rhubarb Crunch from Julie's Eats & Treats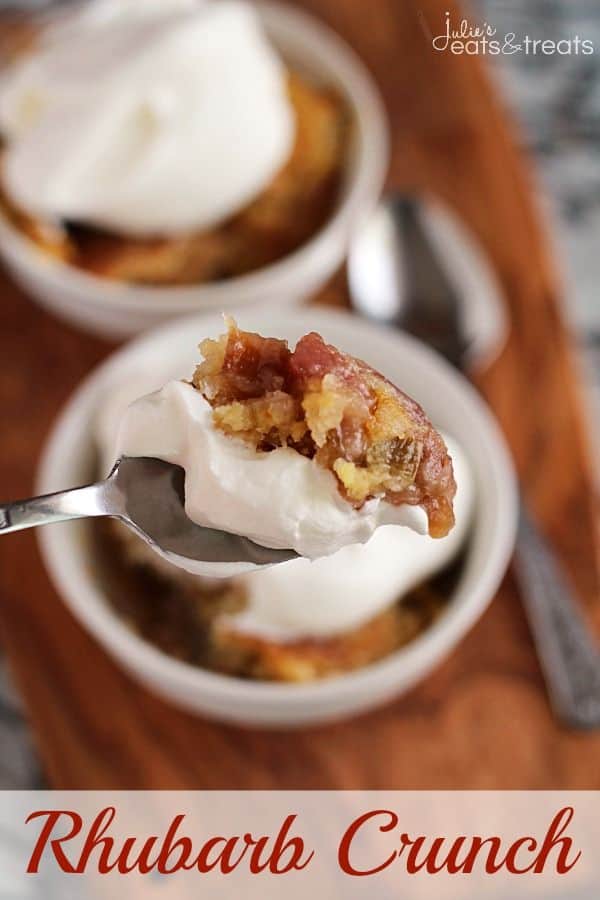 "My mom makes this Rhubarb Crunch dessert every spring and it reminds me of being at home in Mom's kitchen while she bakes. There's nothing better than that plus I pretty much drop everything and go get some when she makes it! I literally could sit down with a fork and a pan of that dessert and it would be HISTORY. It's that dang good." – Julie
Snickers Peanut Butter Pie from Crazy for Crust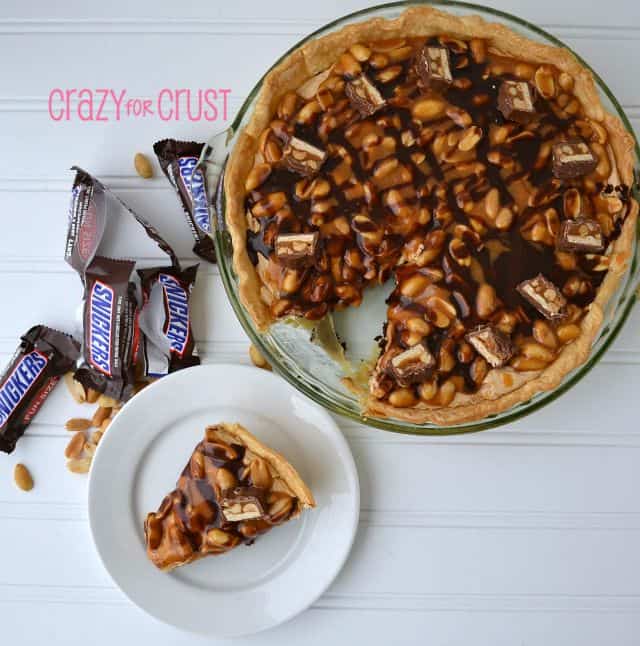 "It embodies all my favorite things: pie, brownies, and peanut butter. It's the ultimate Crazy for Crust mash-up." – Dorothy
Strawberry Pie from Lemon Tree Dwelling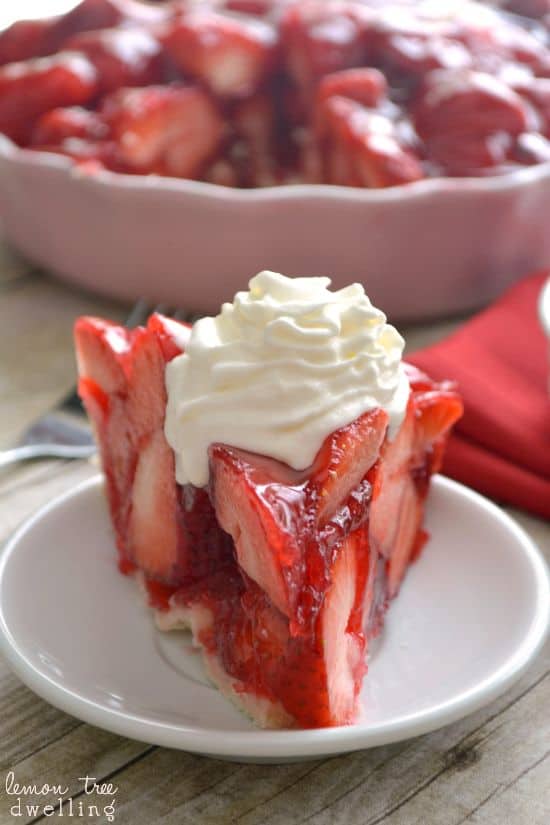 "This Strawberry Pie is my favorite because it's amazingly delicious and has so many memories attached to it. It's a recipe I grew up with and always brings back memories of strawberry picking, summer days, and my wonderful mom." – Cathy
Reese's Peanut Butter Cup Mini Cheesecakes from Mom On Timeout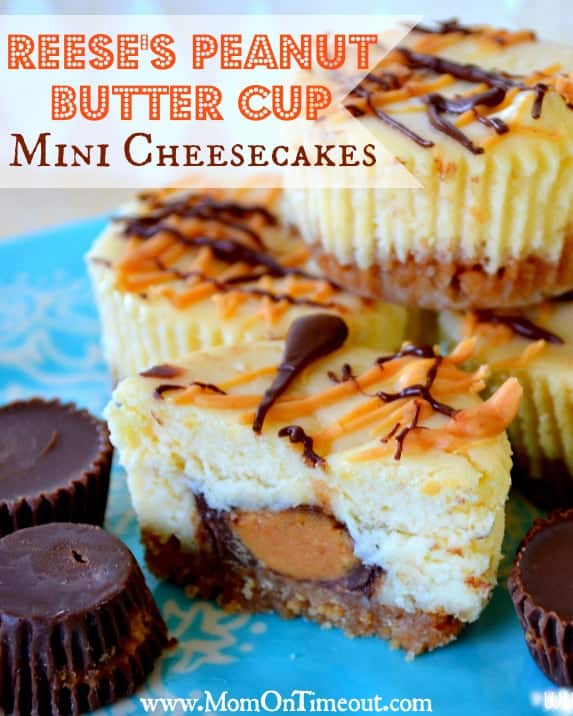 "It's my favorite candy and my favorite cake together!" – Trish
Eclair Cake from Chef In Training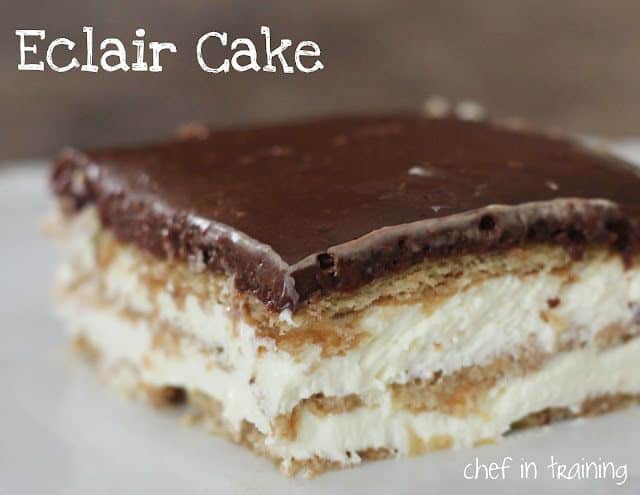 "I love my eclair cake because it is no bake, super easy to make and melts in your mouth! It is always a crowd favorite wherever I take it and everyone is always asking for the recipe" – Nikki
The Best Brownies EVER from Happy Food Healthy Life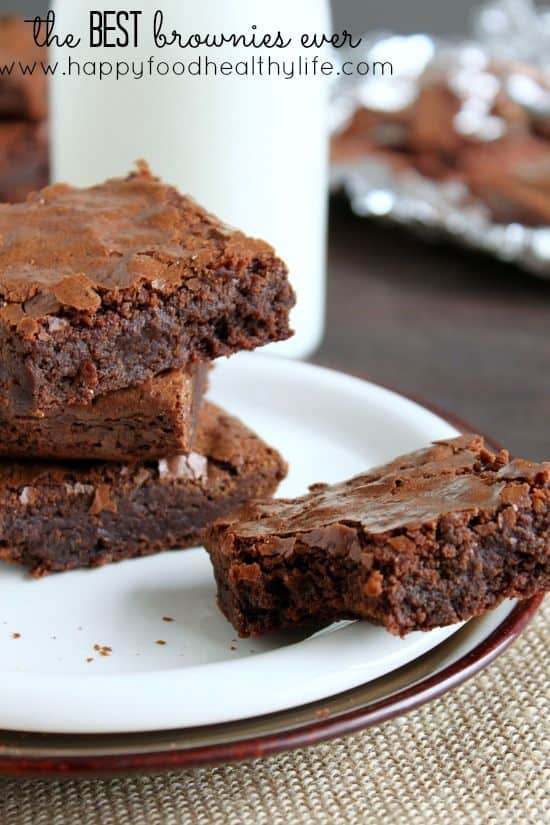 "They're fail-proof. They withstand whatever add-in or frosting you want. And they're sure to be a success at whatever event you take them to (ie, no leftovers to have to bring home!)" – Holly

Lemon Cheesecake from Taste and Tell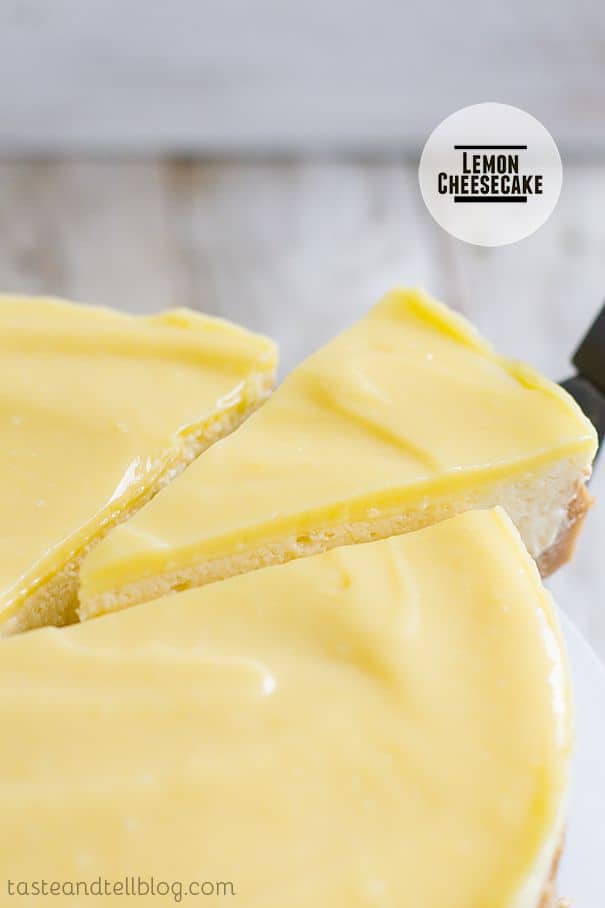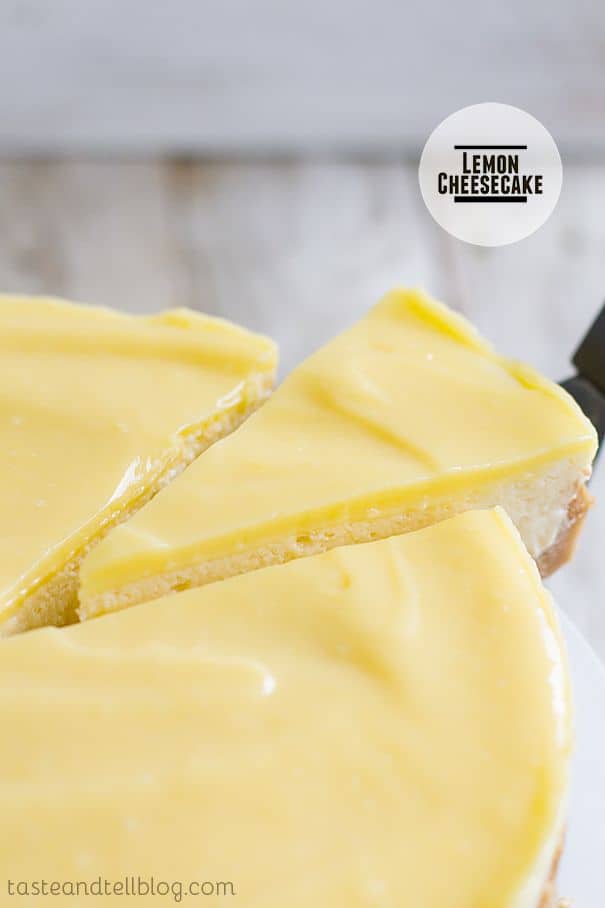 "It combines two of my favorite things – lemon and cheesecake! I could seriously eat this whole cheesecake myself." – Deborah
Pumpkin Chocolate Cheesecake from Will Cook for Smiles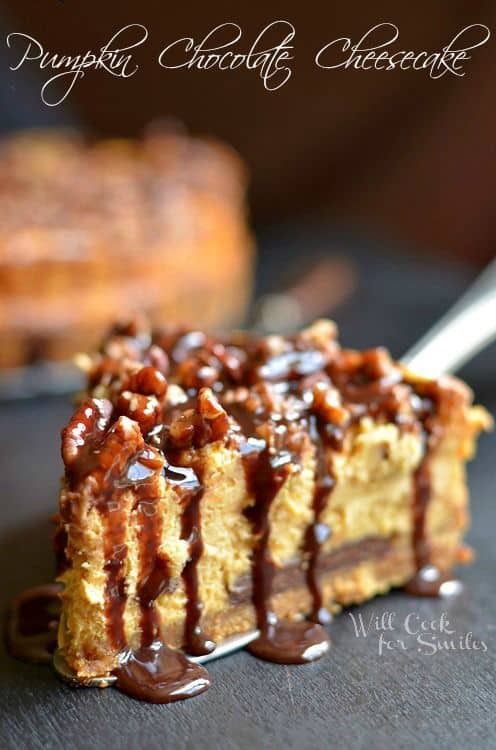 "Why I love it: It is a homemade pumpkin cheesecake…with chocolate!! What's not to love?!" – Lyuba
Fudgey Chocolate Chunk Brownies from Something Swanky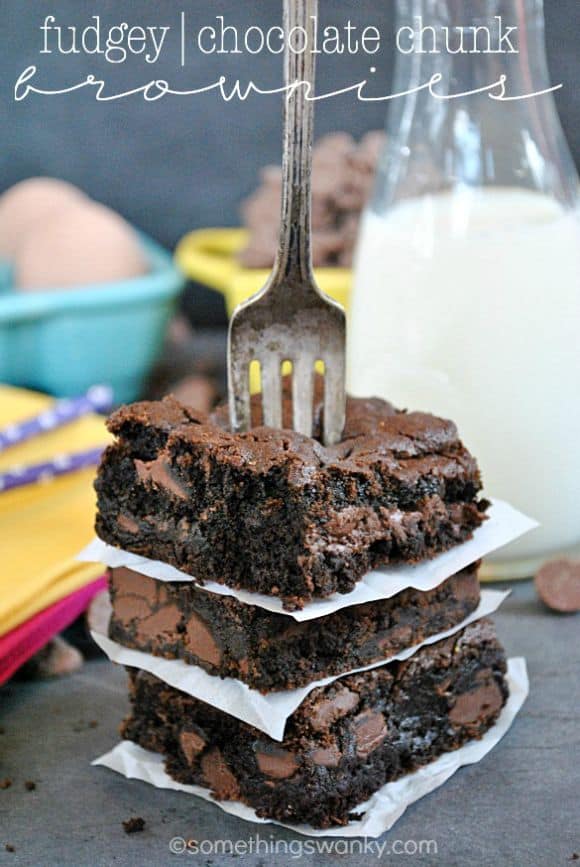 "It's my favorite because it's part of a beloved weekly family tradition– Sunday brownies and ice cream and a movie. We've been doing it as long as I can remember (even when you're on a diet, you still eat Sunday night brownies in our family!), and now I do it with my husband and daughter too." – Ashton
Apple Pie Lasagna from Beyond Frosting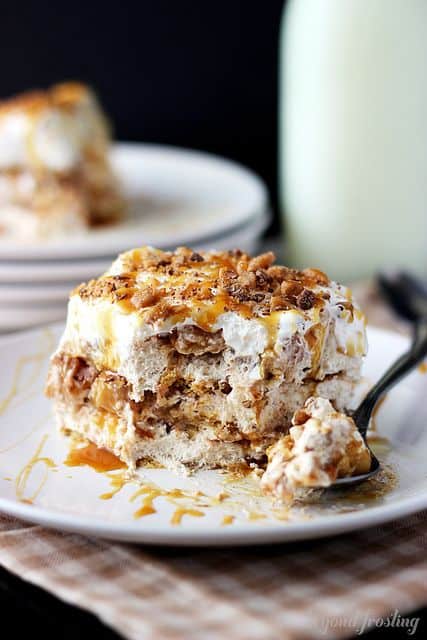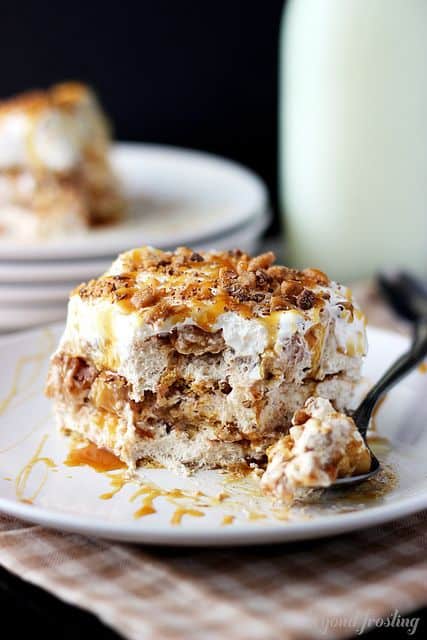 "It is one of my most unique recipes and the reason I started my dessert lasagna craze. The brown sugar cream cheese filling is enough to make me lick the bowl clean!" – Julianne
Black Cocoa Cake with Peanut Butter Filling & Chocolate Sour Cream Frosting from White Lights on Wednesday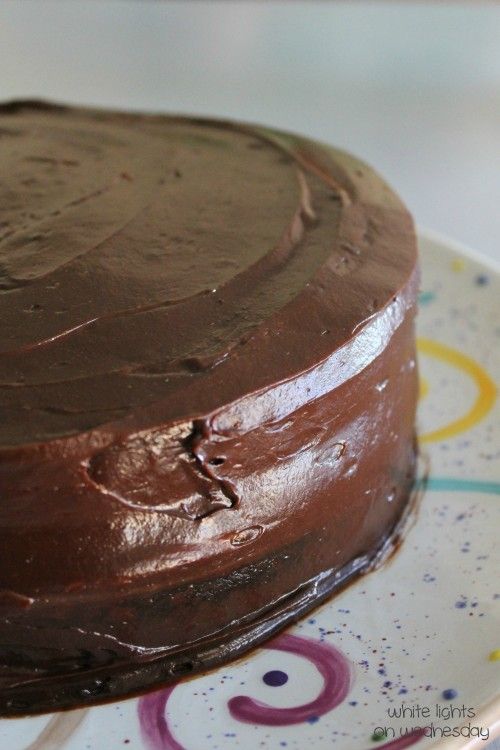 "It's everything a cake should be. The frosting is so creamy and smooth, and this cake made me fall in love with black cocoa powder." – Julie
Buckeye Bark from Chocolate Chocolate and More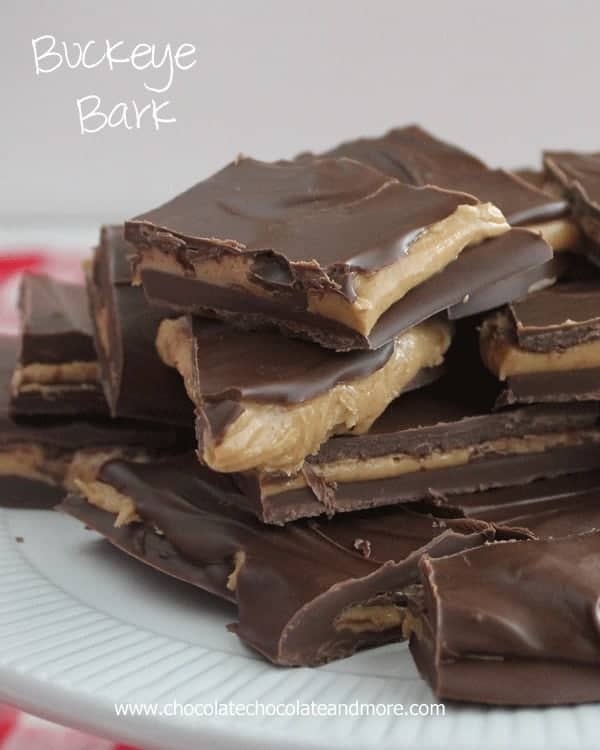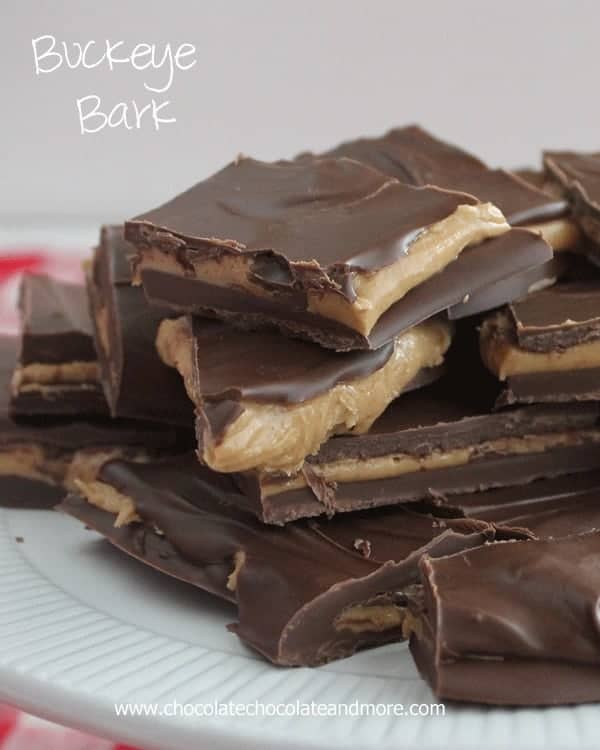 "I love any candy that involves chocolate and peanut butter. This comes together so quickly. If you can bear to part with it, it also makes a nice gift." – Joan
Cheesecake Minis with Strawberry Balsamic Mint Topping from Dine and Dish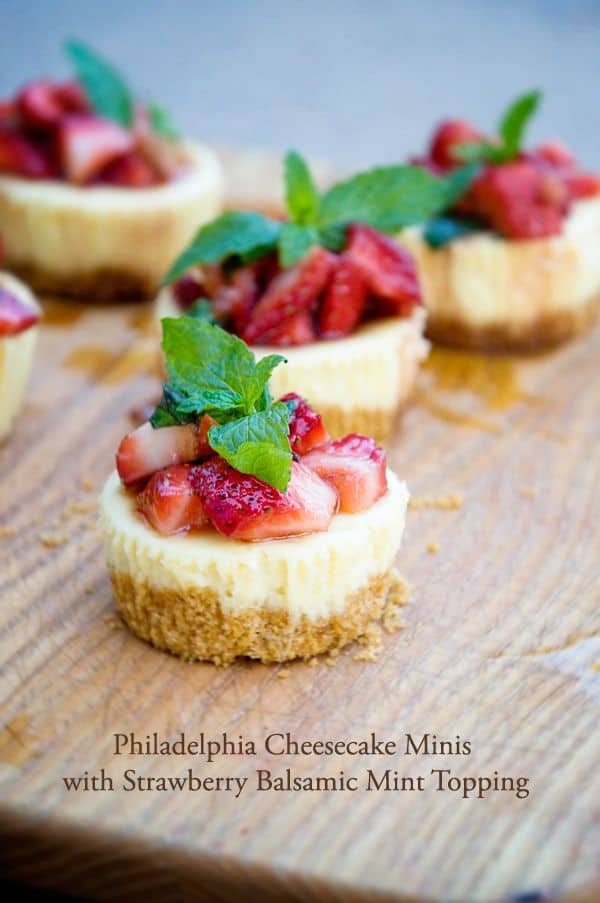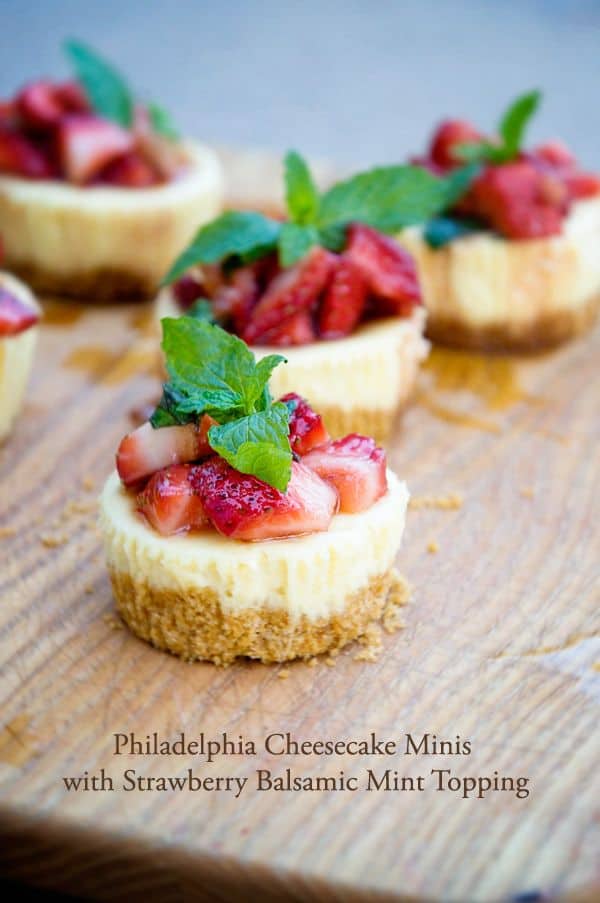 "I absolutely love the combination of Balsamic Vinegar and Strawberries… cheesecake is my favorite dessert. When you combine the two its the best thing ever!" – Kristen
Blueberry Cheesecake from The Gunny Sack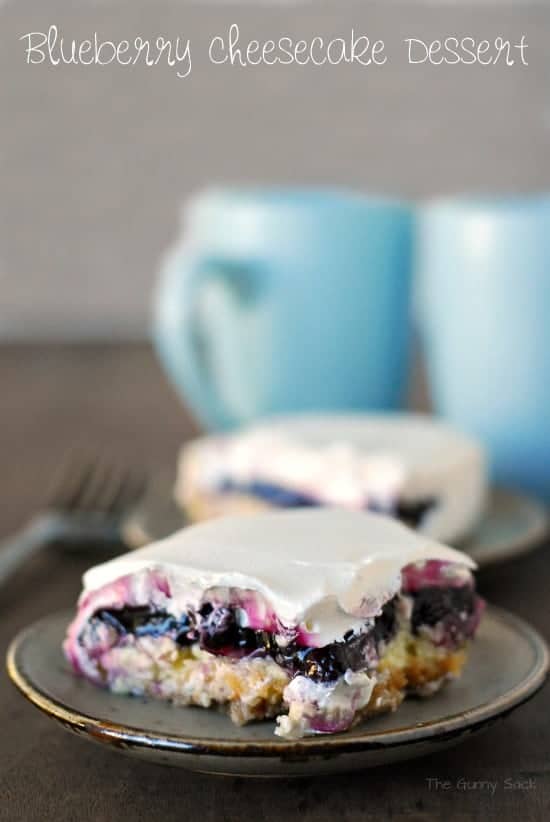 "Because my husband's grandmother gave the recipe to me when we got married. I love the combination of flavors and it is the perfect dessert to make for so many occasions." – Tonia
Kalhua Coffee Poke Cake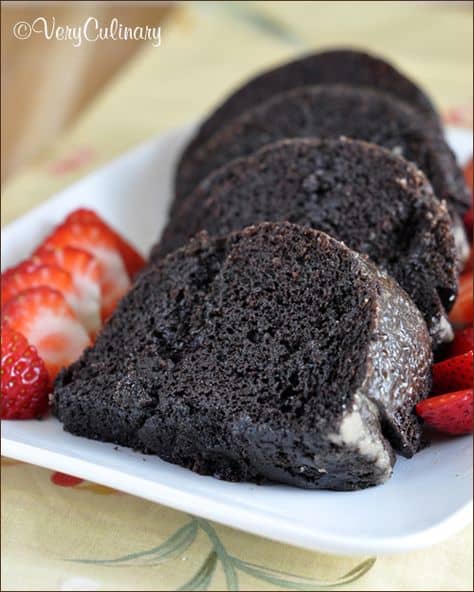 "Because it's super easy, super delicious, can feed a crowd, and everyone asks for the recipe when I bring it to a gathering." – Amy
Raspberry Turnovers from Heather's French Press
"They are my fave because as a kid, my mom would make them, and it was always such a treat after a special sunday supper." – Heather
Blueberry Cheesecake Galette from Kitchen Meets Girl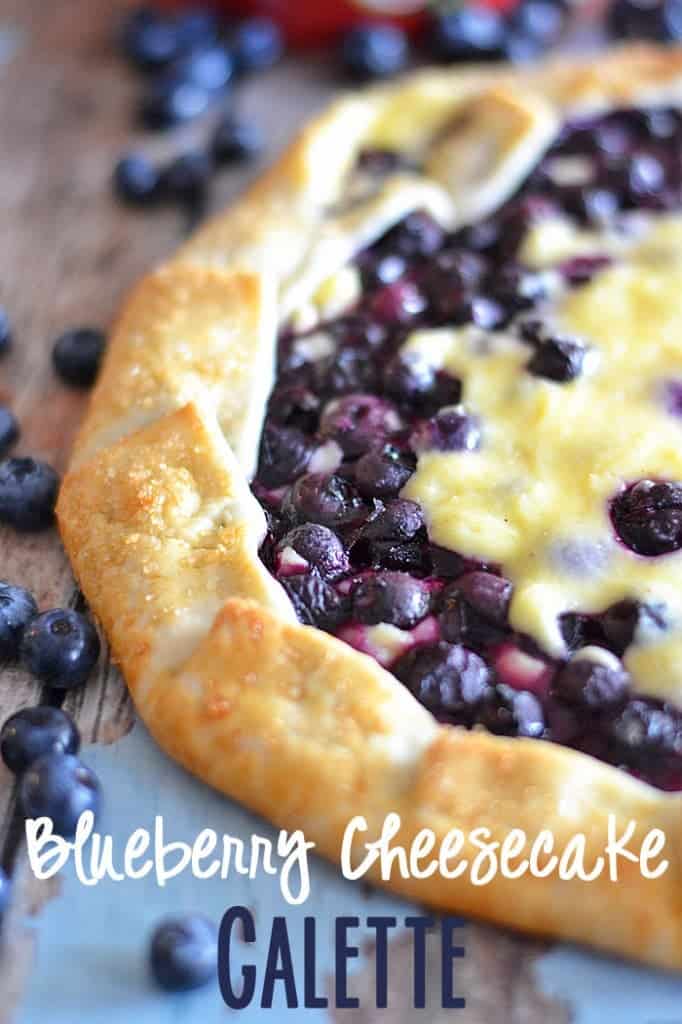 "This is my favorite because it is super simple and takes little active prep time. Plus, it looks fancy enough for serving to guests, even though it's a breeze to put together." – Ashley
Candy Land Cupcakes from Lemons for Lulu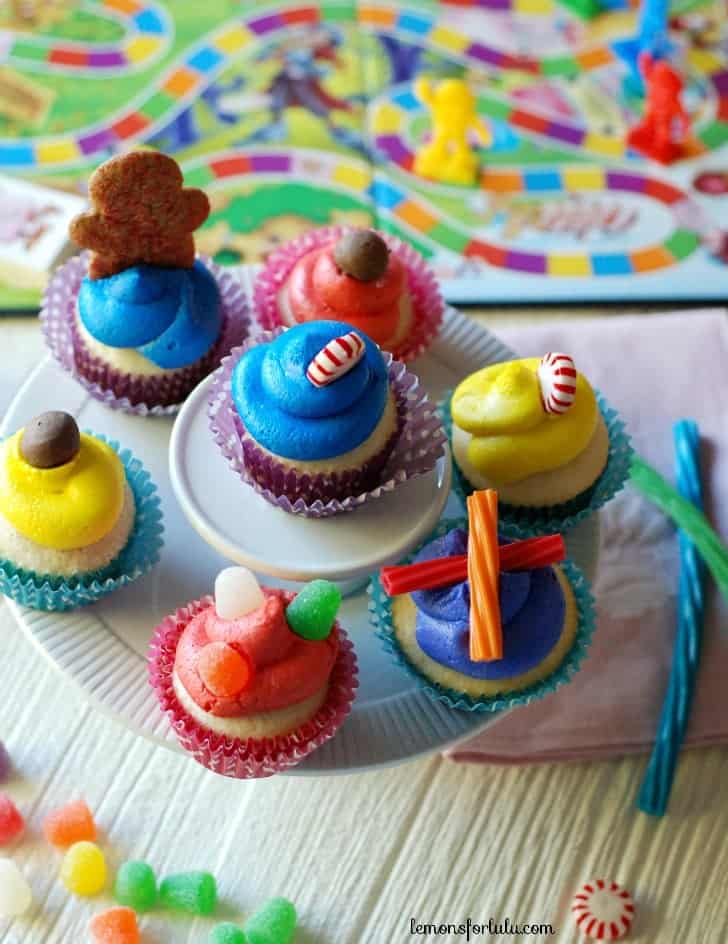 "They are my favorite because it is the first time I made white cake from scratch that actually tasted good. But also I made them for my daughter for her 5th birthday . She and I spent countless hours playing Candy Land. I can't help but think of her when I see these. She wants them again for her 6th birthday." – Tanya
Blueberry Crumble Cream Pie from I Wash You Dry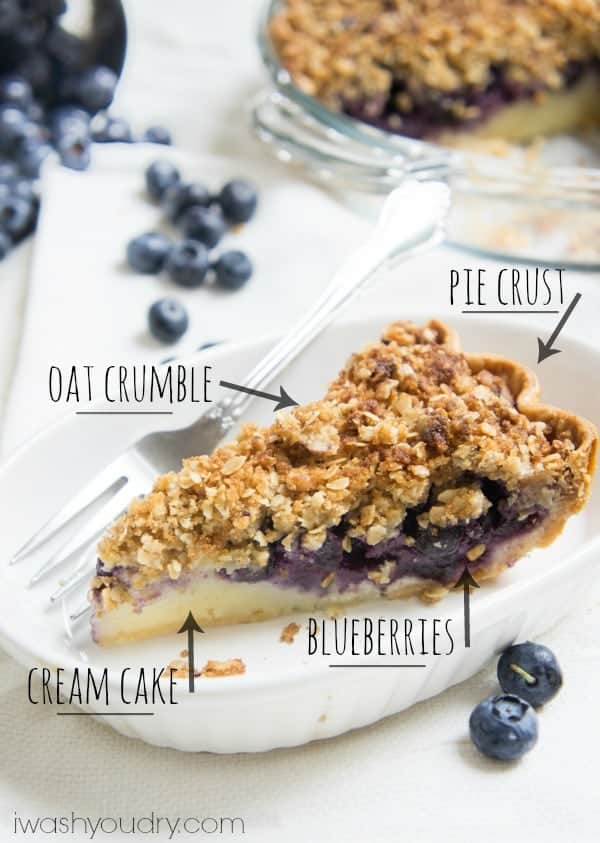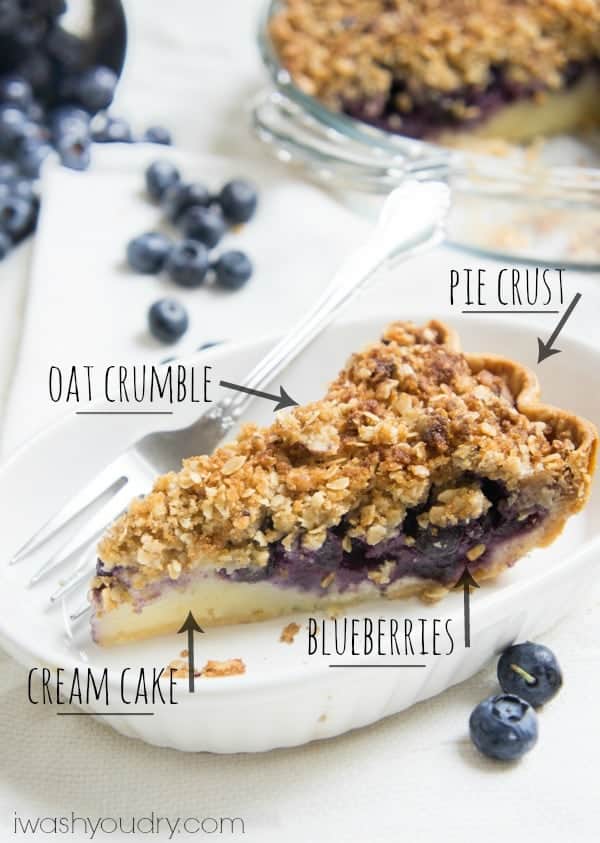 "I'm a very indecisive person, so the fact that this is practically three desserts in one, really makes me happy. Plus it's super quick and easy to throw together and impresses everyone who tastes it." – Shawn
Oatmeal Cookie Peanut Butter & Jelly Donut Bars from The Domestic Rebel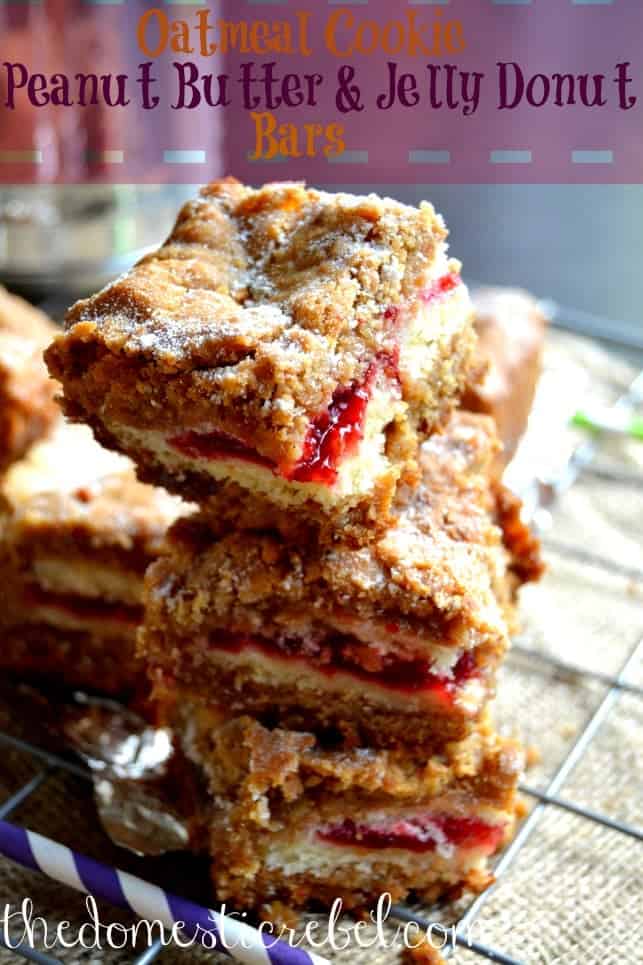 "So outrageous, but so delicious. They're my favorite because they combine my two top loves: donuts and cookies, into my top-favorite thing to make: bars! And who doesn't love an outlandish bar?!" – Hayley
Cream Puff Cake from Lil Luna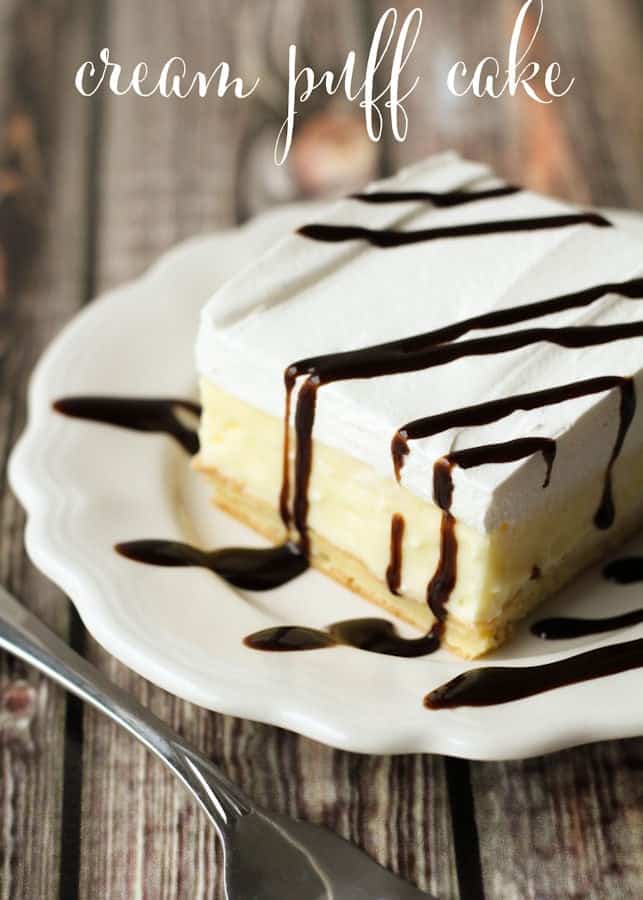 "It's one I remember my mom making ever since I was little and is so cool and delicious – a giant cream puff!" – Kristyn
Chocolate Lasagna from Center Cut Cook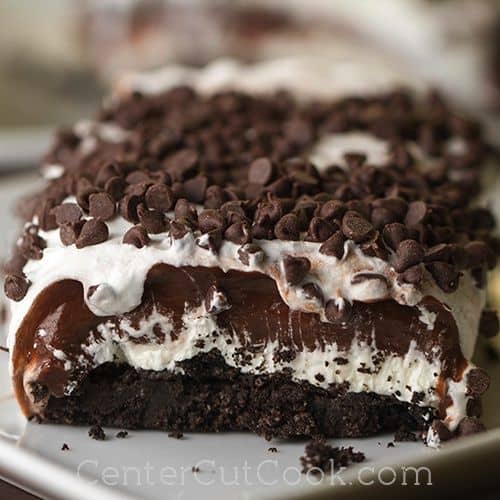 "I love this Chocolate Lasagna because it's bursting with chocolatey goodness and it is ALWAYS a crowd pleaser. It also happens to be the most popular recipe on my website!" – Ashley
Circus Animal Ice Cream Cake from Food Faith Fitness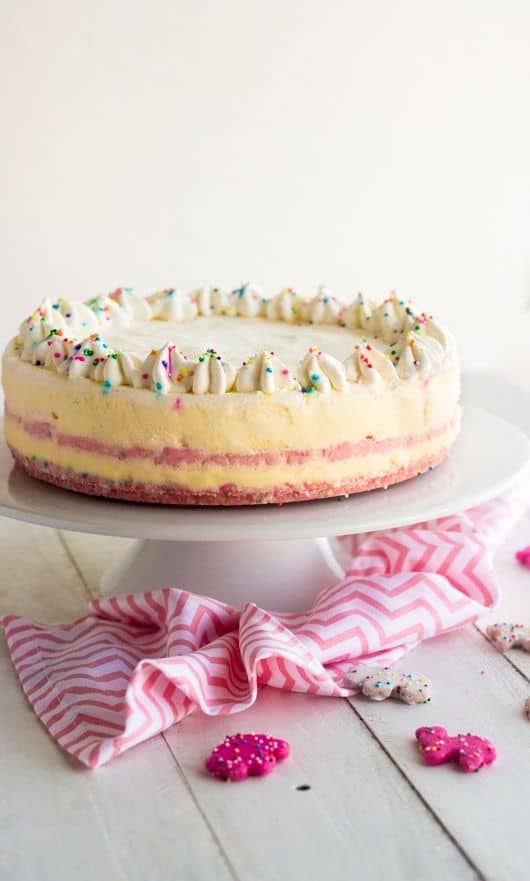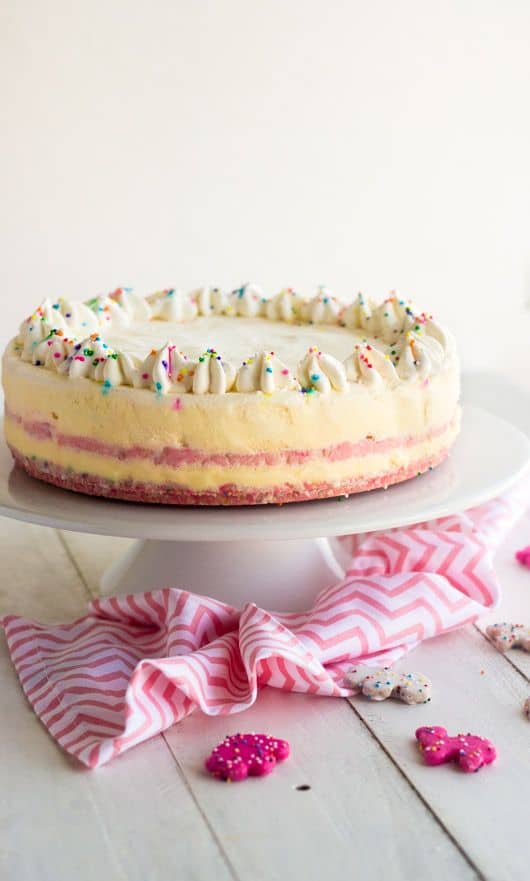 "I love it because it's SO easy and has my favorite childhood treat: circus animals! AND there's ice cream to boot. It doesn't get much better than that!" – Taylor
Brownie + Cookie = Brookies from Persnickety Plates
"I love making cookie bars when I'm being lazy & don't feel like scooping up dough. To me, combining a brownie + a cookie is the best of both worlds." – Melissa
Salted Caramel Mocha Brownie Cups from Inside BruCrew Life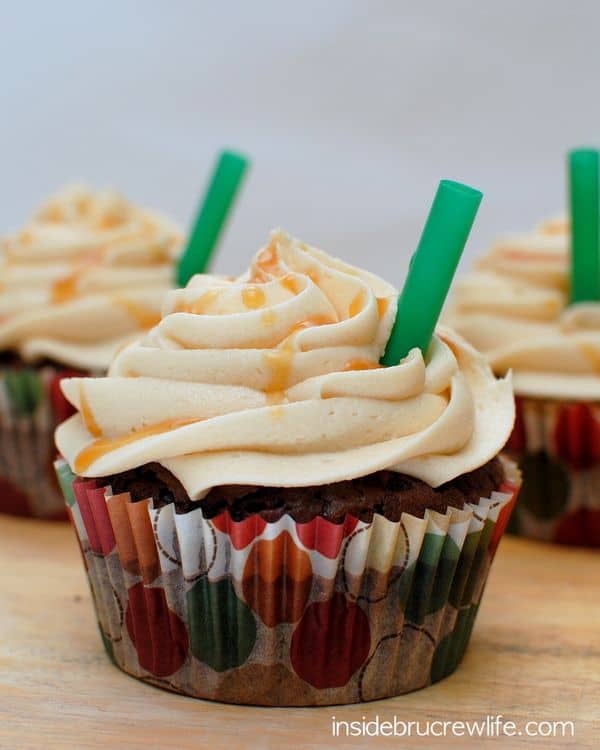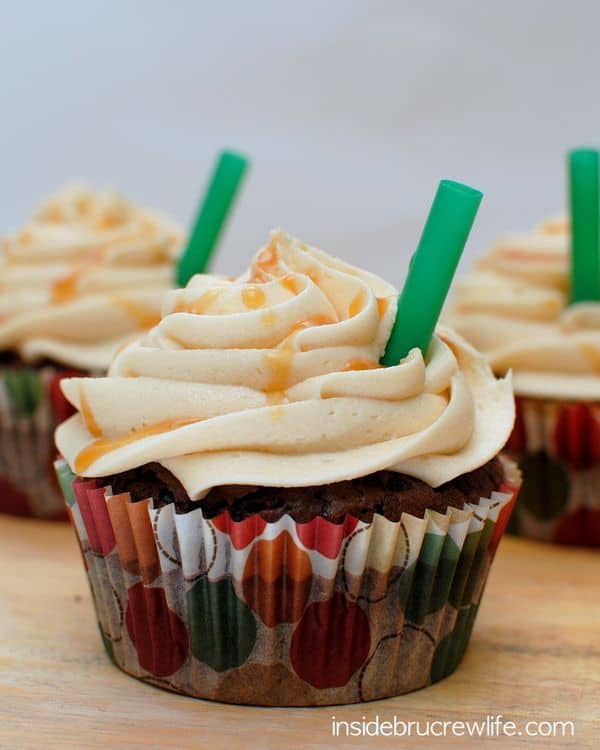 "This is one recipe that I actually make over and over, and salted caramel…do I need to say more!" – Jocelyn

Easy 30 Minute Cinnamon Roll Skillet Cake from Chelsea's Messy Apron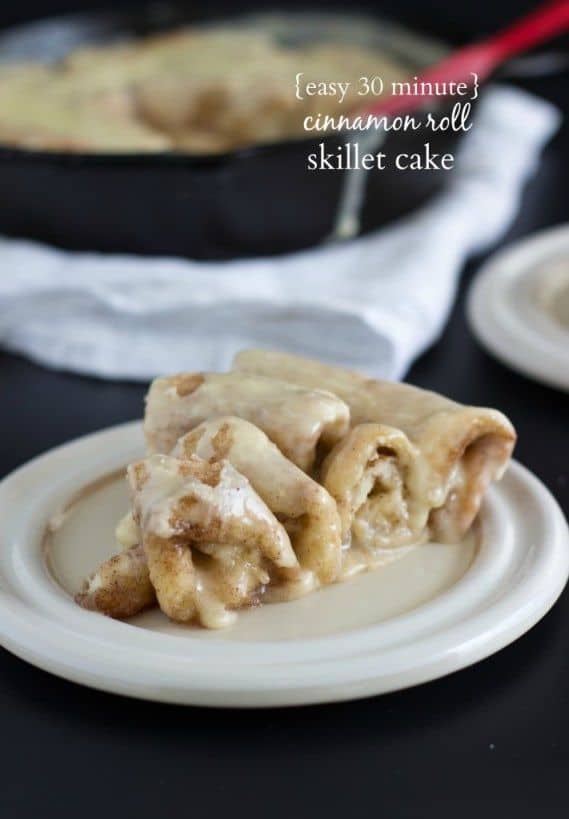 "This is my favorite because it's so easy to make and cinnamon rolls are my family's favorite dessert – so when we can have them in a quicker way it's great." – Chelsea
Dairy Free Creme Brûlée from Cooking With Curls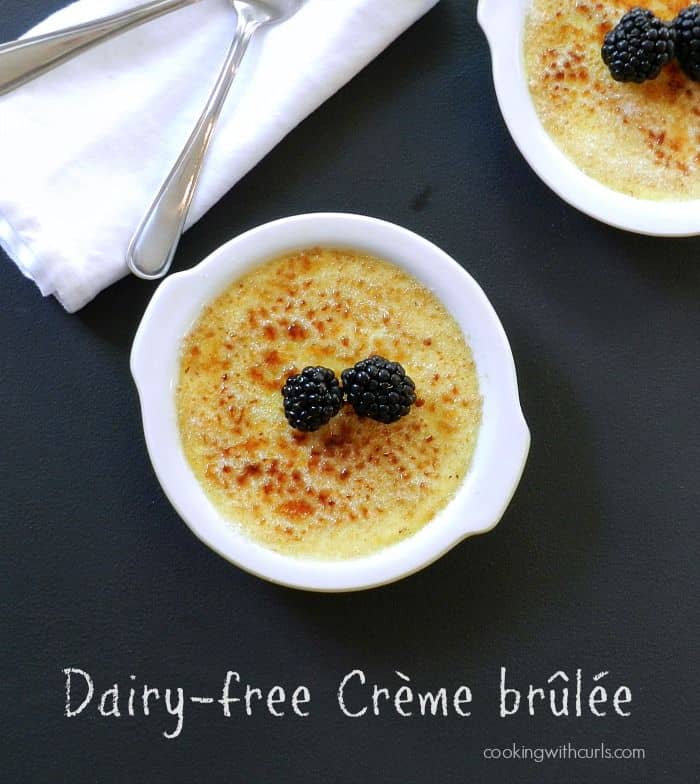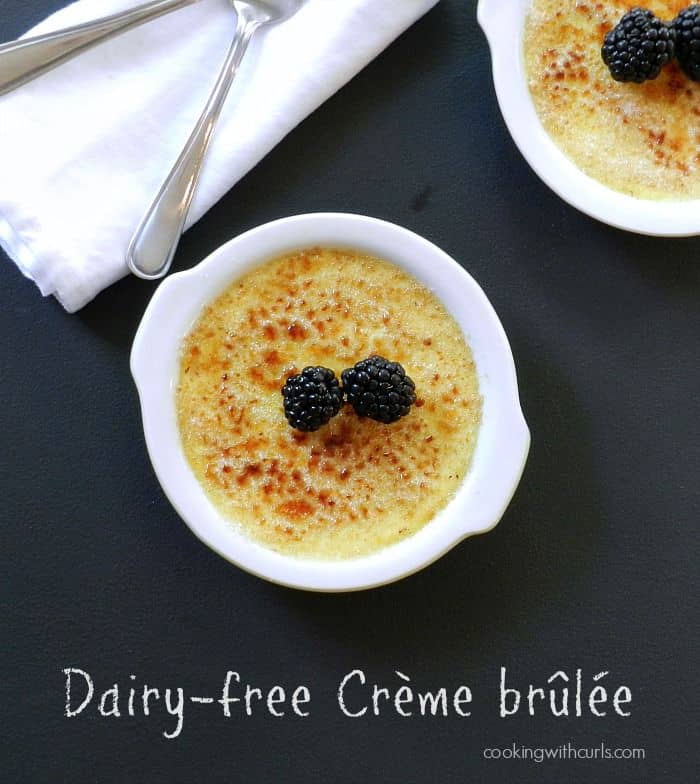 "Creme Bruelee is one of my favorite desserts, but I am lactose intolerant. I created this dairy-free version so I could finally have it again!" – Lisa
Hot Buttered Rum Apple Pie from The Frugal Foodie Mama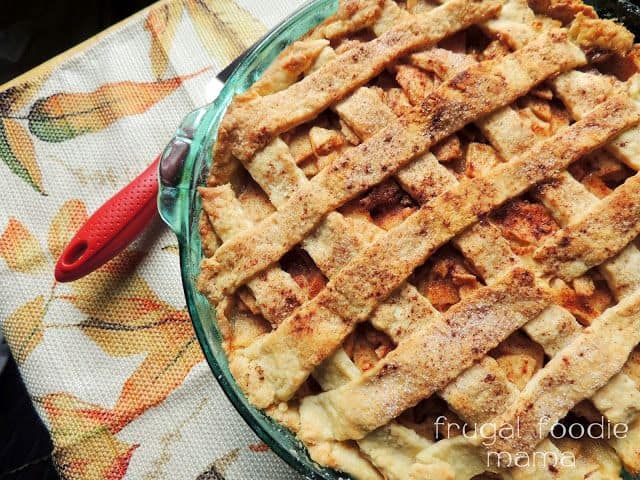 "It is a buttery, flavorful twist on classic apple pie, and one of my husband's and son's favorites. It is always requested after we go apple picking in the fall and for Thanksgiving." – Carrie
Whole Wheat Walnut Chocolate Chip Cookies from The Law Students Wife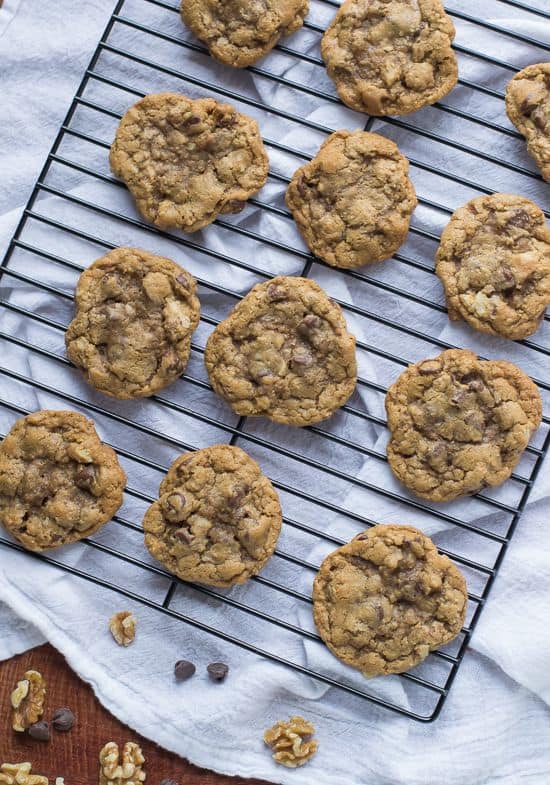 "These are my idea of PERFECT cookies. The ultimate in ooey gooey with a warm hit of cinnamon and espresso. Everyone who tries them freaks out too." – Erin
Chocolate Peanut Butter Cake from Blahnik Baker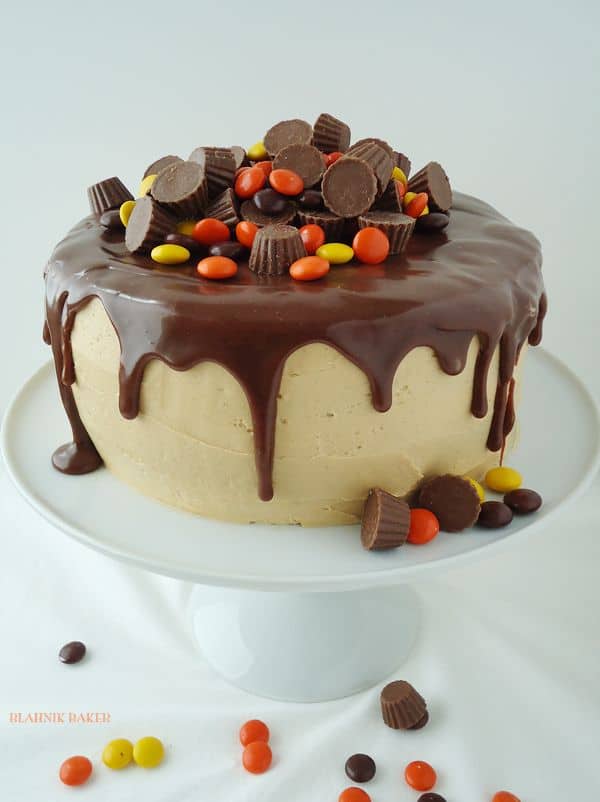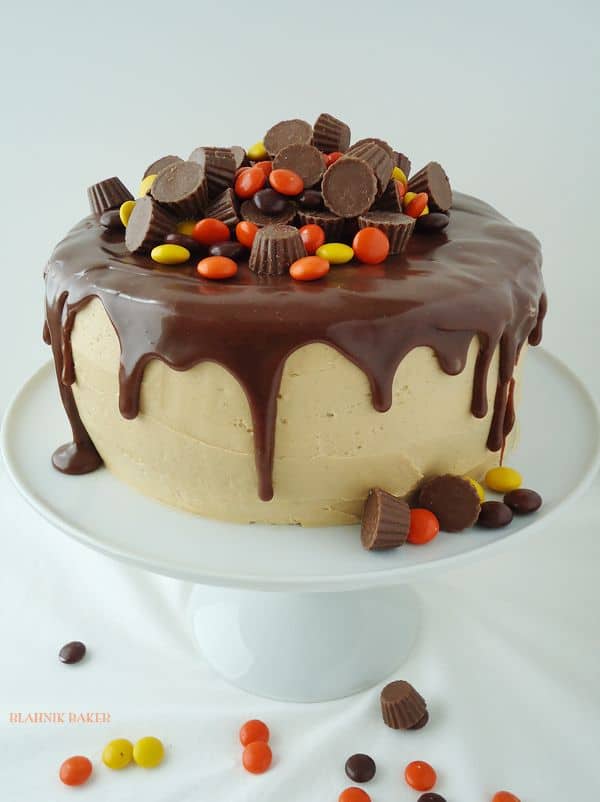 "This is my favorite recipe because it's my husband's most requested cake. He wants it for his birthday, our anniversary or Christmas!!" – Zainab
Mom's Hello Dollies from I Should Be Mopping The Floor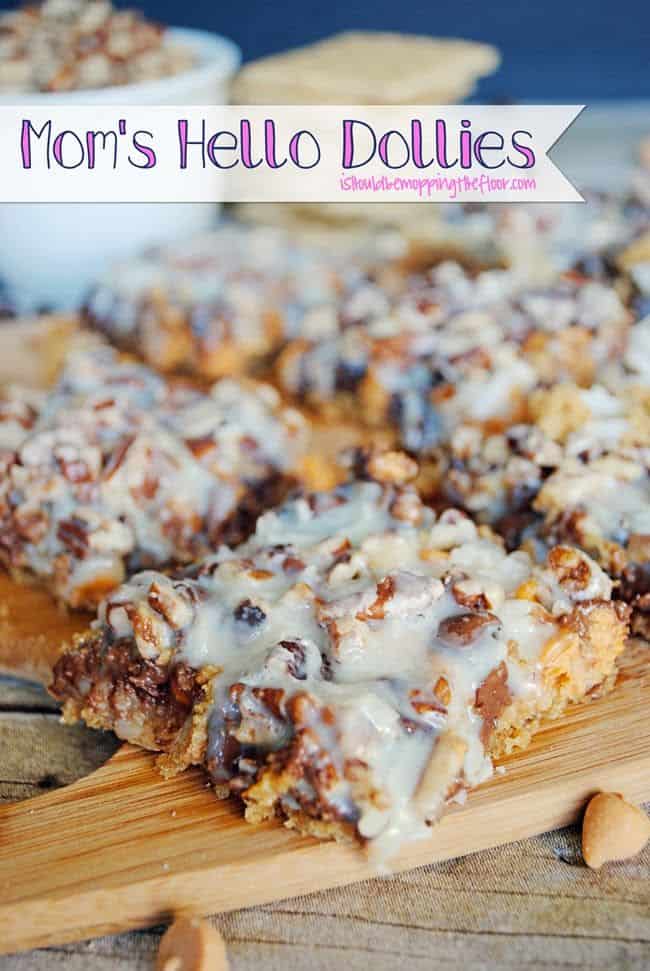 "It's my favorite because it is from my mom and, when I was a kid, she only baked around the holidays. Once the Hello Dollies were in the oven, I knew the Christmas season could commence! I now make them year round and think of those childhood memories every time I bake them!" – Kristi
Skinny Chocolate Brownies from Yummy Healthy Easy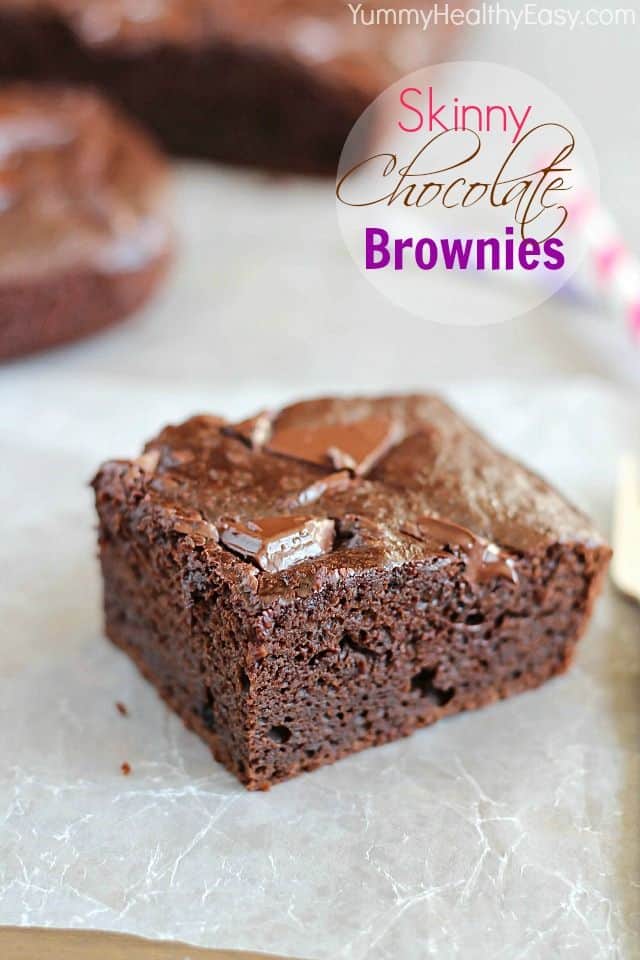 "I love chocolate desserts more than any other kind and these are the perfect amount of sweetness. Plus they're skinny but don't taste skinny at all! Everyone loves them every time I make them and would never guess they're lower calorie! They're seriously the best ever!" – Jen
Snickers Chocolate Cake from Real Housemoms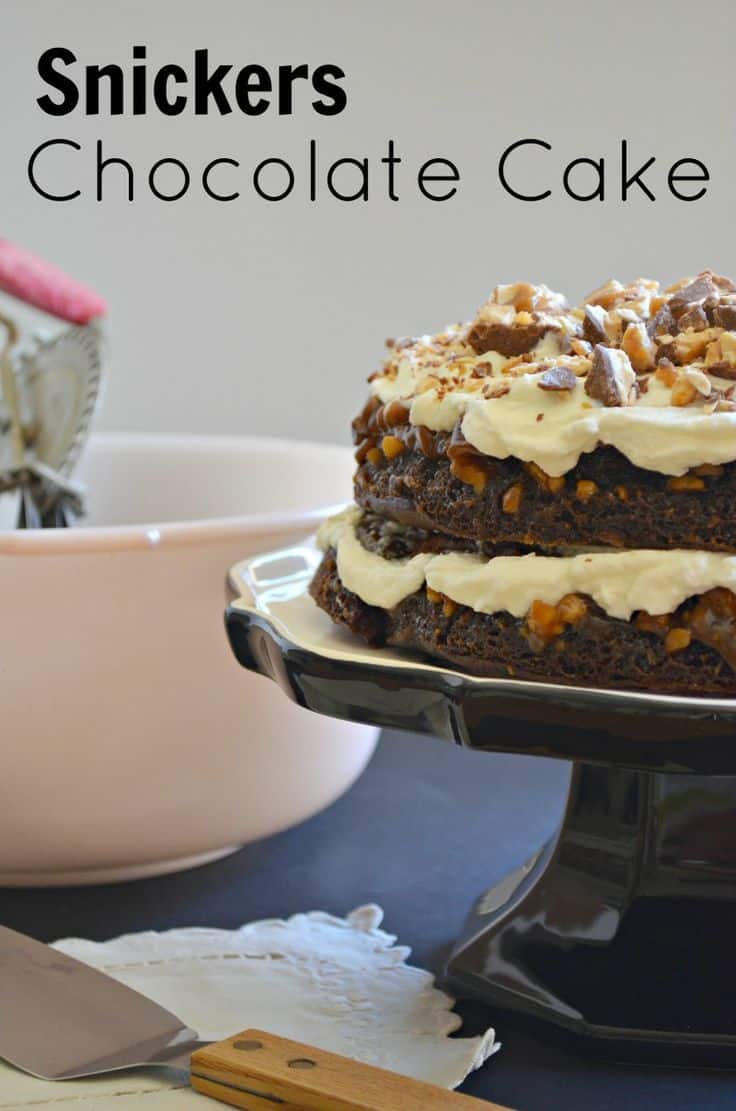 "It's my favorite because it was my birthday cake from my mom every year as I grew up. The caramel and nuts are baked into the top of each layer of the cake and then the whole thing is topped with fresh whipped cream and Snickers. AH-MAZING!!!!!!" – Aubrey
Turtle Cheesecake Brownies from Back for Seconds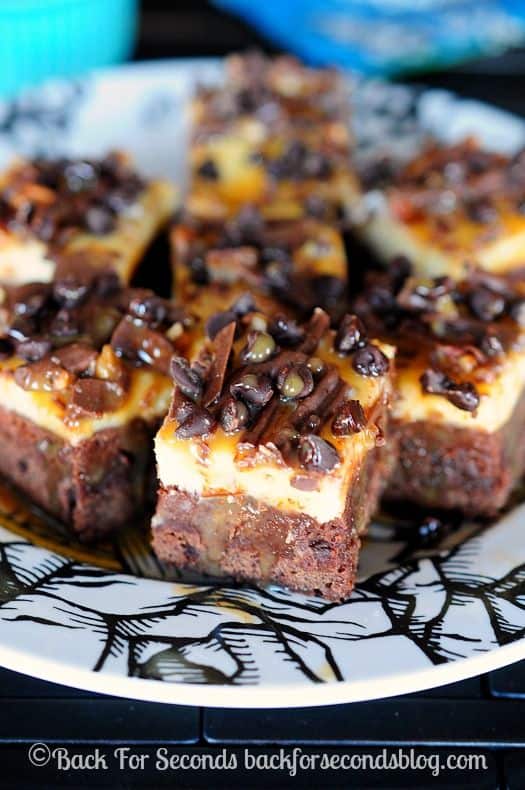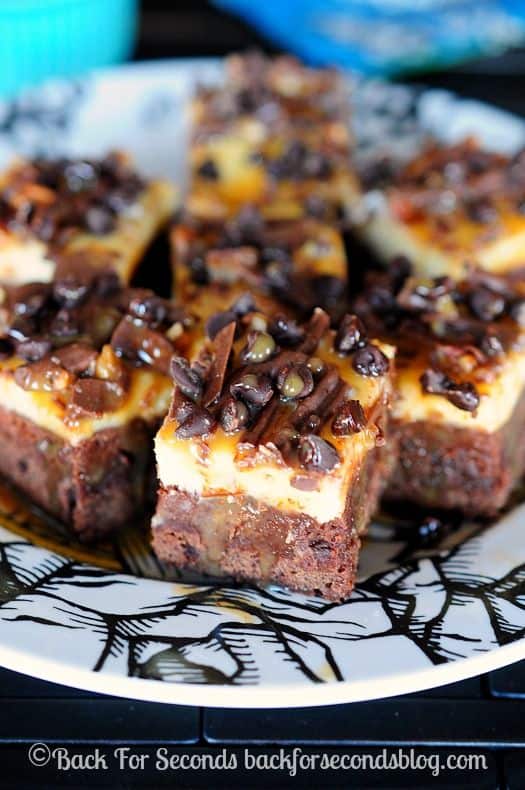 "Fudgy Brownies are my love language. Top them off with cheesecake, nuts, salted caramel and more chocolate….what could be better?" – Stephanie
Real Deal Caramel Cake from Grandbaby Cakes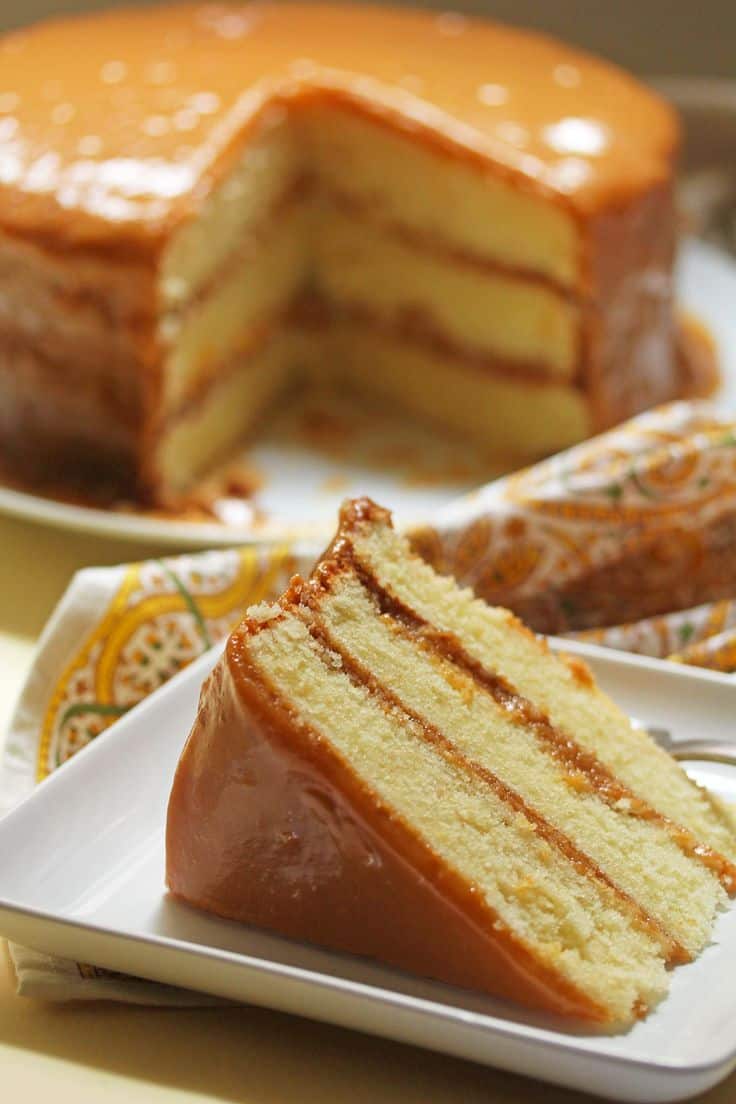 "Its a family recipe and there is just nothing like it. I have tried other caramel cakes but something is always missing like the yellow cake isn't right or the caramel doesn't pack the punch but this is perfection in every possible way and its my blog's most popular recipe" – Jocelyn
Turtle Cheesecake Pie from Hoosier Homemade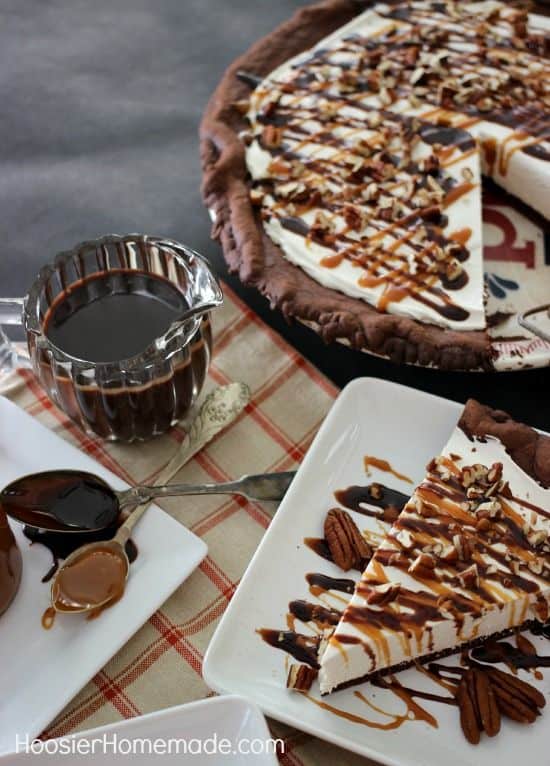 "I love any dessert that has pecans, chocolate and caramel. But this pie is not only delicious, it's fun to make. The crust is actually made with a cake mix." – Liz

Salted Ripple Chip No-Churn Ice Cream from Cupcakes and Kale Chips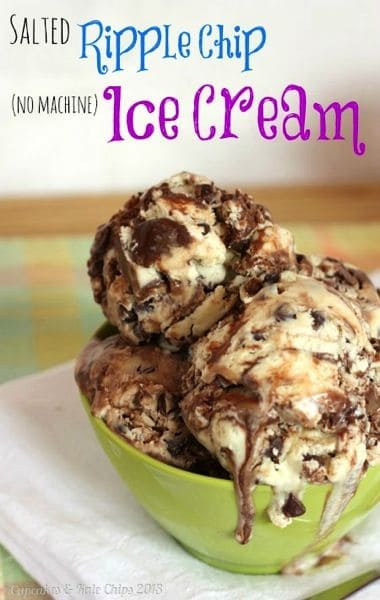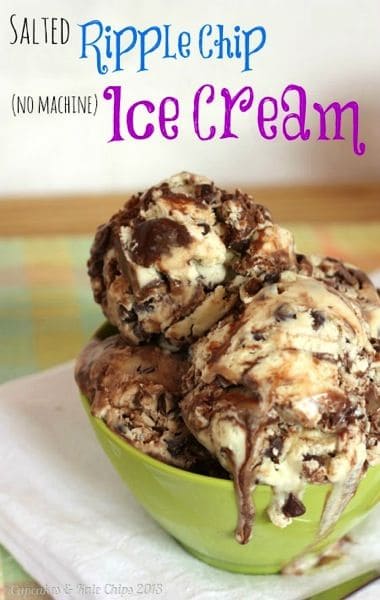 "I am totally ice cream-obsessed and this has all the featured of my ultimate ice cream – chocolaty swirls chunks for all different textures." – Brianne
Peanut Butter Meltaways from Oh Sweet Basil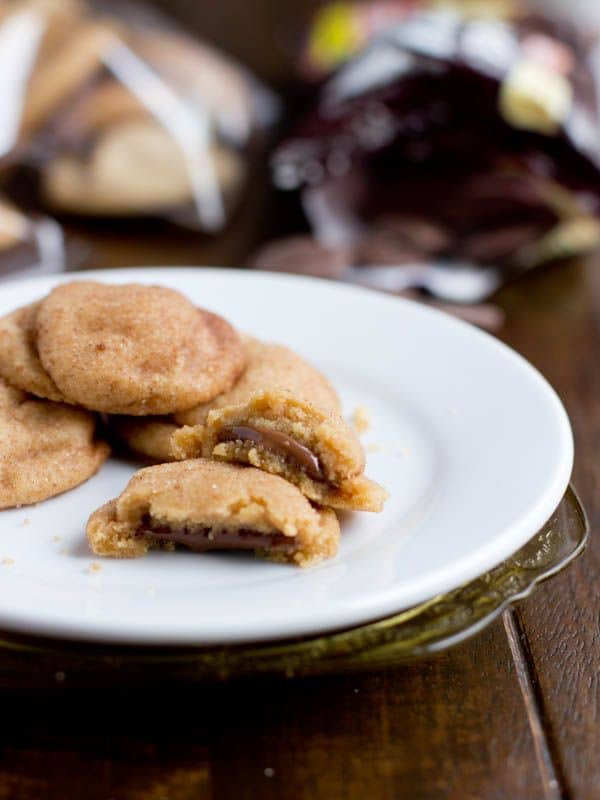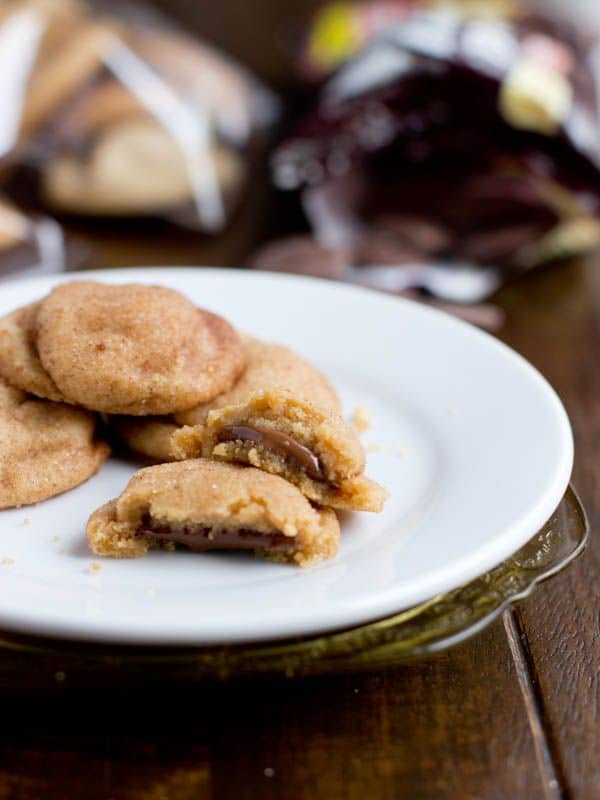 "They are easier, a warm, melty cookie and two of my favorite flavors, chocolate and pb!" – Carrian

Easy Strawberry Cake from Call Me PMc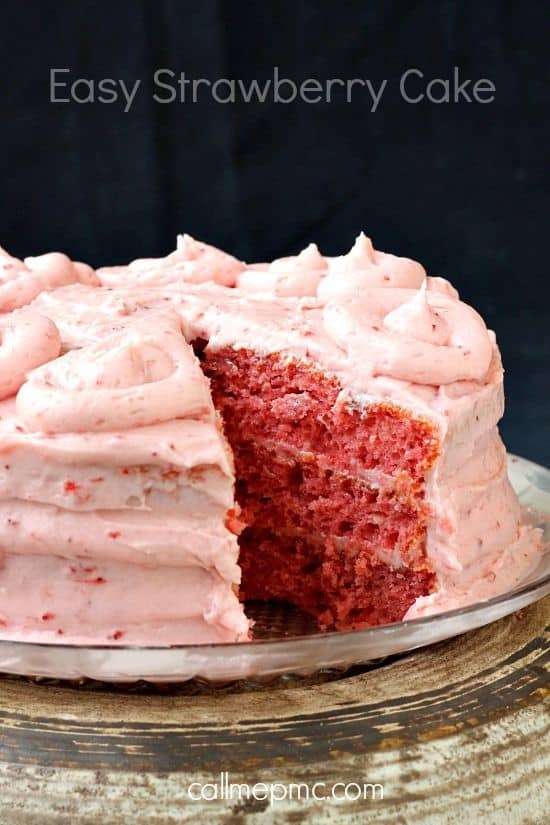 "My Mom has made this cake for me for my birthday since I was a teenager." – Paula
Crispy Peanut Butter Marshmallow Brownies from Chocolate Moosey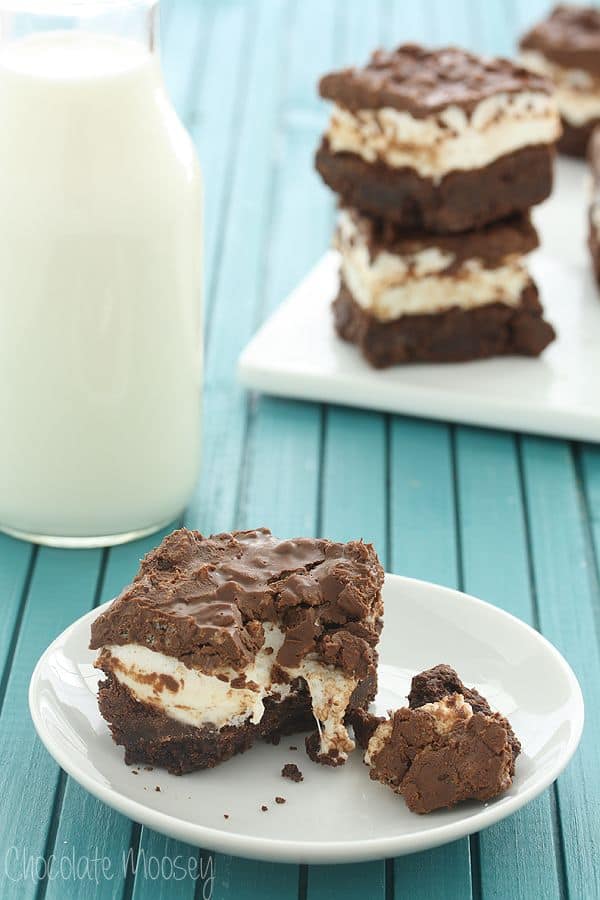 "Last summer I visited Harper's Ferry and found this gift shop with a random bakery in the back. I bought one of these marshmallow brownies on a whim because OHMYGOSH LOOK AT THAT MARSHMALLOW LAYER. I spent all afternoon eating it (poor Dad had to keep holding it while I kept taking pictures of the sites). I couldn't stop thinking about that brownie, so I set out to recreate it. To this day, every time I even look at that photo, I want to rush into the kitchen and bake those brownies now. It just tugs on my hungry heartstrings." – Carla
Lemon Supreme from Cooking on the Front Burner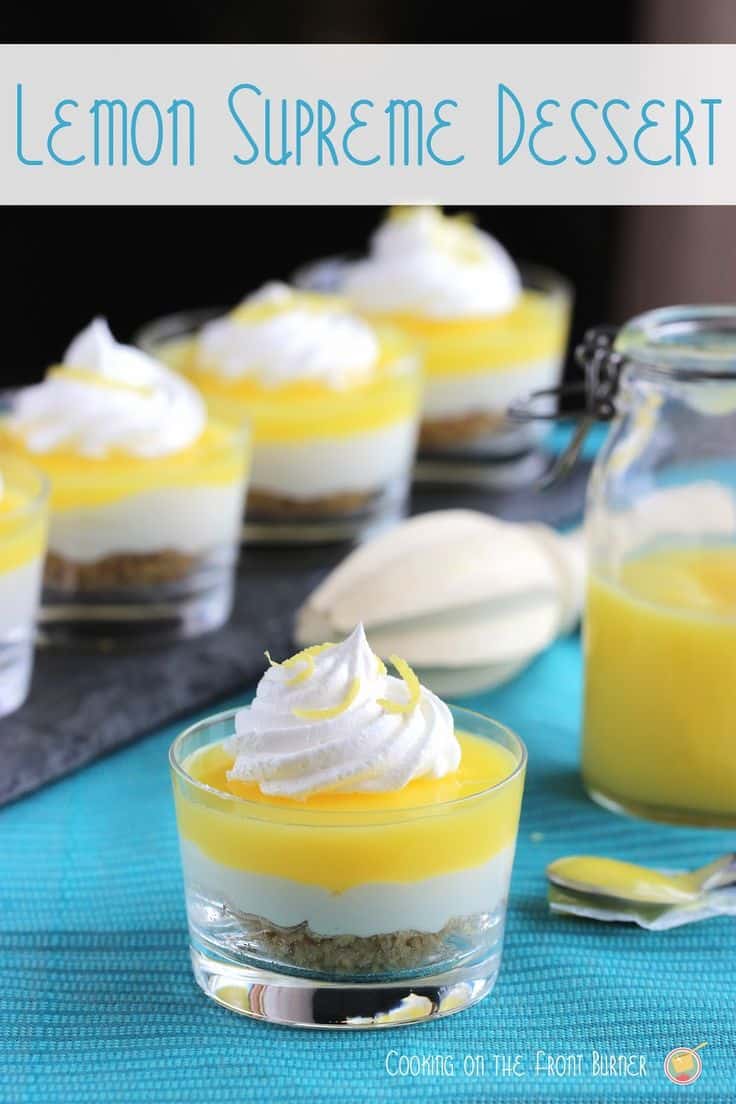 "This was (and still is) my daughter's birthday request – even as a married woman! It is so light and lemony – it can be made in a springform pan or individual dishes which I do for dinner parties, wedding showers, etc." – Deb
Double Chocolate Pudding Cookies from I Heart Naptime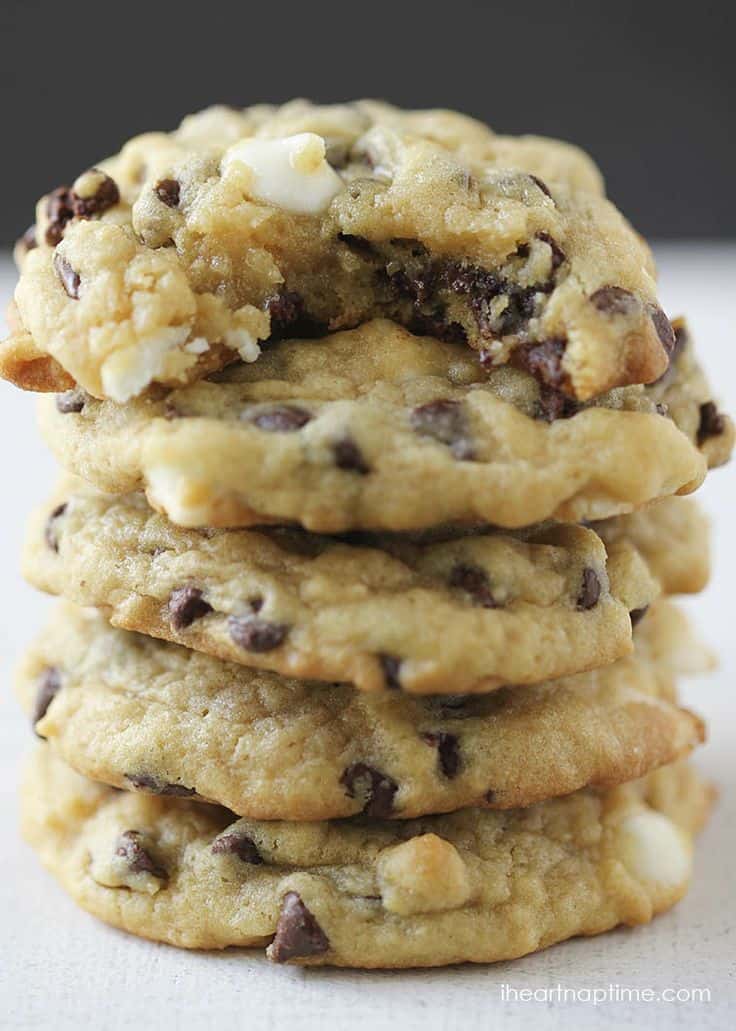 "I love these pudding cookies because they are super soft and come out perfect every time!" – Jamielyn

Pumpkin & Cheese Spice Bread from An Edible Mosaic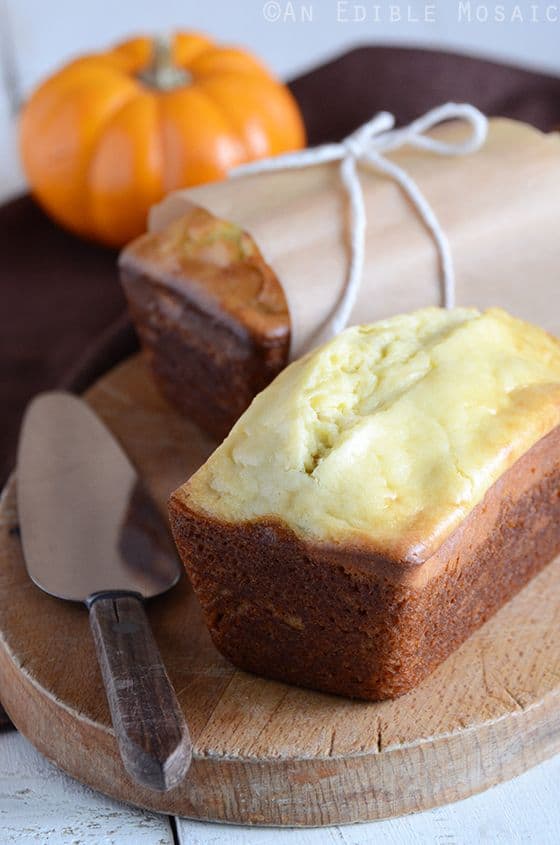 "This loaf is autumn (my favorite time of year) wrapped up in bread form!" – Faith
Chocolate Covered Macaroon Bars from The Grant Life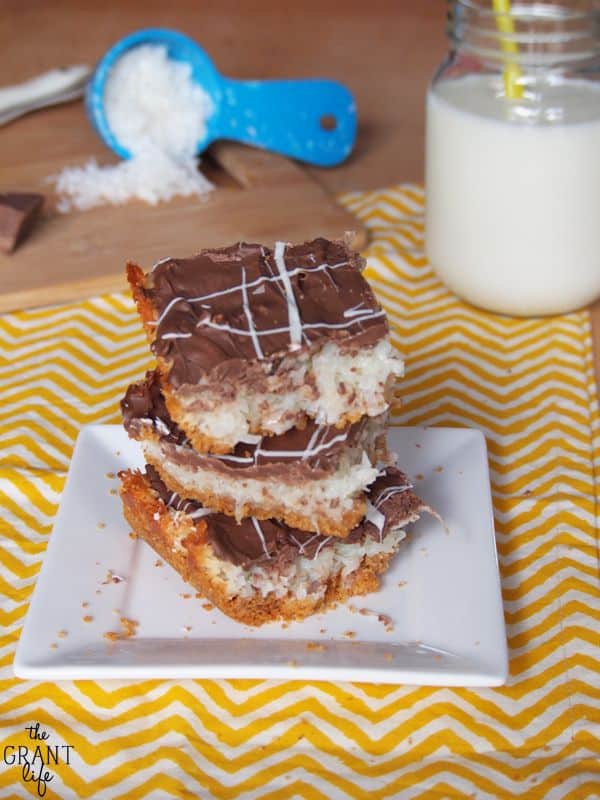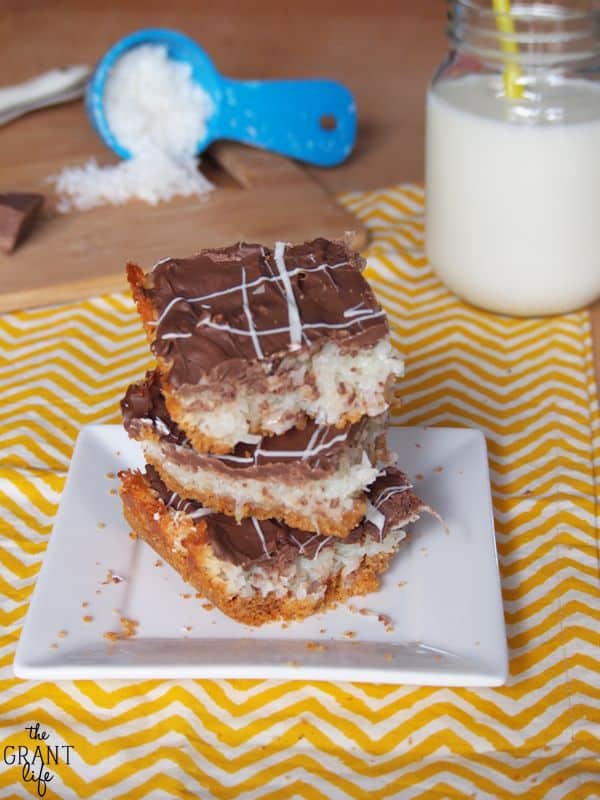 "I love all things coconut and these bars are full of it! Plus, they are so simple to whip up and everyone will think you spent a ton of time in the kitchen. {But you didn't!}" – Kelley

Fudgy Strawberry Brownie Nachos from Simply Southern Baking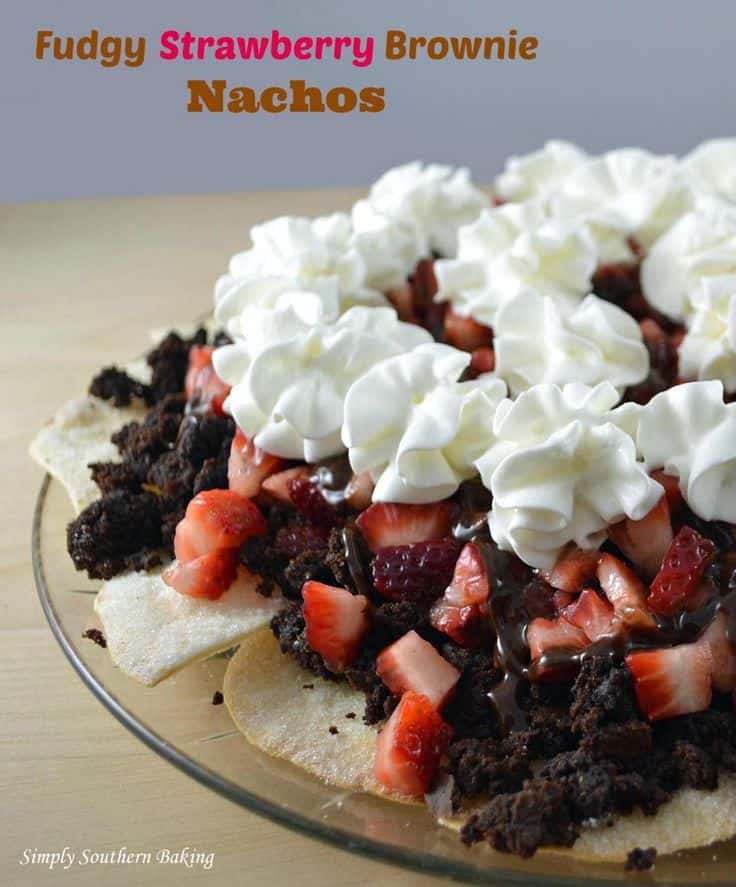 "I love it because it's so easy to make and those I serve it to are amazed at dessert nachos." – Robin

Blueberry with Yogurt & White Chocolate Parfait from The Hungry Goddess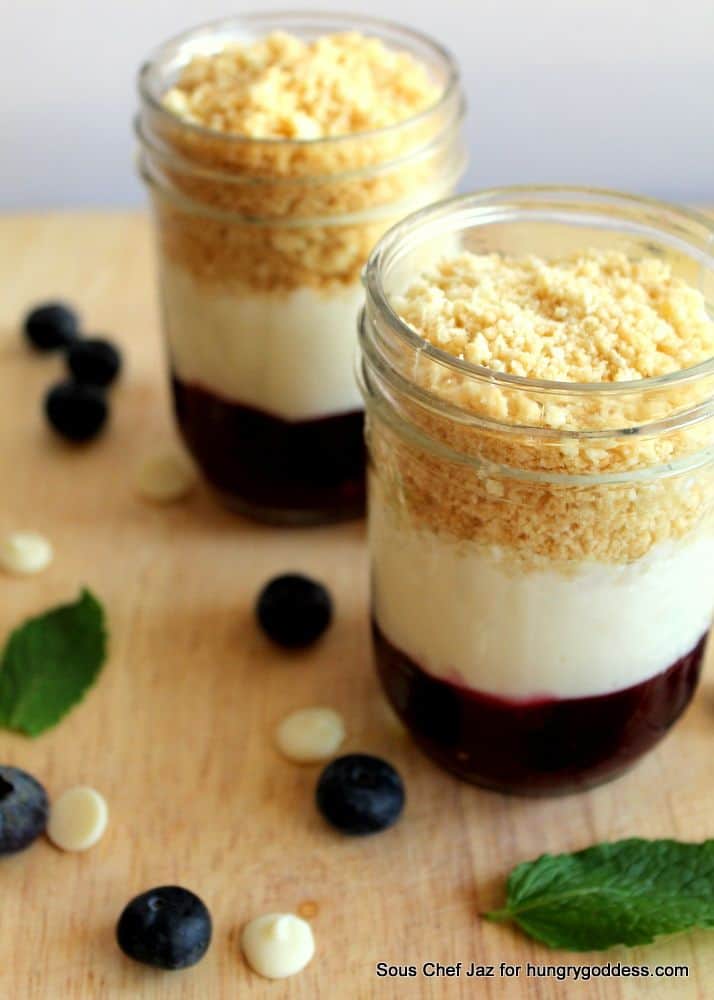 "I love it because I am not much of a baker and this was easy & delish! And it looks cool!" – Kimberly
Dark Chocolate Blender Pot de Creme from The View From Great Island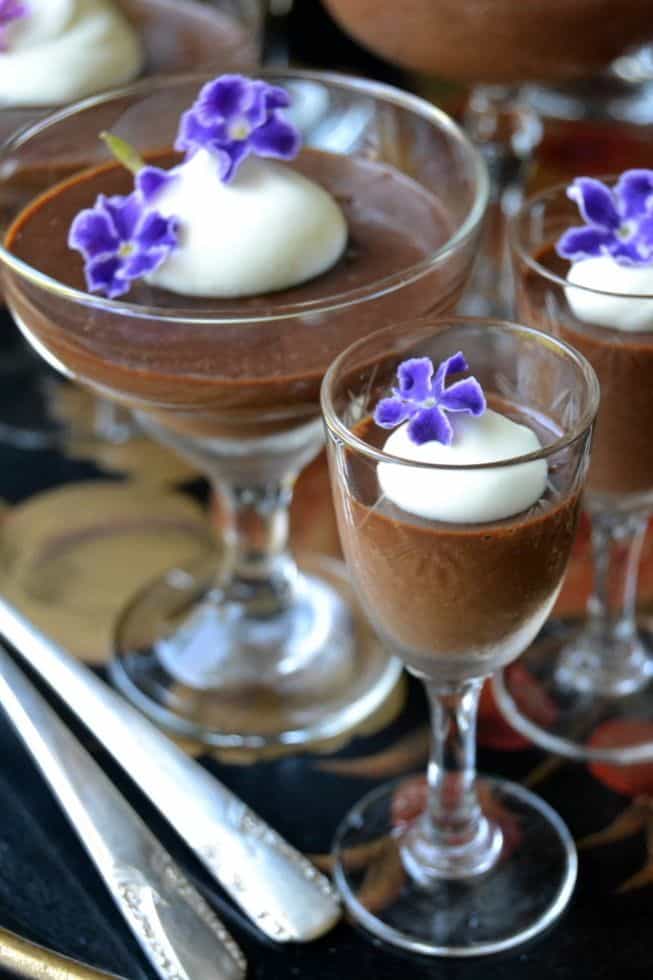 "I love this because it was a huge discovery to find that I could make such a classic rich chocolate dessert in a few minutes in the blender…it's an entertainer's dream dessert…plus, it photographed really pretty" – Susan
Brown Butter Brownies from Self Proclaimed Foodie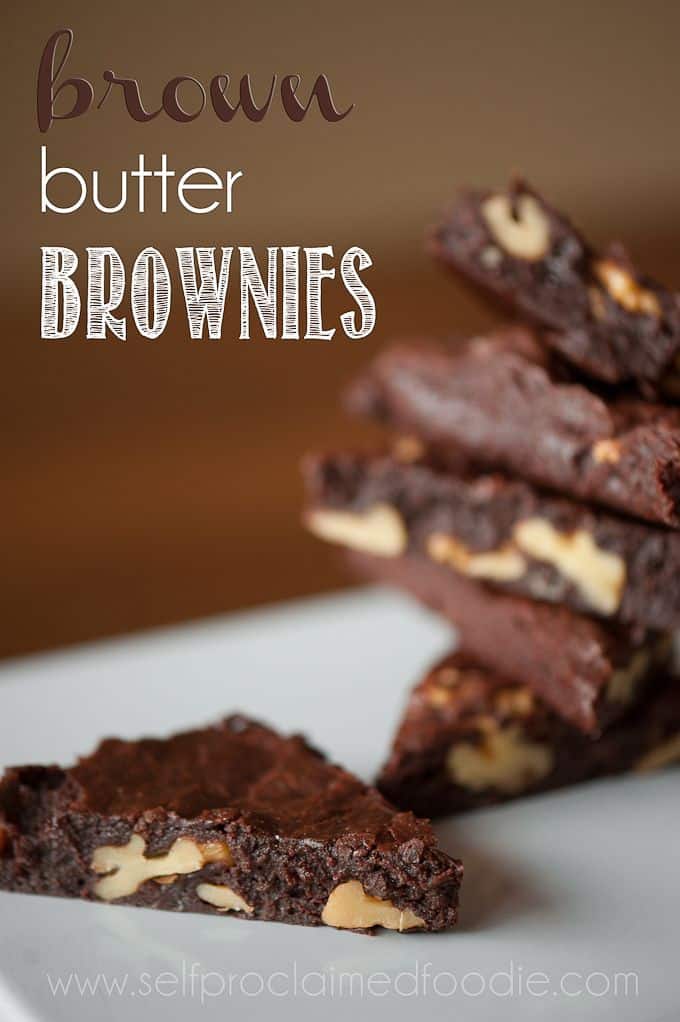 "It doesn't get any more rich and decadent than brown butter brownies. They satisfy the strongest of chocolate cravings." – Krissy
Pomegranate Brownies from Because I Like Chocolate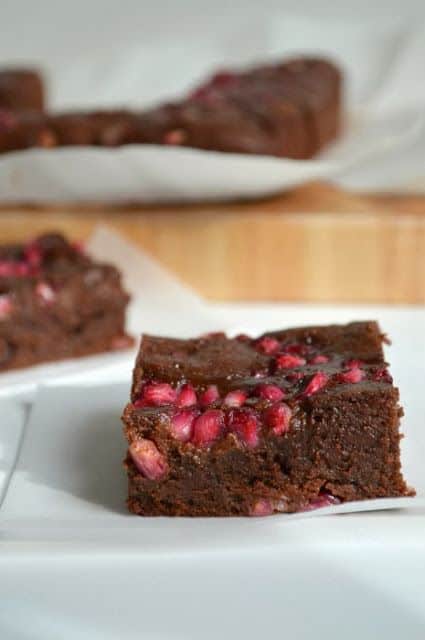 "When you are a chocoholic, only the most decadent, rich, over-the-top, fudgy brownies will do and these fit the bill perfectly!" – Mallory
Chocolate Cake with an Oreo Cheesecake Filling from Barbara Bakes
"You don't have to choose between cheesecake and cake, and it's easy to make." – Barbara
Paleo Strawberry Crumble from The Roasted Root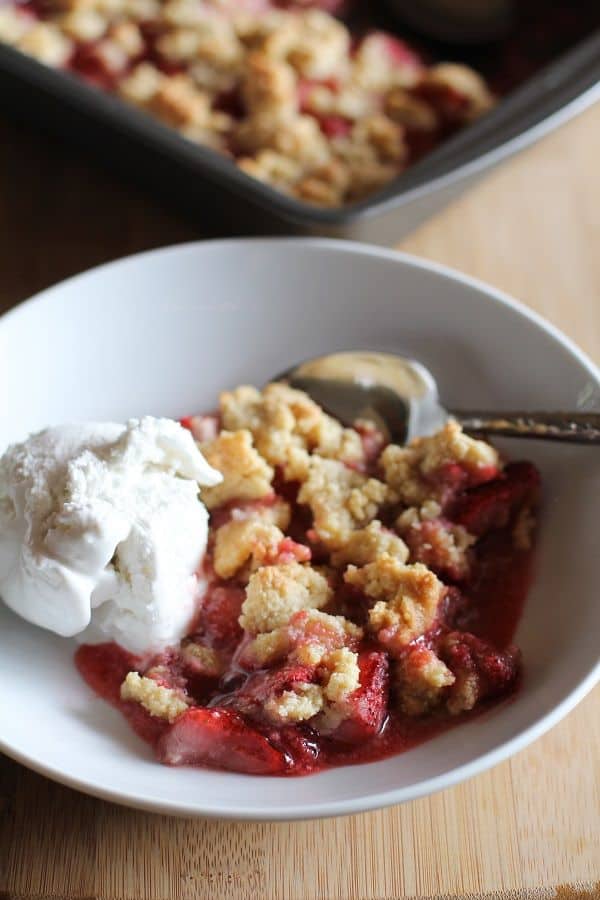 "The crumble is completely addicting AND comes with health benefits. It won't put you in a sugar coma and you'll still feel great after eating it!" – Julia
Caramel Oatmeal Bars from Krafted Koch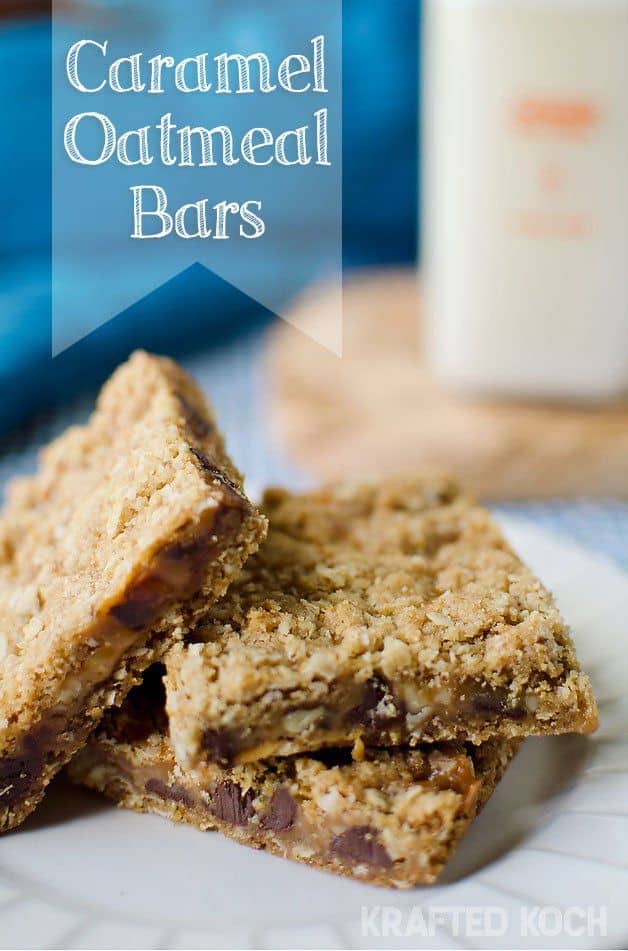 "They are a family favorite we have enjoyed since childhood and no matter how old we get, they are the first dessert everyone gravitates towards, because they are just that good!" – Danielle
Caramelized White Chocolate Truffle Pumpkin Cupcakes from Keep It Sweet Desserts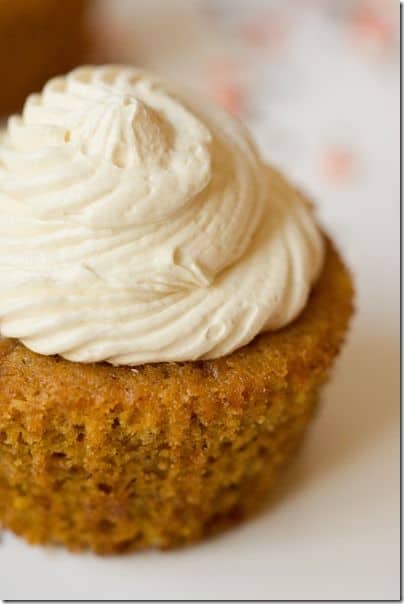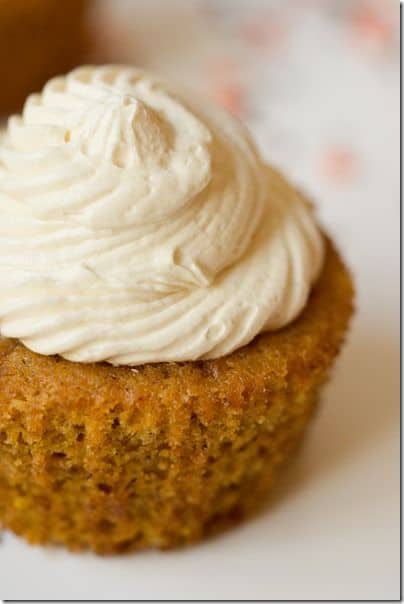 "The caramelized white chocolate makes these cupcakes like nothing else. The cupcakes are outrageous and a perfect treat for anyone who loves pumpkin." – Lauren

Red Velvet Rugelach from What Jew Wanna Eat
"It's a modern twist on one of my favorite classic recipes from growing up. Red velvet croissant cookies with a sweet cream cheese filling!" – Amy
Banana Ice Cream with Toasted Walnuts and Chocolate Swirl from Seasonal and Savory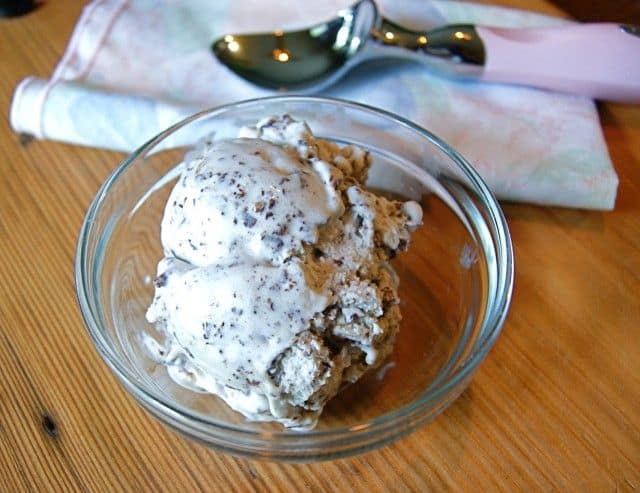 "This is basically a Paleo/dairy free version of "Chunky Monkey," which is my favorite ice cream." – Angela
Deep Dish Chocolate Chip Cookie Sundae from Neighbor Food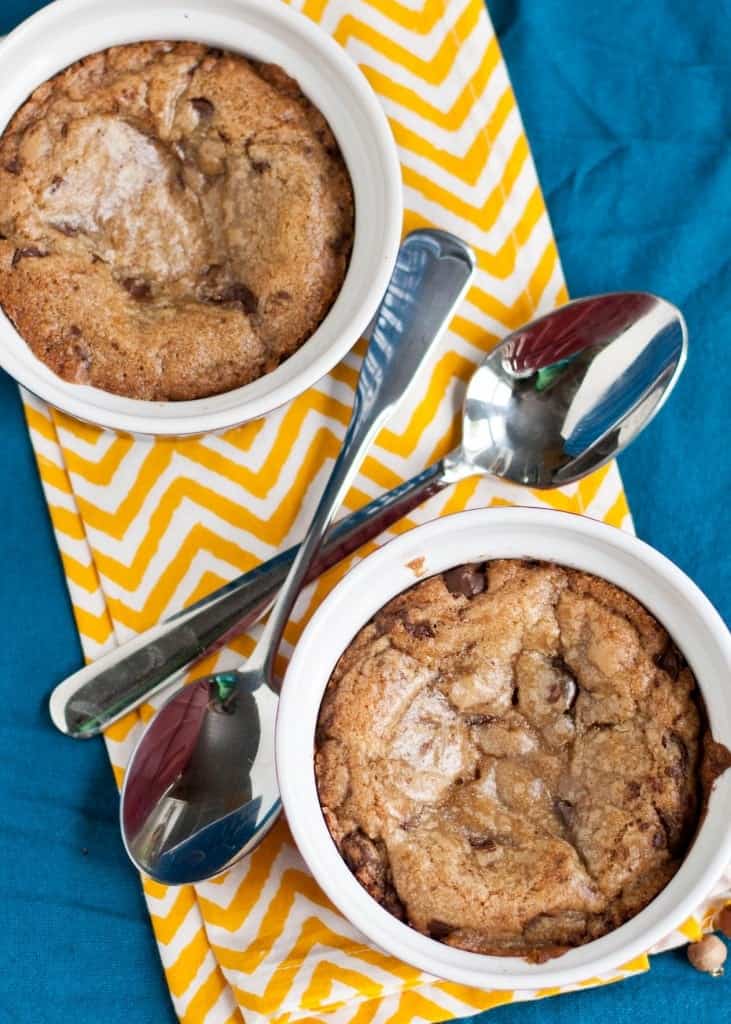 "For me, nothing beats a classic chocolate chip cookie, especially a thick, gooey, molten chocolate chip cookie topped with ice cream and chocolate syrup. It's my love language." – Courtney
Hot Fudge Sundae Cupcakes from Simply Sated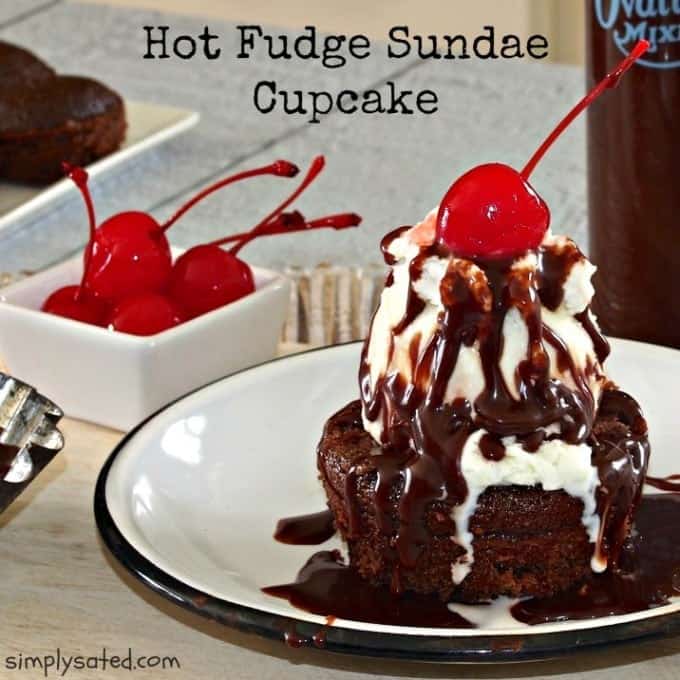 "NOTHING beats chocolate cake, with ice cream and homemade hot fudge then topped with whipped cream and a cherry on top. Everyone is happy when this is served." – Susie

Flourless Chocolate Poppyseed Cake from Recipe Renovator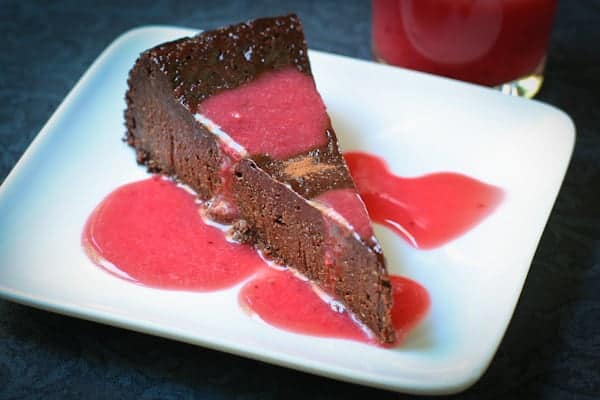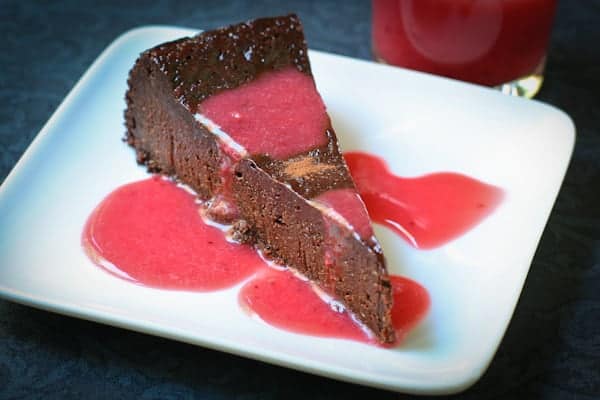 "Insanely decadent flourless chocolate cake, made by a friend in Provence for my 50th birthday. Truly memorable." – Stephanie
Chunky Peanut Butter Stuffed Brownies from Snappy Gourmet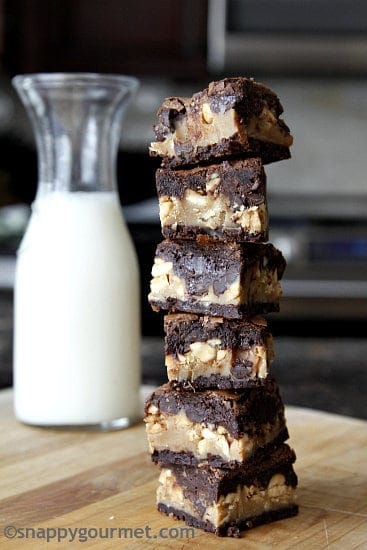 "These brownies are so decadent and fudgy, that I can never eat just one!" – Lisa

Blueberry Crumb Bars from Flavor Mosaic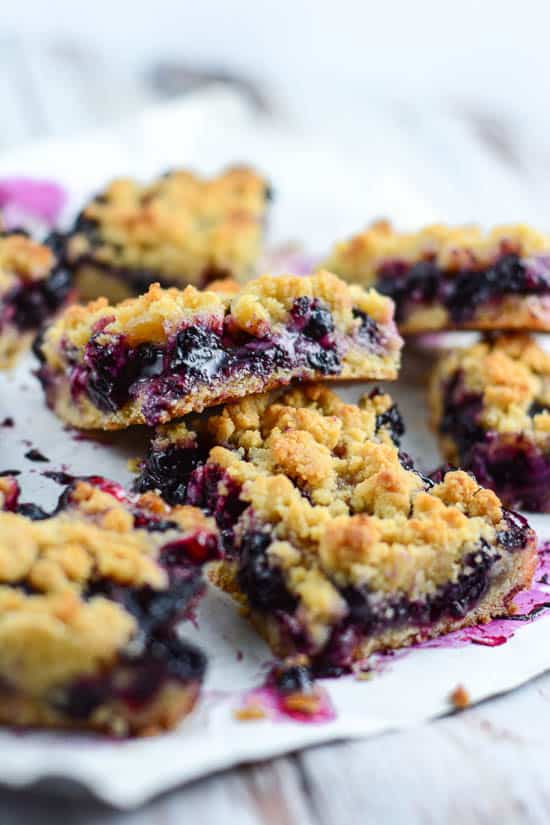 "I love these Blueberry Crumb Bars because it uses fresh blueberries and tastes wonderful. This was a favorite at our house." – Michele

No-Bake Chocolate Eclair Dessert from The Kitchen Is My Playground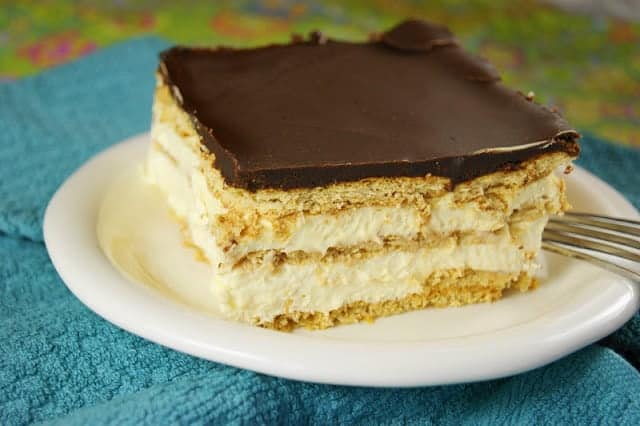 "Crowd-pleasing, easy-to-make comfort food. It's like creamy comfort in a pan!" – Tracey

Meyer Lemon Souffle from The Little Ferraro Kitchen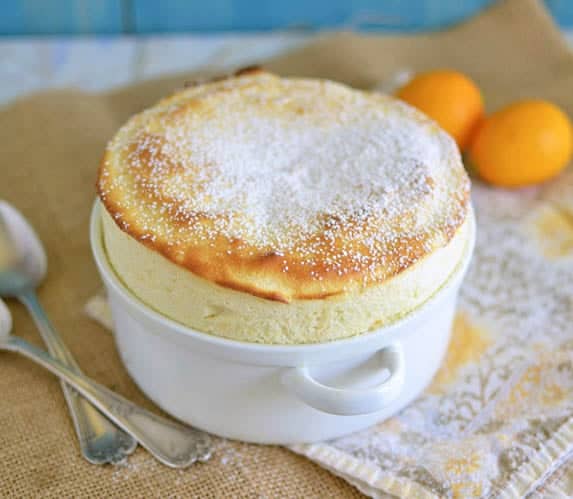 "I love it because it is a gorgeous work of food art!" – Samantha
Fresh Hibiscus Berry Pavlova from Cooking With Books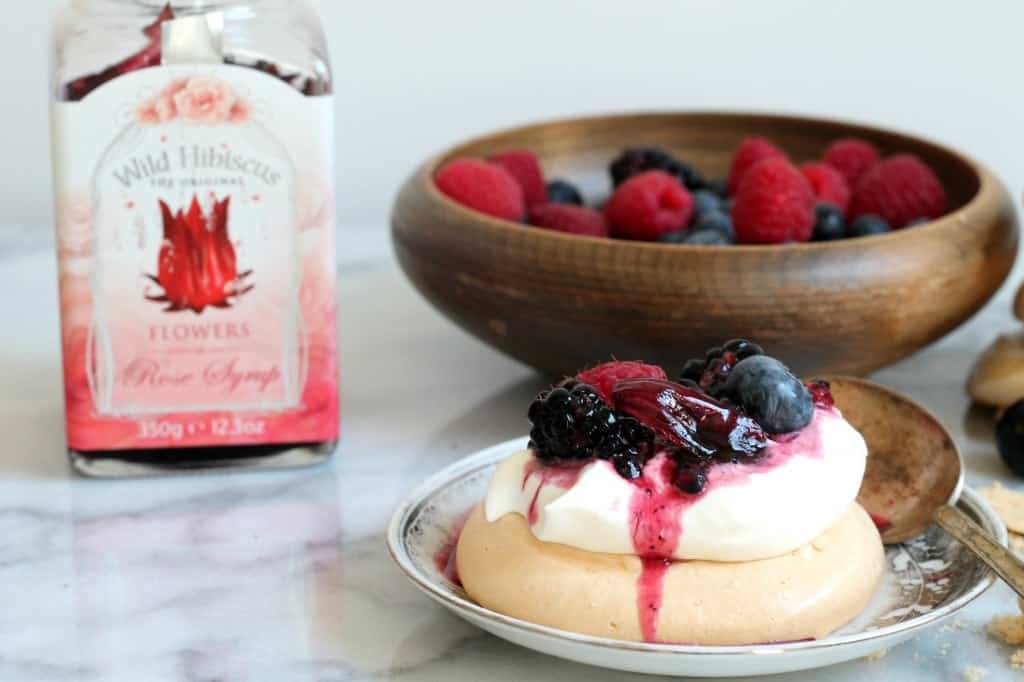 "Meringues are my favorite thing to make because of how light they are, the perfect end to a meal" – Marnely
Mason Jar Lid Pies from Dessert For Two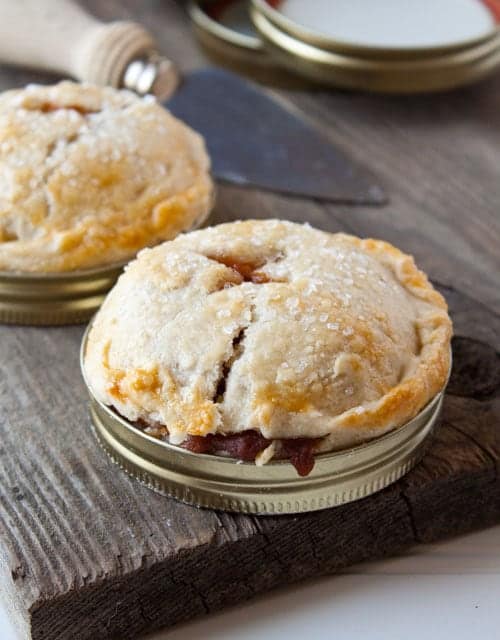 "I love them because it makes portion control easy! And you don't have to share pie." – Christina
Chocolate Ganache Ice Cream from Our Life Tastes Good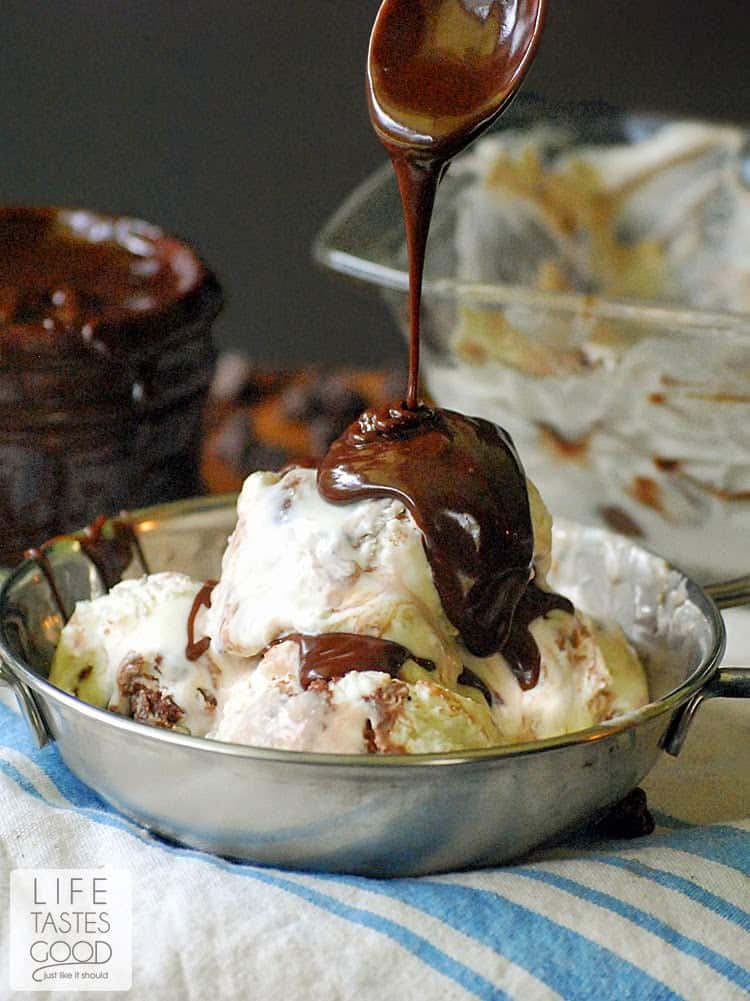 "Easy to make and loaded with rich chocolaty goodness." – Marion

Salted Caramel Ice Cream with Godiva Chocolate Chunks from Quarterlife Crisis Cuisine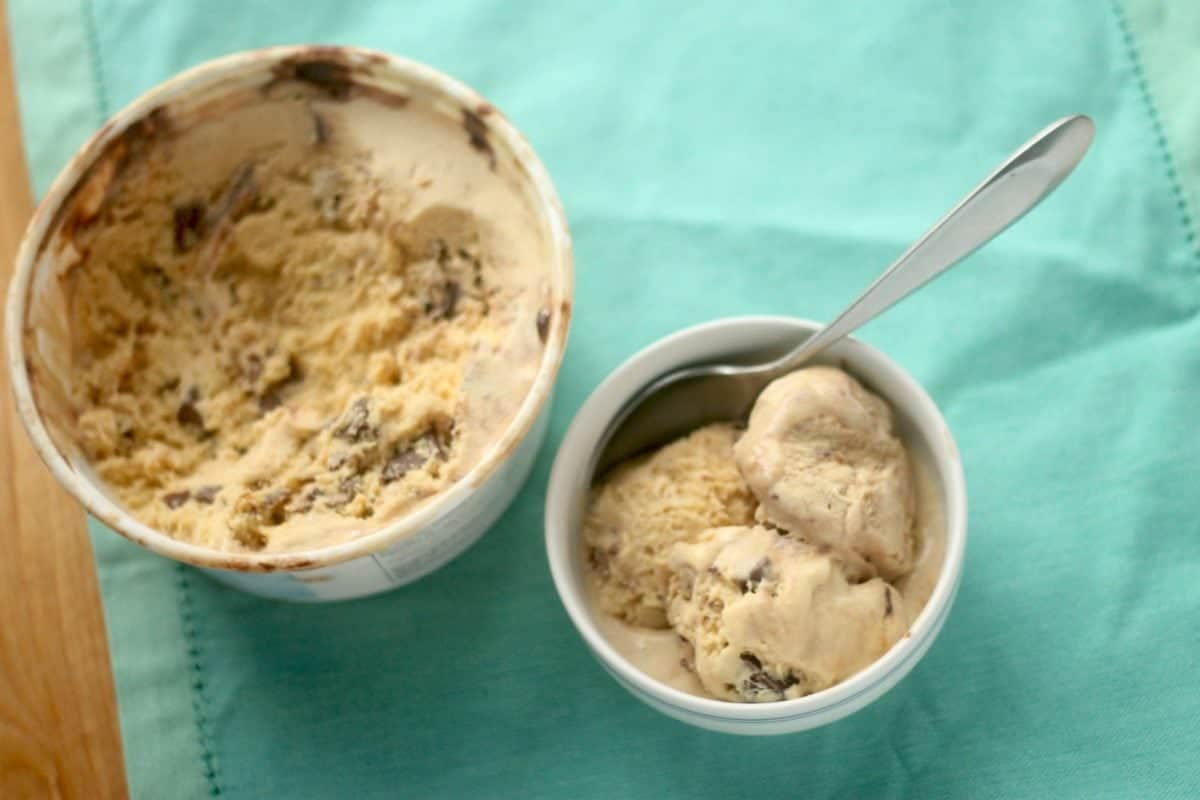 "This was the first ice cream recipe I conceptualized all by myself, and it came out AMAZING on the first try! Custard base makes for a creamy, dreamy ice cream, the homemade caramel with a dash of salt is just delicious and the chocolate chunks are the cherry on top, so to speak." – Ashley
Chocolate Espresso Mousse from The Lemon Bowl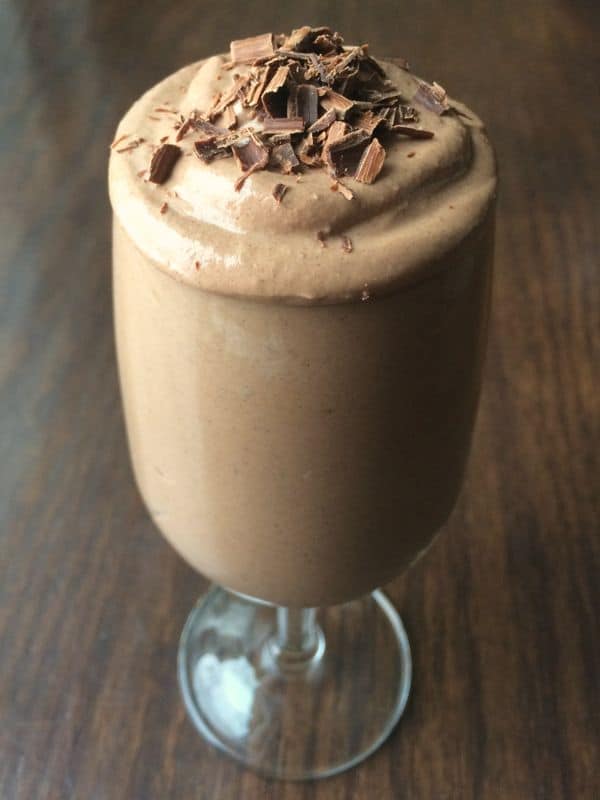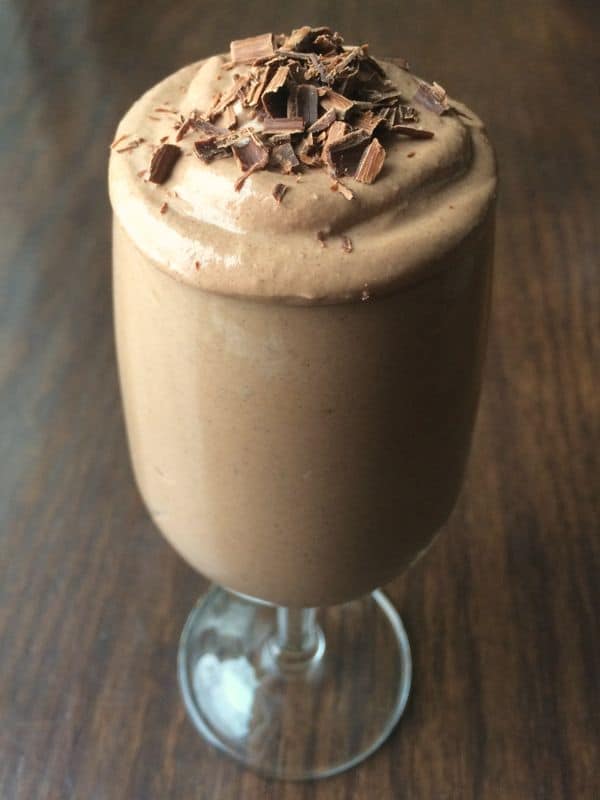 "This is my favorite no-guilt chocolatey dessert of all time." – Liz

Double Chocolate Brownies from Like Mother Like Daughter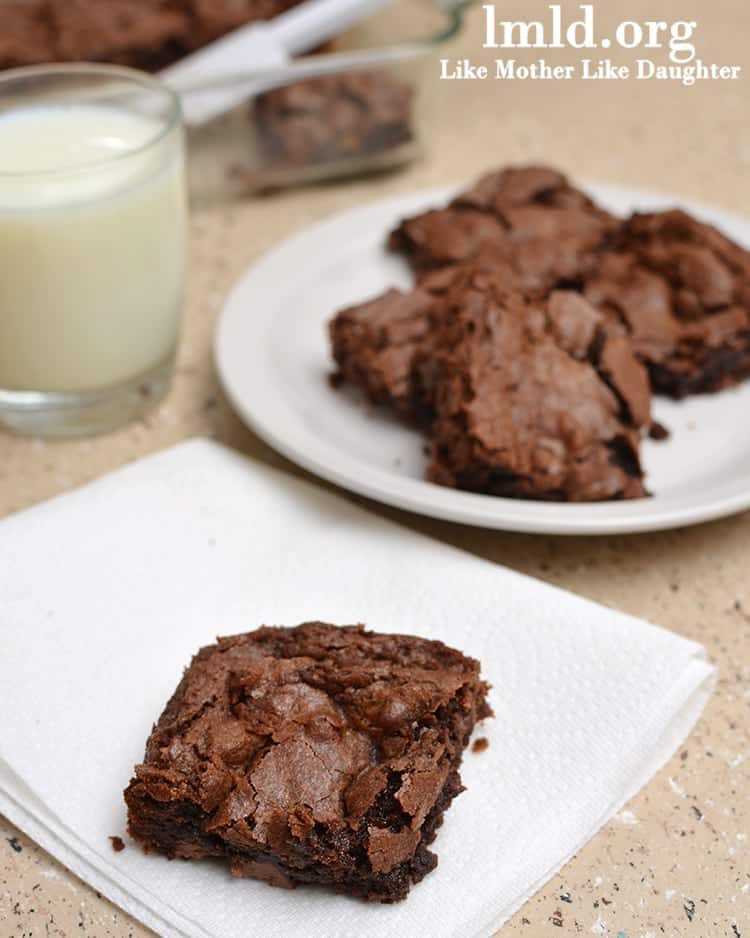 "I love a hot brownie topped with ice cream and hot fudge and these brownies are simple to make and so delicious!" – Aimee
Heart of Darkness Brownies from Karen's Kitchen Stories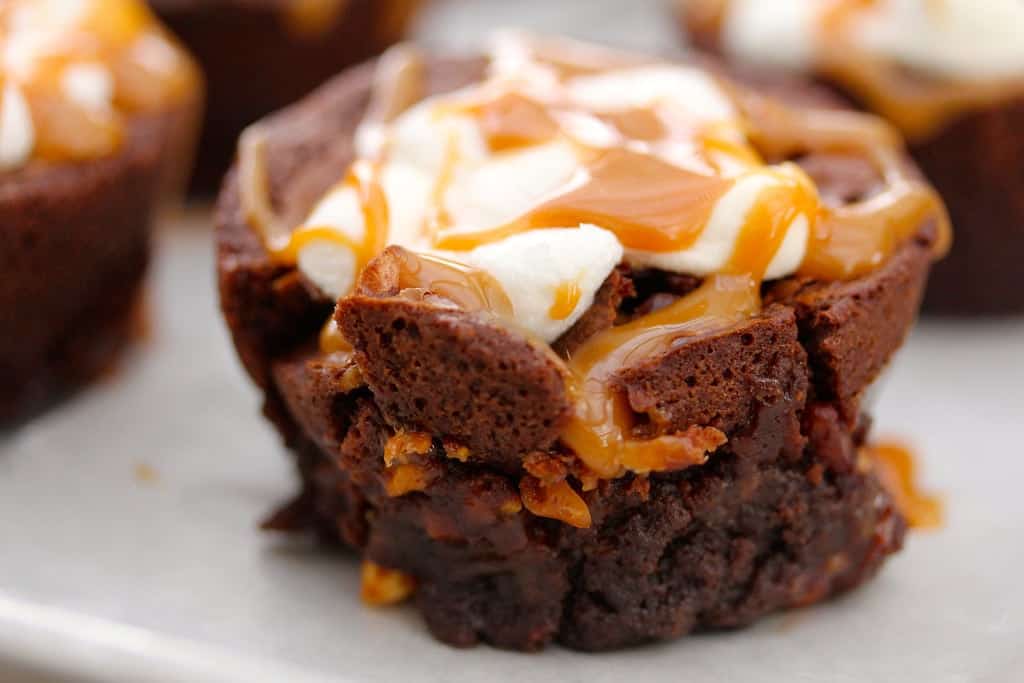 "They are soooo gooey and chocolatey. Plus chocolate and caramel together is always a winner." – Karen
Healthy Chocolate Peanut Butter Balls from Tasting Page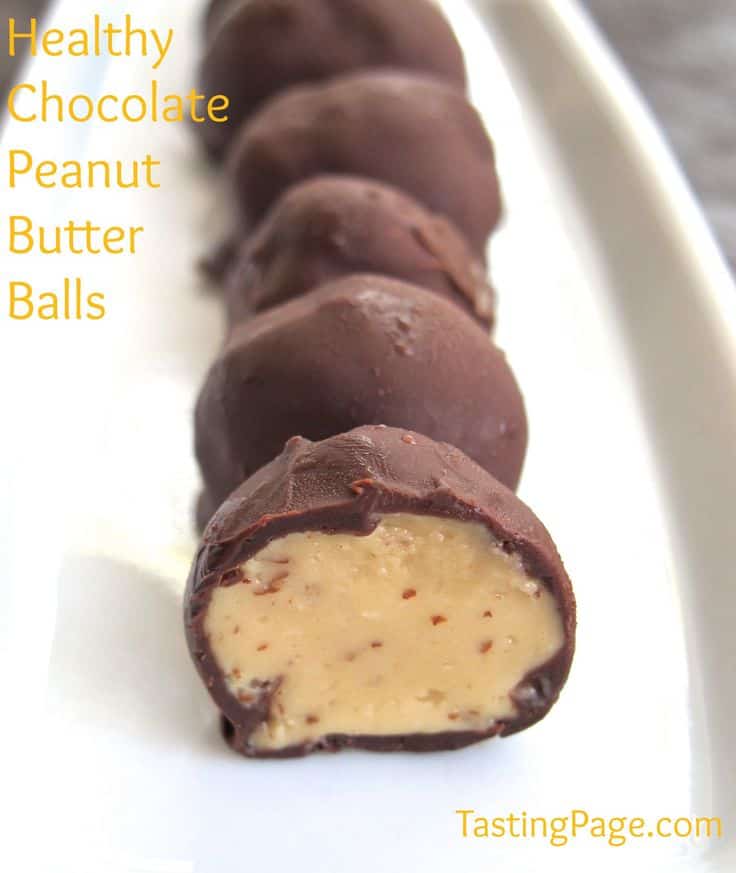 "I usually want just a little something sweet after eating & these chocolate covered peanut balls hit the spot without added refined sugar, eggs or flour so they're fairly healthy as well." – Kelly
Chocolate Peanut Butter Cream Pie from Dinners Dishes and Desserts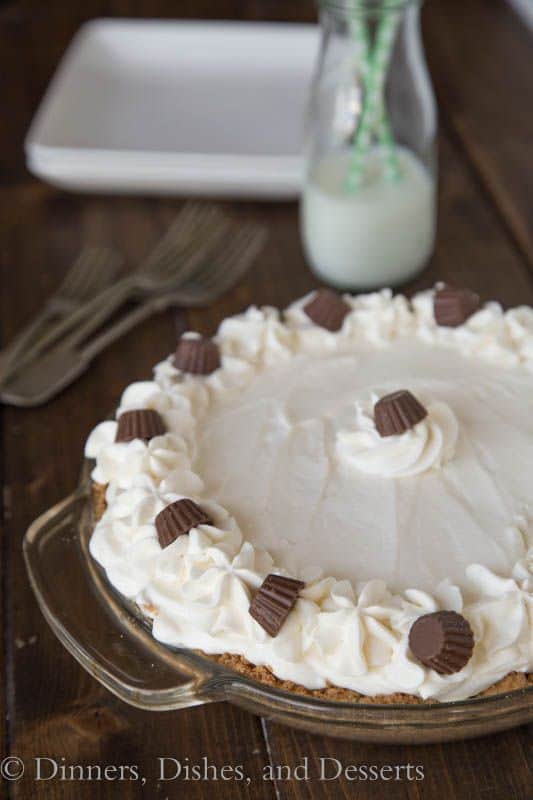 "I love anything that is chocolate and peanut butter. This pie is creamy, no bake, and full of chocolate and peanut butter. A bonus is my husband, who doesn't like chocolate LOVES this too!" – Erin
Fresh Blueberry Pie from Shockingly Delicious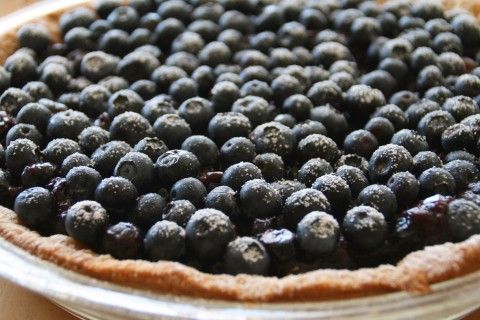 "Most of the berries are used fresh and uncooked in this pie, so it retains a just-picked flavor. It boasts a subtle perfumed flavor note that no one will likely guess. Everyone who eats a piece wants the recipe, and proclaims it the best blueberry pie they ever ate. That's why I love it!" – Dorothy
Kentucky Derby Chocolate-Pecan Cookie Bars from Two Healthy Kitchens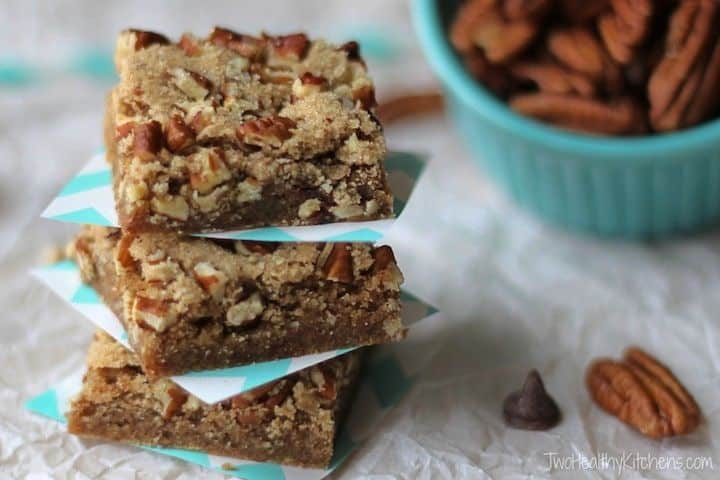 "I wanted to capture the rich luxuriousness of Derby Pie … kinda like if the best chocolate chip cookie you've ever tasted and a gloriously decadent pecan pie had a love child. But I wanted it to be so much healthier (whole wheat flour and no butter or oil) and ultra easy (hello, bar cookie!). When my son first tasted this he declared it, "Best dessert. EVER." Mission accomplished! What's not to love? Delicious and guilt-free!" – Shelley
These Decadent Double Chocolate Mousse Filled Cupcakes from Lady Behind The Curtain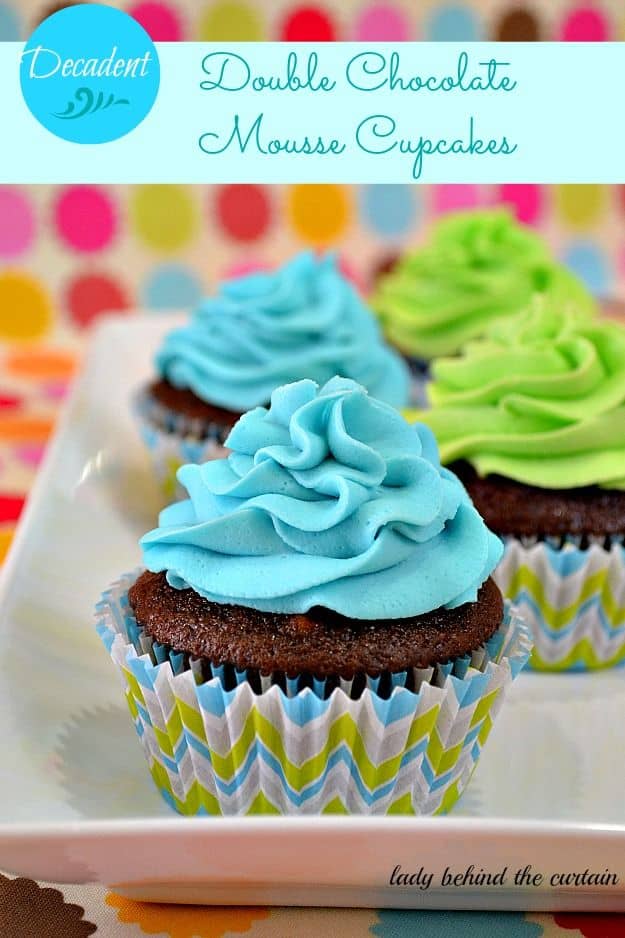 "The kind of dessert that makes you close your eyes while you're eating them (you know what I mean)." – Sheryl

This Funfetti Millionaire Cake from Life, Love, and Sugar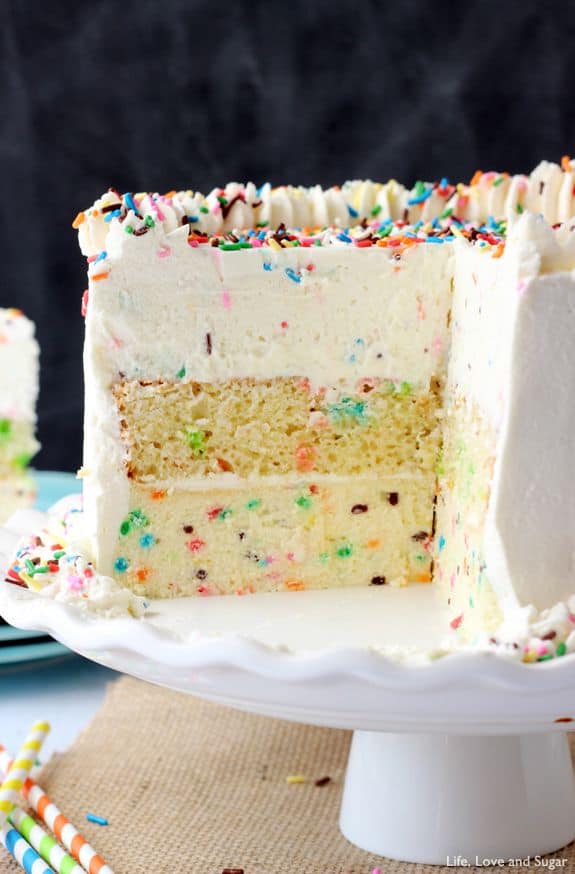 "Because I have a serious love affair with funfetti cake batter (like the actual Pillsbury box mix) and because it combines cake, cheesecake and mousse. So tasty and full of texture. I would eat it every day." – Lindsay

Sea Foam Salad from The Bitter Side of Sweet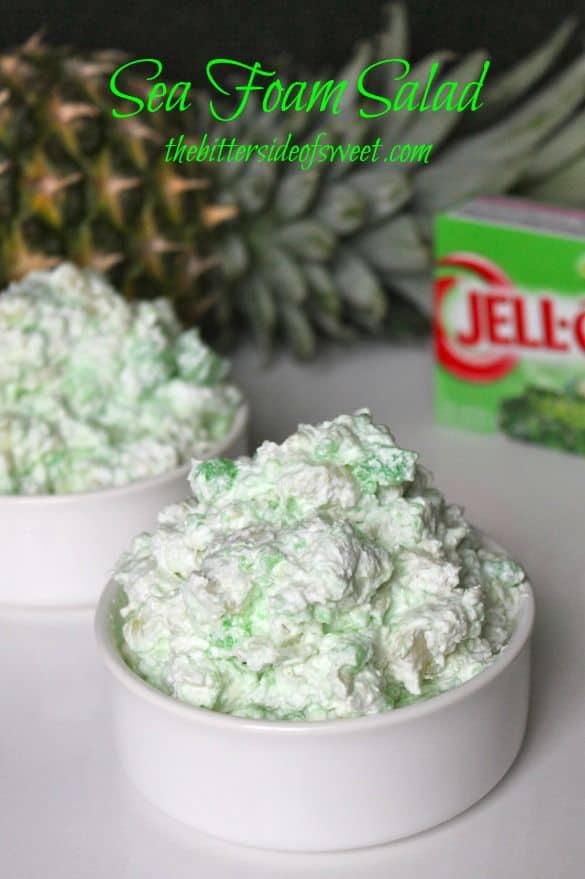 "This is a dessert that we ALWAYS make in our house for the holidays. It is something that I always loved as a kid and it is one of those family recipes that keeps getting passed down from generation to generation." – Nancy
Ultimate Vanilla Cupcake from Cupcake Project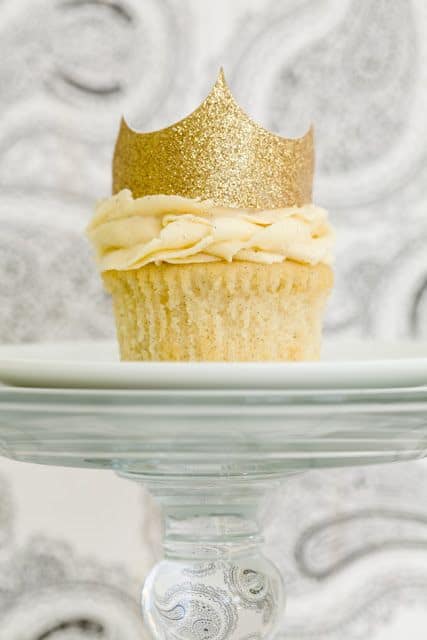 "I worked with a team of 50 test bakers to develop the recipe and it's the best vanilla cupcake I've ever had." – Stefani

Vanilla Bean Cookie Butter Cup Cupcakes from Ari's Menu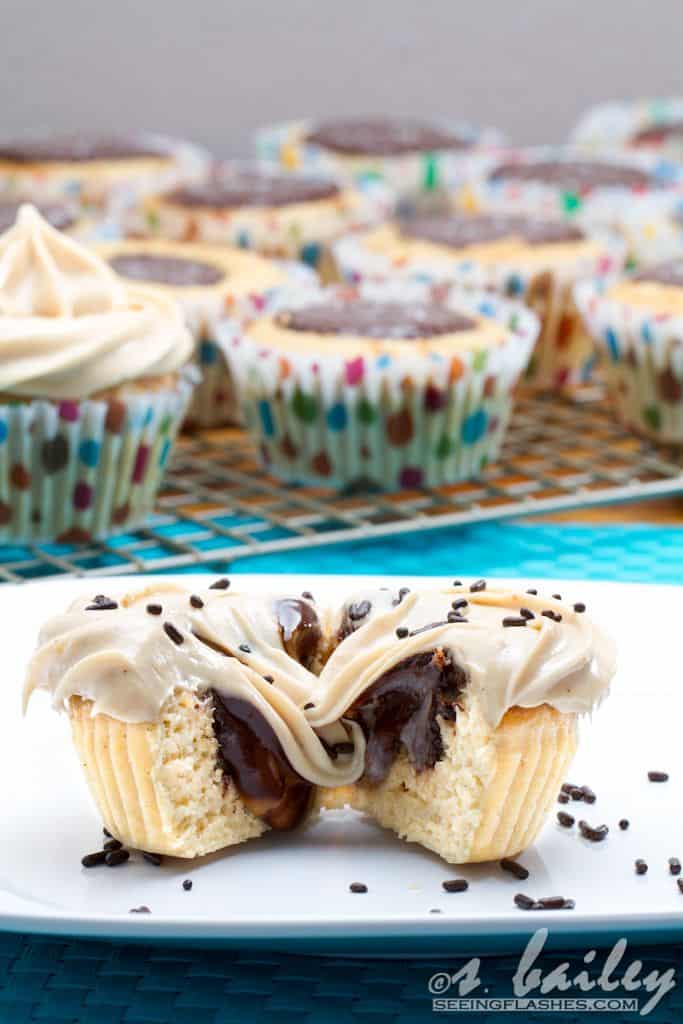 "These were the first birthday dessert I made for my husband once I actually learned how to bake, and I think the homemade salted chocolate cookie butter cup in the center just takes them to a whole other level!" – Ariana

Peach Crisp Cupcakes from American Heritage Cooking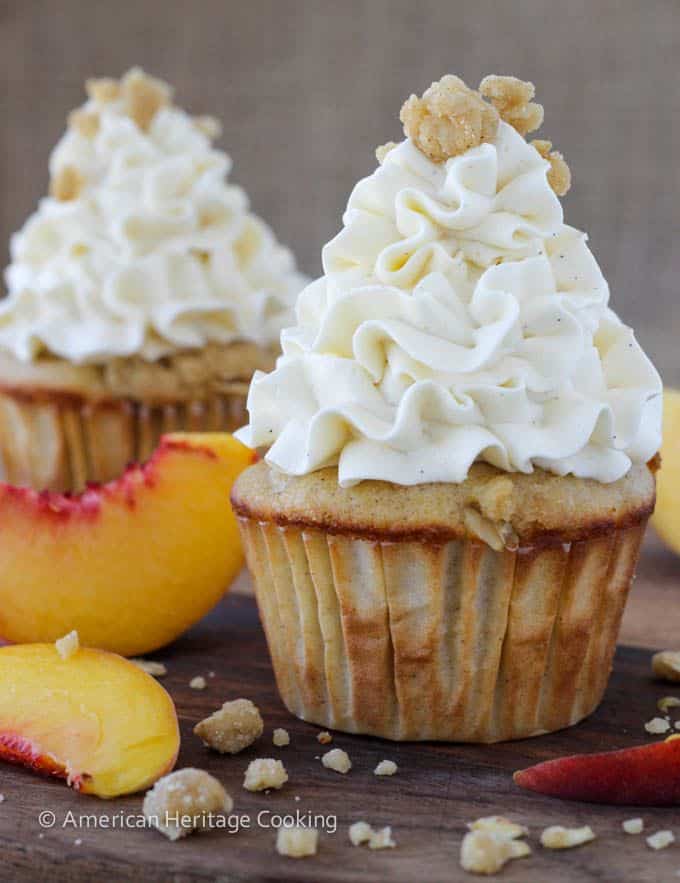 "Cupcakes never fail to brighten my day and these cupcakes are my new favorites even though they are a recent invention. They also combine 4 of my favorite things: brown sugar crumble toppings, peaches, cinnamon cupcakes and swirly Swiss meringue buttercream!" – Lindsey
Lime Pie from Dessert Now Dinner Later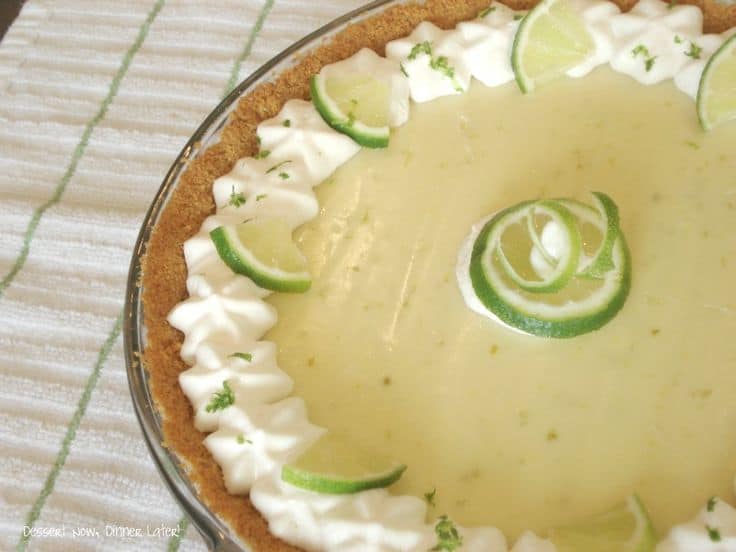 "I am ADDICTED to citrus, especially limes, and pie is my favorite dessert!" – Amber

Grandma's Chocolate Sheet Cake from I Heart Eating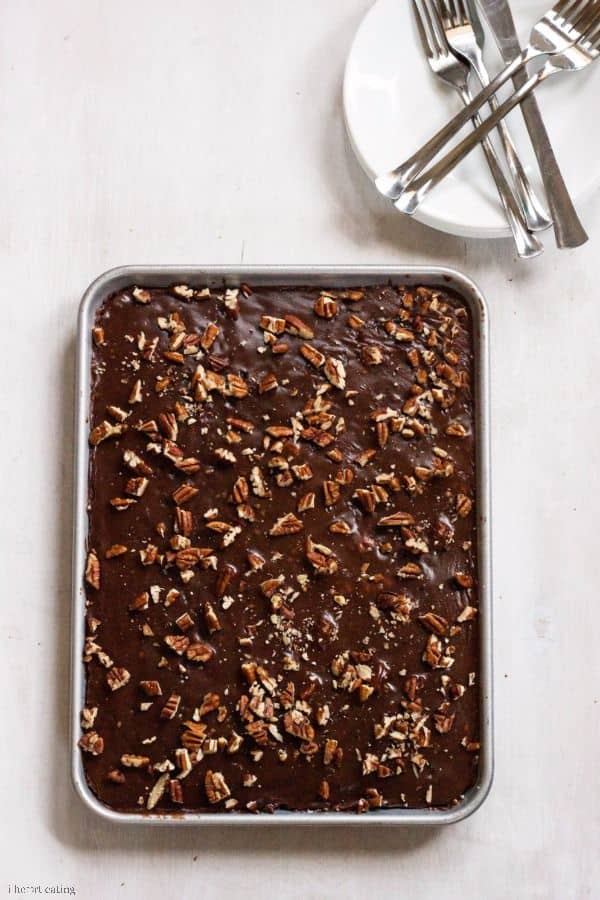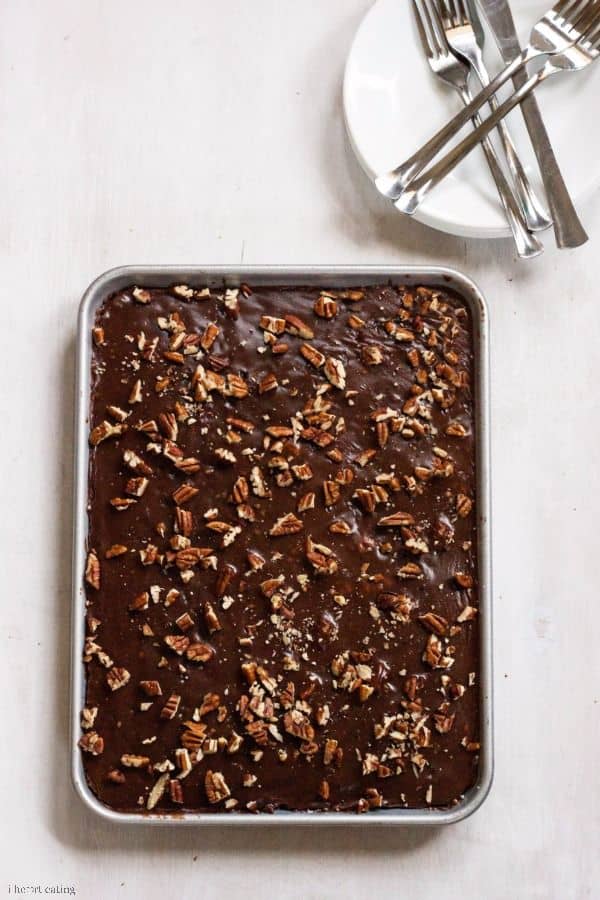 "This is a lighter version of the chocolate sheet cake that my grandma always made. It was the dessert that she'd make for family get togethers, and it's still what I crave when I want a piece of chocolate cake." – Kate
German Chocolate Cake from Spoonful of Flavor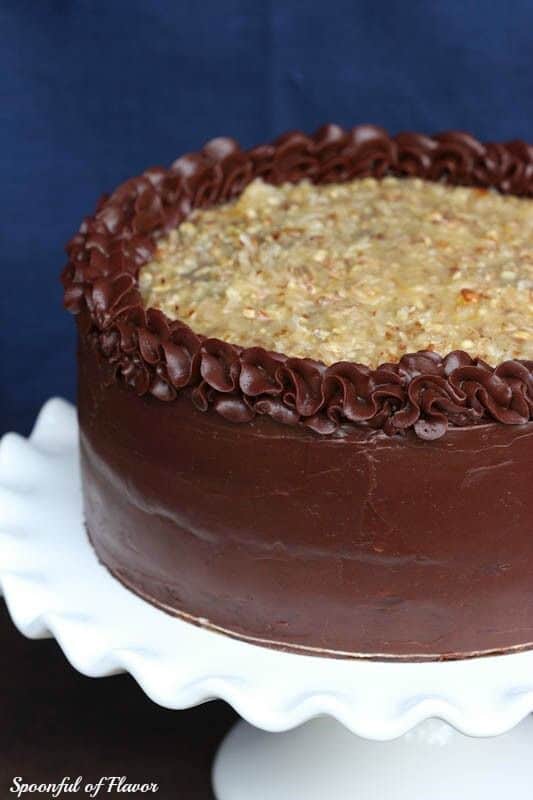 "Because it was the first type of cake I ever made and it is my favorite flavor!" – Ashley

Cinnamon Roll Cupcakes from Cupcake Diaries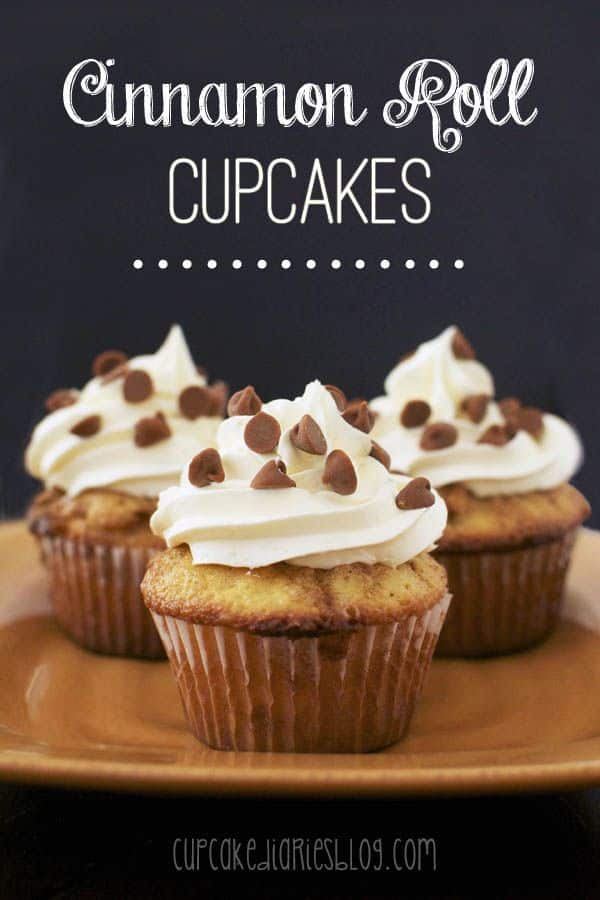 "The amazing flavors of a hot cinnamon roll in a fabulous cupcake. Yum!" – Allison
Molten Chocolate Cakes with Sugared Raspberries from From Valerie's Kitchen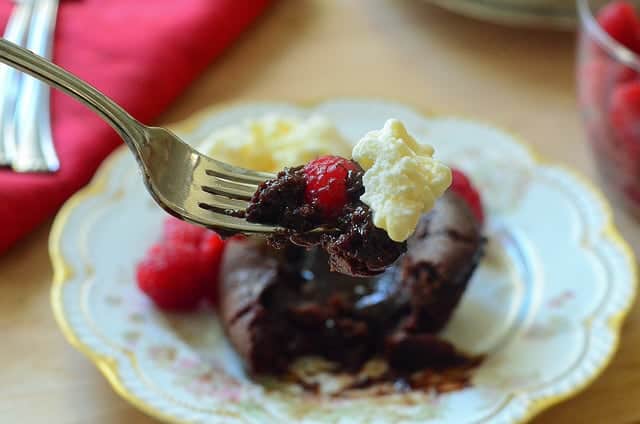 "An elegant, decadent, restaurant quality dessert that can be made in advance and baked when needed. Requested frequently in my house!" – Valerie