This Five Ingredient Beef Stroganoff comes together SO FAST, but it is seriously amazing comfort food that will want to make again and again.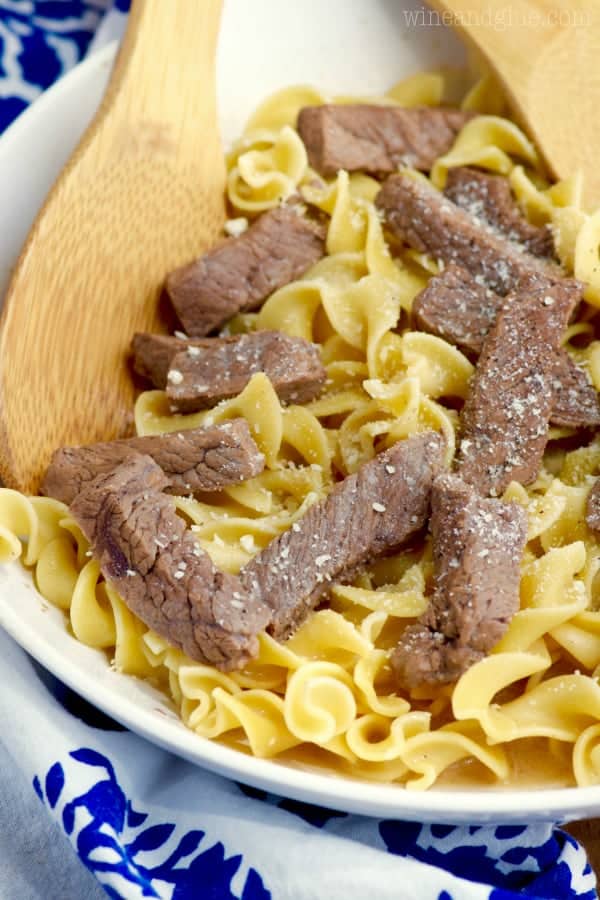 You guys, my genius blogging friend, Phi of Sweet Phi, wrote the most incredible book for you! Five-Ingredient Recipes: A Cookbook for Busy People. The entire book is comprised of five ingredient recipes. It has appetizers, breakfast recipes, dinners, sides, and even desserts, and it is spectacular!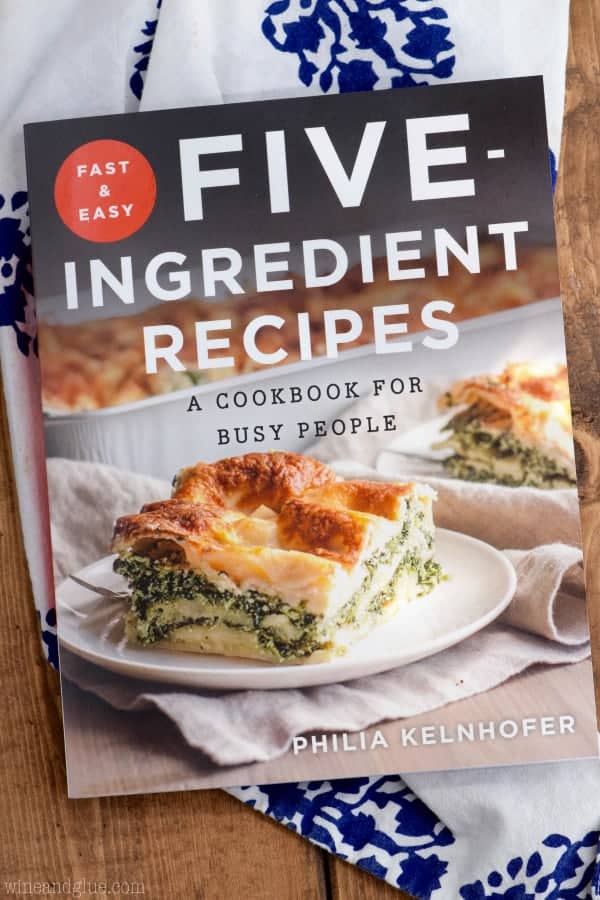 I went to her book signing last week, and she and her incredible family had cooked for something like 11 hours to provide food from the book at the book signing. You guys every.single.thing. I ate was phenomenal. It got me so excited about the book, because as you know I am moving and my damn dishwasher broke and if there is one thing I need right now, it is easy dinners!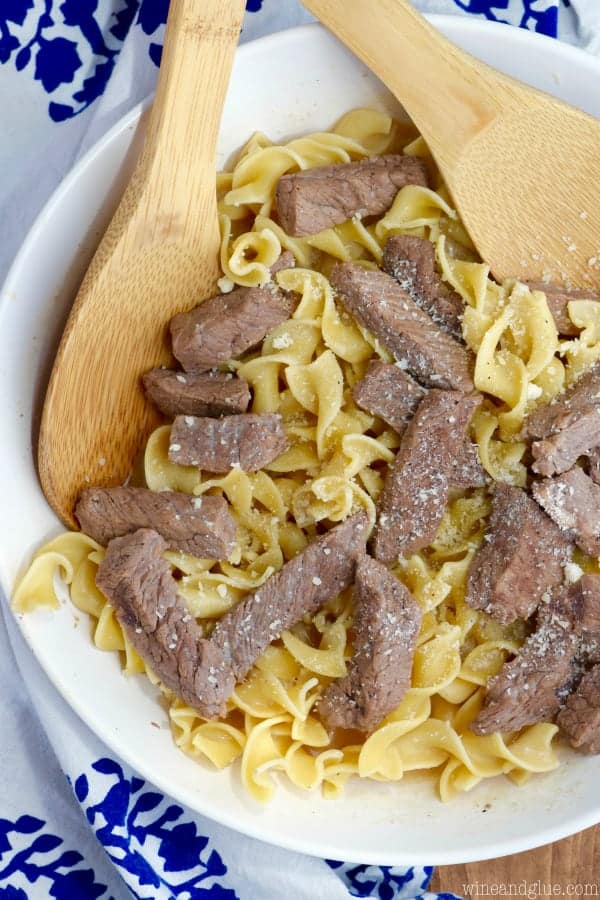 The very next morning I went out and bought ingredients for three of the dinners in her book. I was SO PUMPED. And they have all knocked my socks off. Not only are they genius, they are fast, and the ingredients are easy to find and there are only five in each one! Seriously, I already had so many of the ingredients on hand needed for these dinners.
So, I'm sharing with you today her Five Ingredient Beef Stroganoff (ps why does stroganoff have to be so hard to spell?? I have looked it up no less than 8 times while writing this post and naming my photos for it). If I'm being 100% honest with you, I was a little leary of this one. Can you really do stroganoff in just five ingredients? The answer is YES. It far exceeded my expectations.
You guys. I ate the whole thing. THE WHOLE THING by myself for lunch. Granted, I was STUFFED, but it was so good that I just couldn't stop. It is the kind of dish that you just want to curl up with and let it comfort you from the inside out.
So buy her book. No really, buy it. And then when you do the first thing you MUST make is the Peanut Butter Popcorn (#likecrack) and then make the Stuffed Peppers and then the Broccoli Apricot Pecan Salad and OMG then the Peanut Butter Sea Salt Cookies – those are going on my holiday baking list from now until the end of time. But while you are waiting for the book, you can make this Beef Stroganoff.
Take that spell check! I totally know it now!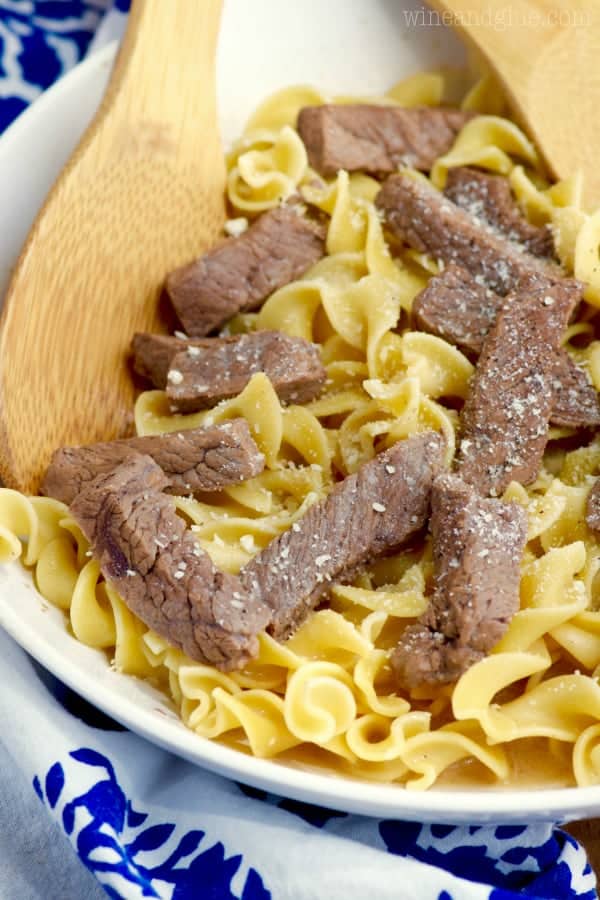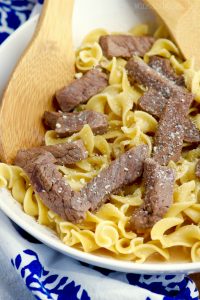 Five Ingredient Beef Stroganoff
Ingredients
1/2

pound

egg noodles

1

TBSP

extra virgin olive oil

1

pound

top sirloin steak cut into strips

1

tsp

salt

1/2

tsp

freshly ground black pepper

1 3/4

cups

beef stock

1/2

cup

sour cream
Instructions
Bring a pot of water to a boil and cook the egg noodles according to package instructions.

In a large skillet (big enough to hold the beef and stock), heat the olive oil over high heat and then add the beef sprinkling with salt and pepper. Stir occasionally until the beef browns, about five minutes.

Move the beef to one side of the pan and then add the stock and sour cream to the other side of the pan. Whisk the stock and sour cream together, until smooth. Evenly distribute the bee throughout the pan and cook about 10 to 15 minutes or until the sauce thickens.

Divide the noodles to four bowls, divide the beef over the noodles, and add the sauce to the bowls.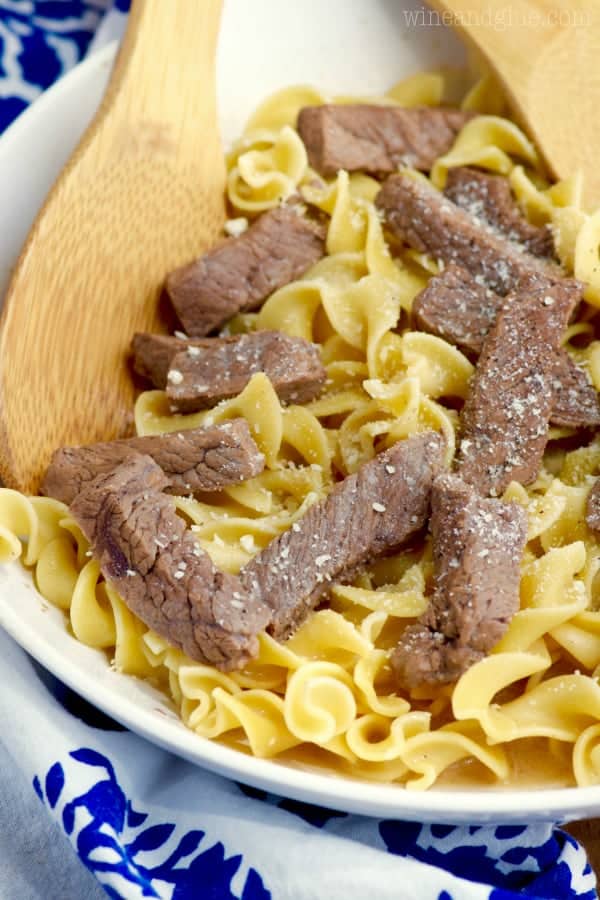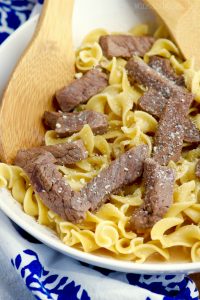 did you make this
Five Ingredient Beef Stroganoff

This post contains affiliate links, if you click on them and then make a purchase, I make a small amount of money at no additional cost to you. Thank you in advance for supporting Wine & Glue.