This Greek Stuffed Chicken is a fancy dinner that comes together easily! It is jam packed with flavor! Thank you Sargento for inspiring and sponsoring this amazing and delicious dinner!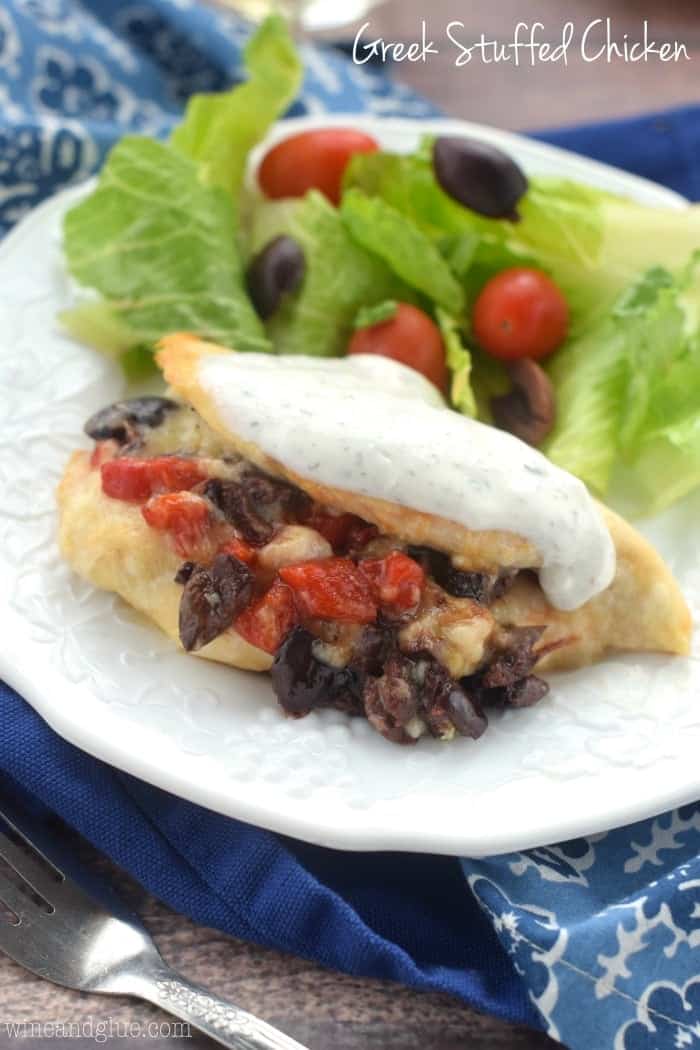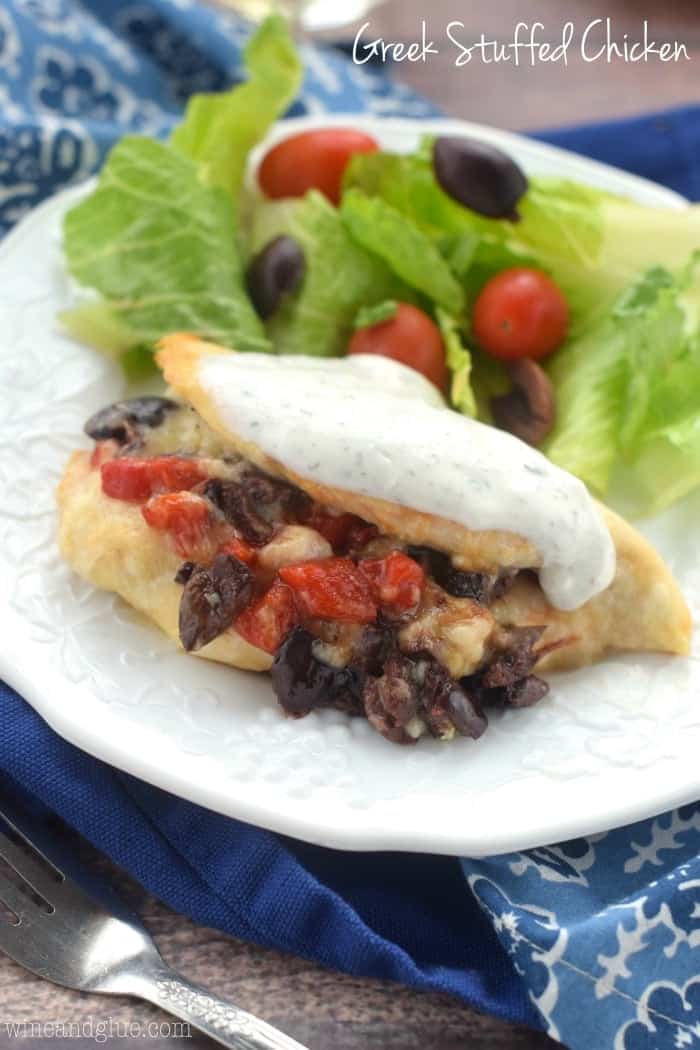 So. I can say with absolute certainty now that I am NOT cut out for a cooking competition show, ala Chopped.
My assignment for this post was to create a dish out of four products:
chicken
red pepper
greek yogurt
Ummmm . . . I had like four epic fails. I for sure would have been chopped.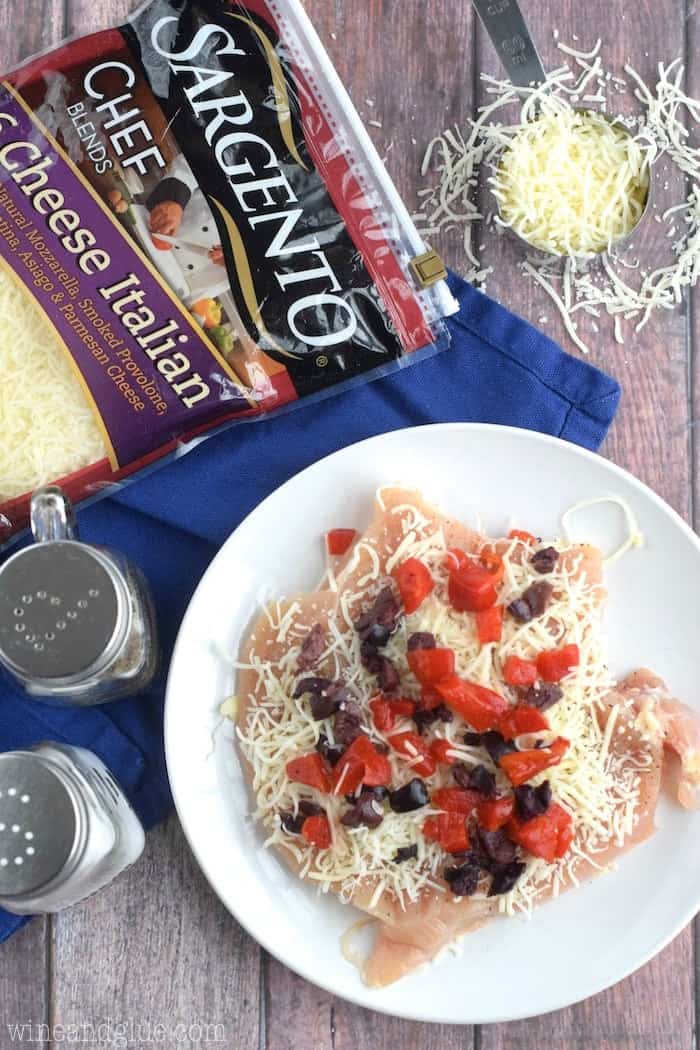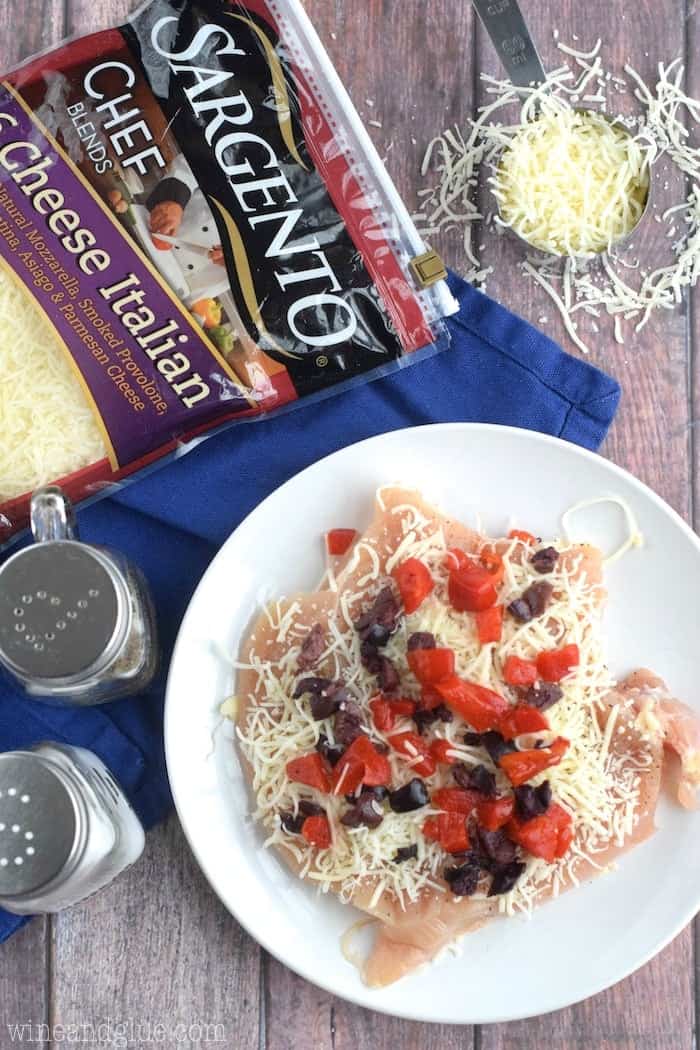 The easy part about this dish was the Sargento! I mean, I get that they are sponsoring this post, but seriously, we looooooove Sargento in the Wine & Glue house. We literally have four bags in our fridge at all times. And it doesn't hurt that they are a Wisconsin based company, making some delicious cheese right up the road. Okay, back to the fails. There might not be anything more frustrating for me than recipe fails. Except when my kids are acting like rabid monkeys. So I tried cooking the chicken in the delicious yogurt sauce that I made. Ummm . . . yeah, no. I thought maybe it was the lemon juice that was causing the problems, so I did it again . . . ummm, it wasn't the lemon. After each try, I grumbled and tried and scraped out the cheesy goodness from the inside of the chicken to drown my tears. #cheeseisalwaystheanswer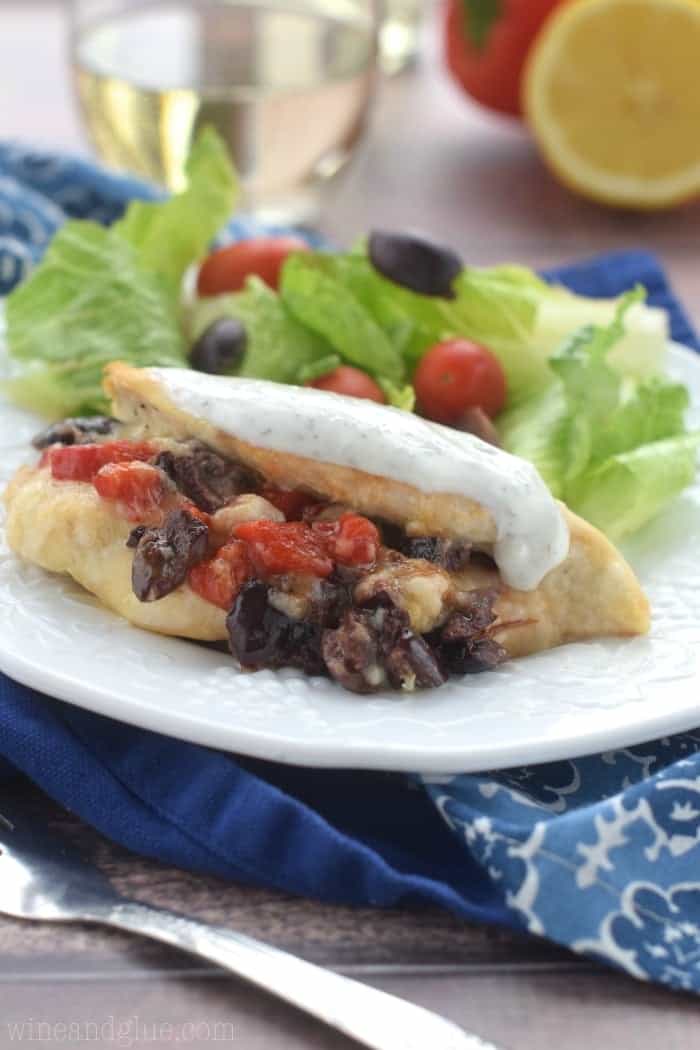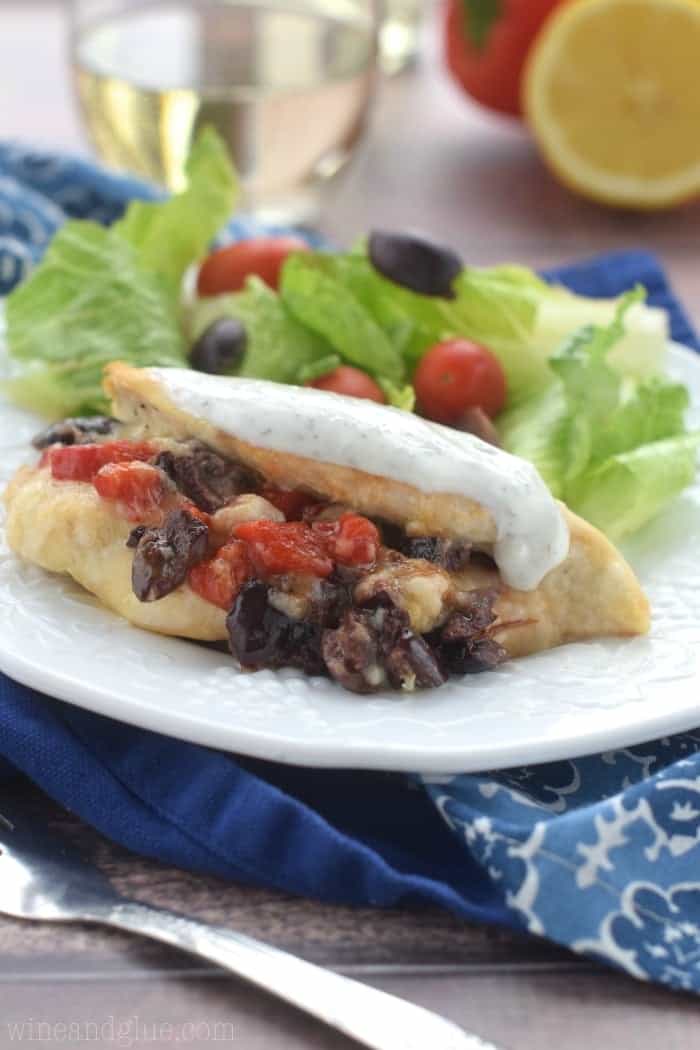 My real problem? I'm stubborn. I refuse to let a good dish die. I have to make it work. And in this case I'm so thankful for my stubbornness. I mean it smelled amazing while baking, I knew with just a little tweaking it would be perfect. Finally, I decided to bake the chicken and then smoother it in the delicious yogurt sauce. Perfection! To explain to you just how delicious this is, you know how picky my husband is, right? He took one look at those kalamata olives squeezing out in all their deliciousness and gave me the look. The look that says, "You have met me right? You've got to be kidding." So I said to him, "Please give it a chance. It's so good, I swear." And he did! And he loved it! He actually said that he wished there had been more! OMG. I am the champion of everything. I win life. Hmmmm . . . . maybe I could go on Chopped . . . . well, only if they allow you like eight trial runs, lol!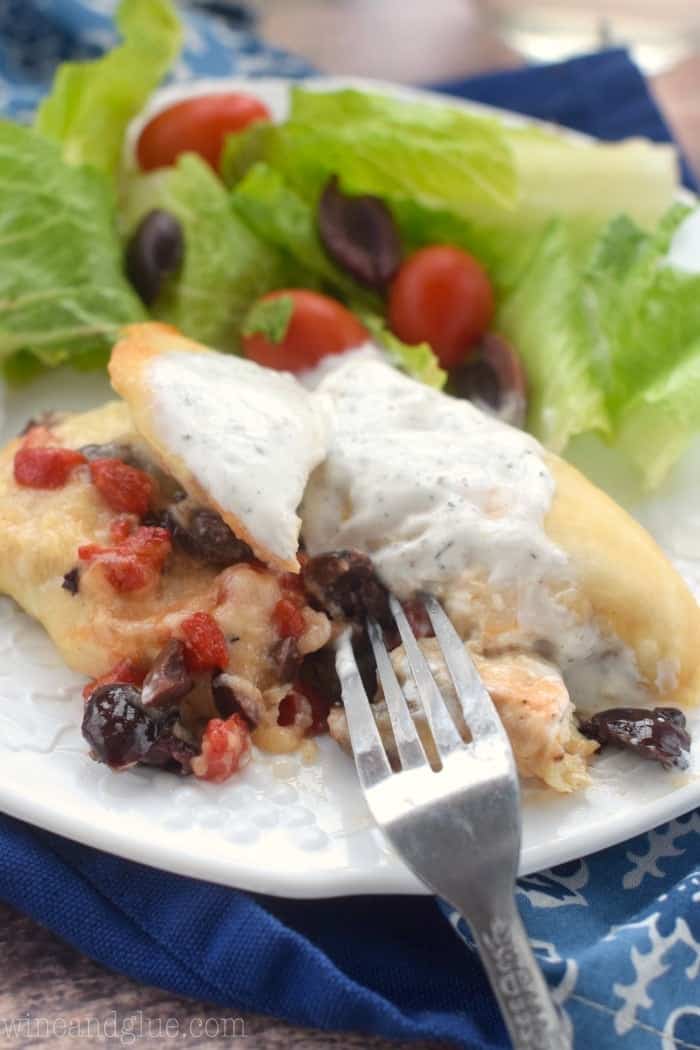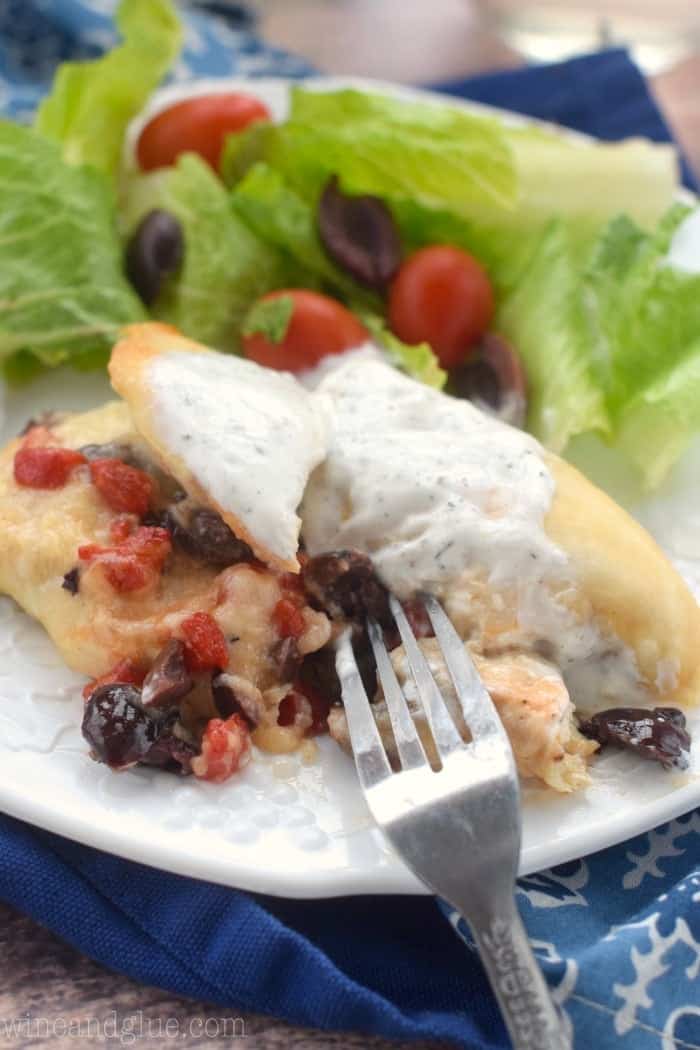 So I'm sure that you have some genius ideas for how you would use chicken, a red bell pepper, Greek yogurt, and Sargento® Chef Blends™ 6 Cheese Italian . . . what would you make?? Leave me a comment below letting me know, and then go make it and enter the Chopped At Home Challenge!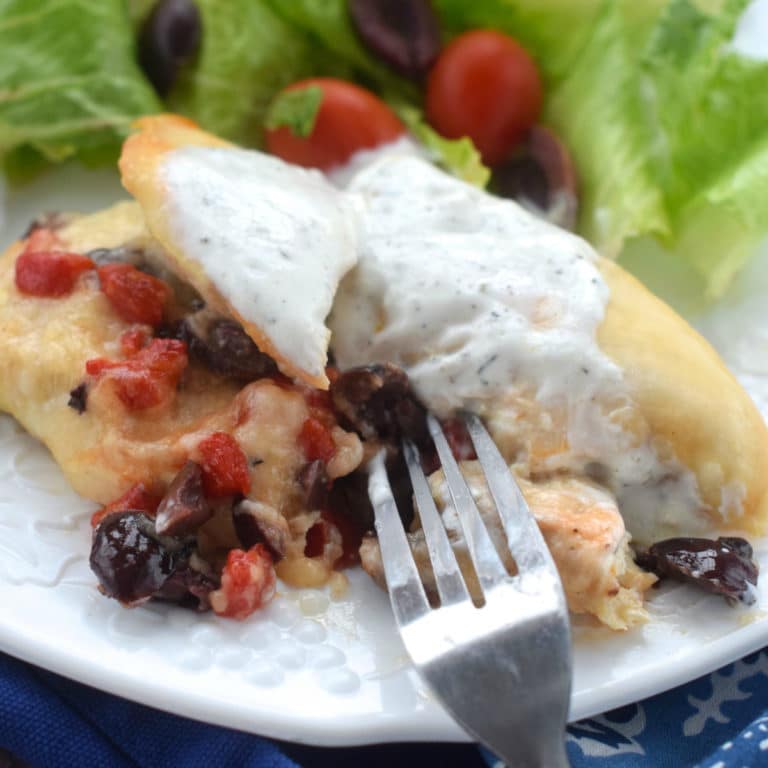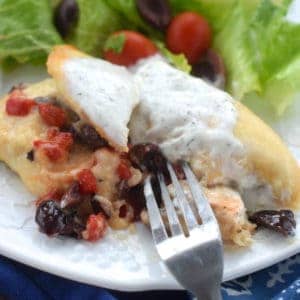 Greek Stuffed Chicken
Ingredients
1

cup

Greek yogurt

1

TBSP

fresh squeezed lemon juice

1

clove

garlic

minced

3/4

tsp

kosher salt

3/4

tsp

dried oregano

1/4

tsp

black pepper

1/4

tsp

dried thyme

4

chicken breasts

1

cup

Sargento® Chef Blends™ 6 Cheese Italian

1/4

cup

Kalamata olives

chopped

1

red pepper roasted

or jarred roasted red pepper

salt and pepper
Instructions
Preheat your oven to 375 degrees. Spray a 9 by 13 inch glass baking dish with cooking spray and set aside.

Cut each of the four chicken breasts in half, not going all the way through, butterflying them. (See photo above. Sprinkle each with salt and pepper. Put 1/4 cup of Sargento® Chef Blends™ 6 Cheese Italian shredded cheese on top of each piece of chicken. Then top each with 1 TBSP chopped Kalamata olives and 1 TBSP diced roasted red pepper. Fold the chicken back over and secure closed with two toothpicks.

Place the four stuffed chicken breasts in the prepared pan. Cover with aluminum foil and bake for 40 minutes or until the chicken is completely cooked through.

While the chicken is cooking, measure out the one cup of Greek yogurt into a medium sized bowl. Stir it well until it is completely smooth. Then stir in the lemon juice, garlic, salt, oregano, black pepper, and thyme.

Remove the chicken from the oven, transfer to plates, and remove toothpicks. Spoon a large spoonful of the yogurt sauce over each chicken breast and serve.
Notes
Chicken breasts vary greatly in size. Use your discretion when adding the cheese, olives, and red peppers to the inside of the chicken breasts, adding a little more or a little less depending on size.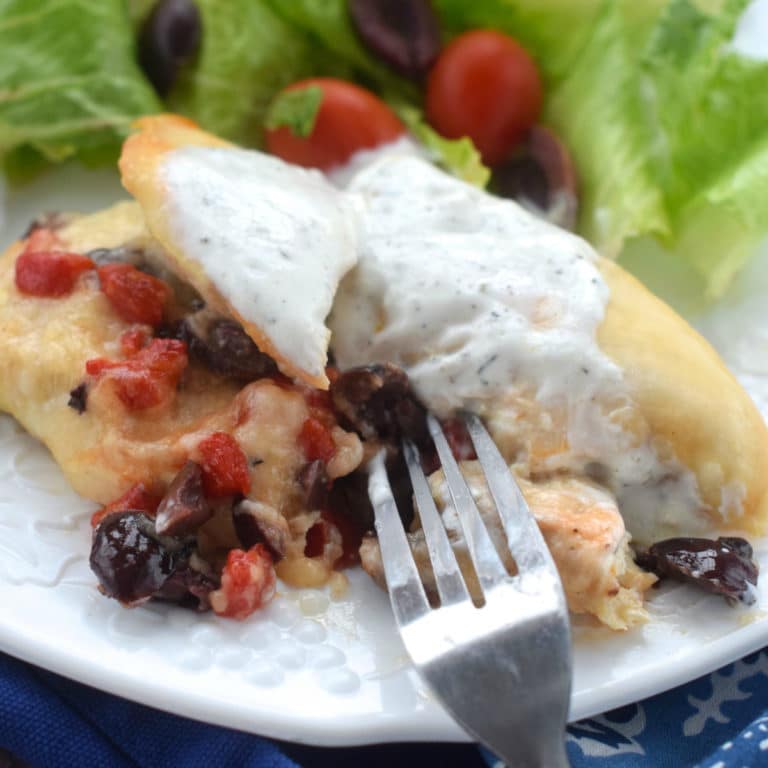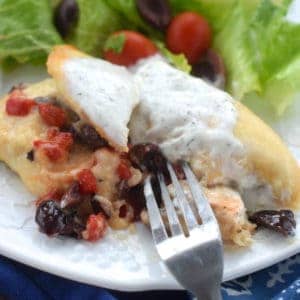 did you make this
Greek Stuffed Chicken

Available in 30 versatile varieties, unique blends and distinct cuts, Sargento Shredded Cheese is always cut from blocks of 100% real, natural cheese. For more inspiration, check out the Sargento Pinterest page or visit Sargento.com for more information. The Chopped at Home Challenge gives viewers a chance to create their best recipe using the selected basket ingredients, including Sargento Shredded Cheese, for a chance to win $10,000! This is a sponsored conversation written by me on behalf of Sargento®. The opinions and text are all mine.