These Hot Cocoa Pancakes are a cocoa lover's dream! Perfect for a holiday breakfast or any Sunday!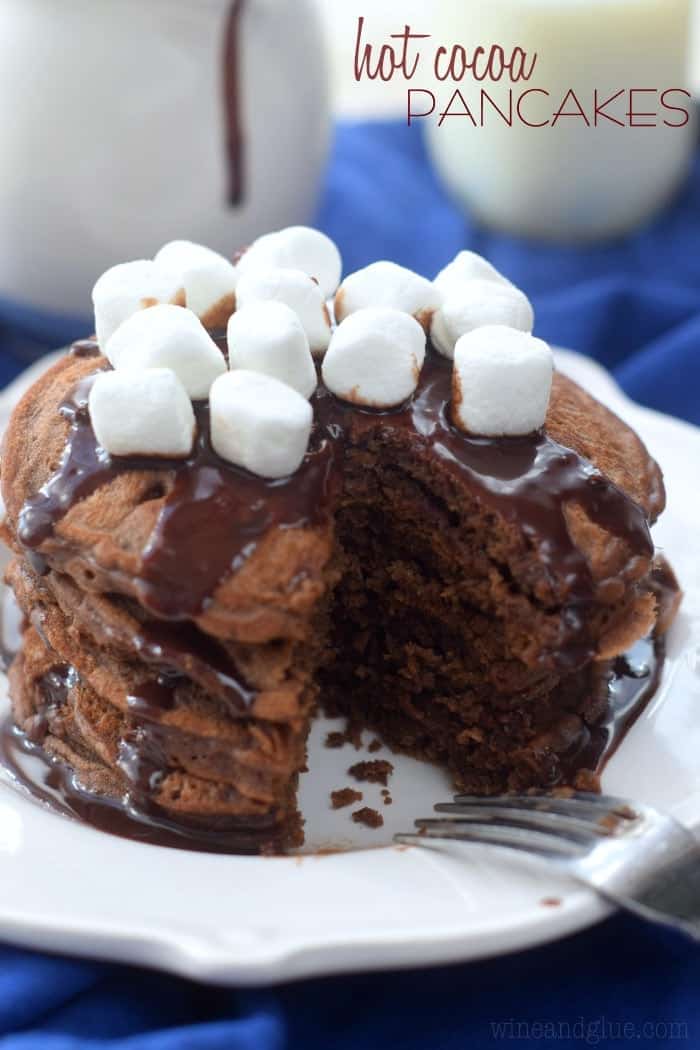 There are lots of things I will miss about the baby years.
Soft cheeks against mine while we rock in the rocking chair.
Nursing, even middle of the night nursing, I will miss.
Toothless grins.
Ridiculously tiny, ridiculously cute outfits. And toes. And eyes. And ears. And fingers.
Watching all those incredible and miraculous milestones, first smiles, first laughs, first rolls, etc.
That amazing stare that a baby saves just for her mom.
The way the baby attacks your face when hungry as if milk might come out of any pore of your body.
Sigh. It's such a beautiful time.
But.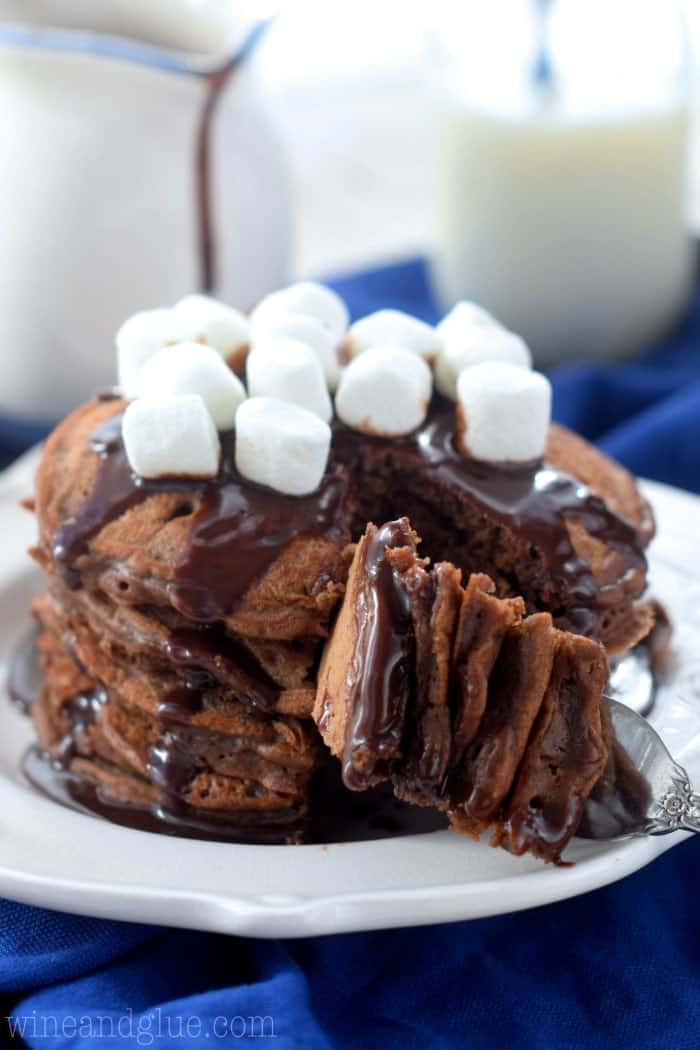 I will not miss diaper blow outs.
I will not miss trying to determine surface that is both the easiest to sanitize and the safest to lay a child on.
I will not miss trying to figure out how to take apart an exersaucer to either wash it or, you know, light it on fire.
I will not miss that horrifying moment where you step back and try to determine if this is a wipe situation or a shower head situation. #didyouevenhavetoask
Okay, I'll stop there, lest I offend some pour soul who has just stumbled onto my blog for the first time with the innocent hope of looking for the deets on making a pancake that tastes like hot cocoa. #pleasecomebackagain #ipromisenevertotalkaboutpoopagain #thatwasalie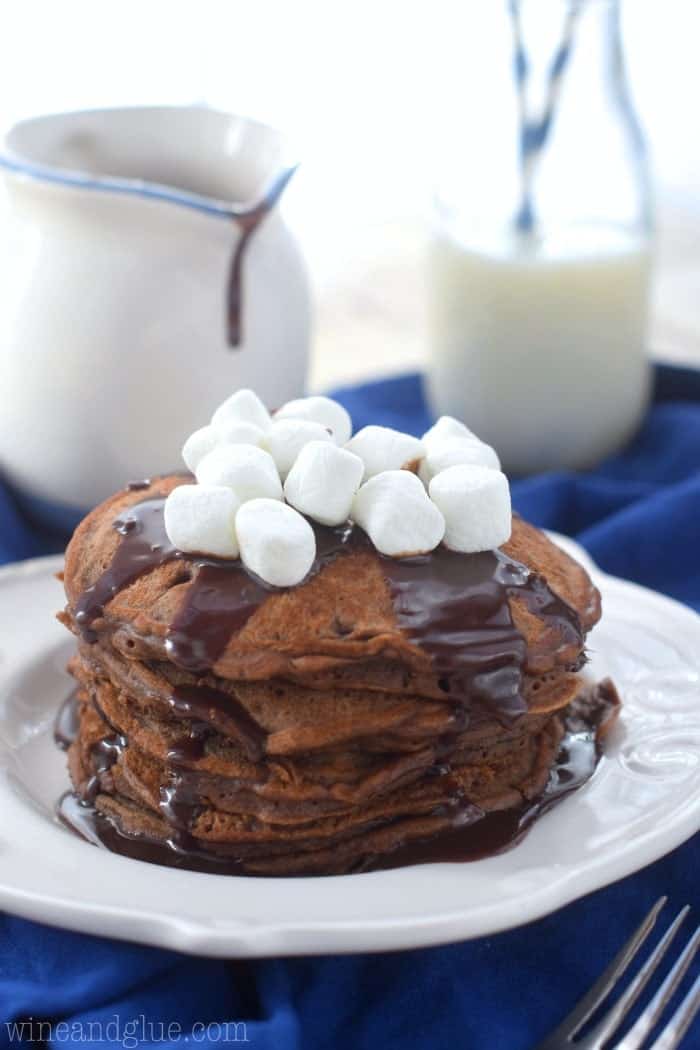 Let's talk Hot Cocoa Pancakes!! I mean, can you really beat combinging everyone's favorite hot beverage with everyone's favorite breakfast? No. The answer is no. :) These pancakes have a deep rich cocoa flavor that I loved. My three year old, not so much. So if your kid is on the fence about cocoa too, add one tablespoon instead of two.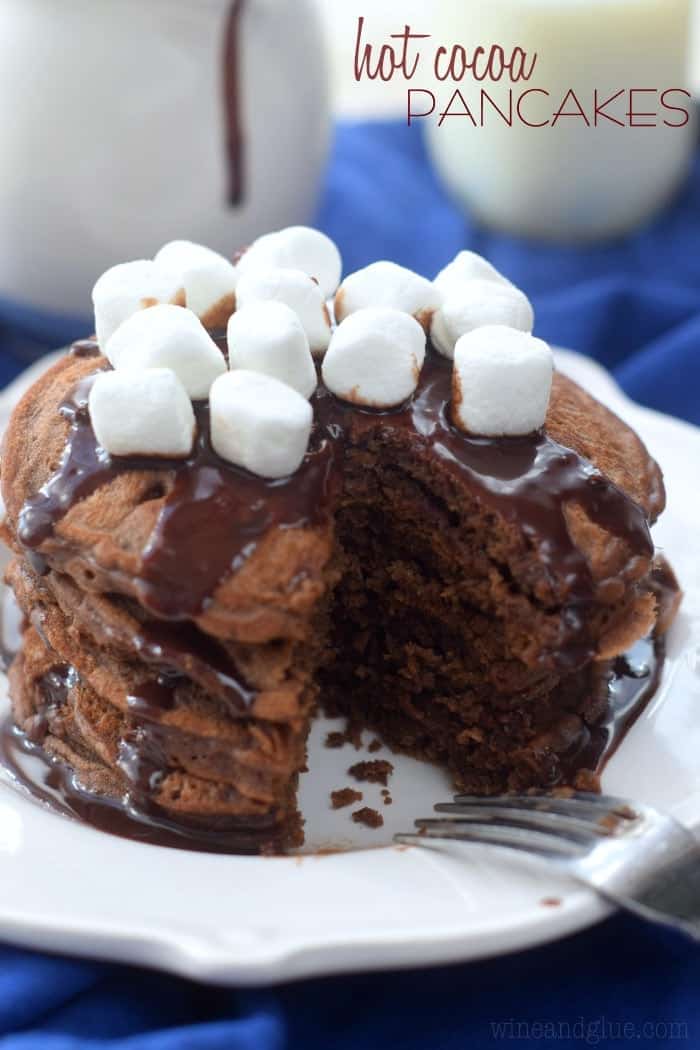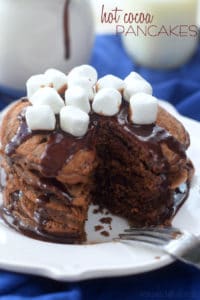 Hot Cocoa Pancakes
Ingredients
For Pancakes

1

cup

all purpose flour

2

TBSPs

granulated sugar

2

tsps

baking powder

2

TBSPs

cocoa powder

1/4

cup

unsalted butter

1/4

cup

milk chocolate chips

1

tsp

vanilla

3/4

cup

of skim milk

1

egg

For Sauce

1/2

cup

milk chocolate chips

1/4

cup

heavy cream

1

cup

mini marshmallows

optional
Instructions
Preheat your skillet over medium low heat.

In a large bowl, mix together the flour, sugar, baking powder, and cocoa powder.

Microwave, in 30 second intervals the butter and 1/4 cup chocolate chips, stirring after each thirty seconds, until fully melted.

Mix the chocolate/butter mixture, egg, vanilla, and milk into the dry ingredients until just combined, several lumps may remain.

Microwave the 1/2 cup chocolate chips at 30 second intervals, stirring after each thirty seconds until almost completely melted. Stir in the heavy cream, until smooth. Set aside. (If you are having trouble getting it smooth, put it in the microwave for another 30 seconds).

Lightly spray the skillet with cooking spray. Pour a 1/4 cup of batter into the skillet. When bubbles begin to form, flip the pancake and continue cooking for anther minute or so. Remove the pancake. Wipe the skillet down with a paper towel, and spray again. Repeat with another 1/4 cup of batter.

Serve warm topped with the chocolate sauce and marshmallows.
Notes
These pancakes have a very deep chocolate flavor, which I found delicious. It was a little intense for the three year old. If making for kids, consider cutting the cocoa powder in half, and adding 1/2 TBSP more sugar.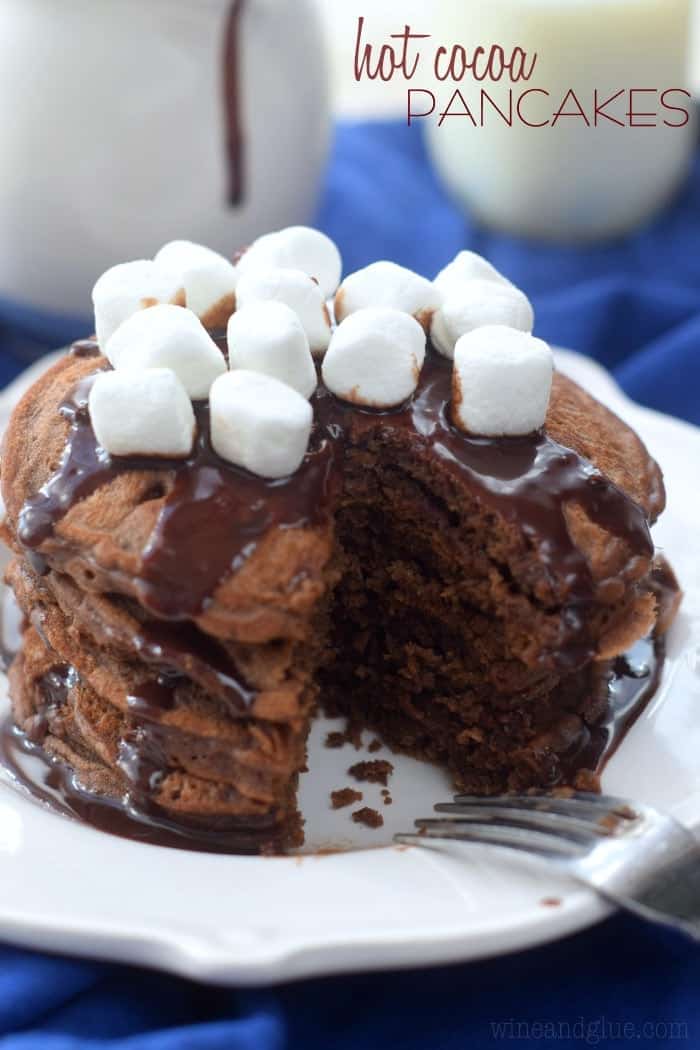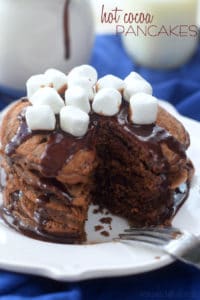 did you make this
Hot Cocoa Pancakes
You might also like